Homemade Creamy Italian Dressing is zesty, flavorful, and easy to make...a delicious topping for a crisp green salad or your favorite pasta salad!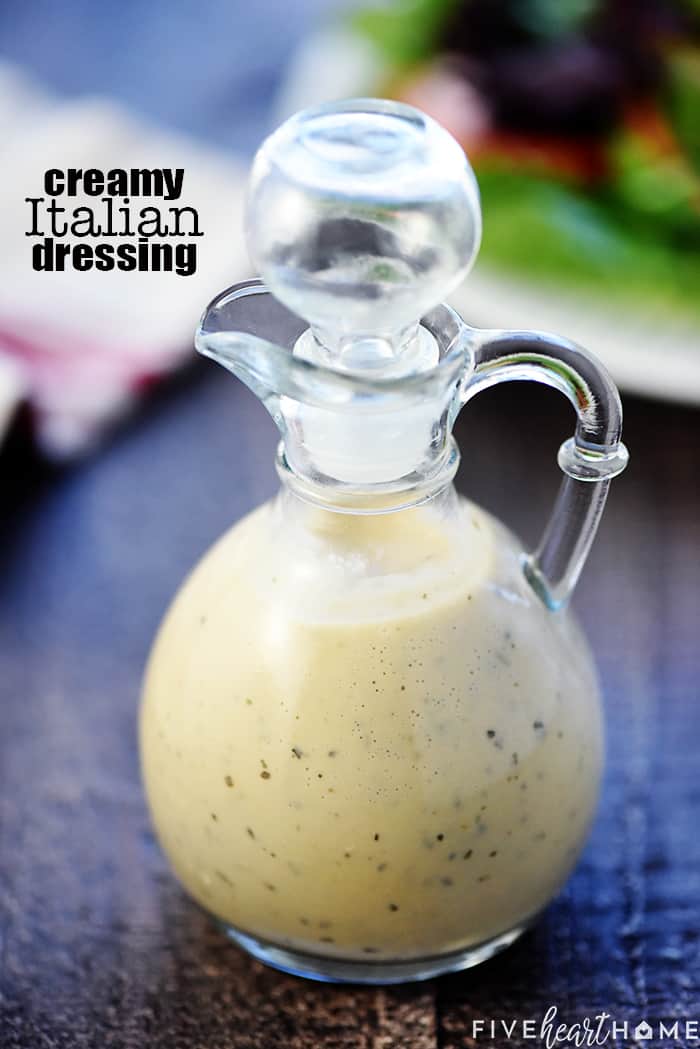 For more creamy salad dressings, you might also enjoy Creamy Feta Dressing, Homemade Ranch Dressing, Champagne Vinaigrette, or Avocado Dressing.
Once a week or so, my goal is to serve salad for dinner. Now don't get me wrong, that salad is typically a hearty one topped with some sort of protein -- taco-seasoned ground beef, marinated chicken breast, diced ham and hard-boiled eggs, or even broiled salmon. But at any rate, it's a salad, loaded with as many veggies as I can cram in there and always drizzled with a yummy homemade dressing.
As a result, I have quite a few homemade dressings in the ol' repertoire by this point. I've shared most of them here over the years, but one that I hadn't posted yet is this zippy, yummy Creamy Italian Dressing!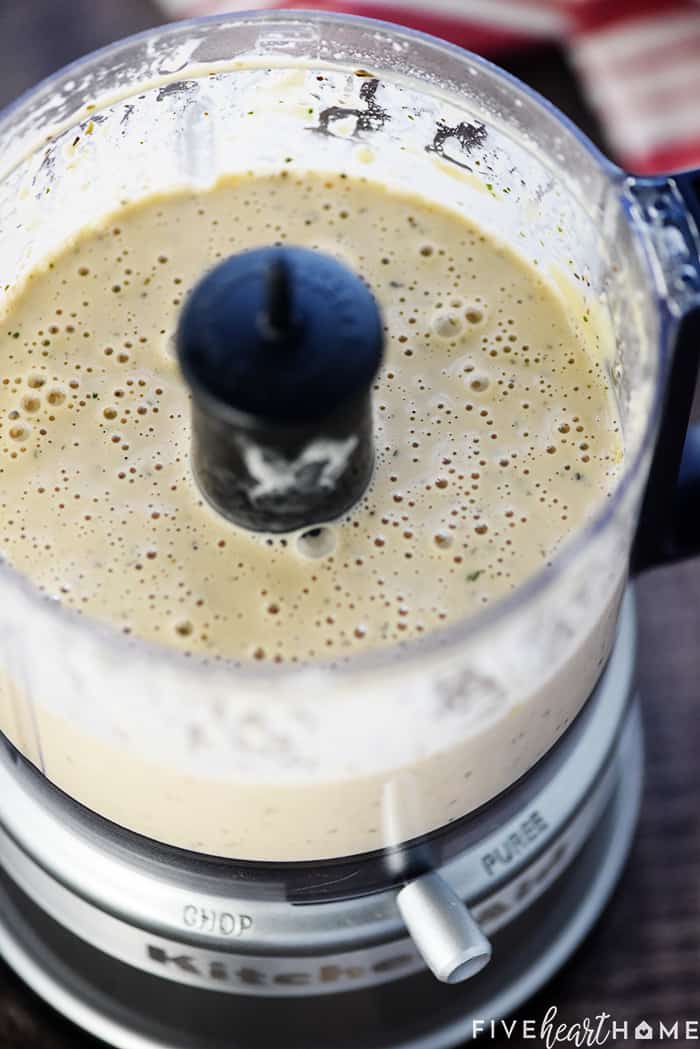 My "Better than Olive Garden" Homemade Italian Dressing is THE most popular homemade salad dressing recipe on my site. Y'all seem to love it, and so does my family. So it's only natural that awhile back, I felt challenged to put a new spin on it...to see if I could create another dressing that was slightly different but just as delicious.
And the good news is? I think I did! My family went crazy for this homemade Creamy Italian Dressing, much more so than I was expecting.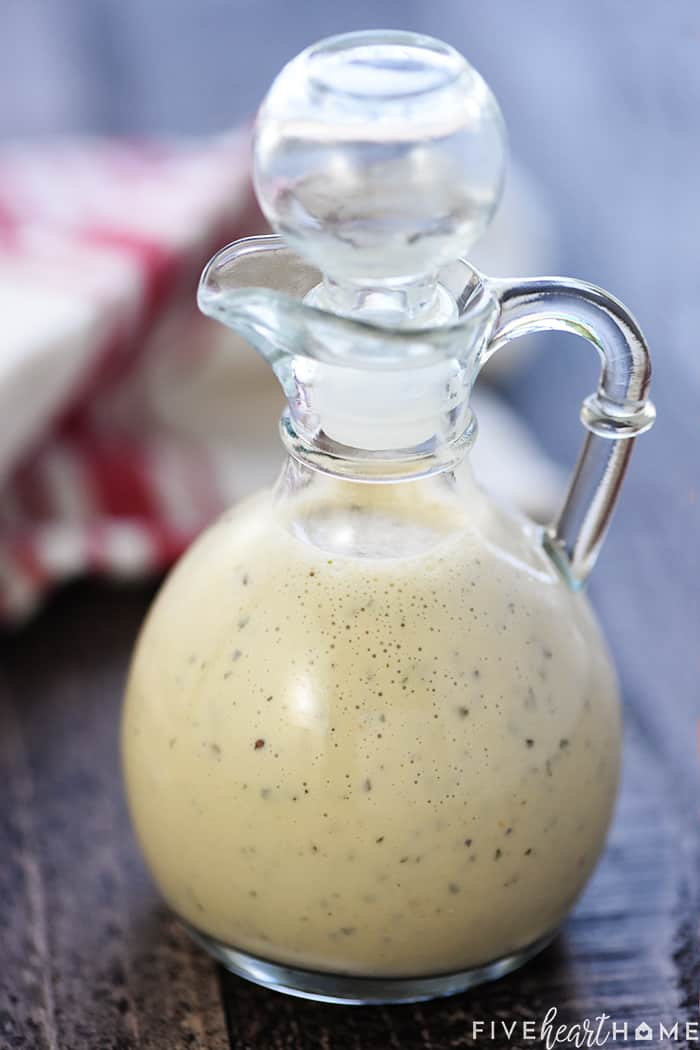 Ingredients
This recipe has the tang of a regular, vinaigrette-type Italian Dressing, but with a smooth creaminess that makes it just a little more decadent. So what's in it?
Olive oil, sour cream, and mayonnaise. Weird sounding combo, huh? But it gives just the right consistency and creaminess to this recipe. The key is allowing the dressing plenty of time to chill so that the flavor of the mayo is mellowed out by the other ingredients.
Vinegar. This dressing gets it acidity from a blend of red wine vinegar and white vinegar.
Freshly grated Parmesan cheese. Adds nice flavor and body to the dressing.
Dijon mustard. A little bit goes a long way.
Honey. Just a touch. (I explain why it's necessary at all below.)
Italian herbs and spices. Namely, basil, parsley, oregano, garlic salt, onion powder, and pepper.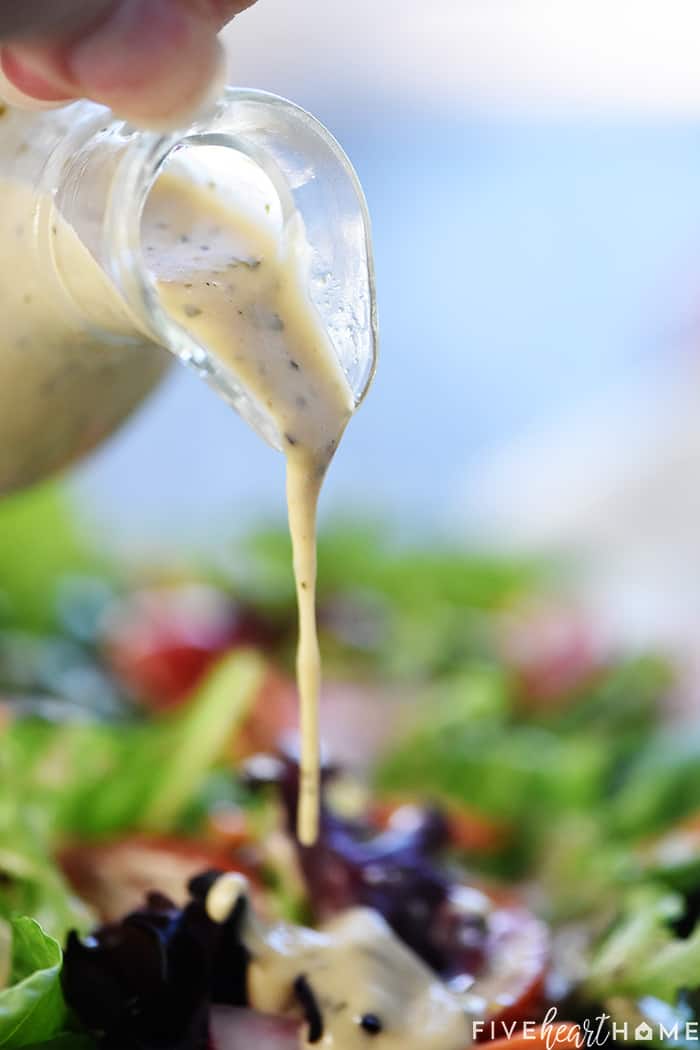 An Homage to Seven Seas Creamy Italian
If you grew up in the '80s, odd are there was a bottle of Seven Seas Creamy Italian Dressing in your fridge. So I took that memory and that concept and tweaked my popular regular Italian Dressing recipe to come up with this variation.
The Seven Seas Creamy Italian was definitely on the sweeter side, whereas the honey in this recipe is primarily included to curb the dressing's acidity.
That being said, you should always taste your dressing once everything is blended and add a bit more honey to taste, if desired. Or for a more Seven Seas-esque dressing, feel free to increase the amount of honey by a good bit (or substitute sugar instead).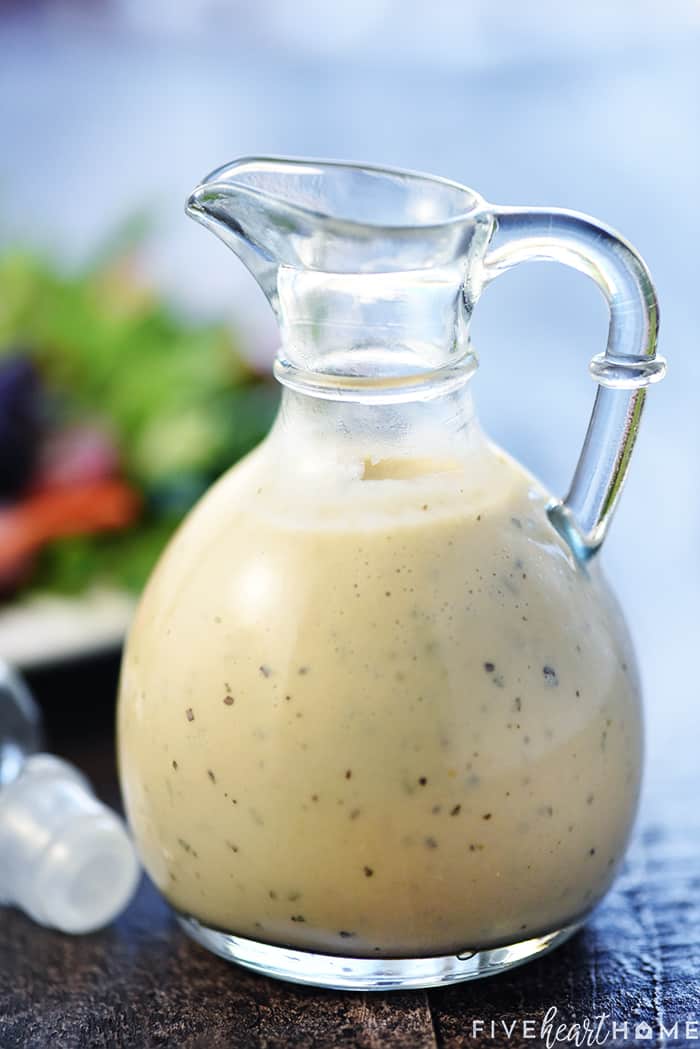 So who's ready to enjoy a big ol' main course salad for lunch or dinner? Or a side salad would be great drizzled with this dressing as well. My kids even love it as a dip for carrots and other raw veggies!
However you choose to enjoy it, I hope this Creamy Italian Dressing is a hit at your house, too.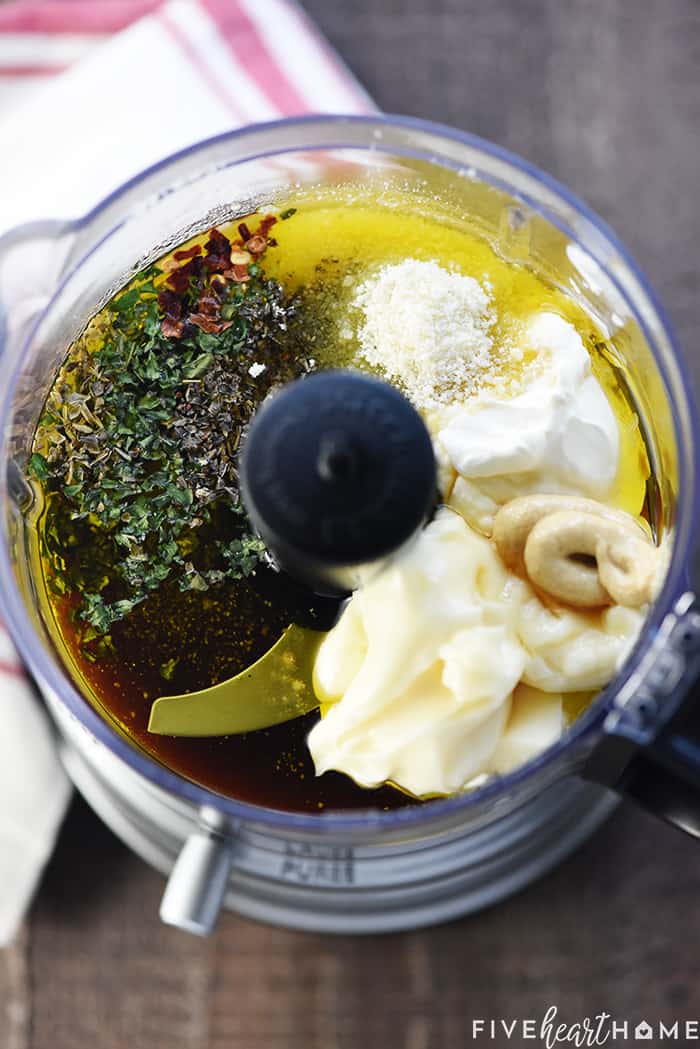 Helpful Tips, Tricks, & Equipment
This dressing MUST be refrigerated for several hours before serving to allow the flavors to blend...the longer, the better. Because until it has a chance to chill, the overpowering flavor will be mayonnaise.
I prefer making homemade Italian dressing using both red wine vinegar and white wine vinegar. I think the combination provides a nice balance of flavor and acidity. That being said, you may choose to use a full quarter cup of one or the other. Or if you have champagne vinegar on hand, it's also tasty in this dressing.
In order to ensure that this dressing is thoroughly emulsified, it's best to make it in a mini food processor or a blender, as opposed to whisking it in a bowl or shaking it in a jar.
We've got a ton of yummy homemade salad dressings on the site...check them out here!

More Main Course-Worthy Salads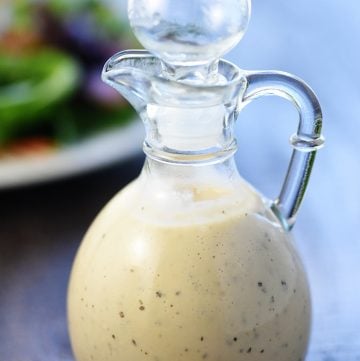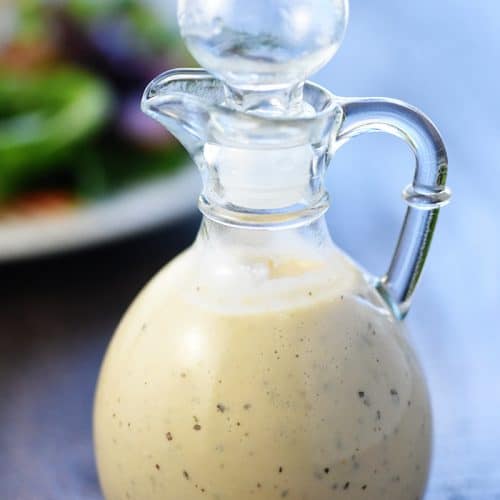 Creamy Italian Dressing
Homemade Creamy Italian Dressing is zesty, flavorful, and easy to make...a delicious topping for a crisp green salad or your favorite pasta salad!
Print
Pin
Rate
Servings:
10
servings (about 1 ¼ cup of dressing)
Ingredients
½

cup

extra-virgin olive oil

⅓

cup

sour cream

3

tablespoons

mayonnaise

3

tablespoons

freshly grated Parmesan

2

tablespoons

red wine vinegar

2

tablespoons

white wine vinegar

1

teaspoon

Dijon mustard

Squeeze of honey

¾

teaspoon

garlic salt

¾

teaspoon

dried parsley

¾

teaspoon

dried basil

¼

teaspoon

onion powder

⅛

teaspoon

dried oregano

Pinch

of red pepper flakes

Freshly ground black pepper

,

to taste
Instructions
Measure ingredients into the bowl of a mini food processor (or blender). Process until well-blended and emulsified. Taste and adjust seasonings, adding more honey, salt, and/or pepper if necessary.

Transfer to a jar or container, cover, and refrigerate for at least 8 hours (or overnight) to allow flavors to blend. Shake before serving.
Calories:
147
kcal
|
Fat:
15
g
|
Saturated Fat:
3
g
|
Cholesterol:
7
mg
|
Sodium:
236
mg
|
Potassium:
10
mg
|
Vitamin A:
60
IU
|
Calcium:
27
mg
|
Iron:
0.1
mg