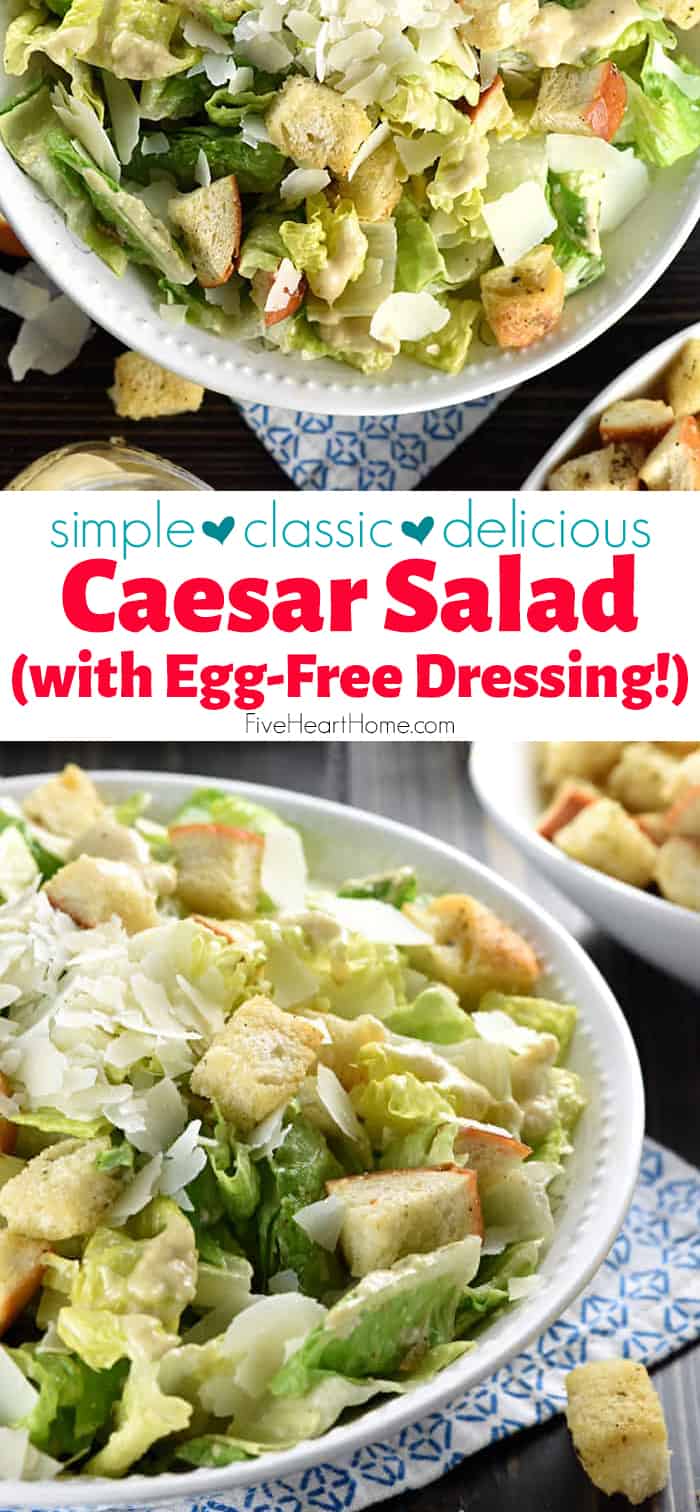 This amazing Caesar Salad features a flavorful (egg-free!) dressing, garlicky homemade croutons, and fresh shaved Parmesan atop crunchy hearts of romaine!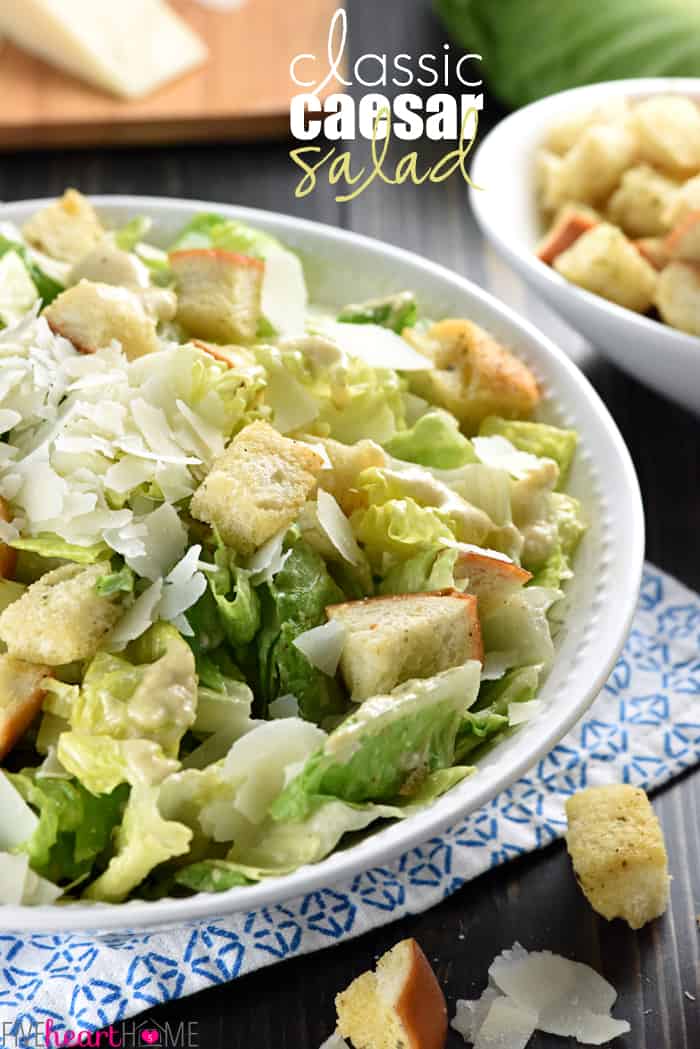 If you're a fan of delicious homemade salad dressings, you'll also enjoy Creamy Feta Dressing, Champagne Vinaigrette, or Creamy Italian Dressing.
Waaaay back at the beginning of the summer, I made my family this homemade Caesar Salad for the first time...and they positively scarfed it down. So I made it again on Father's Day. And on the 4th of July. And on regular ol' weeknights a half dozen times in between. And never have I seen my boys so enthusiastic to eat salad!
I think the secret to this salad's success is in the combination of textures and flavors...crisp romaine, crunchy/buttery croutons, and a tangy dressing. It's fresh, it's flavorful, it's fabulous! There's a reason it's a classic.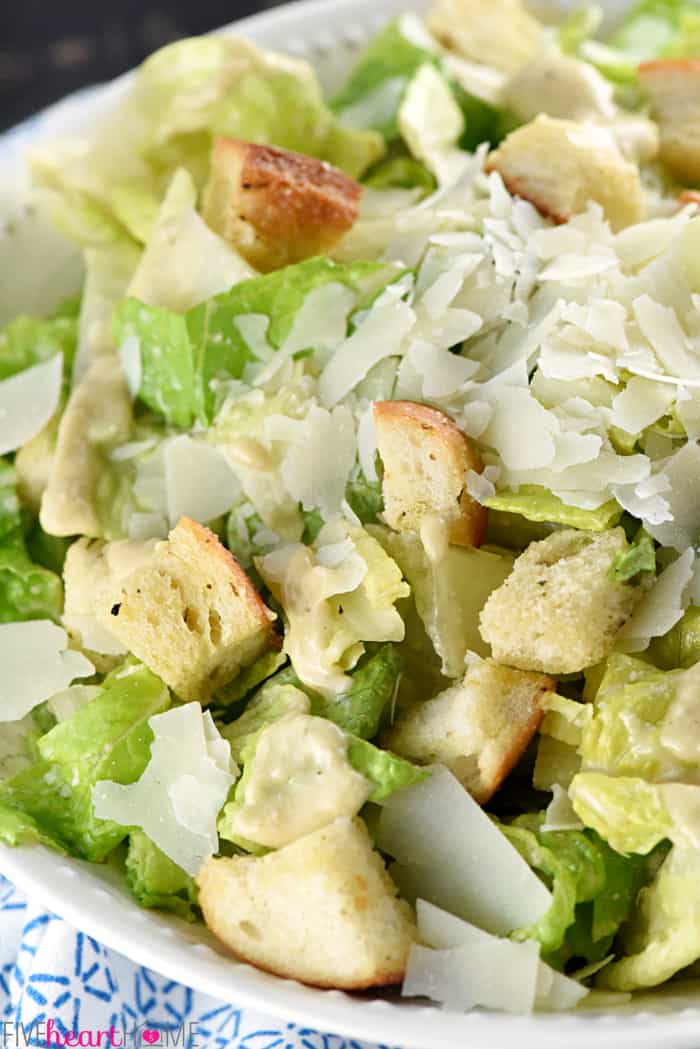 Egg-Free Caesar Dressing
I did take a slight detour from typical Casar dressing recipes in that this one is egg-free...I simply didn't want to have to worry about the whole raw egg issue.
A Note on Anchovies
This dressing does include the critical Caesar salad ingredient of anchovies, however, which adds oodles of flavor (but not at all a fishy flavor, scout's honor).
I actually prefer using anchovy paste over whole anchovies because it's so easy...no need to mash up any little fish (because if you're like me -- ick).
And as a bonus, you can screw the cap back on for the unused portion of anchovy paste to be saved for your next round of Caesar dressing. You know you're going to want to make it again! 😉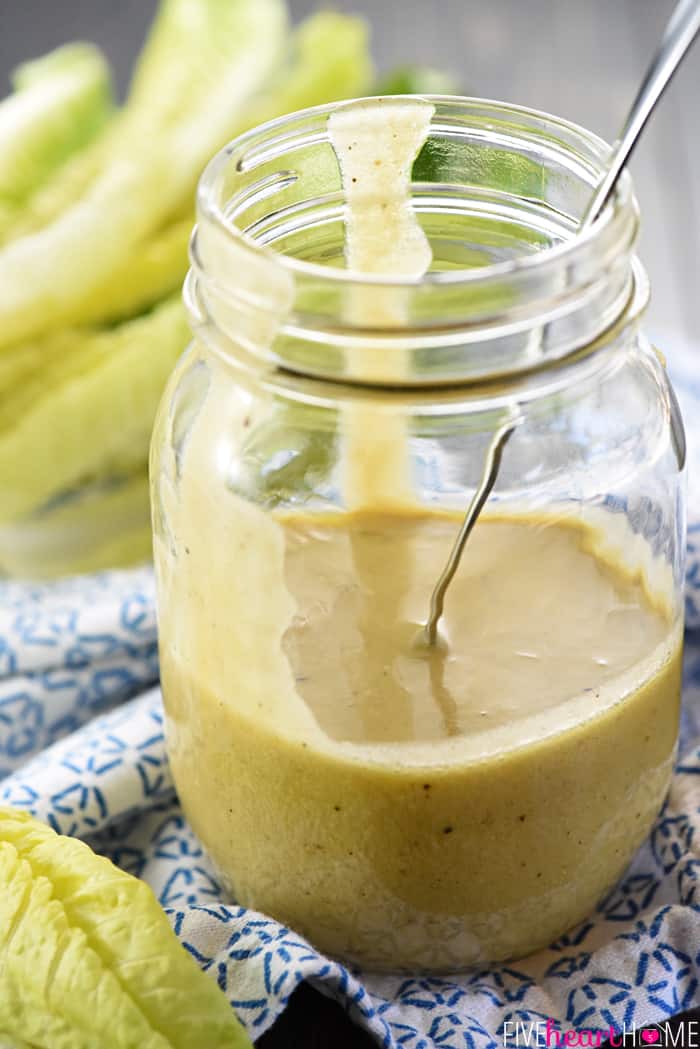 Ingredients
I think the key to making a great Classic Caesar Salad is to use fresh ingredients.
I like to buy a package of whole hearts of romaine and then tear or slice them myself, but you can buy tub of already-chopped romaine hearts if you prefer.
I make my favorite homemade croutons for this salad, going generous on the garlic and a little lighter on the herbs.
In the dressing, I use freshly-grated Parmesan (a must!), freshly-squeezed lemon juice, and freshly-cracked pepper.
And I usually buy a tub of fresh shaved Parmesan for the salad garnish (because it's quicker/easier than shaving that quantity myself, but you can certainly shave it yourself using a vegetable peeler). I like using shaved Parmesan in Ceasar Salad because the large surface area of the Parmesan shavings allows the salty flavor to really shine though -- plus I enjoy the smooth texture -- but you can certainly substitute grated or shredded Parmesan instead.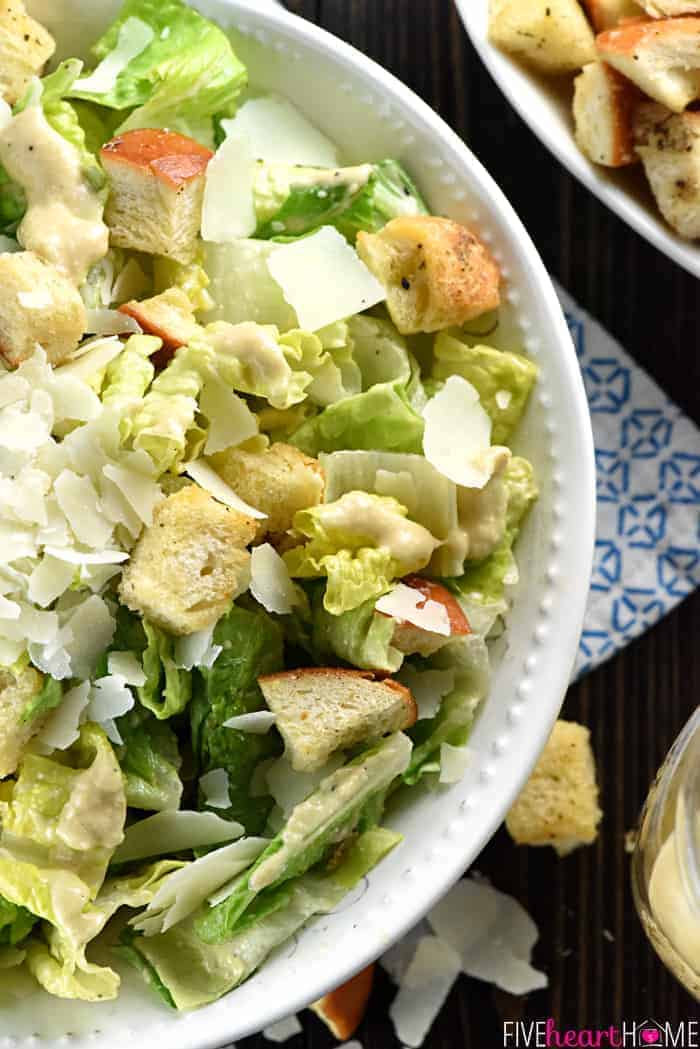 Ratios
Any time you make a salad, the ratio of lettuce to dressing can be a little bit tricky. That's particularly the case with Caesar, since hearts of romaine come in different weights and sizes and telling you to use "three hearts of romaine" may result in too much or too little greens-to-dressing.
So my recommendation is to pay attention to the weight of the bag or tub of romaine that you buy -- you may end up using all of it or you may not -- and gradually add the other ingredients to your salad until the proportions are to your liking.
In particular, exercise your judgement when adding the dressing to the salad. Some people prefer more dressing and some people prefer less, so you may have a little dressing left over depending on how much lettuce you use. I know this isn't rocket science...I just want your salad to turn out perfect. 🙂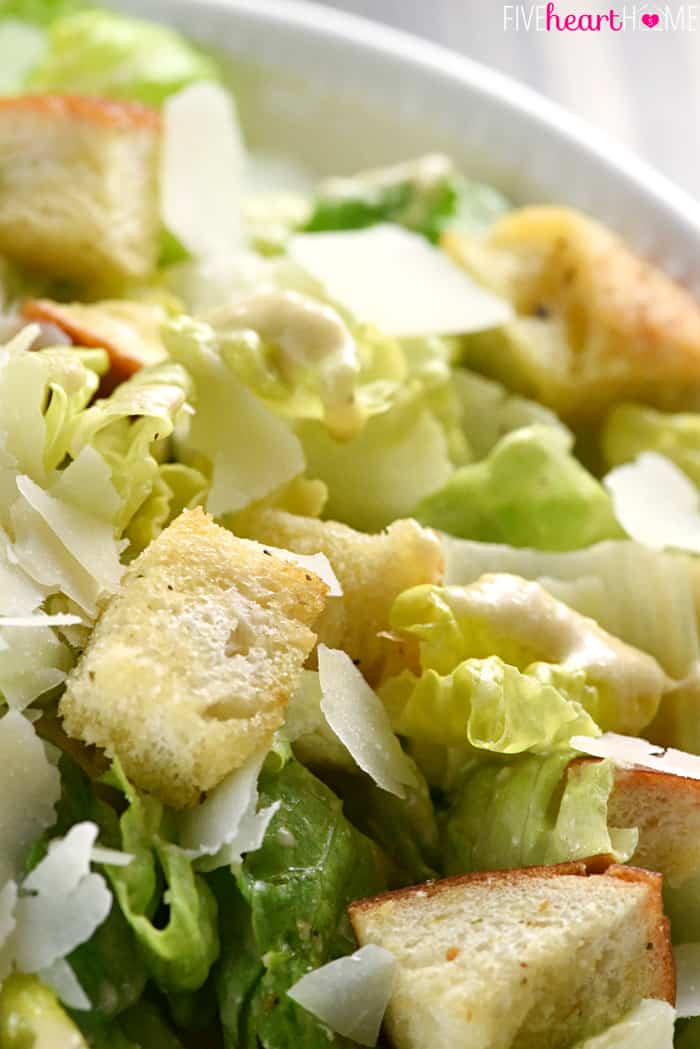 Hope y'all love this one as much as my family does. We may be wrapping up the "Summer of the Salad" 'round here, but here's to classic Caesar Salad all year long!
More Salad Goodness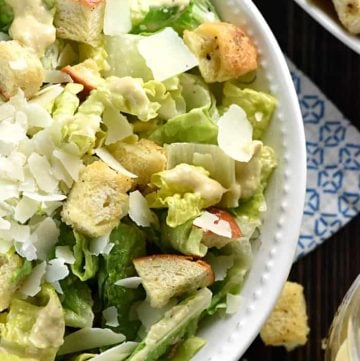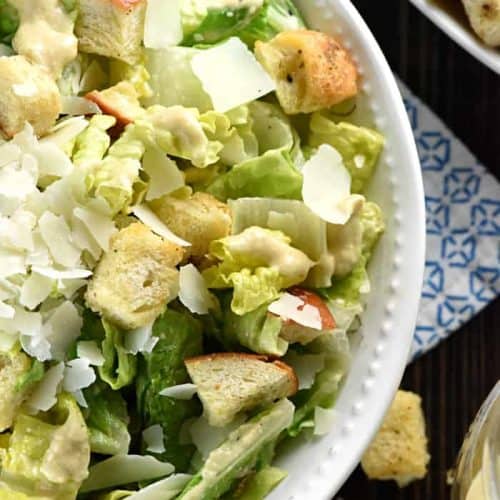 Caesar Salad
This amazing Caesar Salad features a flavorful (egg-free!) dressing, garlicky homemade croutons, and fresh shaved Parmesan atop crunchy hearts of romaine!
Print
Pin
Rate
Servings:
12
(2-tablespoon) servings dressing; approximately 1 ½ cups dressing
Ingredients
For the Dressing:
2

cloves

garlic

1

cup

freshly grated Parmesan cheese

2

teaspoons

anchovy paste OR 4 anchovy fillets

,

mashed

¼

cup

freshly-squeezed lemon juice

4

teaspoons

Dijon mustard

2

teaspoons

red wine vinegar

1

teaspoon

Worcestershire sauce

¼

teaspoon

salt

Freshly ground black pepper

,

to taste

⅔

cup

extra-virgin olive oil
For the Salad:
16

ounces

hearts of romaine

,

give or take a couple ounces...equivalent to 2 or 3 romaine hearts, depending on size, washed, dried, & chilled

Freshly shaved Parmesan
Instructions
Prepare the dressing by placing the garlic in a small food processor (or blender) and pulsing until minced. Add the Parmesan, anchovy paste, lemon juice, Dijon, red wine vinegar, Worcestershire sauce, salt, and pepper. Puree until smooth, stopping to scrape down the sides if necessary. Add the extra-virgin olive oil (stream it in while running, if your food processor/blender opens on top) and blend on high until emulsified. Taste and adjust seasonings, adding more salt and pepper, if desired. Transfer to a jar and refrigerate until ready to use.

Just before serving, tear or chop the romaine into bite-sized pieces and place in a very large bowl. Shake the dressing well and drizzle about half of it over the romaine; toss to coat. Top with desired amount of croutons, shaved Parmesan, and additional dressing, to taste. Season with fresh ground pepper, toss to combine, and serve immediately.
Notes
You may use a (5-ounce) tub of freshly shaved Parmesan or shave a small block of Parmesan with a vegetable peeler. Add the croutons, Parmesan, and dressing to the salad to taste...it's okay to have some leftover if your salad has enough.
Some Caesar Salad aficionados swear by leaving the romaine leaves whole, so feel free to do so if you wish. I find the salad cumbersome to eat with whole leaves (particularly for my kids), so I prefer chopping or tearing my romaine.
This recipe can easily be halved. When entertaining, I make an entire recipe of this salad to serve at once. But when making it for a family dinner, I prepare an entire recipe of the dressing and then just drizzle it over individual servings of salad.
The dressing keeps in the refrigerator for about a week and we enjoy the leftover dressing over more salads on subsequent nights. Sometimes I even add grilled or baked sliced chicken for a main dish of Chicken Caesar Salad.
The nutrition facts below have been calculated for a 2-tablespoon serving of dressing. The romaine, croutons, and extra shaved Parmesan are not included in these nutrition facts since the amounts used may be variable.
Calories:
148
kcal
|
Carbohydrates:
1
g
|
Protein:
4
g
|
Fat:
15
g
|
Saturated Fat:
3
g
|
Cholesterol:
8
mg
|
Sodium:
237
mg
|
Potassium:
30
mg
|
Fiber:
1
g
|
Sugar:
1
g
|
Vitamin A:
74
IU
|
Vitamin C:
2
mg
|
Calcium:
98
mg
|
Iron:
1
mg
Originally published August 11, 2016.
Save
Save
Save
Save
Save
Save
Save
Save
Save