Homemade Herbed Garlic Croutons are not only easy to make, but they're a crunchy, flavorful way to jazz up your favorite salad and soup recipes, from Caesar salad to tomato soup!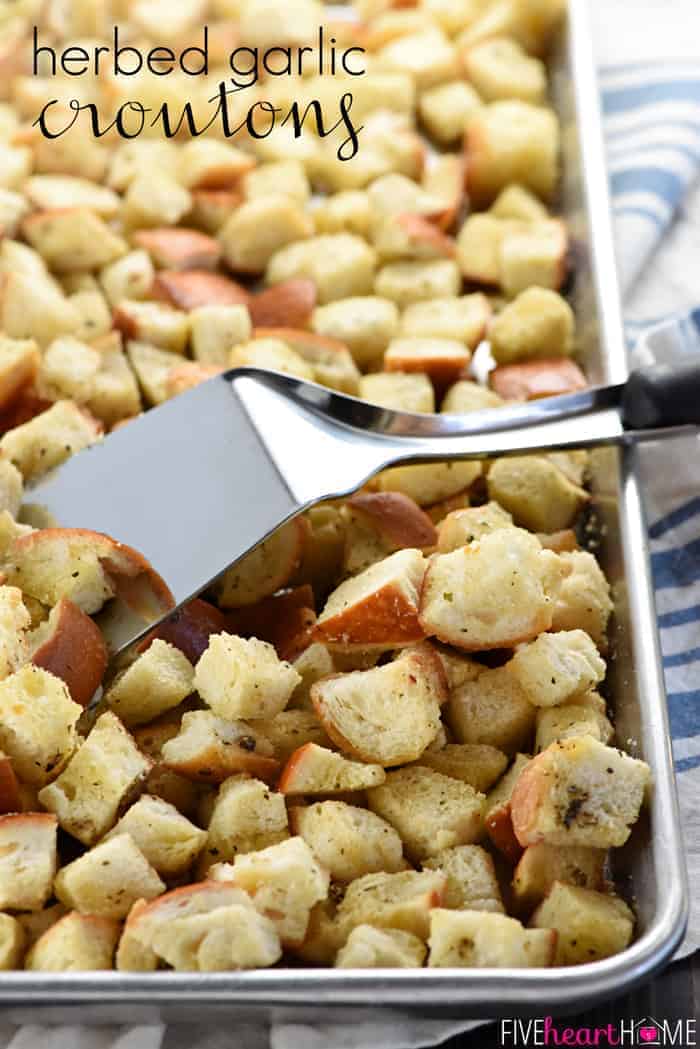 The hubby and I just got home from an anniversary weekend in Scottsdale where we enjoyed sleeping in, lazy days by the pool, prickly pear margaritas by the pitcher, and gluttonous meals morning, noon, and night. It was a fabulous, relaxing get-away, but now that we're back to reality and have had time to kiss and cuddle those three little hellions that we missed very much, I'm actually looking forward to resuming normal, non-fancy, relatively healthy meals again. Like salad.

When school ended a few weeks ago, I told my kids that this was going to be the "Summer of the Salad" at our house. And so far, we've done a good job sticking to that resolution, regularly enjoying homemade Taco Salad, Cobb Salad, Chopped Salad, and a variety of pasta salads for lunch or dinner. My kids* have loved this salad smorgasbord, and I'm always happy to see them upping their veggie intake without the dreaded dinnertime battles.
*It should be noted that my 3-year-old daughter has been going through an extremely picky phase (for most of her life) and only loves about five foods at the moment, primarily hailing from the carb and/or cheese food groups...so any references to "my kids" loving "my recipes" probably only means my boys. Ahem.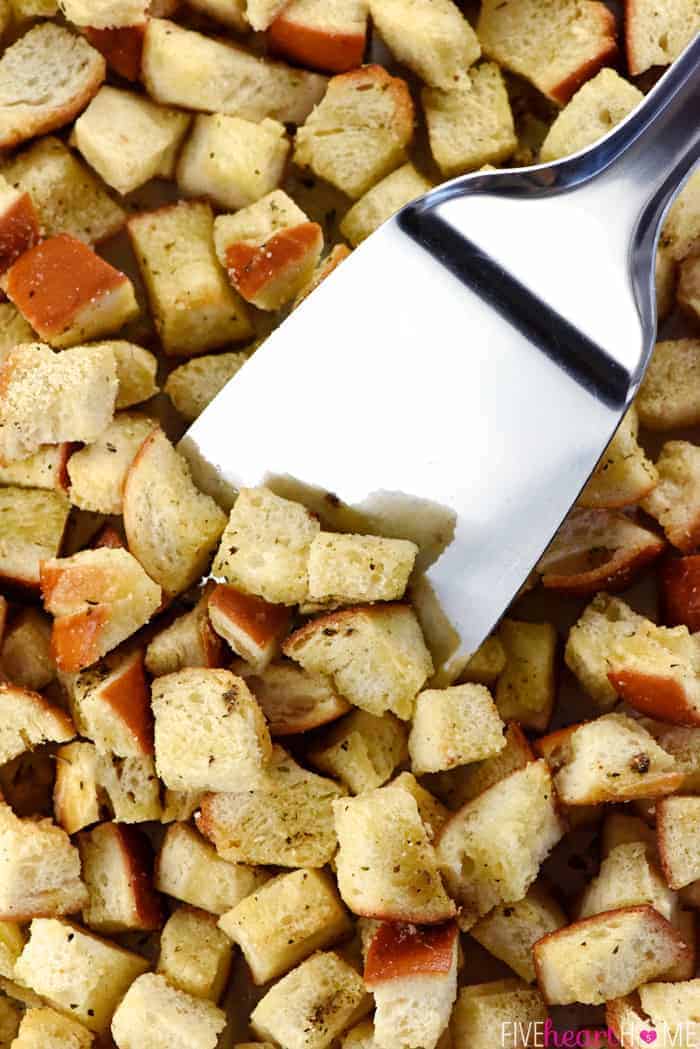 Anyway, I've learned that one of the best ways to make big, healthy salads appealing to (most) kids is to adorn them with fresh dressings and other homemade additions...like these flavorful Herbed Garlic Croutons! I recently made a giant batch of croutons for a Caesar Salad that I was contributing to a Teacher Appreciation Luncheon at my daughter's preschool (recipe coming soon!), and I made sure that there was enough that I could hold back some Caesar Salad to enjoy at home, too. The salad was a big hit (with the teachers and at home), and the leftover croutons were delicious on a variety of subsequent salads as well.
I actually prefer cutting up a whole loaf of bread to bake a big batch of croutons all at once, since they'll stay fresh in a tightly-sealed container for numerous days over multiple salads. If the croutons stretch further than that, they even freeze beautifully. I mean, why toil over croutons every few days when you can make them once and enjoy them for a good while? Although let's be honest here...they're pretty effortless either way. 😉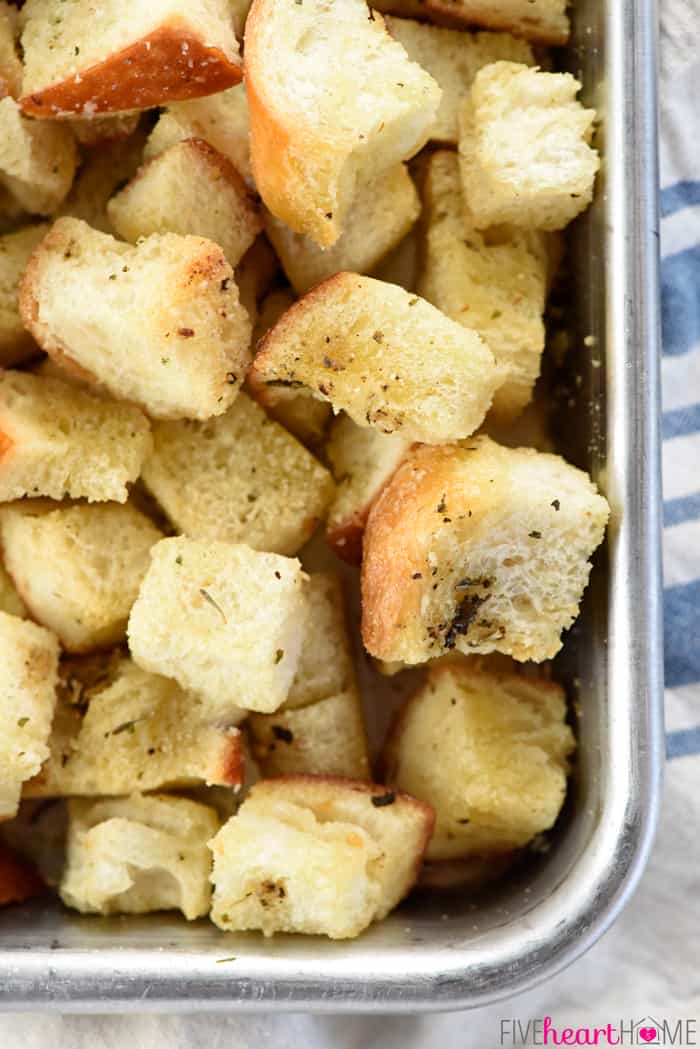 It's fun to tweak the herbs to complement the type of salad you plan on serving. These Herbed Garlic Croutons have a garlicky undertone and were created with Caesar Salad in mind, but they also perfectly complement any Olive Garden-style Italian salad or even a Greek salad. If you want a plain crouton for a different type of salad, you can simply use parsley in lieu of the blend of Italian herbs. And if you have fresh herbs available, feel free to include those! Give your croutons a stronger flavor with some fresh minced rosemary, or a summer-y vibe with some fresh chopped dill. Finally, while I often like finishing off my croutons with a shower of Parmesan for even more flavor, that addition is totally optional.
As far as baking time, watch your croutons carefully but let them get as golden brown as you like. My kids prefer less toasty croutons so I usually keep mine on the lighter side (though they still turn out perfectly crunchy), but feel free to let them bake longer for deeper color.
Once summer salad season ends and the cooler weather sets in, I can't wait to float a handful of these croutons in a big bowl of Tomato Basil, Butternut Squash, or Split Pea Soup! See? Herbed Garlic Croutons are an easy, homemade way to add a special touch to a variety of meals. So I hope you'll whip up a big batch and declare this a "Summer of the Salad" at your house as well...even if your persnickety 3-year-old's idea of a salad strangely resembles a cheese quesadilla. 😉

More Sensational Salads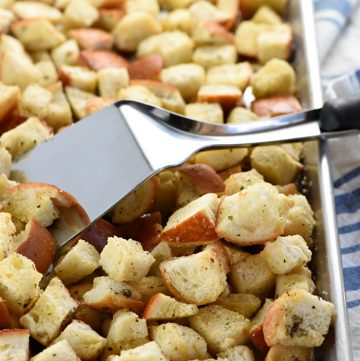 Herbed Garlic Croutons
Homemade Herbed Garlic Croutons are not only easy to make, but they're a crunchy, flavorful way to jazz up your favorite salad and soup recipes, from Caesar Salad to Tomato Soup!
Print
Pin
Rate
Servings:
24
servings (Approximately 8 cups of croutons total)
Ingredients
1

(approximately 1-pound) loaf French OR Italian bread

,

fresh or somewhat stale

1/3

cup

butter

,

melted

1/3

cup

extra-virgin olive oil

3/4

teaspoon

salt

,

plus additional to taste

3/4

teaspoon

garlic powder

1/2

teaspoon

dried parsley

,

crumbled

1/2

teaspoon

dried basil

,

crumbled

1/2

teaspoon

dried oregano

,

crumbled

1/2

teaspoon

dried thyme

,

crumbled

Freshly ground black pepper

,

to taste

1/4

cup

freshly grated Parmesan

,

optional
Instructions
Preheat oven to 350°F. Cut the bread into 3/4-inch cubes, to yield about 10 cups.

In a bowl, combine the melted butter, olive oil, salt, garlic powder, parsley, basil, oregano, and thyme. Place the bread cubes in a very large (2-gallon) zip-top plastic bag or a very large bowl with a tight-fitting lid. Drizzle the bread cubes with the butter/oil/herb mixture, seal the bag (or cover the bowl), and shake and turn until the cubes are evenly coated and seasoned.

Pour the seasoned bread cubes onto a rimmed 18x13x1-inch half sheet pan and spread into a single layer (initially, the bread cubes will be tightly packed, but as they bake, they will shrink and there will be more space for them to spread out on the sheet pan). Season bread cubes with freshly ground black pepper, to taste.

Bake the croutons for 8 minutes. Flip and stir the croutons with a metal spatula, spreading them back into a single layer. If desired, the croutons may be sprinkled with Parmesan at this point. Return the croutons to the oven and bake for 5 to 15 minutes or longer, watching carefully and stirring every 5 minutes or so, until the croutons are light golden brown (or as dark as you prefer them).

Carefully taste a crouton (blow on it first, as it will be hot!) and season the pan with additional salt and pepper, if desired. Allow croutons to completely cool and then store them in an airtight container for up to a week.
Notes
If desired, you may slice the crust off of the bread before cutting your bread cubes.
Crumbling the dried herbs in your fingers will grind them into a finer powder for more even distribution on the croutons.
Feel free to change up the herbs! If using minced fresh herbs, do not add them to the butter/oil/garlic powder mixture. Instead, sprinkle them over the croutons after the first 8 minutes of baking time (along with the Parmesan cheese, if using).
If all of your croutons won't fit on one rimmed baking pan, you may divide the croutons between two pans. I'd recommend baking the pans one at a time...just keep in mind that if the croutons are more spread out with extra room on a baking pan, they will probably brown more quickly...so be sure to watch them closely.
Calories:
186
kcal
|
Carbohydrates:
12
g
|
Protein:
2
g
|
Fat:
14
g
|
Saturated Fat:
7
g
|
Cholesterol:
8
mg
|
Sodium:
199
mg
|
Potassium:
51
mg
|
Fiber:
1
g
|
Sugar:
7
g
|
Vitamin A:
90
IU
|
Calcium:
13
mg
|
Iron:
0.6
mg
Save