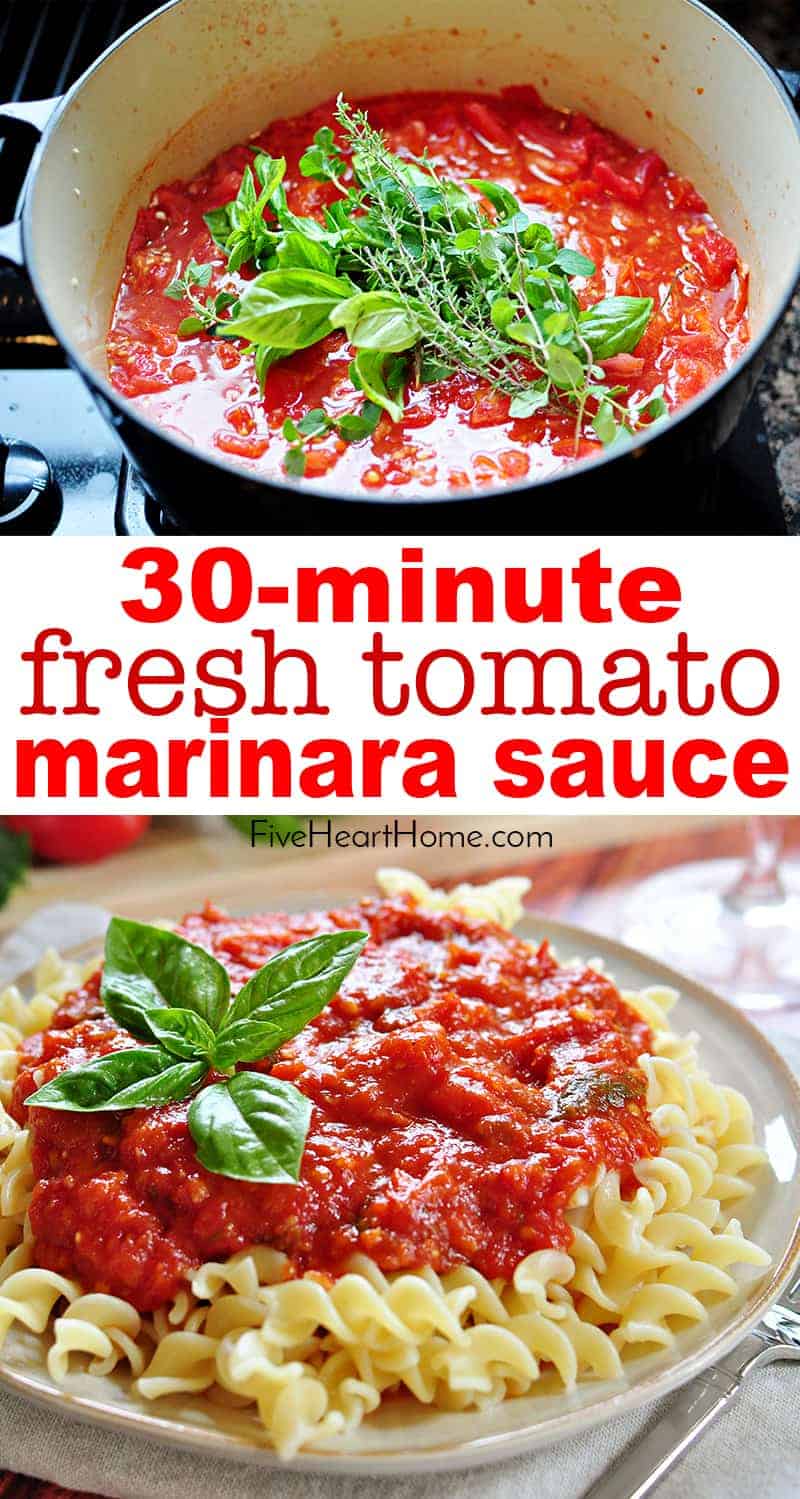 Fresh Tomato Marinara Sauce is a delicious, homemade pasta sauce is bursting with ripe, juicy tomatoes, savory garlic, and fresh herbs…but the best part is that it's ready in 30 minutes!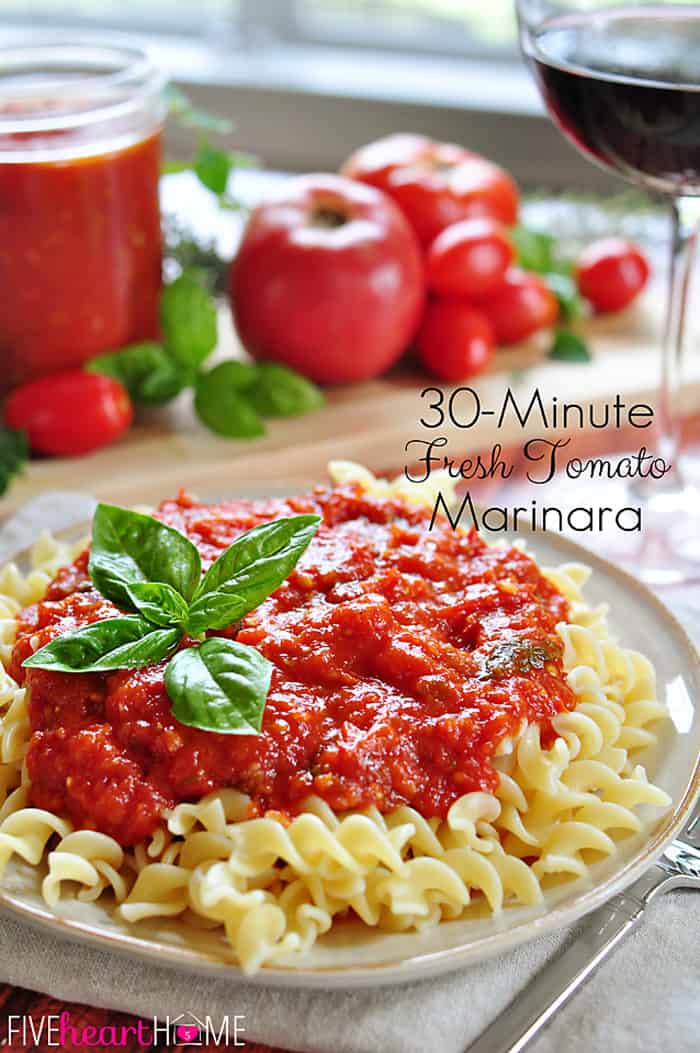 Happy Friday, friends! I'm back today with another fabulous recipe that's amazingly full of flavor for being so quick and easy to throw together. And conveniently enough, this 30-minute Fresh Tomato Marinara Sauce can actually be used as an ingredient in the 30-Minute Skillet Lasagna that I posted last week!
In many ways, I am sad to see summer go. I've been spoiled all season long by fresh produce from my in-laws' garden, roadside stands, and farmers markets, from zucchini to yellow squash to cucumbers to peaches. But my favorite fresh summer produce of all, hands-down, would be tomatoes. Whether I'm enjoying caprese salads, thick-sliced tomato sandwiches, Marinated Tomatoes, or refreshing Gazpacho alllll summer long, I am addicted to tomatoes, I tell ya.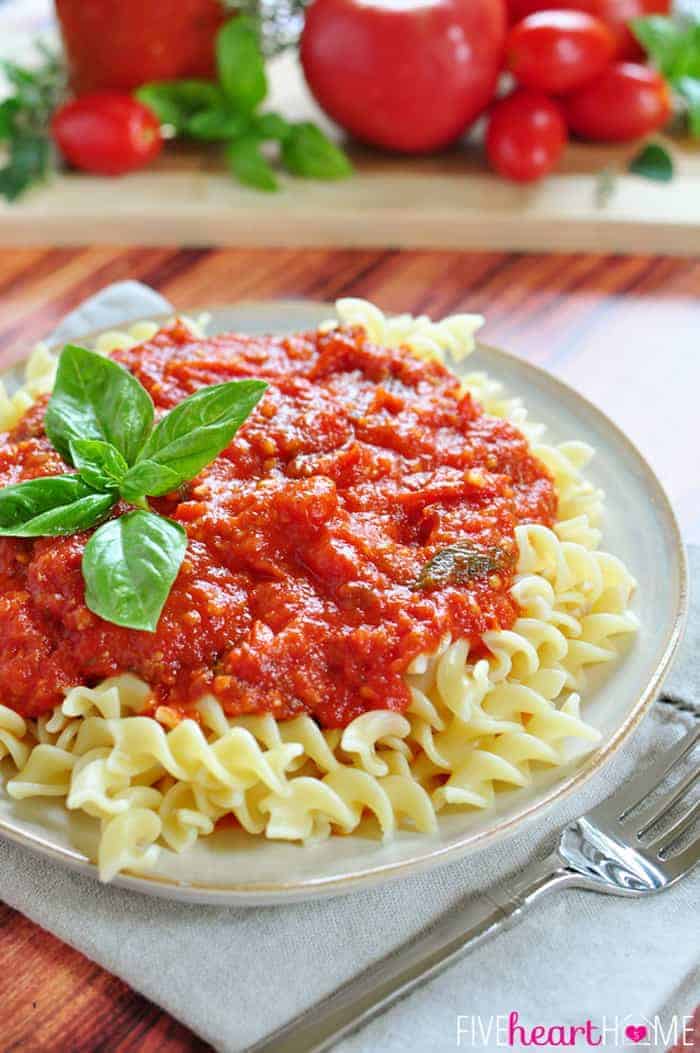 At the height of tomato season this year, there were times that we had almost more tomatoes than we could eat, if you can imagine such a thing. So rather than just enjoying them in their raw glory as we typically do, I began incorporating them as roasted tomato side dishes and started making my own marinara sauce. And TA-DAAAA...that would be the recipe I'm sharing today!
If you've been visiting Five Heart Home for any length of time -- or heck, even if this is your first visit (welcome!) and you've done little more than read the tagline at the top of my site -- you already know that I'm all about quick and easy recipes. In fact, I somehow (unintentionally) manage to work that phrase into just about every post...not because I'm trying to, but because it's true! If a recipe is not quick and easy, odds are that my three young children won't afford me the time (or the energy) to make it. So this 30-Minute Fresh Tomato Marinara Sauce is not your Italian grandmother's slow-cooked-all-day, secret family recipe marinara. Rather, as the name implies, it starts with fresh tomatoes and it's done in about half an hour. Now I ask you...how can you beat that?!

If you've made homemade marinara sauce before, you know that it typically involves blanching and peeling tomatoes and slowly simmering them for hours to develop a deep, rich, mellow flavor. Well, this is not that marinara sauce. For one thing, let's just be honest here...I am too lazy to blanch and peel tomatoes. And that's okay, because I don't at all mind little bits of tomato skin in my sauce. In fact, I enjoy a marinara with a bit of texture, and this one has that.
My method for making this sauce is to cut my tomatoes into chunks and then squeeze them with my hands into a big pot to break them up into little bits. This can be a messy process, so if you would rather give your tomato chunks a few pulses in the food processor to achieve the same effect, I would completely understand.
In addition to fresh tomatoes, this recipe features olive oil, garlic, fresh herbs, and a bit of seasoning/flavor-balancing thanks to salt, pepper, sugar, and balsamic vinegar. That's it! Simple ingredients...simple, fresh-tasting, flavorful marinara!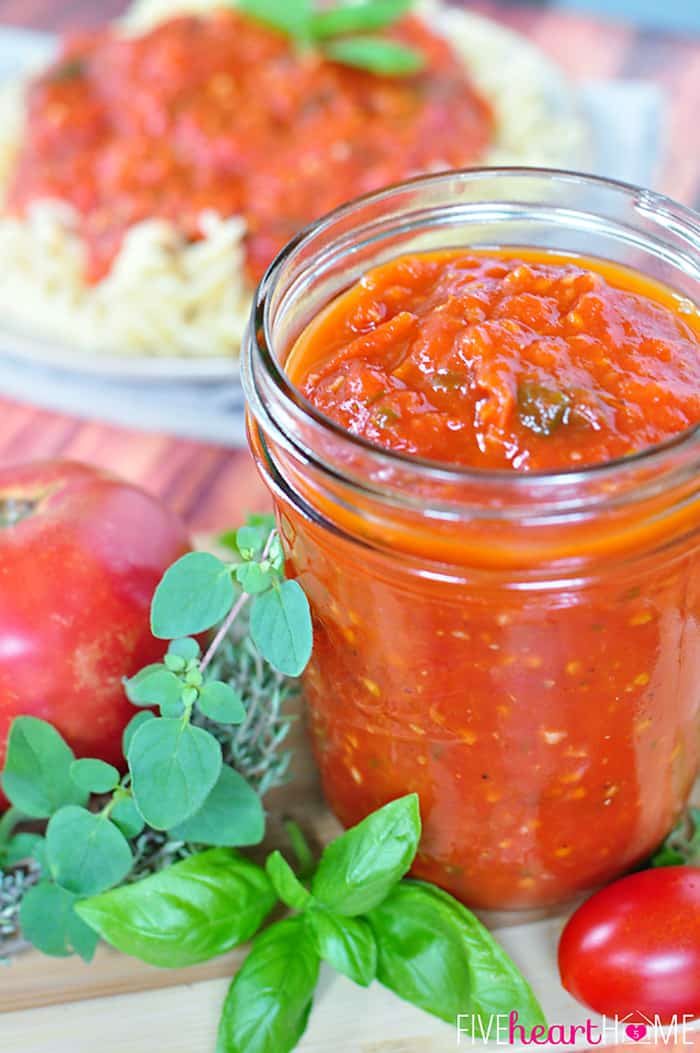 I'm all about shortcuts, and if you are, too, I've got one more for ya. When making this marinara, I toss a big bunch of fresh herbs directly into the sauce, stems and all. All that's required is to give them a quick rinse...no chopping required. During the simmering process, the leaves will fall away and it's easy to pick out the stems after everything is finished cooking.
After the sauce has cooked down for 30 minutes, I like to give it a quick whirl with my immersion blender so that it's slightly pureed but still has texture. If you don't have an immersion blender, you could also pulse it a few times in the food processor...just be sure to let it cool down a good bit before doing so! And if you prefer a chunky marinara, simply leave your sauce as-is.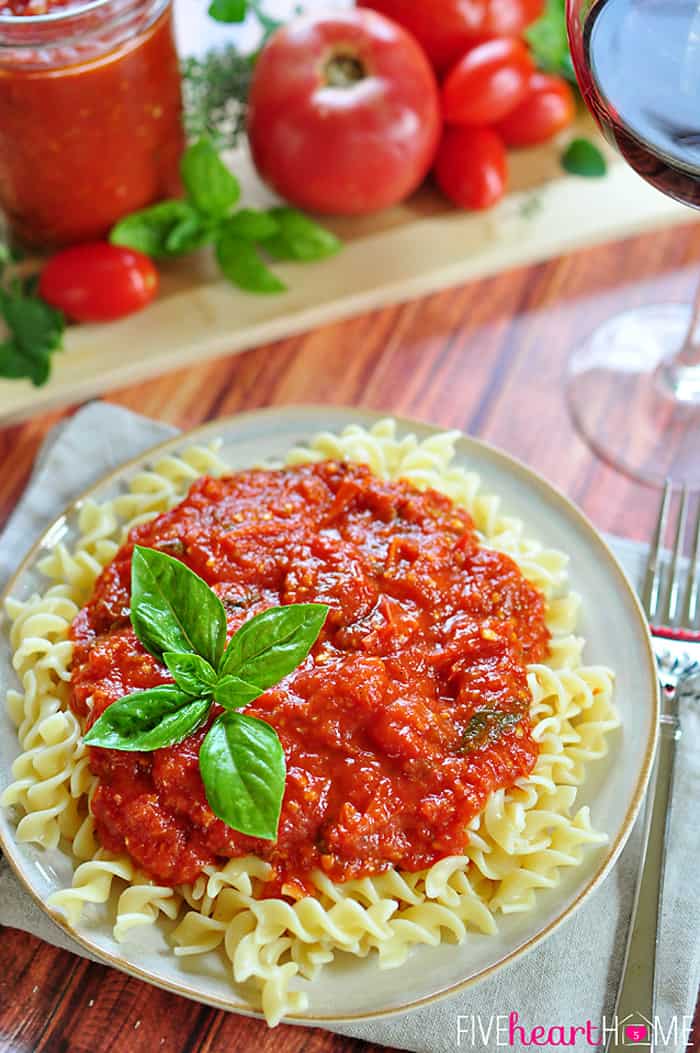 If you get a hankering for this quick marinara after tomato season is over, feel free to simply use canned, preferably high-quality tomatoes (like San Marzano). Whether you make it with fresh tomatoes or canned, in July or February, this 30-minute sauce is perfect over pasta or incorporated into any recipe that calls for marinara, from Slow Cooker Meatball Subs to Zucchini Marinara to anything in between. It's a great beginner recipe for someone who's never made homemade marinara sauce before, but it's so delicious that you'll revisit it time and time again! Enjoy, y'all!
More Fresh Tomato Recipes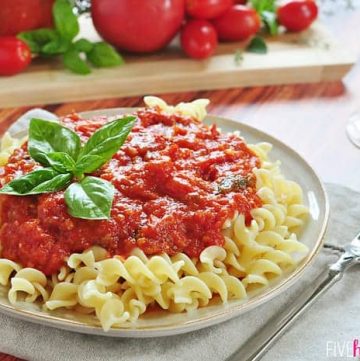 30-Minute Fresh Tomato Marinara Sauce
This savory, homemade Fresh Marinara Sauce is bursting with ripe, juicy tomatoes, savory garlic, and fresh herbs...but the best part is that it only takes 30 minutes to make!
Print
Pin
Rate
Servings:
4
servings (Approximately 1 quart)
Ingredients
4

pounds

ripe tomatoes

1

tablespoon

extra-virgin olive oil

4

large cloves garlic

,

minced

1

bunch fresh herbs

,

such as basil, or a combo of basil, parsley, oregano, and/or thyme

1

tablespoon

sugar

1/2

teaspoon

salt

Freshly ground black pepper

1/2

teaspoon

balsamic vinegar

Crushed red pepper flakes

,

to taste (optional)

Additional fresh chopped herbs

,

to taste (optional)
Instructions
Cut tomatoes into chunks. Using your hands, squeeze them into bits over a large, deep bowl or pot, including juices. (Alternatively, you may pulse them a few times in a food processor.) Set aside.

In a large pot set over low heat, sauté minced garlic in olive oil until softened and fragrant. Add tomatoes and juices to pot, place fresh herb bunch on top, raise heat to medium, and bring to a simmer. Reduce heat to low, cover pot, and simmer for 30 minutes, stirring occasionally.

When sauce has thickened and reduced, remove herb stems. Stir in sugar, salt, pepper, and balsamic vinegar. Taste and adjust seasonings. If desired, add crushed red pepper flakes and additional fresh chopped herbs. Use an immersion blender or food mill to slightly puree sauce. (Or you may allow sauce to cool and pulse it in batches in a food processor. Do not over-process...a bit of texture should remain.) Serve warm or allow to slightly cool and store in a container or jar in the refrigerator for up to a week.
Notes
If fresh tomatoes are out of season, you may substitute high-quality canned tomatoes (canned in their own juices without the addition of garlic, herbs, or extra seasonings, such as San Marzano). Canned whole tomatoes need to be cut/mashed up as directed in this recipe; canned diced tomatoes may be used as-is. If using canned tomatoes, drain and reserve the juice, only adding to the marinara sauce if more liquid is required.
The amount of sugar, salt, pepper, and balsamic required will depend on the sweetness and acidity of the tomatoes you use. Start with the directed amounts of seasonings and add more as needed. For this particular batch of marinara, I ended up increasing the amounts to 1 1/2 tablespoons sugar and 3/4 teaspoon salt.
Calories:
129
kcal
|
Carbohydrates:
22
g
|
Protein:
4
g
|
Fat:
4
g
|
Saturated Fat:
1
g
|
Sodium:
314
mg
|
Potassium:
1087
mg
|
Fiber:
6
g
|
Sugar:
15
g
|
Vitamin A:
3800
IU
|
Vitamin C:
63.4
mg
|
Calcium:
51
mg
|
Iron:
1.3
mg
Adapted from Food52.
Recipe originally posted at Love Grows Wild on July 27, 2014.