Beefy Cheesy Tortellini Bake is loaded with tortellini, marinara sauce, and mozzarella cheese for an effortless pasta dinner that the whole family will love!

Does anyone else ever get stuck in a dinner rut? As a food blogger, you may think that's a problem I would never encounter. After all, I post several new recipes each week. I have a whole archive of favorite family recipes. I have lots of food blogger friends who collectively post exponentially more than that. And as part of my job, I spend an inordinate amount of time pinning recipes on Pinterest (incidentally, have I mentioned how much I love my job?). 😉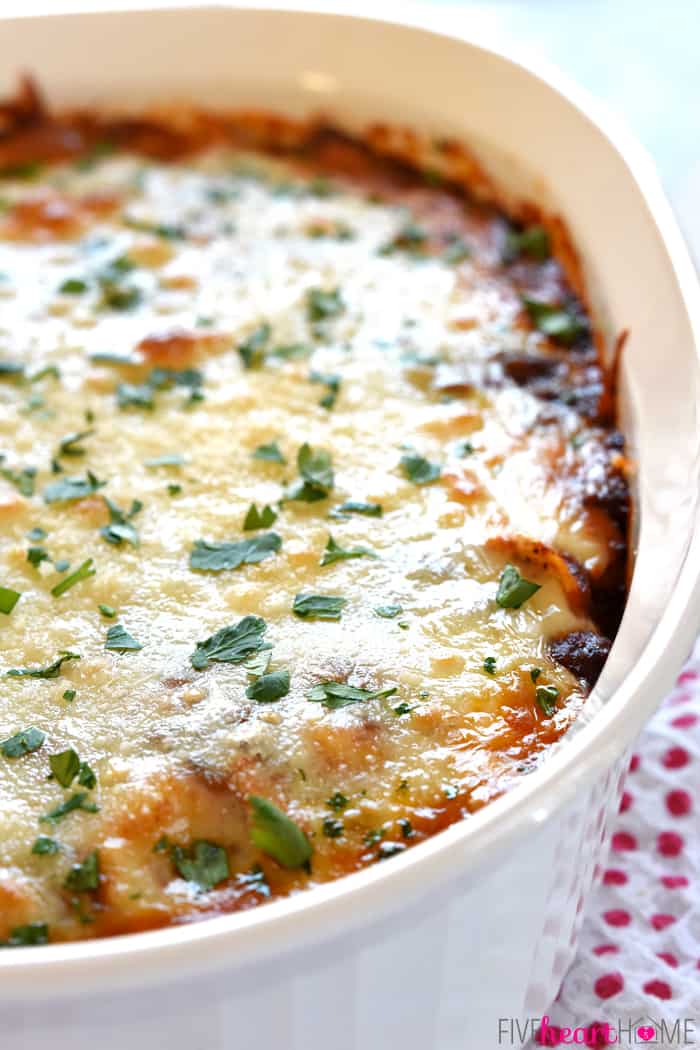 Nevertheless, despite being immersed in all of this great recipe inspiration, sometimes I flat-out don't know what to make for dinner. And on those occasions, I open the freezer, stare inside, and hope that something speaks to me.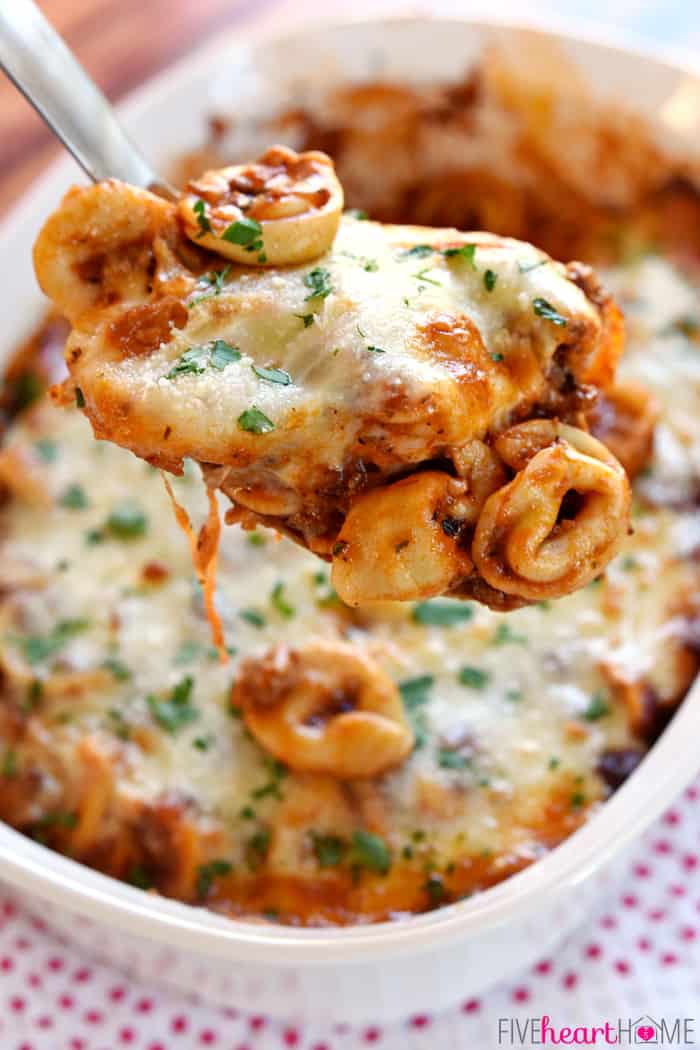 This exact scenario played out a few weeks ago and, frantically flagging me down on the freezer shelf from between a bag of peas and a box of chicken breasts, was a package of cheese tortellini. And it was squawking, "Turn me into something good!"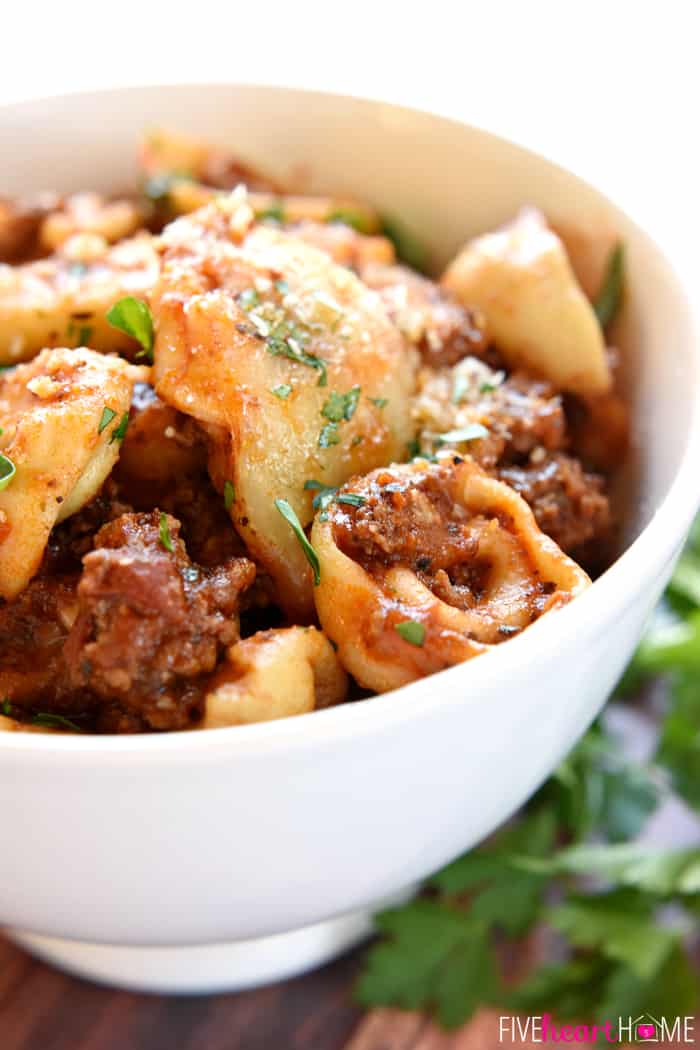 Okay, so maybe it didn't exactly happen that way. Maybe I'm slightly hallucinogenic due to a combo of cold meds and sleep deprivation (thanks to my 2-year-old waking up about three too many times last night). Maybe the tortellini was simply sitting there, as tortellini typically does, and I randomly had the bright idea to substitute it for noodles in a spaghetti-esque pasta bake.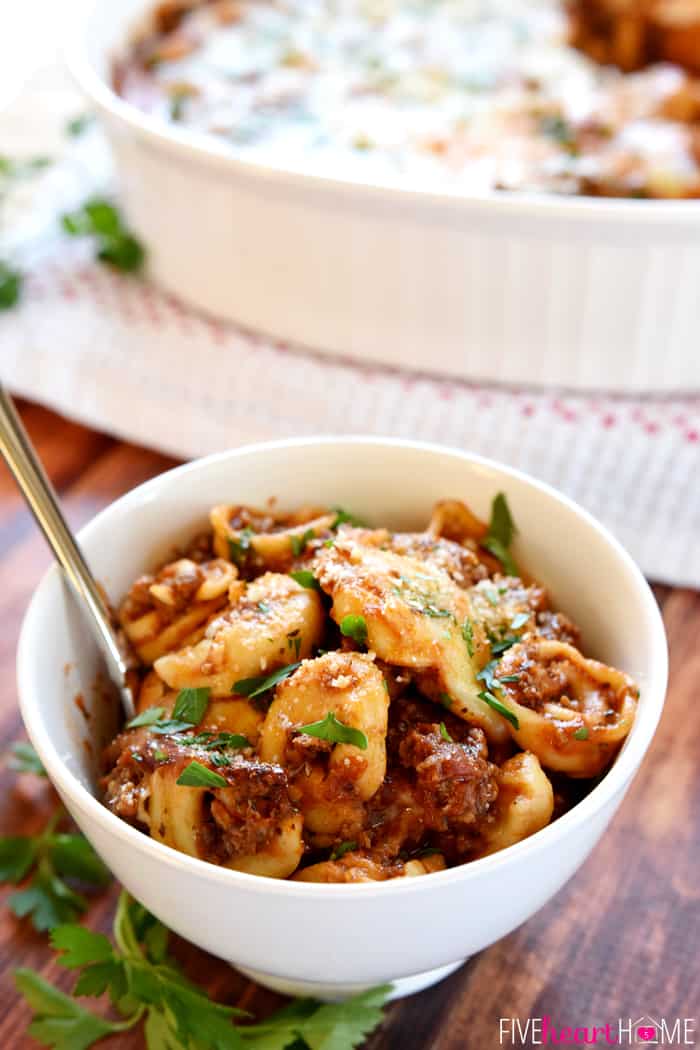 So that's exactly what I did. I basically made a batch of spaghetti sauce using ground beef and my favorite jarred pasta sauce, though you could certainly substitute homemade marinara if you happen to have some on hand. (To up the vitamin intake, I even got sneaky and added some finely grated zucchini to the meat sauce using my favorite method for hiding veggies in a recipe, but shhhh…don't tell my kids…or my hubby)! 😉 Then I tossed in my cheese tortellini and a bit of freshly grated mozzarella, poured everything into a baking dish, topped it with more cheese, and popped it into the oven until hot and bubbly.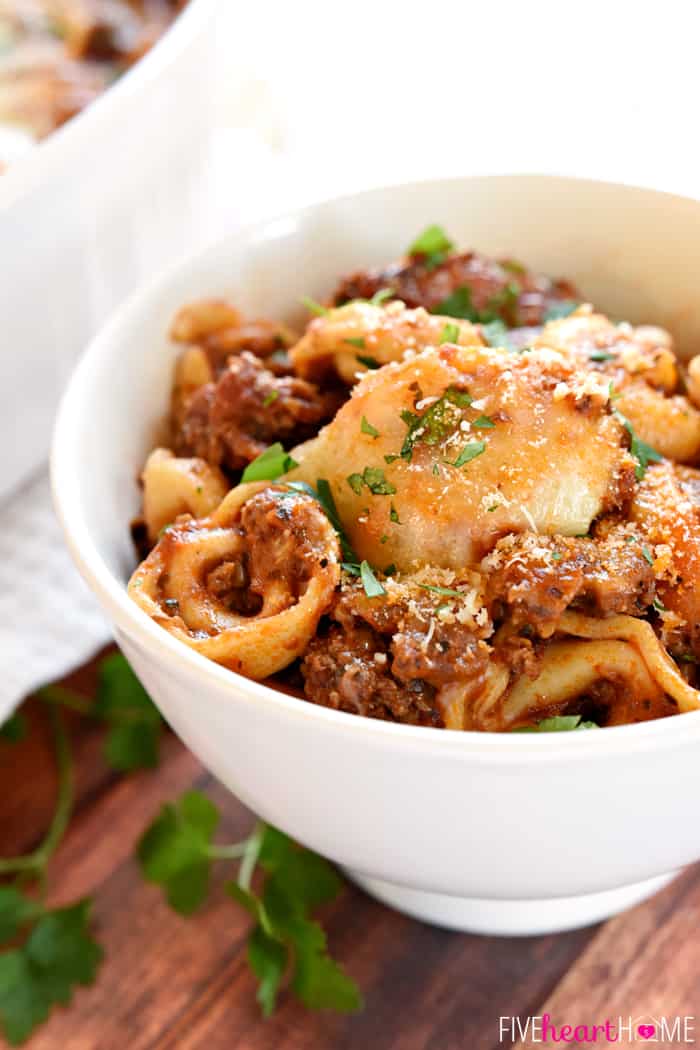 Dinner doesn't get much more effortless than pasta + sauce! But actually it does, because for this recipe, I didn't even have to dirty another pot by boiling the tortellini separately. I simply ran it under some warm water in a colander before adding it to the meat sauce and then everything cooked up all together in the oven. If that's not the definition of easy peasy, I'm not sure what is. And as a bonus, the kids loved this. Pasta and cheese and beefy tomato sauce (and hidden veggies, to boot)…how can you go wrong?!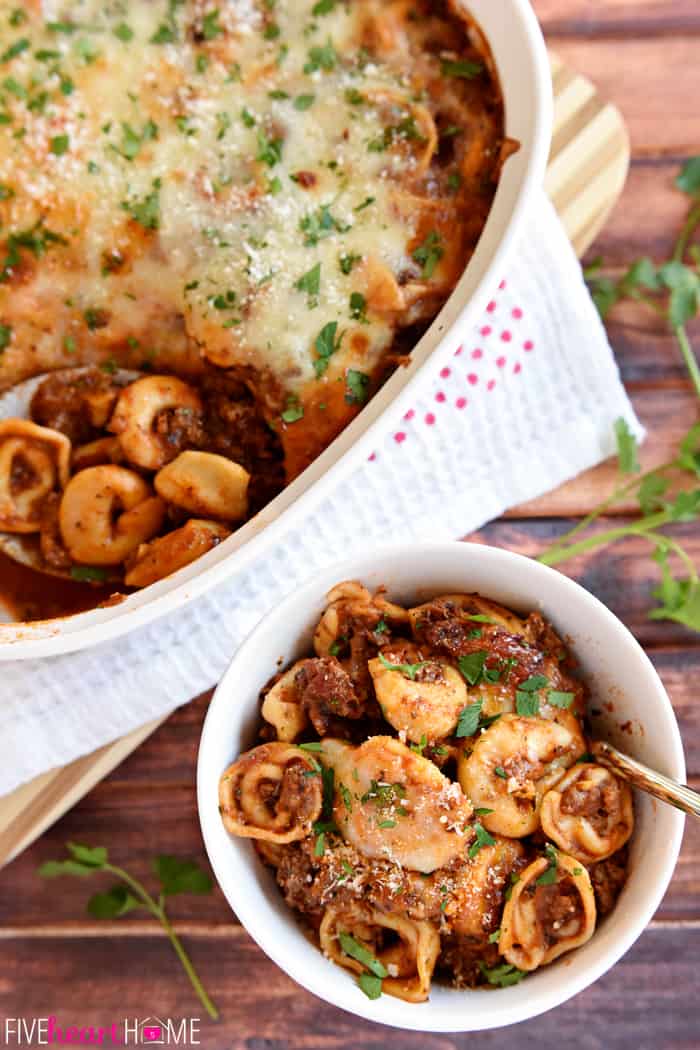 Just because I try to cook plenty o' things from scratch doesn't mean that I don't keep a few all-natural pantry and freezer staples on hand for quick dinners when I'm otherwise lacking inspiration. And as a result, this Beefy Cheesy Tortellini Bake is one of those perfect meals for when you're short on time and ingredients but you still want to throw together something that everyone will enjoy.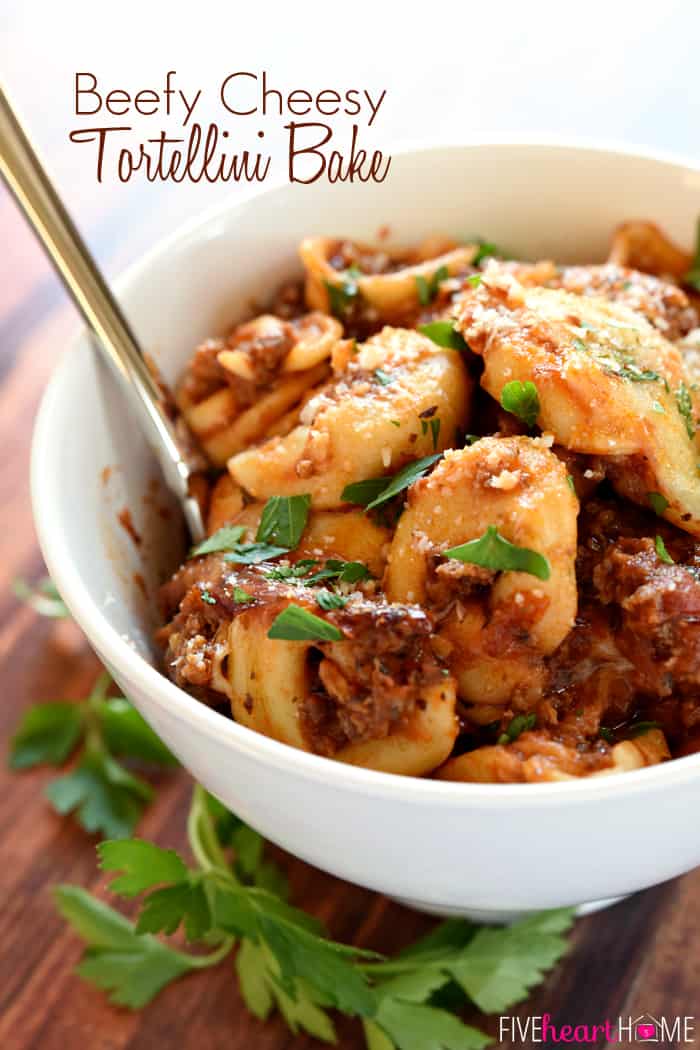 Now if you'll excuse me, I need to hop on Pinterest and try to figure out what I'm making for dinner tomorrow…and the next day…and the next… 😉
Beefy Cheesy Tortellini Bake Recipe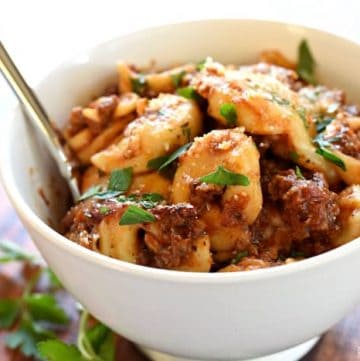 Beefy Cheesy Tortellini Bake
Beefy Cheesy Tortellini Bake is loaded with tortellini, marinara sauce, and mozzarella cheese for an effortless pasta dinner that the whole family will love!
Print
Pin
Rate
Ingredients
1

pound

ground beef

3

large cloves garlic

,

minced

1/2

teaspoon

garlic powder

3/4

teaspoon

dried basil

1/2

teaspoon

dried parsley

1/4

teaspoon

dried oregano

1/4

teaspoon

dried thyme

Pinch

of crushed red pepper flakes

,

optional

Salt and freshly ground black pepper

,

to taste

1

24-ounce jar marinara/pasta sauce

1

22-ounce package frozen cheese tortellini

8

ounces

mozzarella cheese

,

grated (about 2 cups)

2

tablespoons

grated Parmesan cheese
Instructions
Preheat oven to 350°F. Grease a 3-quart baking dish and set aside.

In a large pot set over medium heat, brown ground beef and garlic until meat is no longer pink, breaking it up and stirring frequently. Drain fat. Season meat with garlic powder, dried basil, dried parsley, dried oregano, dried thyme, crushed red pepper flakes (if desired), and salt and freshly ground black pepper, to taste.

Stir pasta sauce into cooked ground beef. Pour frozen tortellini into a colander and run under warm water for a minute to slightly thaw. Drain and stir tortellini into meat sauce.

Remove pot from heat and stir in half of the grated mozzarella. Transfer tortellini/meat sauce into the prepared baking dish. Top with remaining grated mozzarella and sprinkle with grated Parmesan. Cover with foil and bake for 20 minutes. Remove foil and bake for about 20 minutes more, or until hot and bubbly.
Notes
If you have fresh herbs, feel free to substitute them for the dried herbs (and you may use two to three times the amount of fresh herbs, since fresh herbs aren't as strong as dried).
If desired, you can add some grated veggies to the meat sauce using this method.
Calories:
316
kcal
|
Carbohydrates:
1
g
|
Protein:
22
g
|
Fat:
24
g
|
Saturated Fat:
11
g
|
Cholesterol:
85
mg
|
Sodium:
315
mg
|
Potassium:
238
mg
|
Vitamin A:
270
IU
|
Vitamin C:
0.5
mg
|
Calcium:
228
mg
|
Iron:
1.8
mg
Post originally published on February 15, 2015.
More Pasta Favorites
197