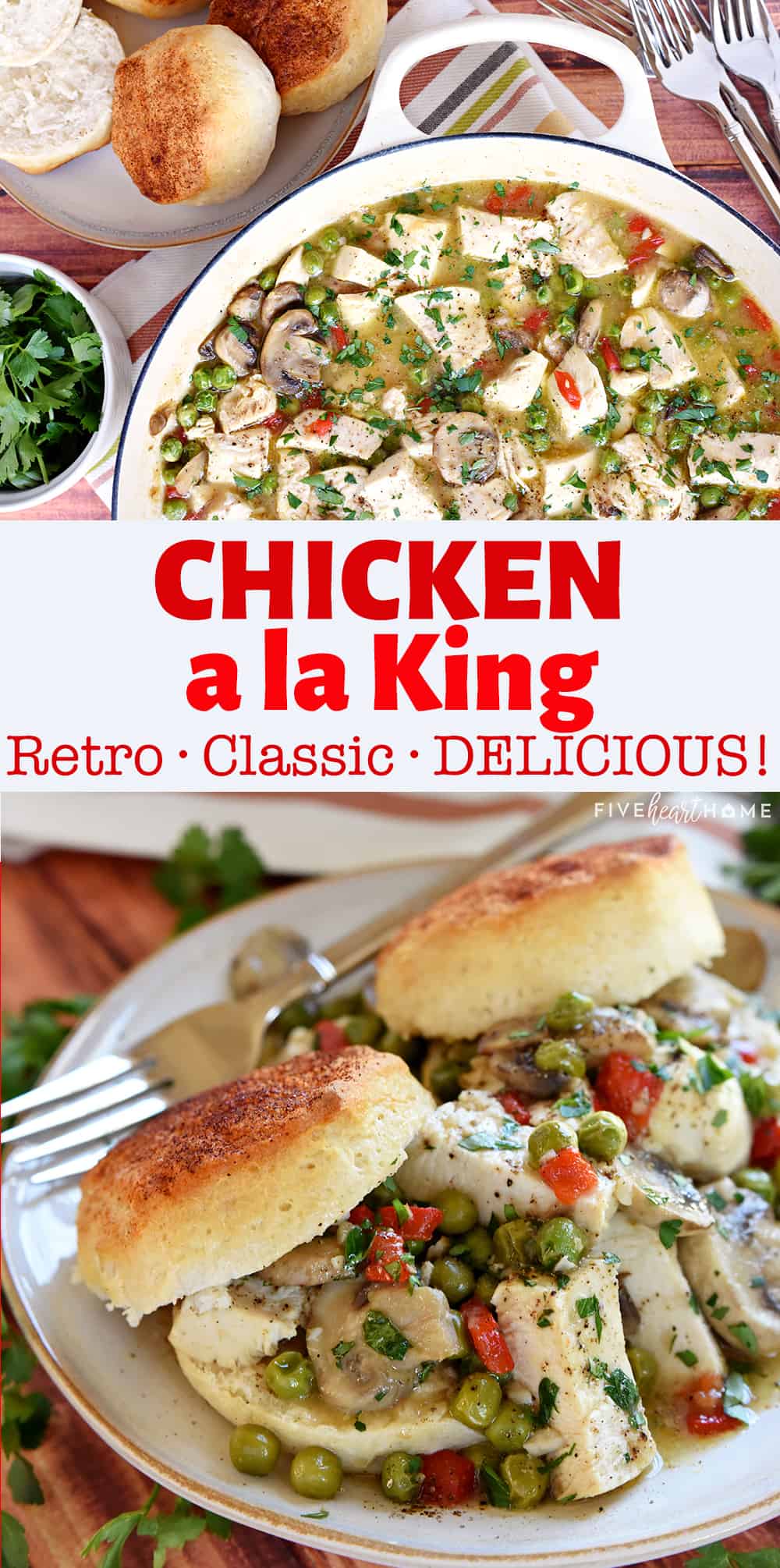 Chicken à la King is a classic, healthy dinner recipe featuring tender chicken breasts, garlicky mushrooms, sweet peas, zesty pimentos, and fresh parsley in a flavorful white wine sauce served over warm, fluffy biscuits.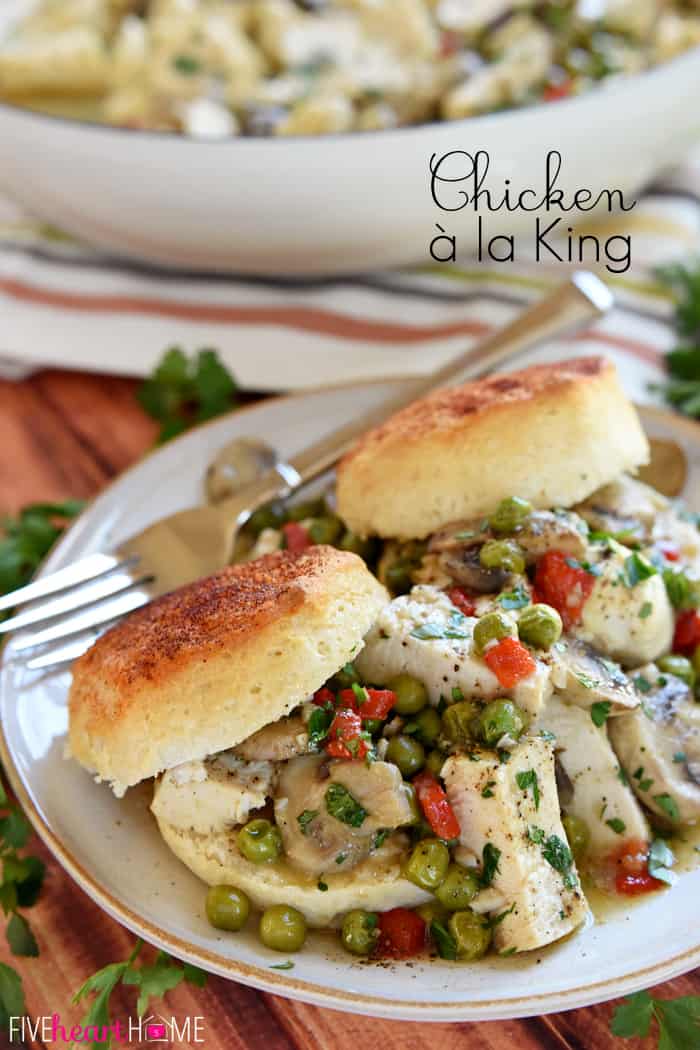 If you follow me on Instagram, you may have seen my post the other morning whereby I was cracking open a bottle of white wine at 9:00 a.m. Turns out, food bloggers occasionally engage in some weird practices related to cooking and photographing dinner recipes during the peak hours for natural light. Anyway, for anyone curious as to what wine-kissed dish was bubbling away on my stovetop that morning, it was this mouthwatering Chicken à la King!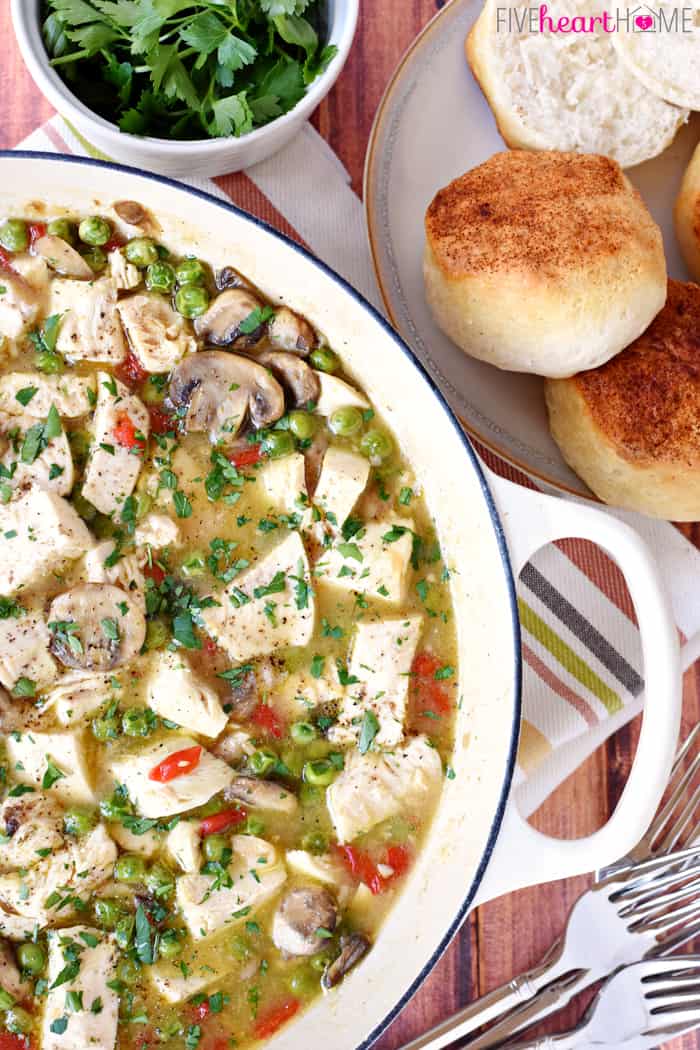 Not only does this recipe taste divine, but I've always thought that cooking with white wine makes your kitchen smell heavenly (despite the fact that it was a rather odd juxtaposition that morning while sipping my coffee).
Maybe my affinity for this aroma arose from the fact that I was raised by a European mother who wasn't afraid to add a splash of wine to a variety of recipes. Nor was she afraid to add kirschwasser (cherry brandy) to her Black Forest Cake cherry filling, which she then packed in our school lunchboxes without giving it a second thought...but that's another story for another time. Fortunately, my brother and I lived to tell the tale and, as a bonus, were never carted away by CPS.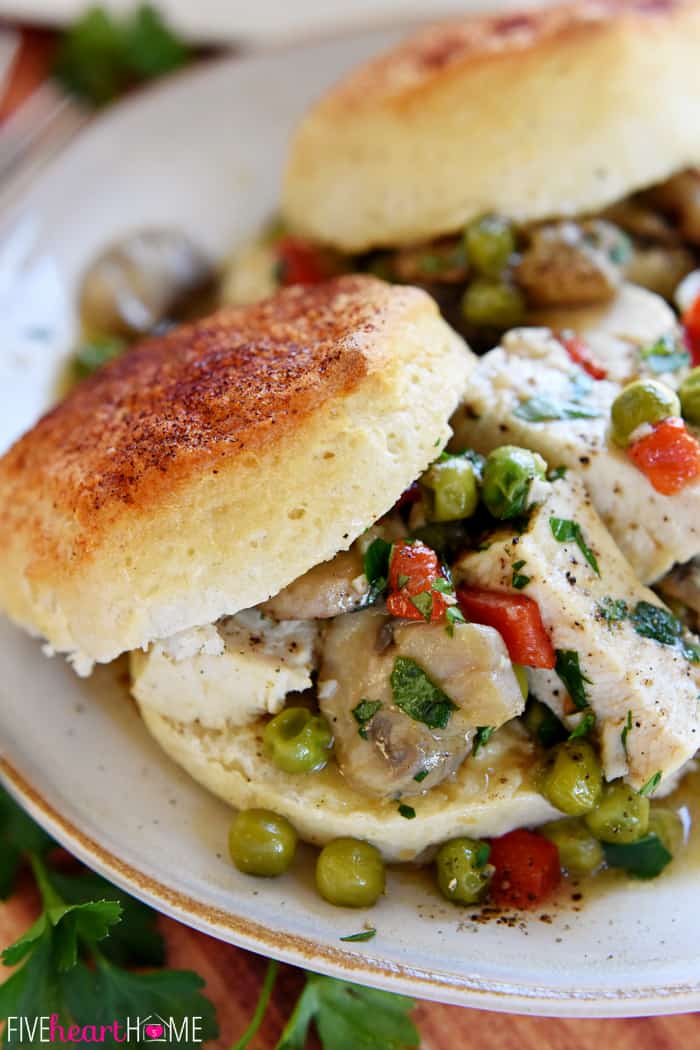 Chicken à la King Ingredients
This retro recipe is just brimming with juicy poached chicken, savory mushrooms, plump peas, and zippy pimentos in a flavorful sauce, all topped off with fresh parsley.
But the best part is (perhaps I've mentioned my fondness for bread before?) IT'S SERVED OVER BISCUITS!!!
That's right...it's almost like a high-brow version of biscuits and gravy, plus some chicken and veggies thrown in for good measure.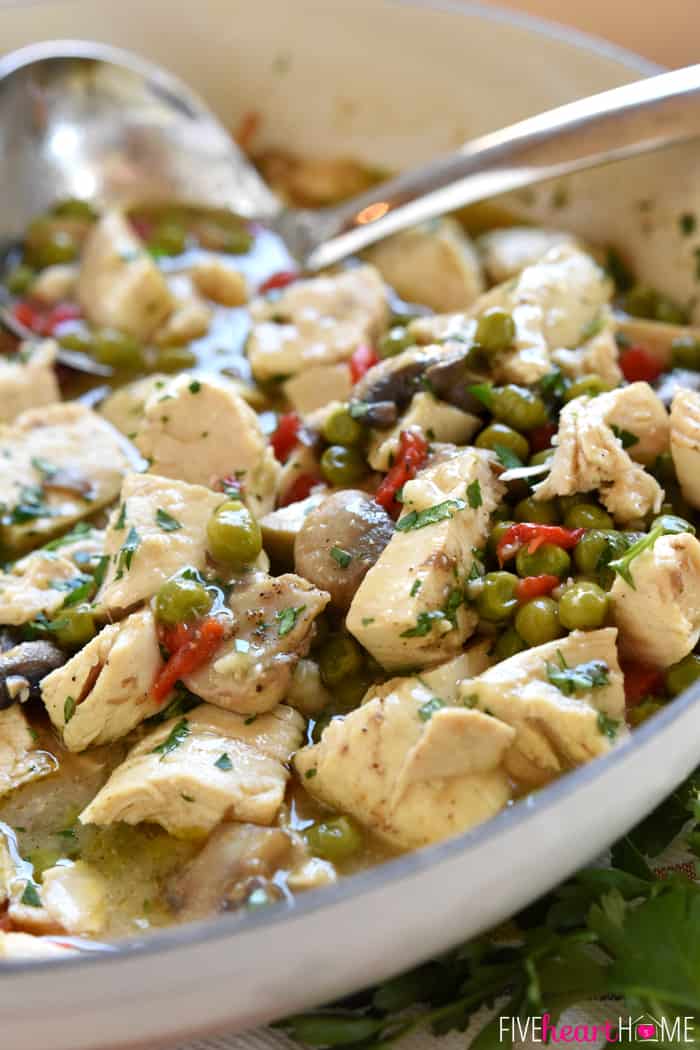 How to Make It
I've been making this Chicken à la King recipe for as long as I've been married. Don't tell anyone, but this is one of my beef-loving hubby's favorite dinners...when we've flat run out of beef, of course. Best of all, it's easy to make:
Bake the biscuits. Regular refrigerated biscuits work just fine for this recipe...see below.
Poach the chicken, in a combination of chicken broth and white wine.
While all of that's going on, saute some mushrooms and garlic in another skillet.
Once cooked, remove the chicken, dice, and whisk its cooking liquid into the mushrooms.
Add the diced chicken, plus peas and pimentoes, to the mushroom sauce.
Season with salt and pepper and stir in fresh parsley.
Serve hot over warm biscuit halves.
Such a delicious, retro classic!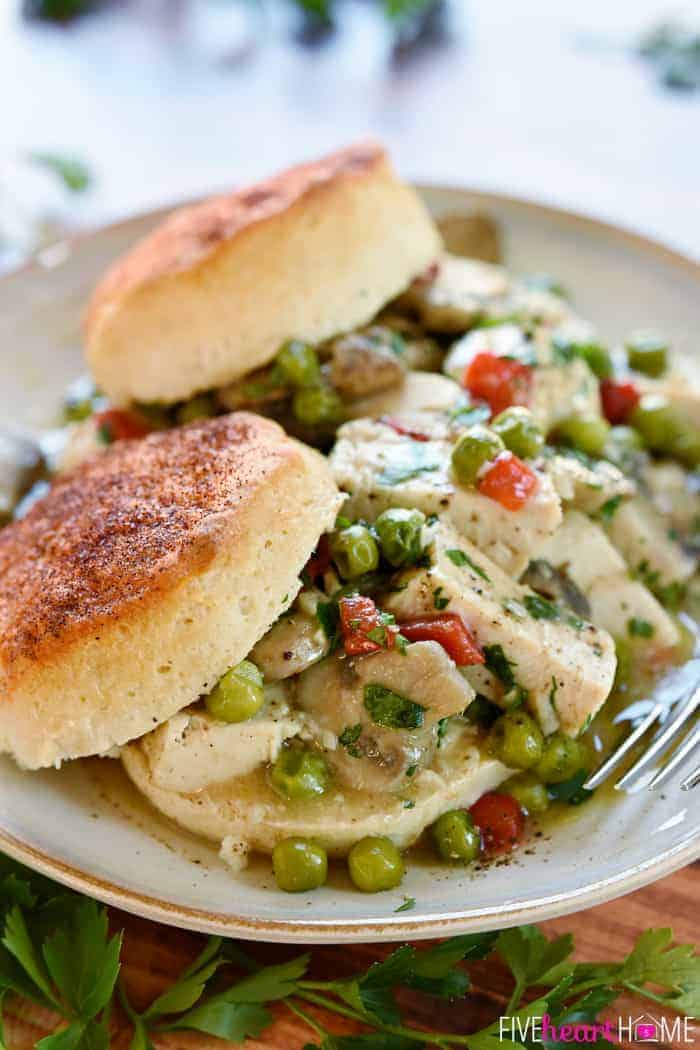 The Biscuits
Y'all know that I love making kitchen staples from scratch, but I will freely admit to using jumbo canned refrigerated biscuits for this recipe.
That being said, I do use the natural ones without any wonky ingredients...Immaculate Baking Company or Annie's are my favorite brands.
Before baking your biscuits, just be sure to sprinkle the tops with a little sweet paprika (for a mild version) or cayenne (for some spice).
It pretties up those store-bought biscuits and gives them a bit of extra flavor, to boot.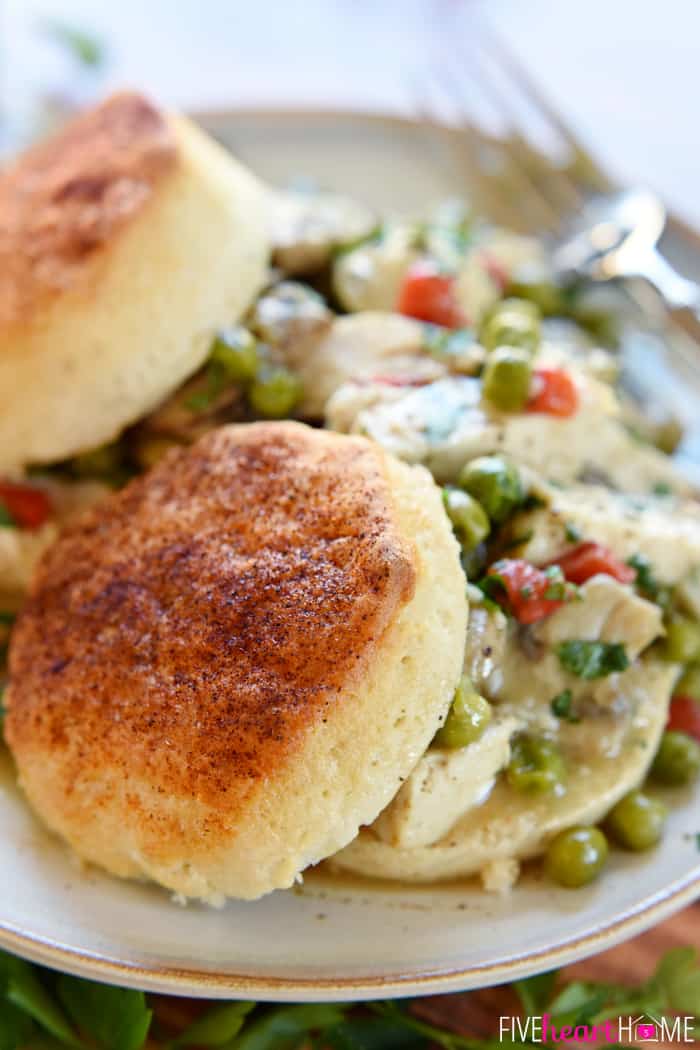 Chicken à la King is a quick, healthy, straightforward recipe that's also special enough to serve to company.
Make it, love it, add it to your repertoire!
You can thank me later. 😉
More Quick and Easy Dinners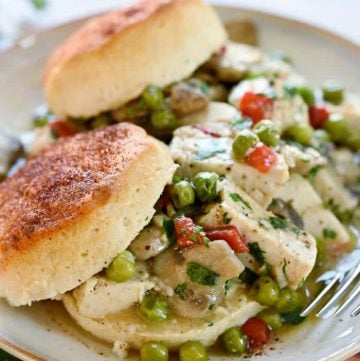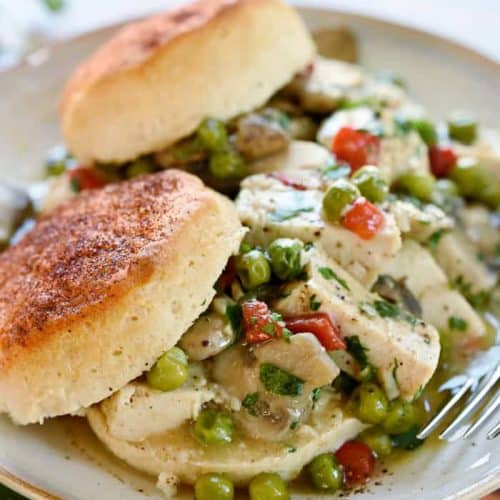 Chicken à la King
Chicken à la King is a classic, healthy dinner recipe featuring tender chicken breasts, garlicky mushrooms, sweet peas, zesty pimentos, and fresh parsley in a flavorful sauce served over warm, fluffy biscuits.
Print
Pin
Rate
Ingredients
1

can

jumbo refrigerated biscuits

,

8-count

Sweet paprika or cayenne pepper

2

cups

chicken broth OR stock

1

cup

white wine

1

bay leaf

3

large (OR 4 small) boneless skinless chicken breasts

1

tablespoon

extra-virgin olive oil

2

tablespoons

butter

8

ounces

white mushrooms

,

sliced

2

large cloves of garlic

,

minced

Salt & freshly ground black pepper

2

tablespoons

all-purpose flour

3

tablespoons

chopped pimentos

1 ½

cup

frozen green peas

3

tablespoons

fresh chopped parsley
Instructions
Arrange biscuits on a baking sheet, sprinkle tops with paprika or cayenne, and bake in a preheated oven according to package directions. Remove from oven and allow to cool.

In a large skillet, bring chicken broth and white wine to a boil. Add bay leaf and chicken breasts. Reduce to a simmer and gently poach chicken until cooked through (but not overcooked...juices should run clear and there should be no pink in the centers). This could take anywhere from 10 to 20 minutes, depending on how large/thick the chicken breasts are.

While chicken is cooking, preheat another large, deep skillet or Dutch oven over medium heat. Melt together oil and butter in pan, and then add mushrooms, garlic, and salt and pepper, to taste. Saute, stirring occasionally, for 5 to 10 minutes or until mushrooms are tender. Sprinkle mushrooms with flour and cook for one more minute, stirring continuously.

Once chicken is cooked, remove to a cutting board and dice. Discard bay leaf and pour 2 ½ cups of the broth/wine cooking liquid into the cooked mushrooms; whisk together. (If there's less than 2 ½ cups of cooking liquid remaining, add a bit more chicken broth to make up the difference). Add peas, pimentos, and diced chicken to the sauce. Season with salt and pepper, to taste. Simmer for just a couple more minutes until peas are heated through. Remove from heat and stir in the majority of the parsley, reserving a small amount for garnish.

To serve, slice open biscuits. Place the bottom of a biscuit on a plate, top with chicken mixture and sauce, and cover with the biscuit top. Garnish with remaining parsley and serve immediately.
Notes
If you're not sure which white wine to cook with, you can't go wrong with a non-oaky chardonnay, a pinot grigio, or a sauvignon blanc. It should taste decent, but no need for it to be fancy or expensive.
Calories:
491
kcal
|
Carbohydrates:
48
g
|
Protein:
22
g
|
Fat:
21
g
|
Saturated Fat:
5
g
|
Trans Fat:
1
g
|
Cholesterol:
47
mg
|
Sodium:
843
mg
|
Potassium:
714
mg
|
Fiber:
4
g
|
Sugar:
6
g
|
Vitamin A:
781
IU
|
Vitamin C:
25
mg
|
Calcium:
63
mg
|
Iron:
4
mg
Adapted from Food Network
Post originally published on January 29, 2015.