Mexican Cornbread Casserole is an easy, comforting dish featuring a layer of taco-seasoned ground beef mixed with salsa, black beans, corn, and olives, and topped with green chile cheddar cornbread!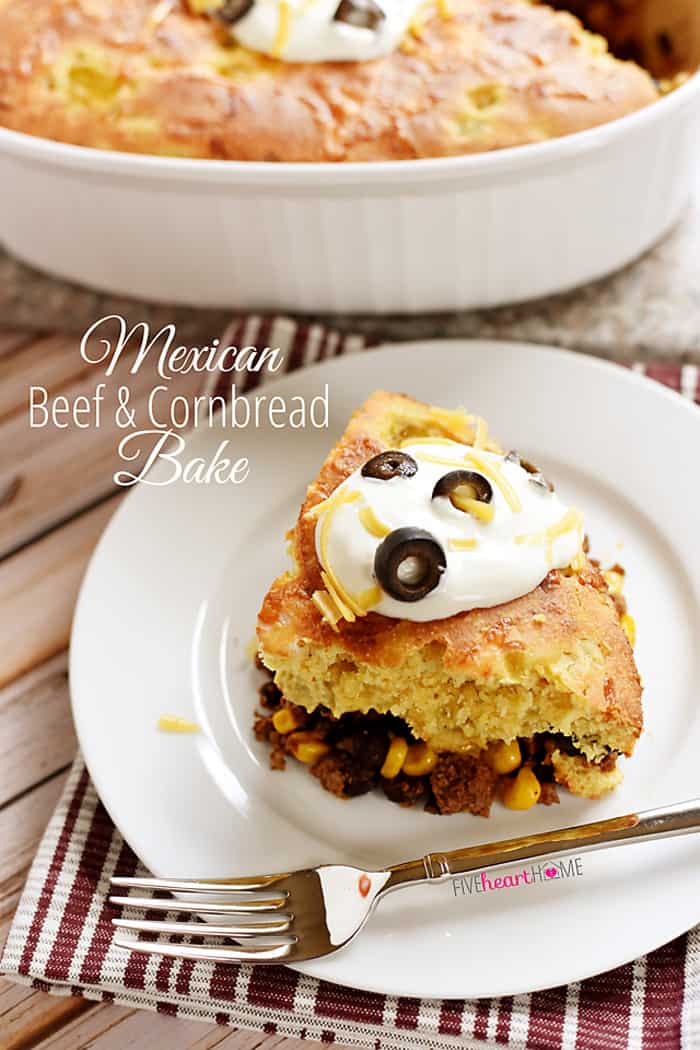 Sometimes you just need a fast, simple supper, whether it comes in the form of slow cooker suppers or one pot wonders or quick, cozy oven bakes. Enter this Mexican Cornbread Casserole!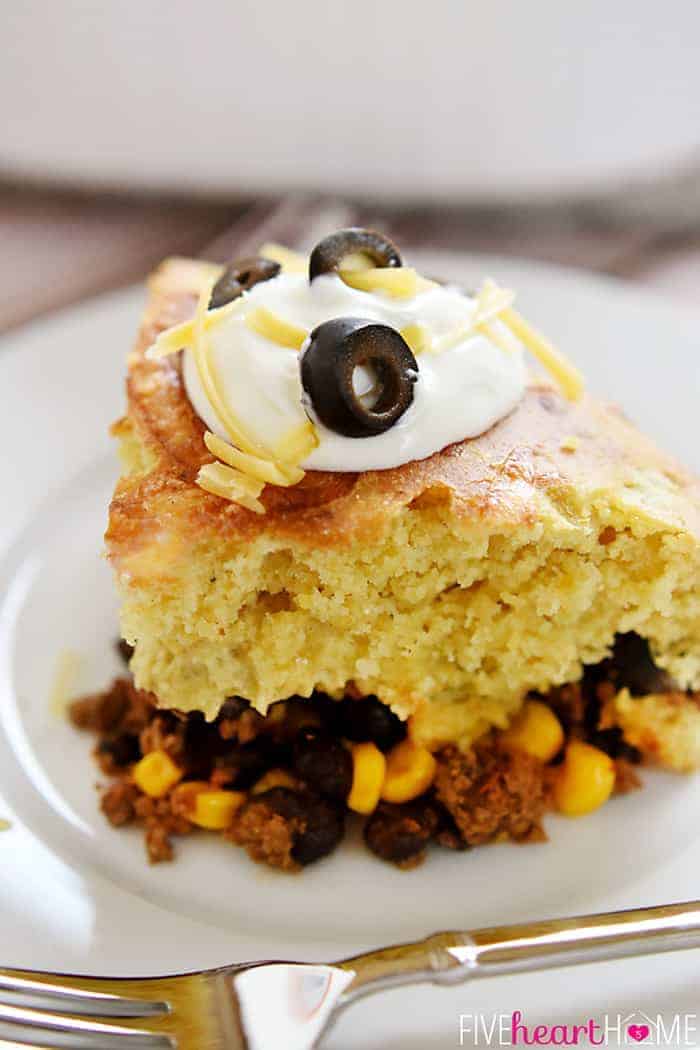 This is one of those stand-by, ever popular recipes that I've had in my arsenal since I was a sprightly young newlywed.
Is it fancy? No.
Is it complicated? No.
But is it speedy to make and pleasing to ingest by pretty much everyone? YES. Why yes, it is.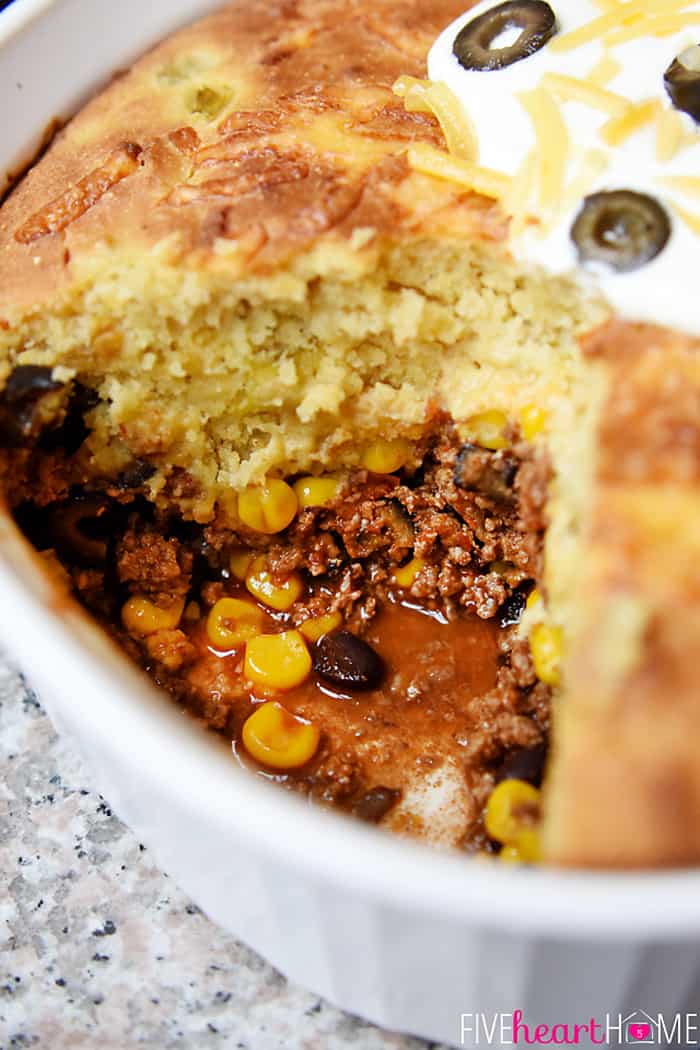 Ingredients
Mexican Cornbread Casserole is obviously not "Mexican" in the sense of authentic cuisine from the heart of Mexico...so don't judge my title here. 😉
Rather, it's got more of an Americanized Tex-Mex vibe going, between the taco-seasoned ground beef, salsa, black beans, corn, and black olives. And don't forget the cornbread topping, jazzed up with grated cheddar and green chiles!

How to Make It
The photos pretty much sum up the simplicity of this recipe.
Brown your ground beef.
Simmer it with a bit of salsa and taco seasoning.
Stir in the beans, corn, and olives (if you care for them) and spoon all of that savory deliciousness into a baking dish.
Whip up a batch of cornbread, throwing in some diced green chiles and grated cheddar cheese for good measure. (Or even some jalapeños, if you can handle the heat!)
Then spread the batter on top of the beef mixture and bake the whole shebang until it achieves a lovely shade of golden brown.
Serve your Mexican Cornbread Casserole with a dollop of sour cream, additional salsa, diced avocado, or whatever else floats your boat. Prepare to go to bed full and happy!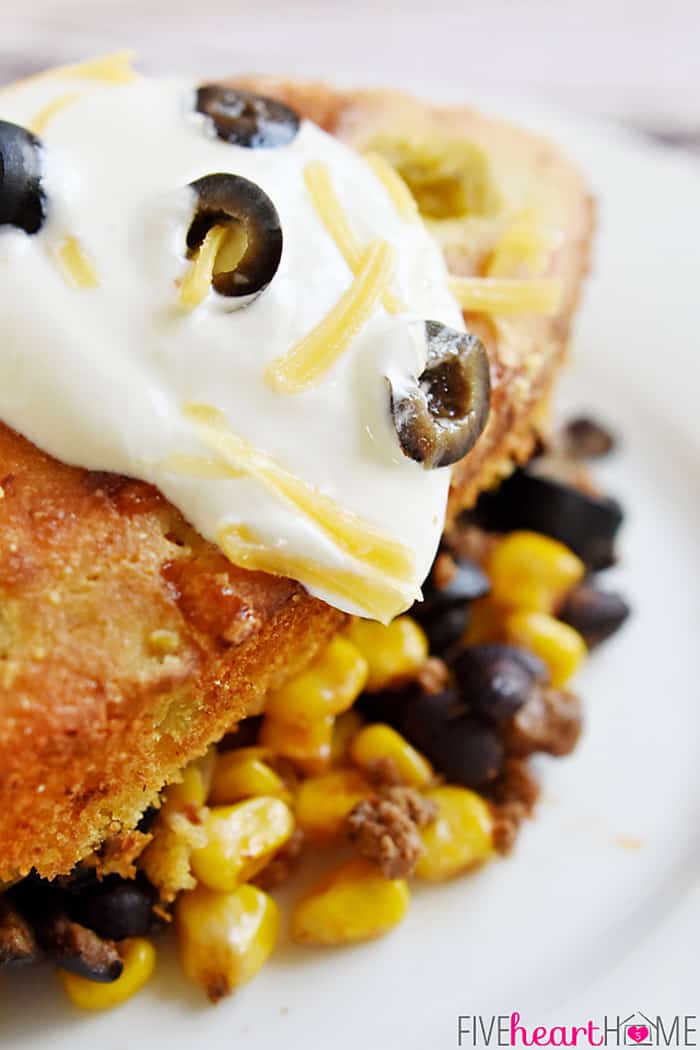 Or if you are this poor, mistreated child, prepare to wail because your heartless mother sweetly asked you to scoot out from the background of her photo shoot. Let it be noted, however, that said heartless mother knew exactly what this little cutie was up to, seeing as how it's been awhile since her sneaky little hand made a food photography cameo...

Shortcut
One final note...I always keep a jumbo jar of Homemade Taco Seasoning and a colossal container of Homemade Cornbread Mix in my pantry, and I use them both all the time.
I like the convenience of having a prepared mix on hand without having to worry about the preservatives and questionable ingredients found in a lot of store-bought seasonings and mixes.
It makes recipes like this Mexican Cornbread Casserole that much faster to put together while allowing me to control exactly what I'm feeding my family. (And if you're interested in making your own mixes and kitchen staples, I'm always adding new recipes to that section of the blog!)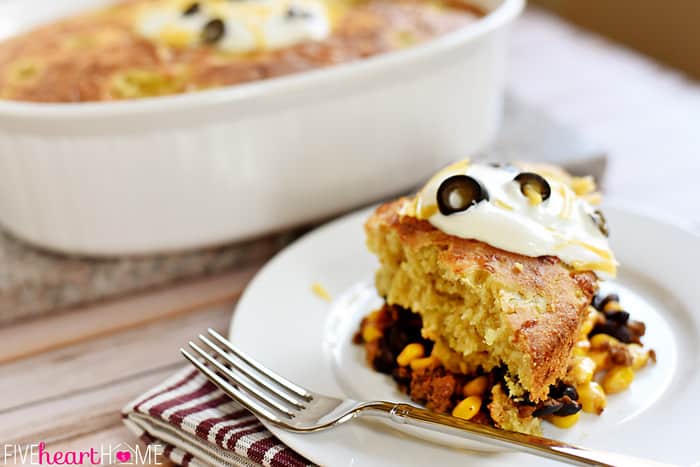 Well, that's pretty much it, folks! Even if the season and the temperatures haven't quite reached comfort food status yet, they'll get there soon enough.
In the meantime, I'm taking full advantage of every quick, easy meal in my repertoire...and Mexican Cornbread Casserole happens to be one of my family's favorites. Enjoy!
And if you love this recipe, for a similar idea -- with a totally different flavor -- this Tamale Pie is topped with a masa topping (instead of regular cornbread) and tastes amazingly like a beef tamale!
More Simple, Comforting Suppers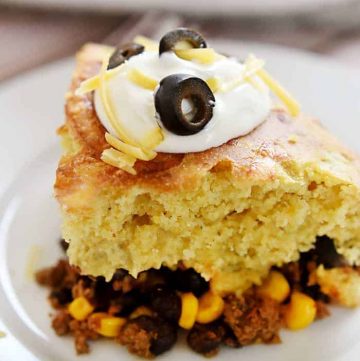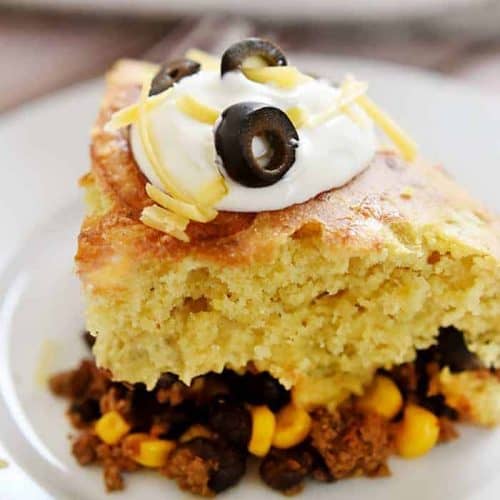 Mexican Cornbread Casserole
Mexican Cornbread Casserole is an easy, comforting dinner recipe featuring a layer of taco-seasoned ground beef mixed with salsa, black beans, corn, and olives, and topped with green chile cheddar cornbread!
Print
Pin
Rate
Ingredients
1

pound

ground beef

1

cup

salsa

2

tablespoons

Homemade Taco Seasoning,

OR 1 package store-bought taco seasoning

1

can

(15-ounces) black beans, rinsed & drained

2

cups

frozen corn

,

thawed

1

can

(2.25-ounces) sliced black olives

,

drained

1

batch Homemade Cornbread Mix,

OR 1 (8.5-oz. package store-bought cornbread mix), plus ingredients to prepare as directed

1

cup

grated cheddar cheese

1

can

(4-ounces) diced green chiles
Instructions
With oven rack in center position, preheat oven to 350°F. Lightly grease or spray an 8-inch square baking dish with nonstick cooking spray.

Set a pot or large skillet over medium heat and cook ground beef until browned. Drain grease, stir in salsa and taco seasoning, and bring to a simmer. Cook for 5 minutes on low until thickened. Stir in black beans, corn, and black olives, and transfer mixture to prepared baking dish, spreading it in an even layer.

Prepare cornbread batter according to package directions, stirring in cheddar cheese and green chiles until just combined. Spread batter over beef mixture, smoothing to edges of dish. Bake, uncovered, for 30 to 35 minutes or until cornbread is golden brown and tests done with a toothpick. Serve with sour cream, additional salsa, cheddar cheese, black olives, diced tomatoes, diced avocado, or your favorite garnishes.
Notes
You may use something other than an 8-inch square baking dish as long as it has a similar capacity. Just make sure it's not too deep or the cornbread may not cook through.
Use mild salsa, or even tomato sauce, for a mild dish. Use hot salsa if you prefer more spice. You may omit the green chiles if you wish, but they are typically pretty mild (unless they are labeled hot).
Corn does not have to be completely thawed. I typically toss it in a colander on top of the black beans and rinse everything together, which partially thaws the corn.
Calories:
401
kcal
|
Carbohydrates:
30
g
|
Protein:
28
g
|
Fat:
21
g
|
Saturated Fat:
7
g
|
Cholesterol:
67
mg
|
Sodium:
1630
mg
|
Potassium:
762
mg
|
Fiber:
9
g
|
Sugar:
2
g
|
Vitamin A:
755
IU
|
Vitamin C:
11.6
mg
|
Calcium:
210
mg
|
Iron:
4
mg