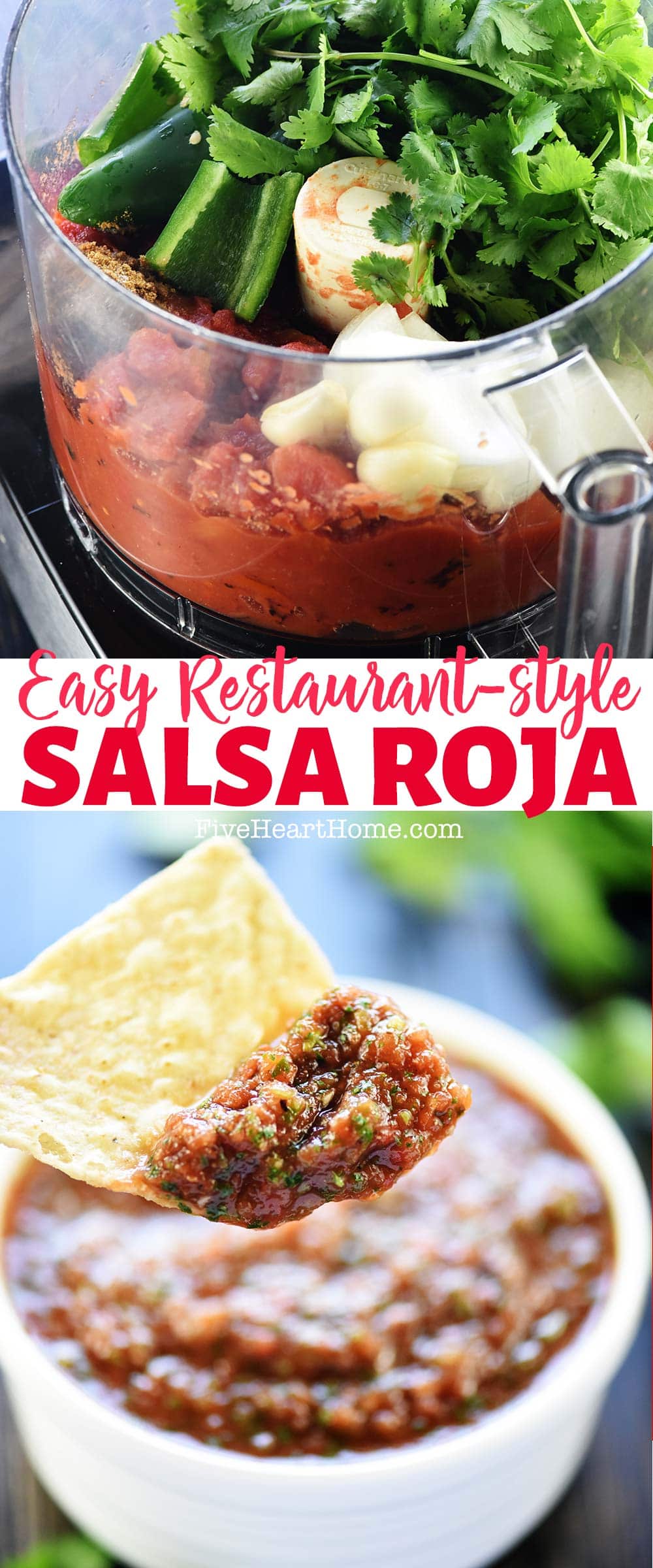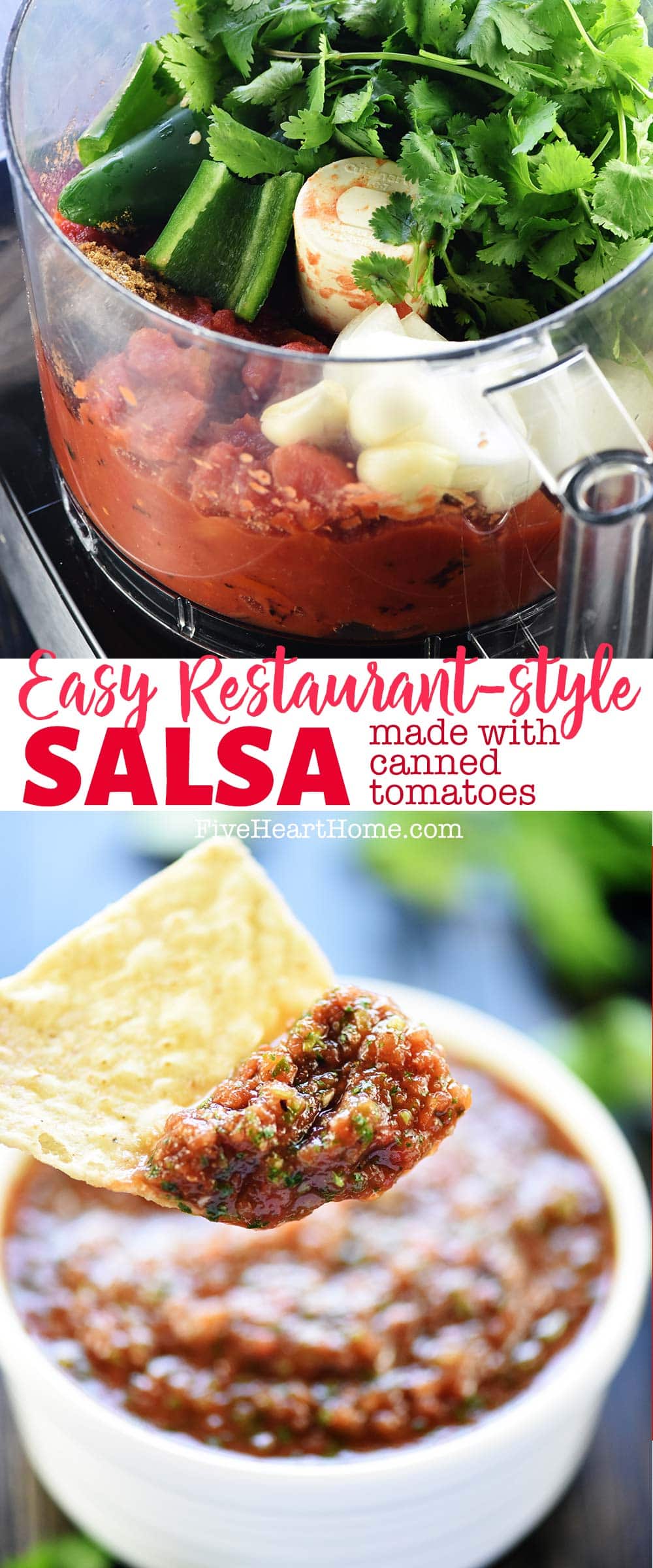 Fresh, homemade, easy, canned tomato salsa is the BEST! It takes just a few minutes to throw together in the blender or food processor and it rivals the best restaurant-style salsa!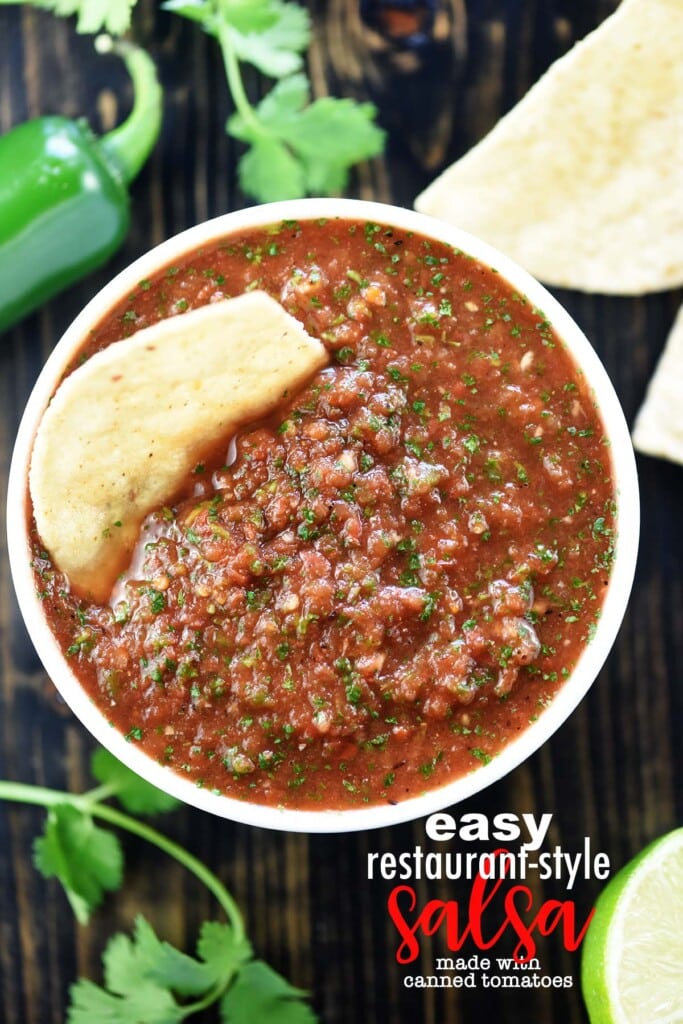 If you're a fan of scooping up salsa, I think you'll also love Creamy Salsa Dip or amazing, flavor-packed Mango Salsa!
Dare I say it, but chips and salsa are pretty much a religion in Texas. Everyone has their favorite kind. It may be pureed or chunky, smooth or textured, mild or spicy, loaded with goodies or plain and simple. And whether that favorite version comes from a restaurant or a grocery store or your very own kitchen, the truth is that DIY-ing homemade salsa is surprisingly quick and easy, particularly when you start with canned tomatoes. And today's fresh, easy salsa recipe is both versatile and delicious!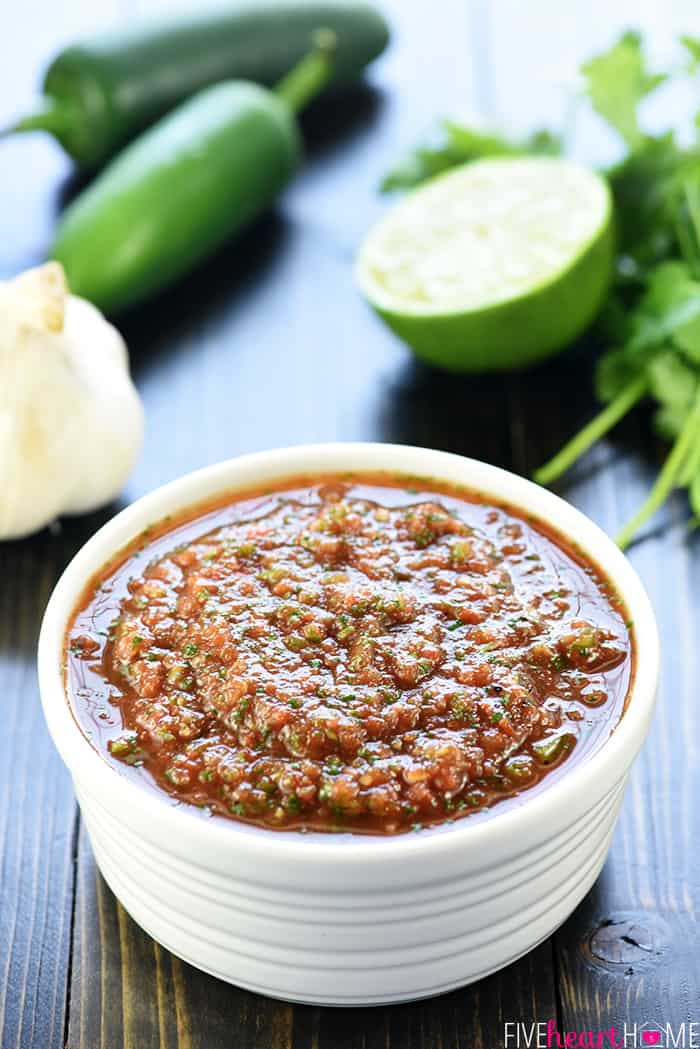 This restaurant-style salsa recipe just so happens to be my (and my family's!) favorite kind of salsa. We prefer a pureed salsa with a bit of texture but no big chunks of veggies, and this recipe results in just that. And it's as effortless as tossing canned tomatoes (plus a few other ingredients) into a blender or food processor and letting 'er rip! Can you say under 5 minutes???
Ingredients
So exactly what ingredients are required? Well, I'm so glad you asked. Let's break down the mechanics, shall we?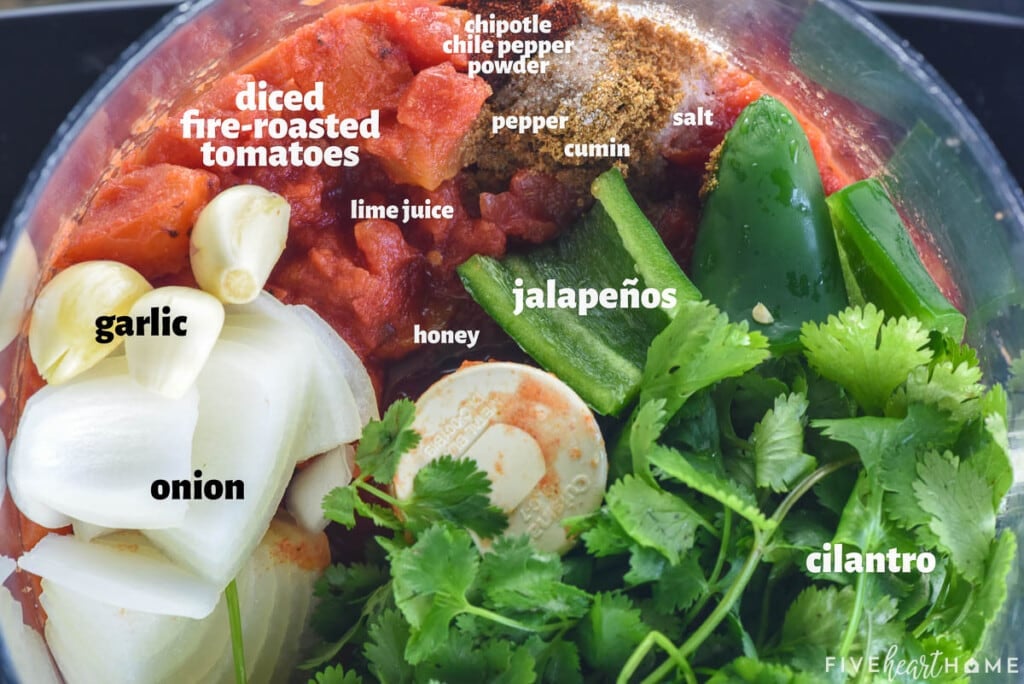 Tomatoes. While I enjoy making homemade salsa from fresh tomatoes during the summertime -- when I have more tomatoes than I reasonably know what to do with -- the truth is that you can achieve an equally delicious and addictive salsa using (*gasp*) canned tomatoes! And lucky for us all, canned tomatoes are available year-round.

I start with two cans of diced, fire-roasted tomatoes. Plain diced tomatoes will work just fine if that's your preference. But I find that fire-roasted tomatoes have a slight smokiness and deeper flavor that takes a salsa recipe from good to great.
And for a perfect consistency, sometimes I drain one of my cans of tomatoes and include the juices from the other can. I find that this results in a salsa that's neither too thick nor too watery...in other words, perfect!

Onion. Y'all know I don't like onions. However, I make an exception when it comes to fresh, non-chunky, pureed salsa. So while I only add about a quarter of a small white or yellow or red onion to my recipe, for stronger flavor in your version, feel free to increase the amount of onion to your liking.
Garlic. My love for garlic is even greater than my loathing for onions. That being said, raw garlic packs quite a punch. I find three large cloves of garlic to be the perfect amount for a salsa that's garlicky but not overpoweringly so. But again, tweak the amount as you see fit.
Jalapeño. Here is where we garner both heat and flavor in this recipe.

For mild, remove the seeds and membranes from both jalapeños (and/or you can choose to use one jalapeño instead of two).
For medium, remove the seeds and membranes from one jalapeño and leave them intact in the other.
And for hot, leave the seeds and membranes intact in both jalapeños...or even toss in an extra jalapeño! Have you figured out that most of the heat from a jalapeño is housed in its seeds and membranes??? That being said, all jalapeños vary in their spiciness. So I say err on the side of caution when you first start making homemade salsa. After all, you can always add heat, but it's impossible to take it away!

Cilantro. I think cilantro is a critical ingredient in just about any salsa recipe. Because I love the flavor of cilantro, I add a whole, big bunch of the stuff (see all of those flecks of green in these pics?). But for freshness without overpowering flavor, you can choose to add just add a handful of cilantro.

Now, I know that a large portion of the population has a strong dislike for cilantro, but y'all still eat salsa made with cilantro, right? As long as too much wasn't added? Or am I totally wrong here?
If any cilantro-haters out there think salsa turns out okay with absolutely no cilantro included, please chime in here! As a cilantro lover, I've never had salsa without it and could use your input.

Lime Juice. Fresh lime juice is a must! I think half of a lime lends the perfect amount of pucker to this particular canned tomato salsa recipe, but feel free to increase the lime juice as you see fit. Bottled lime juice will work as well, although I recommend using a natural one where lime juice is the only ingredient.
Honey. Just a tiny squeeze is all you need to balance the acidity of the tomatoes without making your salsa sweet.
Spices. Salt is crucial. Freshly ground black pepper is nice. And I think adding a touch of cumin and chipotle chile pepper powder lends a nice undertone of smokiness. Just remember that chipotle chile pepper powder is also HOT, so add it gradually and sparingly...or add more for extra heat.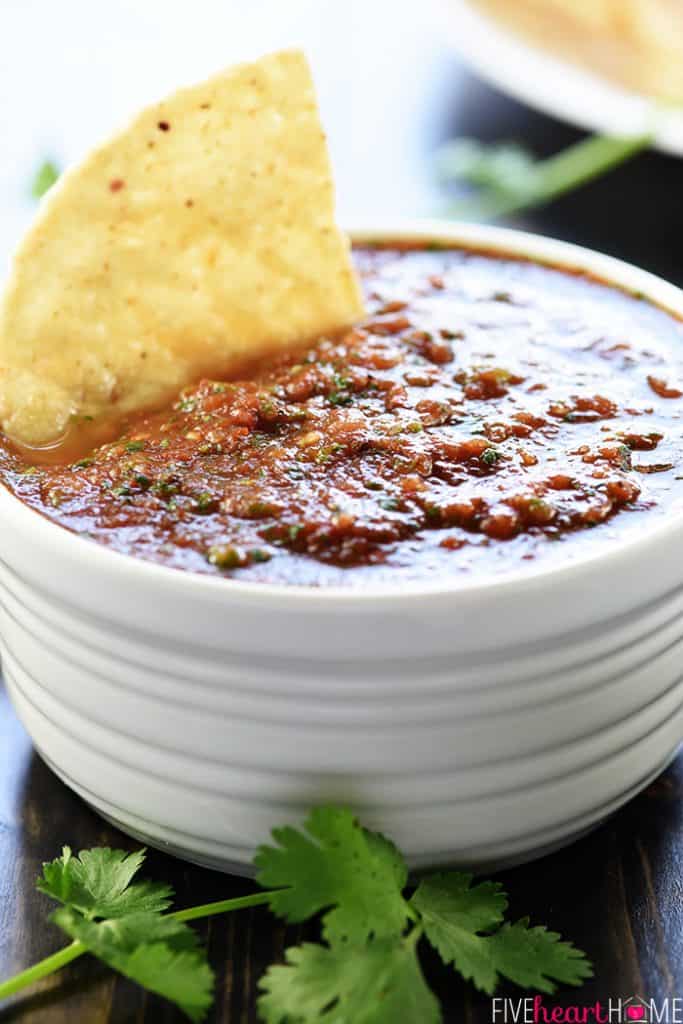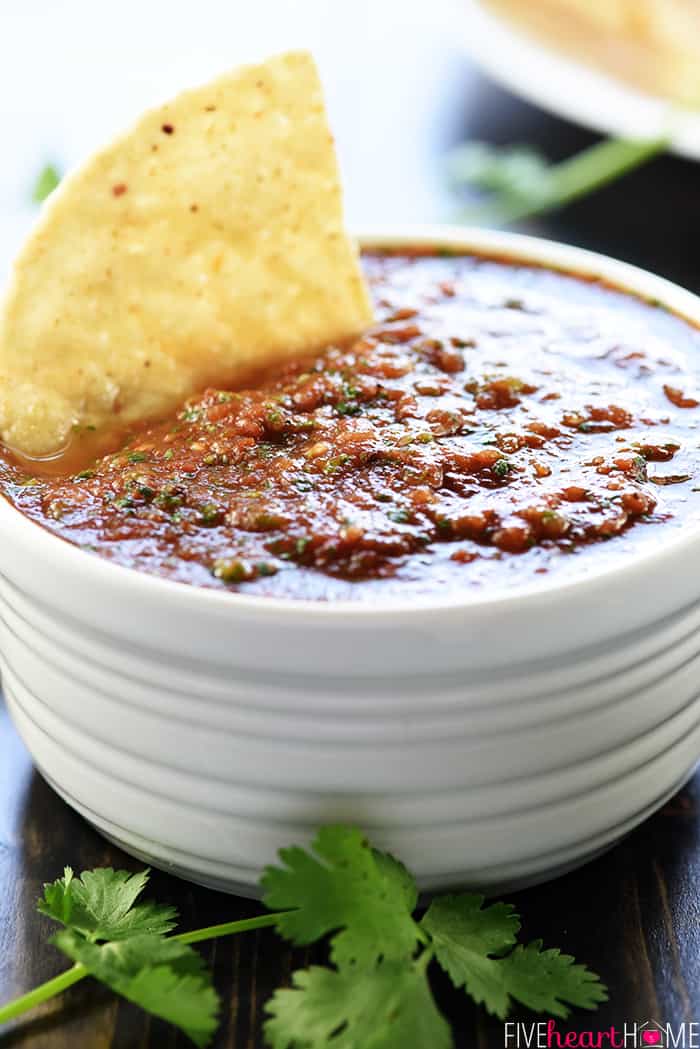 How to Make Canned Tomato Salsa
(The below photos are intended to be helpful, but please refer to the recipe card at the bottom of this post for FULL DIRECTIONS.)
It's pretty easy, y'all.
Throw everything in the blender or food processor.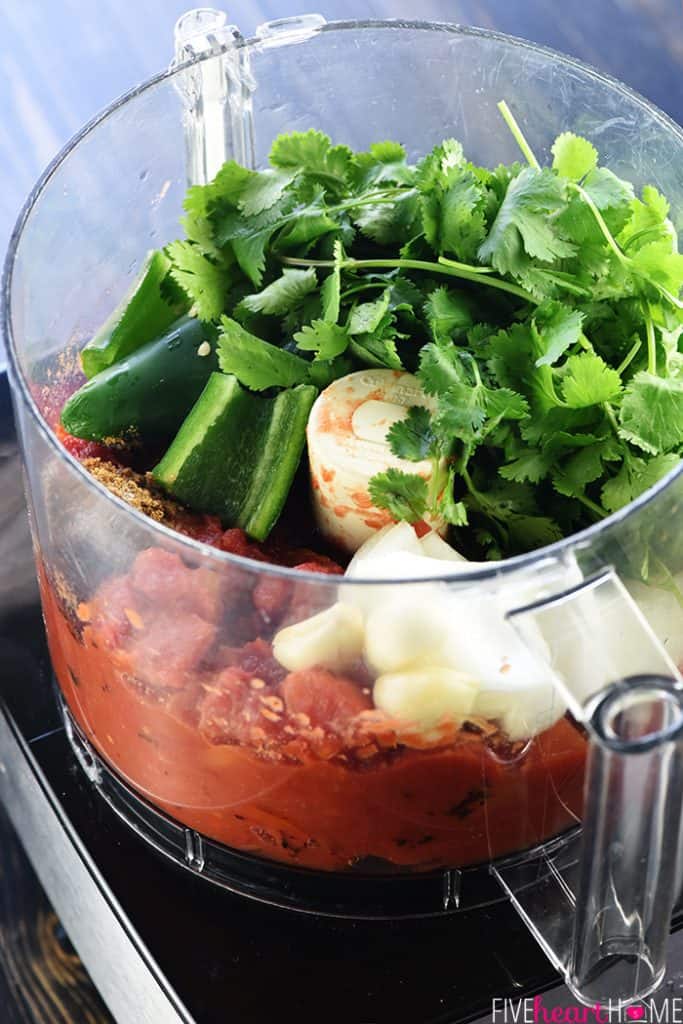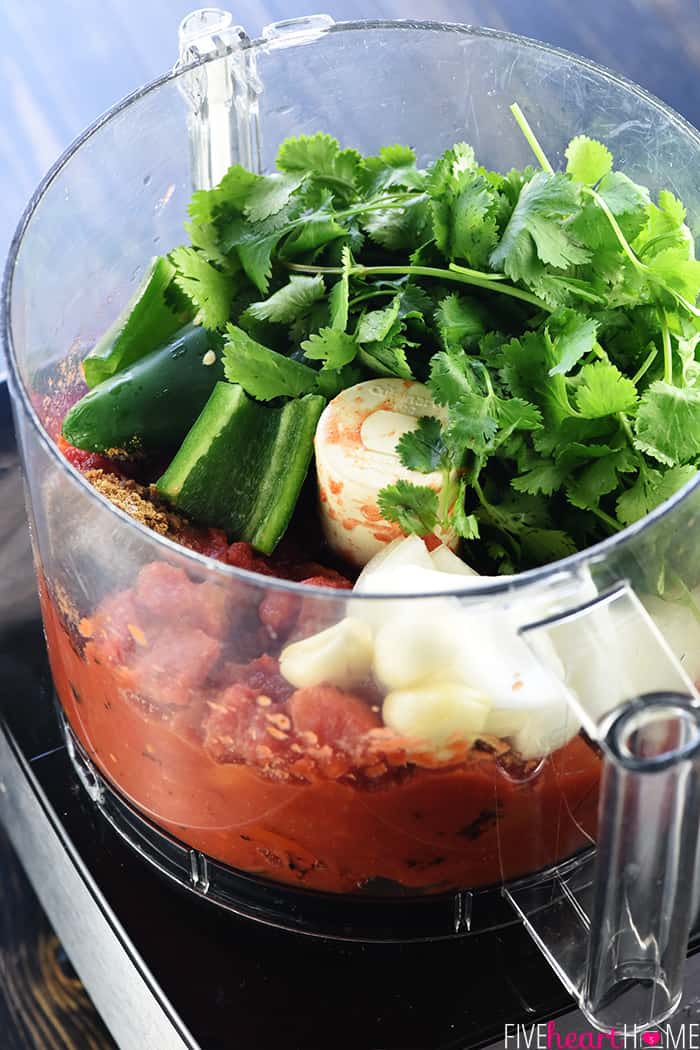 Pulse or puree to your desired consistency.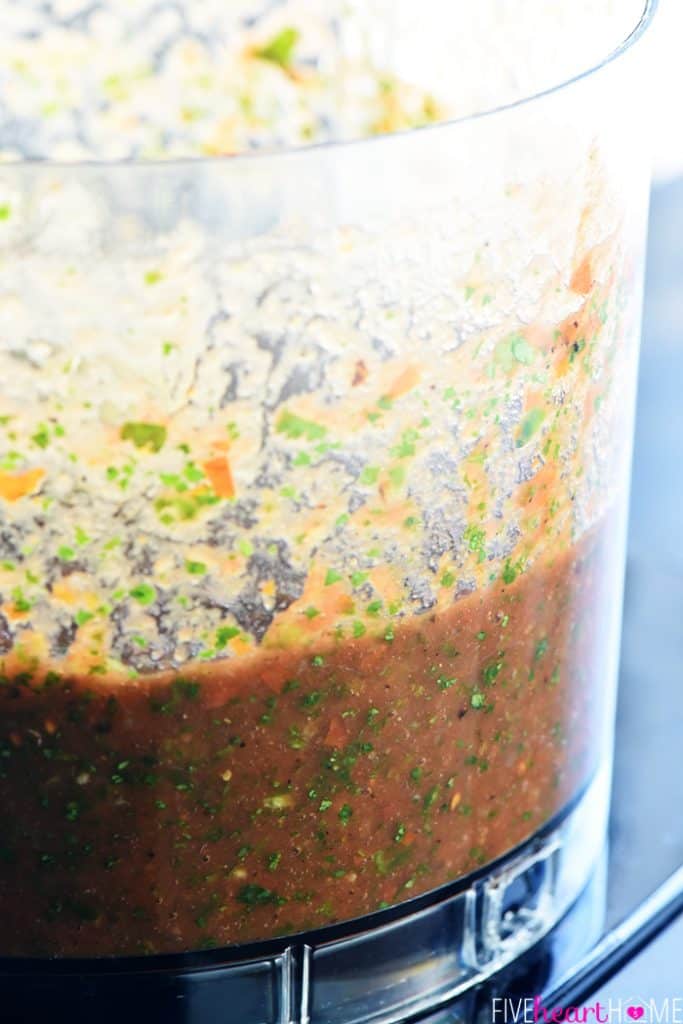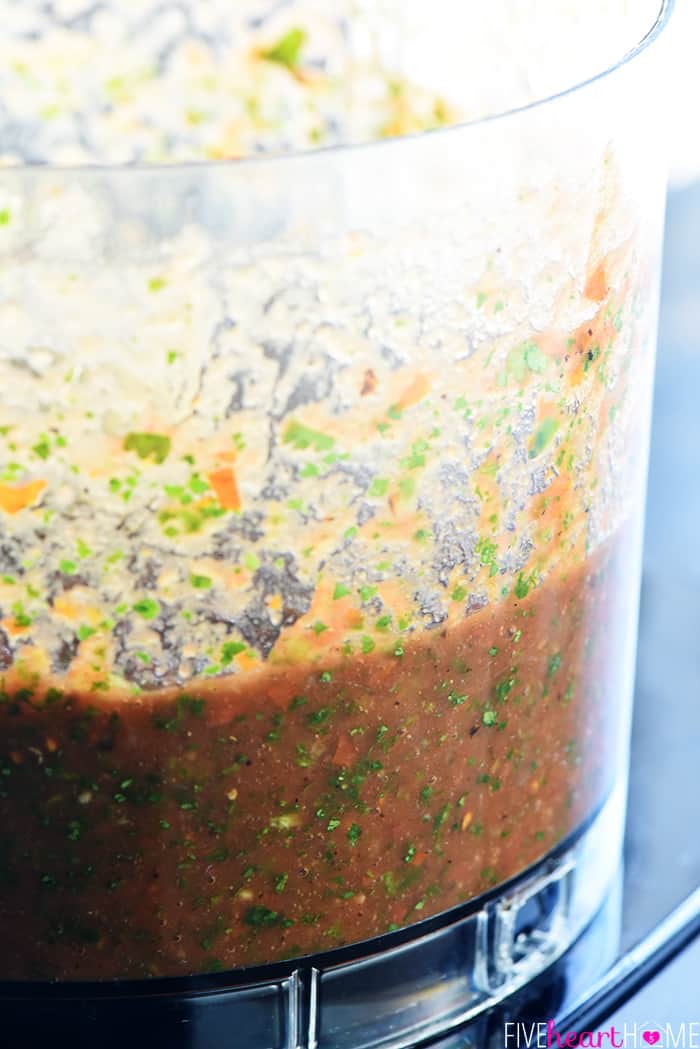 And wellllll...that's it! Pureeing only takes a minute or two.
Controlling the Consistency
I actually don't like to over-puree salsa because I think it ends up with a consistency more like marinara, which is not my preference. But ultimately, the final consistency is up to you.
In fact, since my family prefers salsa that's not perfectly smooth, I typically first pulse just the onion, garlic, and jalapeño in the food processor until finely chopped.
Then I add the canned tomatoes plus remaining ingredients and pulse a few times until it's pureed but still maintains a decent amount of texture via the tomatoes and bits of cilantro.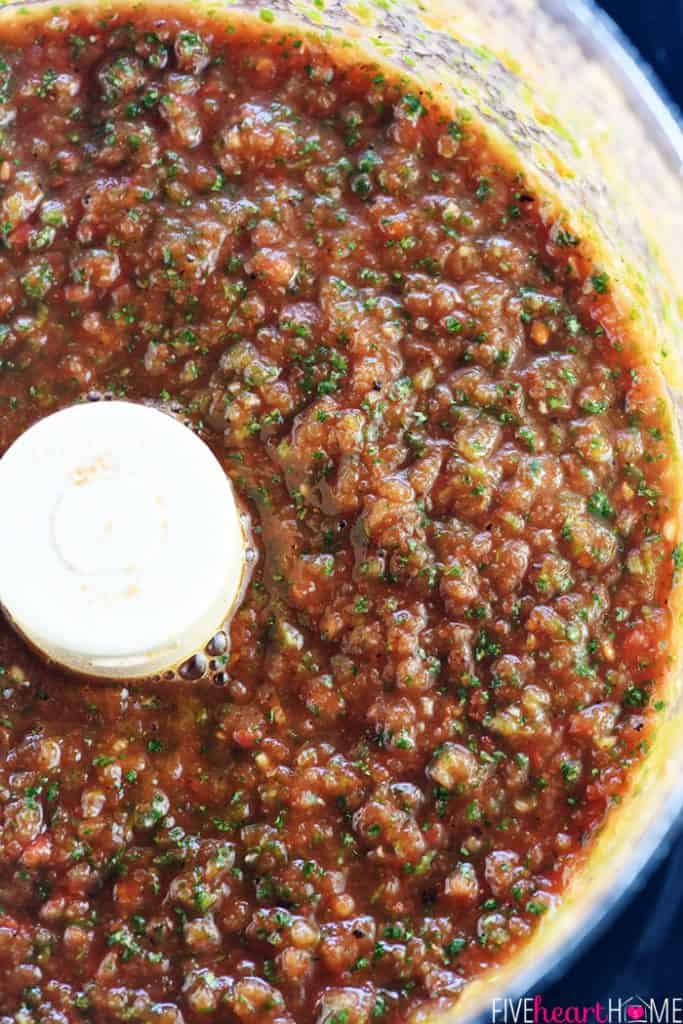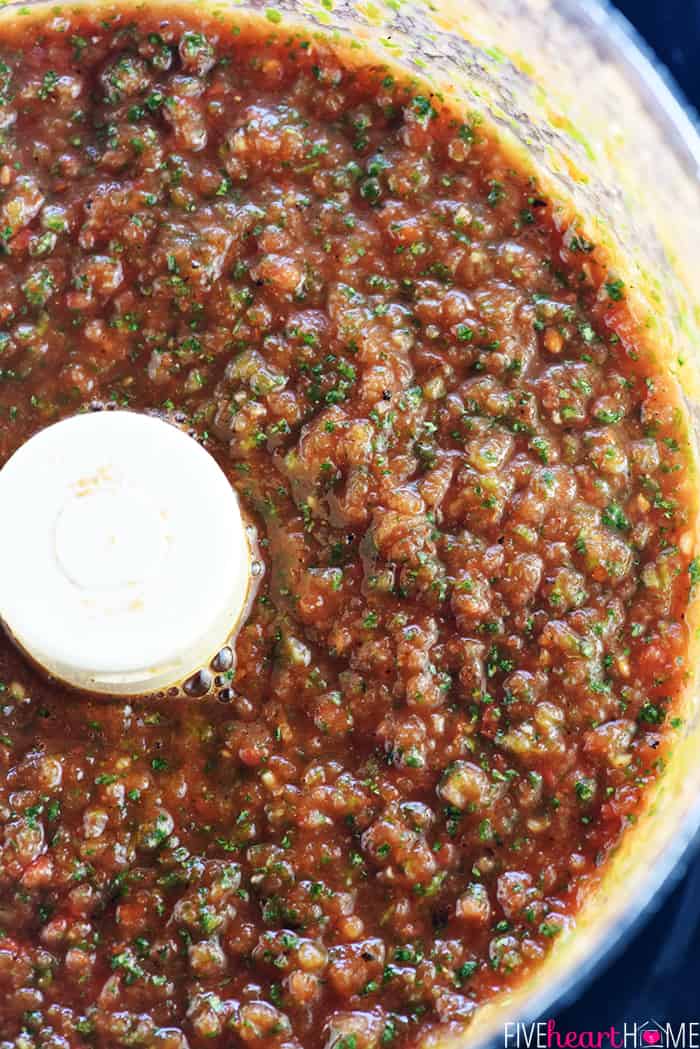 After your salsa is done, I highly recommend transferring it to a bowl and popping it in the fridge for at least an hour to chill, which will allow the flavors to blend. But if you absolutely can't wait and find yourself dipping it straight out of the blender, I totally understand and definitely will not judge. 😉
After all, I pretty much polished off this whole bowl of salsa as soon as I got done taking pictures, no refrigeration involved. A food blogger's gotta eat lunch, right?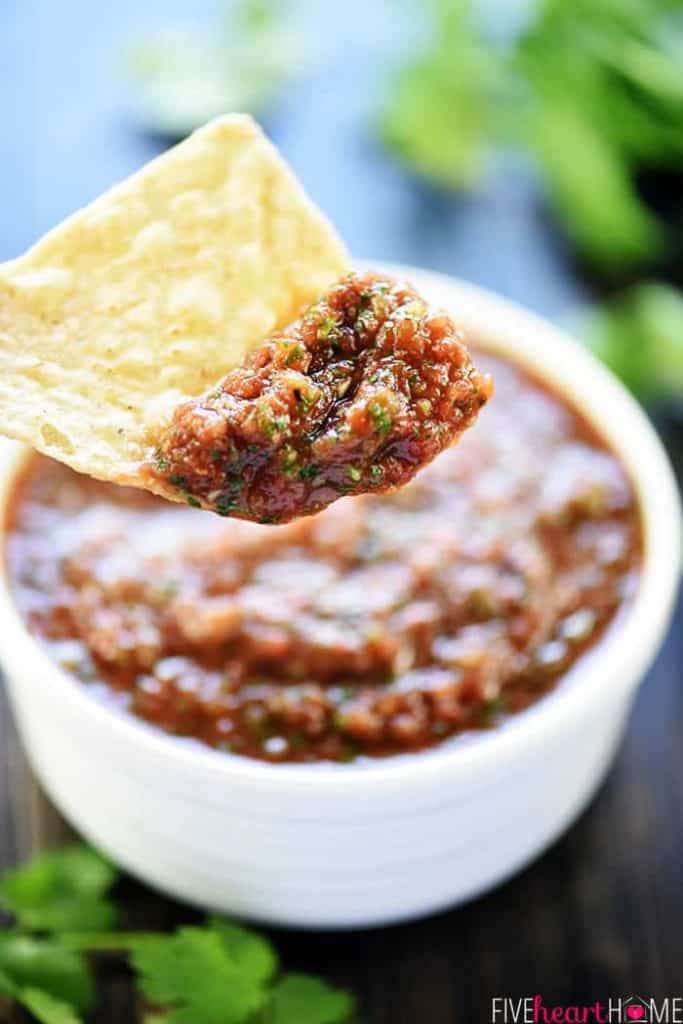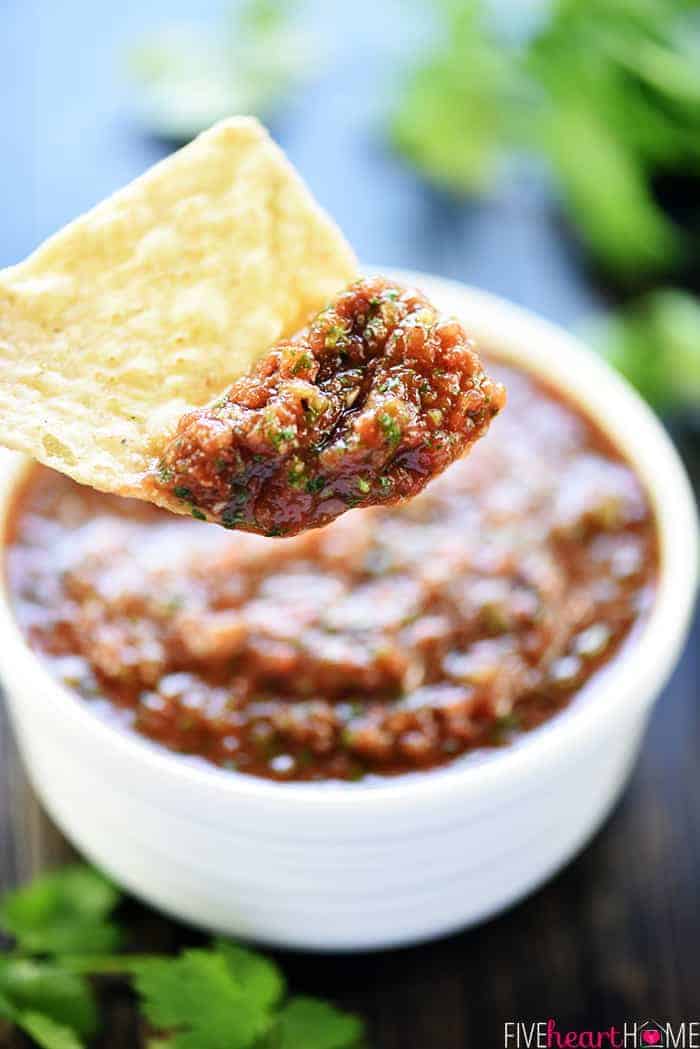 How to Enjoy Canned Tomato Salsa
Salsa with canned tomatoes is going to serve you well for a multitude of salsa-enjoying opportunities, from scooping up with chips, to flavoring other dips, to drizzling over tacos and nachos and enchiladas to so much more!
It's delicious for Taco Tuesday or Cinco de Mayo or any darn day of the week/month/year.
And it's so simple to make, you may never go back to the store-bought jarred stuff!
¡Viva la Salsa!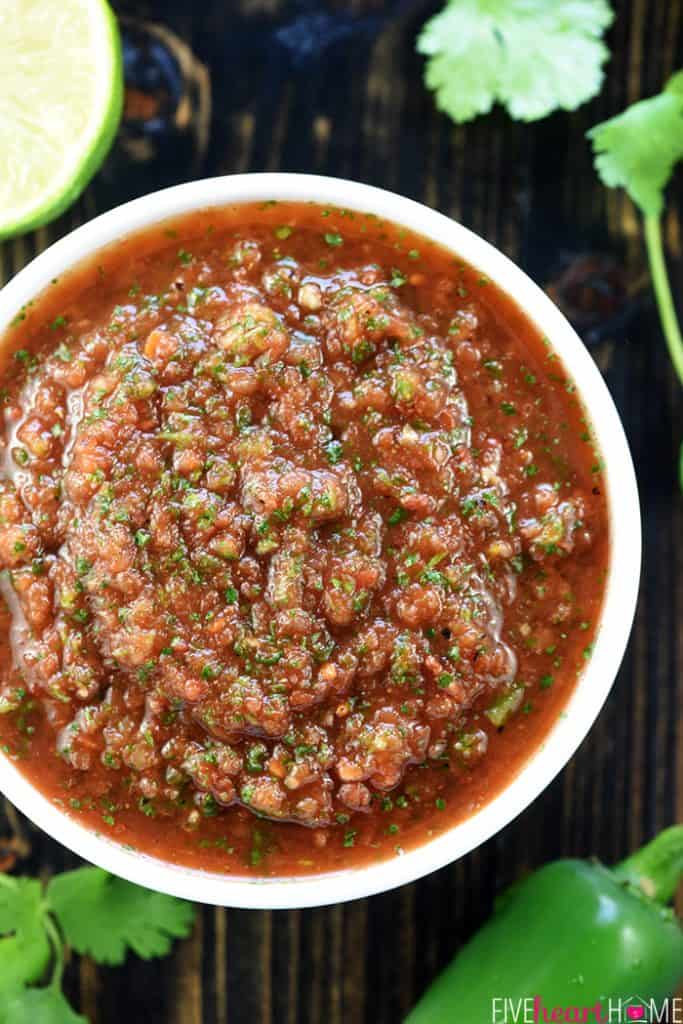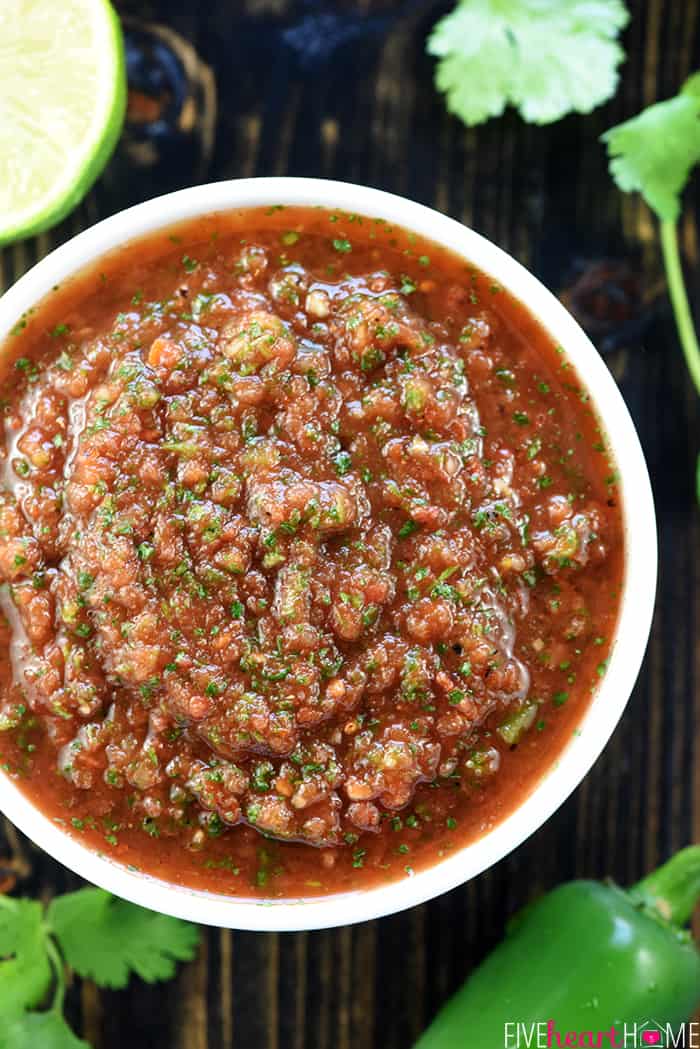 Helpful Tips, Tricks, & Equipment
If you're unsure of how loose you like your salsa with canned tomatoes, I recommend draining the liquid from the canned tomatoes into a measuring cup (as opposed to pouring it down the sink). That way, after you blend up all of your ingredients, it's easy to add back some of the tomato liquid if your salsa is too thick.
I highly recommend using fire-roasted diced tomatoes. However, plain diced tomatoes work great as well...and if you'd like to use cans of diced tomatoes with green chiles added, feel free!
If you have a high-powered blender or food processor, you don't need to worry about pre-chopping your onion or garlic or jalapeños...just toss them in there in big chunks and the pureeing should take care of the rest. (But you'll obviously want to peel the onion/garlic and remove the stem from the jalapeños before adding them to the blender/food processor...)
Before adding the cilantro to the blender/food processor, I twist off only the very bottoms of the stems (which may be a bit brown). The majority of the stems I toss into the blender, since they house more flavor and they're going to get all pureed anyway.
The chipotle chipe pepper powder is optional but I love the stuff. Adding a little bit adds smokiness...increasing the amount adds heat. In fact, if I don't have enough jalapeños on hand, I use extra chipotle powder instead to bump up the heat.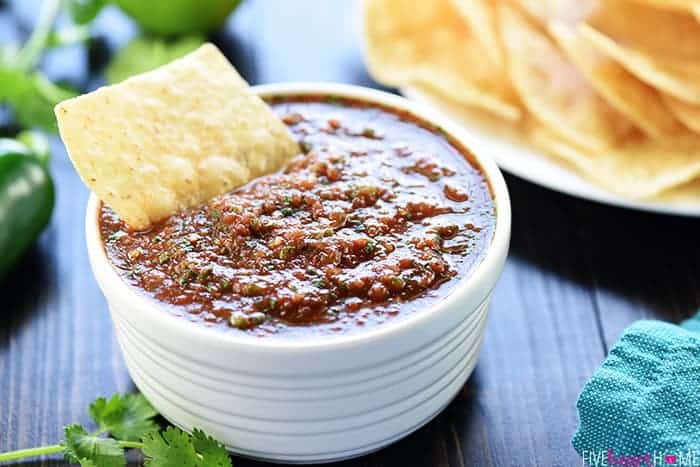 Recipes that Use Canned Tomato Salsa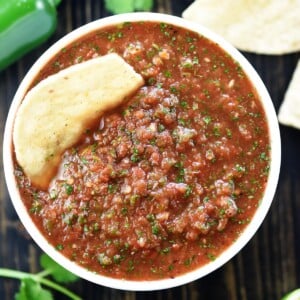 Fresh Easy Salsa (with Canned Tomatoes)
Fresh, homemade, easy salsa with canned tomatoes is the BEST! It takes just a few minutes to throw together in the blender or food processor and it rivals the best restaurant-style salsa!
Print
Pin
Rate
Servings:
16
servings (1 quart = 4 cups)
Ingredients
2

(14.5-ounce) cans diced fire-roasted tomatoes

,

one can drained & one can with juices

¼

small onion

3

large cloves garlic

2

jalapeños

,

with or without seeds & membranes (which add heat)

1

bunch fresh cilantro

Juice from half of a lime

Small squeeze of honey

1

teaspoon

salt

Freshly ground black pepper

,

to taste

½

teaspoon

ground cumin

¼

teaspoon

chipotle chile pepper powder

,

optional
Instructions
Add the canned tomatoes, onion, garlic cloves, jalapeños, cilantro, lime juice, honey, salt, pepper, cumin, and chipotle chile pepper powder (if using) to the jar of a blender or bowl of a large food processor. Blend or process until the ingredients are broken down and pureed to your desired smoothness and consistency. Adjust seasonings to taste, adding more salt and pepper, if necessary.

Transfer to a tightly sealed container and chill in the refrigerator for at least one hour before serving, to allow the flavors to blend. Or, if you can't wait, serve immediately!
Notes
For a chunkier canned tomato salsa recipe with more texture, start out by pulsing just the garlic and jalapeño until finely diced. Scrape down the sides of the bowl (beware of fumes!), add the canned tomatoes and remaining ingredients, and pulse until your desired salsa consistency is just reached.
Calories:
15
kcal
|
Carbohydrates:
3
g
|
Sodium:
225
mg
|
Potassium:
14
mg
|
Sugar:
1
g
|
Vitamin A:
300
IU
|
Vitamin C:
3.8
mg
|
Calcium:
17
mg
|
Iron:
0.3
mg
Originally published April 30, 2020, and updated May 24, 2020, and April 30, 2023.