A delicious meal that's effortless enough for a weeknight yet special enough for company, Honey-Ginger Shrimp Skewers are glazed with a sweet and tangy homemade BBQ sauce and served atop a bed of flavorful Asian Quinoa, infused with hints of soy sauce, garlic, and fresh ginger.

Happy Monday, friends! I am so excited to bring you today's post, because these gorgeous, glossy Honey-Ginger Shrimp Skewers with Asian Quinoa are part of a fun Mystery Basket Challenge that I'm participating in with 10 other fabulous food bloggers!
So what exactly does that mean, you might be wondering? Well, have you ever seen the Food Network show, Chopped? Basically, each blogger was presented with a "basket" (or technically a list, since we're working together virtually here) of mystery ingredients, and we were tasked with coming up with a tasty, creative recipe featuring at least three of those ingredients.
So here were our options…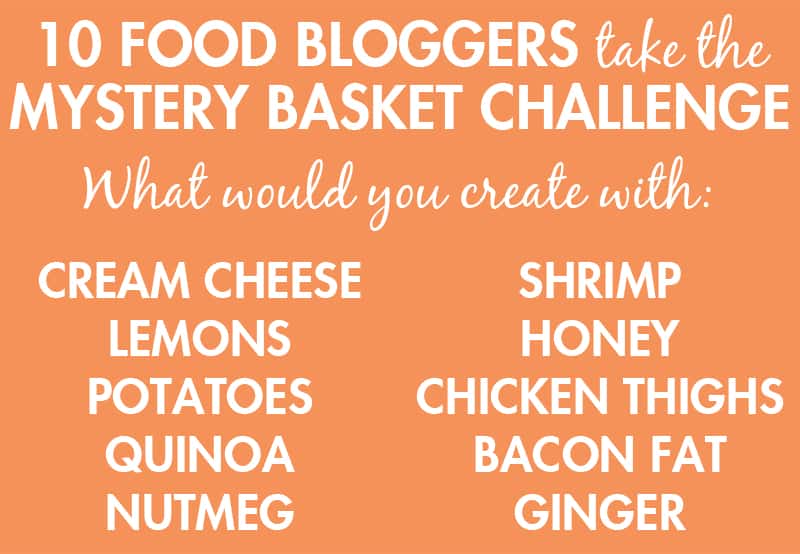 …and here's what we came up with!

Can you say yum, or can you say YUM?!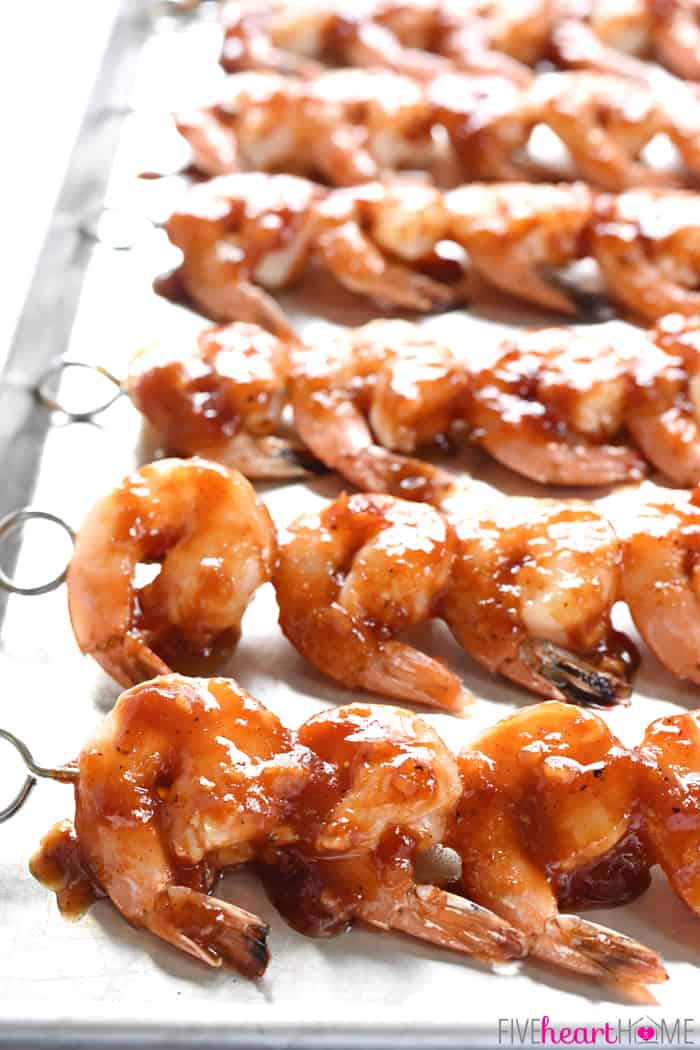 My contribution was obviously these happy little shrimp skewers, glazed with a homemade, Asian-inspired BBQ sauce that's tangy from apple cider vinegar, sweetened with honey, and flavored with fresh ginger, garlic, and a dash of hot pepper sauce. Then all of that mouthwatering shrimp is served over a bed of fluffy quinoa, but not just any quinoa…quinoa that's been infused with flavor thanks to soy sauce, more fresh ginger, and garlic!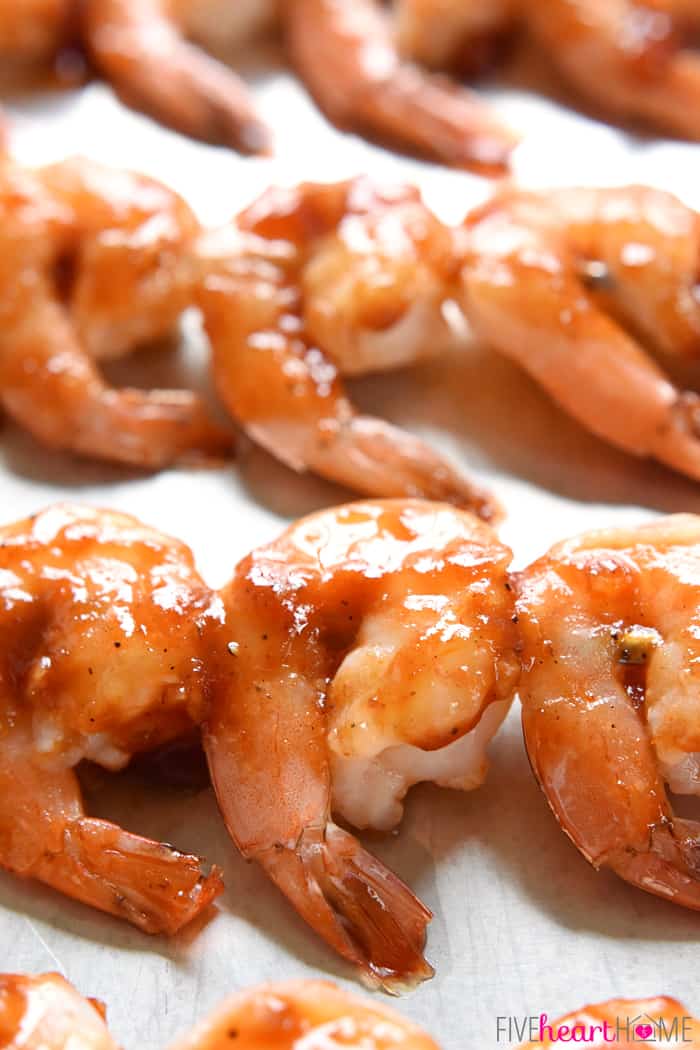 When I saw the list of mystery basket ingredients, it immediately hit me that I've never before posted a shrimp recipe on the blog, so I decided it was the perfect time to remedy that. Shrimp is such a quick and easy protein to prepare, and while I often think of it as a special occasion menu item, it's really amenable to busy weeknights as well. This recipe is as simple as throwing some ingredients in a pot for the BBQ sauce to glaze the shrimp, tossing a few other ingredients in a second pot to cook the quinoa, and finally, skewering and glazing the shrimp before popping it in the oven.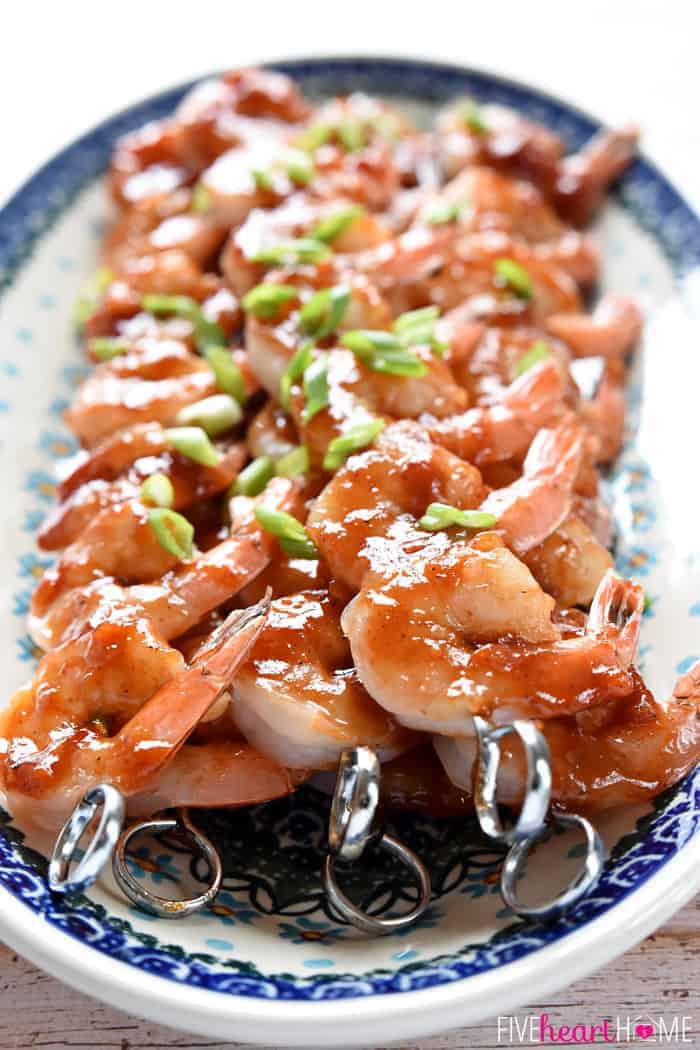 So what does that minimal effort yield? Well, not only does roasting render the shrimp tender and juicy, but the BBQ sauce coating it is AH-MA-ZING. I've always been a huge fan of fresh ginger, so I was excited to incorporate it into this recipe in order to give it a bit of Asian flair. And while honey is a delicious complement to ginger, vinegar keeps things from becoming cloyingly sweet while fresh garlic and Tabasco give the sauce a teensy kick.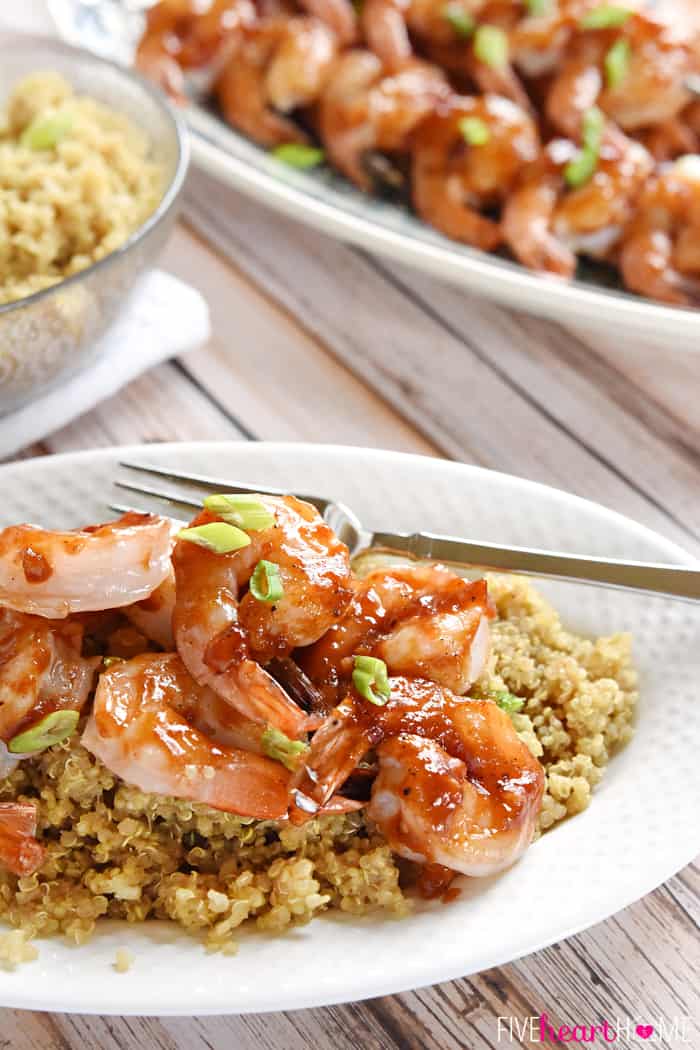 As for the quinoa…well, if you haven't tried flavoring a pot of quinoa with seasonings and aromatics, might I suggest you remedy that ASAP? My family thought this fluffy, savory quinoa was about ten times tastier than eating it plain. The salty undertone from the soy sauce was also a nice contrast to the sweet and zesty BBQ sauce-glazed shrimp.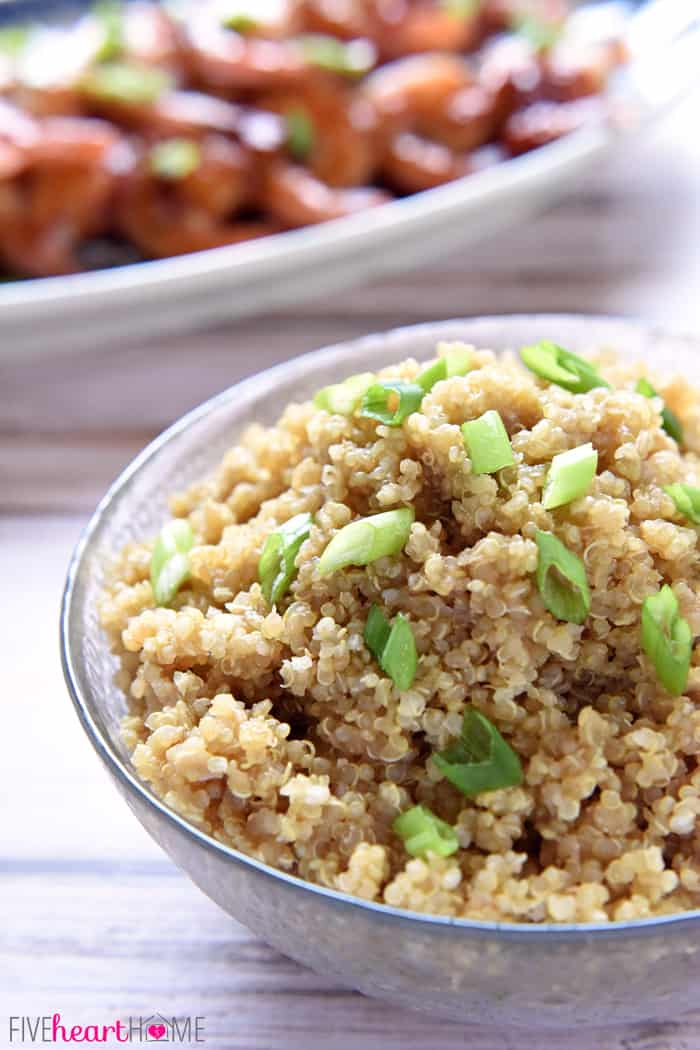 So the next time you have a hankering for shrimp, be sure to give these Honey-Ginger Shrimp Skewers with Asian Quinoa a whirl! This mouthwatering meal feels fancy, but it's deceptively simple to prepare. Not half bad for arising from a random basket of mystery ingredients dropped off on my virtual front porch, huh?! 😉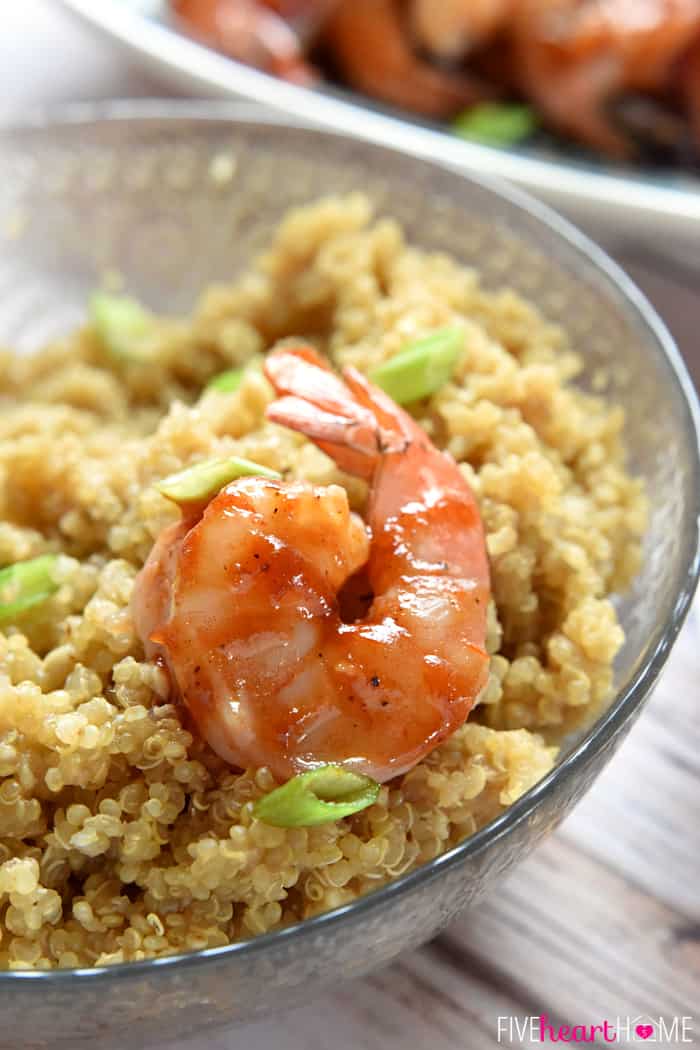 Don't forget to check out ALL of the delectable, creative recipes in our Food Blogger Mystery Basket Challenge by hopping around via the links below!
Bacon Wrapped Ginger Soy Chicken from Yellow Bliss Road
Quinoa & Kale Salad with Honey Ginger Dressing from Katie's Cucina
Skinny One-Pot Lemon Shrimp Alfredo from Julie's Eats & Treats
Thai Coconut Soup from Yummy Healthy Easy
Slow Cooker Honey Garlic Ginger Chicken from Your Homebased Mom
Thai Shrimp Salad with Peanut Dressing from Will Cook for Smiles
Honey Baked Chicken Over Lemon Rice from The Weary Chef
Honey Baked Chicken and Potatoes from Cravings of a Lunatic
Bacon Wrapped Chicken Thighs with Honey Dijon Glaze from A Beautiful Bite
Honey Ginger Shrimp Skewers from Five Heart Home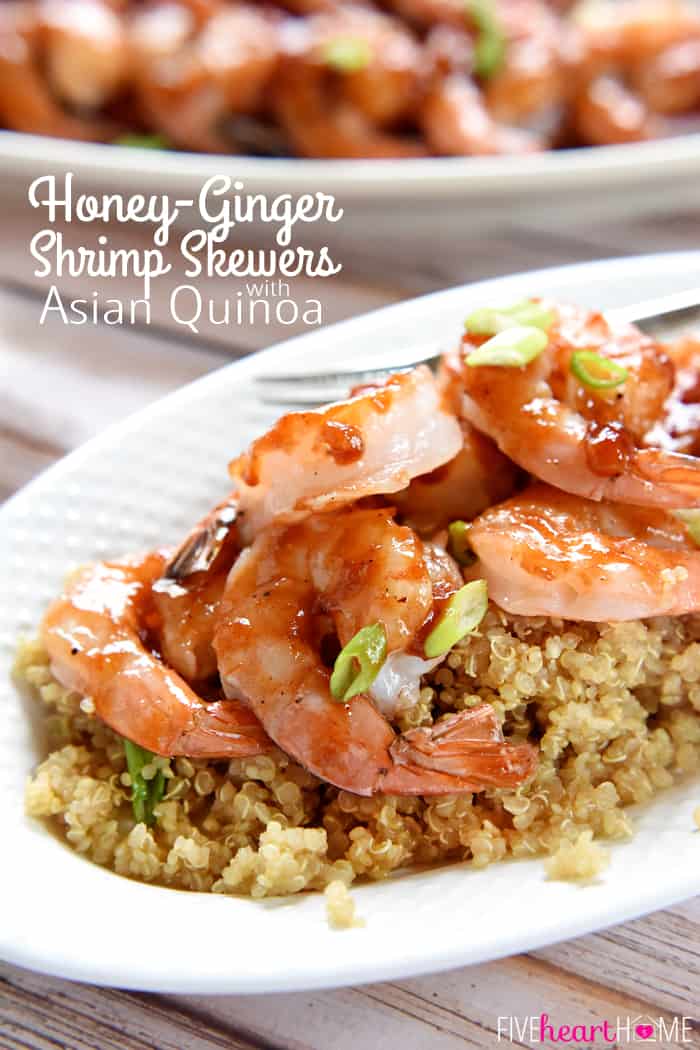 Honey Ginger Shrimp Skewers with Asian Quinoa
A delicious meal that's effortless enough for a weeknight yet special enough for company, Honey-Ginger Shrimp Skewers are glazed with a sweet and tangy homemade BBQ sauce and served atop a bed of flavorful Asian Quinoa, infused with hints of soy sauce, garlic, and fresh ginger.
Ingredients
For the BBQ Sauce:
1/2 cup apple cider vinegar
1/2 cup ketchup
1/4 cup honey
1/2 teaspoon hot pepper sauce (such as Tabasco)
3 large garlic cloves, minced
1 tablespoon grated or minced fresh ginger (peeled)
1/4 teaspoon salt
Freshly ground black pepper
_
For the Quinoa:
1 cup quinoa, rinsed and drained
1 tablespoon sesame oil
2 cups low-sodium chicken broth
1 1/2 teaspoons low-sodium soy sauce
1 1/2 tablespoons grated or minced fresh ginger (peeled)
2 large garlic cloves, minced
_
1 1/2 pounds shrimp, peeled & deveined
Extra-virgin olive oil
Instructions
In a medium saucepan, combine apple cider vinegar, ketchup, honey, hot pepper sauce, minced garlic, minced ginger, salt, and pepper. Bring to a boil and then reduce to a simmer. Cook, uncovered, stirring occasionally until reduced and thickened, about 15 to 20 minutes (stir more frequently towards the end to prevent burning). Taste and adjust salt and/or pepper, if necessary.
While the BBQ sauce is cooking, rinse the quinoa in a fine-mesh strainer under cold running water for a couple of minutes. Heat sesame oil in a medium saucepan set over medium heat. Add quinoa and toast, stirring frequently, for 2 to 3 minutes. Add chicken broth, soy sauce, ginger, and garlic. Increase heat and bring to a boil, then reduce heat to low and cover. Simmer until all liquid has been absorbed, about 15 minutes. Remove pot from heat but keep lid on to retain heat until ready to serve.
Position rack in center of oven and preheat to 400°F. Line a large baking sheet with foil (for easy clean-up) and brush with a thin layer of olive oil. Thread shrimp onto long metal or wooden skewers and brush on one side with BBQ sauce. Cook for 4 minutes. Remove pan from oven, flip skewers, and quickly brush second side with remaining BBQ sauce. Cook for 2 to 4 more minutes or until shrimp are pink, firm, and just cooked through.
Fluff quinoa with a fork and serve shrimp atop quinoa.
Notes
Rinsing the quinoa removes its natural bitter coating and gives it a milder flavor once cooked.
If you prefer, you may spread out shrimp on the pan without using skewers. However, I find that using skewers makes it faster to flip them and brush the second side with BBQ sauce halfway through cooking...plus it's a fun way to serve them. 🙂
Fresh ginger can easily be peeled with a spoon. I always keep a couple of hunks of fresh ginger (wrapped in multiple layers of freezer-thickness plastic bags) in my freezer. Then when I need fresh ginger for a recipe, I thaw a piece for a few minutes, carefully slice off the skin, and then grate it using a fine microplane grater.
https://www.fivehearthome.com/honey-ginger-shrimp-skewers-with-asian-quinoa/
https://www.fivehearthome.com ~ All recipes and images on Five Heart Home are copyright protected. Please do not use without my permission. If you would like to feature this recipe, please rewrite the directions in your own words and give proper attribution by linking back to this blog.
BBQ Sauce adapted from Epicurious
Quinoa adapted from
AllRecipes
More popular recipes from Five Heart Home…
Slow Cooker Beef Barbacoa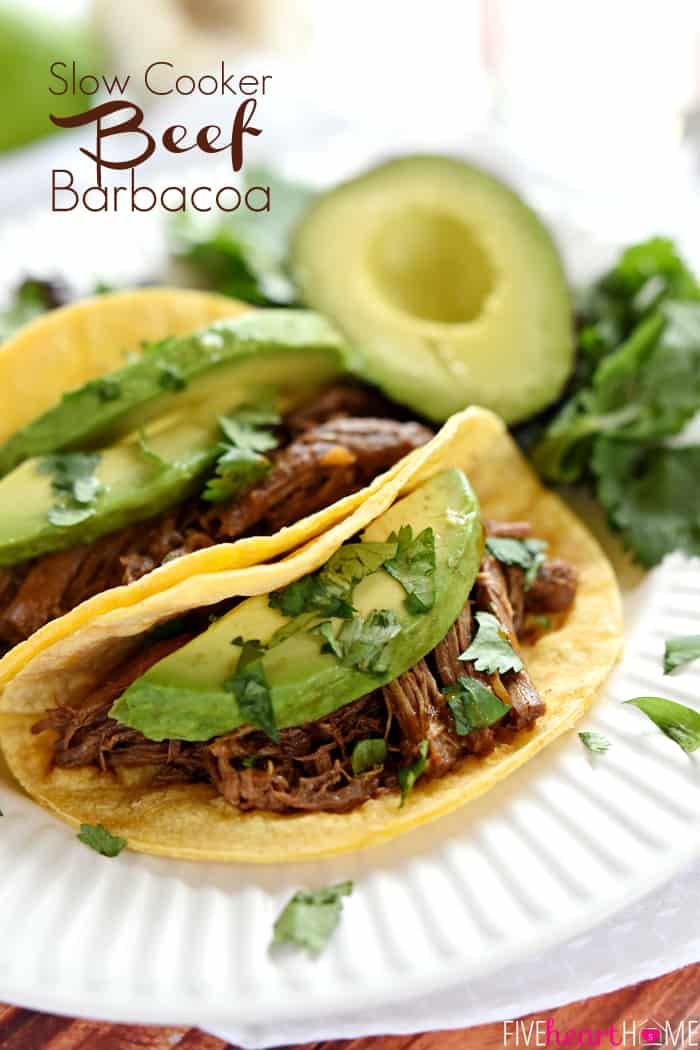 Homemade Whole Wheat Pancake Mix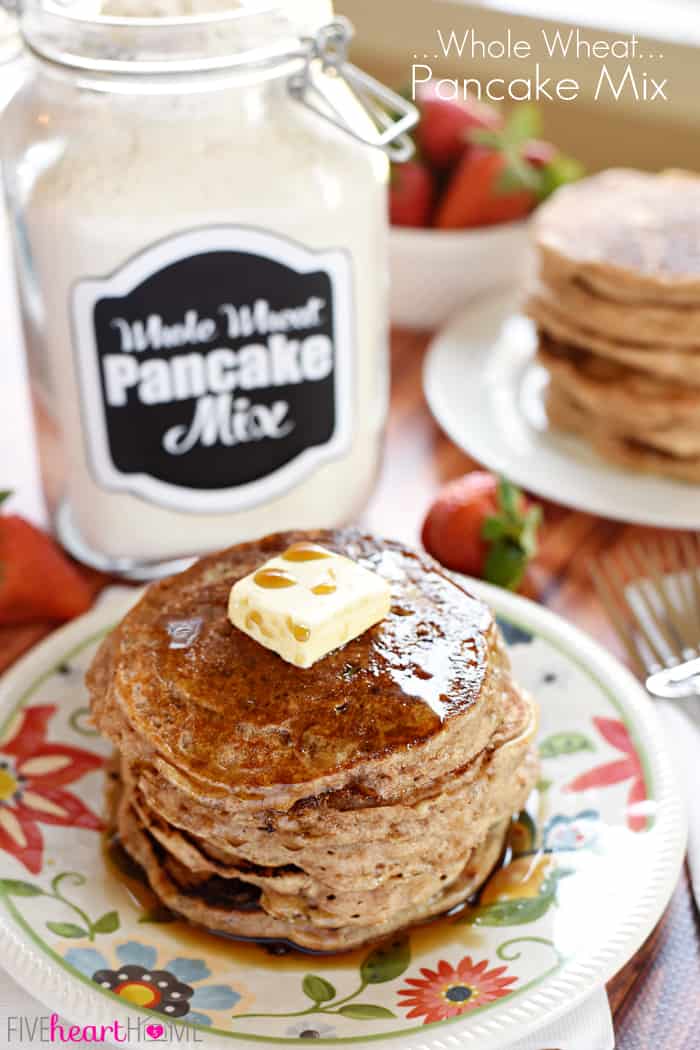 Skillet S'mores Dip


Slow Cooker Brown Sugar Ham