Instant Pot Chicken Tacos boast a tender, flavorful filling that's effortlessly made in the pressure cooker...and equally delicious in burrito bowls!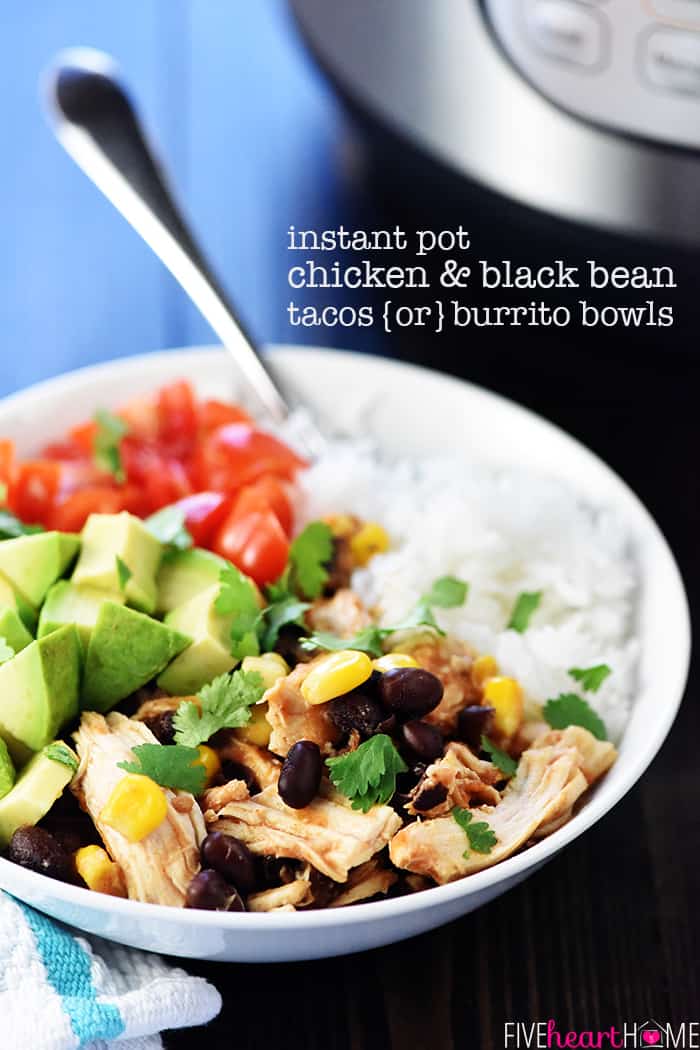 Well, y'all...I've hopped on board the Instant Pot Train and I'm still zooming down the tracks! Ever since sharing my Instant Pot German Lentil Soup a few weeks ago, I've been busy converting lots of longtime favorite recipes to be cooked in this little wonder of a pressure cooker. My latest adaptation were some Slow Cooker Chicken & Black Bean Tacos from the early days o' the blog. My family loves this recipe and I make it frequently, because -- let's face it -- tomatoes, black bean, and corn are a naturally delicious combo. But now thanks to my Instant Pot, I can whip it up without any forethought or planning...and using frozen chicken, at that!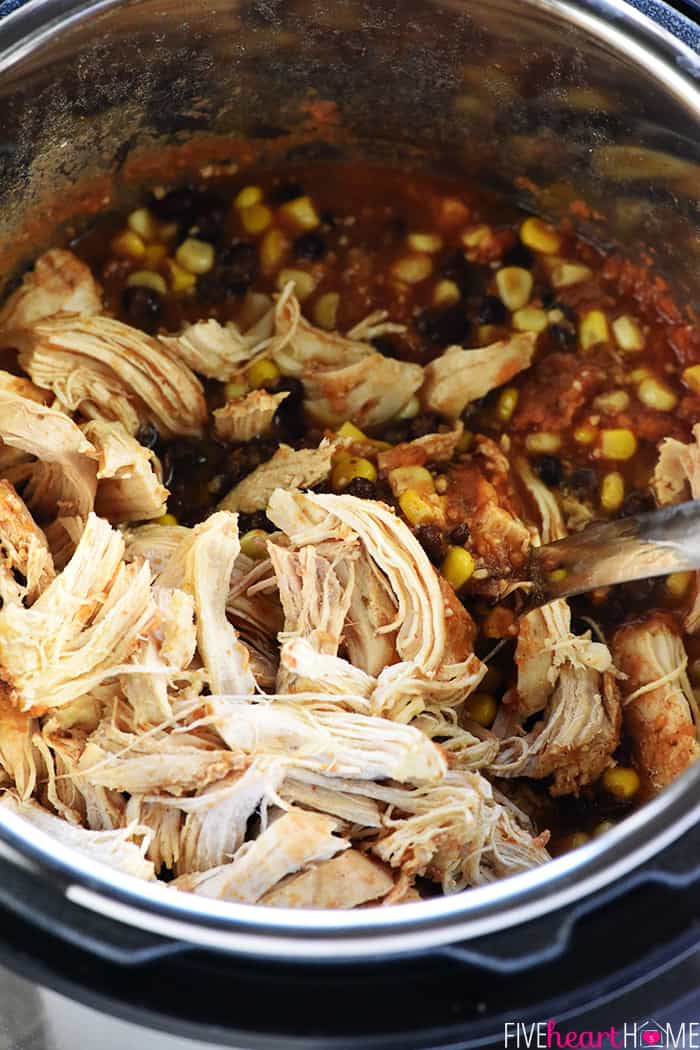 That's right...I made these Instant Pot Chicken & Black Beans Tacos using frozen chicken breasts (and corn) that I already had in the freezer! I also used canned black beans, a jar of salsa, and some homemade taco seasoning that was already residing in my pantry. Are you sensing a trend here? This is a great recipe for those evenings when you didn't plan ahead for dinner and you only have a few minutes to throw something together.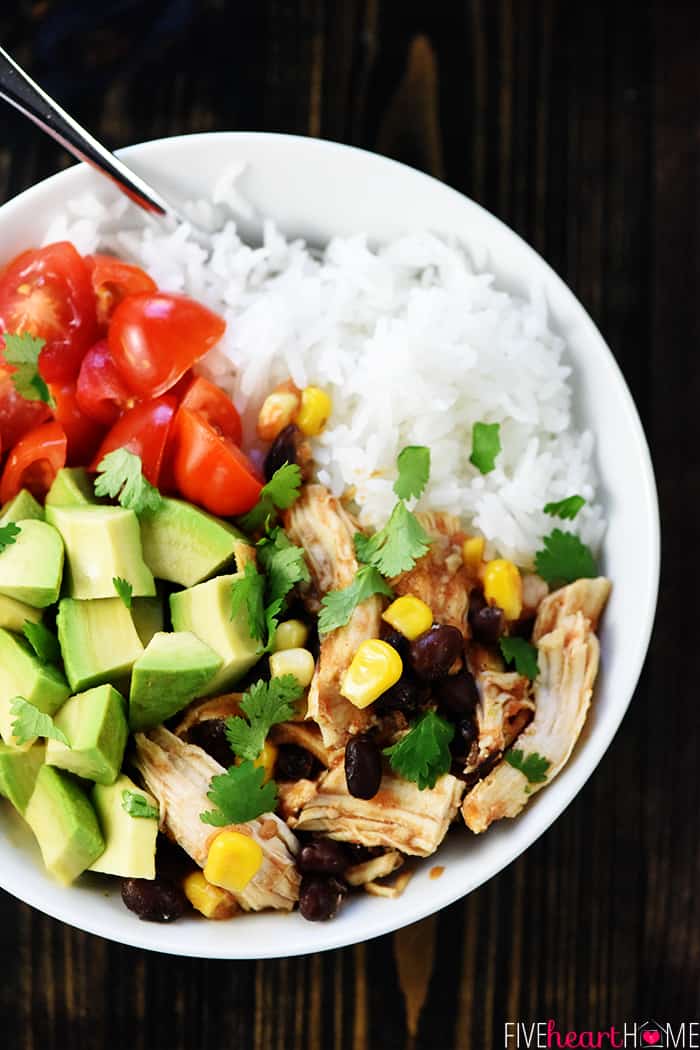 What's even better is that your thrown-together-something turns out pretty darn tasty for being so simple. And it's also versatile! My kids like this shredded chicken goodness as a filling for tacos...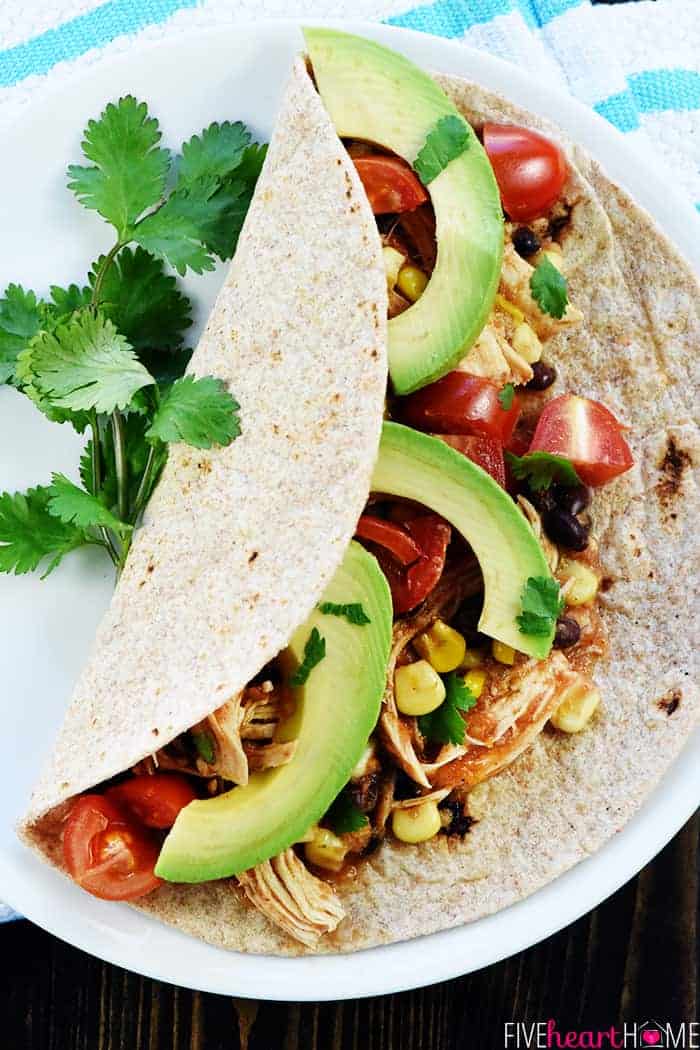 ...while my hubby and I love it over rice or quinoa as a burrito bowl. In fact, I always cross my fingers for leftovers so that I can enjoy it at lunch the next day.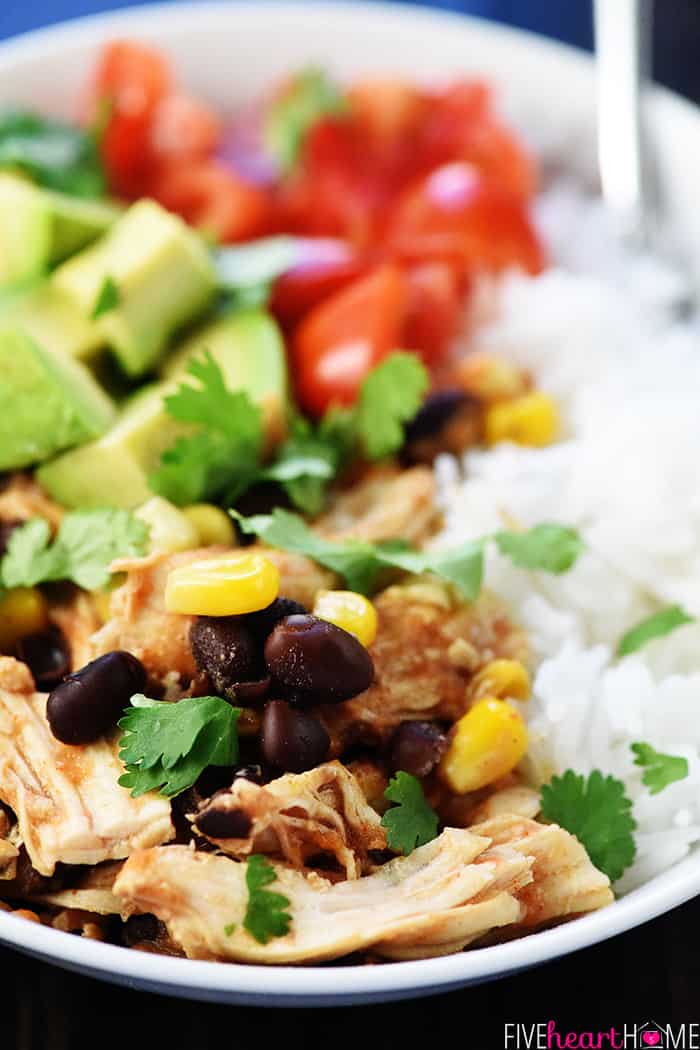 You can also enjoy this Instant Pot Chicken & Black Bean concoction rolled into enchiladas or burritos, folded into quesadillas, sprinkled over nachos or chalupas...or just straight out of a bowl!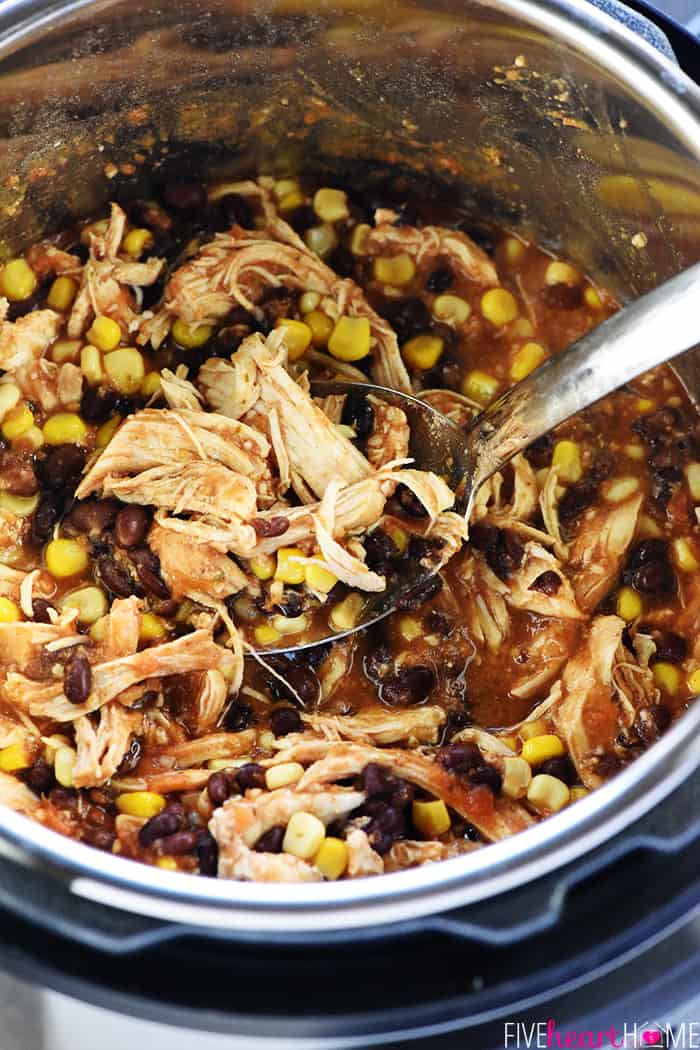 However you choose to enjoy your chicken/black beans/corn, the real glory is in the toppings. Allow me to enumerate a few of our favorites:
avocado (sliced or diced)
diced tomatoes
pickled jalapeños
pico de gallo
shredded cheese
fresh cilantro
salsa
sour cream
Cool, fresh, creamy, and/or crunchy ingredients only serve to enhance the savory, juicy chicken, the tender beans, and the sweet corn. I'm telling ya, don't skimp on the toppings!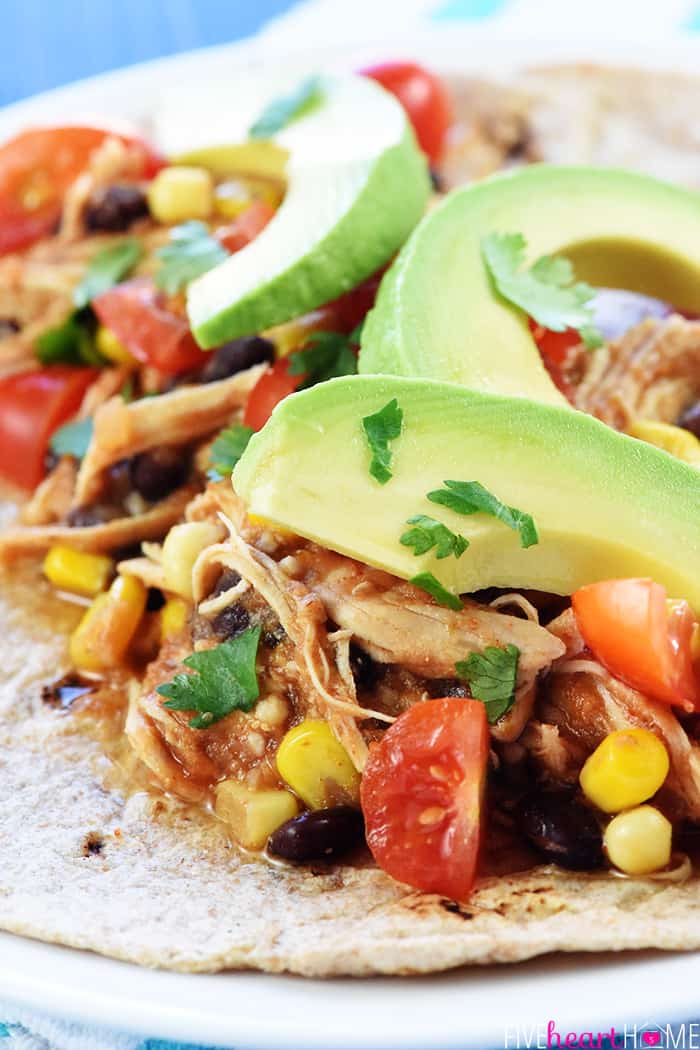 So have y'all joined the Instant Pot/pressure cooker craze yet and, if so, are there specific recipes you'd like me to share? I've been using mine a lot lately and I'm happy to post more of the recipes that I'm finding success with, if there's an interest. In the meantime, happy Taco Tuesday! Or Burrito Bowl Wednesday...or Nacho Thursday...or perhaps we should just call it Instant Pot January. 😉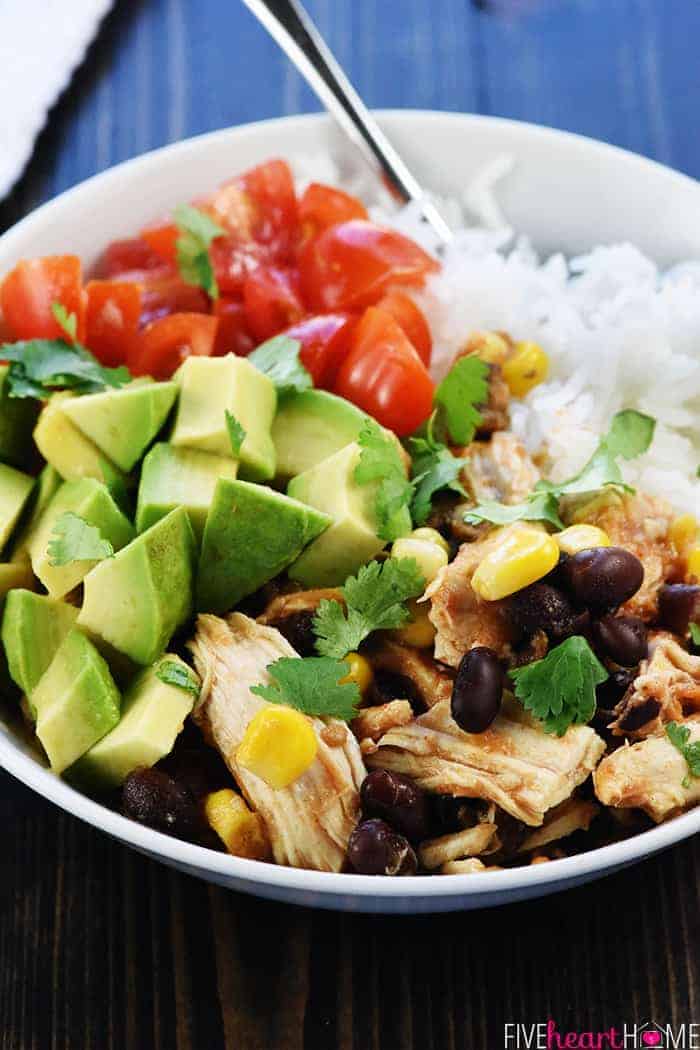 Helpful Tips, Tricks, & Equipmen
t
This is the Instant Pot that I have.
Since a pressure cooker requires enough liquid to create steam, I added 1/2 cup of water to this recipe to be on the safe side. There is probably already enough liquid between the moisture released from the chicken and the salsa but in case your salsa is extra thick and/or your pressure cooker is extra sensitive, I don't want your pressure cooker to give you an error code.
If you feel that the addition of water makes your shredded chicken filling too wet, simply use a slotted spoon to serve it. The extra liquid is actually helpful if you end up having leftovers, since it continues to get absorbed by the chicken once in the refrigerator.
Each chicken breast should weigh between 8 and 10 ounces. You'll want to add a few minutes of extra cooking time if using very large chicken breasts...12 total minutes for thawed or 15 minutes for frozen.
Adjust the spiciness of this recipe by using medium or hot salsa instead of mild. For extra heat, you can also sprinkle in a little cayenne or (my favorite) smoky, spicy chipotle chile pepper powder.
To save time when throwing together slow cooker or pressure cooker recipes, I often use jarred, refrigerated minced garlic instead of chopping up fresh cloves of garlic.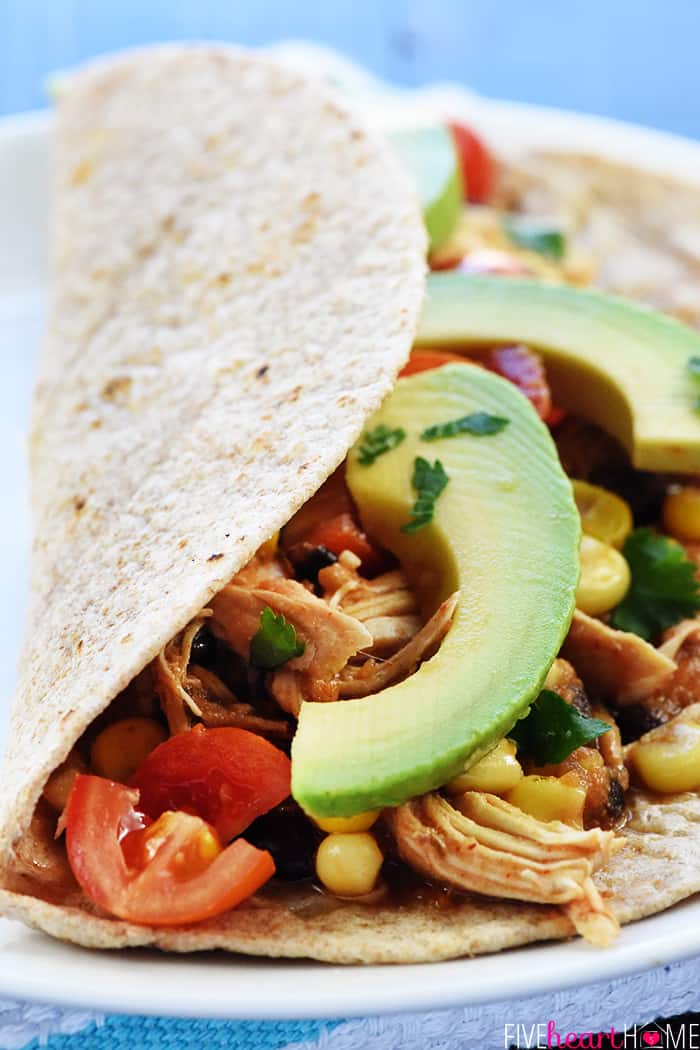 More Taco Goodness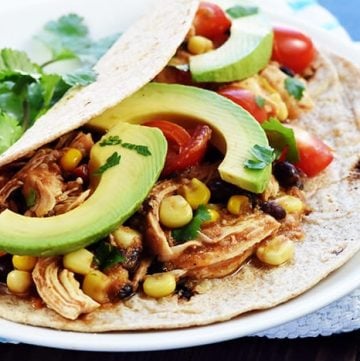 Instant Pot Chicken Black Bean Tacos
Instant Pot Chicken and Black Bean Tacos boast a tender, flavorful filling, equally delicious in burrito bowls and effortlessly made in the pressure cooker!
Print
Pin
Rate
Ingredients
1/2

cup

water

1

3/4

pounds boneless skinless chicken breasts

,

about 4 large (7- to 8-ounce each) chicken breasts

3

tablespoons

Homemade Taco Seasoning,

or 1 package store-bought taco seasoning

2

tablespoons

mined fresh garlic

2

(15-ounce) cans black beans

,

rinsed & drained

2

cups

frozen corn

2

cups

salsa
For serving:
Tortillas or rice/quinoa

sliced avocado, diced tomatoes, shredded cheese, fresh chopped cilantro, salsa, sour cream, pico de gallo, etc.

,

optional garnishes
Instructions
Pour the water into the pressure cooker insert and place the chicken breasts in the bottom. Sprinkle with the taco seasoning and minced garlic. Place black beans and corn on top, and pour salsa evenly over everything.

Seal the lid of the Instant Pot according to the owner's manual and cook on HIGH pressure for 10 minutes for thawed chicken breasts (or 12 minutes for frozen chicken breasts).

When the timer is done, allow the pressure to release naturally for 10 minutes, then carefully vent to release the remaining pressure (consult your owner's manual for more specific instructions).

Open the lid and use two forks to pull the chicken breasts into big chunks (remove the chicken to a plate or cutting board if that's easier). Stir all of the ingredients to combine. Taste and adjust seasonings, if desired. Scoop with a slotted spoon (or lift with tongs) and serve on flour tortillas (or over rice or quinoa) with plenty of your favorite toppings!
Calories:
307
kcal
|
Carbohydrates:
37
g
|
Protein:
33
g
|
Fat:
3
g
|
Cholesterol:
72
mg
|
Sodium:
847
mg
|
Potassium:
1089
mg
|
Fiber:
9
g
|
Sugar:
3
g
|
Vitamin A:
565
IU
|
Vitamin C:
8.3
mg
|
Calcium:
58
mg
|
Iron:
2.8
mg