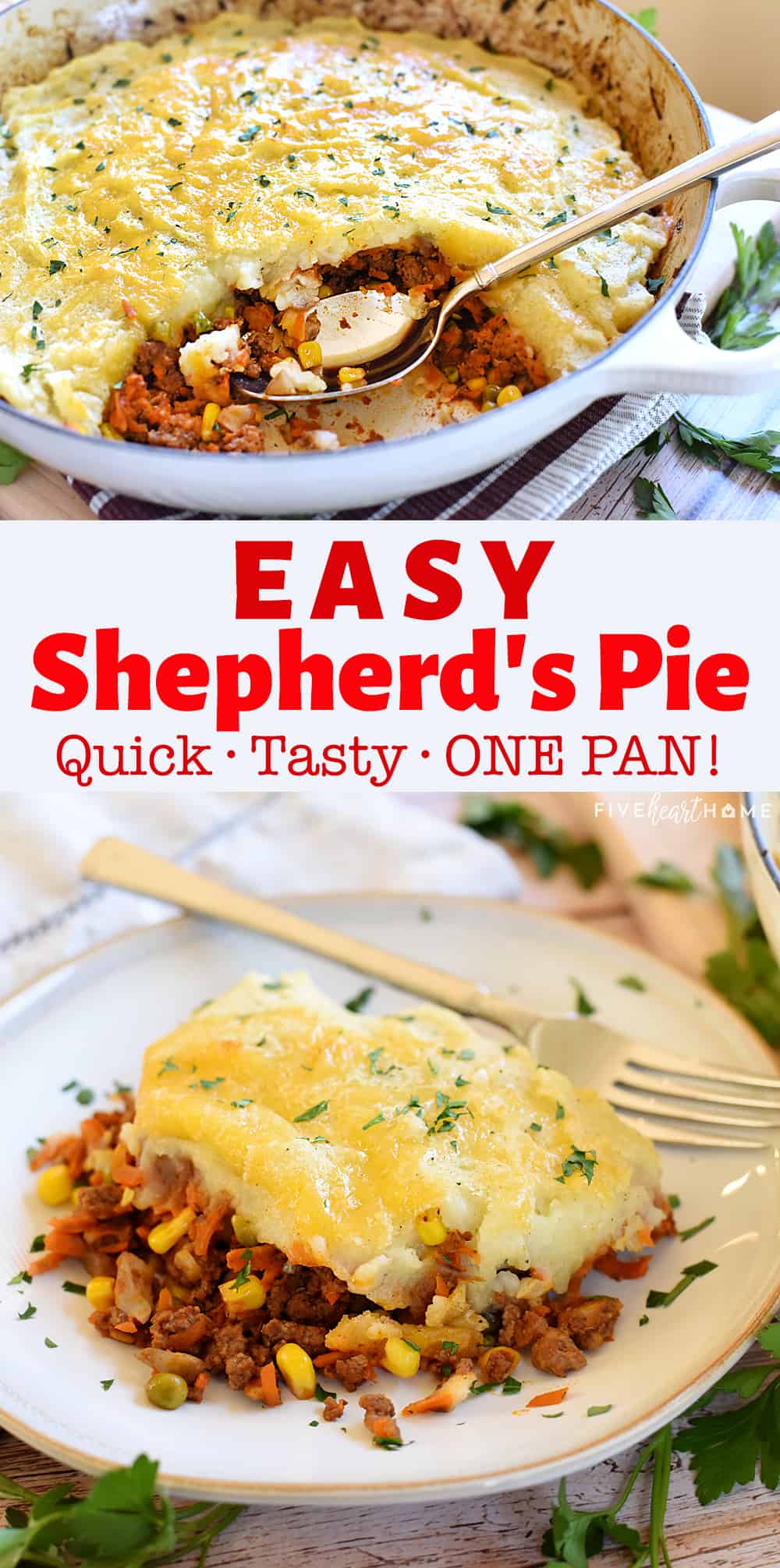 Easy Shepherd's Pie is a one-pan skillet dinner loaded with savory ground beef and colorful veggies. And it's the perfect recipe for using up those leftover mashed potatoes!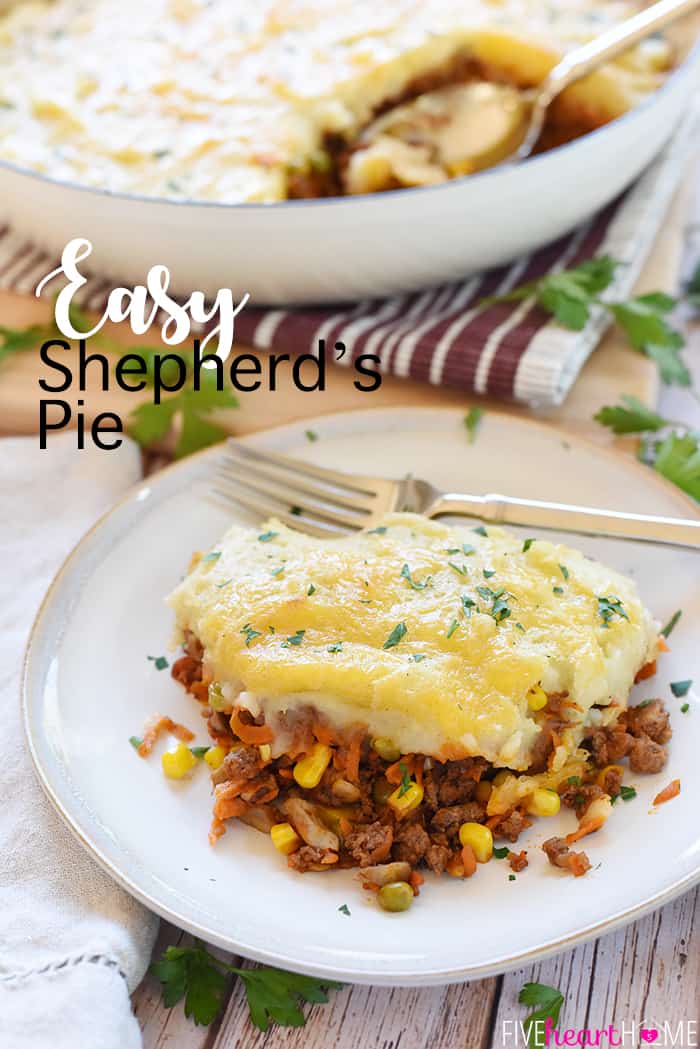 Easy Shepherd's Pie (or Cottage Pie, if we're being technical here) is one of those pretty-much-perfect weeknight dinners, for a variety of reasons.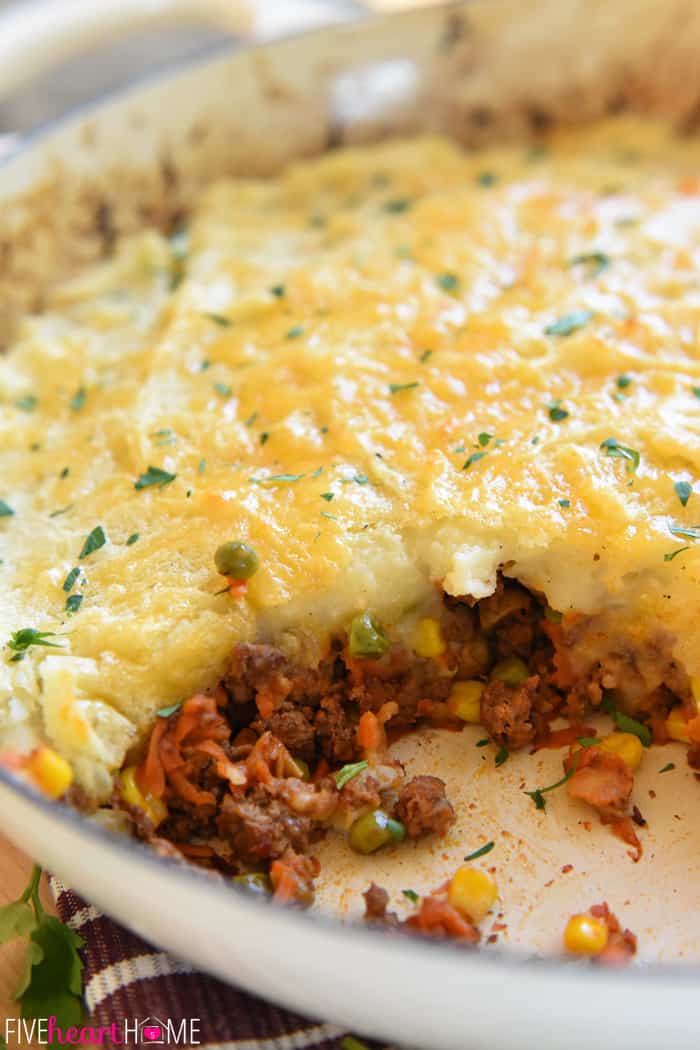 Why Make Easy Shepherd's Pie?
For one thing, it makes good use of leftovers, which is always a plus. In fact, my family loves this recipe so much that when I make mashed potatoes to accompany a meal, I almost always boil an extra 1 ½ pounds of potatoes. Because I know that the leftovers will once again shine later in the week crowning this Shepherd's Pie!
Reason número dos to love this recipe is that it's a skillet supper...and who doesn't love a complete dinner that only dirties one dish?! Even if you don't have leftover taters on hand and have to whip those up from scratch, that can quickly be accomplished in one small additional pot. So any way you slice it, this is supper via minimal dishes, which is always a big plus in my book.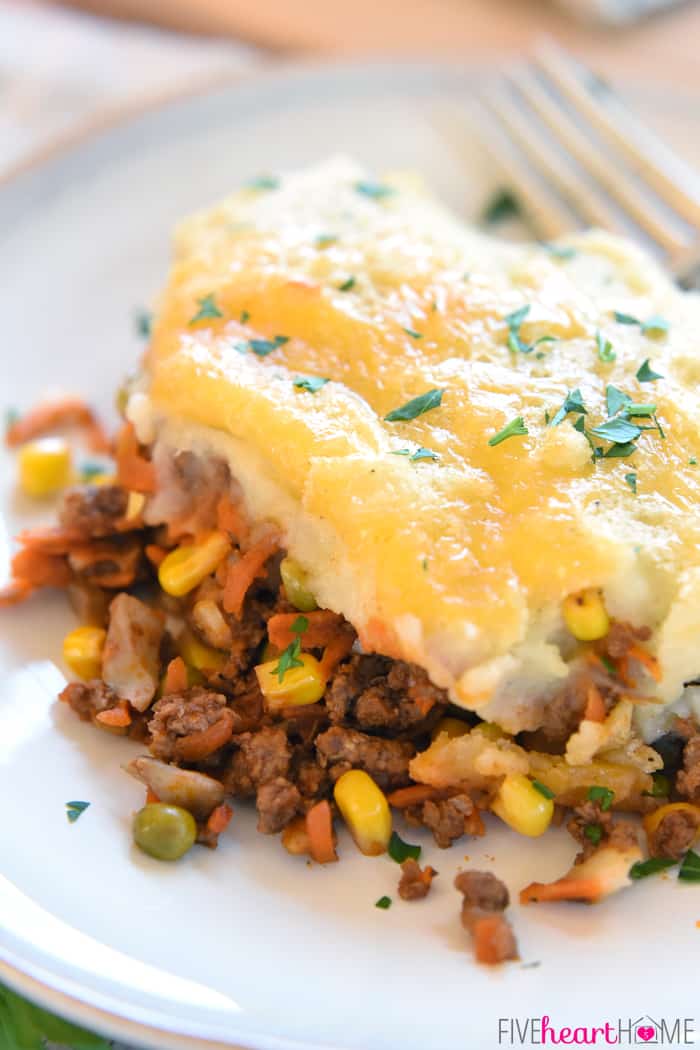 In addition to being quick and easy to throw together, this Easy Shepherd's Pie is pretty much a complete and balanced meal in and of itself! You've got protein, you've got carbs, you've got veggies. You have an assortment of vitamins and nutrients. You have a variety of textures and flavors and vibrant colors.
Each ingredient is distinct from the others yet everything melds together beautifully. But the very best part is that if you're feeling unmotivated to cook a few vegetable-ish side dishes, you don't have to. Plenty of veggies are already included here!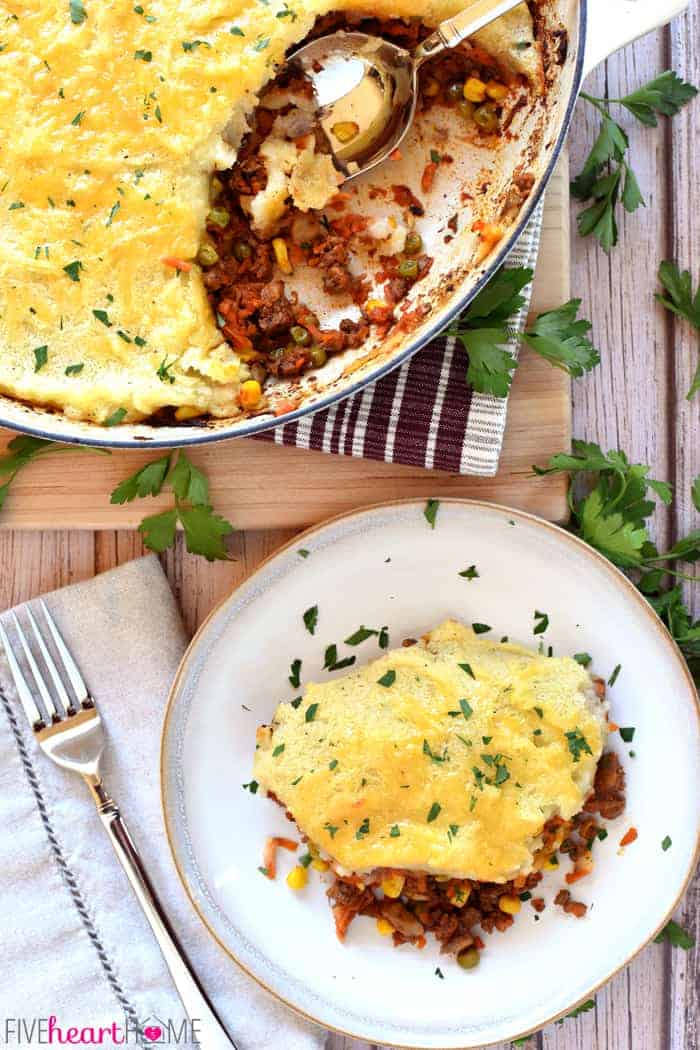 The Secret Ingredient
I know that there are plenty of Shepherd's Pie recipes out there, but I have to encourage you to try this one because I really feel like it's better than the rest. 😉 I can't put my finger on exactly why, but I'm pretty sure it has to do with the proportions of vegetables and the specific amount of...wait for it...tomato paste.
Yeah, I know. That sounds kind of crazy. But I've made this before and just carelessly plopped some tomato paste in the skillet and it just didn't turn out the same.
Using exactly four tablespoons of tomato paste seems to bring out the savory flavor of the beef and the sweetness of the veggies.
If you add less, the flavor is a tad bland. If you add more, everything starts to taste too tomato-y and slightly acidic.
So take my advice and measure the ingredients accurately the first time you make this! I swear it makes a difference in this particular recipe.

Make-Ahead Option
Oh, and did I mention that you can totally put this recipe together ahead of time, pop it in the refrigerator, and then bake it off when you're ready to eat? Just remove it from the fridge to let it start coming to room temperature as the oven preheats.
This little trick is helpful when you have a chunk of time earlier in the day to work on dinner, since focusing on meal prep at "the witching hour" (AKA, 5:00 p.m. at our house) sometimes feels next to impossible between after school activities, homework, sibling bickering, and end-of-day toddler meltdowns.
(Coincidentally, I've heard it rumored that, in some parts, "the witching hour" is also known as "it's wine-o'clock somwhere." Ahem.)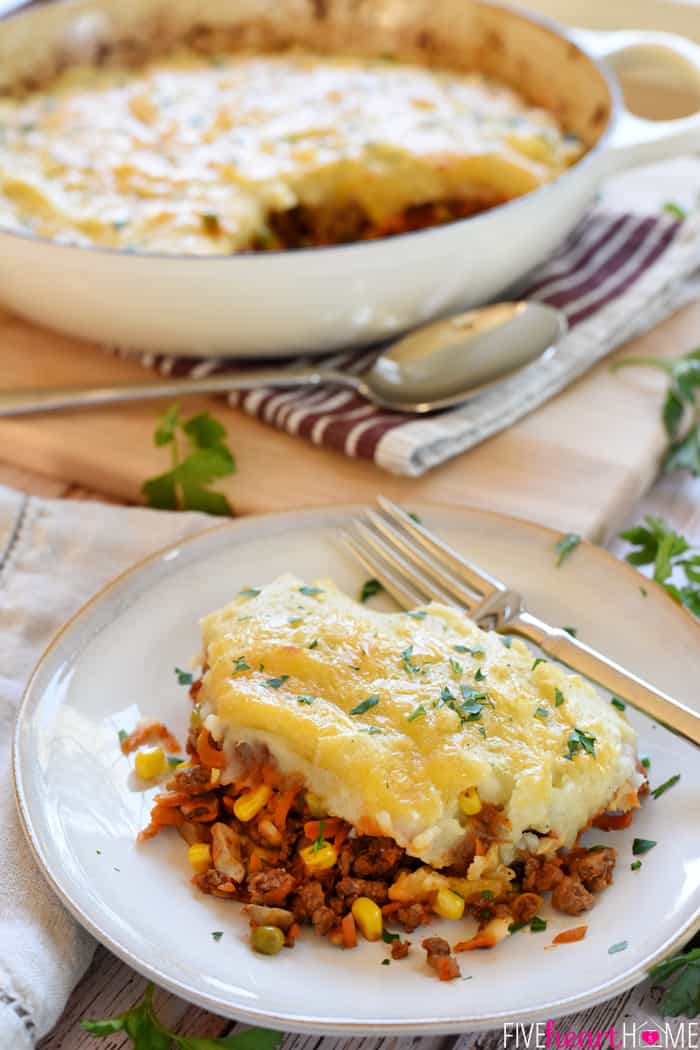 The next time you end up with leftover mashed potatoes, embrace your good fortune and put this Easy Shepherd's Pie on the menu!
It's comforting, warm, and hearty...perfect for busy weeknights and lazy weekends alike. And I'm pretty sure that once you give it a try, it'll become a keeper recipe in your files, just like it is in mine.
Enjoy, friends!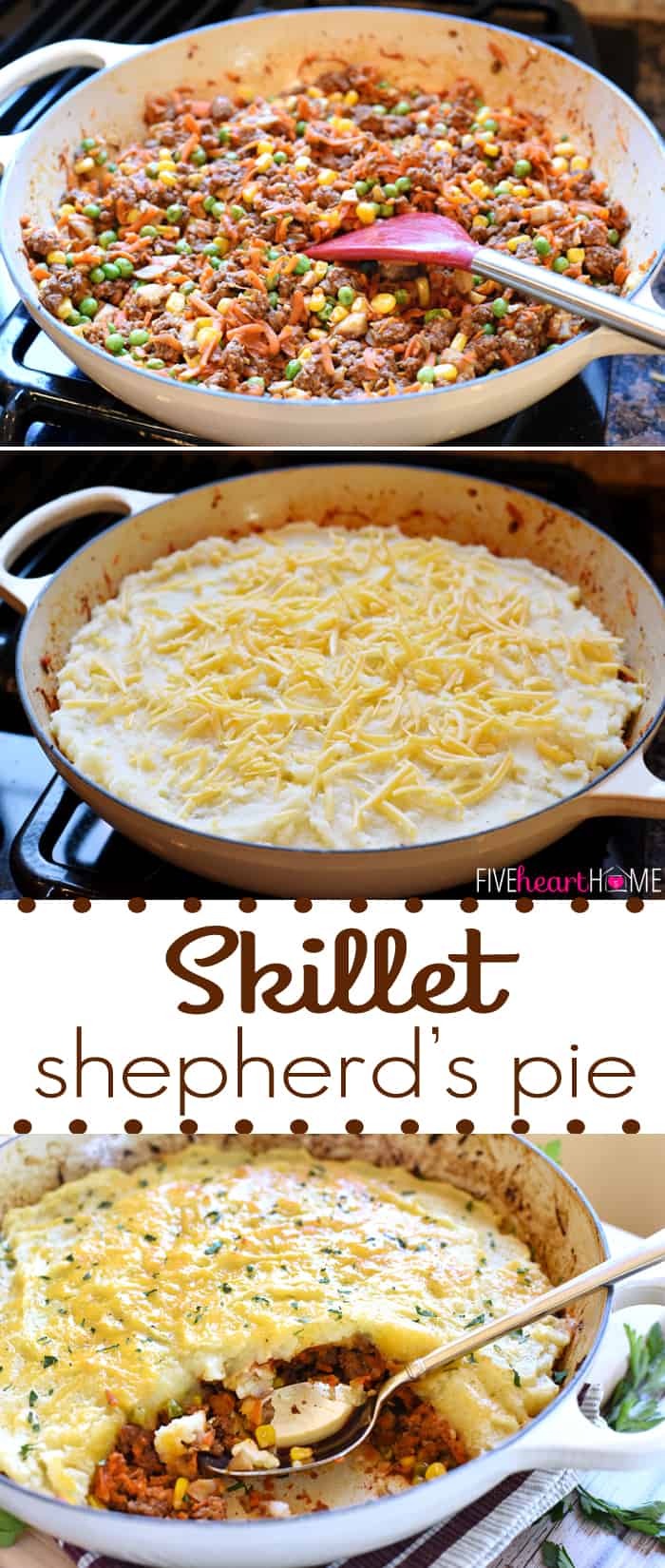 More Comfort Food Bliss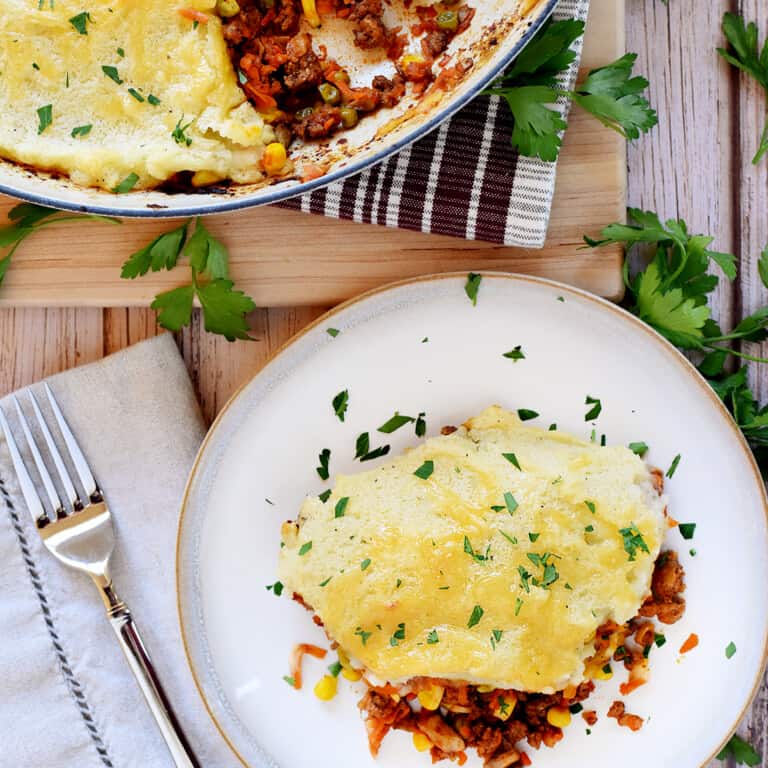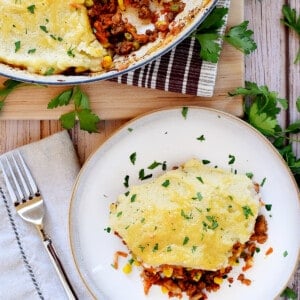 Easy Shepherd's Pie
Easy Shepherd's Pie is a tasty, one-pan skillet dinner loaded with savory ground beef and colorful veggies...and it's the perfect recipe for using up those leftover mashed potatoes!
Print
Pin
Rate
Ingredients
1

pound

ground beef

¾

teaspoon

dried oregano

1

teaspoon

salt

Freshly ground black pepper

,

to taste

4

tablespoons

tomato paste

½

cup

beef broth

1

teaspoon

Worcestershire sauce

1 ½

cups

carrots

,

julienned OR shredded

8

ounces

mushrooms

,

cleaned and chopped

2

large cloves garlic

,

minced

1

cup

frozen peas

,

thawed

1

cup

frozen corn

,

thawed

4

cups

mashed potatoes

,

see NOTES for recipe if you don't have leftovers

1

cup

grated cheddar cheese

,

DIVIDED
Instructions
Adjust oven rack to center position and preheat oven to 375°F.

Crumble beef into a large skillet and cook over medium-high heat until no longer pink; drain and discard grease. Season beef with oregano, salt, and pepper. Stir in the tomato paste, beef broth, and Worcestershire sauce. Add the carrots, mushrooms, and garlic and cook until vegetables are tender, about 10 minutes. Stir in the peas and corn and taste and adjust the seasonings.

Briefly warm the leftover mashed potatoes in the microwave so that they can be stirred until smooth (add a splash of milk, if necessary). Stir in ½ cup cheddar and spread the potatoes over the top of the meat/veggie mixture in the skillet. Sprinkle remaining ½ cup cheddar on top. Bake until potatoes and cheese are golden brown, about 30 to 40 minutes. Serve hot.
Notes
If desired, you may transfer the meat/veggie mixture to a 2-quart oval casserole dish (or similar sized dish) and top with mashed potatoes before baking.
TO MAKE MASHED POTATOES: (in case you don't have leftovers)

1 ½ pounds potatoes, peeled & cubed
1 teaspoon salt
¾ cups milk
4 tablespoons butter
Garlic salt, to taste
Freshly ground black pepper, to taste Place the potatoes in a saucepan and cover with 1 inch of cold water. Stir in 1 teaspoon salt. Bring to a boil over high heat. Reduce heat to a simmer and cook for 8 to 10 minutes or until potatoes are tender but not mushy. While potatoes are cooking, microwave milk and butter until hot (or heat in a small saucepan). Once potatoes are done, drain water and return potatoes to pot. Pour hot milk/butter over potatoes and mash directly in pot. Season with garlic salt (or regular salt, if you prefer) and fresh pepper, to taste.
Calories:
342
kcal
|
Carbohydrates:
35
g
|
Protein:
29
g
|
Fat:
11
g
|
Saturated Fat:
6
g
|
Cholesterol:
67
mg
|
Sodium:
726
mg
|
Potassium:
1377
mg
|
Fiber:
7
g
|
Sugar:
5
g
|
Vitamin A:
5882
IU
|
Vitamin C:
33
mg
|
Calcium:
211
mg
|
Iron:
8
mg
Adapted from Food Network
Post originally published on October 26, 2014.