This Taco Hamburger Helper copycat recipe is a quick, easy, one-pan dinner made with just FIVE real, all-natural ingredients!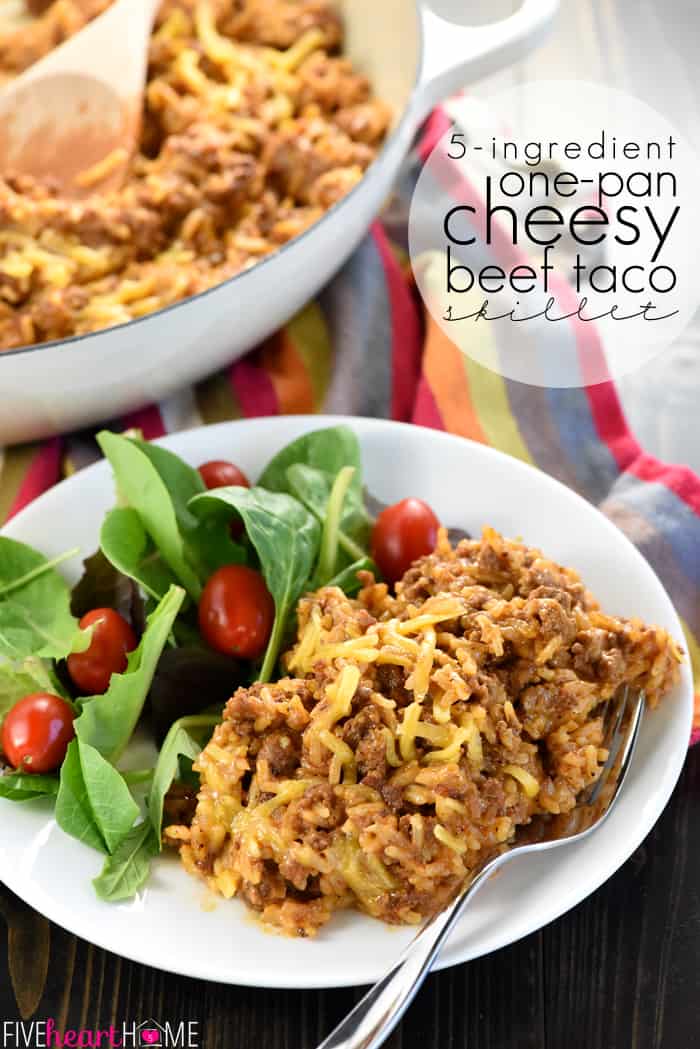 For other flavors of homemade Hamburger Helper, try our from-scratch Cheeseburger Macaroni, Asian Ground Beef & Rice Skillet, or 30-Minute Skillet Lasagna!
In case y'all hadn't noticed, I've been on somewhat of a one-pot/one-pan/one-skillet recipe kick lately. And why not? Who doesn't love a complete dinner that's made in about 30 minutes while dirtying only one large cooking receptacle?
So a few weeks ago, I'd been running around all day and hadn't had any time to think about dinner until, ohhh, about 5 o'clock. And so I did what one does when one is short on time and overdue for a trip to the grocery store....I reached into the freezer for a pizza to pop in the oven. Alas, the freezer revealed that frozen pizzas needed to be added to my grocery list as well, so I quickly had to come up with a plan B. I realized that I had a lone pound of ground beef in fridge, so what could I make with that in a matter of minutes? Sloppy Joes? No buns. Tacos? No tortillas. But the taco theme stuck for some reason, so I quickly secured a handful of ingredients that would turn ordinary taco meat into a from-scratch copycat of good ol' Taco Hamburger Helper.

How to Make It
This recipe is ridiculously easy to make, friends.
Simply brown some ground beef and stir in taco seasoning, beef broth, and rice.
Simmer for 15 to 20 minutes until the rice is tender and the liquid is absorbed.
Then mix in some grated cheese and voilà...
Dinner is served!

Beef Taco Hamburger Helper Inspiration
The inspiration for this recipe admittedly originated from the childhood-affinity-for-Hamburger-Helper recesses of my brain. In fact, the minute I took my first bite, I instantly had the conviction that my meal should be accompanied by a tall tupperware cup of Kool-Aid and a Jello Pudding Pop for dessert.
Do y'all remember the Beef Taco Hamburger Helper from the 80s, made with rice instead of pasta? Welp, this recipe is a homemade version of that. I just now Googled it to see if it still exists, and apparently there's a "crunchy" version these days that's got the fancy-pants addition of tortilla chips on top. But the one I remember loving as a kid was simply ground beef, rice...and whatever icky seasoning packet and powdered cheese came in the ubiquitous red and white box.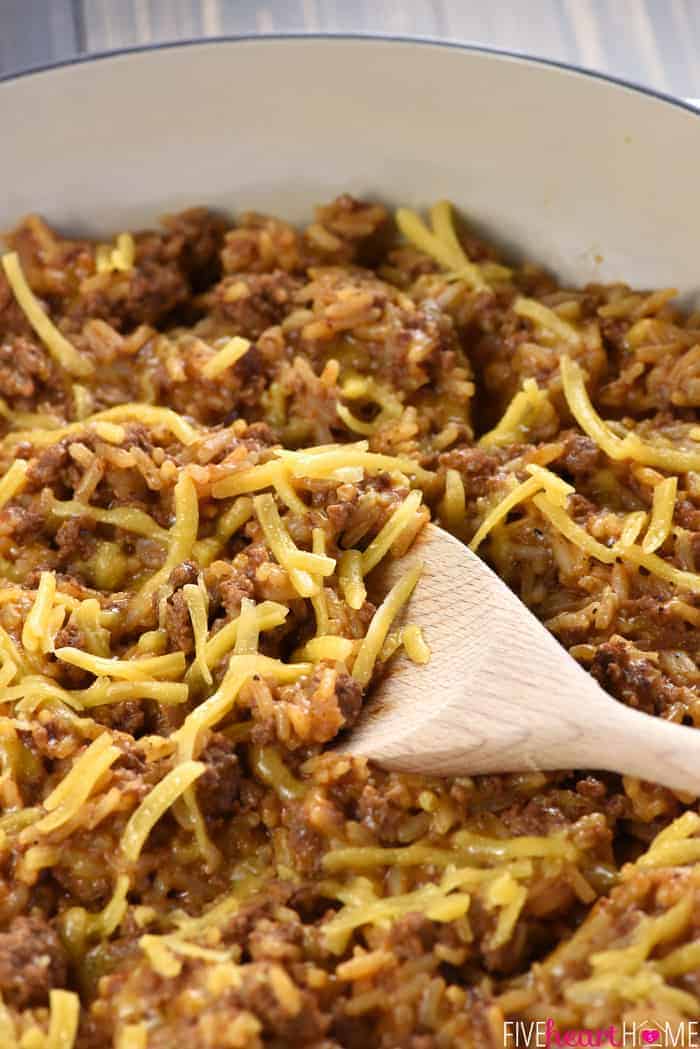 From Scratch!
As it turns out, today's homemade version of Taco Hamburger Helper still comes together one pan in under 30 minutes, just like the Hamburger Helper of yore.
But it's much healthier and tastes wayyyy better, since it swaps out all of those processed ingredients for real, all-natural ingredients. And just five of them, at that!
Variations
Now, if your pantry is stocked and you want to jazz up this meal with some additional ingredients, feel free!
You may saute some garlic and/or diced onions in the pan before adding the beef.
You can swap out chicken broth for beef broth.
Feel free to substitute a can of diced tomatoes (juice included) for about 1 cup of the broth.
You may stir in a can of drained diced green chiles for a little kick.
Use your favorite cheese in lieu of cheddar.
Get wild and crazy with your dinner-making self!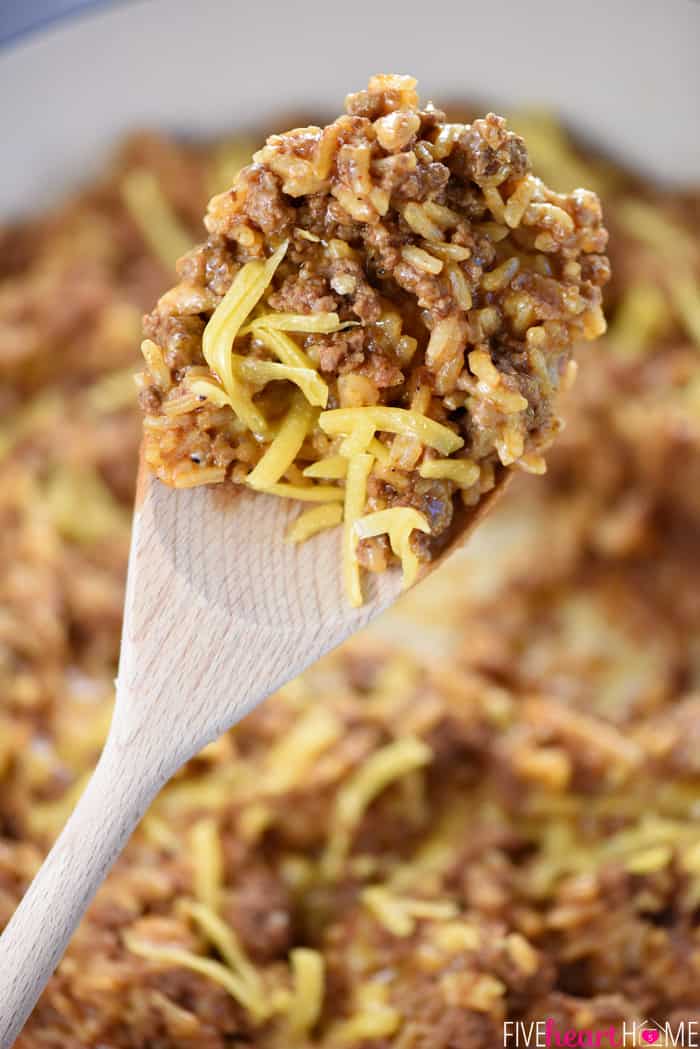 White Rice vs. Brown Rice
As far as the rice, I chose white rice for this recipe because of its quick cooking time.
I love wholesome brown rice and use it most of the time, but since it takes twice as long to cook (and would require more liquid), I thought that white rice would just work better for this 30-minute, one-pan meal.
You'll have to experiment with the liquid ratio if you decide to make this recipe with brown rice.
Pan of Choice
Also, this recipe should work in just about any large skillet, pan, or pot. You see it pictured here in a wide, deep braiser, but I'm just as likely to make this type of recipe in a large Dutch oven, which is better at containing grease splatters when I brown the meat.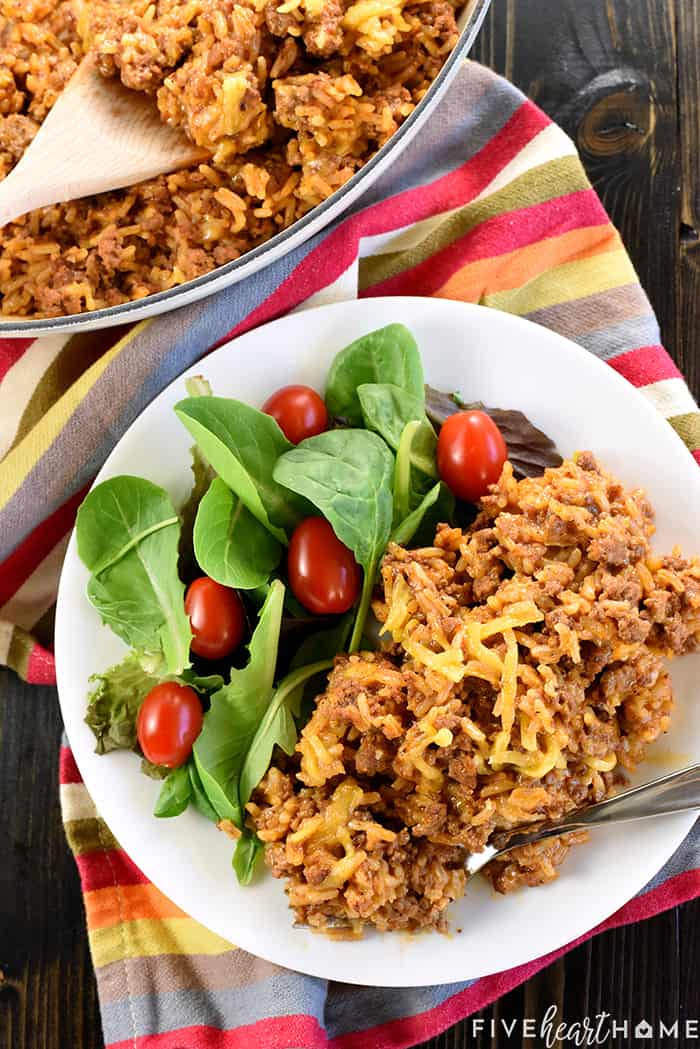 So who's ready for a quick and easy, one-pan supper that will tickle your tastebuds, fill your belly, and simultaneously transport you back to 1983? Whip up a pitcher of Kool-Aid and join me for some Taco Hamburger Helper, won't you? 😉
More Skillet & One-Pot Dinners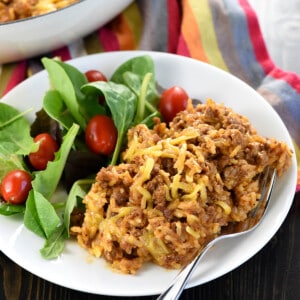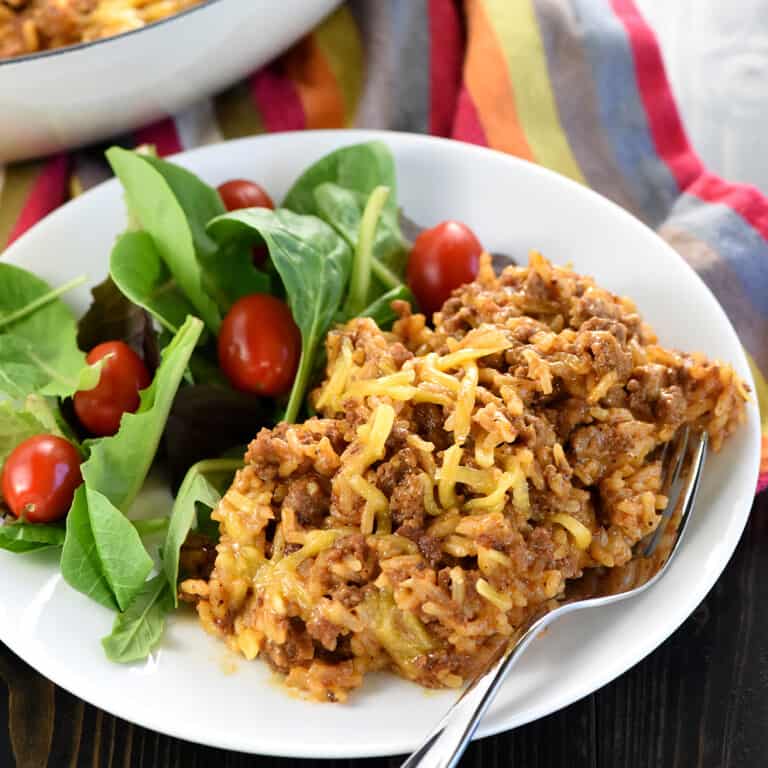 Taco Hamburger Helper
This Taco Hamburger Helper copycat recipe is a quick, easy, one-pan dinner made with just FIVE real, all-natural ingredients!
Print
Pin
Rate
Servings:
4
to 6 servings
Ingredients
1

pound

ground beef

3

tablespoons

Homemade Taco Seasoning,

OR 1 packet store-bought

1

cup

long-grain white rice

,

such as Jasmine

3

cups

low-sodium beef broth

1

cup

grated sharp cheddar
Instructions
Set a large skillet, pan, pot, or Dutch oven over medium-high heat. Add the ground beef and cook until no longer pink, breaking apart and stirring as the meat cooks. Drain the grease from the pot and sprinkle the cooked meat with taco seasoning.

Add the rice and beef broth and stir well to combine. Increase heat to high and bring to a boil, then stir and reduce to a simmer.

Simmer, covered, for 15 to 20 minutes, stirring occasionally, until rice is tender and liquid is mostly absorbed. Stir in the grated cheese and serve immediately.
Notes
When you bring the mixture to a boil and reduce to a simmer, make sure that the simmer is a simmer...not barely bubbling (or the rice won't cook and absorb the liquid) and not bubbling too fast (or the liquid may get absorbed too fast and the bottom may burn). For my stove, this was medium-low heat, adjusting up or down a tad as needed when I would stir every few minutes.
If too much liquid remains once your rice is cooked, you may remove the lid and turn up the heat for a minute or two, stirring so that it doesn't burn. If the liquid evaporates before the rice is done and everything starts to stick to the bottom, you may stir in a bit more broth or water.
This recipe is intentionally simple, but you may jazz it up as you wish (see post above the recipe for ideas).
You may garnish this meal with your favorite Mexican toppings...crushed tortilla chips, diced tomatoes, diced avocado, chopped cilantro, pico de gallo, salsa, sour cream, extra cheese, etc. Or you may leave it perfectly plain!
Calories:
302
kcal
|
Carbohydrates:
26
g
|
Protein:
25
g
|
Fat:
10
g
|
Saturated Fat:
6
g
|
Cholesterol:
67
mg
|
Sodium:
489
mg
|
Potassium:
555
mg
|
Fiber:
1
g
|
Sugar:
1
g
|
Vitamin A:
306
IU
|
Vitamin C:
1
mg
|
Calcium:
151
mg
|
Iron:
2
mg
Save
Save
Save
Save
Save
Save
Save
Save
Save