This Easy Pastitsio recipe is a 30-minute, one-pan dinner of creamy, flavorful Greek lasagna -- loaded with ground beef, tomatoes, pasta, and Greek yogurt!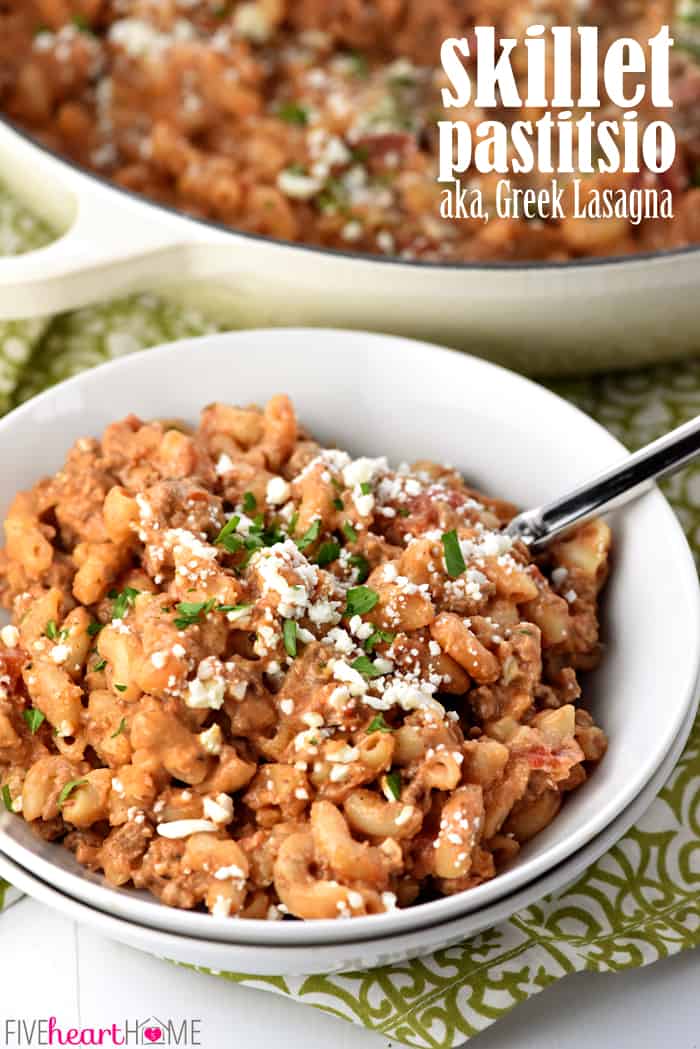 Several years back while watching the Food Network one Saturday morning -- as future food bloggers apparently do -- my old pal Ina was making a comforting, layered dish called Pastitsio that totally intrigued me. Perhaps it caught my eye because I had never heard of it before...or maybe it was because "Greek lasagna" sounded so good (yum)...or it could be because it would prove to challenge me as both a tongue-twister and a word that I'm consistently unable to correctly type on the first try. At any rate, I printed out the recipe...and proceeded to not make it for the next five years.
Well, I was recently getting ready to cook my family's beloved 30-Minute Skillet Lasagna for dinner when I realized that I didn't have any ricotta cheese...but I did have a whole tub of Greek yogurt. And it suddenly occurred to me that perhaps I could incorporate elements of a traditional Pastitsio recipe -- which typically entails multi-steps, several dirty pots, and homemade bechamel sauce, mind you -- into a ONE-POT SUPPER.
Yes! That's why I'd put off making Ms. Garten's recipe for so many years...I was waiting on inspiration to turn it into some easier... 😉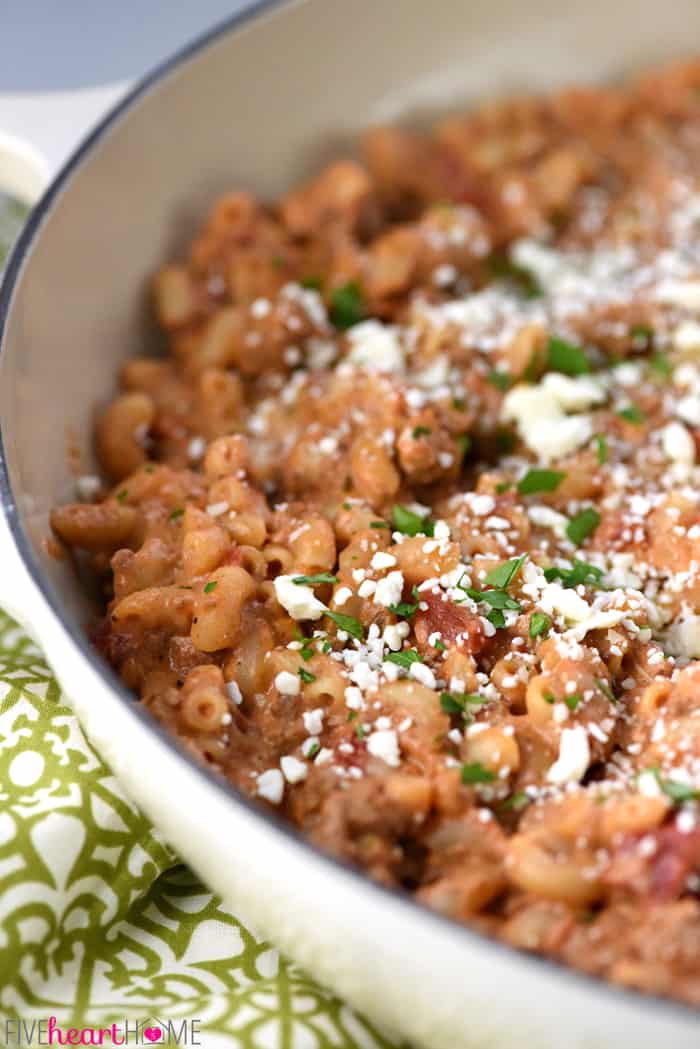 And so I took my tried-and-true skillet lasagna recipe and tweaked the ingredients, as inspired by Mediterranean flavors and traditional Pastitsio recipes.
And the result? LOVE.
I now have another one-pan supper in my repertoire, made with ingredients that I typically have on hand but with flavors that are a little bit out of the ordinary...yet still totally kid- and family-friendly. So let's break it down, shall we?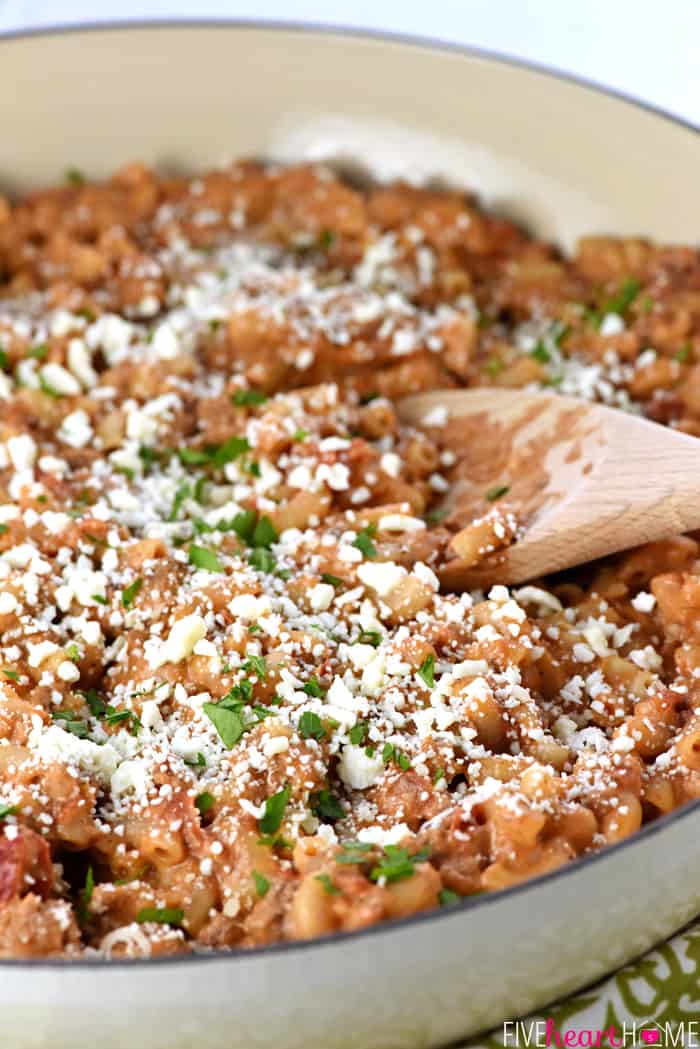 How to Make the EASIEST Pastitsio Recipe
Traditional Pastitsio recipes typically include ground lamb and/or beef, tomato sauce, pasta, and a homemade bechamel sauce, layered and baked into a lasagna-like casserole.
For this effortless skillet version, however, I opted for:
Readily-available ground beef. We happen to be beef-loving folk 'round our house, but if you're into lamb -- or turkey, for that matter -- go for it!
Mini elbow macaroni. Again, this is a pasta that I typically keep on hand. I probably would have chosen to use mini shells, but I was fresh out.
A can of crushed tomatoes combined with chicken broth and half-and-half (in lieu of more traditional heavy cream).
As for other adjustments I made?
I left out the red wine, though you could certainly add a bit to replace ½ cup of the chicken broth.
I stirred in some Greek yogurt at the end for extra creaminess.
And I garnished with feta cheese because -- hey! -- how much more Greek can you get? Plus, I happened to already have some in the fridge. 😉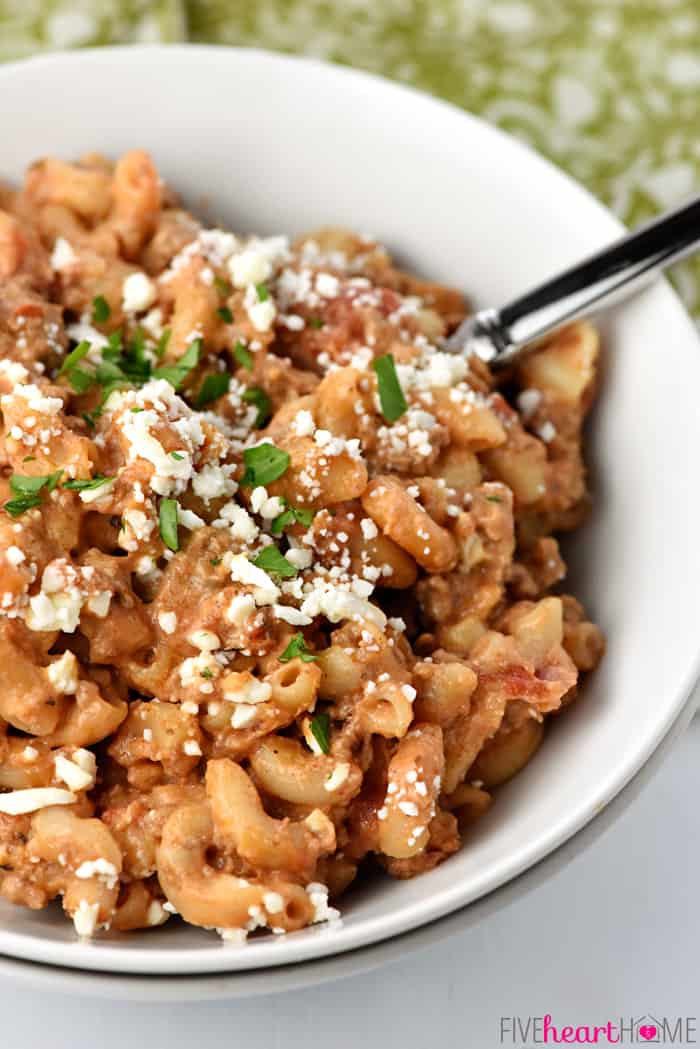 Pastitsio Spices
I did stay true to the spices of traditional Pastitsio recipes, however. After all, they're what set this recipe apart from a typical skillet lasagna or tortellini bake or, you know, cheeseburger macaroni.
Now I'll admit right now that I'm not usually a fan of cinnamon in savory recipes, because when I taste cinnamon, it makes me think of oatmeal and snickerdoodles and apple pie. That being said, an undertone of cinnamon is a key flavor in Pastitsio.
So I added a somewhat conservative amount...and I actually enjoyed it. A lot! If you wish to be even more conservative than I, you can cut the amount in half to just ⅛ teaspoon. But promise me that you won't leave it out completely, because it really does make this recipe taste like, well, what it's supposed to taste like. 🙂
This easy skillet Pastitsio recipe is also flavored with garlic, oregano, a pinch of nutmeg, a touch of cayenne, and a good bit of freshly grated Parmesan stirred in at the end. The combination of ingredients is just a little bit unique (unless you're Greek, of course) but completely delicious, meaning that my kids loved this dinner. And so did my hubby. And so did I!
And when I'm referring to it as a "30-minute meal," I honestly don't even think it took that long to whip up. Simply measure everything out ahead of time so that the various ingredients are ready to add at the appropriate times and I'm telling you...this recipe is so quick and easy to make.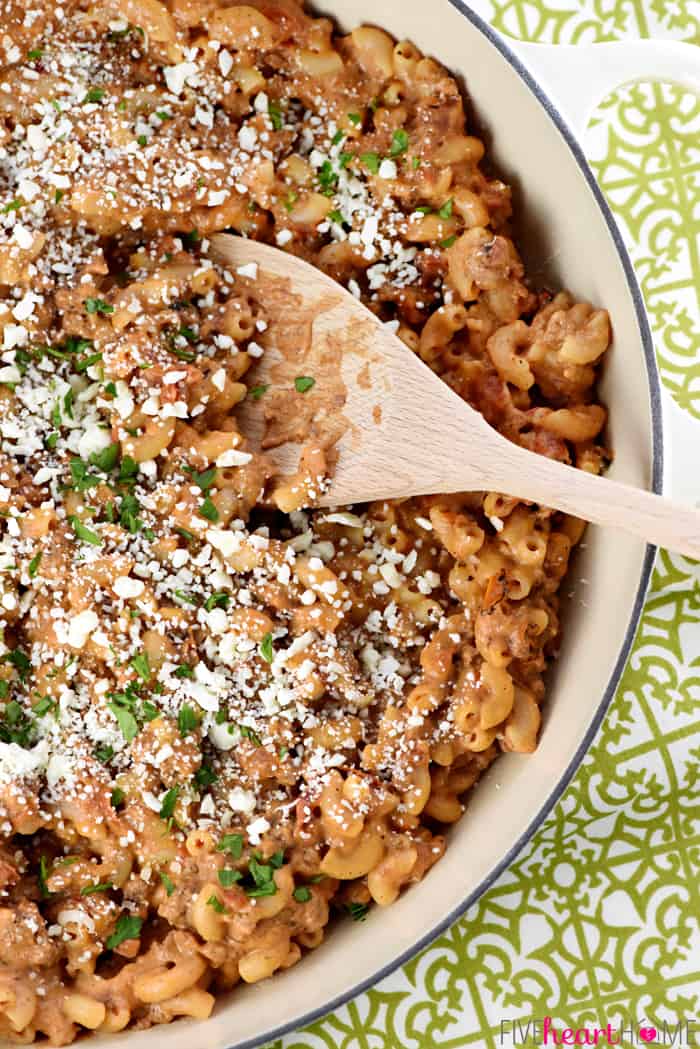 So what are you waiting for? Skillet lasagna meets Greek lasagna just got a makeover.
This simple, one-pan Pastitsio recipe is effortless, it's yummy, and it's guaranteed to make you shout opa!
More Ground Beef One-Pan Dinners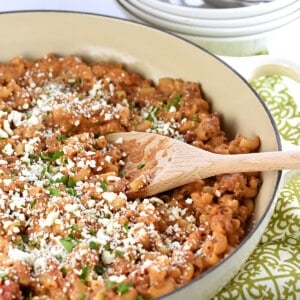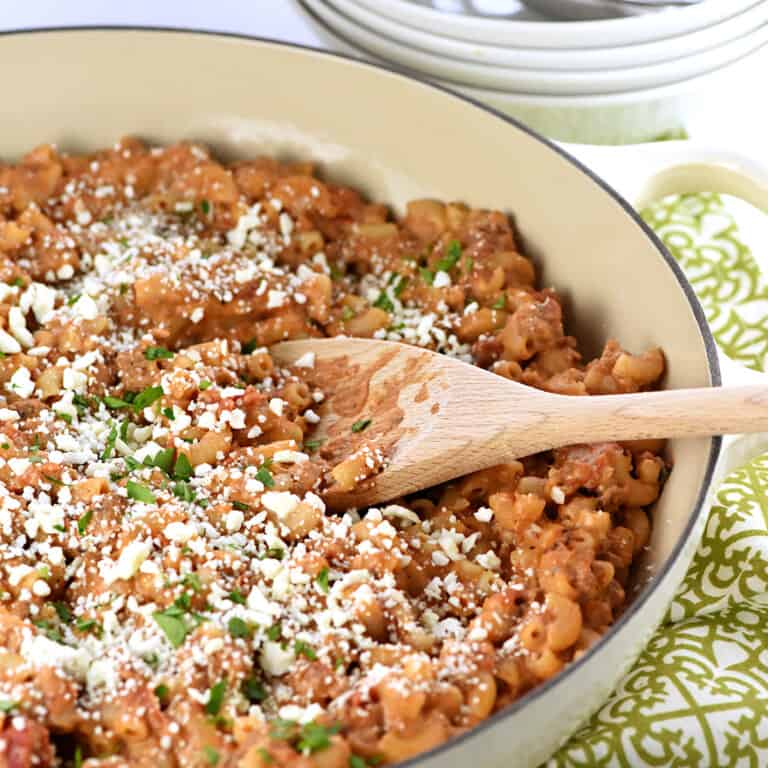 Easy Pastitsio Recipe
This Easy Pastitsio recipe is a 30-minute, one-pan dinner of creamy, flavorful Greek lasagna -- loaded with ground beef, tomatoes, pasta, and Greek yogurt!
Print
Pin
Rate
Servings:
4
to 6 servings
Ingredients
1

(14.5-ounce) can crushed tomatoes

2

cups

chicken broth

,

plus additional as needed

1

cup

half-and-half

1

pound

lean ground beef

4

cloves

garlic

,

minced

1

teaspoon

dried oregano

,

or 1 tablespoon fresh minced oregano

1

teaspoon

sugar

¾

teaspoon

salt

,

plus more to taste

¼

teaspoon

dried thyme

¼

teaspoon

ground cinnamon

Pinch

ground nutmeg

Pinch

ground cayenne

2

tablespoons

tomato paste

8

ounces

small dry elbow macaroni OR small pasta shells

,

measuring out to about 1 ¾ to 2 cups dry pasta, depending on the size of the pasta

½

cup

freshly grated Parmesan cheese

½

cup

Greek yogurt

,

low-fat or whole milk, preferably at room temperature

6

ounces

crumbled feta cheese

,

for garnish (optional)

Freshly minced parsley or oregano

,

for garnish (optional)
Instructions
Pour crushed tomatoes, chicken broth, and half-and-half into a large (at least 1-quart) liquid measuring cup or medium bowl. Set aside.

Heat a very large skillet (or Dutch oven) over medium heat. Add the ground beef and cook until browned. Push beef to the edges of the skillet and add garlic to the center of the pan. Stir and cook for 30 seconds until fragrant. Stir the garlic into the cooked beef and drain any excess grease from the skillet.

Sprinkle oregano, sugar, salt, thyme, cinnamon, nutmeg, and cayenne over the beef and dollop tomato paste on top. Stir until the spices are well-distributed and the tomato paste is well-incorporated. Pour the crushed tomato mixture and the pasta into the skillet and stir to combine all ingredients. Bring to a boil and then reduce to a simmer, stirring frequently to prevent the pasta from sticking to the bottom of the skillet. Continue to cook and stir for 8 to 12 minutes or until the liquid is absorbed and the pasta is al dente. (If the liquid gets absorbed before the pasta finishes cooking, add a splash more chicken broth or water, as necessary.)

Once the pasta is done, remove the skillet from the heat and stir in the Parmesan cheese. Measure the Greek yogurt into a bowl and temper it (to prevent it from curdling) by spooning a bit of the warm sauce/beef/pasta into the yogurt and stirring to combine. Add another big spoonful of warm sauce to the yogurt and stir again. Repeat this process until the yogurt feels warm to the touch, then transfer all of the yogurt mixture into the skillet and stir to combine. Sprinkle with crumbled feta and minced herbs, if desired. Serve immediately.
Notes
If you wish to lighten up this recipe a bit, you may increase the chicken broth to 2 ½ cups and decrease the half-and-half to ½ cup.
I cooked this Pastitsio recipe in an enameled cast iron pan while stirring frequently, and I didn't have a problem with the pasta sticking. However, if you walk away or stop stirring for a while, it is likely that the pasta will stick to the bottom of the pan. So stick close by! 😉
Cinnamon is what gives this recipe a distinctive Pastitsio flavor. However, a little bit of cinnamon goes a long way, so if you don't care for it in savory recipes, feel free to decrease the amount used.
Calories:
491
kcal
|
Carbohydrates:
40
g
|
Protein:
33
g
|
Fat:
22
g
|
Saturated Fat:
12
g
|
Cholesterol:
97
mg
|
Sodium:
963
mg
|
Potassium:
754
mg
|
Fiber:
3
g
|
Sugar:
7
g
|
Vitamin A:
558
IU
|
Vitamin C:
8
mg
|
Calcium:
346
mg
|
Iron:
4
mg
Adapted from 30-Minute Skillet Lasagna