The BEST Homemade Chicken Pot Pie features juicy chicken and tender veggies under a flaky, buttery crust for a delicious comfort food classic!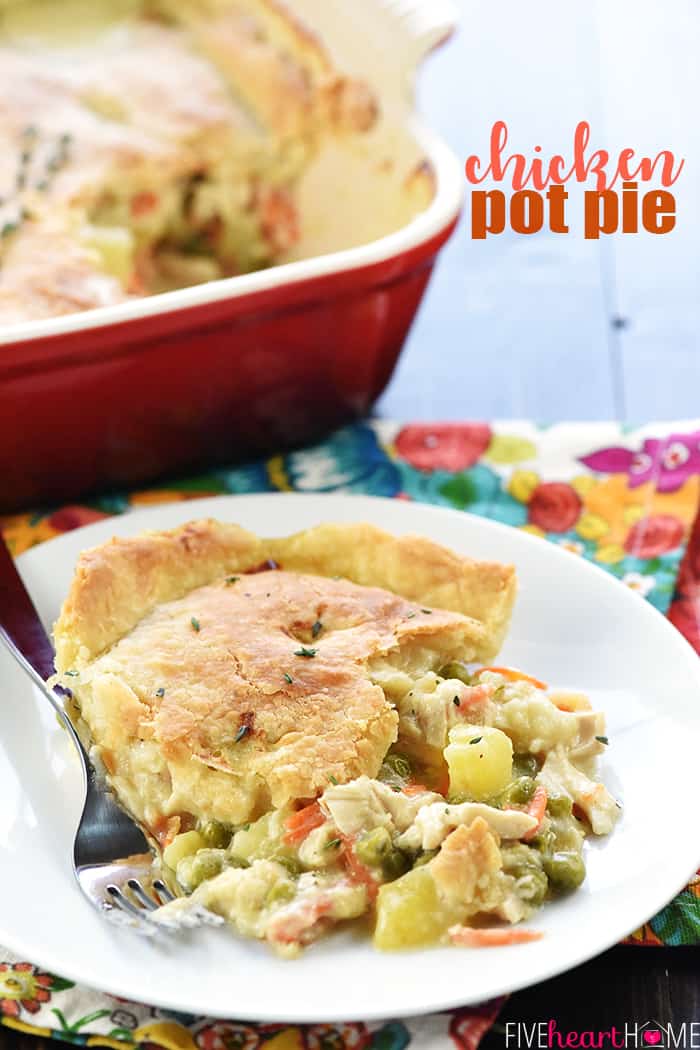 Important question for ya, friends...do you have a running mental list of your Favorite Things to Eat on Earth? If so, what's included? Dedicated little food blogger that I am, I do have such a list, and Homemade Chicken Pot Pie makes my Top 10 <insert all the heart-eyed, drooling emojis here>.
Apparently I'm not the only one who's fond of it. Thanks to leftover turkey, I made it more than once over the holidays, to which my husband declared on each occasion, "You have to share this on your blog." I finally decided to oblige him! So today, we're taking a break from light and healthy January fare for this warm, homey, slightly more decadent comfort food dinner recipe.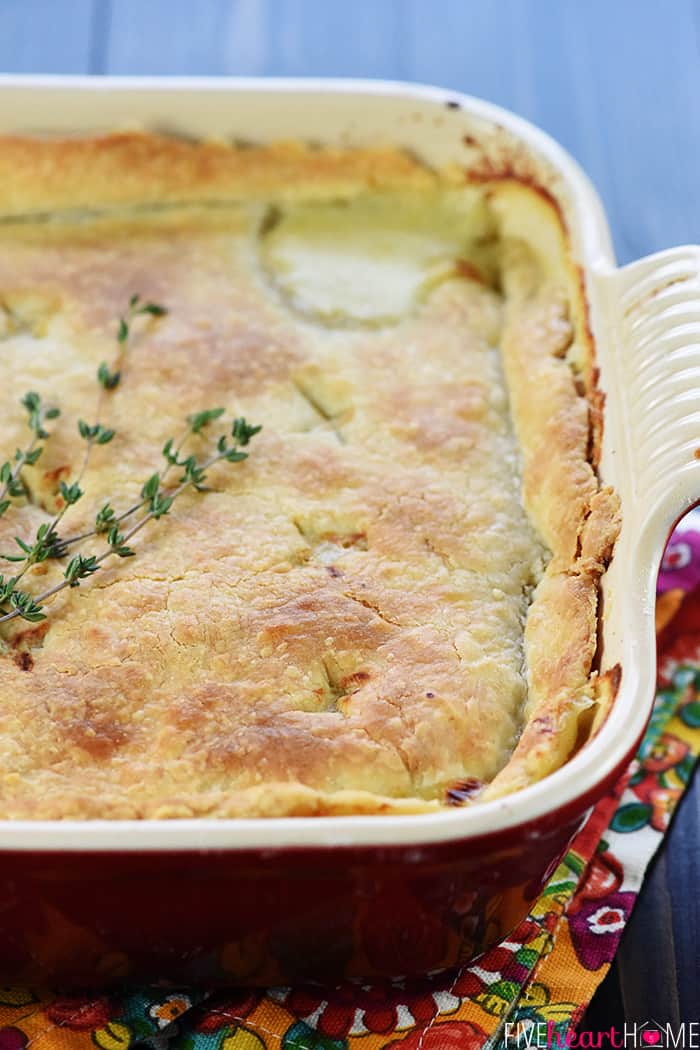 There are countless ways to make Homemade Chicken Pot Pie, but this here version is jussst the way my family likes it, and I do believe you'll go crazy for it, too. It's made with real, wholesome ingredients and it's surprisingly easy to throw together. And it's so darn delicious I could seriously eat it once a week!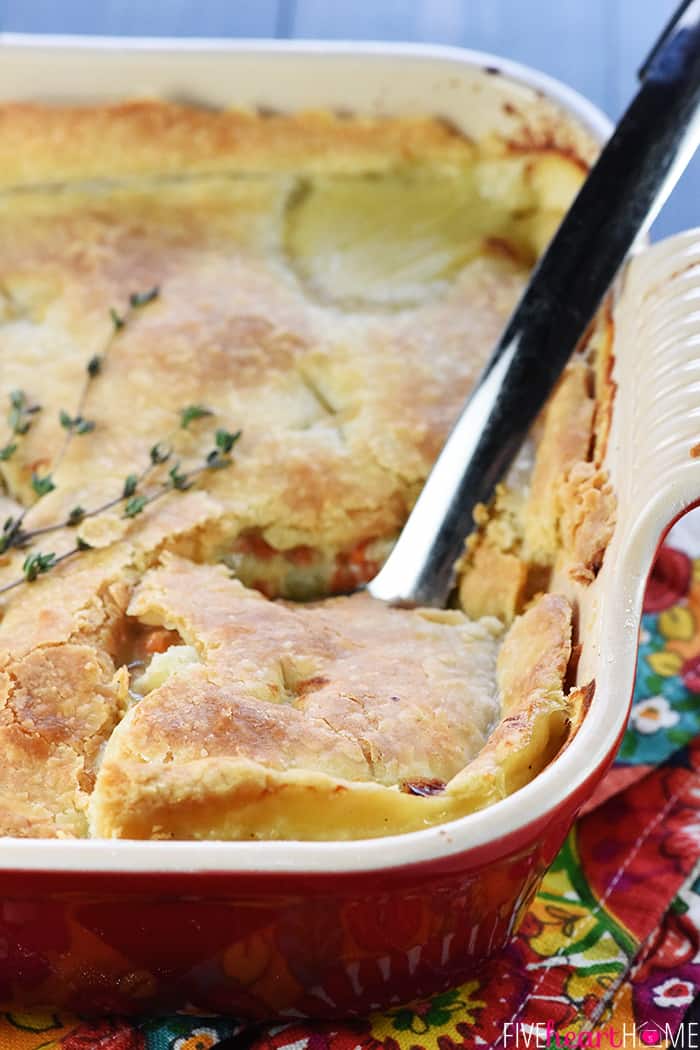 Ingredients
This is a great recipe any time you need to use up leftover chicken or turkey. If you don't have leftovers, you can quickly poach some chicken breasts or (my favorite short-cut) pull the meat from a rotisserie chicken.
In addition to your choice o' poultry, it's loaded with chunks of potato, matchstick carrots, and green peas. There's also some half-and-half and a splash of white wine to add extra richness to the silky sauce that envelops the meat and veggies. You can totally leave those out if you wish, but I'm not sure why you would. 😉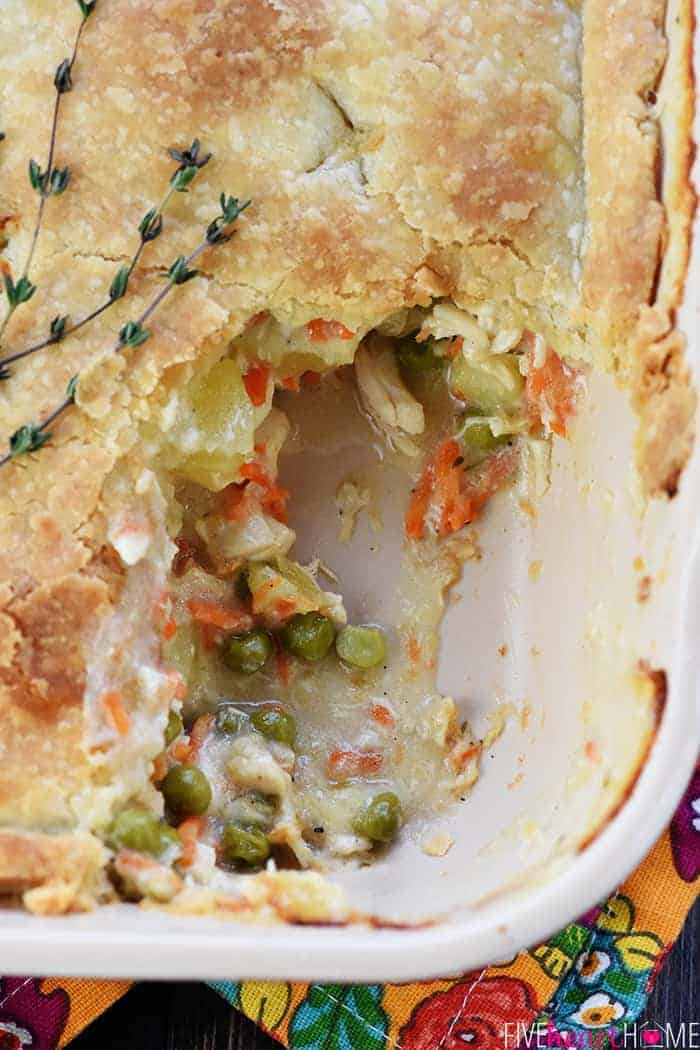 The Pie Crust
As I mentioned earlier, I typically make chicken pot pie around the holidays because not only do I find myself with leftover turkey, but I also often have a leftover pie crust on hand. I'm telling you, a homemade, all-butter pie crust takes this recipe from great to amazing!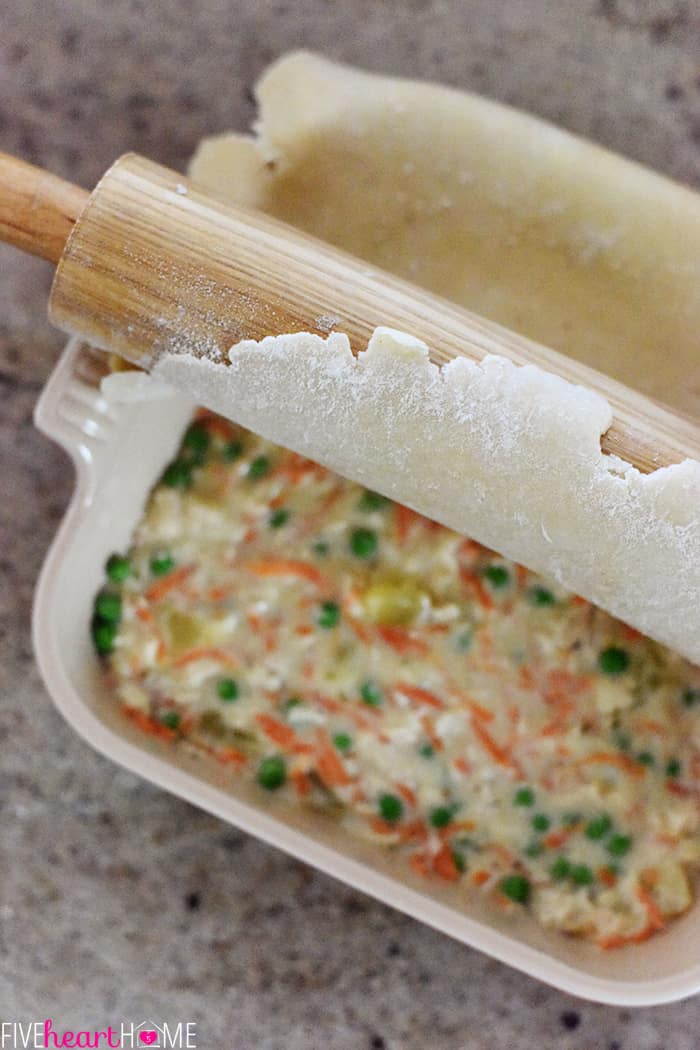 My beloved Fool-Proof Flaky Butter Pie Crust recipe is super easy to make and actually results in two pie crusts. So when I whip up a pecan pie for Thanksgiving, I use the extra crust (along with some leftover turkey) for a post-Turkey Day Chicken Pot Pie. Because why should the good eating end on Thanksgiving...or Christmas...or any other holiday involving pie and turkey?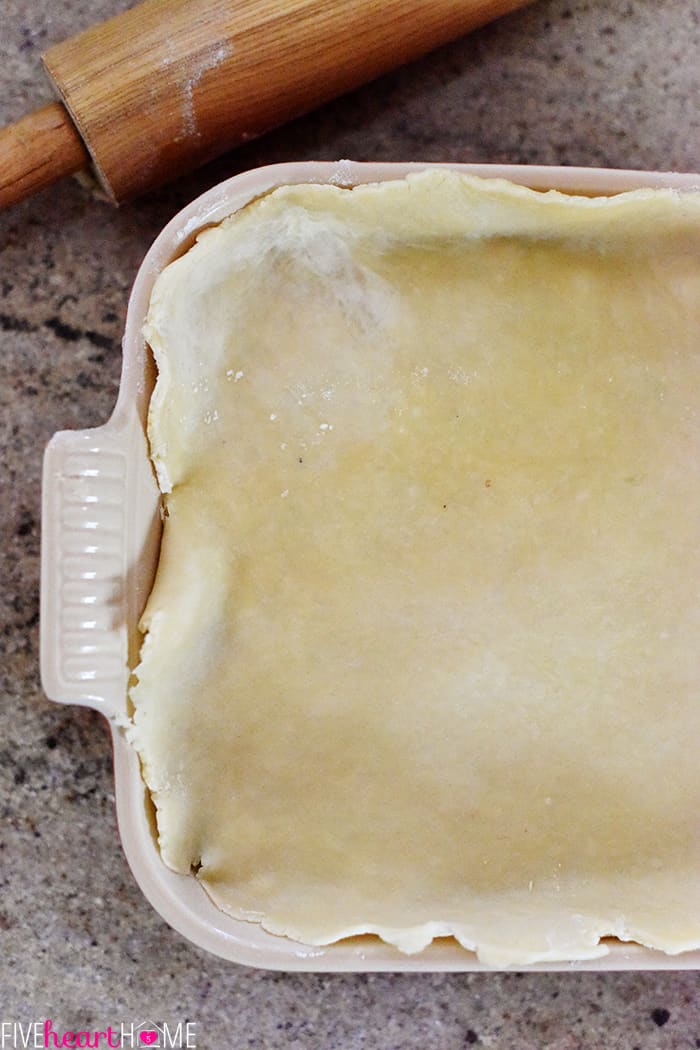 I typically make this recipe in a deep 8x8" square baking dish, which works out, since any pie crust I roll ends up having more of a square shape than a round one anyway -- ha. However, you can use any baking dish with a 2-quart (or so) capacity and roll your crust to the corresponding dimensions. Just don't forget to cut some slits in the top of your crust to allow the steam to escape.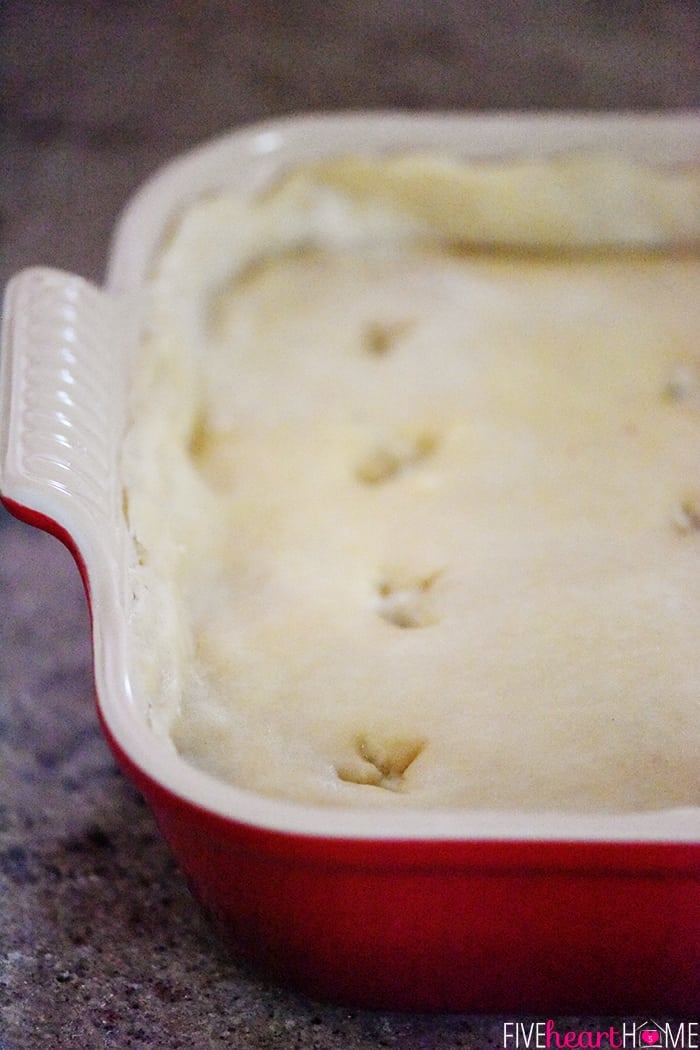 And for an extra golden top, you may turn on the broiler for a minute or two at the end of the cooking time. Just be sure to stand there and watch through a cracked oven door the entire time so that your beautiful, buttery crust doesn't burn, which can sadly happen in a flash.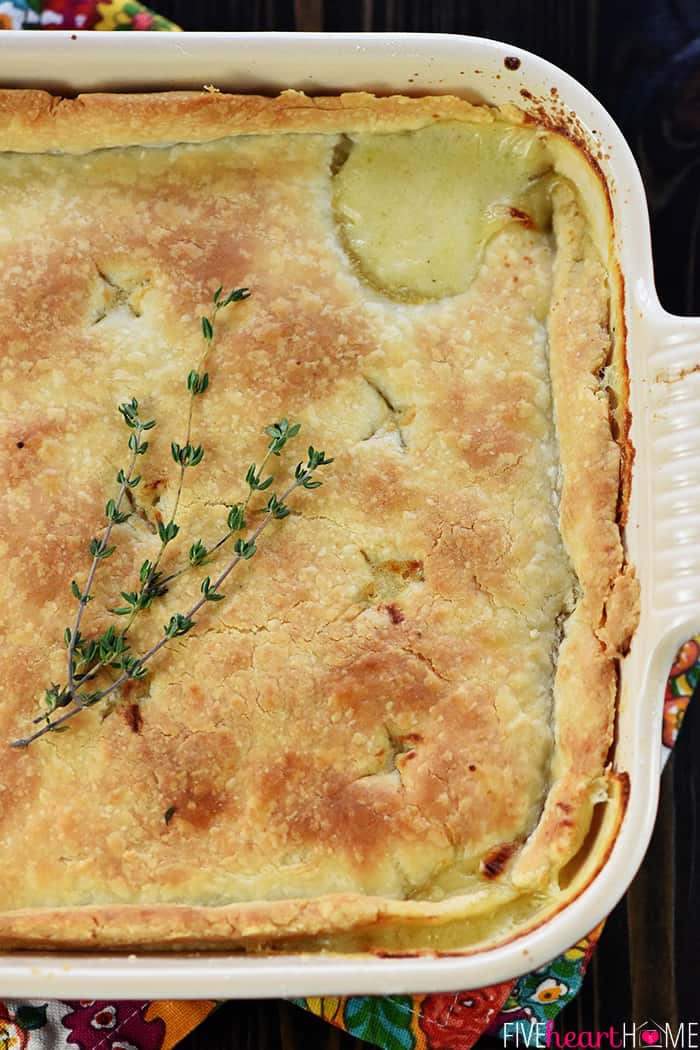 So who's feeling hungry for a satisfying, mouthwatering, comfort food dinner that's bursting with goodness? I'm telling you, The Best Homemade Chicken Pot Pie is truly THE BEST. I hope you get to try it soon, and I hope you love it as much as we do! Maybe it'll even crack your Top 10. 😉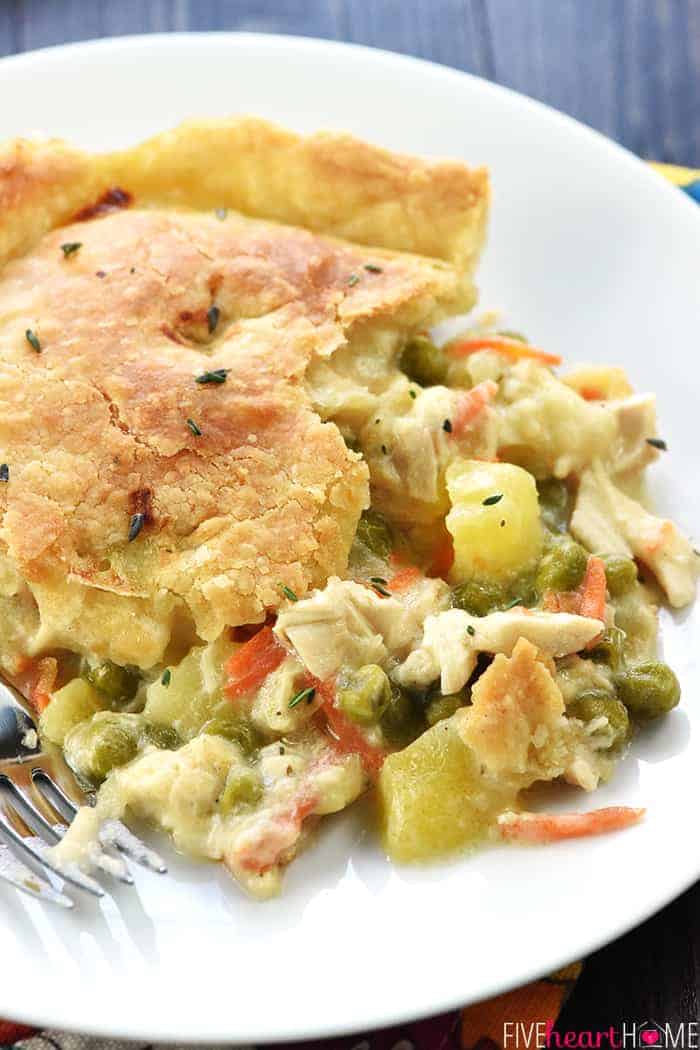 Helpful Tips, Tricks, & Equipment
This is the baking dish pictured in this post.
Feel free to use milk instead of half-and-half to lighten up this recipe. On the other hand, you can use heavy cream instead of half-and-half for extra decadence.
You may omit the splash of wine if you prefer, but if you're open to including it, it really does add great flavor. If I already have an open bottle of white wine in the fridge, that's what I use. But for occasions when that's not the case (and I don't want to open a whole bottle of wine in order to add a splash to a recipe), I always keep a few mini, screw-top bottles of wine on hand, specifically for cooking. I use what I need and then I can pop the little bottle back in the fridge for future recipes without taking up too much room. Mini bottles of wine can be found in 4-packs at the grocery store or liquor store. It's not the greatest wine but it's not terrible either, so it's perfect for cooking.
If you'd like to add other veggies (such as chopped celery or onions), you can reduce the carrots and potatoes a bit to allow for the amount of other veggies you add. Just add any such veggies along with the carrots (before the sauteeing step) in order to soften them a bit.
I've made this recipe (on different occasions) with one large Russet potato or two smaller Yukon gold potatoes. Any cooked potato should work fine.
If you don't have a leftover baked potato, you can quickly cook one in the microwave. Poke holes in your potato, microwave for 3 minutes, check, and then microwave for 1 minute at a time longer until fork tender. You don't want your potato overcooked and falling apart, since you'll be later be cubing it. In fact, if the potato is still slightly firm after cooking, that's okay, as the potato will get 30 more minutes of cooking time once it's in the Chicken Pot Pie. Allow the potato to cool before peeling and cubing it.
You may use 1 ½ teaspoons fresh thyme leaves in place of the dried thyme. You can also add some fresh chopped parsley to this recipe, if you like.
Add more or less salt to this recipe depending on the saltiness of the chicken broth you use. But don't skimp on the salt...it really brings out the flavor of the other ingredients.
While I highly, highly recommend giving my favorite homemade pie crust a whirl, don't feel one bit guilty if you decide to use a store-bought crust instead. 😉
And pssst...if you enjoy Chicken Pot Pie, you'll also love this savory, scrumptious Beef Pot Pie!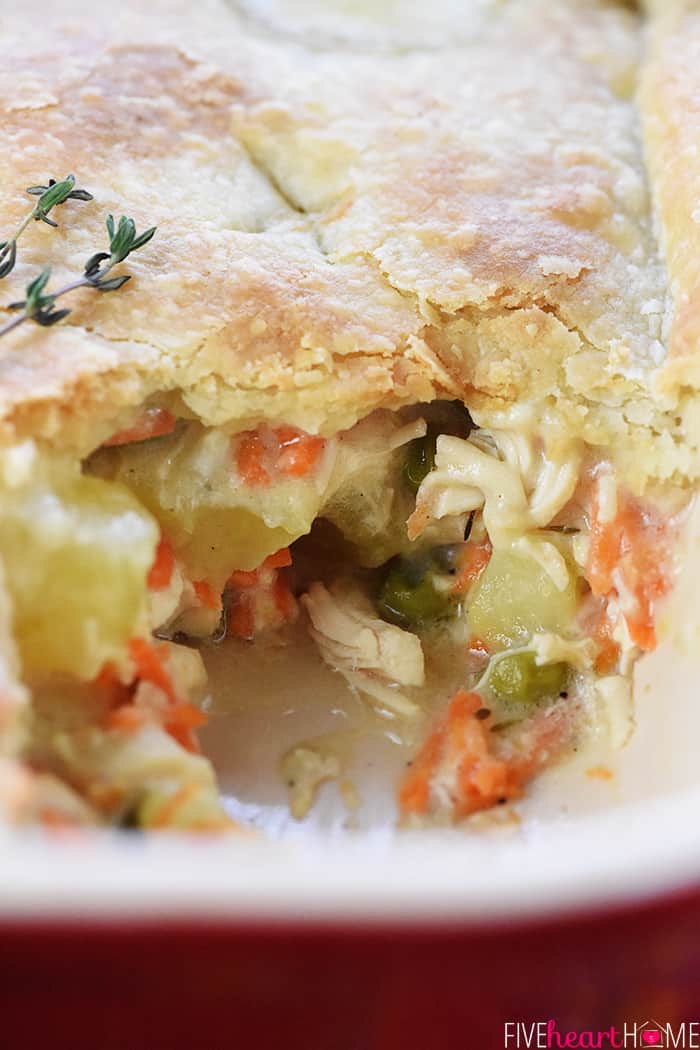 More Winning Chicken Dinners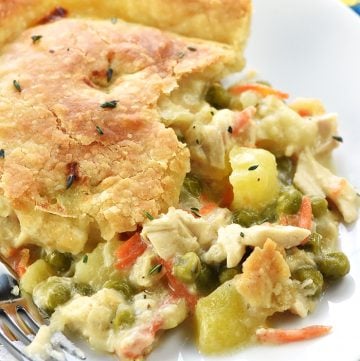 The Best Chicken Pot Pie
The Best Chicken Pot Pie features juicy chicken and tender veggies under a flaky, buttery crust for a delicious comfort food classic!
Print
Pin
Rate
Ingredients
4

tablespoons

butter

2

large cloves garlic

,

minced

2

cups

matchstick

,

or diced carrots

2 ½

cups

diced cooked chicken

,

or turkey

⅓

cup

all-purpose flour

2

cups

low-sodium chicken broth

½

cup

half-and-half

Splash of white wine

,

optional

½

teaspoon

dried thyme

½

teaspoon

garlic powder

¼

teaspoon

onion powder

½ to 1

teaspoon

salt

,

to taste

Freshly ground black pepper

,

to taste

1

large potato

,

cooked, peeled, & cubed (about 2 cups)

1 ½

cups

frozen green peas
Instructions
Adjust the oven rack to the center position and preheat oven to 400°F.

In a large pot or Dutch oven set over medium heat, melt the butter. Add the garlic and carrots and cook until tender, stirring occasionally, for about 5 to 7 minutes. Mix in the chicken. Sprinkle the flour over the mixture and stir to combine. Cook for 2 minutes, stirring constantly. Pour in the chicken broth, then add the half-and-half and the wine, if using. Stir to combine, scraping the bottom of the pot. Increase the heat and bring to a simmer, stirring occasionally. Continue to stir occasionally while the mixture simmers for a minute or two, or until thickened. Stir in the thyme, garlic powder, onion powder, salt, and pepper. Adjust the seasonings to taste. Stir in the cubed potato and the frozen green peas, then remove the pot from the heat.

Pour the mixture into a deep 8-by-8-inch baking dish (or a baking dish of a similar size/capacity). Roll out the pie crust so that it's about one inch larger than your baking dish. Place the crust on top to the pot pie mixture and press the edges into the size of the dish. Cut vents in the top of the crust.

Bake for 30 to 35 minutes or until golden and bubbly. Allow to cool for 10 minutes before serving.
Calories:
323
kcal
|
Carbohydrates:
26
g
|
Protein:
12
g
|
Fat:
18
g
|
Saturated Fat:
8
g
|
Cholesterol:
47
mg
|
Sodium:
212
mg
|
Potassium:
442
mg
|
Fiber:
3
g
|
Sugar:
3
g
|
Vitamin A:
5830
IU
|
Vitamin C:
16.7
mg
|
Calcium:
55
mg
|
Iron:
2.7
mg