Chicken and Dumplings is a comfort food classic of flavorful broth, tender chicken, sweet carrots, fresh herbs, & fluffy homemade dumplings...and this recipe is THE BEST!


I absolutely can't wait to share today's homemade Chicken and Dumplings recipe with y'all. In fact, as I type this, my mouth is watering and I wish I had a big bowl of chicken and dumpling goodness in front of me right now...at 11:17 p.m. Consider it a late, late dessert, or an early midnight snack. Or maybe just a can't-stop-thinking-about-it indulgence, but this recipe is flat-out delicious.
My German-born mother never made Chicken and Dumplings for us growing up, as it's a dish that wasn't exactly in her cooking repertoire. In fact, I'm not sure if I even tried Chicken and Dumplings until college. I will also confess that, back then, it was the condensed chicken soup/canned biscuit version.
And while that version was tasty, it doesn't even come close to the flavor and texture and amazzzingness of today's recipe. Not to mention the fact that real food ingredients trump cream of 'X' soup any day!

Ingredients
So what makes this from-scratch Chicken and Dumplings recipe so fabulous? I happen to think it's a perfect combo of cooking techniques and the following real ingredients:
Chicken. You can use a whole cut-up chicken or all chicken thighs, but just be sure to buy skin-on, bone-in meat. The skin and bones will be removed later anyway. Browning the chicken is crucial as it contributes deep flavor to the final dish. I like to brown my chicken in a combination of extra-virgin olive oil and butter, for a high smoke point + flavor. Whichever you choose, just don't skip this step, my friends...it's where the magic happens.
Veggies. I love using a combination of garlic, celery, and sweet carrots. If you'd prefer to toss in a chopped onion as well, simply add it to the pot at the same time as the other veggies.
Fresh thyme. This is another prominent, all-important flavor in this recipe. When I'm lucky enough to have fresh thyme, I drop a whole bundle into the pot as opposed to stripping off the leaves beforehand. As the dish cooks, the leaves drop off. Then it's easy to remove the stems at the same time that you take out the bay leaves. Who doesn't love a thyme-saving -- er, time-saving -- shortcut? (Heh.) That being said, if you only have dried thyme, use one-third the amount as fresh (so 1 ½ teaspoons for this recipe), as dried herbs are generally three times more potent than fresh.
Herbs and spices. The amount of salt required will depend on the saltiness of your chicken stock. If your chicken stock is particularly salty, you may not want to add any salt at the beginning of the recipe. Wait until the chicken is finished cooking and then add ¼ teaspoon salt at a time (tasting in between additions) until just right. On the other hand, be sure you add enough salt as it really makes all of the other flavors pop.
Chicken broth. A good-quality broth or stock really shines through in this recipe. If you've got homemade, by all means use it!
Sherry. The addition of a small splash of sherry at the end of this recipe is optional. However, I think it really gives a unique and delicious depth of flavor to the soup. DO NOT buy "cooking sherry," as it has added salt, etc., and also don't buy sweet sherry. A regular bottle of medium dry to dry sherry is what you are looking for, and it will last indefinitely in the pantry. I always love adding it to my homemade chicken soup.
Homemade drop dumplings. Finally — and arguably most importantly — are the dumplings. I prefer drop dumplings over dumplings that are rolled out and sliced because not only do they taste fabulous, but LESS WORK. Now these aren't the doughy refrigerated biscuits of yore…these are soft, fluffy, parsley-studded orbs of delight. And the secret to giving them excellent texture and preventing them from turning gummy is the addition of a bit of cornmeal. Try it! I think you'll luuuurve it.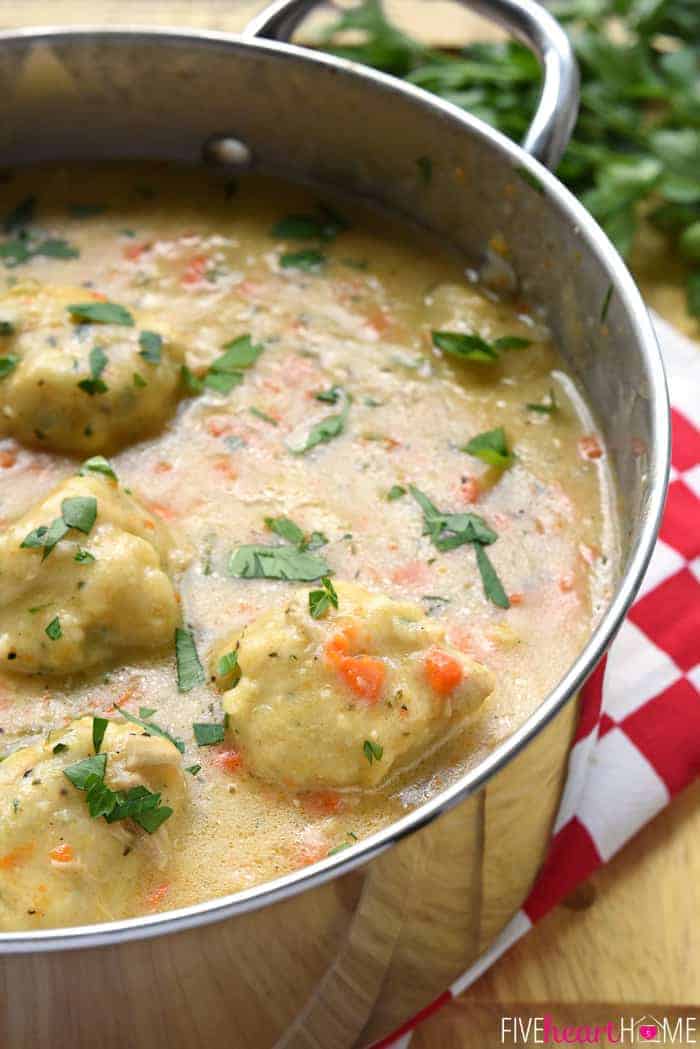 How to Make Chicken and Dumplings
Yes, recipes like homemade Chicken and Dumplings are made with love...and admittedly, love takes a bit of time. But I promise, the steps are not difficult and the effort is so worth it.
Brown the chicken on both sides. Remove to a plate and set aside.
Add the vegetables to the pot. Sauté until softened.
Add the browned chicken back to the pot along with the herbs, spices, and chicken broth. Simmer until the chicken is cooked through.
Remove the chicken meat from the bones, discarding the skin and bones. Shred the chicken and return it to the pot.
Thicken the broth in the pot with a flour slurry.
Mix up the dumpling dough. Drop balls of dough into the simmering broth. Cover the pot and cook until the dumplings are firm.
Adjust the seasonings and garnish with parsley.
Finally, serve to ooohs and ahhhs!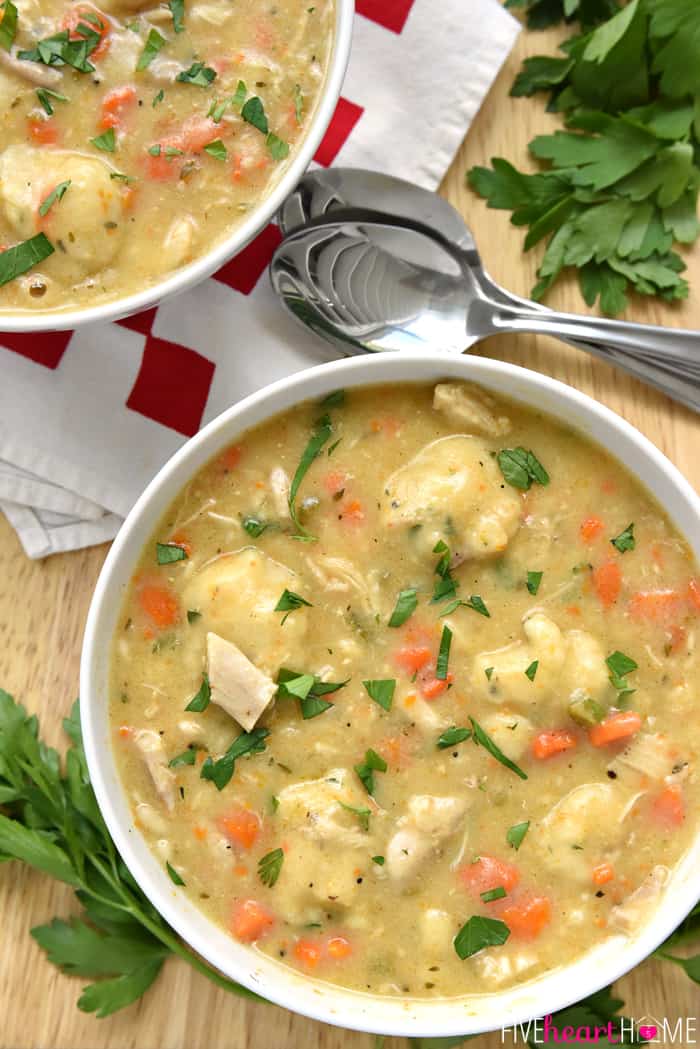 My family positively scarfs down this recipe every time I make it. The boys RAVE. My picky daughter not only eats it, but she doesn't complain (which is clearly a victory). And my Chicken-and-Dumplings-aficionado husband yet again declares this to be one of his favorite dinners.
As for me? Shhhhh...I always eat the leftovers for lunch the next day while home alone so that I won't have to share! And now I'm just sitting here typing, drooling on my keyboard...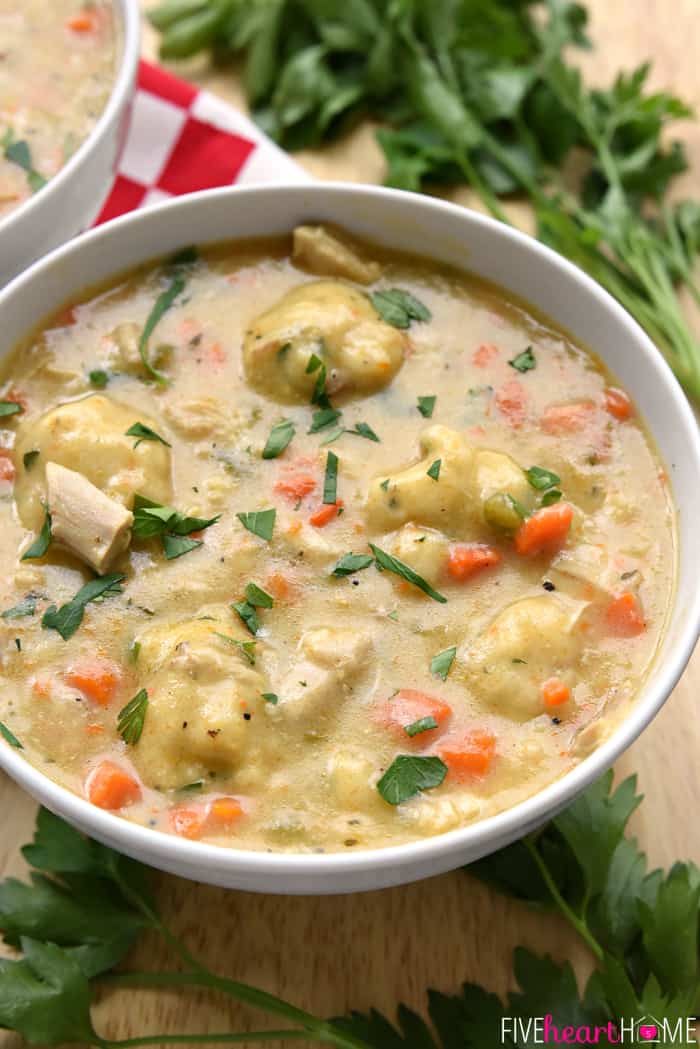 So please...please make a big, comforting pot of homemade Chicken and Dumplings this fall or winter. Make 'em this weekend. Make 'em tonight!
Just promise me you'll make 'em. 😉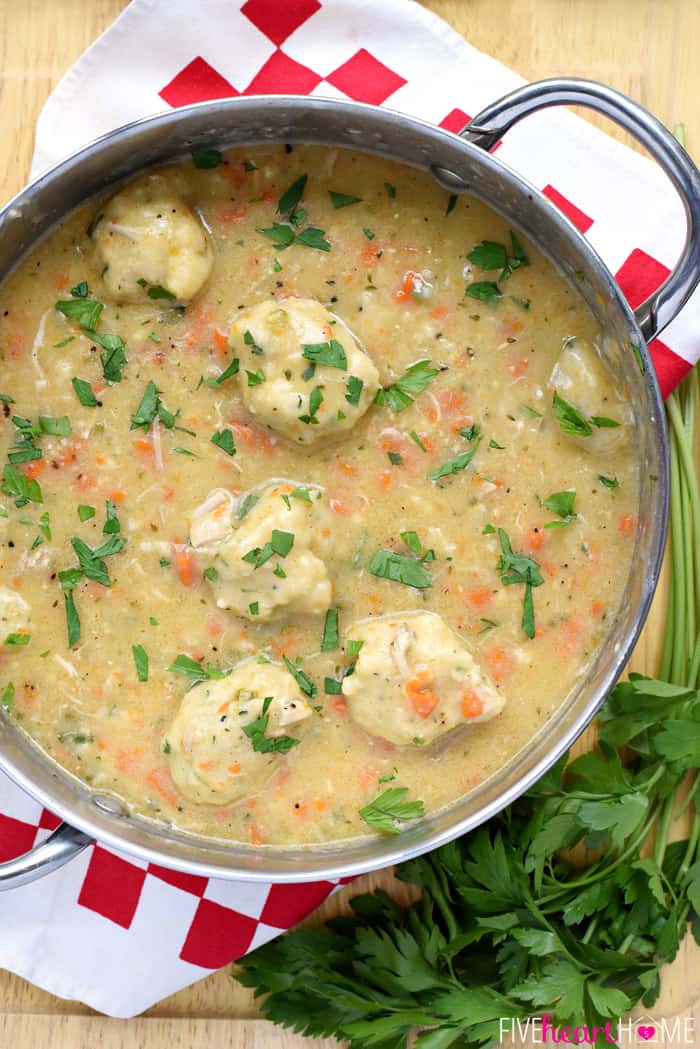 More Comfort Food Favorites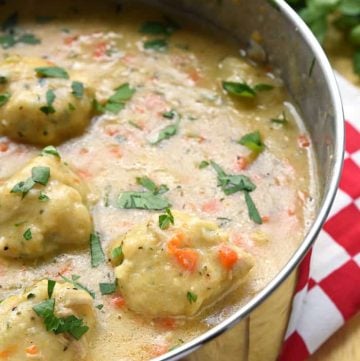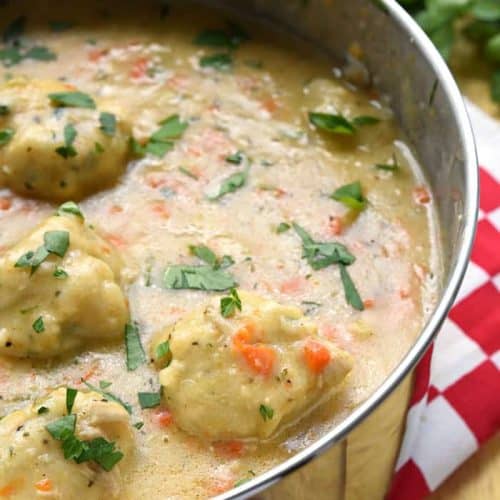 Chicken and Dumplings
Chicken and Dumplings is a comfort food classic of flavorful broth, tender chicken, sweet carrots, fresh herbs, & fluffy homemade dumplings...and this recipe is THE BEST!
Print
Pin
Rate
Ingredients
1

tablespoon

extra-virgin olive oil

1

tablespoon

butter

2 ½

pounds

skin-on, bone-in chicken pieces

,

all thighs OR a whole cut-up chicken OR a mixture of light & dark meat

Salt and freshly ground black pepper

1

cup

chopped celery

2

cups

diced carrots

3

garlic cloves

,

minced

1 ½

tablespoons

fresh thyme leaves

,

OR 1 ½ teaspoons dried thyme

3

bay leaves

½

teaspoon

garlic powder

½

teaspoon

onion powder

10

cups

low-sodium chicken broth

1

teaspoon

sherry
For the Dumplings:
2 ¼

cups

all-purpose flour

,

DIVIDED

½

cup

cornmeal

,

finely ground recommended

1

tablespoon

baking powder

½

teaspoon

baking soda

6

tablespoons

(¾ stick) unsalted butter

,

melted

¾

cup

buttermilk

,

at room temperature

2

tablespoons

minced fresh parsley

,

plus more for garnish
Instructions
In a large, deep pot set over medium-high heat, melt together olive oil and butter. Generously season chicken pieces with salt and pepper. Brown the chicken on both sides, working in batches so as not to crowd the pot (about 4 to 6 minutes per side). Transfer chicken to a plate and set aside.

Add the celery, carrots, and garlic to the pot. Cook the vegetables in the drippings until they begin to soften, stirring and adjusting the heat as necessary, about 5 to 7 minutes. Add the browned chicken pieces, thyme, bay leaves, garlic powder, onion powder, and chicken broth. Bring to a simmer and cook until the chicken is cooked through, about 25 to 30 minutes. Remove and discard the thyme stems and bay leaves. Transfer the cooked chicken to a plate. Remove and discard the skin and bones, shred the chicken, and return to the pot.

Ladle 2 cups of the cooking liquid into a large bowl or quart-sized measuring cup. Whisk in ½ cup of the flour until smooth. Continuously whisk the contents of the pot while slowly pouring in the flour mixture. Simmer and whisk until slightly thickened, about 8 to 10 minutes.

To make the dumplings, in a medium bowl, whisk together the remaining flour, cornmeal, baking powder, baking soda, ¼ teaspoon salt, and ¼ teaspoon pepper. Stir in the melted butter, buttermilk, and minced parsley until just combined. With heat reduced to low, drop rustic, tablespoon-sized balls into the simmering broth. Gently stir dumplings one time and then simmer, covered, until the dumplings are firm, about 12 to 15 minutes. Stir in sherry and season the dish with additional salt and pepper, to taste. Serve immediately, sprinkled with additional minced fresh parsley.
Calories:
695
kcal
|
Carbohydrates:
59
g
|
Protein:
56
g
|
Fat:
26
g
|
Saturated Fat:
12
g
|
Cholesterol:
171
mg
|
Sodium:
452
mg
|
Potassium:
1311
mg
|
Fiber:
4
g
|
Sugar:
5
g
|
Vitamin A:
7955
IU
|
Vitamin C:
12
mg
|
Calcium:
202
mg
|
Iron:
6
mg
Adapted from Real Simple. Originally published September 15, 2015. Updated on October 10, 2018 and again on November 20, 2019.