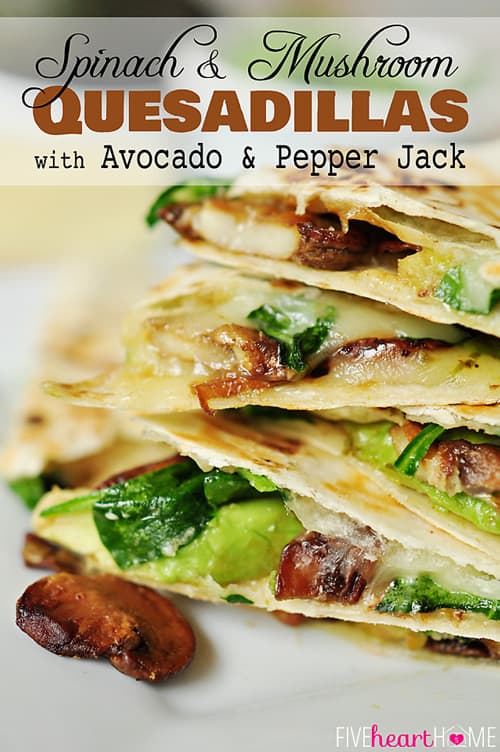 These hearty, flavorful Spinach Mushroom Quesadillas feature garlic-sauteed mushrooms, baby spinach, creamy avocado, and zippy pepper jack cheese for a meatless -- yet filling and satisfying -- meal.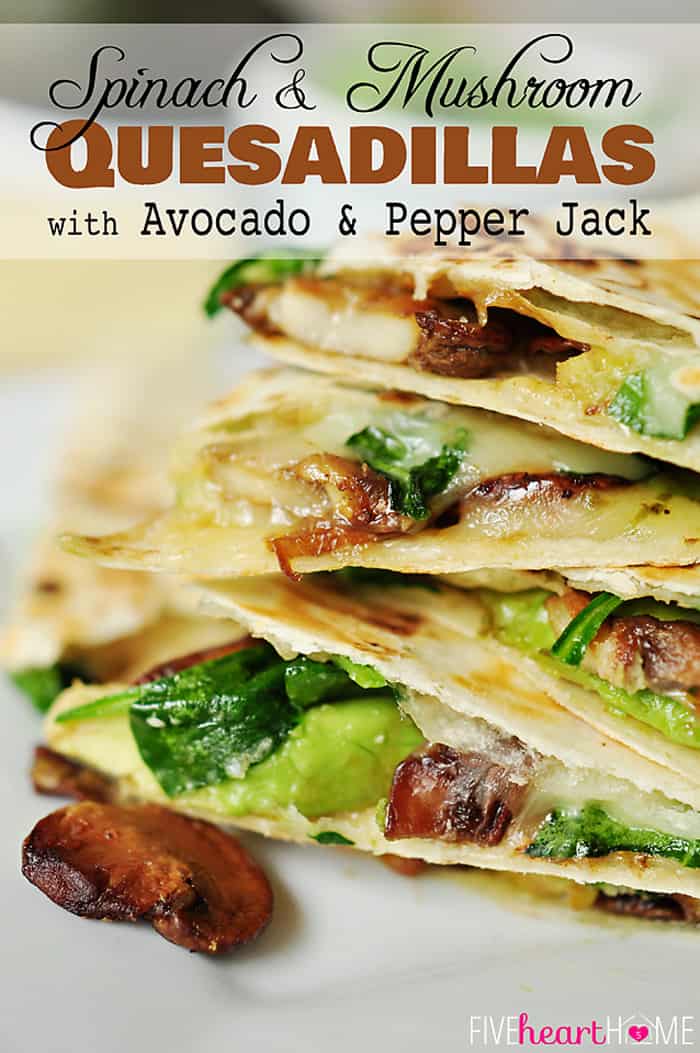 For more avocado goodness, you might enjoy creamy Avocado Dressing, Corn, Tomato & Avocado Salad, or Avocado Egg Salad!
So I'm going to be honest about something. We very rarely do meatless dinners at my house. I grew up in a meat-and-potatoes home. My hubby grew up in a meat-and-potatoes home. We're rather fond of our beef and chicken and pork around here.
But once a year, during Lent, we have a string of meatless Fridays. Seafood is permitted of course, so we might have Baked Salmon or quick and easy Tuna Noodle Casserole. Or, out of sheer laziness, sometimes I just come up with some sort of egg bake that doesn't include sausage/bacon/ham (darn).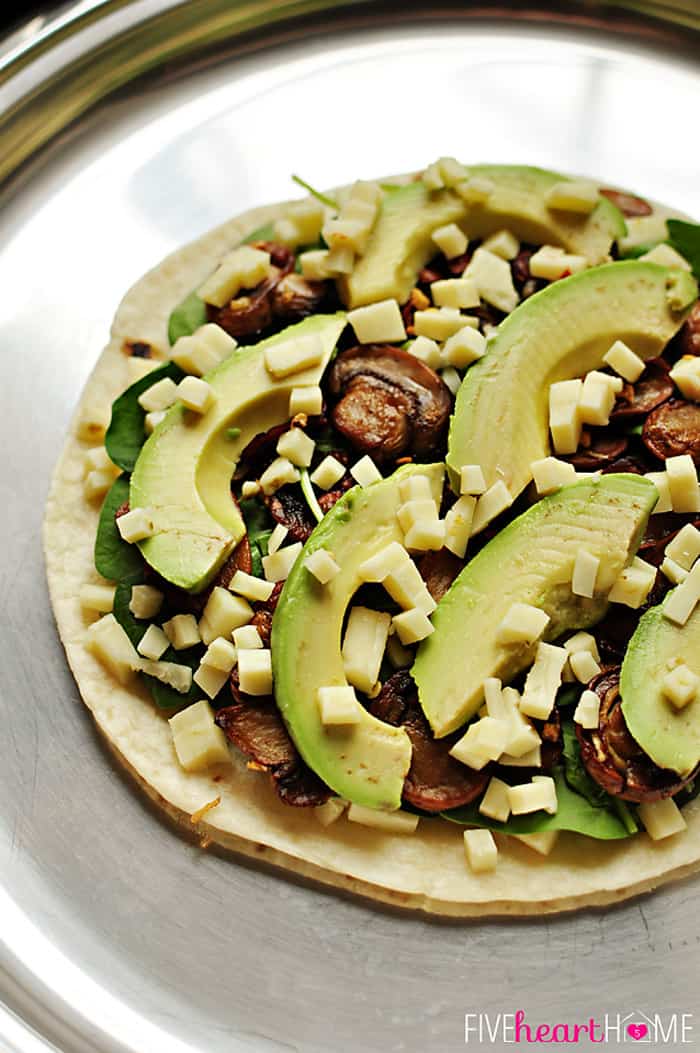 This year, however, I decided to think outside of the box when it came to Lent recipes. And I concocted an entree so hearty and delicious that I would happily eat it for dinner (or lunch or a snack) any day of the year!
Seriously, friends...these Spinach Mushroom Quesadillas are amazing. I've been dreaming about them ever since I made them. And my two young boys, who say they don't care for mushrooms, claim to despise spinach, and profess that pepper jack is too spicy? They devoured them, too. So HA.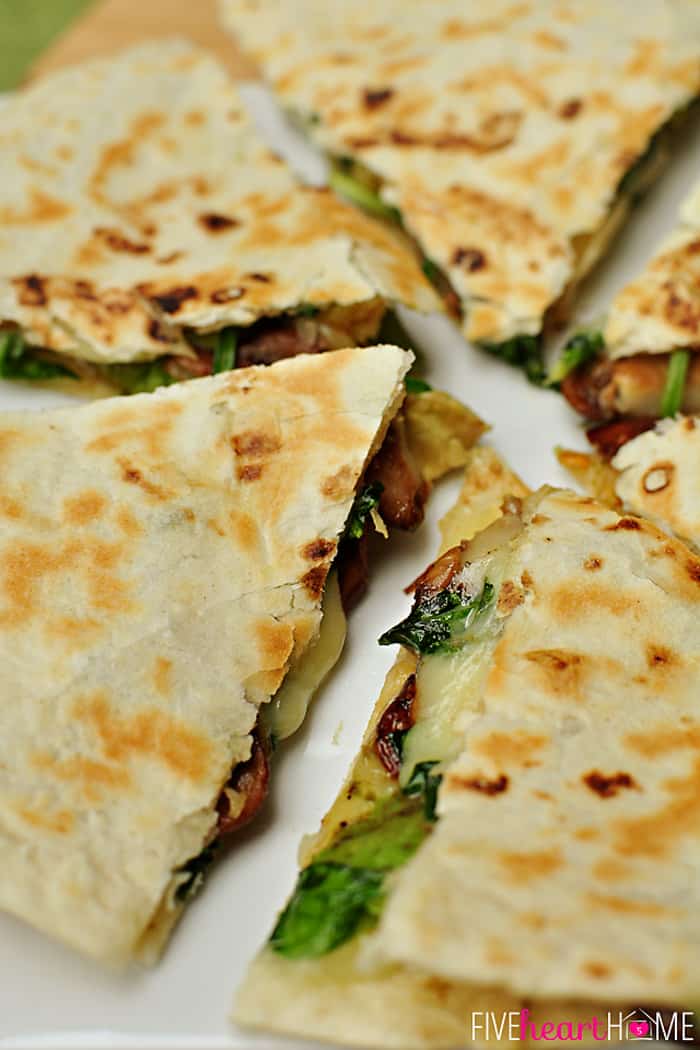 How to Make Spinach Mushroom Quesadillas
As with most quesadilla recipes, these whip up in no time.
The most time-consuming step is sauteeing the mushrooms, and I think you will agree that your 15 minutes was well-invested once you taste the resulting garlicky awesomeness.
After the mushrooms are prepped, all you do is layer the ingredients onto the tortillas.
Finally, cook your quesadillas in a skillet until the tortillas are toasty, the spinach is wilty, and the cheese is melted.
And then? You dig in. And that's the best part by far.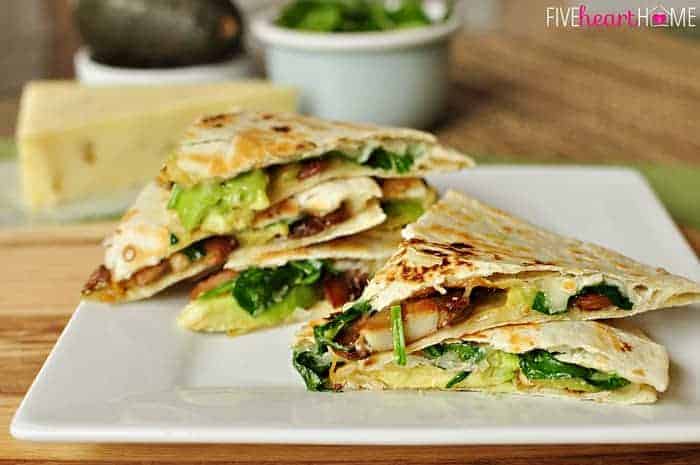 Have I mentioned how filling these quesadillas are? I can typically eat a whole quesadilla all by myself when stuffed with my standard leftover taco meat/pulled pork/barbecue-plus-cheddar combo. But I ate less than ¾ of one of these quesadillas the other night and felt full, but not overly so. The meaty, garlic-infused mushrooms and rich, creamy avocado make them perfectly satisfying. My family honestly didn't miss the meat in these, and that's saying a lot.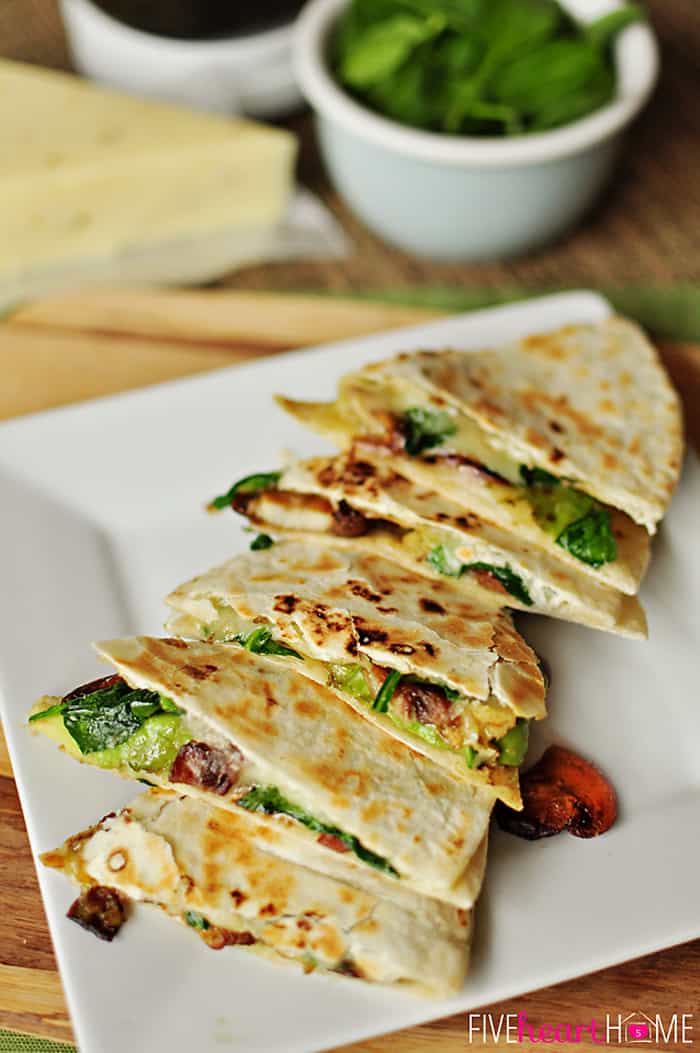 Tips & Tricks
While even my kids didn't find the pepper jack to be overly spicy, you can certainly substitute regular Monterrey jack (or really, whatever your favorite cheese happens to be) if you prefer.
I would typically shred my cheese to ensure quick and easy melting, but as you can see from the photo at the top of this post, I didn't feel like dirtying my grater for just a little bit of cheese, so I finely diced it with a knife instead and it worked just fine.
And finally, this recipe makes two whole quesadillas, which I like to slice into six wedges each, but feel free to scale the recipe up or down depending on how many people you're feeding.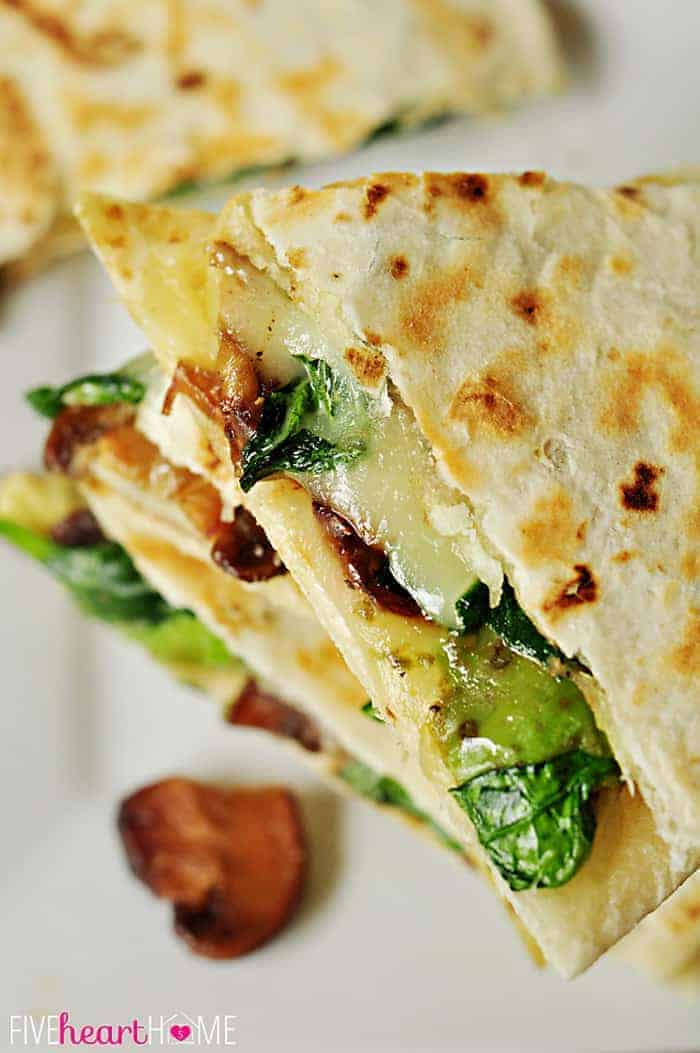 Whether you need some meatless menu ideas for Lent, or whether you regularly incorporate meatless entrees into your diet, or whether you don't ponder meat one way or the other but you just think these look dang good (and they are!), I hope you have a chance to try these Spinach Mushroom Quesadillas...soon! They combination of flavors and textures is out of this world. I pinky swear it.

More Tortilla Deliciousness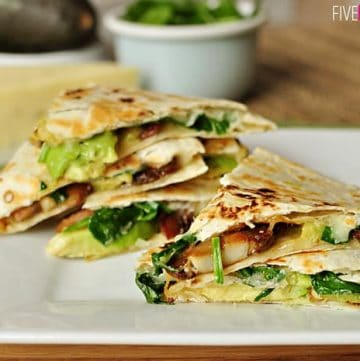 Spinach Mushroom Quesadillas
These hearty, flavorful quesadillas feature garlic-sauteed mushrooms, baby spinach, creamy avocado, and zippy pepper jack cheese for a meatless -- yet filling and satisfying -- meal.
Print
Pin
Rate
Servings:
4
servings (2 whole 8-inch quesadillas)
Ingredients
1

tablespoon

olive oil

1

tablespoon

butter

,

divided

8

ounces

mushrooms

,

cleaned, dried, trimmed, and sliced

1

clove

garlic

,

minced

4

(8-inch) white or whole wheat flour tortillas

4

ounces

(1 cup) shredded pepper jack cheese

1

ounce

baby spinach leaves

1

avocado

,

thinly sliced

Salt and freshly ground black pepper
Instructions
Set a large skillet or griddle over medium-high heat. Add oil and ½ tablespoon butter; once melted, swirl to coat pan. Add mushrooms and cook, stirring occasionally, for approximately five minutes or until mushrooms give off liquid. Increase heat to high and stir frequently until liquid has completely evaporated. Add remaining ½ tablespoon butter to pan, and stir and cook until mushrooms are tender and browned, about five minutes more.

Add garlic to pan and stir constantly for about 30 seconds, or until garlic becomes aromatic but not too dark. Season mushrooms with salt and freshly ground black pepper and transfer to a plate, draining on a paper towel if they seem too oily.

Lay out two tortillas on a cutting board. Sprinkle EACH tortilla with 1 ounce of shredded cheese, ½ ounce spinach, ½ of the cooked mushrooms, ½ of the sliced avocado, and final 1 ounce of shredded cheese. Lay the remaining tortillas on top.

Heat a large skillet over medium heat. Transfer an assembled quesadilla onto the skillet. Cook for a couple of minutes, occasionally lifting edge of quesadilla to check color of underside, until tortilla begins to turn golden and cheese starts to melt. Carefully flip quesadilla over and cook for another couple of minutes or until cheese is fully melted. Remove hot quesadilla to a plate and repeat with second quesadilla. Alternatively, you may cook both quesadillas at the same time on a flat griddle.

Slice each quesadilla into 6 wedges and serve hot.
Calories:
334
kcal
|
Carbohydrates:
29
g
|
Protein:
14
g
|
Fat:
20
g
|
Saturated Fat:
8
g
|
Cholesterol:
25
mg
|
Sodium:
450
mg
|
Potassium:
487
mg
|
Fiber:
7
g
|
Sugar:
4
g
|
Vitamin A:
956
IU
|
Vitamin C:
8
mg
|
Calcium:
306
mg
|
Iron:
2
mg