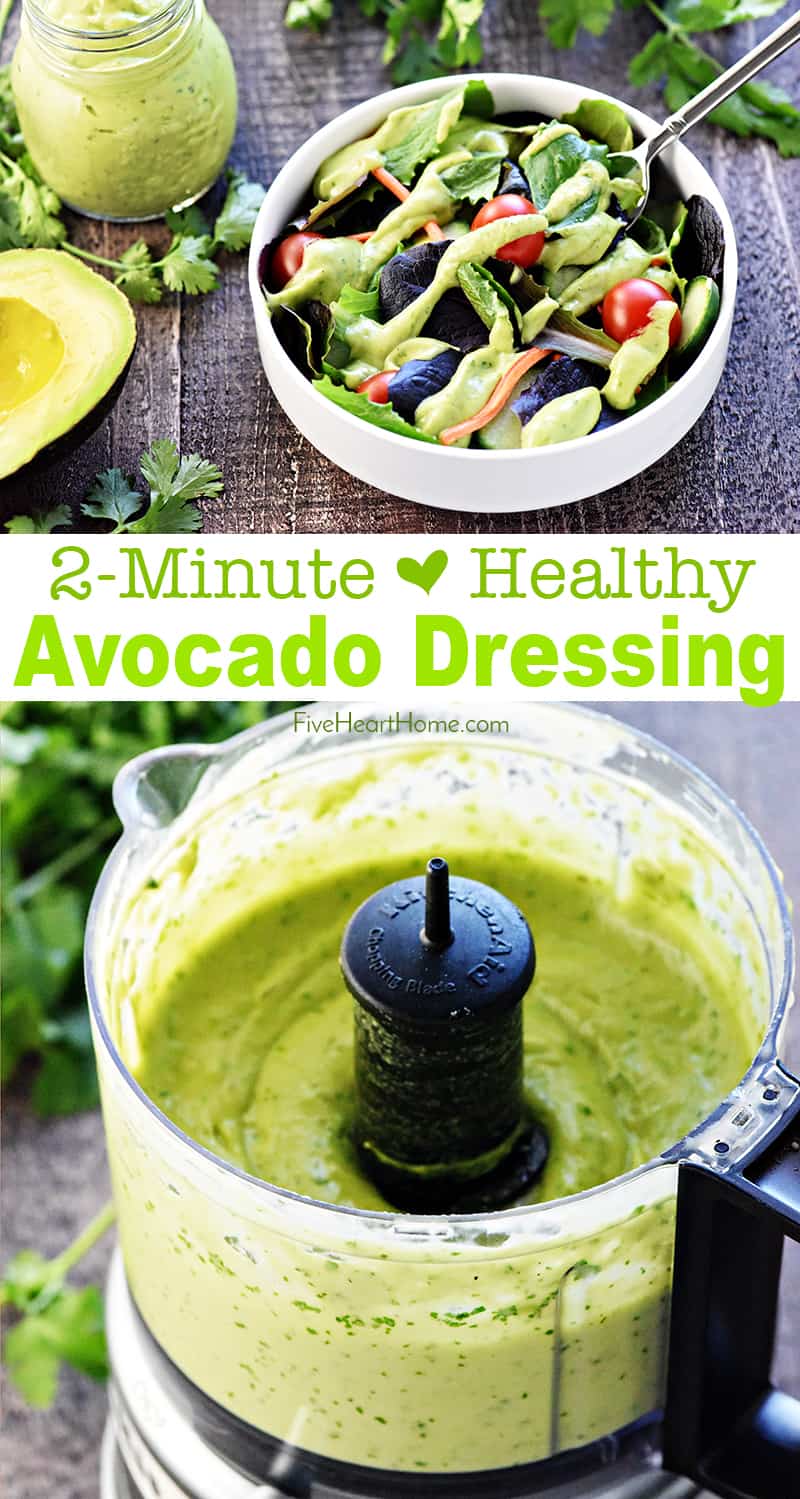 Avocado Dressing is a creamy, decadent yet healthy, dairy-free dressing that's great on salads, as a dip, and so much more!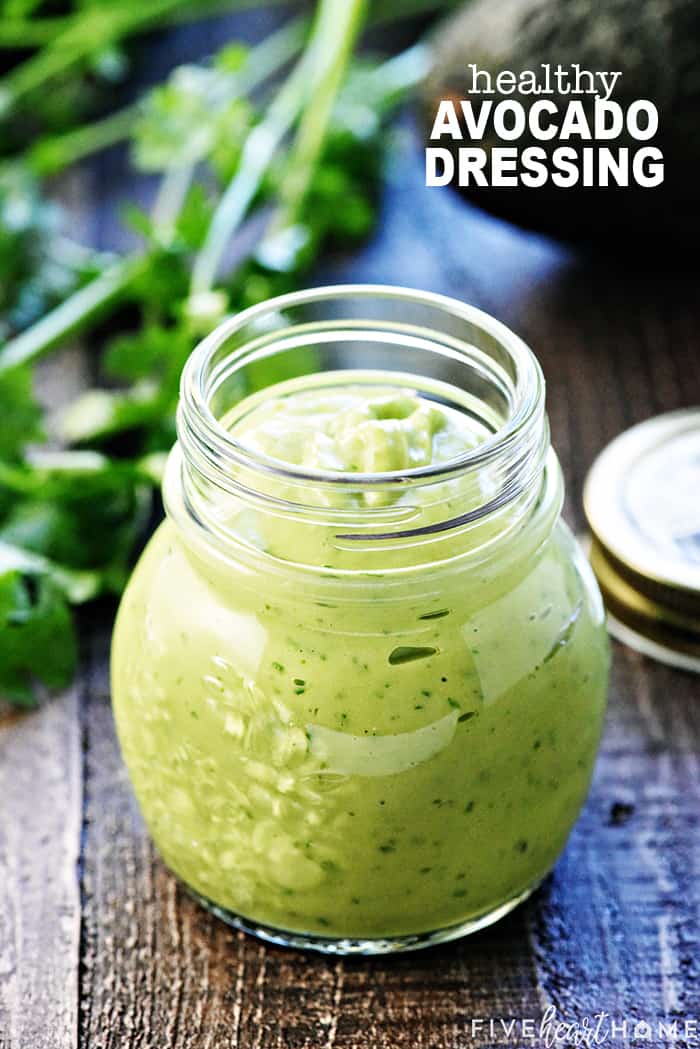 If you enjoy creamy salad dressings, you'll also love Creamy Feta Dressing, Homemade Thousand Island Dressing, Creamy Italian Dressing, or The BEST Ranch Dressing!
Cinco de Mayo is right around the corner and -- at least in Texas -- this essentially means a food holiday giving us the excuse to enjoy all of our favorite Tex-Mex cuisine, from dawn 'til dusk. So don't think for a second that I won't be whipping up a vat of Avocado Dressing as part of our weekend festivities!
We eat a lot of taco salad 'round these parts, and I've been making a quick, throw-together avocado cilantro dressing for years without ever really following a recipe. Sure, I previously shared recipes for Ultimate Taco Salad with Avocado Ranch Dressing and Baked Chicken Taquitos with Avocado Dipping Sauce. But I figured my easy, general avocado salad dressing deserved its own post. And so here we are!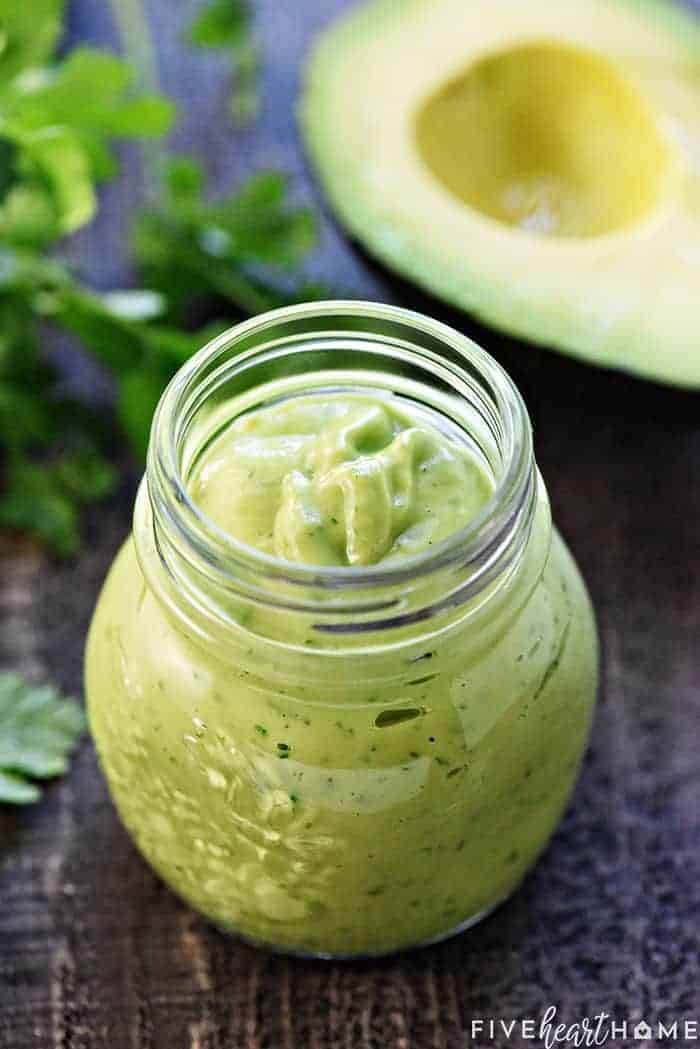 How Do You Make Avocado Dressing?
Making this silky, delicious, healthy Avocado Dressing is a cinch. To start, simply toss your avocado into a blender or food processor.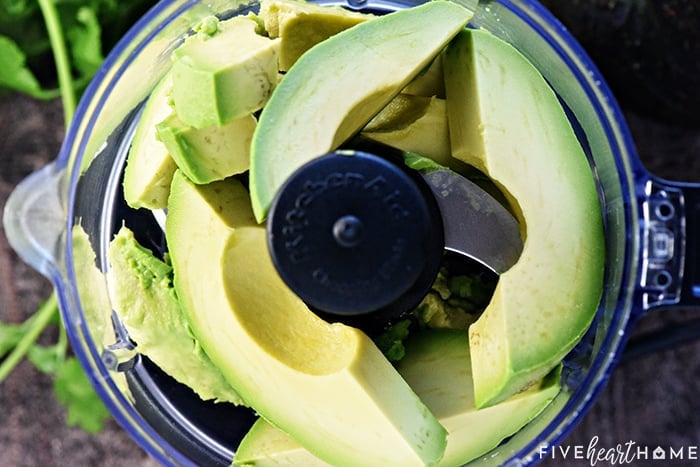 Then add some unsweetened almond milk, fresh cilantro, garlic powder, salt, and pepper.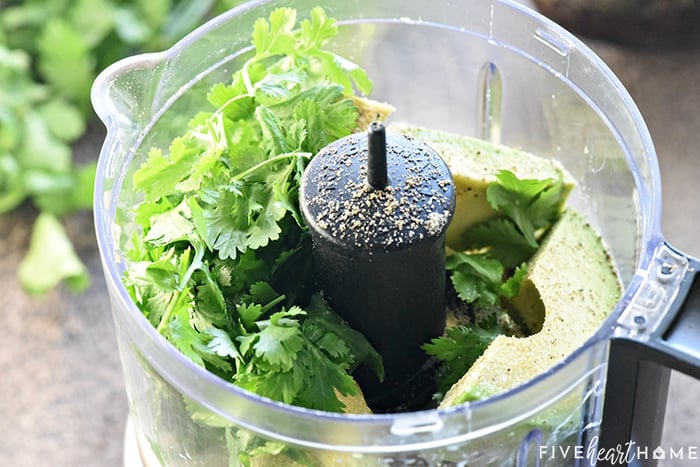 Snap on the lid and whiz it all up! Add additional almond milk (a tablespoon at a time) and extra seasonings until the dressing reaches your desired thickness and tastes just right.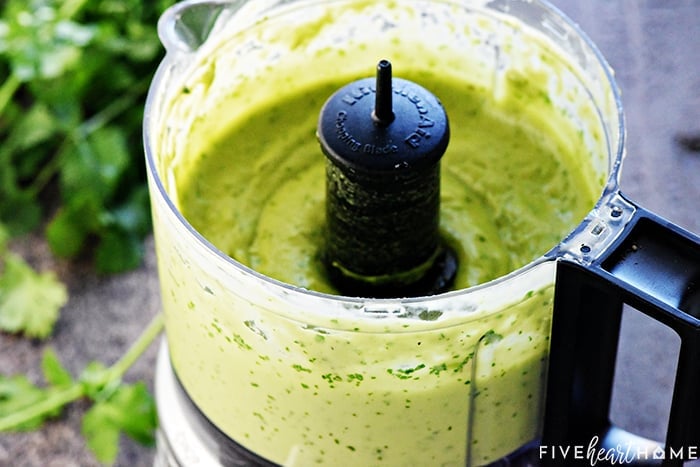 I admit that I typically add more cilantro than the recipe calls for because, well, we're big fans 'round these parts. So my version of this avocado salad dressing recipe usually turns out to be more of an Avocado Cilantro Dressing. You could also opt to add a tablespoon of fresh-squeezed lime juice for an Avocado Lime Dressing.
And although I make this dressing with almond milk to keep my dairy-free kiddo's tummy happy, you can easily swap unsweetened almond milk for any kind of plain milk that you have on hand.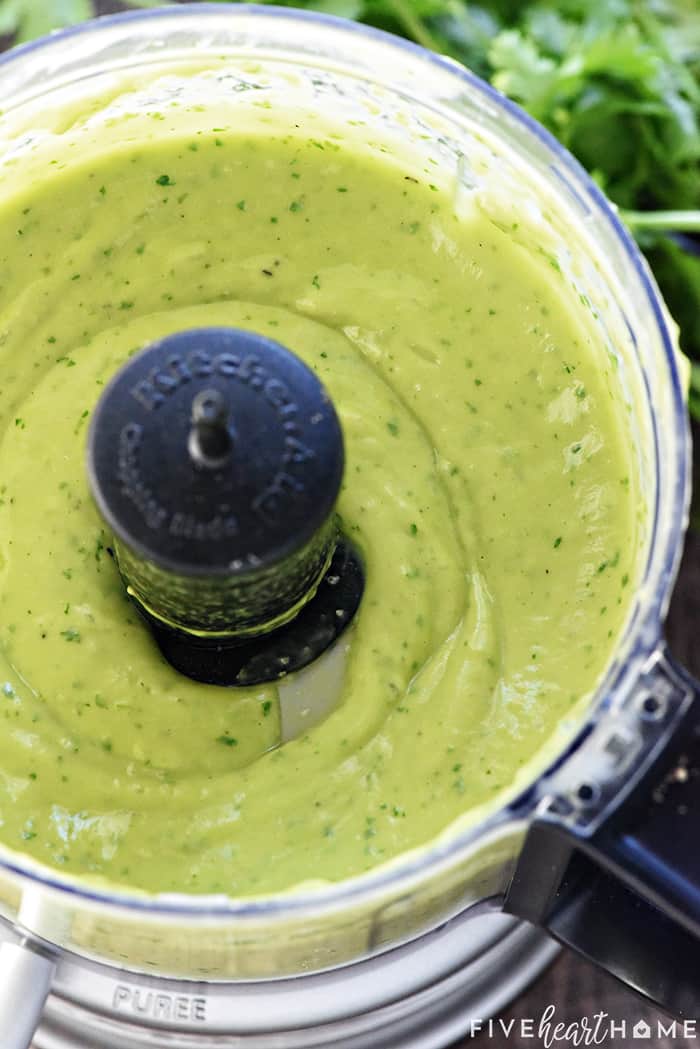 Avocado Tips & Tricks
Avocados can be a bit persnickety. They can be tricky to peel and they turn brown seemingly immediately. But with a little know-how, you can slice and enjoy the perfect avocado!
The color of an avocado can indicate its ripeness. Ripe avocados are typically more dark brown than green. To determine ripeness, give the avocado a very gentle squeeze. If it yields to your fingertips, it's ripe. Avoid any avocados that are mushy or squishy, unless you're making guacamole right away!
Hard, unripe avocados can take up to 4 or 5 days to ripen on their own. But if you need to ripen an avocado a bit more quickly, try putting it in a brown paper bag with a banana or apple, and leave out at room temperature.
Store avocados at room temperature and always wash them before cutting. You don't want any germs or pesticides being transferred from the skin of the avocado into the flesh.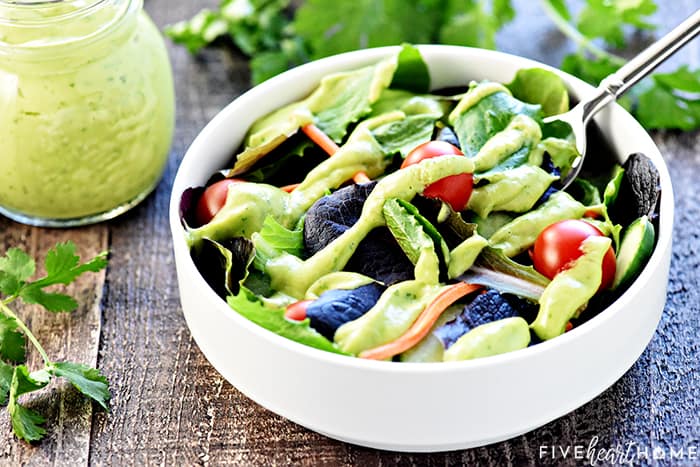 On the other hand, if you want to slow down the ripening process, store avocados in the fridge. I typically buy several ripe avocados at the same time and keep them in the fridge. That way, we can enjoy some immediately...but we don't have to use them all up immediately. 😉
To remove the seed, slice the avocado around the seed, lengthwise. Twist the avocado halves in opposite directions and pull them apart (and be careful not to grasp the fruit too hard or you'll squish it!). Then use a spoon to scoop or pop out the seed.
If you're only going to use half of an avocado, keep the seed intact in the other half. This will prevent it from browning so quickly.
To remove the skin, cut an avocado in half or in quarters, remove the seed, then peel the skin away from the fruit and slice. Or you can slice the avocado while it's still in the skin (taking care not to cut through the skin, as pictured below) and then peel the skin away.
That being said, if you need chunks of avocado that are just going to get pureed or mashed, don't worry about neatly peeling away the skin. Instead, quickly scoop out the flesh with a spoon!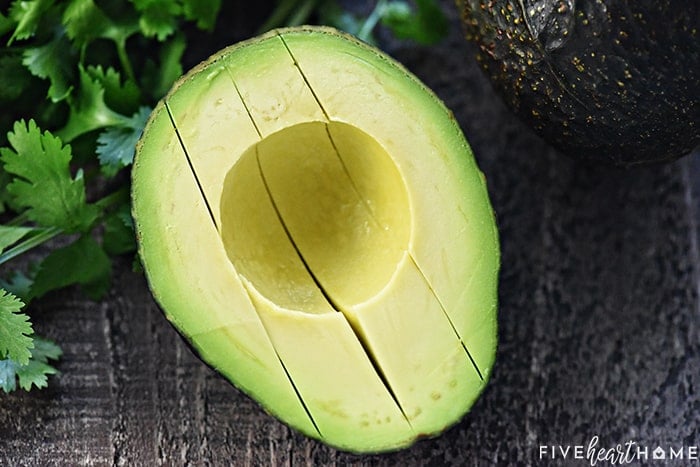 How to Keep Avocado From Turning Brown
Exposure to air is what causes avocado flesh to turn from green to brown. So what's an avocado lover to do?
One trick is to keep the seed around. Keep it in a cut half that you're storing for later, or keep the seed right in the bowl of guacamole. You'll likely still have a little browning, but you can easily scoop that part out.
You can also make sure your avocado recipe has some kind of acid in it to keep it from darkening. You know how you can add lemon juice to apples to keep them from turning brown? Same thing applies here. A squeeze of lemon or lime juice on the green flesh (or directly in the recipe) will slow any browning.
Store your avocado halves, dips, dressings, etc. in an airtight container in the fridge. Place plastic wrap directly touching the surface to further prevent browning.
Brushing or spraying any exposed avocado with a mild-flavored olive oil will also keep air from getting to the green parts.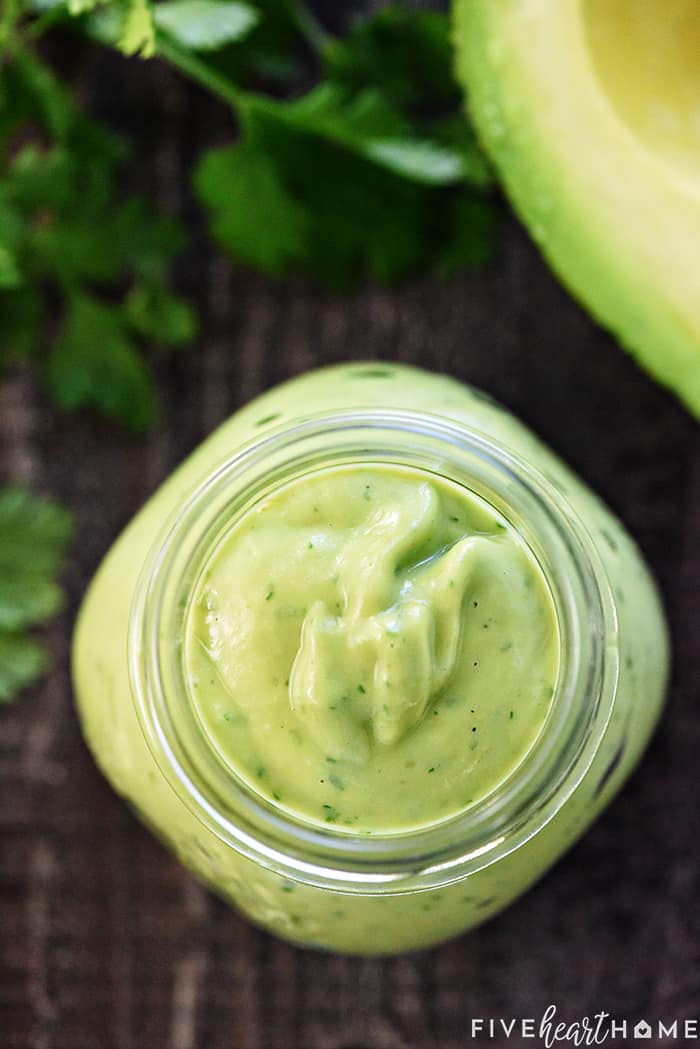 Ideas for Using Avocado Dressing
When you think "dressing," you probably think salad, right? And while salad is a totally valid and delicious option, you can also use this cilantro-flecked Avocado Dressing for so much more!
On tacos. Generously drizzle this dressing over tacos instead of (or in addition to) sour cream for a lovely layer of flavor.
On a burrito bowl. Skip the chain restaurants and make your own, healthier, budget-friendlier burrito bowls at home. Start with rice, beans, and your choice of protein. Then layer on your favorite toppings and finish with this avocado dressing.
As a dip. Dial back the milk to make this dressing thicker so it can hold up to all of your raw veggies or Tex-Mex appetizers. Mini tacos, taquitos, or Southwestern egg rolls, anyone?
On a burger. Full-sized or slider-sized, this dressing is magical dolloped on top of a burger.
Over eggs. If you like avocado toast topped with a fried egg, I think you're going to love this dressing drizzled over eggs of any kind.
With seafood. Pour over shrimp skewers or salmon. Or use it as a dip to entice your kids to try a new kind of fish!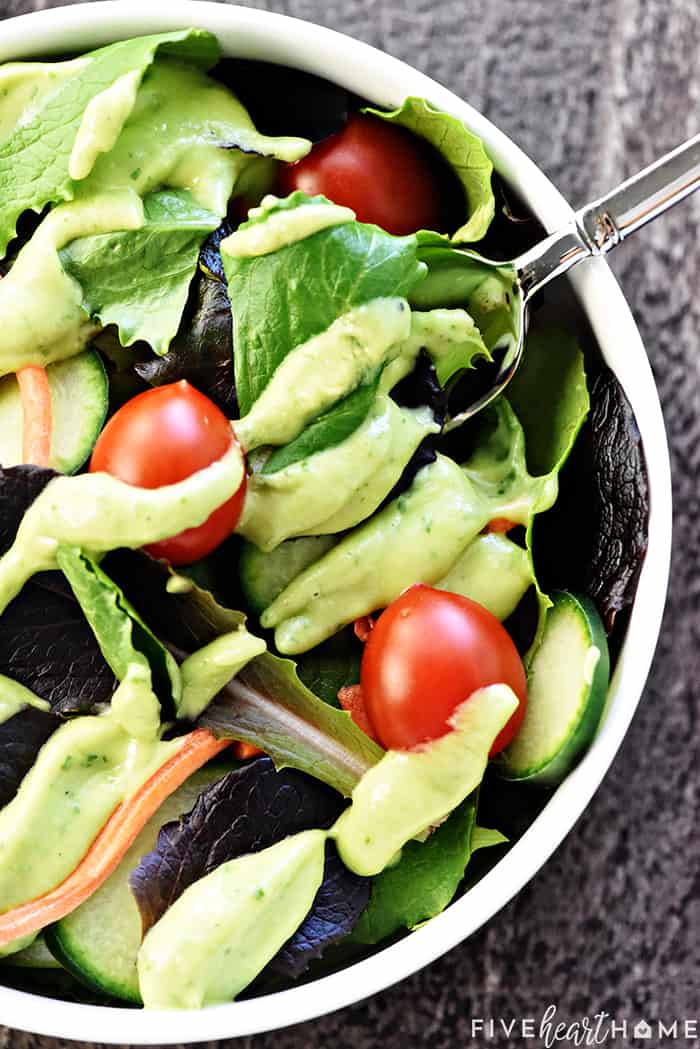 This Avocado Dressing recipe is just too easy, too yummy, and too versatile not to have in your arsenal! It's obviously perfect for the impending Cinco de Mayo. But it's equally appropriate for Taco Tuesday. Or for pretty much any meal of the day on any day of the week! Hope y'all enjoy. 🙂
More Scrumptious Avocado Recipes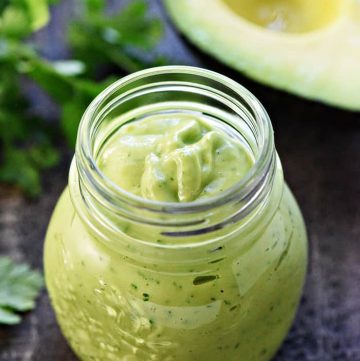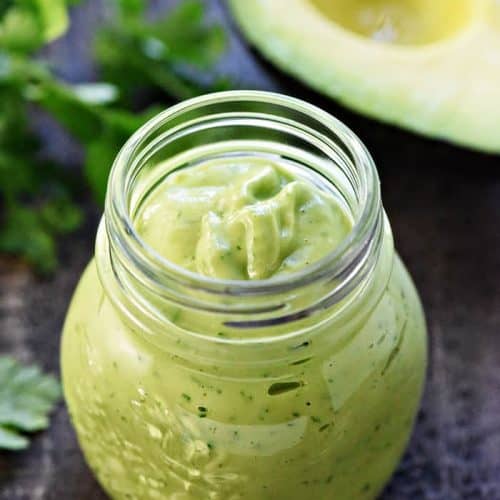 Avocado Dressing
Avocado Dressing is a creamy, decadent yet healthy, dairy-free dressing that's great on salads, as a dip, and so much more!
Print
Pin
Rate
Servings:
8
servings (about 1 cup total)
Ingredients
1

large ripe avocado

½ to ¾

cup

unsweetened almond milk

¼

cup

fresh cilantro leaves

,

packed

½

teaspoon

garlic powder

,

plus additional to taste

¼

teaspoon

salt

,

plus additional to taste

Freshly ground black pepper
Instructions
Scoop avocado into a blender or food processor. Add ½ cup almond milk, cilantro leaves, garlic powder, salt, and pepper. Blend/process until smooth. Add additional almond milk, 1 tablespoon at a time, to thin the dressing until it reaches desired consistency. Taste and adjust seasonings, adding more garlic powder, salt, and/or pepper, if necessary. Use immediately.
Notes
My family loves cilantro, so I typically double the amount for an Avocado Cilantro Dressing. Or you can opt to add a tablespoon of fresh-squeezed lime juice for an Avocado Lime Dressing.
Calories:
43
kcal
|
Carbohydrates:
2
g
|
Fat:
3
g
|
Sodium:
95
mg
|
Potassium:
121
mg
|
Fiber:
1
g
|
Vitamin A:
70
IU
|
Vitamin C:
2.6
mg
|
Calcium:
22
mg
|
Iron:
0.1
mg