Pizza Quesadillas (Pizzadillas) are stuffed with mozzarella and pepperoni and dipped in a flavorful homemade pizza sauce for a fun, quick, and easy lunch idea!

Well, we made it folks. The last day of school is officially upon us, and I'm just a few hours away from having a gigantic 3rd grader and a proud Kindergartner. Remind me how exactly that happened???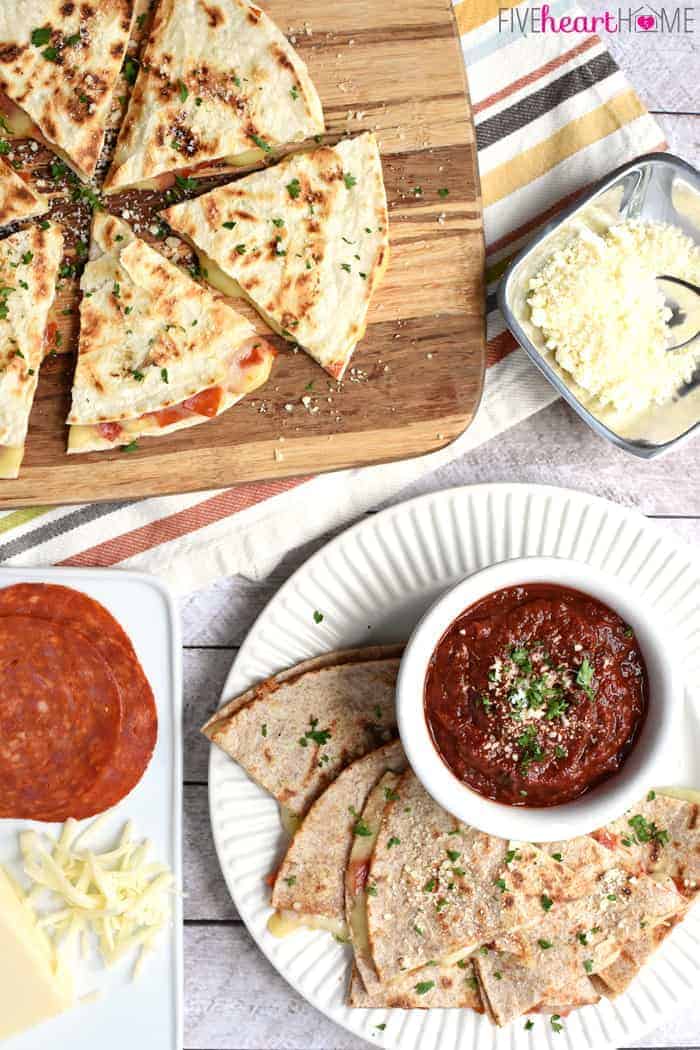 But with summer vacation on the imminent horizon, it's time to get my what-am-I-going-to-feed-them-all-day game face on. I have to admit that I've been slacking in the lunch-packing department lately, with peanut butter sandwiches and apples constituting the boys' lunch most days for the past several months majority of the school year. What can I say? I loathe packing school lunches, and my creativity in completing this task runs dry sometime around mid-October.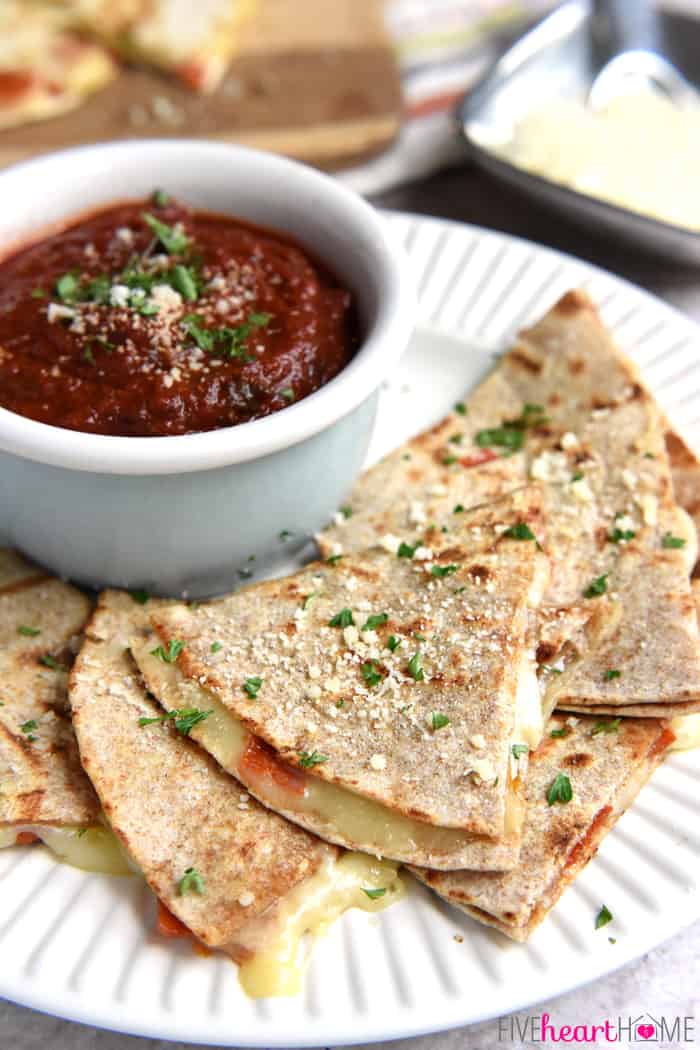 But summertime, my friends, is a different ballgame. In summer, I make lunches in real time…not at midnight after I I've finally finished my blog work, have yet to take a shower, and still need to get everything ready for the next day. In summer, I don't have to worry about the temperature of the meal. I can serve lunches that are warm, like grilled cheese sandwiches and soup and leftovers from the night before. I can serve lunches that need to stay chilled, like mayo-based chicken or egg salads. You know…lunch the way lunch was meant to be eaten. 😉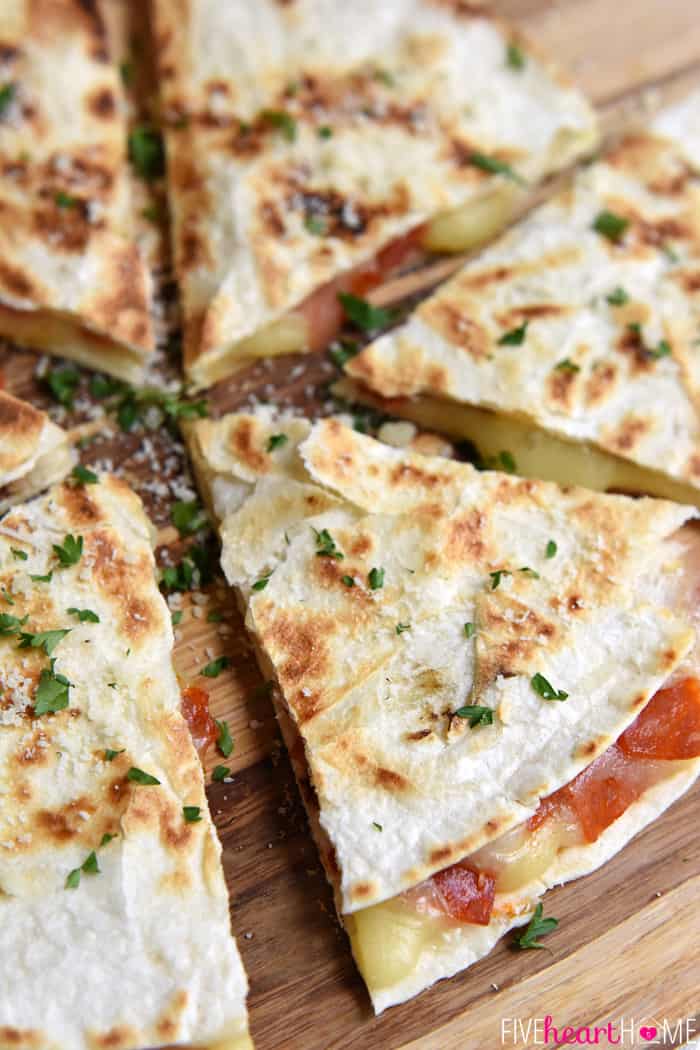 One of my kids' favorite things to eat when we're home for lunch, like all summer long, is quesadillas. And I'm happy to make them because they are quick and easy to put together and cook.
But sometimes bean and cheese quesadillas can get a little boring, so we like to change things up a bit. The other day it occurred to me that pizza toppings might make for a mighty fine quesadilla, so I decided to experiment a bit. And boy were my guinea pigs (ages 7, 5, and 2) happy with the results!
This is not rocket science, y'all. This is pepperoni and melted mozzarella on a tortilla. My kids like their pizza (and pizza quesadillas, apparently) simple, but you can certainly add your own favorite pizza toppings to jazz things up! Mushrooms and olives? Ham and pineapple for a Hawaiian twist? Jalapeños and anchovies??? 😉 Feel free to go crazy!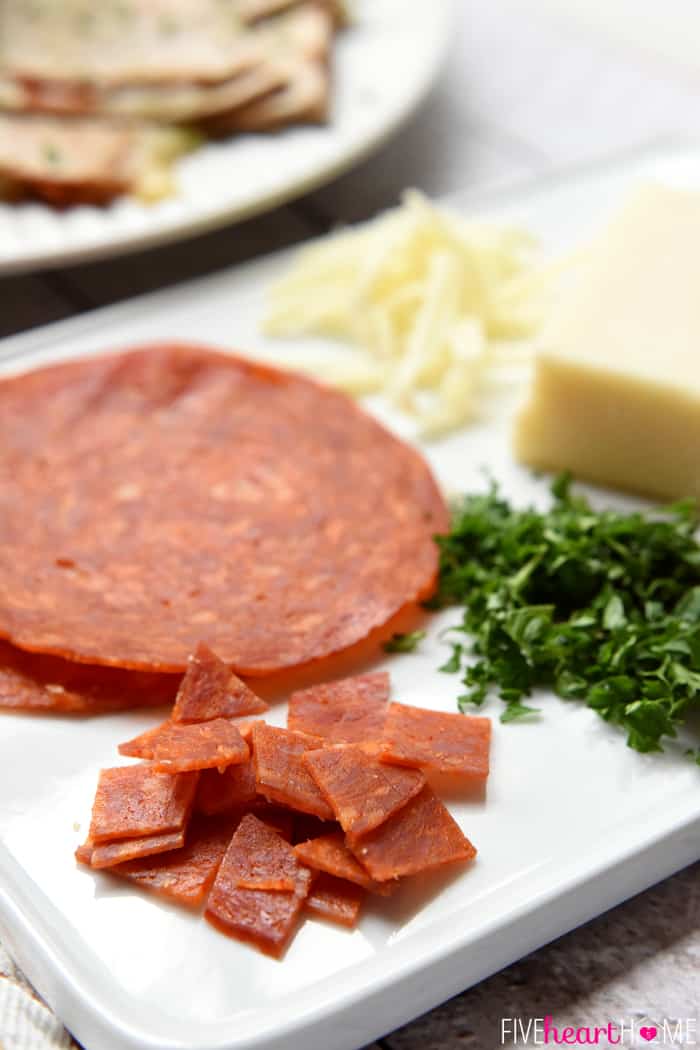 Regardless of how you stuff them, the thing that puts these pizza quesadillas over the top is the flavorful dipping sauce. It's basically just homemade pizza sauce, infused with lots of herbs and simmered on the stove while you cook the quesadillas to thicken up a bit. I like to add some crushed red pepper flakes to mine to give it a little heat, as well as a bit of sugar for a hint of sweetness to counter the acidity of the tomato sauce. The result is a pizza sauce that's good enough to eat with a spoon…and it sure does take a humble, pepperoni + mozzarella Pizza Quesadilla to the next level!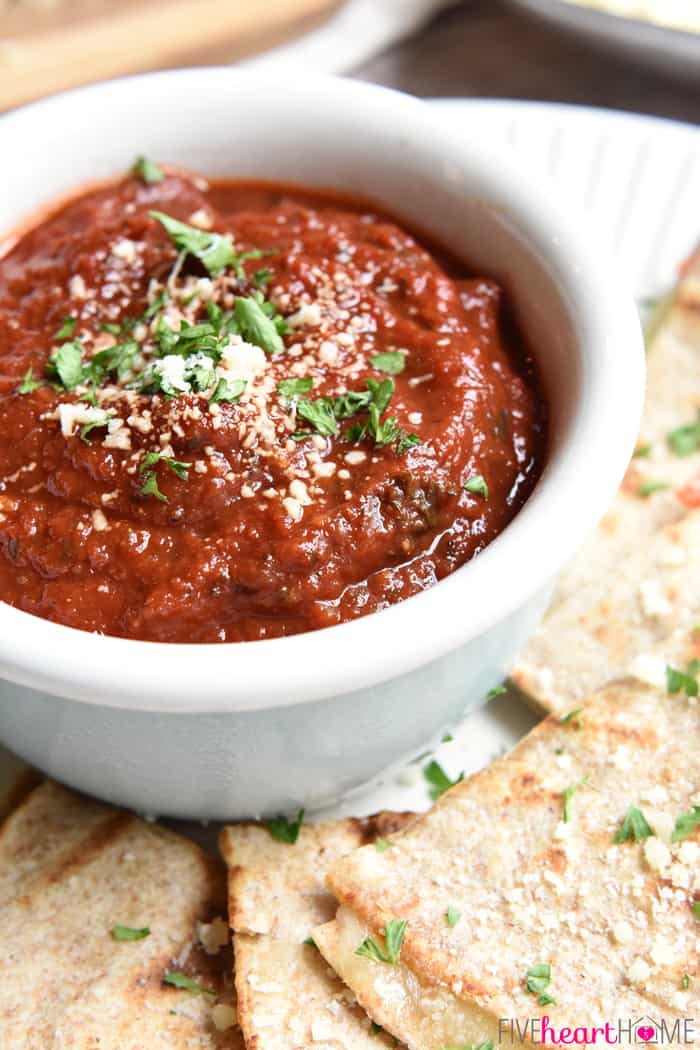 So what do you like to eat or make for lunch when you're home? Any summer vacation favorites? Send some ideas my way, because lately we're enjoying these yummy Pizza Quesadillas so much that I don't want to risk them suffering the same over-relied-upon fate as the ubiquitous PB&J sandwiches of lunchboxes of yore… 😉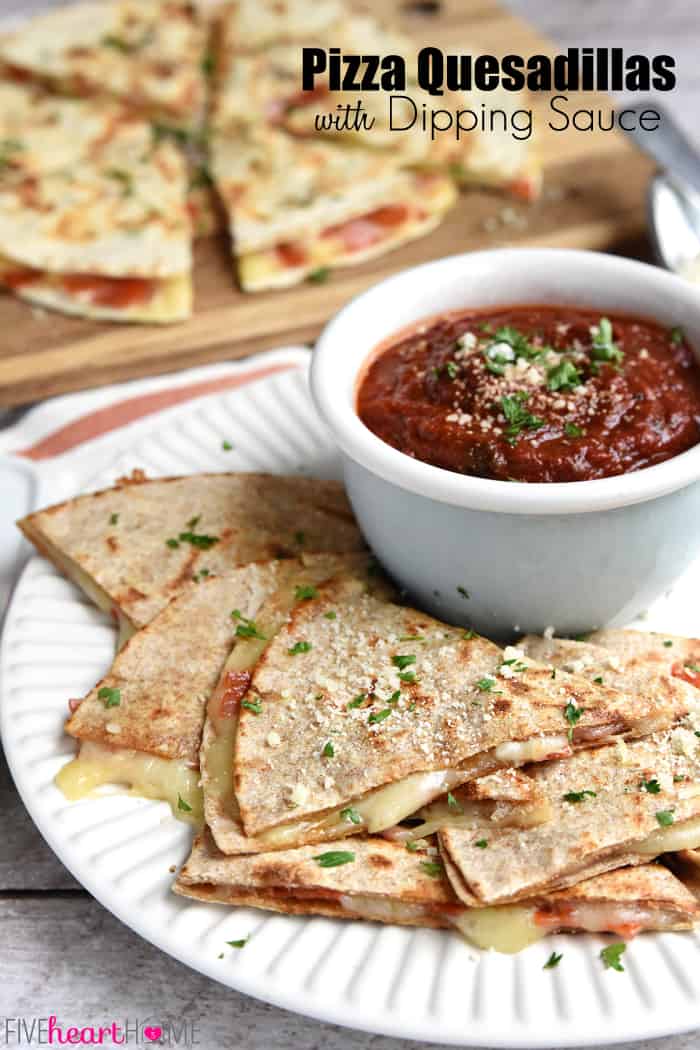 Pizza Quesadillas (Pizzadilla) with Dipping Sauce Recipe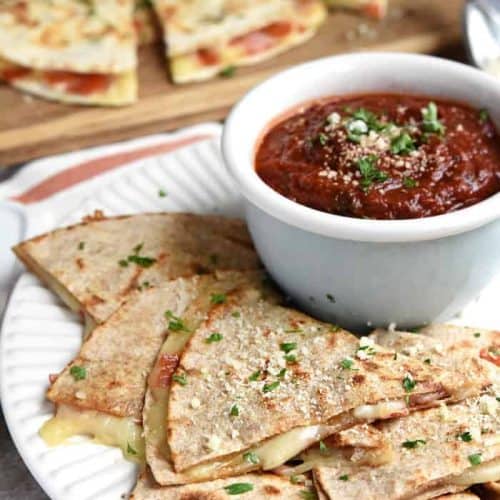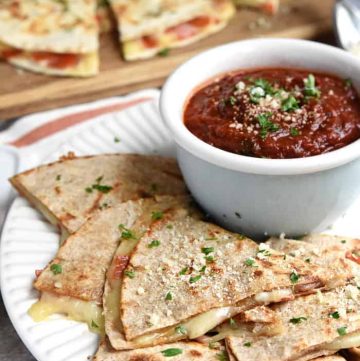 Pizza Quesadillas with Dipping Sauce
Cheesy, melty Pizza Quesadillas are stuffed with mozzarella and pepperoni and dipped in a flavorful herb-infused, homemade pizza sauce for a fun, quick, and easy lunch idea.
Print
Pin
Rate
Servings:
4
servings (2 whole (8-inch) quesadillas)
Ingredients
FOR THE DIPPING SAUCE:
8

ounces

tomato sauce

3

tablespoons

tomato paste

1 1/2

teaspoons

sugar

1

teaspoon

dried basil

1

teaspoon

dried oregano

1

teaspoon

dried parsley

1/2

teaspoon

dried thyme

1/2

teaspoon

fennel seeds

,

crushed (optional)

1/2

teaspoon

garlic powder

1/4

teaspoon

onion powder

1/2

teaspoon

salt

Pinch

of crushed red pepper flakes

,

optional
FOR THE QUESADILLAS:
4

8-inch white or whole wheat tortillas

6

ounces

shredded mozzarella cheese

2

tablespoons

grated Parmesan cheese

4

ounces

pepperoni

,

diced
Instructions
In a small pot set over medium heat, stir together tomato sauce, tomato paste, sugar, basil, oregano, parsley, thyme, crushed fennel seeds, garlic powder, onion powder, salt, and crushed red pepper flakes. Bring to a simmer, reduce heat to low, and allow to heat and thicken while making quesadillas, stirring occasionally.

Assemble quesadillas by out two tortillas on a cutting board. Sprinkle EACH tortilla with 3 ounces of shredded mozzarella, 1 tablespoon Parmesan, and 2 ounces of diced pepperoni. Lay the remaining tortillas on top.

Heat a large skillet over medium heat. Transfer an assembled quesadilla onto the skillet. Cook for a couple of minutes, occasionally lifting edge of quesadilla to check color of underside, until tortilla begins to turn golden and cheese starts to melt. Carefully flip quesadilla over and cook for another couple of minutes or until cheese is fully melted. Remove hot quesadilla to a plate and repeat with second quesadilla. Alternatively, you may cook both quesadillas at the same time on a flat griddle.

Slice each quesadilla into 6 wedges and serve immediately with warm dipping sauce.
Notes
All measurements are approximate. Use as much cheese, etc., as you like!
The pepperoni I typically buy is very large and I prefer to dice it so that the whole piece doesn't pull out of the quesadilla when taking a bite...but leave it whole if you wish.
Feel free to add any of your favorite pizza toppings to the quesadilla filling!
Calories:
403
kcal
|
Carbohydrates:
24
g
|
Protein:
21
g
|
Fat:
25
g
|
Saturated Fat:
11
g
|
Cholesterol:
66
mg
|
Sodium:
1694
mg
|
Potassium:
467
mg
|
Fiber:
2
g
|
Sugar:
7
g
|
Vitamin A:
740
IU
|
Vitamin C:
6.6
mg
|
Calcium:
309
mg
|
Iron:
3.2
mg
More Kid-Friendly Lunch Ideas