Hope y'all aren't tired of crock pot recipes yet, because I've got another slow cooker sensation to share with you today!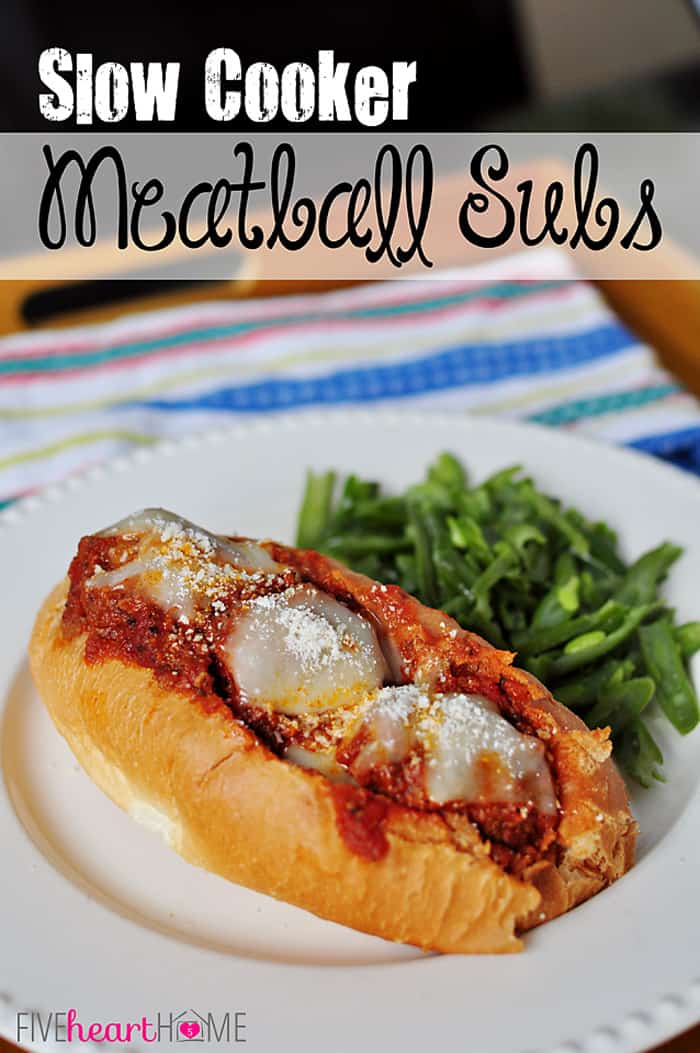 This week is going to be a busy one around these parts. Our baby girl is turning one on Thursday, so on top of our usual hectic schedule, I'll be in full party planning mode for the next few days.
ONE. I can hardly believe it. The past year has flown by. And to be perfectly honest, I'm already feeling like a big, sentimental sap at the thought of my baby no longer qualifying as a baby. Our family has been so blessed to have had this sweet little angel in our lives for almost a whole year now, and to say that we all adore her would be the understatement of the decade. Her big brothers absolutely dote on her, she has her daddy utterly and indescribably wrapped around her chubby little finger, and I think my sweet, ever-present companion is pretty much perfect. I just can't believe that her baby days are already about to be behind us…slow down, time!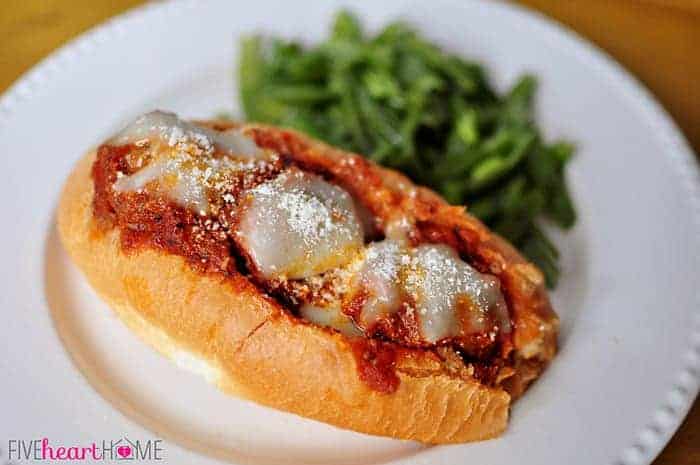 However, instead of talking about what a sappy mushball I am, let's focus on meatballs, shall we? With a big, pink birthday party to prepare for this week, I won't have much time to devote to making dinners. But that doesn't mean I want to fall back on take-out. Instead, my trusty crock pot will be earning its keep once again.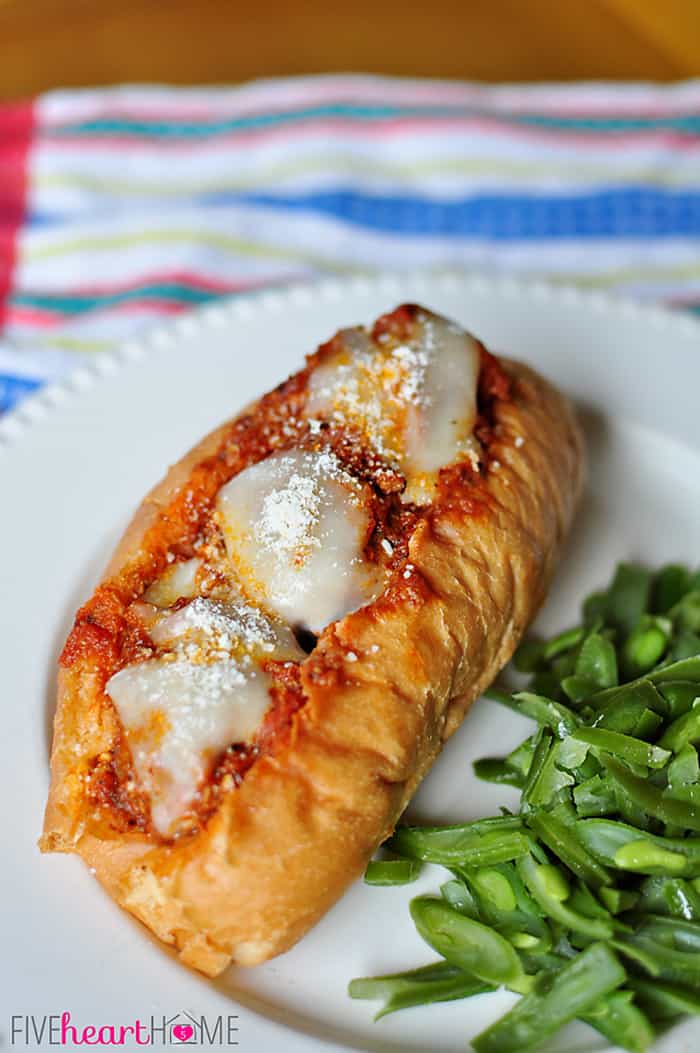 This recipe is always a hit with every member of my family, from small to tall. After all, who doesn't love a good meatball sub? And this version is truly effortless. Just mix a few ingredients into a pound of ground beef (or turkey, if you prefer), form your mixture into meatballs, toss them in the slow cooker with whatever pasta sauce you have handy (homemade or jarred sauce both work great), and forget about it for the rest of the day. When it's time for dinner, you'll have juicy meatballs and savory sauce to pile on rolls and top with gooey, melted cheese. A simple veggie and/or side salad round out this quick meal and dinner is served!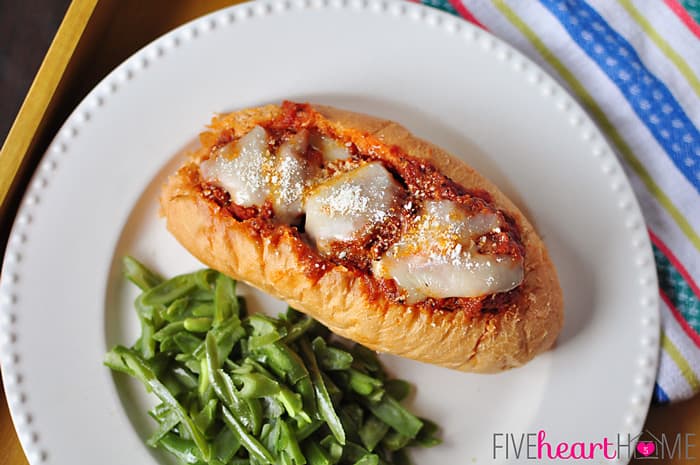 It's doesn't get any easier — or tastier — than that, folks. I hope this recipe becomes a regular, popular part of your dinner rotation during those busy weeks that I know you have as well!
And one last thing…please send some positive vibes to me come Thursday, that I don't find myself crying sentimental tears in a sweet little someone's first ever cupcake. 😉
Slow Cooker Meatball Sub Sandwiches
Meatballs and pasta sauce cook up in the crock pot and are paired with gooey mozzarella cheese on toasty rolls in this recipe for effortless meatball subs.
Ingredients
1 pound lean ground beef (OR ground turkey)
1 egg
1/2 cup Italian bread crumbs
1 teaspoon garlic powder
1/2 teaspoon salt
Freshly ground black pepper
1 jar pasta sauce (OR about 24 ounces homemade pasta sauce)
4 submarine/hoagie/Italian rolls (about 6 inches long each)
1 cup (4 ounces) shredded mozzarella cheese
Grated Parmesan cheese, optional
Instructions
In a medium bowl, combine ground beef with egg, bread crumbs, garlic powder, salt, and pepper. Mix with hands or a large spoon until all ingredients are well incorporated.
Form mixture into 12 meatballs, taking care not to make them too compact. Place meatballs in the bottom of slow cooker. Pour pasta sauce over meatballs, making sure that each one is completely covered.
Cook on low for 8 hours (or on high for 4 hours) or until meatballs are done. (Check sooner if your slow cooker runs hot, as meatballs may cook faster and sauce may turn a bit dark around the edges.)
To serve, halve each roll lengthwise and place 3 meatballs inside. Sprinkle with mozzarella cheese. The hot meatballs should cause the cheese to melt, but if not, you may place sandwiches under the oven broiler for a minute to melt cheese completely. Sprinkle with Parmesan cheese, if desired, and serve hot.
Notes
To make my own Italian bread crumbs, I save the end slices from loaves of whole wheat bread, tear them into chunks, and blend them in the food processor with a generous amount of dried basil, oregano, parsley, and thyme until fine crumbs are formed.
You may toast your rolls before topping with meatballs and cheese, if desired.
Be sure to use lean ground meat in order to avoid excess fat in your sauce.
https://www.fivehearthome.com/slow-cooker-meatball-sub-sandwiches/
https://www.fivehearthome.com ~ All recipes and images on Five Heart Home are copyright protected. Please do not use without my permission. If you would like to feature this recipe, please rewrite the directions in your own words and give proper attribution by linking back to this blog.
Adapted from Rival Crock Pot: 3 Books in 1.
More easy slow cooker dinners…
Slow Cooker Chicken & Black Bean Tacos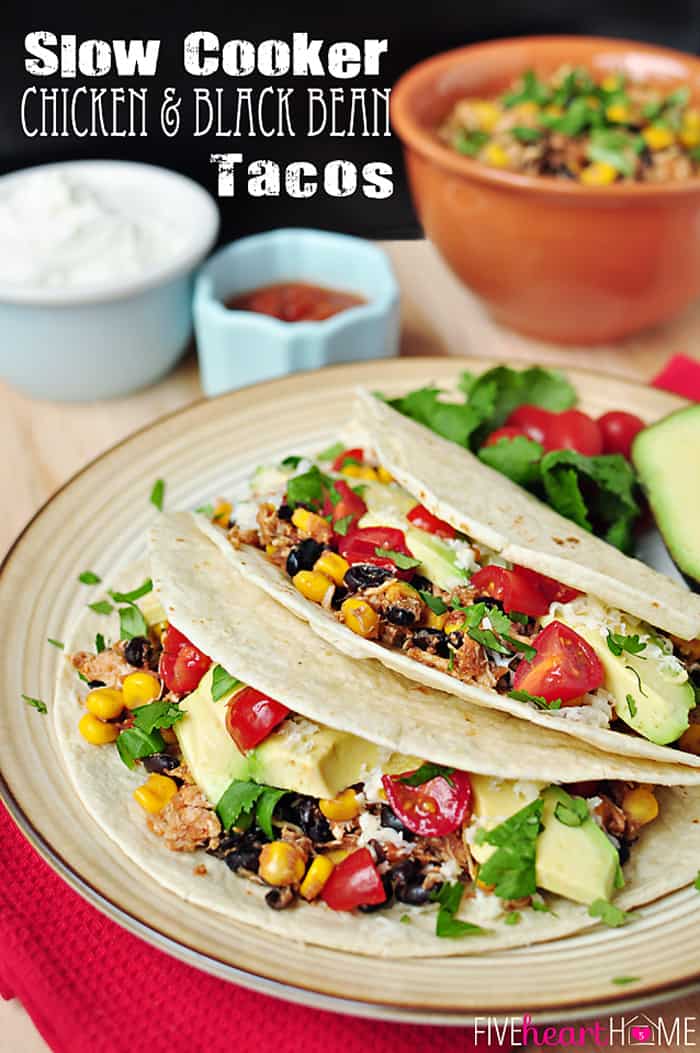 Slow Cooker Balsamic & Herb Beef Stew with Cornbread Waffles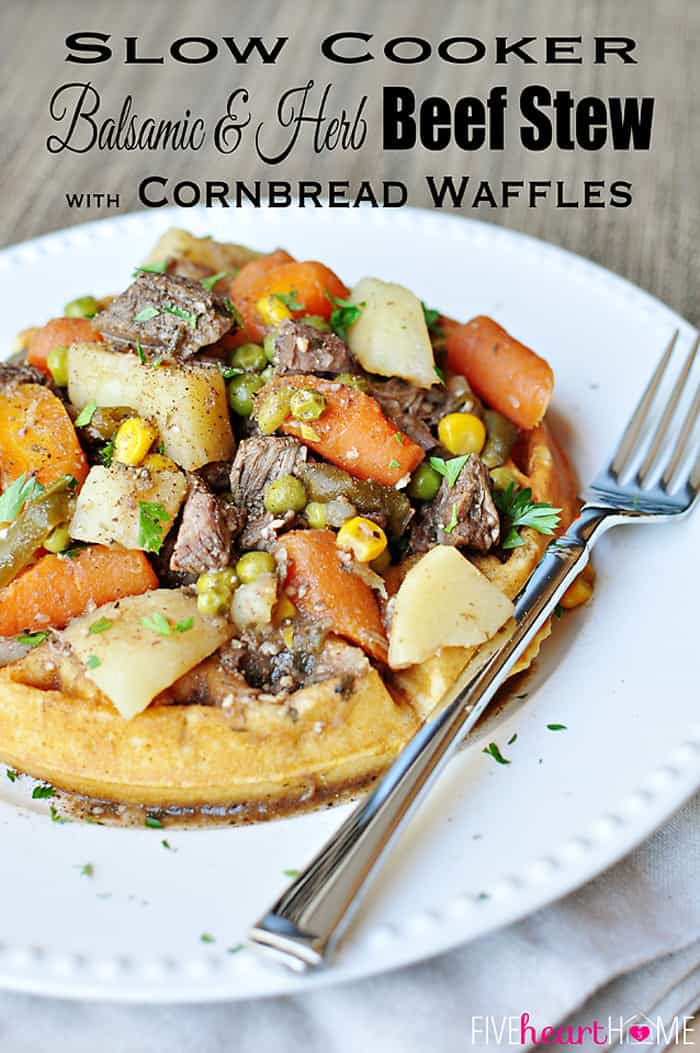 Slow Cooker Chicken & White Bean Chili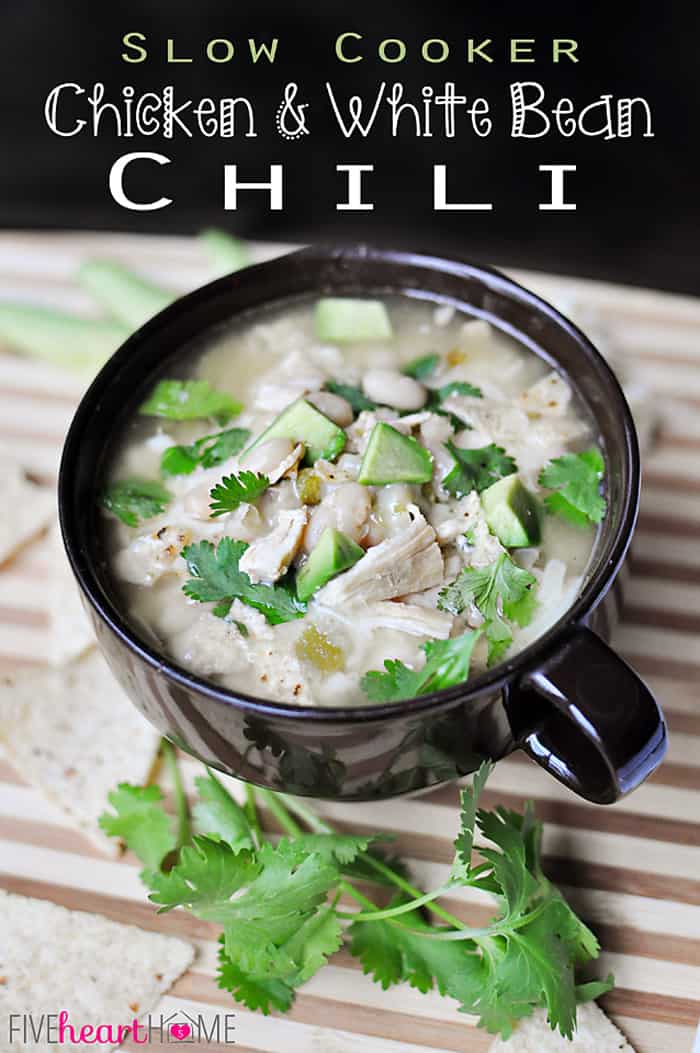 Slow Cooker French Dip Sandwich Au Jus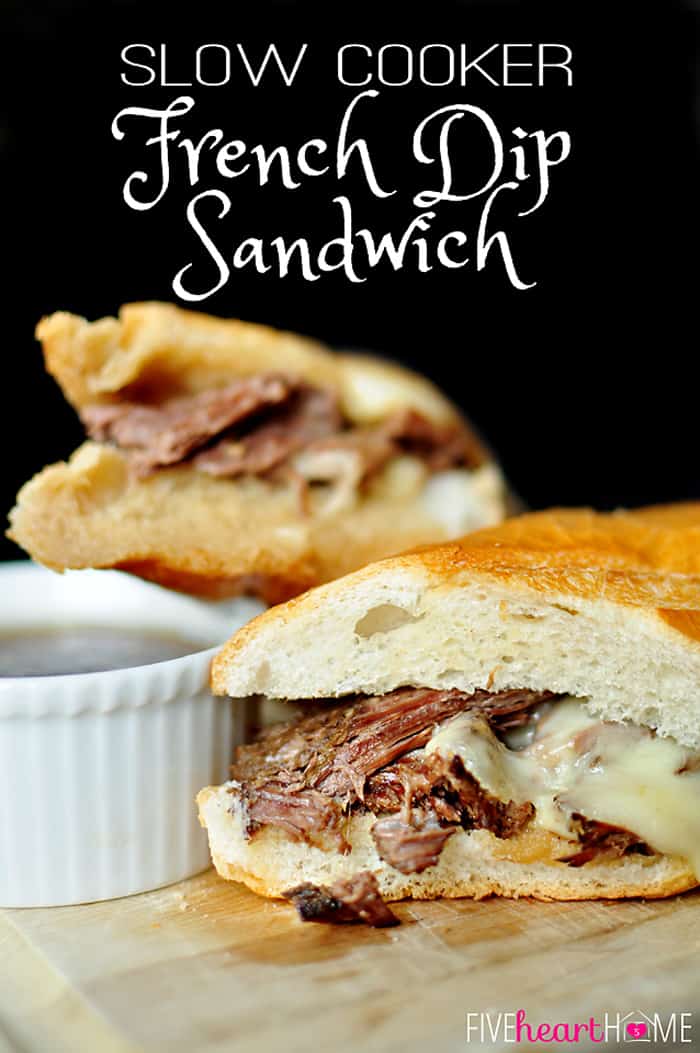 Slow Cooker Brown Sugar Ham