Roasted Broccoli with Parmesan, Panko, & Pecans is topped with a crunchy, garlicky topping before roasting in the oven for a delicious, addictive side dish!

With Thanksgiving only a few short days away, I realize that it's a little late in the game for another side dish recipe. However, the good news is that this Roasted Broccoli with Parmesan, Panko, & Pecans would also make a fabulous addition to your Christmas or Hanukkah or New Year's menu! Or — despite the fact that it seems a little on the fancy side — it's honestly so effortless and simple that it would be an excellent way to convince the kiddos to eat their veggies on a regular ol' weeknight.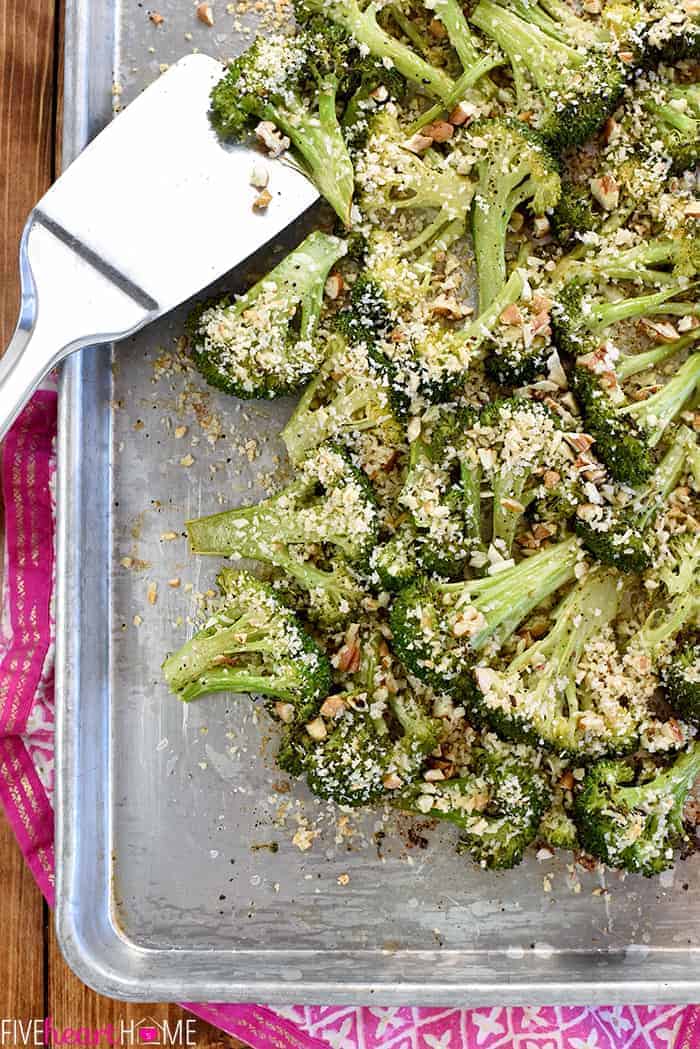 I am completely serious when I say that I could eat a whole pan of roasted broccoli by myself. As in, pick-it-straight-off-the-pan-with-my-fingers-and-almost-burn-myself-in-the-process eat a whole pan. Roasting does something magical to vegetables in general, but broccoli in particular is transformed to gloriousness by a good stint in a very hot oven. The stalks get tender and the tops get slightly charred and crispy and the flavor becomes mellow with a slightly sweet undertone. Mmm-mmm-MMMM!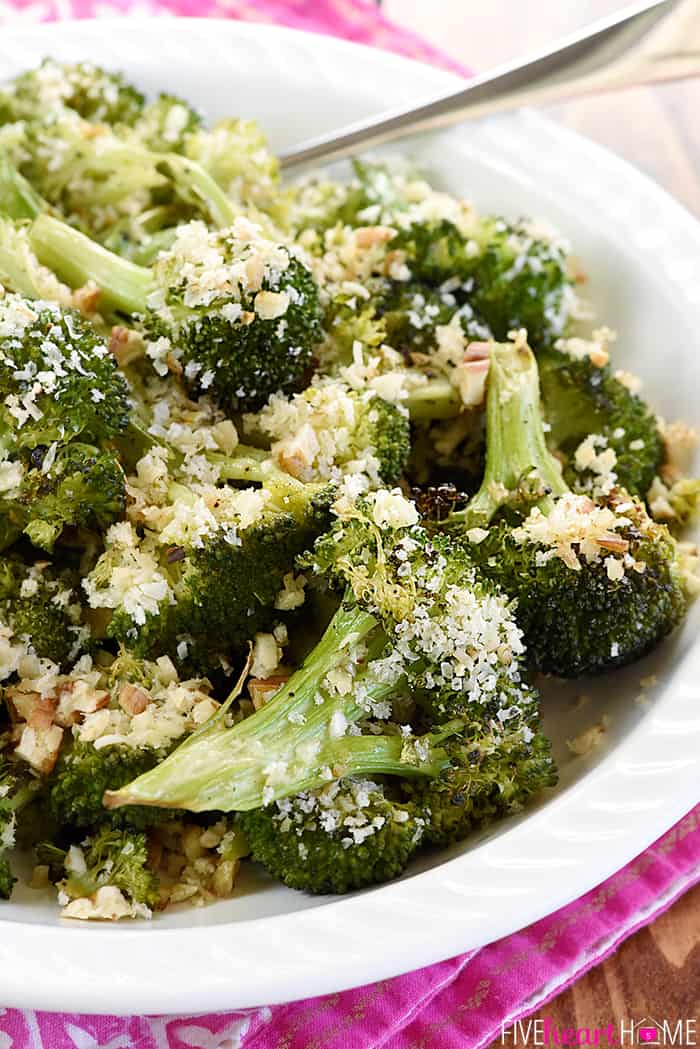 Furthermore, roasted broccoli is delicious with a simple treatment of olive oil, salt, and pepper. But add a bit of grated cheese — or better yet — a topping of Parmesan cheese, panko bread crumbs, and chopped pecans! Oh. My. Word. After you burn your fingers because you can't stop eating the broccoli straight out of the oven, you might also burn your tongue when you can't resist licking the renegade topping from the pan.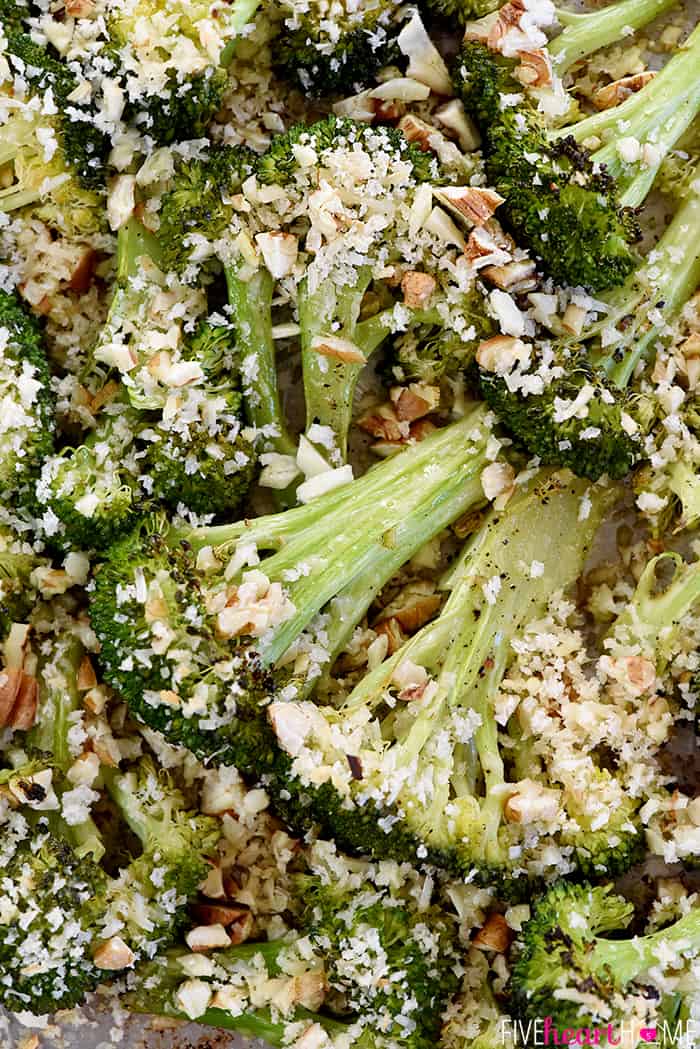 And have I mentioned that the scrumptious topping also includes a couple cloves of finely minced garlic? Garlic didn't really fit the alliterative P theme that I had going, so I didn't include it in the title. But you better believe it's there, and it adds even more flavor and kick to the already-addictive topping.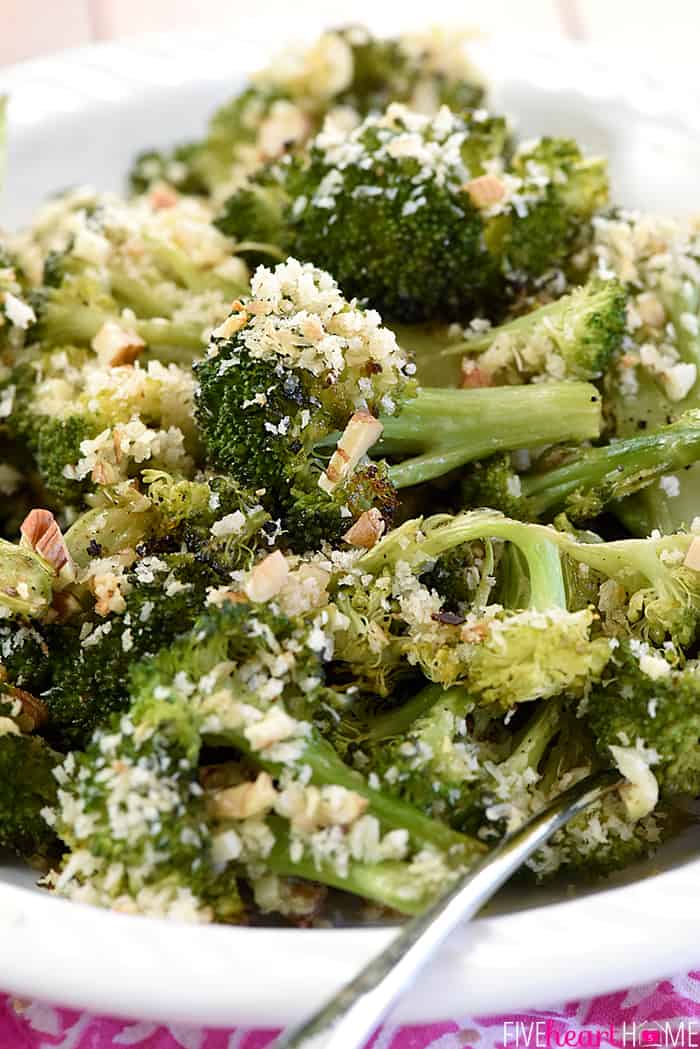 So have I convinced you to give this Roasted Broccoli with Parmesan, Panko, & Pecans a whirl? It'll turn a broccoli-phobe into a broccoli-phile…and it'll be the most popular side dish on the holiday (or ordinary-weeknight-dinner) table! 🙂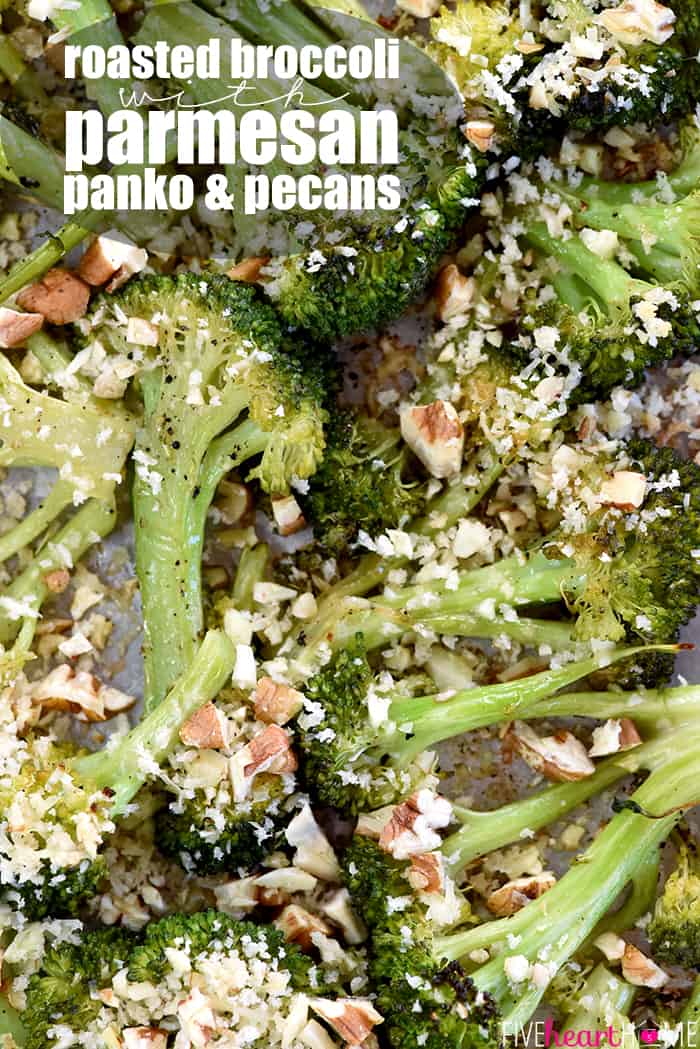 Roasted Broccoli with Parmesan, Panko, & Pecans
Oven roasting turns plain broccoli into something special...and a crunchy, garlicky, toasty topping takes it to the next level in this Roasted Broccoli with Parmesan, Panko, & Pecans!
Ingredients
2 1/2 pounds broccoli
3 tablespoons extra-virgin olive oil
3/4 teaspoon salt, plus more to taste
Freshly ground black pepper, to taste
2 tablespoons freshly grated Parmesan cheese
2 tablespoons panko bread crumbs
2 tablespoons finely chopped pecans
2 large cloves garlic, finely minced
Instructions
Place rack in center position of oven and preheat oven to 425°F.
Wash and dry the broccoli and remove the broccoli florets and thin stalks from the thick base stem. Discard the thick stem and cut the large florets in smaller pieces, so that all of the broccoli florets are similar in size. Scatter the broccoli florets on a large, rimmed sheet pan so that they fit in a single layer.
Evenly drizzle the broccoli with olive oil and sprinkle with salt and pepper. Toss the broccoli on the pan until it's evenly coated with oil and seasonings. Roast the broccoli for 15 minutes. While the broccoli is cooking, combine the grated Parmesan, panko bread crumbs, chopped pecans, and minced garlic in a small bowl; set aside.
After 15 minutes of cooking, use a metal spatula to flip each piece of broccoli over. Evenly sprinkle the Parmesan/panko/pecan/garlic mixture over the top of the broccoli. Roast for 5 to 10 minutes more until the broccoli is crisp-tender, the edges are just starting to char, and the topping is toasted. Adjust the salt and pepper to taste and serve immediately.
Notes
This recipe may easily be doubled. Just be sure that your pan is large enough to spread out the broccoli in a single layer. It's also possible that the cooking time may need to be slightly increased, so just keep an eye on it.
https://www.fivehearthome.com/roasted-broccoli-with-parmesan-panko-pecans-holiday-side-dish-recipe/
https://www.fivehearthome.com ~ All recipes and images on Five Heart Home are copyright protected. Please do not use without my permission. If you would like to feature this recipe, please rewrite the directions in your own words and give proper attribution by linking back to this blog.
More Tasty Roasted Veggies
Save
Save
Save
Save
Save
Save
Save
Save
Save