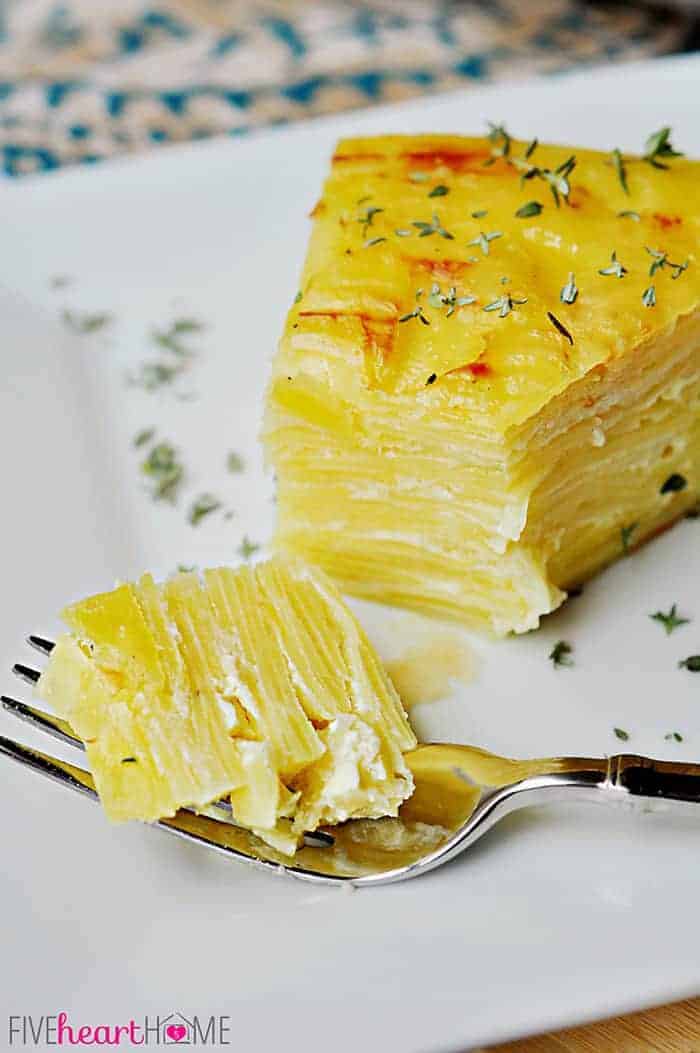 Scalloped Potato Flan comes together where thinly sliced potatoes are layered with garlic and Gruyère cheese, drenched in cream, then baked, overturned, and sliced for an elegant presentation that's perfect for special occasions and holiday dinners!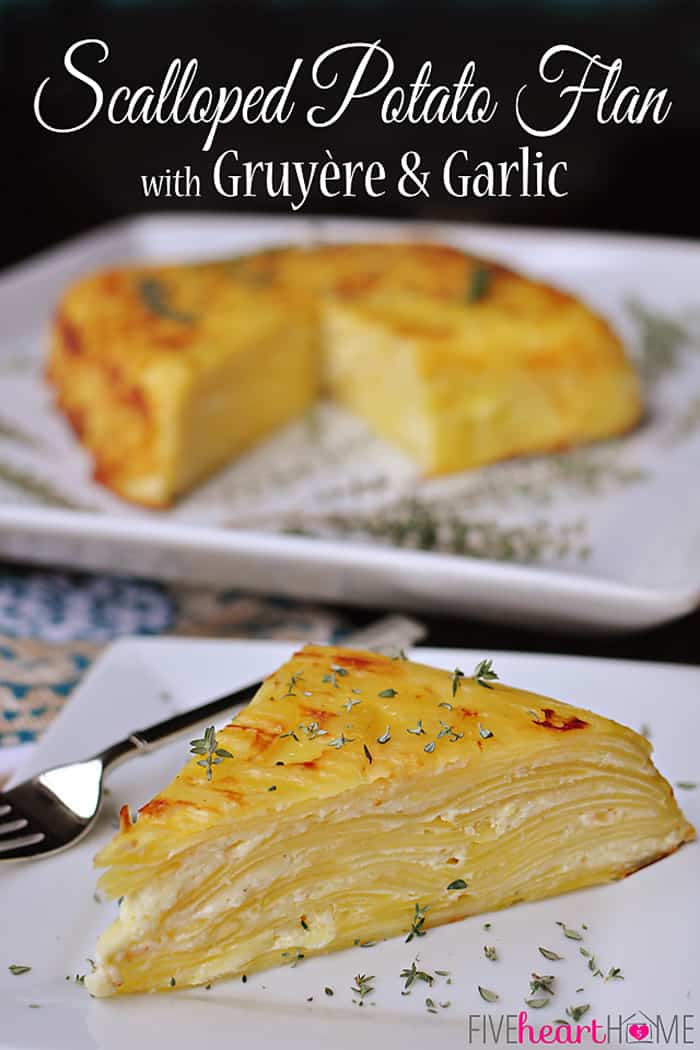 Well, we're midway through December and my Christmas to-do list is still a mile long. (Please tell me I'm not alone. I'm not alone. Right?) But one thing that I have checked off my list is deciding on our Christmas dinner menu, and today I'm going to share with you the starring side dish.
These aren't your ordinary scalloped potatoes, folks. No sirree. Paper thin potatoes are layered with minced garlic and flavorful Gruyère cheese before being doused with a cream-laden custard.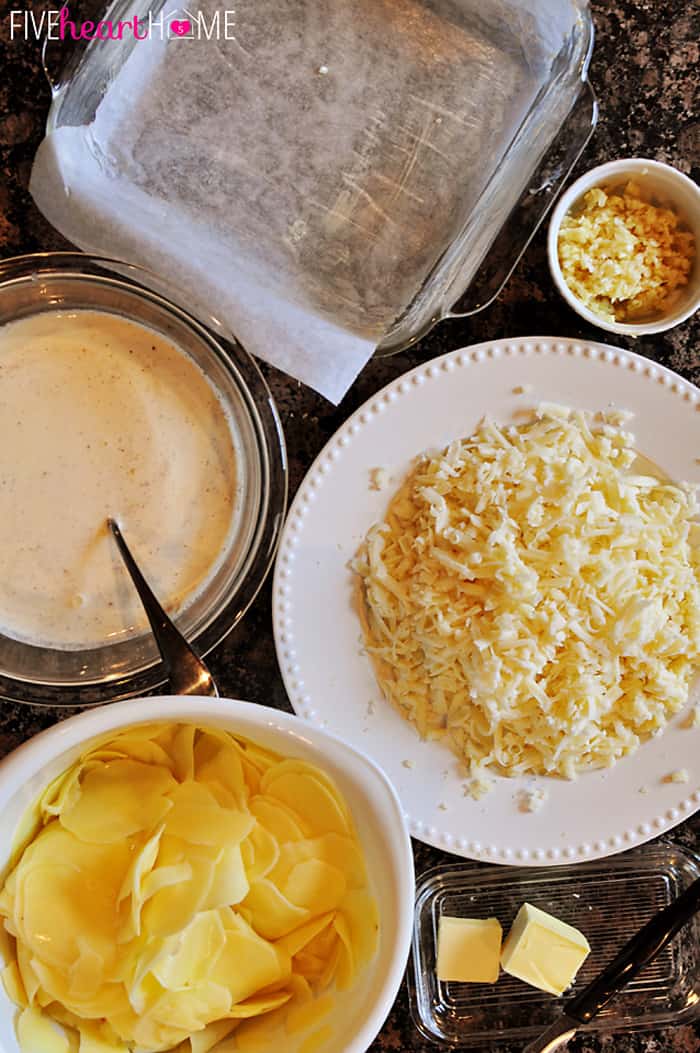 The dish is then baked until golden and bubbly.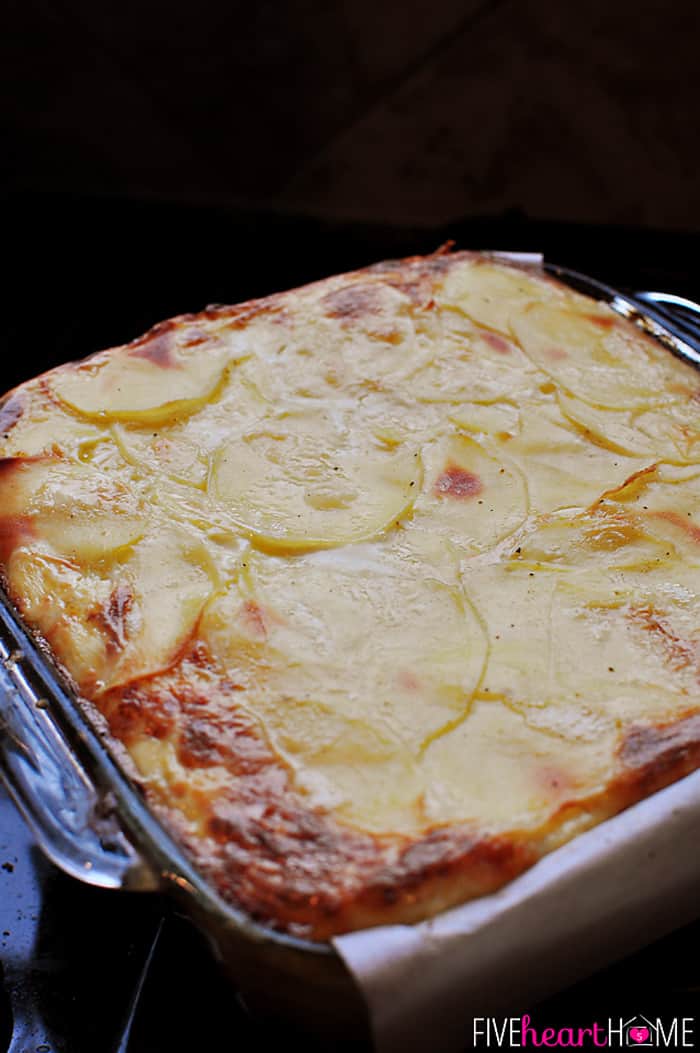 But the real magic happens when your otherwise ordinary-looking scalloped potatoes are overturned (hence, the "flan" portion of the title) and sliced before serving.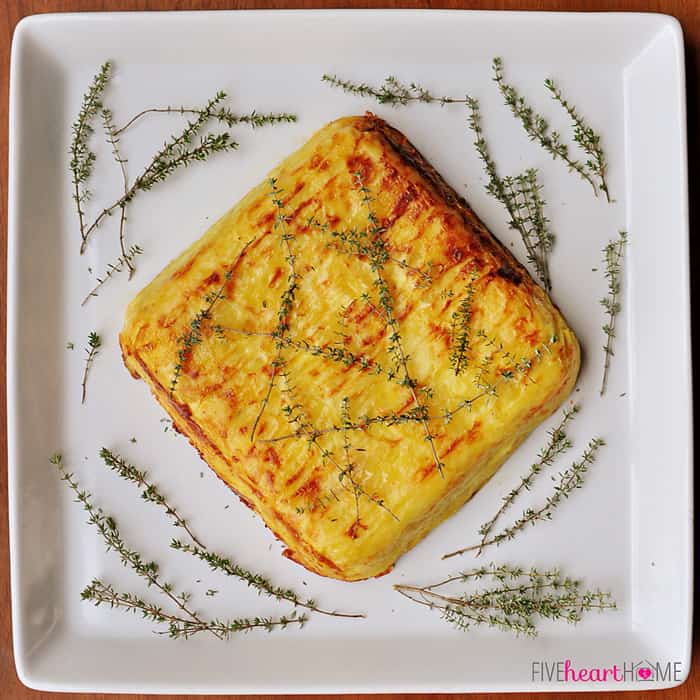 Truly, how beautiful would this potato dish look on your holiday table? It's perfect for any special occasion, or it has the ability to elevate an everyday dinner from ordinary to extraordinary. Though it takes a bit of time to bake, there is nothing complicated or difficult about this recipe. The ingredients are simple and the preparation is straightforward, but the presentation and flavor will earn this dish a spot in your favorite recipe file. It's been in mine for a number of years now, and each time I fix it, we all marvel at how tasty it is.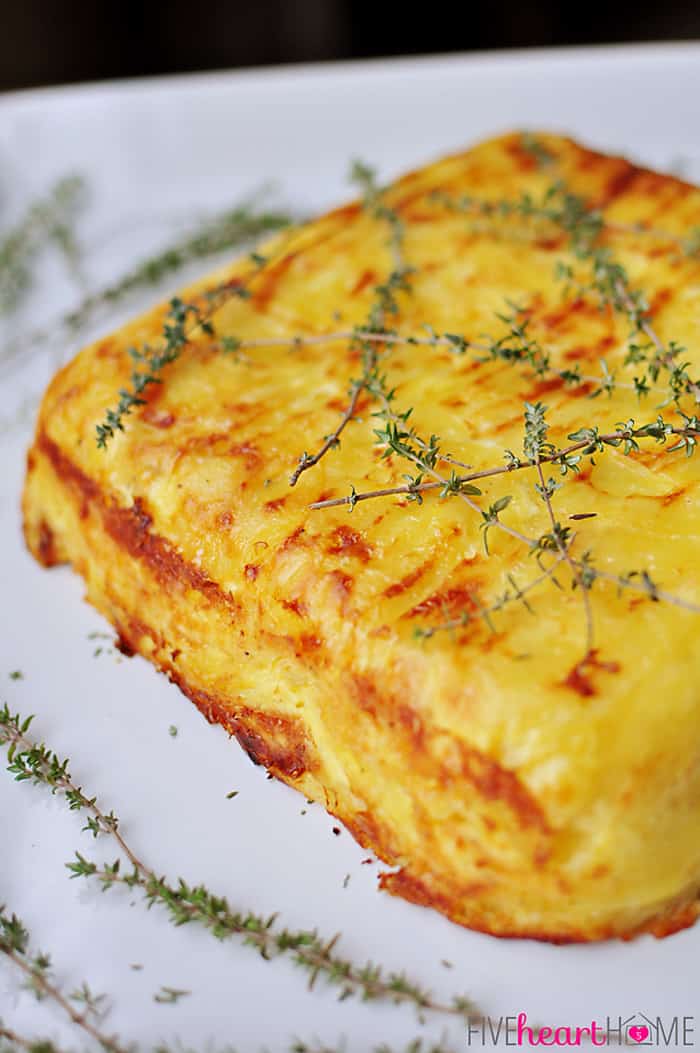 And now for a few pointers. First off, this recipe is particularly amazing when the potatoes are sliced as thinly as possible. That takes forever with a knife and it's difficult to get the potatoes uniformly thin (at least for me), so I find a mandoline slicer to be invaluable when making this dish.
The mandoline I have is not fancy. It's handheld and it only set me back about $15. But that was money well spent because with it, I can slice 3 pounds of potatoes paper-thin in just a few minutes. It is extremely sharp, so it requires careful handling, but it's a pretty handy tool when you require thin slices. (I also use mine often when slicing apples for dessert recipes or cucumbers for salads.)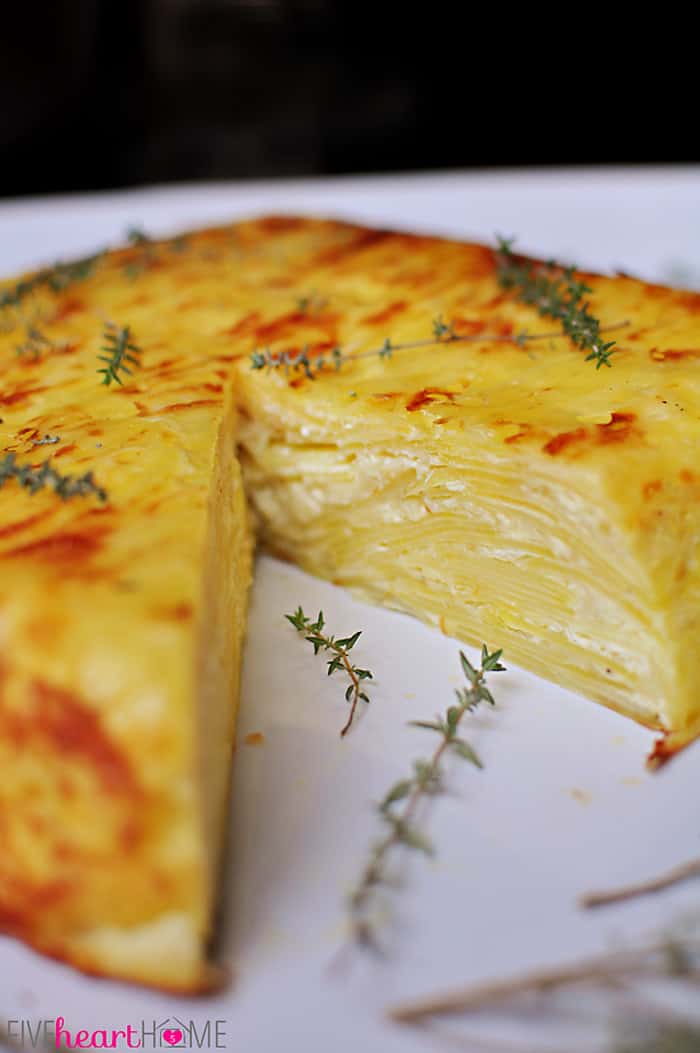 This recipe was created to be baked in an 8- by 8-inch dish, and if you use exactly 3 pounds of potatoes, the ingredients will go all the way to the top of your dish but should not overflow. However, it might not be a bad idea to put a sheet pan under your baking dish, just in case there's any overflow.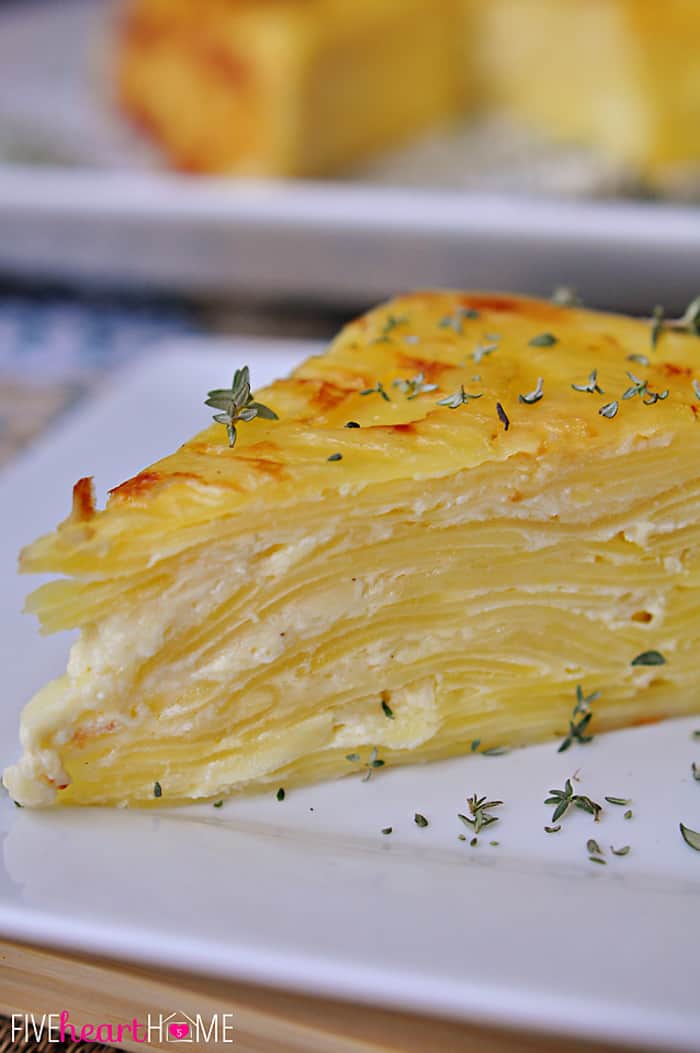 Lining your dish with parchment paper ensures that your potatoes will come out like a true flan once overturned, so I wouldn't recommend skipping it.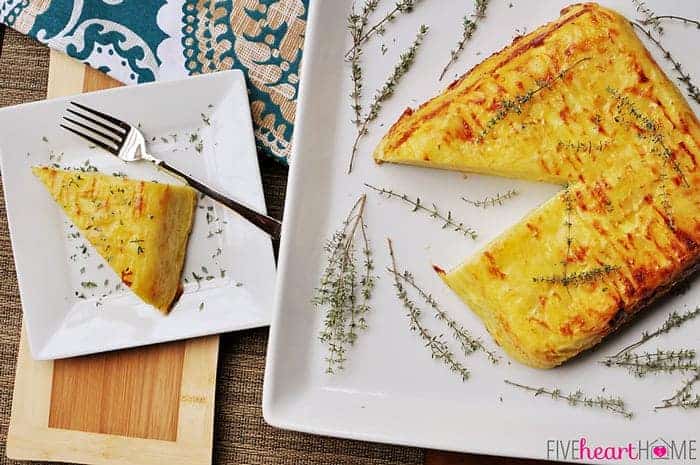 If you're feeling adventurous, feel free to sprinkle some fresh chopped herbs in between the potato layers (thyme would be delicious!), or even some crispy, crumbled bacon. Yum.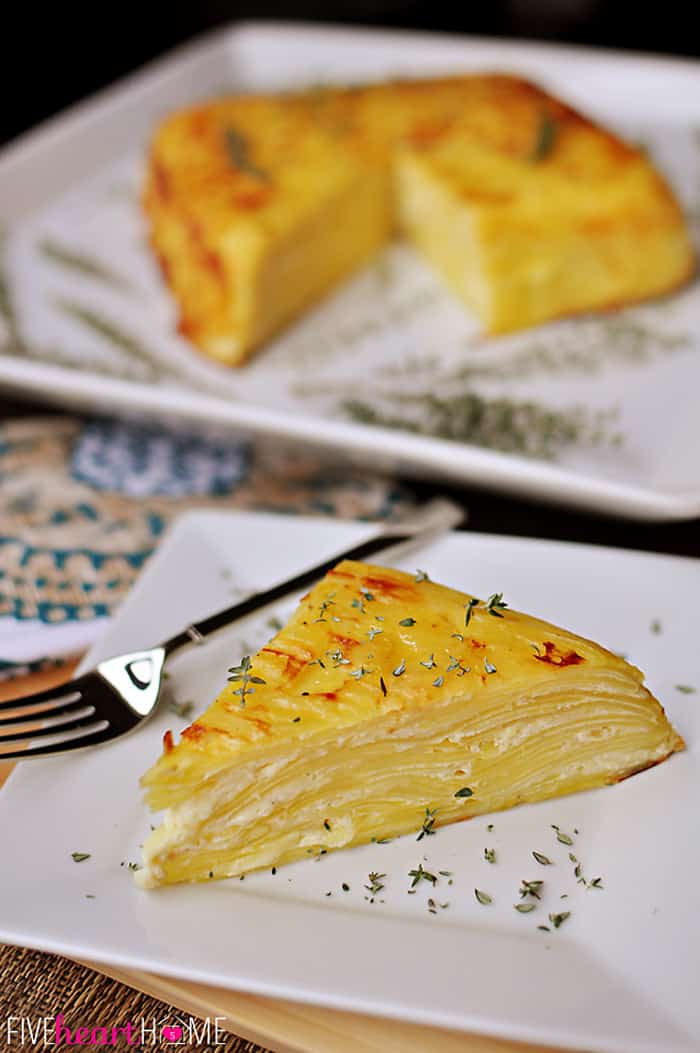 I think these potatoes would be lovely alongside just about any holiday dinner entree, from beef tenderloin to clove-studded ham to crown roast of lamb to Christmas goose! Whatever it accompanies, just beware that this scalloped potato flan might very well overshadow the main course and become the star of the show.
Luckily, it's so darn delicious that nobody will even mind.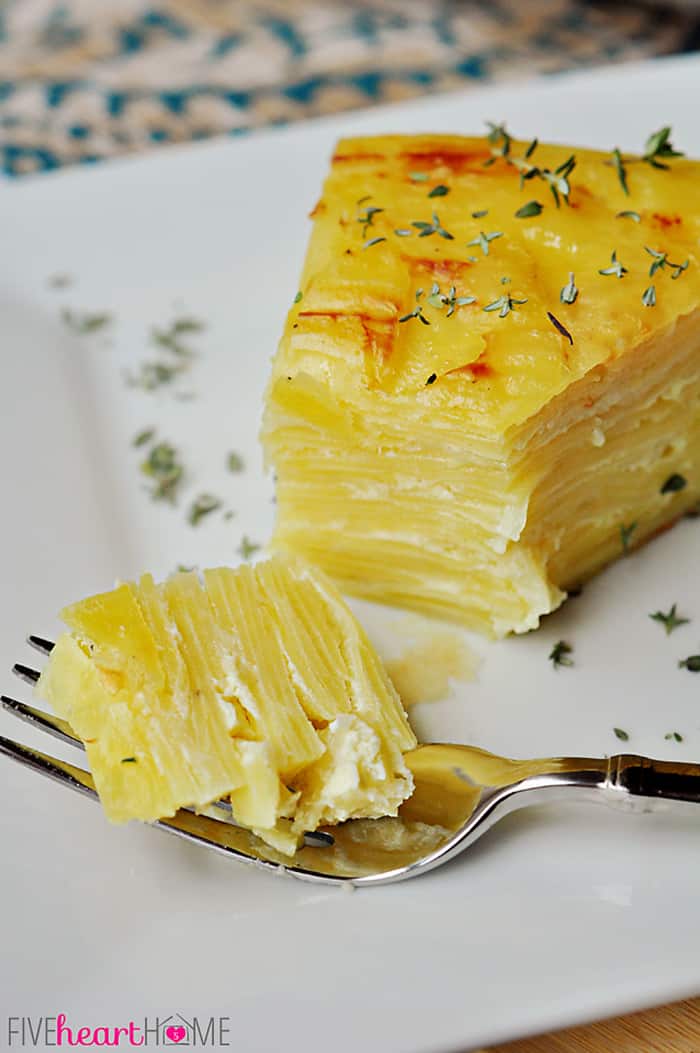 Make this one soon, friends...you'll be happy you did! 😉
Scalloped Potato Flan with Gruyère & Garlic Recipe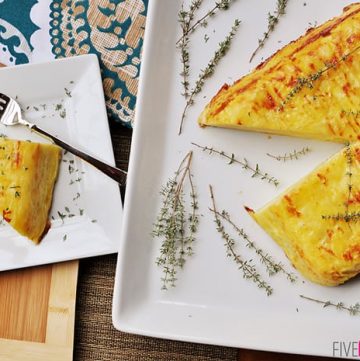 Scalloped Potato Flan with Gruyère & Garlic
Thinly sliced potatoes are layered with garlic and Gruyère cheese, drenched in cream, then baked, overturned, and sliced for an elegant presentation that's perfect for special occasions and holiday dinners!
Print
Pin
Rate
Servings:
10
to 12 servings
Ingredients
1

tablespoon

butter

,

softened

2

tablespoons

minced fresh garlic

3

pounds

Yukon gold potatoes

,

peeled and very thinly sliced

8

ounces

Gruyère cheese

,

grated

3

eggs

1 ½

cups

heavy cream

1 ½

teaspoons

salt OR sea salt

½

teaspoon

freshly ground black pepper

¼

teaspoon

grated nutmeg
Instructions
Preheat the oven to 375°F.

Prepare an 8- by 8- by 2-inch baking dish by greasing it with butter and lining it with parchment paper.

In a large bowl, beat eggs. Whisk in cream, kosher salt, pepper, and nutmeg. Set aside.

Lay the potatoes in overlapping rows until the bottom of the dish is completely covered. Sprinkle with a little bit of minced garlic and a handful of grated cheese. Repeat layers about halfway up the side of the dish. Pour half of the cream mixture over the potatoes, alternately lifting up the layers with a fork and then pressing down to ensure that the cream gets in between all of the layers. Repeat layering potatoes, garlic, and cheese until it's all used up and you reach the top of the dish. Pour the rest of the cream mixture over the potatoes, once again lifting and pressing on the potato layers to make sure that there are not dry spots.

Cover the dish with aluminum foil and bake for 1 ½ hours. Remove the foil and bake for an additional 15 to 20 minutes, or until top is golden brown and potatoes in the center of the dish are tender when pierced with a small knife.

Remove the flan to a wire rack and allow to cool for 15 minutes before placing a platter over the top of the dish. Carefully overturn the flan onto the platter and slice into serving-sized portions. Serve warm.
Notes
I cut the parchment paper to the width of the dish and then lay it so that it covers the bottom and goes up two sides. I make sure that the other two unlined sides are generously greased with butter, and I run a knife along their edges after the potatoes come out of the oven and again before overturning the dish, just to make sure there's no sticking where the parchment paper is missing.
If you use more than 3 pounds of potatoes, all of the ingredients will not fit in an 8- by 8-inch dish. If you use a larger dish, you may have to adjust the cooking time accordingly if your layer of potatoes ends up being thicker or thinner than usual.
Garlic is a prominent flavor in this dish, so feel free to use less, if you prefer a milder garlic flavor.
This recipe has never overflowed for me, but it does go all the way to the top, so use a baking sheet under your dish in the oven if you're concerned about potential spills.
You may slice this flan into wedges or squares. If you want to make this dish ahead of time, individual portions may be reheated in a 400°F oven for 10 to 15 minutes.
***EDITED 4/12/14 to change Kosher salt to regular salt or sea salt (to reduce any confusion in trying to convert amounts) and to reduce overall amount of salt used (since everyone's tastes vary and you can always add more salt to the final dish but it's impossible to take it away).
Calories:
267
kcal
|
Carbohydrates:
17
g
|
Protein:
10
g
|
Fat:
18
g
|
Saturated Fat:
11
g
|
Cholesterol:
102
mg
|
Sodium:
374
mg
|
Potassium:
526
mg
|
Fiber:
3
g
|
Sugar:
1
g
|
Vitamin A:
683
IU
|
Vitamin C:
14
mg
|
Calcium:
211
mg
|
Iron:
4
mg
Adapted from a recipe that I wrote down about 10 years ago after finding it online. I am almost positive that it came from the Epicurious site, but I have searched for the original recipe to no avail.
More Holiday Sides