Juicy shredded chicken meets a quick, homemade sloppy joe sauce in these messy, yummy Chicken Sloppy Joes that effortlessly come together in the crockpot and are sure to please the entire family!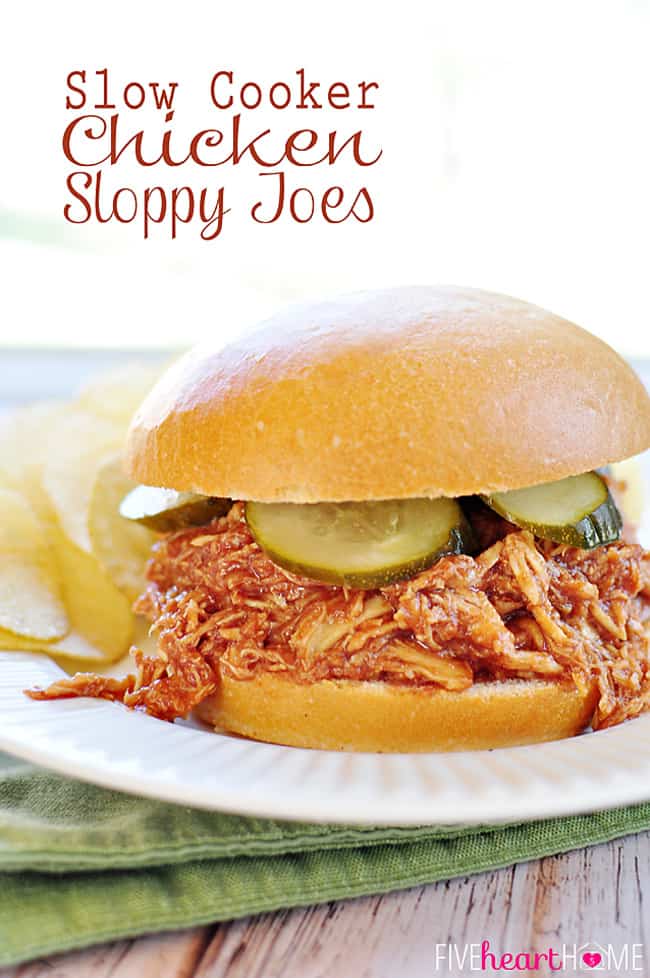 I believe I owe y'all an apology. Back at the beginning of the year, I conducted a little poll of my Facebook followers asking what kind of posts you'd like to see more often here at Five Heart Home. And the overwhelmingly popular answer? Slow cooker recipes. So that's what I set out to share on a regular basis!
However, the unintentional side effect is that I haven't shared a non-slow cooker main dish in a good while. So I've got another crockpot recipe on the roster for today, but I promise that soon I'll share some dinnertime fare that can be cooked on the stove top or in the oven for an exciting change of pace. 😉
In the meantime, however, I have some messy, drippy, yummy slow cooker grub for you today. I'm sure that everyone has had sloppy joes for supper a time or two hundred. But have you ever had sloppy joes made with shredded chicken instead of ground beef...AKA, Chicken Sloppy Joes? I am here to tell you that they are just as tasty and even easier to make!
Just toss a few chicken breasts in the slow cooker and let them do their thing. Then, shortly before serving, throw together a homemade sloppy joe sauce. It literally only takes a couple of minutes longer than opening that can (canwich?) of sauce would, but it tastes about 100 times better without the questionable ingredients.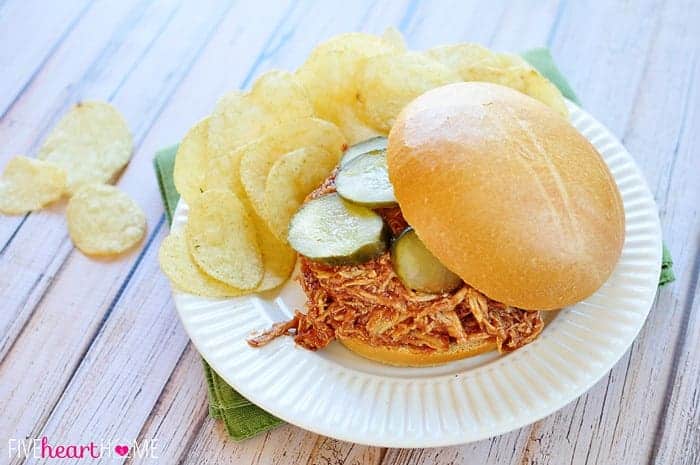 If you've never cooked chicken breasts in your slow cooker, it's a really easy way to prep a bunch of shredded chicken all at once for use in a variety of recipes. You could easily cook a whole crock pot full of chicken and just pull out enough to stir together with sauce for this meal while refrigerating/freezing the rest for a future use. My only disclaimer is this: the chicken cooking time may vary based on how much chicken you cook at once and how hot your crock pot runs.
I've had the same ol' trusty crock pot for about 15 years now, and I've always cooked my chicken dishes on low for the standard 8 hours. But guess what? That beloved crock pot has seen better days and, after I'd continued using it for a good six months after its knob cracked off, my considerate husband decided to surprise me with a fancy new slow cooker. And as much as I love it and appreciate the gesture, the new one appears to run hotter than my antique model, so I'm having to pay a bit more attention to recipe timing lately.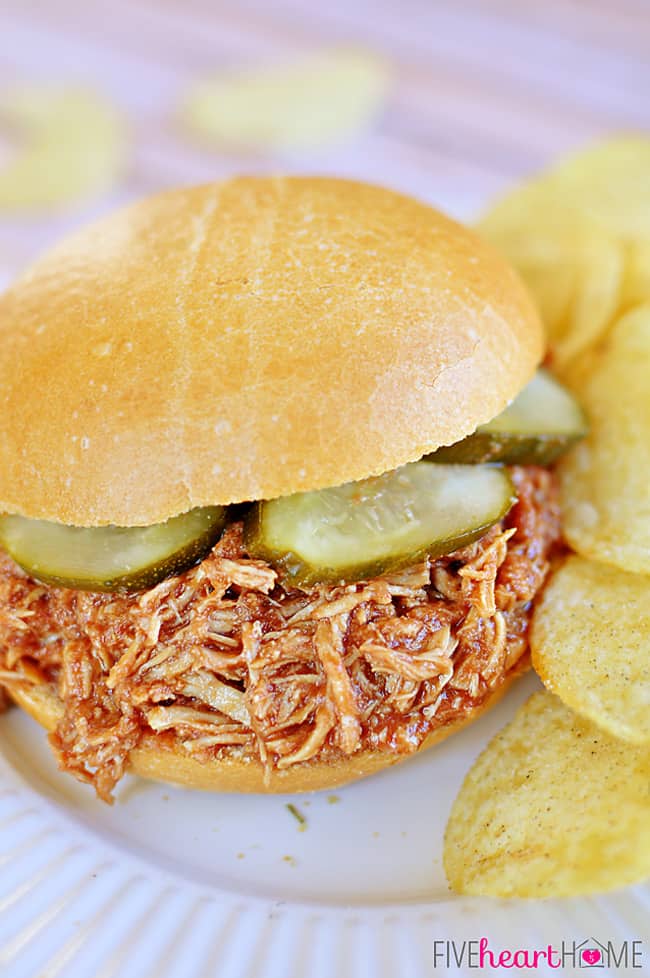 I share this because all of you have different slow cookers. And while this chicken cooked up in less than 4 hours on low in my new slow cooker, I probably would have cooked it for 6 hours on low in my old slow cooker to achieve the same level of doneness and tenderness. So with any crock pot recipe, use the times as a guide the first time you make it, and adjust up or down as necessary once you get to know your particular slow cooker.
I know that we often think of crockpot fare as fall and wintertime food, but the slow cooker is a great tool as the weather warms up as well. After all, isn't it nice to cook a warm meal without having to heat up the oven, and consequently, the whole kitchen?
So don't put that slow cooker away for the summer! Keep it out all year long to whip up scrumptious sandwiches, tacos, and more! And this week? Give these Chicken Sloppy Joes a try. Between the tender, juicy chicken and the tangy, flavorful sauce, I think you'll deem this recipe a winner, winner, chicken dinner. 😉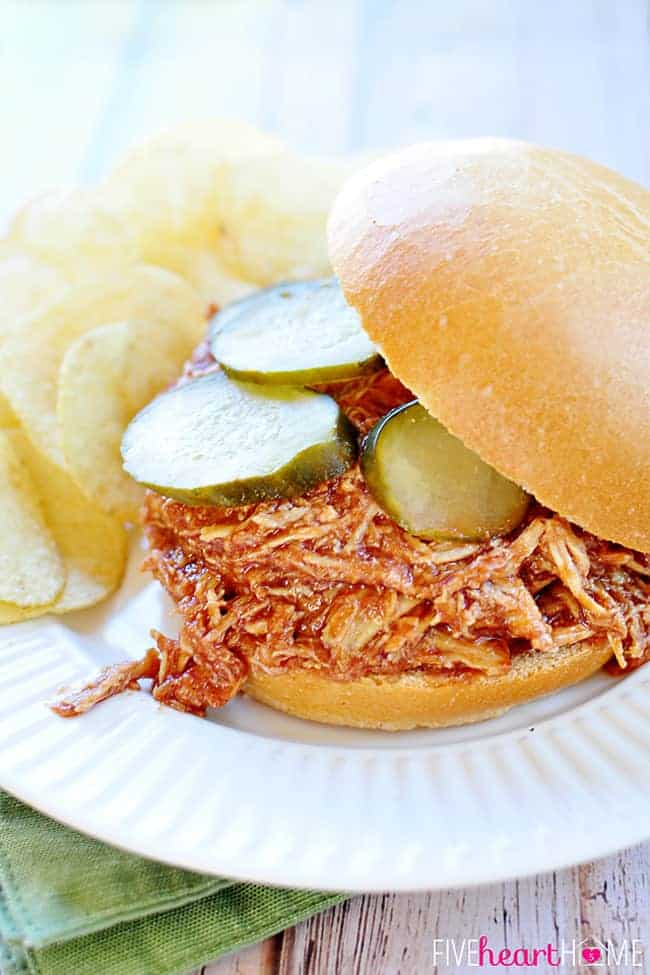 More Sandwiches for Supper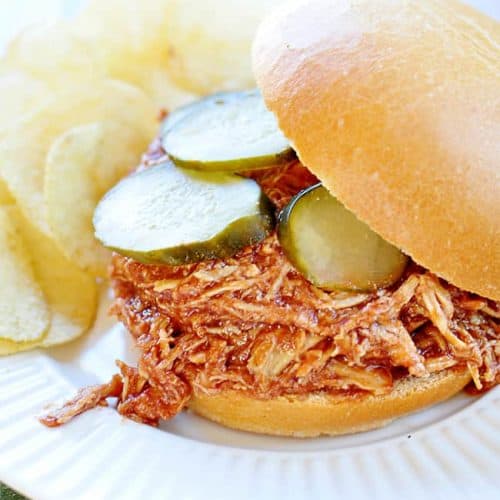 Slow Cooker Chicken Sloppy Joes
Juicy shredded chicken meets a quick, homemade sloppy joe sauce in these messy, effortless Slow Cooker Chicken Sloppy Joe sandwiches that are sure to please the entire family!
Print
Pin
Rate
Ingredients
FOR THE CHICKEN:
1 ½

pounds

boneless skinless chicken breasts

,

3 to 4 large chicken breasts

½

cup

chicken broth

1

teaspoon

garlic powder

Freshly ground black pepper
FOR THE SAUCE:
1

(8-ounce) can tomato sauce

½

cup

ketchup

2 to 4

tablespoons

brown sugar

,

depending on preferred sweetness

2

tablespoons

Worcestershire sauce

1

teaspoon

mustard

½

teaspoon

garlic powder

¼

teaspoon

onion powder
Instructions
Place chicken and chicken broth in slow cooker. Sprinkle with garlic powder and pepper. Cook on LOW for 4 to 6 hours, or until chicken falls apart when you try to pick it up with a fork.

Drain liquid and any fat from slow cooker. Shred chicken with two forks. Measure sauce ingredients into a medium bowl or 2-cup measuring cup. Mix well and pour over shredded chicken. Stir to combine, cover slow cooker, and allow to reheat for a few more minutes. Serve on buns with sliced pickles, if desired.
Notes
I recommend cooking boneless, skinless chicken breasts on low as opposed to high, to lower the odds of chicken drying out. This recipe will work with any cut of chicken, but I like boneless, skinless chicken breasts because they are so easy, with no skin or bones to worry about picking out.
If your slow cooker runs hot or if you cook less chicken, you may want to check it at the 3-hour mark. If your slow cooker does not run as hot or if you double (or triple) the recipe, you will probably need to cook for 8 to 10 hours on low.
When a slow cooker recipe calls for chicken broth, I typically use water plus Organic (Chicken) Better Than Bouillon.
I also like to use jarred, refrigerated minced garlic in slow cooker recipes. I just dump in several spoonfuls...the garlic becomes mellow as it cooks and I really don't think you can use too much! But garlic powder (as called for in this recipe) will work as well.
Calories:
310
kcal
|
Carbohydrates:
27
g
|
Protein:
38
g
|
Fat:
5
g
|
Saturated Fat:
1
g
|
Cholesterol:
109
mg
|
Sodium:
877
mg
|
Potassium:
1032
mg
|
Fiber:
1
g
|
Sugar:
23
g
|
Vitamin A:
450
IU
|
Vitamin C:
8.3
mg
|
Calcium:
41
mg
|
Iron:
1.9
mg