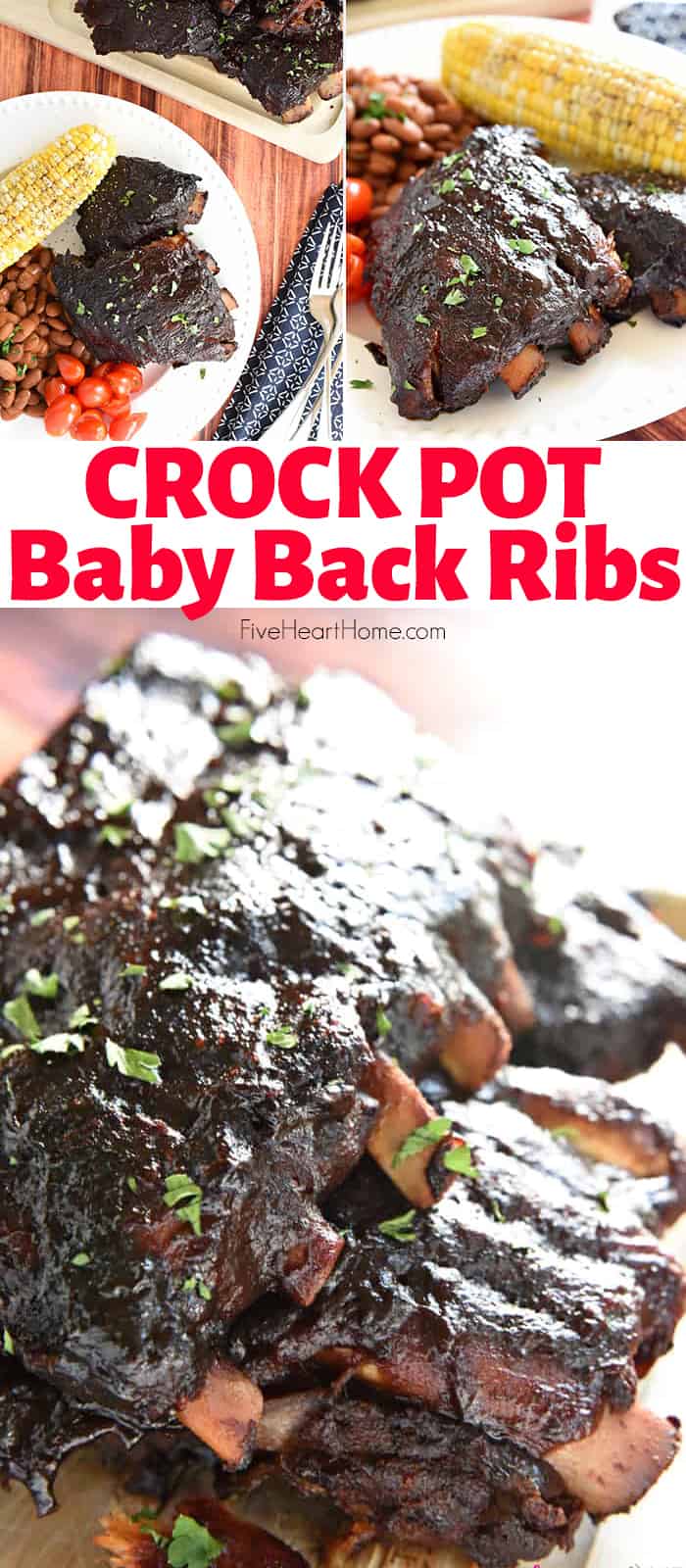 Slow Cooker Baby Back Ribs are sticky, smoky, and fall-apart delicious...and nobody will ever believe that they're crock pot ribs!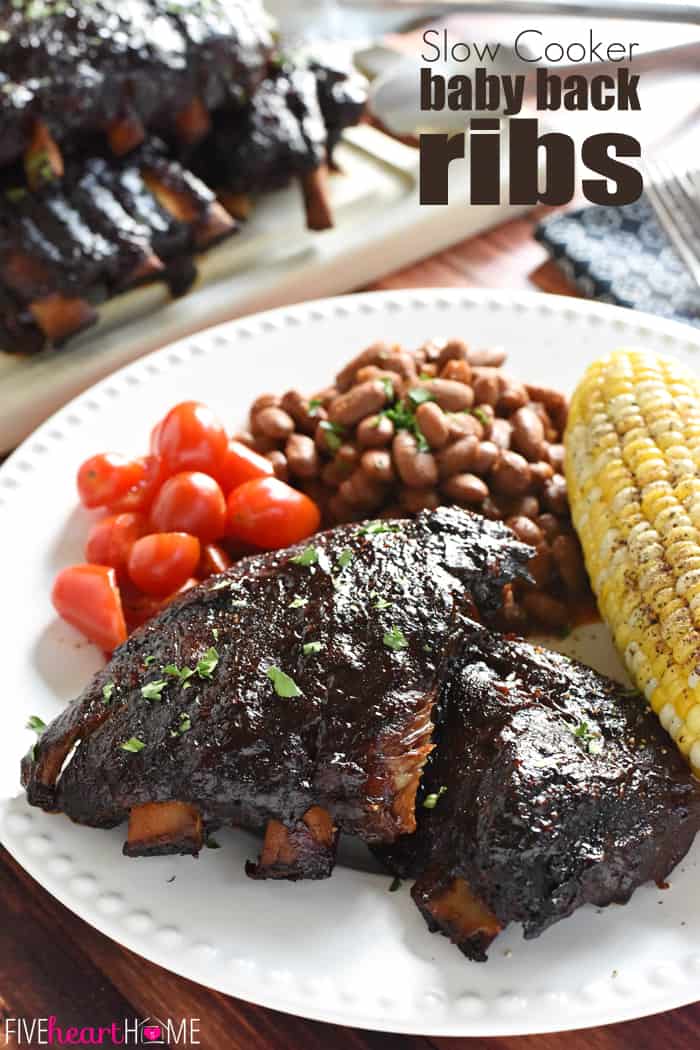 The scrumptious crock pot ribs pictured in this post share a plate with Slow Cooker Ranch Beans and The BEST Way to Cook Fresh Corn on the Cob.
Happy mid-April! Today I thought I'd share a recipe that magically bridges the gap between winter (slow cooker comfort food!) and summer (barbecued ribs!). Have y'all had crock pot ribs before? Because you won't even believe how good they are.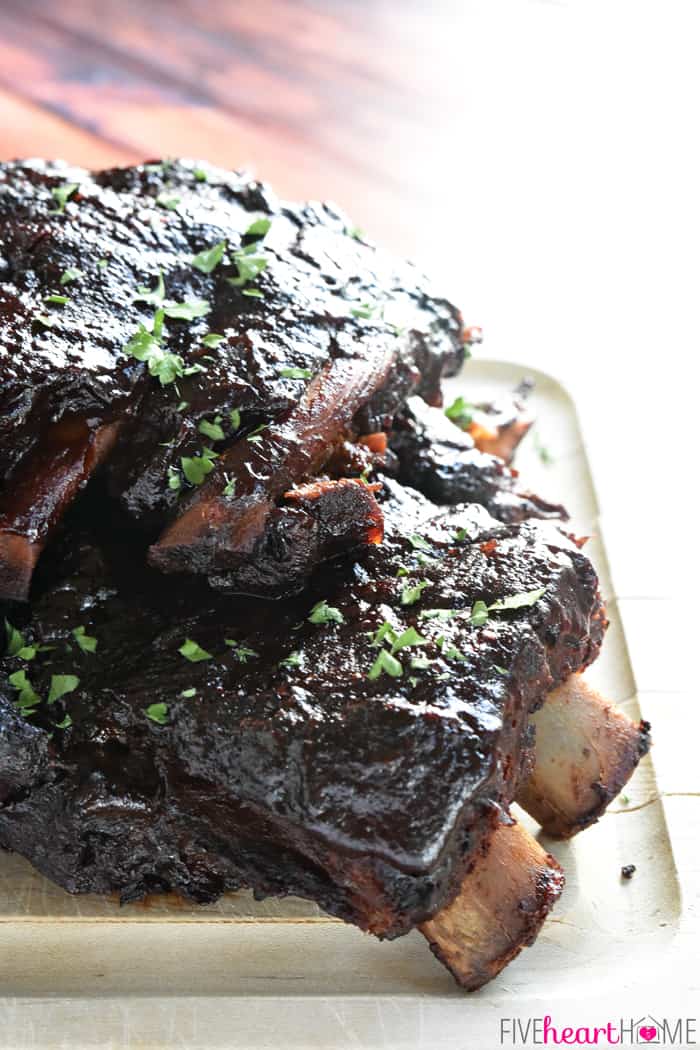 Ingredients
The ingredients are pretty standard and simple.
Baby back ribs. Ideally, you'll want 2 racks adding up to 5 to 6 total pounds.
A homemade spice rub. It's a little bit sweet and a little bit savory and a little bit smoky. And...
BBQ sauce. Either an amazing homemade version or your favorite, high-quality store-bought bottled sauce will do.
How to Make Crock Pot Ribs
The steps are so easy (and the outcome so delicious!), you'll hardly be able to believe it.
Rub a spice mixture over your baby backs.
Arrange them in the crock pot.
Pour barbecue sauce over the top.
Slow cook until they ribs are fall-apart tender. However, you don't want them to completely fall apart quite yet, because they key to making them taste like fresh-off-the-grill ribs comes in the final step...
Briefly broil and baste your ribs after they come out of the crock pot, which is where the sticky, saucy magic happens!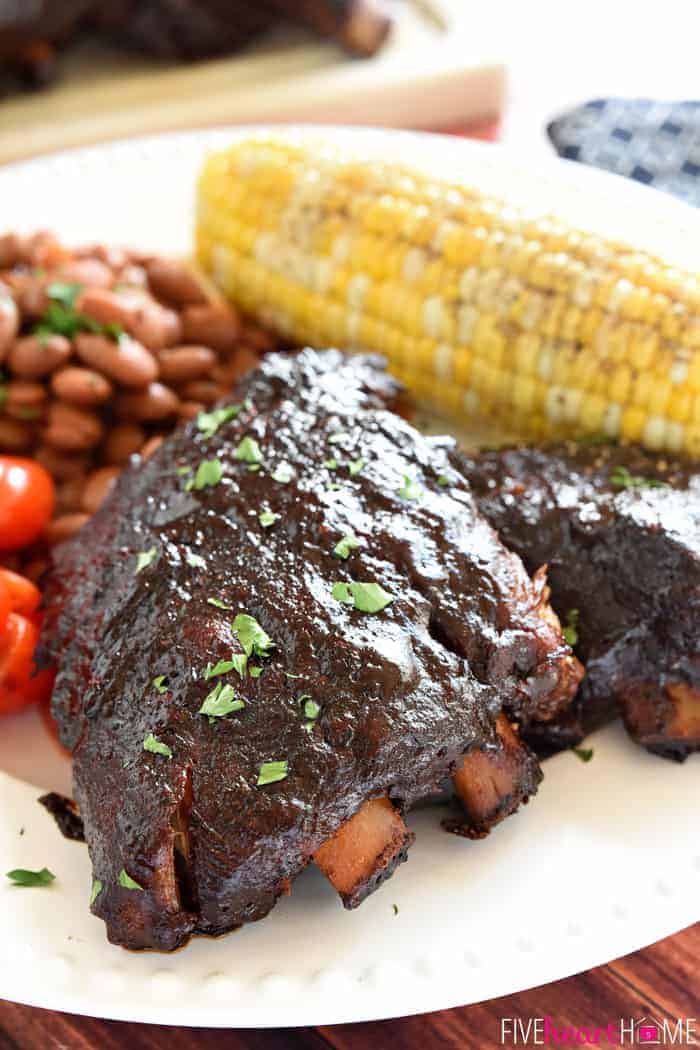 The Secret to Authenticity
I'd been cooking crock pot ribs for several years and they always turned out tender and tasty...but then I came across America's Test Kitchen's method of popping the ribs under the broiler before serving, which renders them sticky and caramelized like "real" ribs off the grill. That's when my Slow Cooker Baby Back Ribs went from good to spectacular!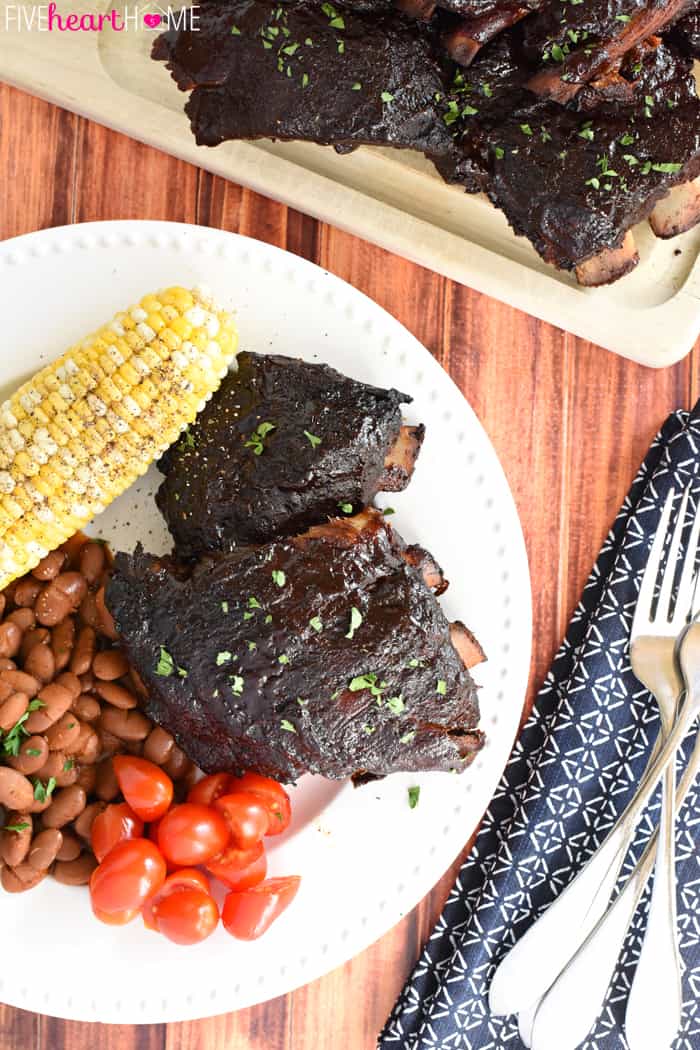 More Tricks for Success
I do a few things differently than ATK, however.
Rather than using liquid smoke, I like to impart my ribs with a grilled/smoky flavor using smoked paprika.
I also find that after full racks of ribs are slow cooked, they are too tender to handle, which means they pretty much fall apart when you attempt to transfer them to the baking sheet for broiling and flipping.
Therefore, I like to cut each rack in half before arranging it in the crock pot, since smaller racks are easier to wrangle with tongs without having everything fall to pieces.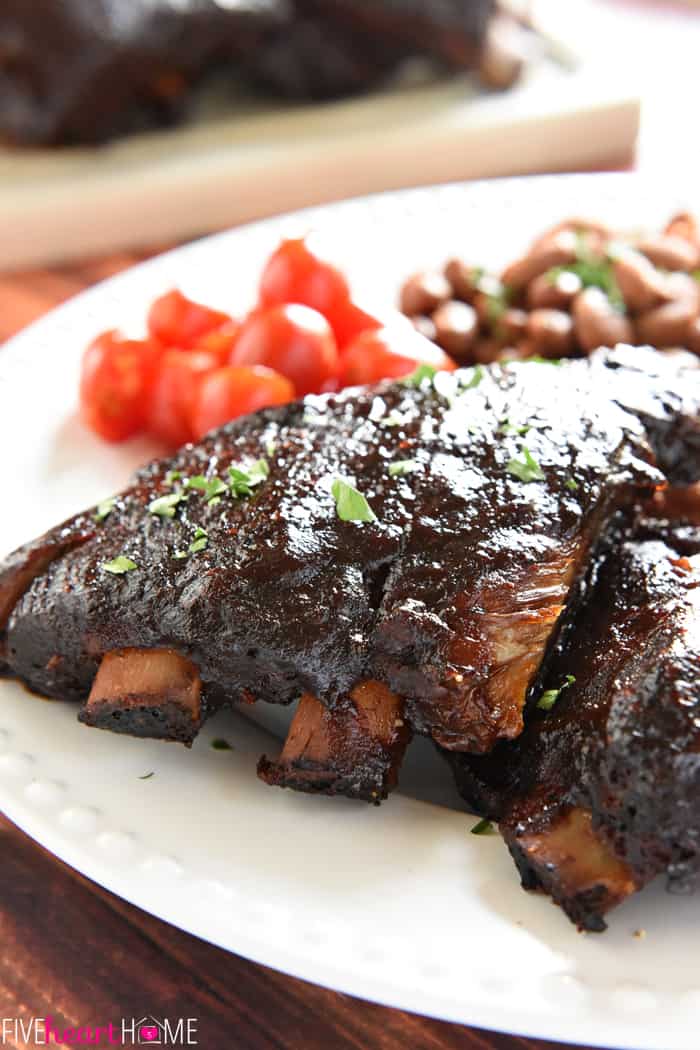 Seriously, how good do these Slow Cooker Baby Back Ribs look?! My husband and kids go crazy for them each time I make them, and I love getting such succulent results with such an effortless recipe.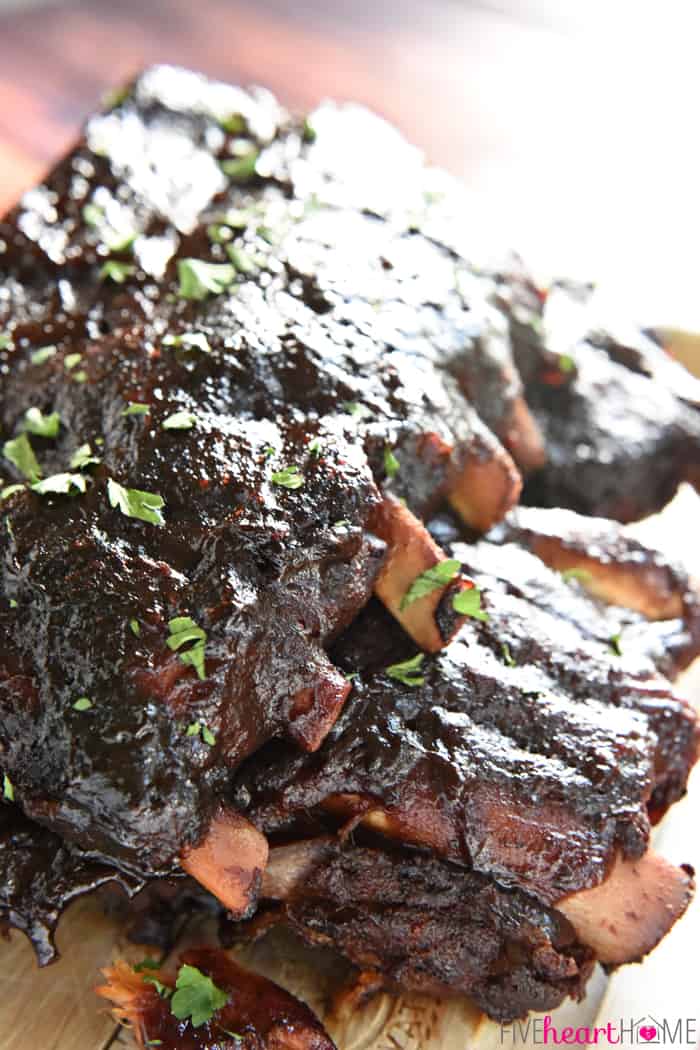 So the next time you're in the mood for ribs but don't feel up to tending the grill for hours on end, I hope you'll give this recipe a shot!
Crock pot ribs allow you to enjoy BBQ season year-round without ever having to fire up the grill.
They're moist, flavorful, and MESSY, just the way good ribs ought to be, but without all of the work.
I've said it before and I'll say it again...three cheers for the slow cooker!

Tasty Side Dishes For Your Crock Pot Ribs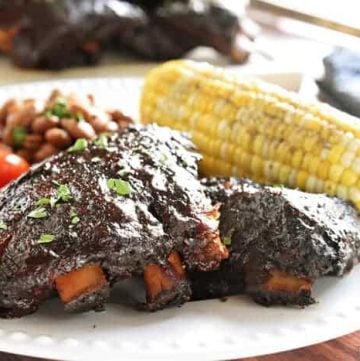 Slow Cooker Baby Back Ribs
Slow Cooker Baby Back Ribs are sticky, smoky, and fall-apart delicious...and nobody will ever believe that they're crock pot ribs!
Print
Pin
Rate
Servings:
6
to 8 servings
Ingredients
3

tablespoons

brown sugar

2

tablespoons

sweet paprika

1

tablespoon

smoked paprika

1

tablespoon

garlic powder

1

tablespoon

salt

1

tablespoon

freshly ground black pepper

1

teaspoon

dry mustard

½

teaspoon

cayenne

5 to 6

pounds

pork baby back ribs

,

cut in half

3

cups

of your favorite BBQ sauce
Instructions
In a small bowl, stir together brown sugar, sweet paprika, smoked paprika, garlic powder, salt, pepper, dry mustard, and cayenne. Rub the mixture all over the ribs on both sides, coating evenly.

Arrange ribs (standing up) along the walls of a large (6 ½- to 7-quart) slow cooker, with the wide ends down and the meaty sides of the ribs facing outward. Evenly pour BBQ sauce over the tops of the racks. Cover slow cooker and cook on LOW for 6 to 8 hours, until ribs are tender.

Position oven rack about 10 inches from the broiler element and preheat broiler. Line a large baking sheet with heavy-duty aluminum foil and place a wire rack on top. Spray with non-stick cooking spray.

Use tongs and a metal spatula to transfer ribs to the wire rack-topped baking sheet. Lay them meaty side-down and tent with foil; set aside.

Remove fat from the surface of the braising liquid with a large spoon. Strain liquid through a mesh strainer into a medium saucepan. Set over high heat, bring to a boil, and reduce to a simmer. Simmer until liquid is thickened and reduced to 2 cups, anywhere from 10 to 20 minutes. Season with salt and pepper, to taste (only if necessary).

Remove foil tent from ribs, brush with sauce, and broil for 4 minutes. Carefully flip ribs over, brush with additional sauce, and continue to broil for 9 to 12 minutes or until well-browned and caramelized, brushing with more sauce every few minutes.

Tent ribs with foil once more and allow to rest for 10 minutes before transferring to a cutting board and slicing. Serve with remaining sauce.
Notes
I cooked two 2 ½-pound racks of baby back ribs for this recipe. They were perfectly cooked after 6 ½ hours in the slow cooker on LOW.
My favorite method for removing fat from the surface of the braising liquid is by laying a paper towel on top. After it soaks up the fat, I quickly lift it out and repeat with another paper towel until most of the fat is gone. I've read that you can achieve the same results by laying a slice of bread on the surface, but I haven't actually tried that method yet. 😉
Calories:
739
kcal
|
Carbohydrates:
48
g
|
Protein:
47
g
|
Fat:
40
g
|
Saturated Fat:
14
g
|
Cholesterol:
164
mg
|
Sodium:
2354
mg
|
Potassium:
926
mg
|
Fiber:
2
g
|
Sugar:
38
g
|
Vitamin A:
2060
IU
|
Vitamin C:
0.6
mg
|
Calcium:
123
mg
|
Iron:
3.4
mg
Method adapted from America's Test Kitchen.
Originally published August 23, 2015.