With crunchy carrots, sweet and tart apples, dried cranberries, salty feta cheese, and a creamy dressing, this Carrot Apple Slaw is a refreshingly sweet and savory salad for summer!

It's May, y'all. MAY. And that means that after a flurry of teacher appreciation and field day and end-of-year parties, the school year will come to a close. And spring will give way to summer. And vacation time will be upon us. And I just don't know if I'm ready for the year to be almost halfway over!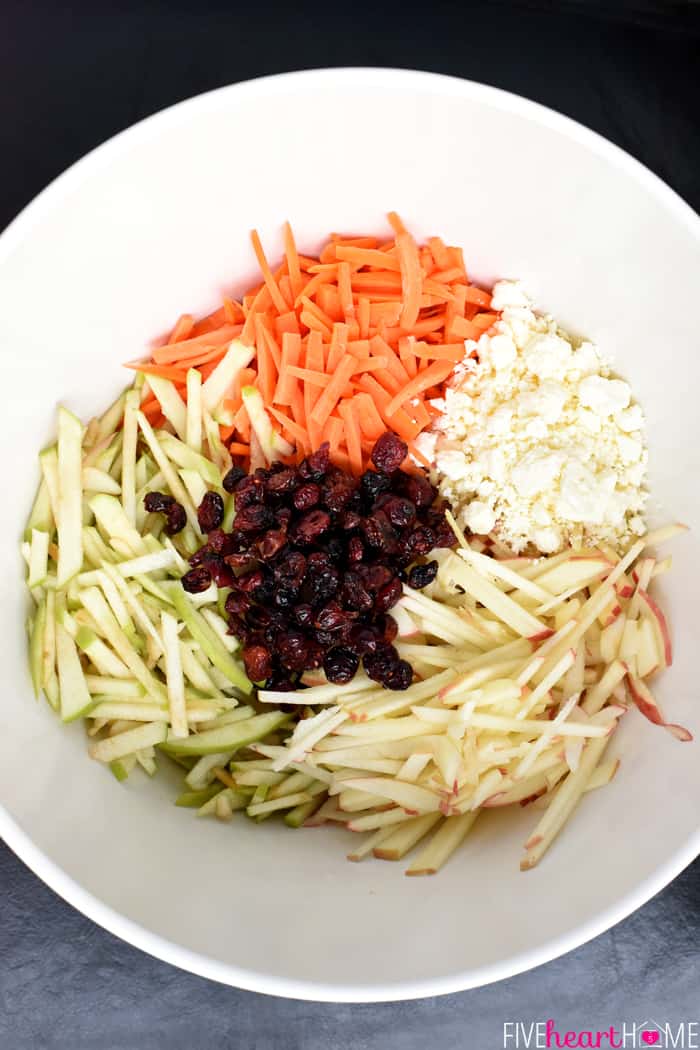 But, alas, I have no control over the lightning-quick speed at which life is zooming by. What I do have control over is how wholeheartedly I strive to enjoy it as it comes. And I have to admit…I do love me some summertime!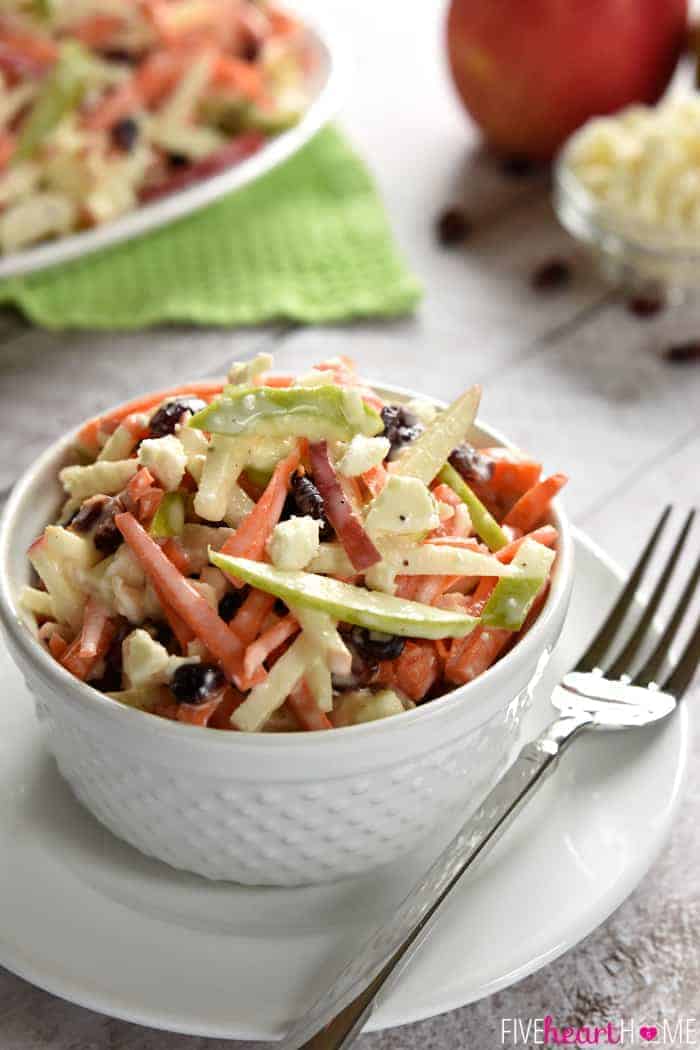 So with the kick-off to the summer season (AKA, Memorial Day weekend) just a few short weeks away, my mind is already turning to recipes involving grilling, fresh produce, ice cream, and salads…and at the moment, this Carrot Apple Slaw tops the list! Because if you need a special salad to complement just about any summertime entree, this sweet/tart/savory/crispy/creamy combo is IT.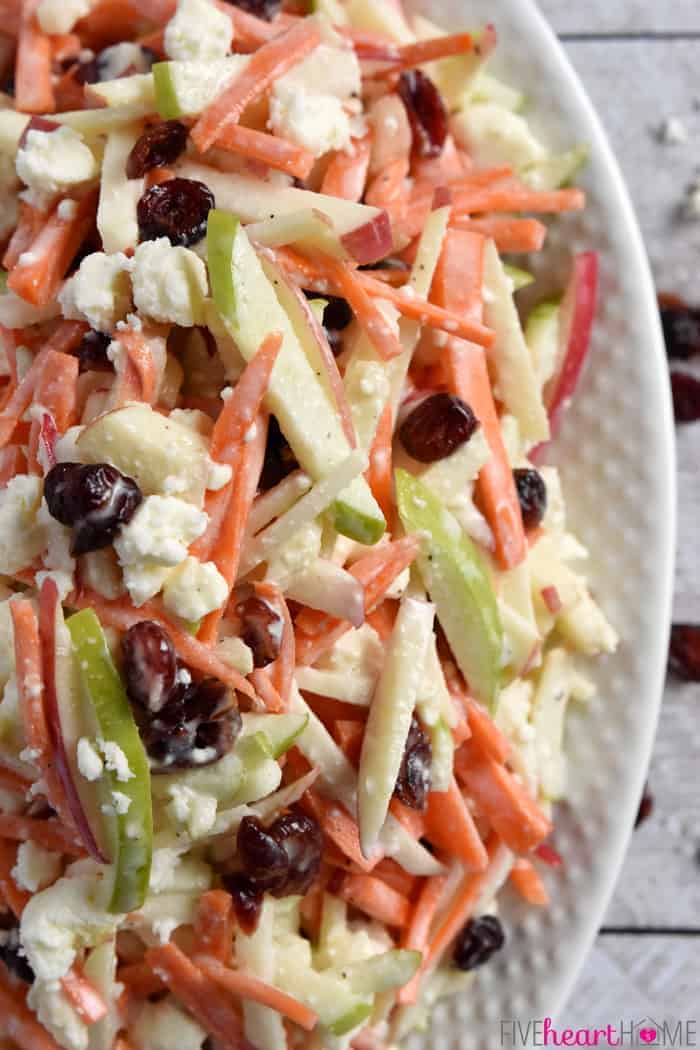 When I was growing up, my mom often made a carrot salad that had a creamy dressing and was peppered with raisins, pineapple tidbits, and marshmallows. Sounds weird, but it was actually pretty good. I recently pondered making a similar recipe for my own children, but then I wondered what it might be like to throw some apples in there instead of pineapple. After all, each of my kids enjoys raw carrots, and they're all obsessed with apples.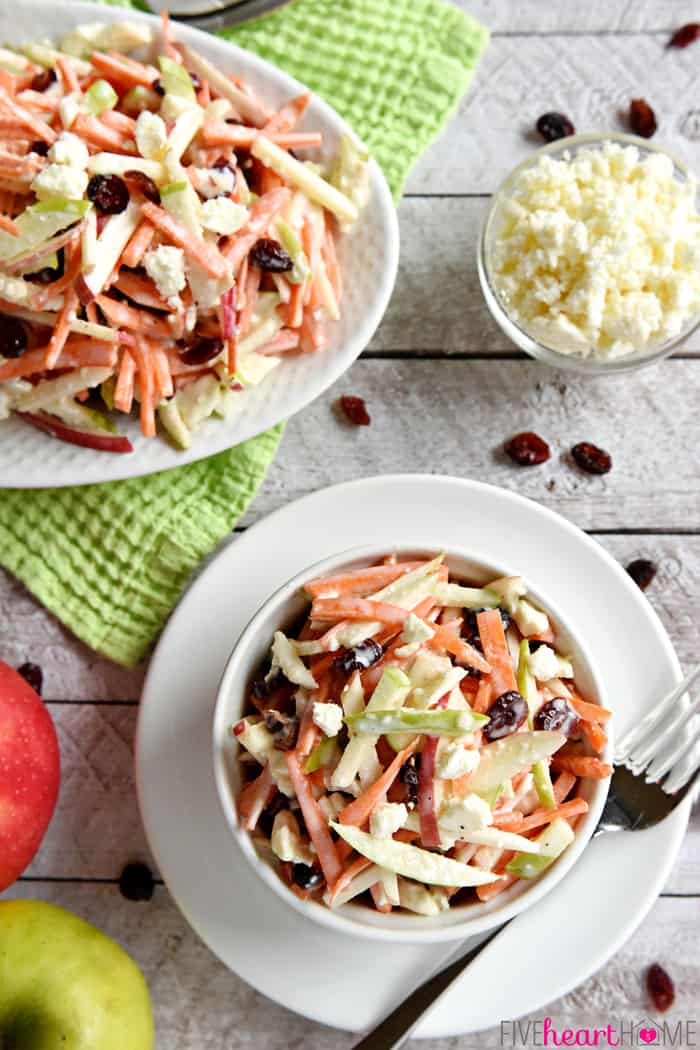 So I tossed some matchstick carrots into a bowl, julienned a sweet red (Honeycrisp) apple and a tart green (Granny Smith) apple, whipped up a quick, creamy dressing inspired by one of my recent chicken salad concoctions, and mixed everything up. Then, for good measure, I stirred in some sweetened dried cranberries and velvety feta cheese. I let everything hang out in the fridge for about an hour to soften the carrots a bit and allow the flavors to meld and…WOW! This is one tasty Carrot Apple Slaw.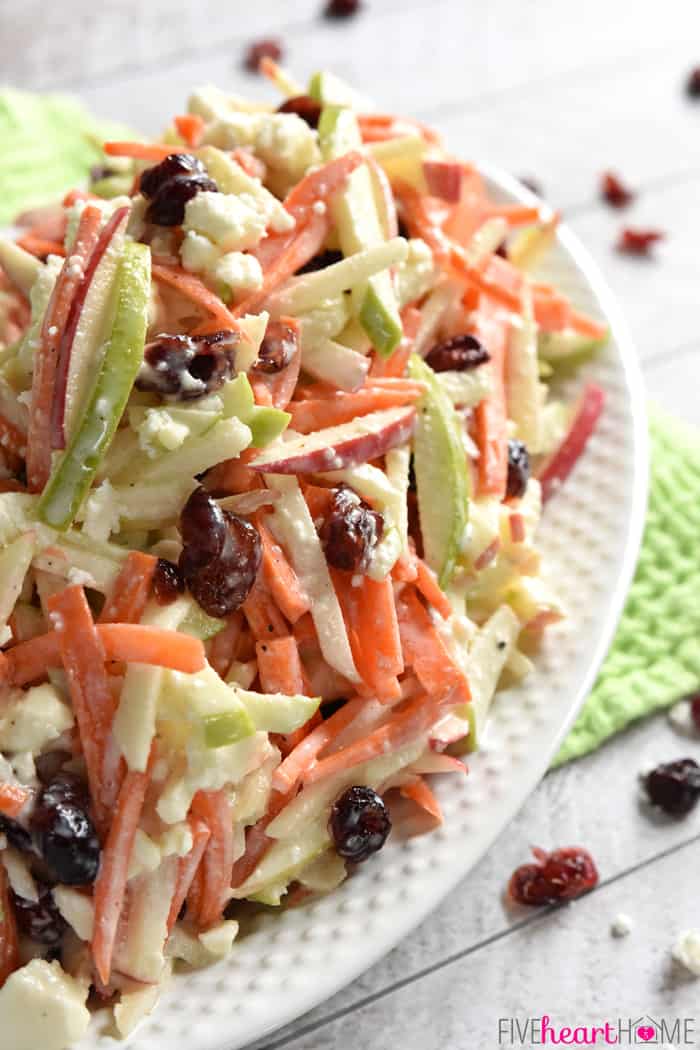 I think this recipe would be a fabulous substitute any time you might serve a traditional cole slaw…as a side dish to barbecue or grilled entrees, piled on top of a pulled pork sandwich, or as a serving of fruit and veggies for picky kids at lunch or dinnertime. Because let me tell you, my kids went crazy over this.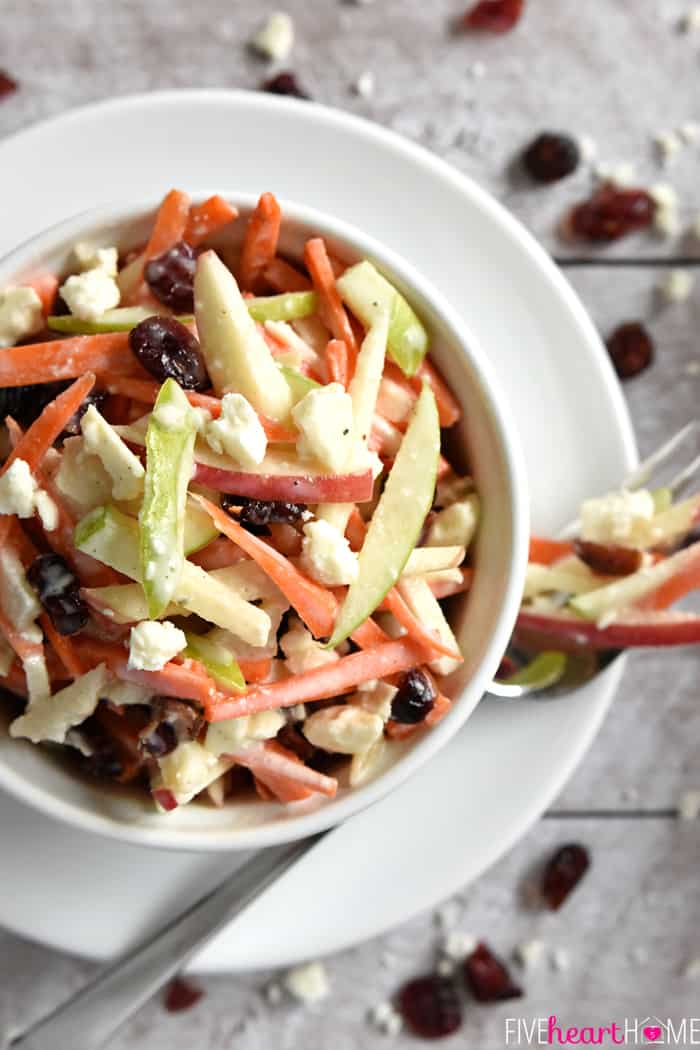 It has a little bit of everything, flavor- and texture-wise. The crunchy carrots soften the longer they sit in the dressing, but they still maintain a nice bite. I prefer using a sweet apple and a tart apple to get both flavors in there, but feel free to use your favorite variety. The dressing includes a bit of honey for sweetness and a splash of rice wine vinegar for tang. But I think the dried cranberries and feta cheese crumbles are the real stars of the show. The cranberries add a pop of flavor while the creamy feta cheese contributes the perfect balance of saltiness.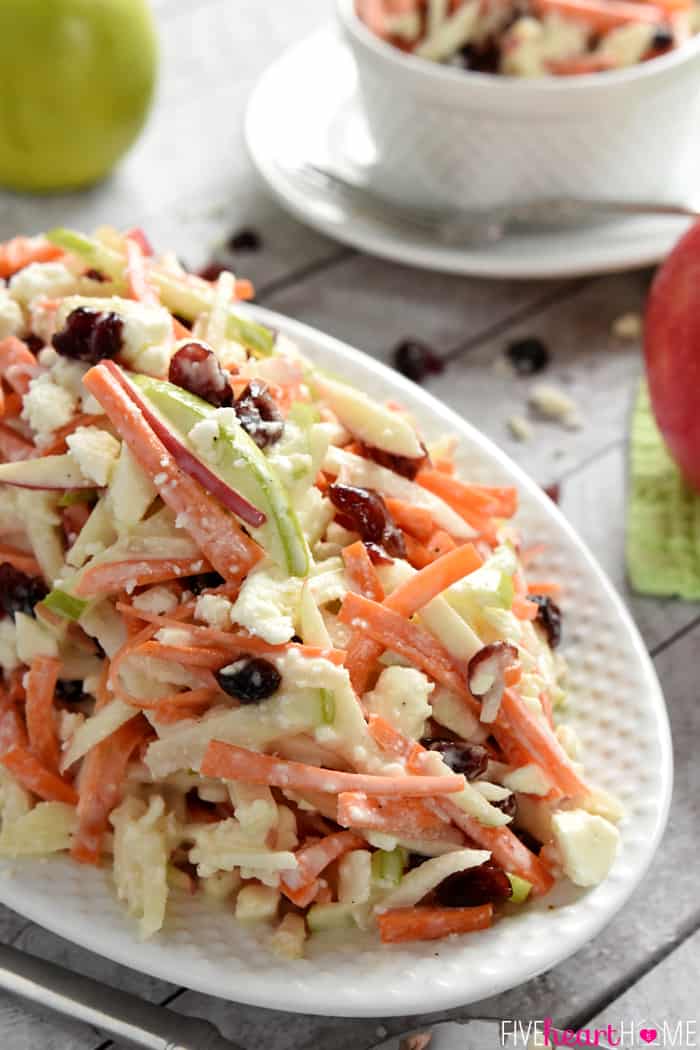 So the next time you need a unique, versatile salad or side dish that's sure to please, I hope you'll give this Carrot Apple Slaw a try. It's easy to make, it's bright and colorful, and it's oh-so-good!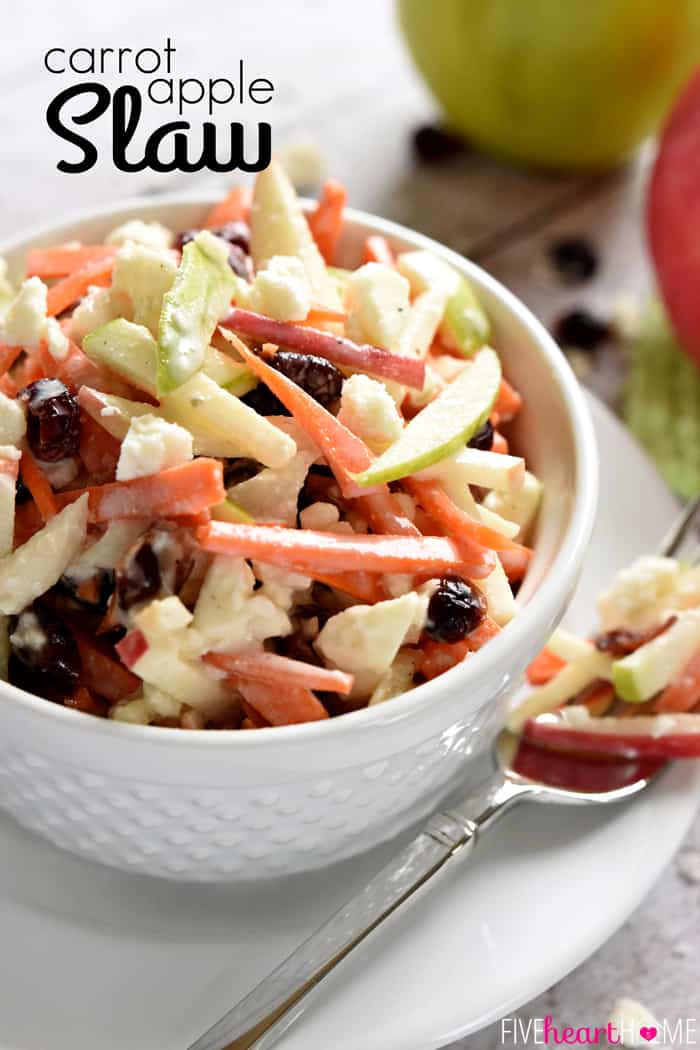 With crunchy carrots, sweet and tart apples, dried cranberries, salty feta cheese, and a creamy dressing, this Carrot Apple Slaw is a refreshingly sweet and savory salad for summer!
Ingredients
1 large sweet red apple
1 large tart green apple
1 tablespoon freshly-squeezed lemon juice
10 ounces raw matchstick carrots (about 3 cups)
1/3 cup mayonnaise
1/3 cup plain yogurt
2 tablespoons honey
2 teaspoons rice wine vinegar
Salt & freshly ground black pepper
3/4 cup crumbled feta cheese (about 3 ounces)
1/2 cup dried sweetened cranberries
Instructions
Core apples and cut into thin slices; cut slices into matchsticks (you should have around 3 1/2 cups julienned apples). Place in a large bowl and toss with lemon juice. Add carrots and stir to combine.
In a small bowl, whisk together mayonnaise, yogurt, honey, rice wine vinegar, and salt and pepper, to taste. Pour over apple/carrot mixture and stir to coat. Mix in crumbled feta cheese and dried cranberries. Taste and adjust seasonings, adding more salt and pepper, if necessary. Refrigerate for at least 30 minutes to an hour to allow the flavors to blend, or longer if you prefer softer carrots and apples. If a bit of liquid accumulates at the bottom of the bowl, serve using a slotted spoon.
Notes
You may use all yogurt or all mayonnaise if you prefer, but realize that doing so will slightly affect the flavor of the dressing.
Same thing goes for the honey...tweak it up or down depending on how sweet you prefer your slaw.
You can typically buy pre-cut matchstick carrots in the produce section of the grocery store. Try to cut your apples about the same size.
https://www.fivehearthome.com/carrot-apple-slaw-carrot-apple-salad-recipe-cranberries-feta/
https://fivehearthome.com ~ All recipes and images on Five Heart Home are copyright protected. Please do not use without my permission. If you would like to feature this recipe, please rewrite the directions in your own words and give proper attribution by linking back to this blog.
Adapted from Weight Watchers
More summer-y salads…
Tomato Cucumber Pasta Salad with Avocado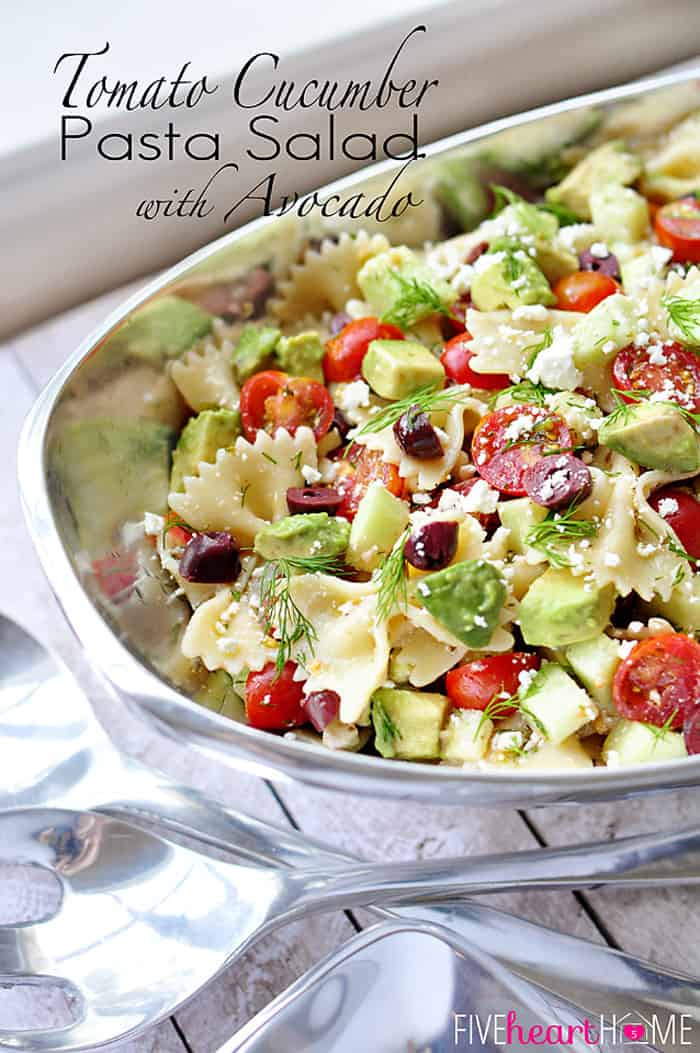 Red, White, & Blue Watermelon Salad with Watermelon Vinaigrette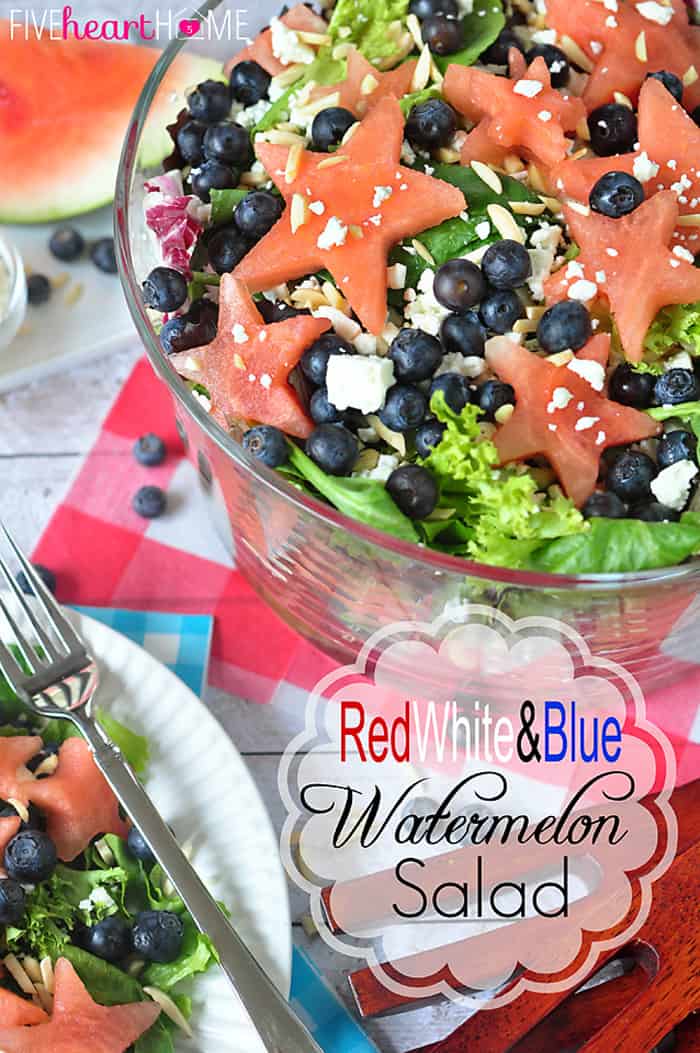 Spring Salad with Mixed Berries, Candied Almonds, & Honey Citrus Vinaigrette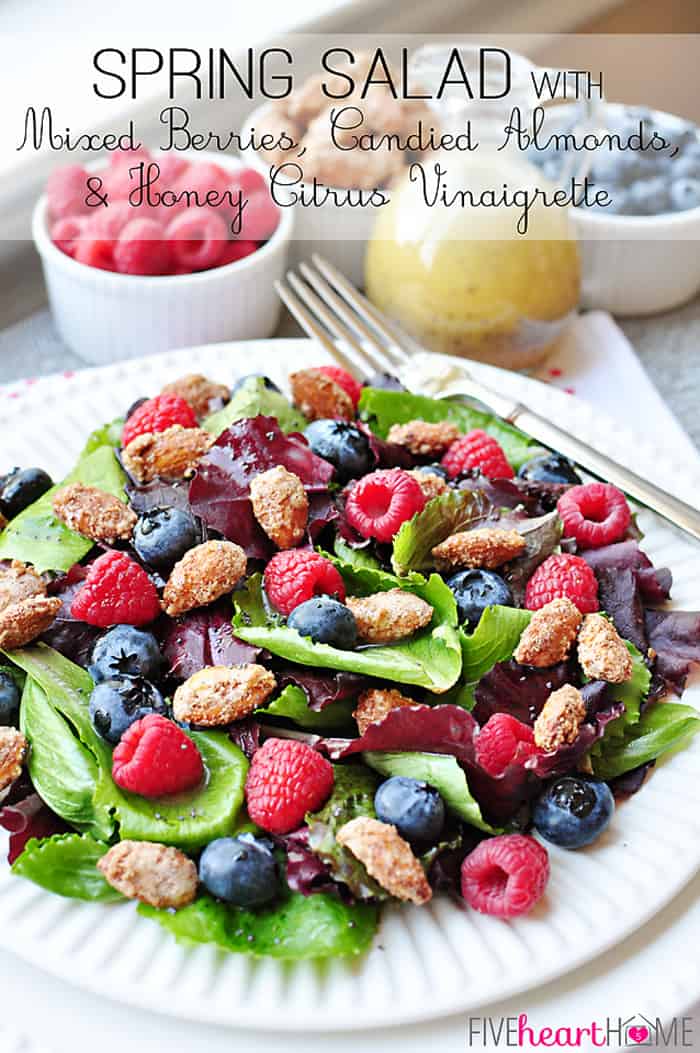 Homemade Italian Salad Dressing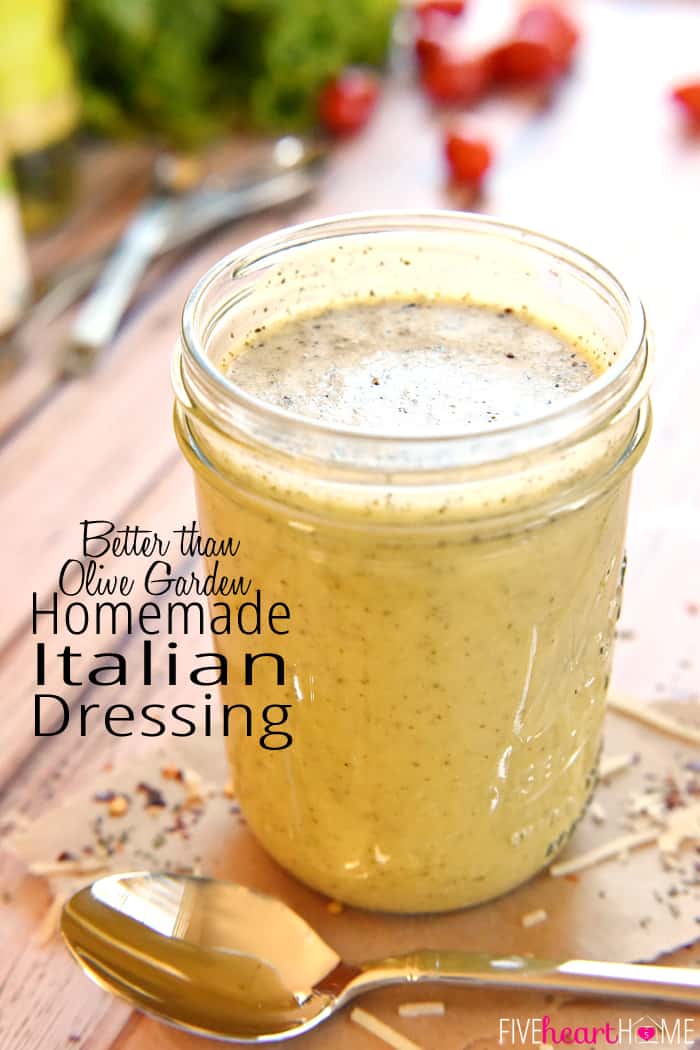 Tortellini Pasta Salad with Tomatoes, Basil, & Fresh Corn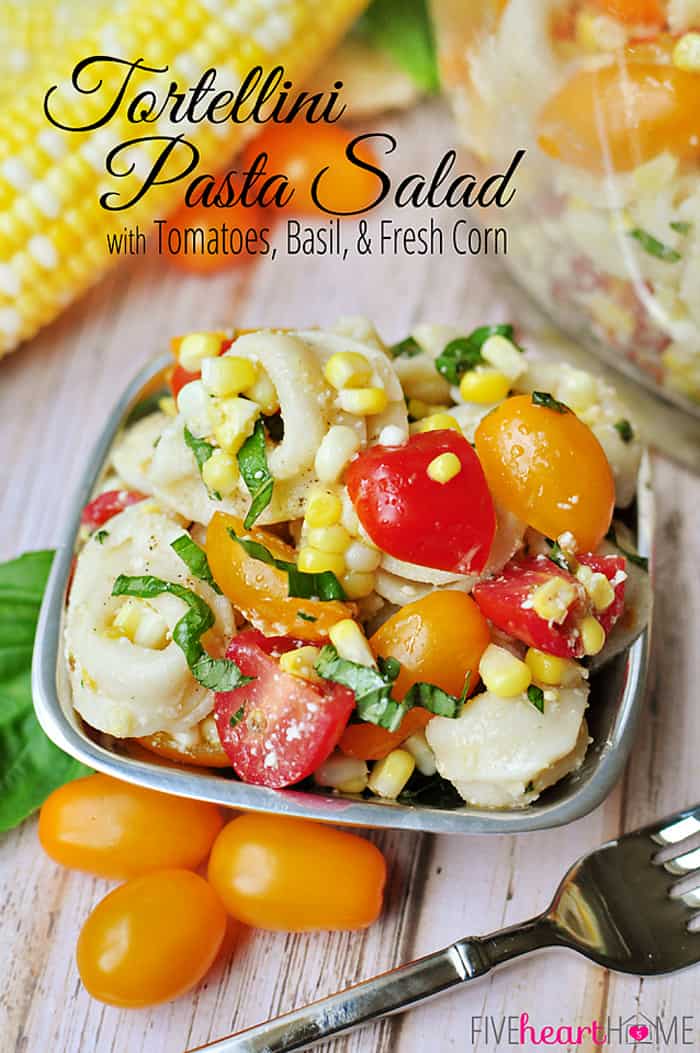 111