Brimming with fruit and nuts, Chicken Salad with Apples & Cashews is a honey-kissed, autumn spin on the ever-popular Sonoma Chicken Salad.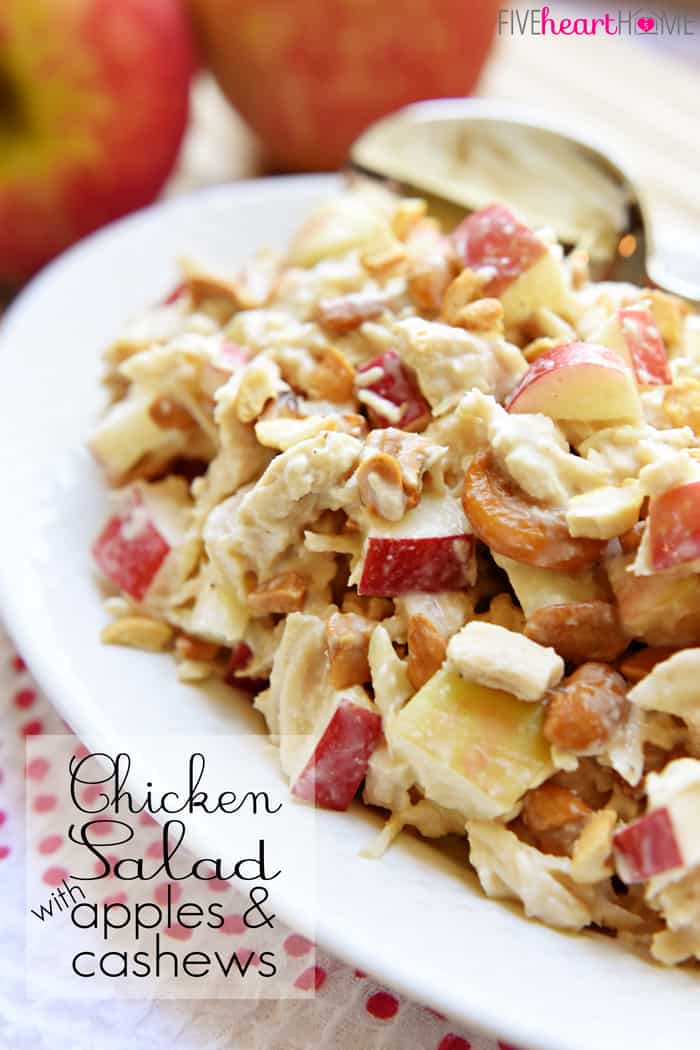 Every time I make chicken salad, I wonder why I don't do so more often. I absolutely love the stuff. And as much as chicken salad has the reputation for being a "ladies who lunch" kind of recipe, I have to say that my kids and my husband scarf it down, too. In fact, my boys straight up cheer when they hear that it's on the menu.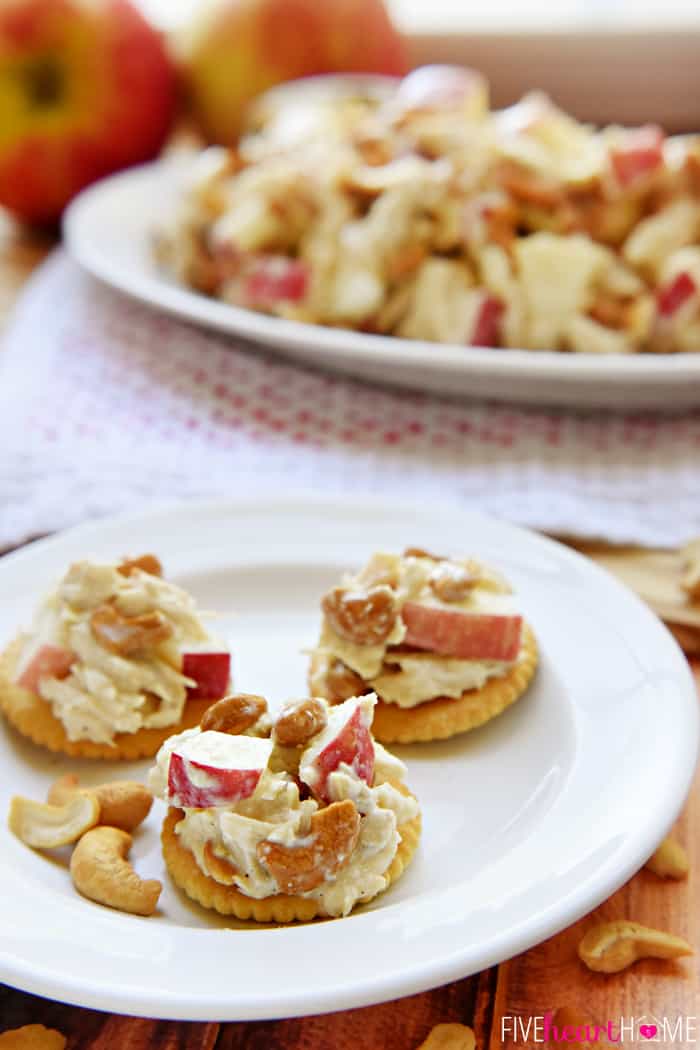 So today's recipe is the result of me deciding to shake things up a bit in regards to my family's beloved, all-time favorite Sonoma Chicken Salad. I've never met a chicken salad I didn't like, but slightly-sweet and loaded-with-fruit-and-toasted-nuts is my favorite variation. And while I typically serve chicken salad in the spring and summer, why not give it a fall twist in order to enjoy it for a few months longer?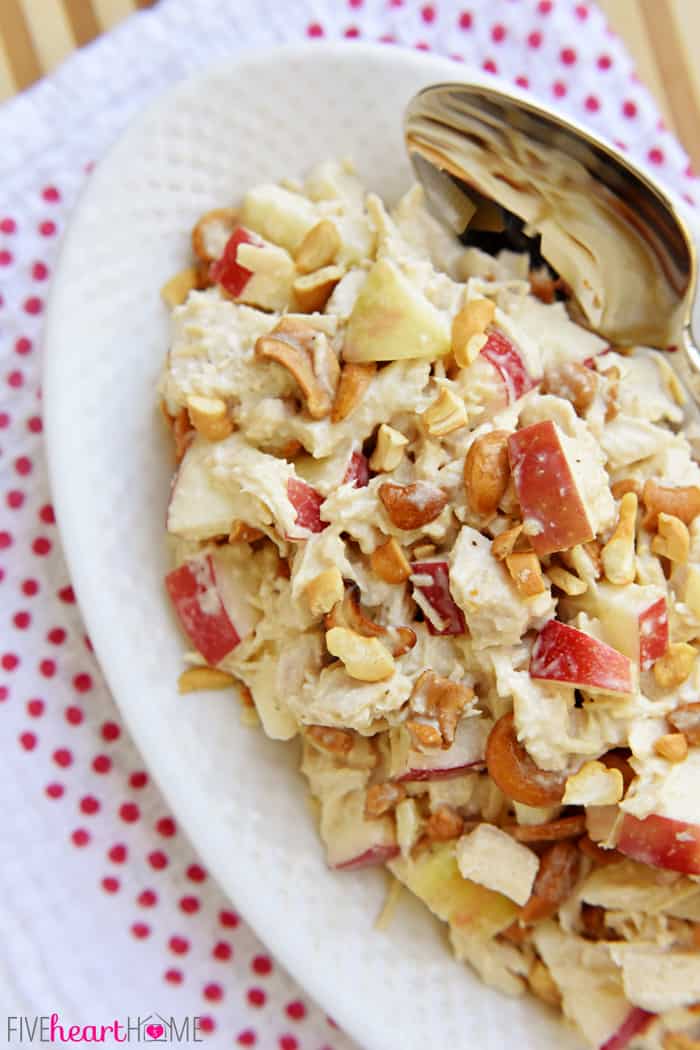 My old standby chicken salad is embellished with dried cranberries and toasted pecans. To make any recipe seasonal for October, I bet we can all guess which fruity flavors come straight to mind! But since I wasn't sure how pumpkin chicken salad would go over, I opted for dicing up some juicy, sweet-tart apples instead (and if a more delicious apple exists on the face of this earth than a Honeycrisp, somebody please show me the light).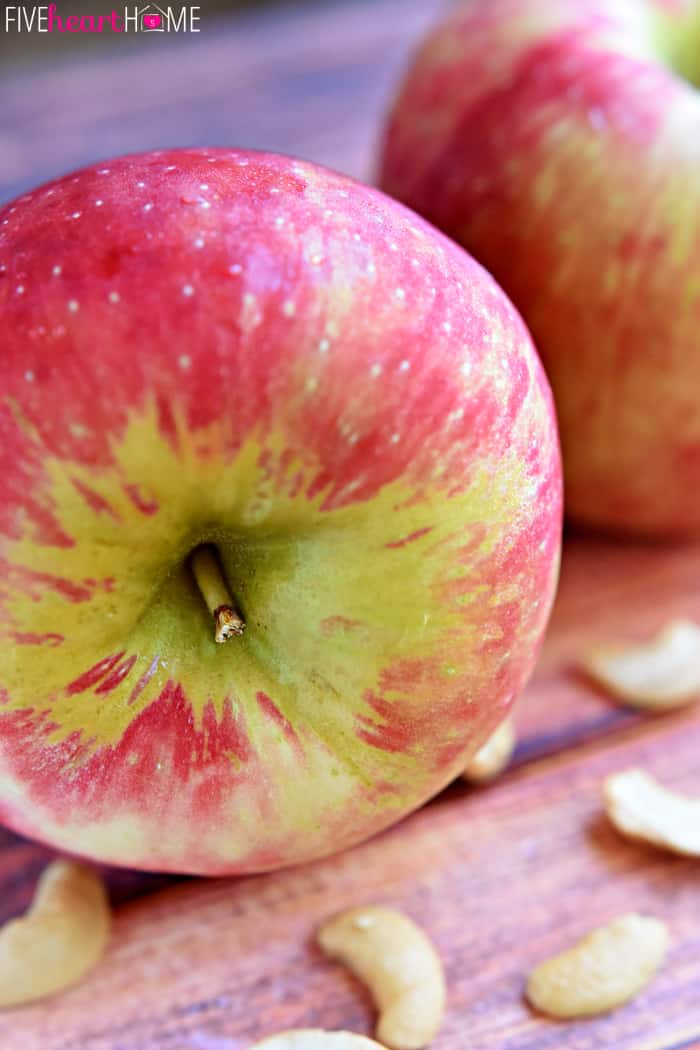 And then it was time to debate on the choice of nuts. While you can never go wrong with the mighty pecan (which happens to be the state nut of Texas...and that's puh-CAHN, y'all), I decided to swap it out to further differentiate this chicken salad from a Sonoma version. I considered walnuts or almonds. But then I spied a giant tub of my most favorite nut ever -- cashews, which I hide from myself in the freezer keep on hand for making big batches of granola. And I knew I had the perfect counterpoint for my crispy apples!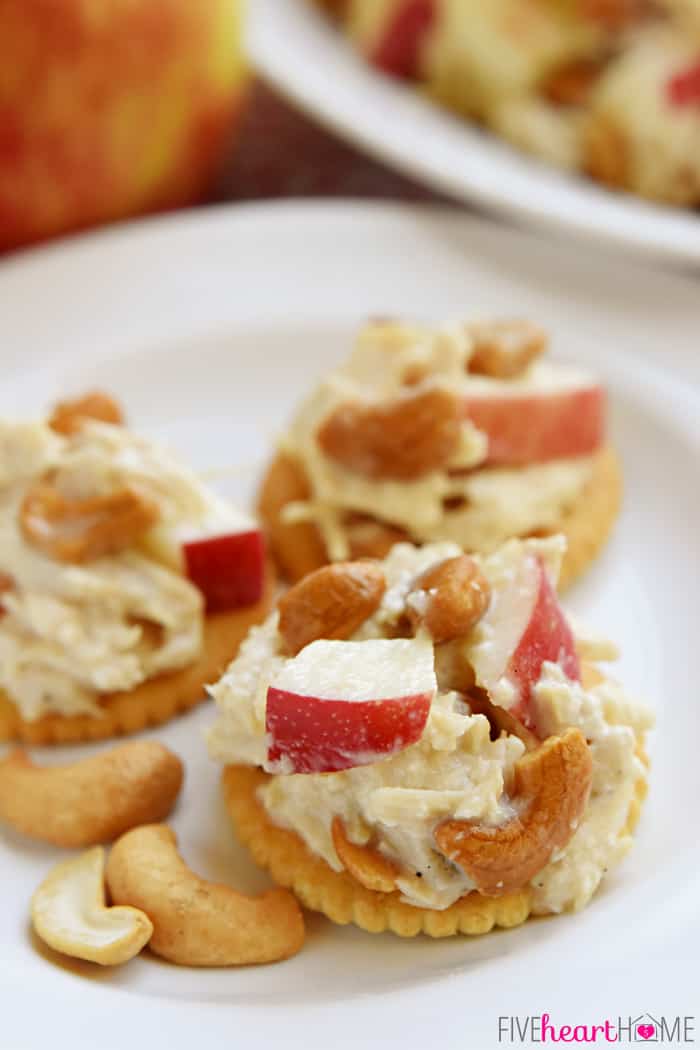 One final note regarding the nuts and then I promise to move on. I always think that toasting nuts not only enhances their flavor but also helps them to stay crunchy in any recipe that holds a lot of moisture, such as chicken salad. So for me, it's well worth popping them in the oven for a few minutes while prepping the other ingredients. But if you're short on time or don't feel like firing up the oven, feel free to live on the edge and skip the toasting! (You wild and crazy thing, you.)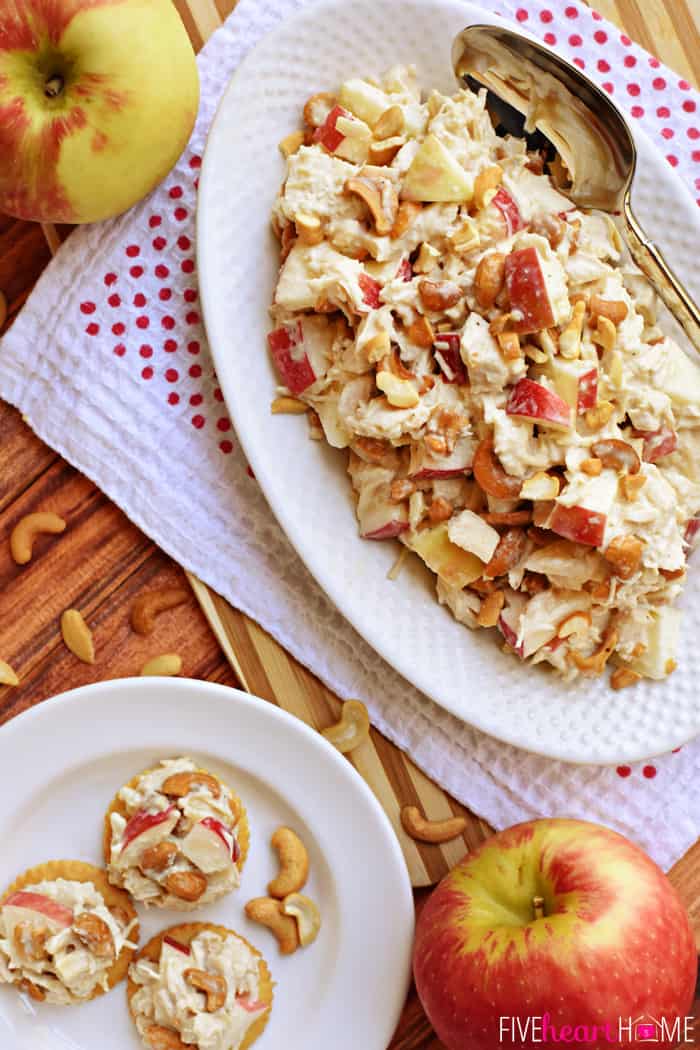 As for the remainder of this recipe, it's pretty standard chicken salad ingredients, folks. Use your favorite method to cook the chicken, whether that's poaching, roasting, slow cooking in the crock pot, or pulling it from a rotisserie chicken. Shred it or dice it, depending on your desired chicken salad texture. You can bind everything together with mayonnaise, or lighten things up a bit by subbing Greek yogurt for half of the mayo. And while I feel that the honey is key to this type of fruity chicken salad, feel free to tweak it to your tastes, adding more or less depending on how sweet you prefer your dressing.
Perfect for a baby or bridal shower or simple and delicious for lunch or dinner, this Chicken Salad with Apples & Cashews is a fun, fall twist on a perennial classic. Now if you'll excuse me, there are leftovers in the fridge and I'm feeling the urge for a midnight snack... 😉

More Tasty Sandwiches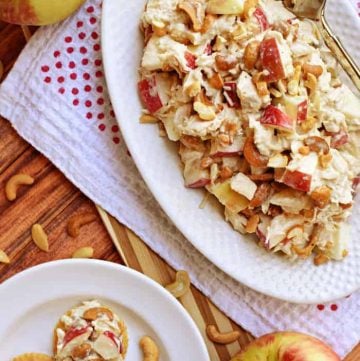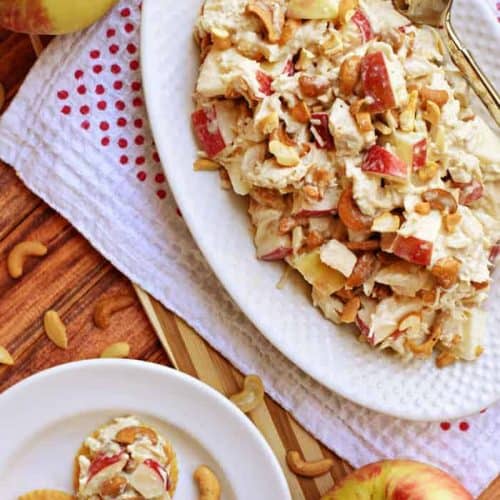 Chicken Salad with Apples & Cashews
Brimming with fruit and nuts, Chicken Salad with Apples & Cashews is a honey-kissed, autumn spin on the ever-popular Sonoma Chicken Salad.
Print
Pin
Rate
Ingredients
1/2

cup

mayonnaise

1/2

cup

Greek yogurt

1

tablespoon

apple cider vinegar

1/4

cup

honey

Salt & freshly ground black pepper

,

to taste

1

cup

salted cashew halves & pieces

1 1/2

pounds

(about 4 cups) diced or shredded chicken

2

cups

diced apples

,

such as Honeycrisps
Instructions
In a large bowl, whisk together mayonnaise, Greek yogurt, apple cider vinegar, honey, salt, and pepper until thoroughly combined. Cover and refrigerate until ready to use, for up to two days.

Preheat oven to 350°F. Spread out cashew pieces on a baking sheet and bake for 5 to 10 minutes or until light golden brown, watching carefully. Allow to cool.

To the bowl of dressing, add diced chicken, toasted cashews, and diced apples. Refrigerate for at least an hour to chill and allow the flavors to blend.
Notes
You may substitute regular plain yogurt for the Greek yogurt, but it may make your dressing slightly thinner. You may also use all mayonnaise and no yogurt if you prefer.
You may cook chicken using your favorite method (or use rotisserie chicken or leftover cooked chicken). Seasoned chicken (using at least salt & pepper) will give your chicken salad more flavor. You may dice it or shred it depending on your preferred chicken salad texture.
Calories:
510
kcal
|
Carbohydrates:
25
g
|
Protein:
34
g
|
Fat:
31
g
|
Saturated Fat:
6
g
|
Cholesterol:
94
mg
|
Sodium:
213
mg
|
Potassium:
477
mg
|
Fiber:
2
g
|
Sugar:
18
g
|
Vitamin A:
80
IU
|
Vitamin C:
1.9
mg
|
Calcium:
42
mg
|
Iron:
3
mg