With the first day of school on the horizon, my meal planning has turned from dinners on the grill back to the offerings of my trusty, effortless slow cooker.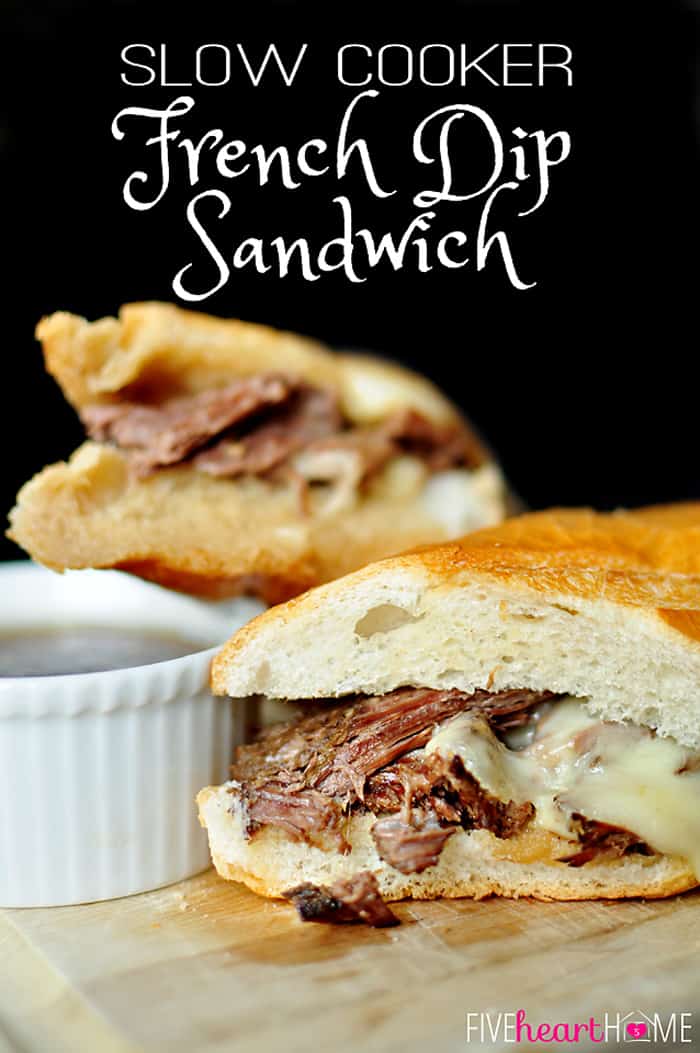 And with recipes like this one, I'm not even sad.
There's no question that a crock pot is ideal for cooking roast. But if you want to take that same cut of beef and branch out a bit from the ordinary, French dip sandwiches are the way to go.
You'll hardly believe that such a simple recipe can yield such a flavorful outcome. It doesn't get any easier than this, folks. Mix together a few ingredients that will end up serving as the "dip" in your French dip. Then plop in your roast, slow cook all day, and serve the succulent, falling-apart beef on a toasty baguette with plenty of provolone cheese melted over the top and, of course, a generous crock of the cooking broth on the side.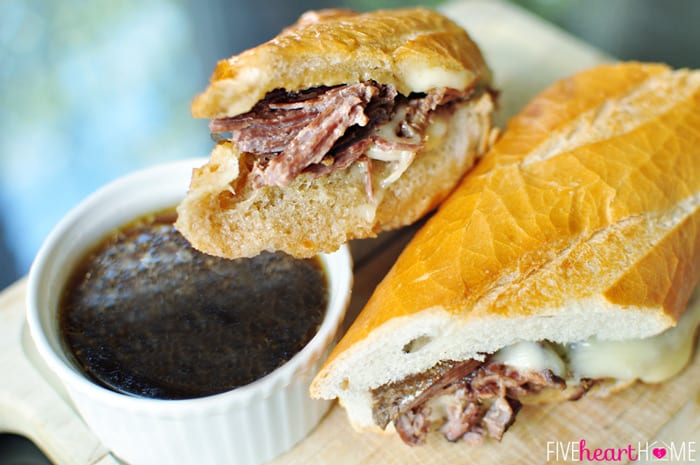 Bear with me for a moment, but when the crunchy bread soaks up that deep, savory beef broth, I'm reminded of the episode of Friends when Ross' leftover Thanksgiving turkey sandwich gets stolen out of the refrigerator at work. He is highly upset because he doesn't get to enjoy his once-a-year sandwich with its piece of gravy-soaked bread in the center dubbed "the moistmaker."
Well, this French dip sandwich has a moistmaker as well and it's the jus, which is just the fancy French term for the juices/gravy that the meat was cooked in. Nobody would ever be able to guess that the depth of flavor of this jus is thanks to dark beer. I promise that the final result tastes nothing like beer, so don't let that scare you away. As for the beef broth component of the jus, I use one of my favorite secret ingredients: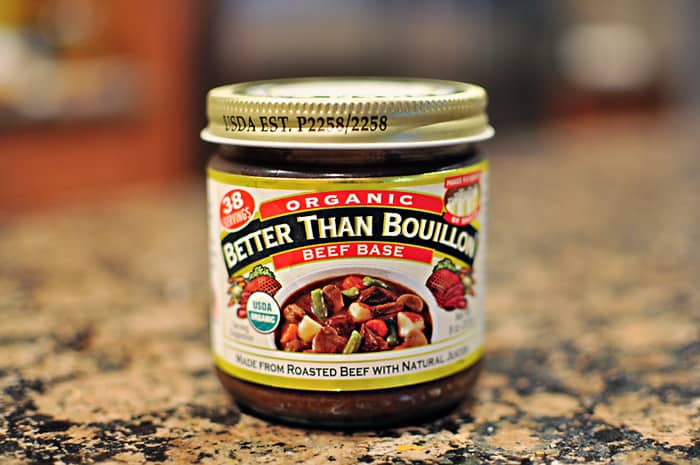 As if the Friends episode wasn't off-topic enough, allow me to go off on another brief tangent to share with you this favorite pantry staple of mine. I use this beef base all the time in gravies, sauces, soups, stews, beans, etc. If you've ever read the back of a jar of standard chicken or beef bouillon granules or cubes, you might be alarmed to find that its ingredients aren't exactly straightforward. So I was thrilled to find this substitute, the organic version of which contains only ingredients that I am actually able to spell and pronounce. One jar of this stuff goes a long way. I always keep jars of BTB chicken, beef, and vegetable base handy in my fridge (I believe they make a turkey flavor, too), and I use them regularly. However, it should be noted that, like bouillon granules or cubes, this bouillon paste is pretty salty, so I typically find that additional salt is unnecessary when I use it. And no, I am not being compensated to rave…I just love this stuff. 😉
And now back to your regularly scheduled recipe…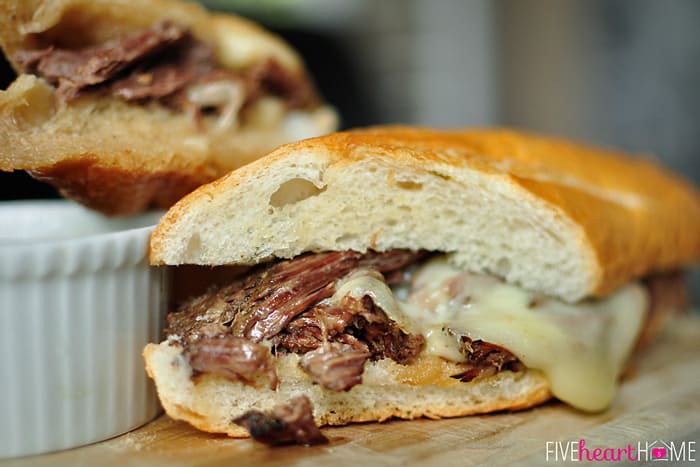 The bottom line is that this recipe is quick and easy to throw together, and it receives rave reviews from every member of our household, from the baby to the picky preschooler to the grown-ups. So as life gets crazy once more with the beginning of a new school year, do yourself a favor and dust off the ole' crock pot. And when you do, be sure to try this recipe! You just can't beat coming home and having dinner waiting on you, especially when it's as mouthwatering as this one.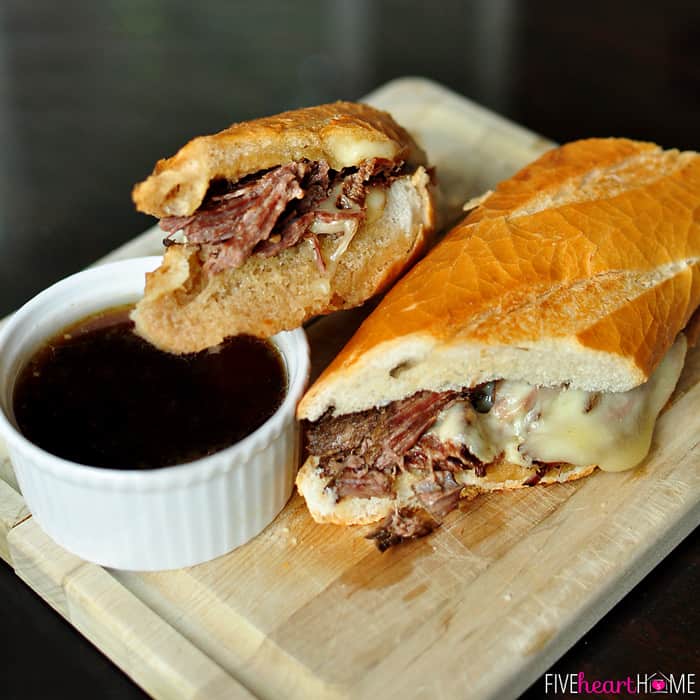 Slow Cooker French Dip Sandwich Au Jus
This succulent beef if slow cooked in a flavorful broth and served on toasty rolls with melted cheese and extra broth for dipping.
Ingredients
3-pound beef roast (choose a well-marbled cut such as a chuck roast)
1 (12 ounce) bottle of dark beer
2 cups beef broth
2 tablespoons minced garlic
1 tablespoon Worcestershire sauce
1 teaspoon garlic powder
1 teaspoon onion powder
1 teaspoon dried thyme
Freshly ground black pepper, to taste
French baguette, French rolls, hoagie rolls, or other crusty bread for serving
Slices of provolone, Swiss or mozzarella cheese
Instructions
Trim excess fat off of roast and place in a large slow cooker. Add all of the remaining ingredients to the slow cooker and cook on low for 8 to 10 hours or longer (the longer, the better).
Split open your rolls (and spread with butter, if desired). Heat in a toaster oven until toasted or bake in a regular oven set to 350°F until warm and toasty (about 10 minutes).
Slice meat across the grain and pile on top of toasted rolls. Place slices of cheese over the meat and put in the toaster oven or under the broiler for a couple of minutes until melted.
Serve hot sandwich with a small bowl of reserved cooking juices (jus) for dipping.
Notes
I use Shiner Bock for my dark beer.
Since the type of beef broth that you use can dictate the saltiness of the dish, taste at the end of the cooking time and add more salt, if necessary.
I like to use fresh minced garlic in most recipes, but since crock pot recipes cook for so long, I find that jarred minced garlic (the kind that must be refrigerated) works great.
I try to flip my roast over halfway through the cooking time, but it's not necessary if you're not home.
https://www.fivehearthome.com/slow-cooker-french-dip-sandwich-au-jus/
https://www.fivehearthome.com ~ All recipes and images on Five Heart Home are copyright protected. Please do not use without my permission. If you would like to feature this recipe, please rewrite the directions in your own words and give proper attribution by linking back to this blog.
Adapted from AllRecipes.
More quick, easy, and delicious crock pot suppers…
Slow Cooker Root Beer Pulled Pork Sandwiches with Creamy Broccoli Slaw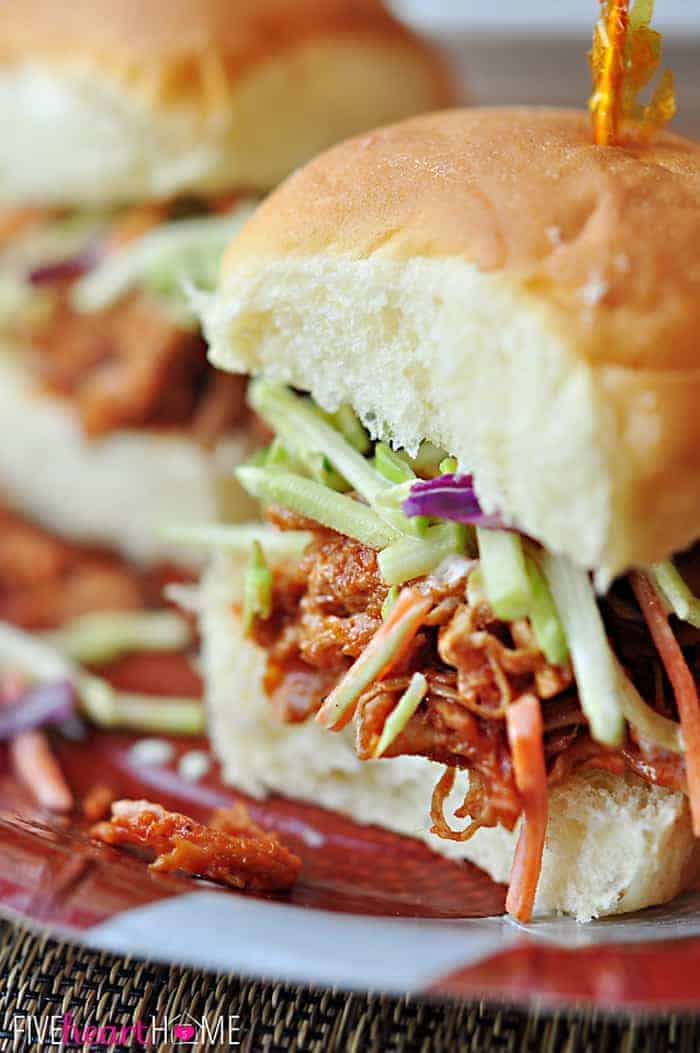 Slow Cooker Meatball Submarine Sandwiches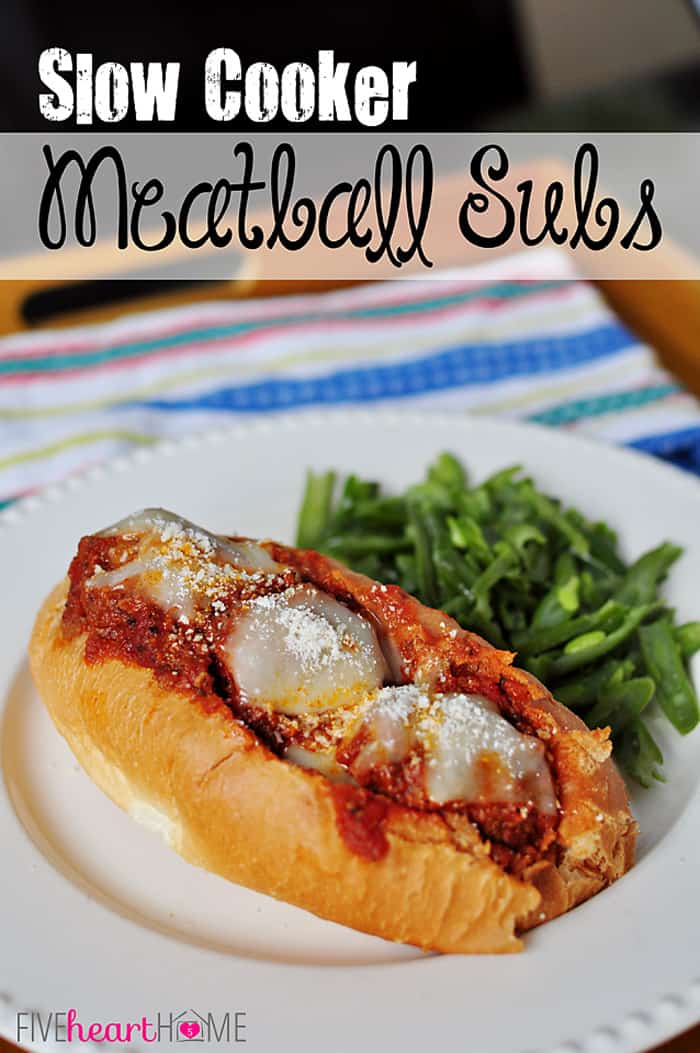 Slow Cooker Beef Stroganoff (with NO 'Cream of X' soup!)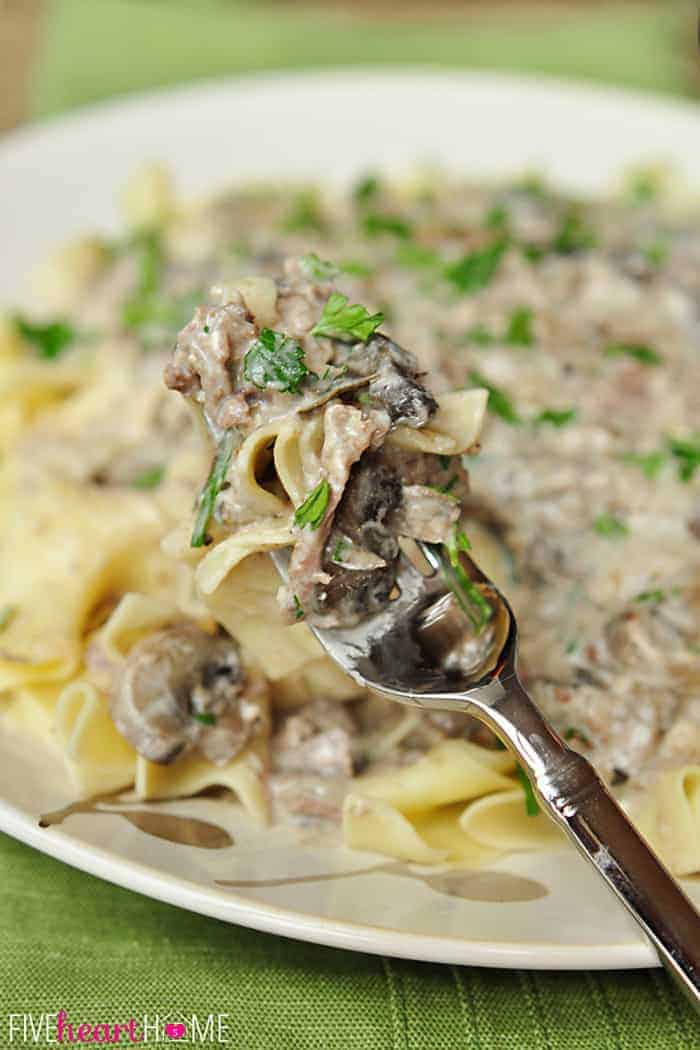 Slow Cooker Chicken & White Bean Chili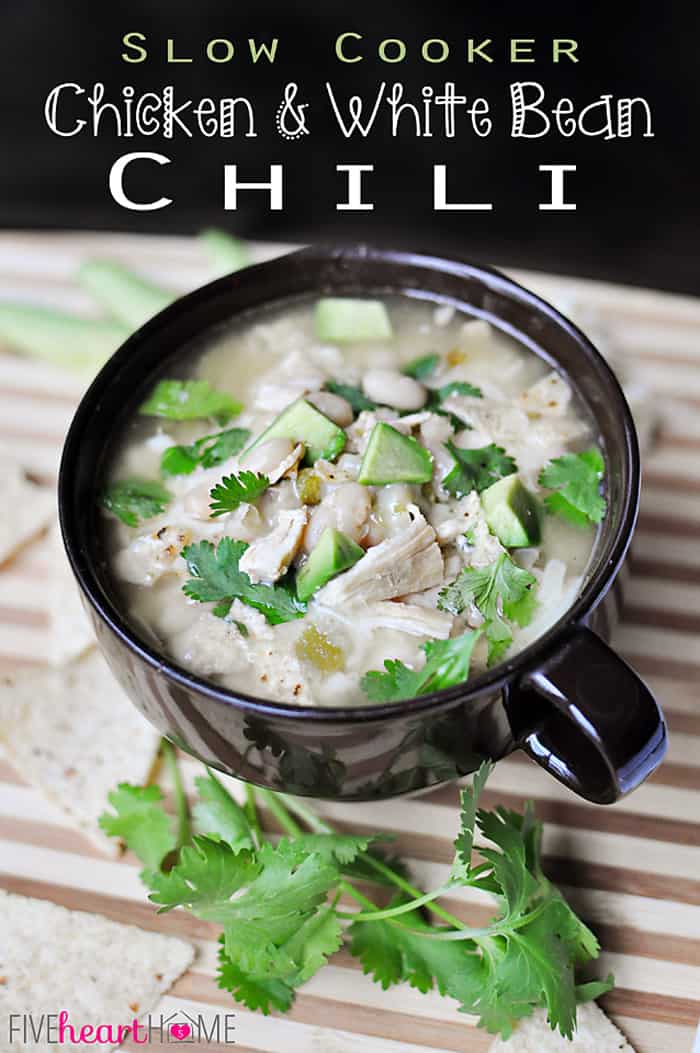 Slow Cooker Honey Balsamic Pork Loin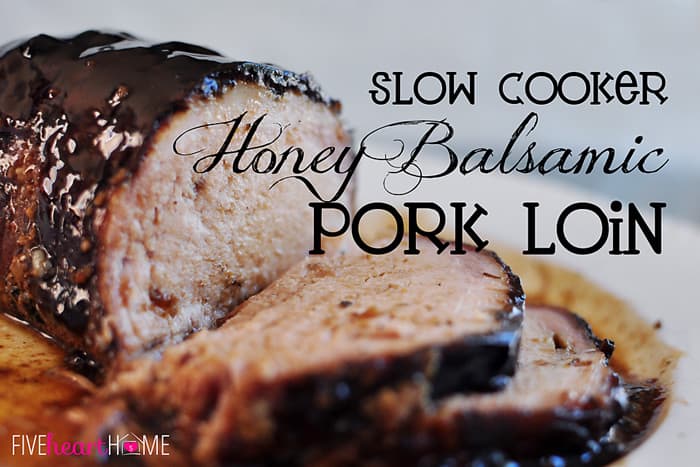 Save
265