The bold flavors of Buffalo wings come alive in this zippy, creamy, easy-to-whip-up Slow Cooker Buffalo Chicken Soup...perfect for game day!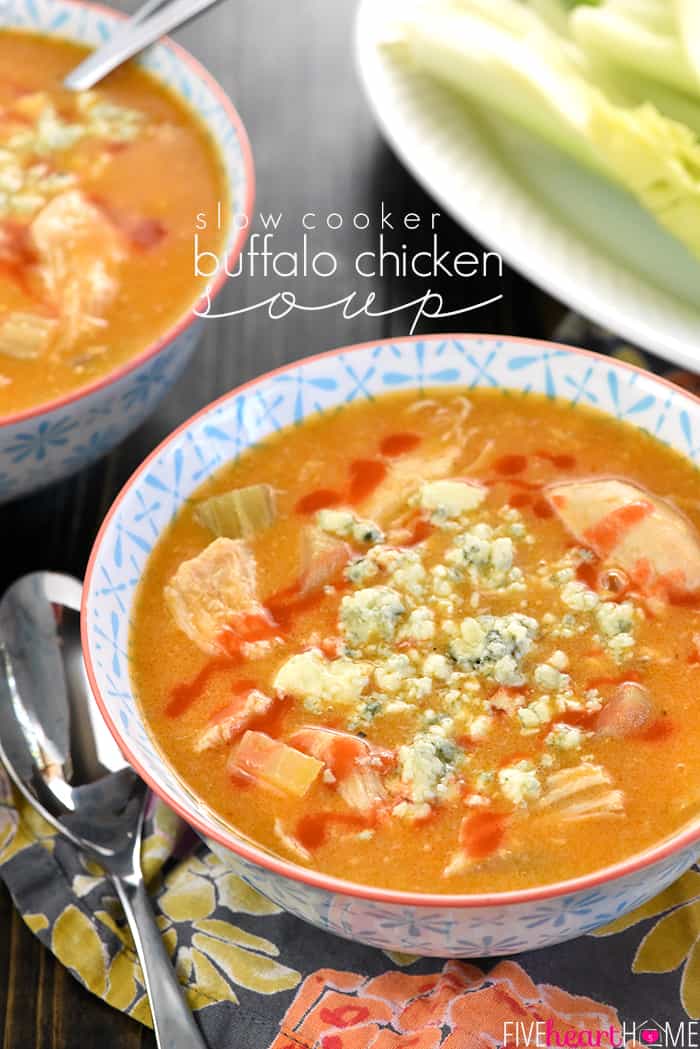 Happy Friday, friends! Wow...it's been quite a week. From the bottom of my heart, THANK YOU to everyone for your kind, positive, and supportive words about the release of my new cookbook earlier this week! I'm honored that so many of you ordered it and are already enjoying recipes from it -- seriously, pinch me. 🙂
Today's Slow Cooker Buffalo Chicken Soup recipe fits right in with the theme of my cookbook -- slow cooker dinner recipes made with real, unprocessed ingredients -- but this is actually one that didn't come from the cookbook. Rather, I devised it a few weeks ago with the intention of posting it last week...before my computer decided to crash and spent the better part of the week in the shop getting fixed (BOOOOOhissssss). But thankfully, my computer is back and I'm back, and with all of the slow cooker cookbook-related excitement this week, I thought it would be an appropriate time to share this recipe after all!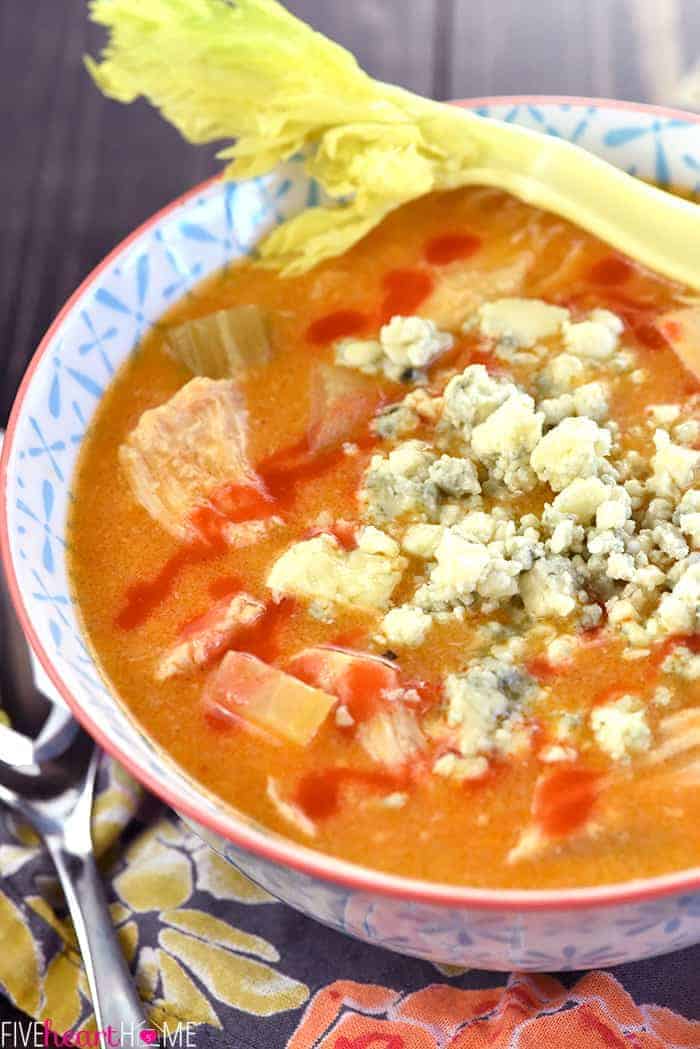 Back when football season kicked off at the end of August, I noticed that my Buffalo Chicken Dip recipe started going crazy on Pinterest, which inspired me to come up with another way to enjoy the flavor of Buffalo wings this fall. And who doesn't love soup?! But since I wanted to ensure a creamy soup, I decided to borrow a technique that I used in two different recipes in the cookbook.
A vast number of recipes in the cookbook require you to simply put everything in the slow cooker and let it do its thing for a prescribed amount of time. But there are two soup recipes in the cookbook -- Chicken Cordon Bleu Soup and King Ranch Chicken Soup -- that I wanted to be particularly creamy. So since I also had the goal of avoiding processed ingredients in the cookbook (I'm looking at you, canned condensed soups), I decided to achieve that thick, silky consistency by whipping up a quick, 5-minute, chicken broth-based stove top sauce.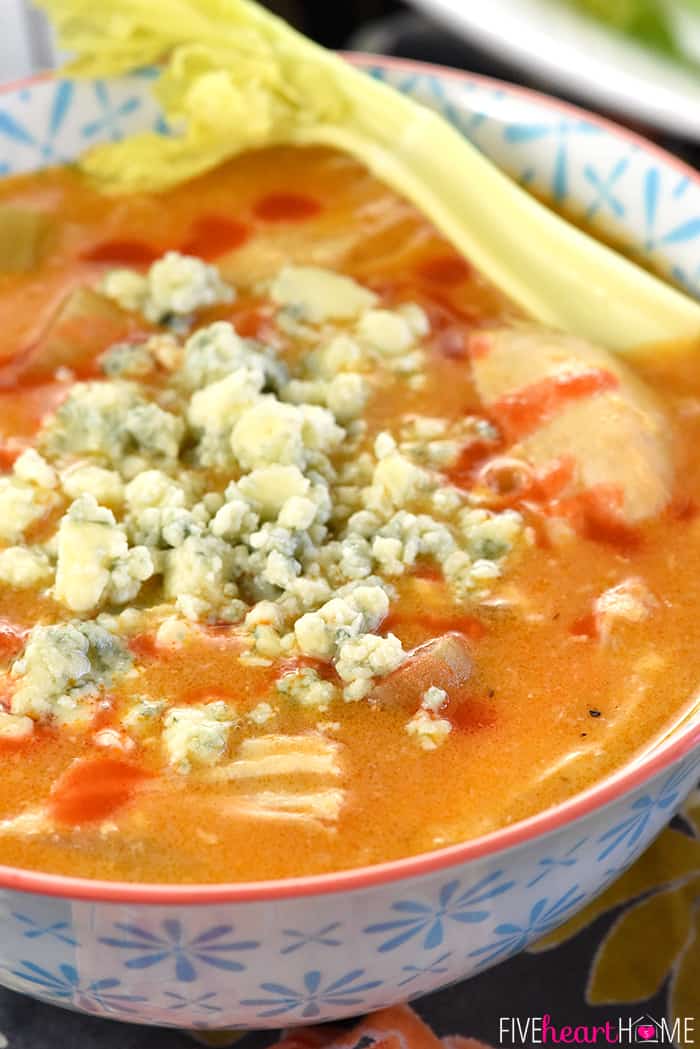 How to Make Buffalo Chicken Soup
So that's exactly what I did for this Slow Cooker Buffalo Chicken Soup as well!
Quickly make the easy homemade sauce on the stove.
Stir in some wing sauce and blue cheese dressing.
Pour the whole shebang over some chicken breasts and chopped celery that are waiting in the slow cooker.
Walk away!
Once the chicken is cooked, simply shred it and stir a bit of sharp cheddar into the soup before garnishing with crumbled blue cheese and a drizzle of wing sauce.
Shazam! Who knew that a simple soup could mimic all of the bold, zesty flavors of Buffalo wings?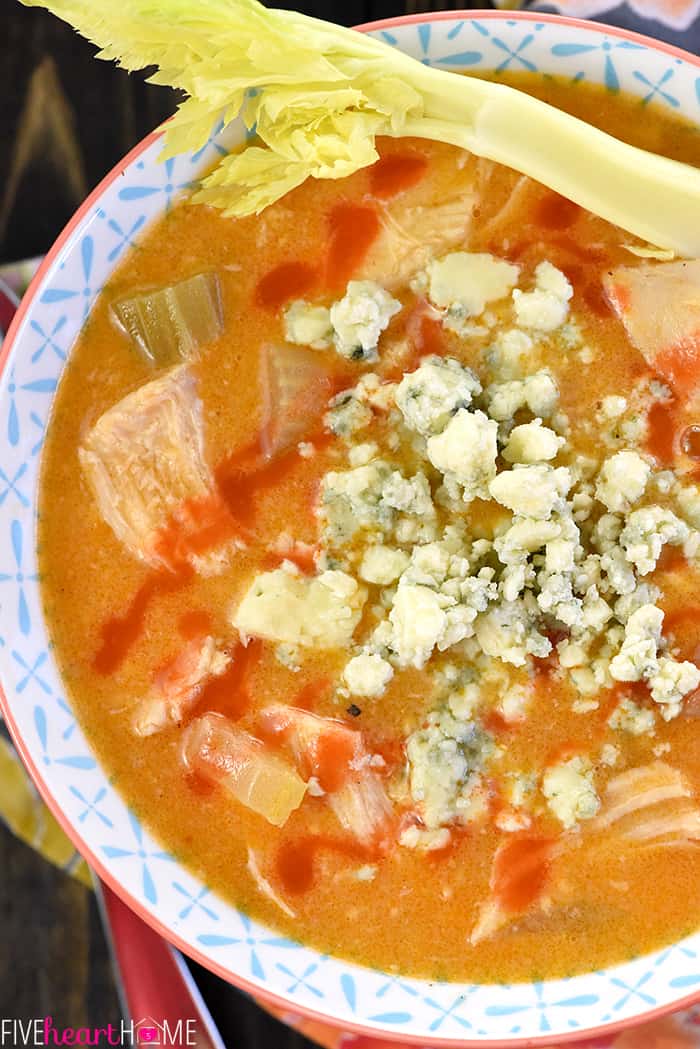 Wing Sauce Tips
Using the amount of wing sauce dictated in this recipe, your soup should be spicy but not over-the-top. My kids thought it was warm but they could still eat it. My husband thought it was fairly mild.
So unless you're really sensitive to heat, I think ⅓ cup wing sauce is a good starting point. Of course, you can always start with less and stir in more, to taste, at the end of the recipe. You can also make the recipe per the directions and then simply put a bottle of wing sauce on the table to allow everyone to adjust the heat of their individual bowls to their liking.
I used Frank's RedHot Original Cayenne Pepper Sauce in this recipe, which I like because it has totally straightforward ingredients -- cayenne peppers, vinegar, water, salt, and garlic powder.
Blue Cheese Dressing...or Not?
I found an all-natural blue cheese dressing to use as well. That being said, while blue cheese is a customary complement to Buffalo wing sauce, some people don't particularly care for it. So if you happen to identify with that segment of the population, feel free to substitute ranch dressing in the soup...and then garnish with extra grated cheddar instead of crumbled blue cheese.

Don't Forget the Celery
Finally, since Buffalo wings are traditionally served with celery, I decided to cook some right into my soup, as well as serve sticks of raw celery on the side. And let me tell you, my non-veggie-loving daughter was so excited about that part -- ha.
So if you're one of the folks who already pinned my Buffalo Chicken Dip, this soup is for YOU! Slow Cooker Buffalo Chicken Soup is zippy, it's creamy, and it's oh-so-cozy. In fact, I'm pretty sure my own little family will be enjoying it several times a month through football season...and I do believe I'd consider that a touchdown of the crock pot variety. 😉
More Football-Friendly Slow Cooker Meals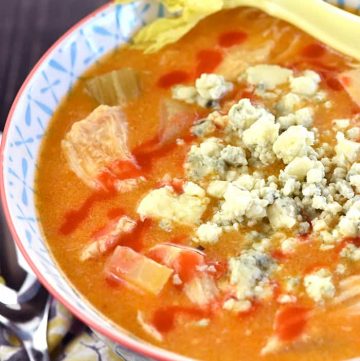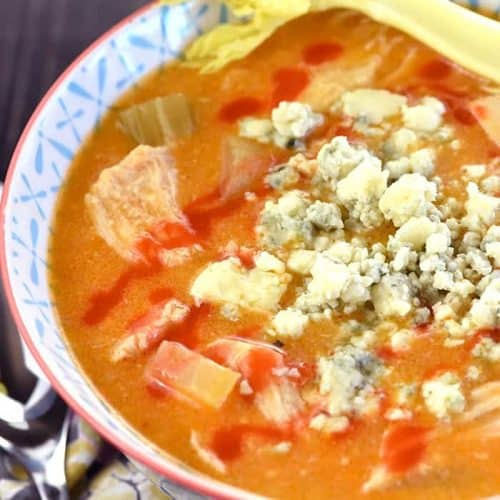 Slow Cooker Buffalo Chicken Soup
The bold flavors of Buffalo wings come together in this zippy, creamy, easy-to-whip-up Slow Cooker Buffalo Chicken Soup, perfect for serving on game day or for warming up on a chilly fall or winter evening!
Print
Pin
Rate
Ingredients
½

cup

(1 stick) butter

½

cup

all-purpose flour

4

cups

low-sodium chicken broth

1

teaspoon

salt

,

plus additional to taste

Freshly ground black pepper

,

to taste

⅓

cup

Buffalo wing sauce

,

such as Frank's RedHot Original (plus additional sauce for serving)

⅓

cup

blue cheese dressing

1 ½

pounds

boneless skinless chicken breasts

,

about 3 large chicken breasts

1 ½

cups

chopped celery

,

plus additional raw celery sticks for serving

1

cup

shredded sharp cheddar

1

(4-ounce) tub crumbled blue cheese

,

for serving
Instructions
Melt the butter in a medium saucepan over medium-low heat. Stir in the flour and whisk continuously for 1 minute. Slowly whisk in the chicken broth. Increase the heat to a simmer and whisk continuously for several minutes, until the sauce is smooth and thickened. Remove the saucepan from the heat, and stir in the salt, pepper, Buffalo wing sauce, and blue cheese dressing. Set aside to slightly cool.

Place the chicken breasts in a large slow cooker. Top them with the chopped celery and pour the sauce over the top. Cover the slow cooker and cook on LOW for 4 to 6 hours until the chicken is tender and cooked through but not overcooked.

Transfer the chicken to a cutting board, stir the cheddar into the slow cooker, and cover the slow cooker for the time being. Pull the chicken into large chunks and stir it back into the slow cooker. Adjust salt and pepper to taste, cover the slow cooker, and cook for 15 minutes, until the cheese is melted and all of the ingredients are heated through. Stir well. Ladle into bowls, top with blue cheese crumbles, and drizzle with extra Buffalo wing sauce, if desired. Serve with celery sticks on the side.
Notes
Make sure you don't shock your slow cooker insert with a sudden dramatic change in temperature, or it could crack. In other words, don't put nearly-frozen chicken breasts in the slow cooker and then pour practically-boiling sauce over the top. Always allow a hot sauce or gravy to cool a bit before pouring it into the slow cooker.
This soup is mildly to moderately spicy, depending on your heat tolerance, so you may adjust the Buffalo wing sauce to taste. If you prefer a mild soup, only start with 3 tablespoons or so. Regardless of your heat tolerance, you can always add more at the end.
If you don't care for blue cheese, you may substitute ranch dressing for the blue cheese dressing, and you may garnish with extra shredded cheddar instead of blue cheese crumbles.
Calories:
382
kcal
|
Carbohydrates:
8
g
|
Protein:
29
g
|
Fat:
25
g
|
Saturated Fat:
14
g
|
Cholesterol:
113
mg
|
Sodium:
1293
mg
|
Potassium:
535
mg
|
Vitamin A:
750
IU
|
Vitamin C:
1.6
mg
|
Calcium:
230
mg
|
Iron:
1.2
mg
Save
Save
Save
Save
Save
Save
Save
Save
Save
Save
Save
Save