This Slow Cooker Chicken Noodle Soup is the BEST, wholesome and extra flavorful thanks to a few secret ingredients. It's the perfect get-well-soon recipe for making it through cold and flu season, but it's so delicious that you'll get requests for it even when nobody is sick!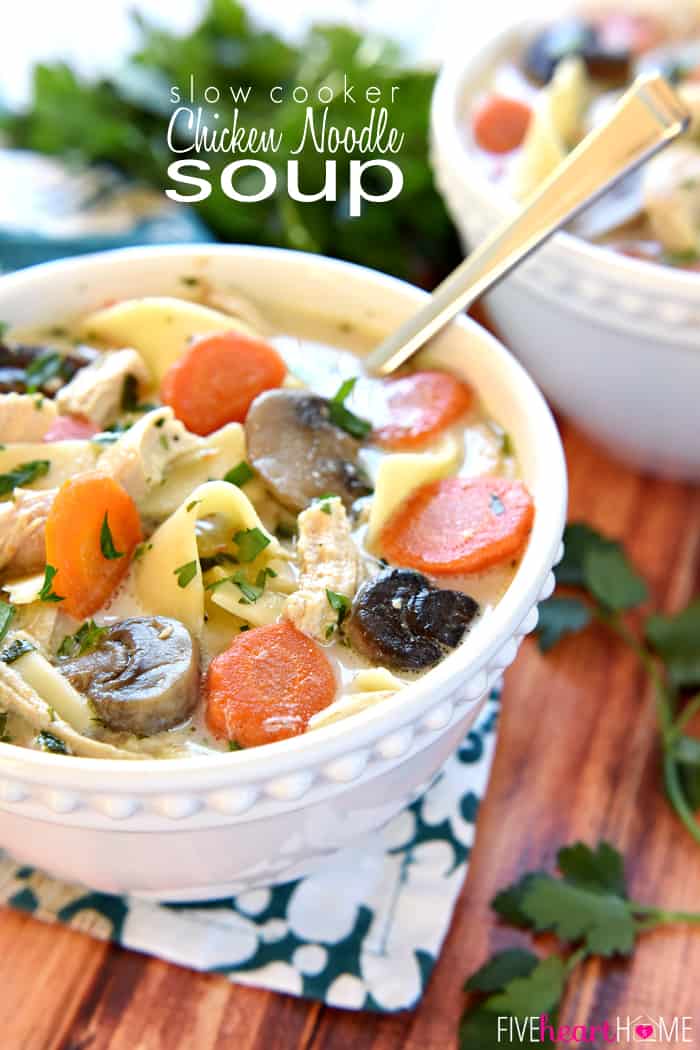 If you enjoy slow cooker soups, you'll also love Slow Cooker White Chili, Slow Cooker Buffalo Chicken Soup, and Slow Cooker Chicken Black Bean Soup!
Anytime a member of my family gets sick, I get the instant, insatiable to urge to whip up a giant, nourishing pot of homemade chicken soup. So, since it's impossible for a family of five to avoid occasionally getting sick, this Slow Cooker Chicken Noodle Soup has come to be the silver lining that we all look forward to during cold and flu season!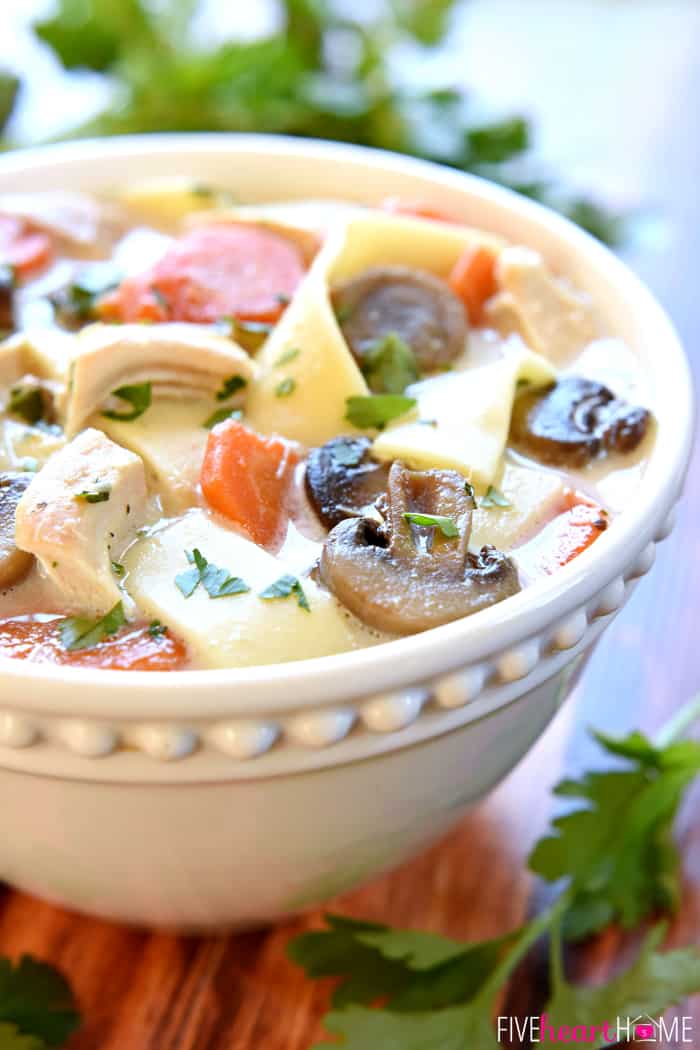 Recommended Type of Chicken
When I make homemade chicken soup, I prefer using skin-on, bone-in chicken. Not only do I believe that cooking the bones in the broth makes for an extra-nourishing soup, but I also think the skin lends richer flavor. I end up skimming the fat and discarding the skin and bones at the end anyway.
But if you prefer to use skinless, boneless chicken, that will work just dandy, too. I would recommend using a mixture of white meat and dark meat, because I think the dark meat stays a bit moister and more flavorful and is a nice balance to the lighter white meat. But again...it's your soup. So if you're a fan of all white meat, have at it!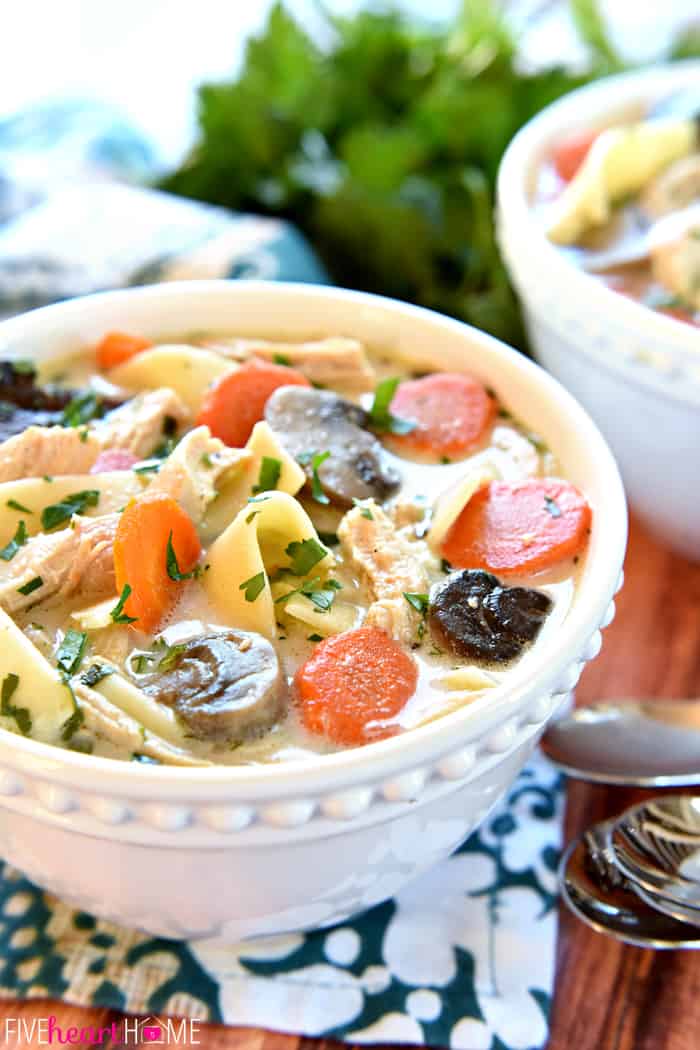 Secret Ingredients
I really do think this is THE BEST tasting chicken soup out there. There are a few secret ingredients added towards the end of the recipe that, in my humble opinion, take this soup from good to amazing.
First off would be the fresh rosemary. This recipe doesn't call for a ton, and the flavor is not overtly noticeable. But when I've left it out for one reason or another, I noticed that something was missing. This soup also has fresh parsley added at the end, which I think nicely brightens things up.
Next is the half-and-half (or milk, or heavy cream...depending on how light or how decadent you prefer to make this soup). One cup added at the end of the cooking time lends a touch of silky creaminess, which makes this chicken soup seem extra special. If you would rather cut the dairy, your soup will still be tasty...just add in an additional cup of chicken broth to make up for it.
Another one of the secret ingredients that sends this soup over the top is freshly grated Parmesan cheese. Again, you can't necessarily tell that it's in there, but it adds another delicious, complementary layer of flavor.
And finally, there's the sherry! Read on for a more thorough explanation of that one...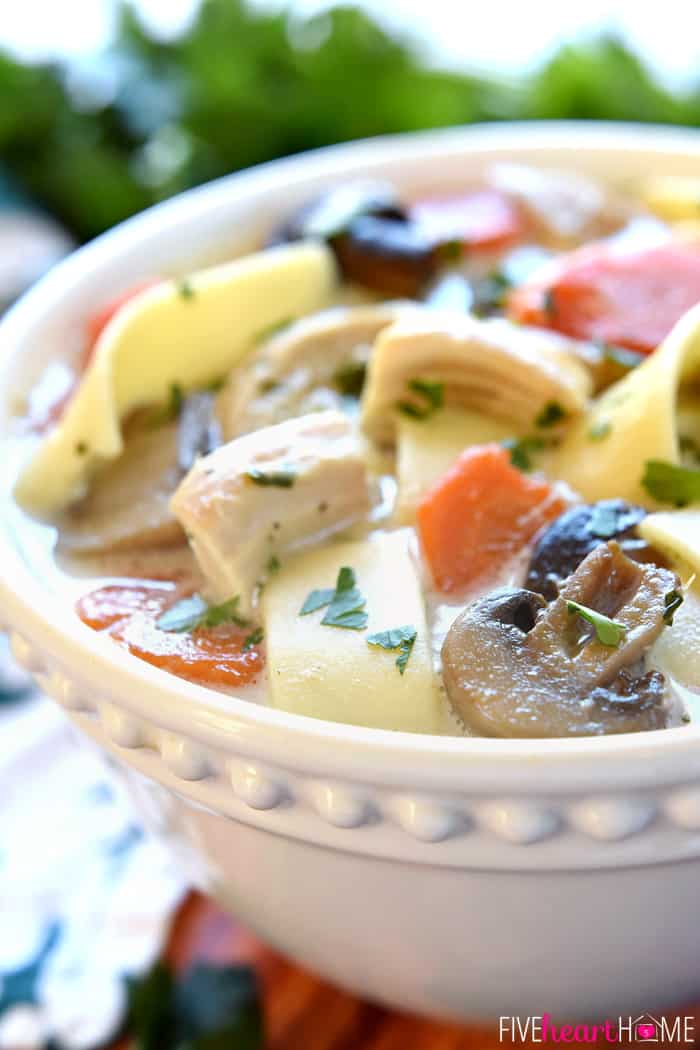 Flavor-Boosting Sherry
I'll be the first to admit that, while I use beer and wine in some of my recipes, I'd never cooked with sherry before. So the first time I ever made this recipe, I was a little skeptical...but I bought a bottle and hoped for the best.
Well let me tell you that it never ceases to amaze me what a tablespoon or two of sherry does for this soup! Just like the other ingredients that make this Slow Cooker Chicken Noodle Soup special, the inclusion of sherry is not obvious or in-your-face. It's just another subtle flavor layered in with all of the other subtle flavors to ultimately create a recipe that's better-than-average.
If you don't already have sherry in your pantry or liquor cabinet, I recommend buying a bottle of regular dry sherry...not cooking sherry (which contains oodles of salt and other unpleasantries) and not sweet sherry (which would be too, well, sweet).
I bought a bottle of medium dry sherry to use specifically for this recipe. Once opened, sherry should last indefinitely...which is a good thing since the only time I use it is when I make chicken soup. But this soup wouldn't be the same without it, so I'm happy to let that bottle take up cabinet space.
A little bit of sherry can go a long way, so the first time you make this recipe, I suggest adding one tablespoon (and tasting before adding more) to determine whether you prefer more or less.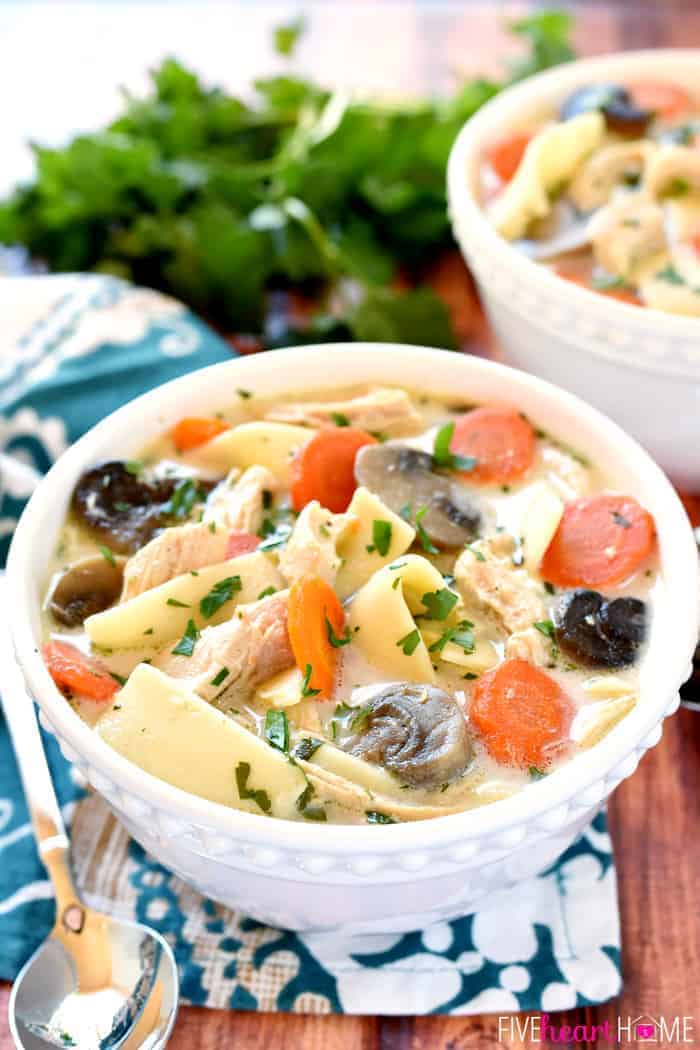 Vegetable Options
As for the veggies in this Slow Cooker Chicken Noodle Soup, feel free to customize them to your taste.
When it comes to chicken soup, I feel like sweet, tender carrots are a given.
I love including earthy mushrooms in my chicken soup as well.
If you enjoy onion in your soup, you may certainly chop one up and toss it in.
Same for celery. My family doesn't particularly care for it, but if you'd like to include some, go for it!
And that's it...a simple crock pot recipe that will have you craving chicken noodle soup even when you aren't sick! In fact, as much as I'm looking forward to spring and a welcome respite from cold and flu season, you can bet I make this soup all year long when someone at our house gets taken down by a bug.

In fact, if I leave this printed recipe in a convenient location, perhaps the hubby will feel inspired to throw the ingredients in the slow cooker the next time that sickly someone happens to be me... 😉
More Cozy Chicken Soups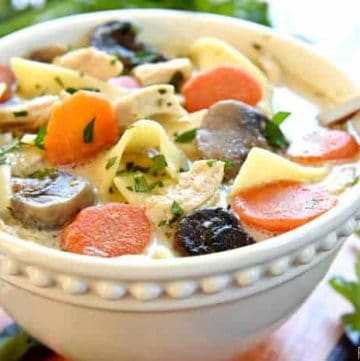 The Best Slow Cooker Chicken Noodle Soup
This wholesome, easy-to-make Slow Cooker Chicken Noodle Soup is extra flavorful thanks to a few secret ingredients...and it's the perfect get-well-soon recipe for making it through cold and flu season!
Print
Pin
Rate
Servings:
8
to 10 servings
Ingredients
2 ½ to 3

pounds

chicken pieces

,

*see Tips & Tricks below

1

pound

carrots (about 2 ½ cups carrots)

,

peeled & sliced

8

ounces

mushrooms

,

cleaned & sliced

4

large cloves garlic

,

minced

½

teaspoon

dried basil

½

teaspoon

dried oregano

½

teaspoon

dried thyme

½

teaspoon

garlic salt

½

teaspoon

lemon pepper

4

bay leaves

8

cups

chicken stock or broth

3

cups

uncooked egg noodles

¼

cup

chopped fresh parsley leaves

2

teaspoons

minced fresh rosemary leaves

½

cup

freshly grated Parmesan

1

cup

half-and-half

1 to 2

tablespoons

sherry

,

*see Tips & Tricks below

Salt and freshly ground black pepper
Instructions
Arrange chicken pieces in the bottom of a large (6-quart) slow cooker. Layer carrots, mushrooms, and garlic on top, and sprinkle with basil, oregano, thyme, garlic salt, lemon pepper, and bay leaves on top. Season with freshly ground black pepper. Pour chicken stock/broth over ingredients in slow cooker, cover with lid, and cook for 7 to 8 hours on LOW (or 3 ½ to 4 hours on HIGH), until chicken is cooked through and tender.

At end of cooking time, if you used skin-on chicken pieces, skim any fat from the surface of the soup. Remove the chicken to a cutting board and discard the bay leaves. Stir noodles into soup. Cover slow cooker and increase heat to High.

Remove skin, bones, and cartilage from the chicken (if applicable), and discard. Chop chicken into bite-sized pieces. Add chicken back to the slow cooker along with the fresh parsley, fresh rosemary, grated Parmesan, half-and-half, sherry, and salt and freshly ground black pepper, to taste. Stir, cover, and cook for a few more minutes or until noodles are cooked to your liking.
Notes
I prefer making this soup with skin-on, bone-in chicken pieces (a mixture of light and dark meat) for the best flavor and nourishment (from the bones). Any skin and bones will be discarded, and while there will be fat to skim from the top of the soup if you include the skin, I think the extra flavor is worth it. You may also use boneless, skinless chicken pieces (including all or some boneless skinless chicken breasts), if you prefer, but keep in mind that white meat will be "drier." After it's cooked, I prefer to dice the chicken rather than shred it for the best texture in this soup, but you can do either.
Just for reference, for this particular batch of soup, I used a 1.4-pound package of skin-on, bone-in chicken thighs plus 1.2 pounds of boneless skinless chicken breasts (because that happened to be what I had on hand).
If you like celery in your chicken noodle soup, you may add 1 ½ cups sliced celery at the same time as the carrots.
The addition of sherry at the end of this recipe is optional but I think it really gives a unique and delicious depth of flavor to the soup. DO NOT buy "cooking sherry," as it has added salt, etc., and also don't buy sweet sherry. A regular bottle of medium dry to dry sherry is what you are looking for, and it will last indefinitely in the pantry. I have a bottle that I use only when making this recipe...I bought it several years ago and it's still fine. The first time you make this recipe, I suggest adding 1 tablespoon of sherry at a time (and tasting before adding more) to achieve your desired flavor.
You may use whole milk (or even 2%) instead of half-and-half for a lighter soup. You may use heavy cream for a more decadent soup. And if you have milk and cream in your fridge but not half-and-half, use half milk and half cream (which is the same thing as half-and-half).
Calories:
702
kcal
|
Carbohydrates:
28
g
|
Protein:
52
g
|
Fat:
41
g
|
Saturated Fat:
13
g
|
Cholesterol:
195
mg
|
Sodium:
790
mg
|
Potassium:
1023
mg
|
Fiber:
3
g
|
Sugar:
8
g
|
Vitamin A:
10105
IU
|
Vitamin C:
11.1
mg
|
Calcium:
164
mg
|
Iron:
3.4
mg
Adapted from Paula Deen.
Post originally published on February 22, 2015.