Quick & Easy Homemade Chicken Noodle Soup is a delicious, nourishing, cold-buster recipe for getting well soon!

It's that time of year, y'all…that icky time when colds and flu and stomach viruses abound! With multiple school-aged kids 'round these parts, when somebody brings home a bug, it's often a matter of waiting to see who gets stricken next. And early last week, when I found myself at the doctor with two out of the three, I had never seen our pediatrician office so crowded…every space in the parking lot and every seat in the waiting room was FULL. I felt pretty certain that we might just bring home more illnesses than we already possessed when we got there.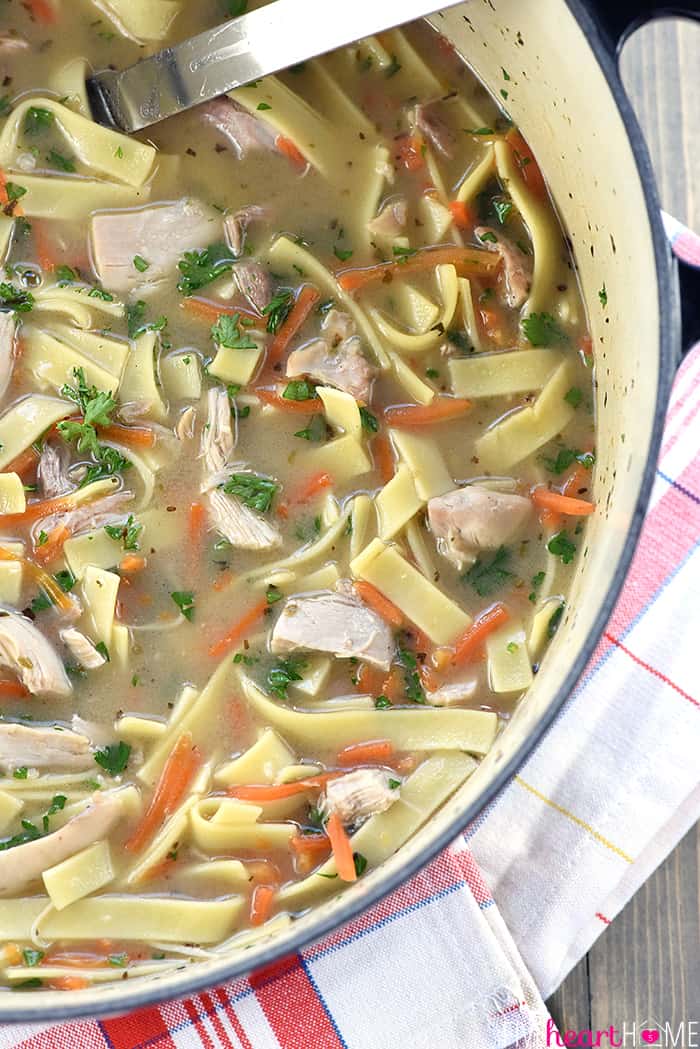 So to get well soon — as well as to ward off any further sickies — that night I made a big pot of Quick & Easy Homemade Chicken Noodle Soup. It's a recipe chock full of nourishing stock, bone-in chicken, garlic, veggies, and a squeeze of fresh lemon juice, which all adds up to immune system boosting from a variety of angles. But best of all, it tastes absolutely delicious and it's ready in under an hour!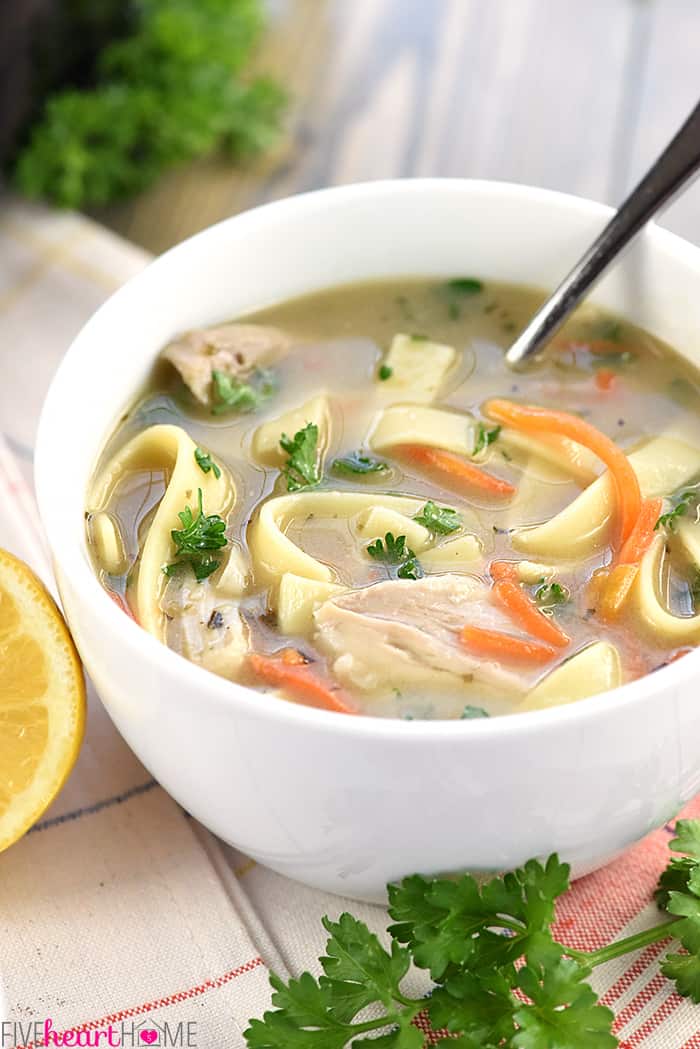 Oftentimes, I like to make my wholesome, homemade chicken noodle soup in the slow cooker. But on other occasions, I don't have the foresight to plan ahead, so this quick stovetop version is just the ticket. It's simpler — with fewer ingredients than my crock pot recipe — but every bit as flavorful, comforting, and yummy!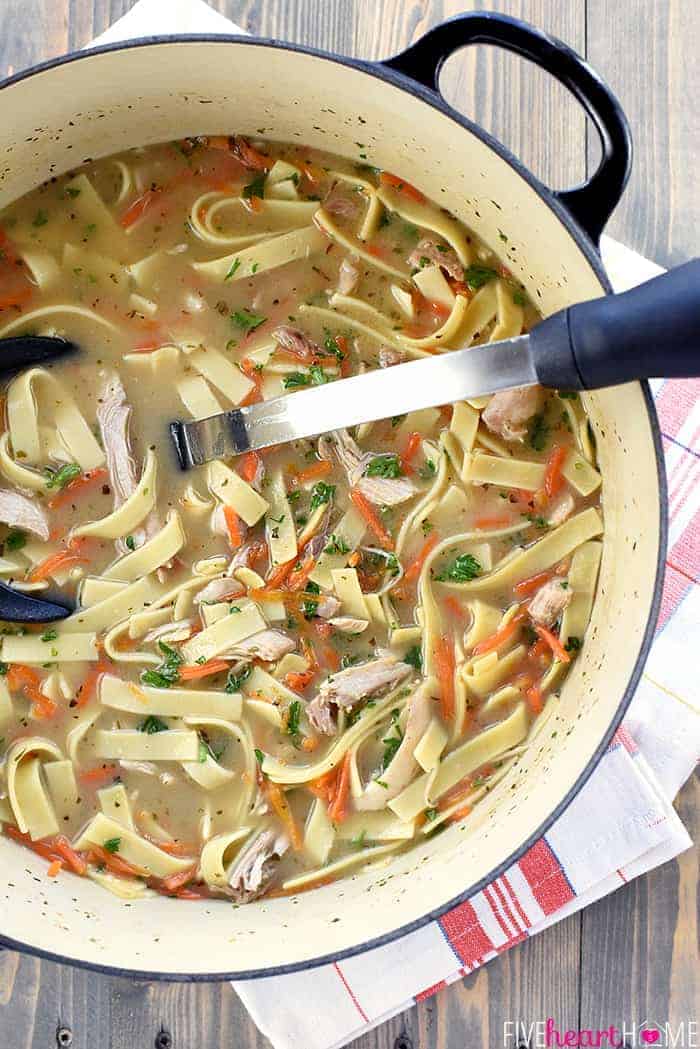 I like to start this soup with chicken stock as opposed to broth — either homemade (if I've got some in the freezer) or from cartons of good-quality, store-bought stock. If I'm trying to get folks well with my soup, properly-prepared chicken stock is loaded with immune-boosting properties that broth doesn't share. That being said, you may certainly use chicken broth if that's what you have on hand…your soup will still be healthy and tasty!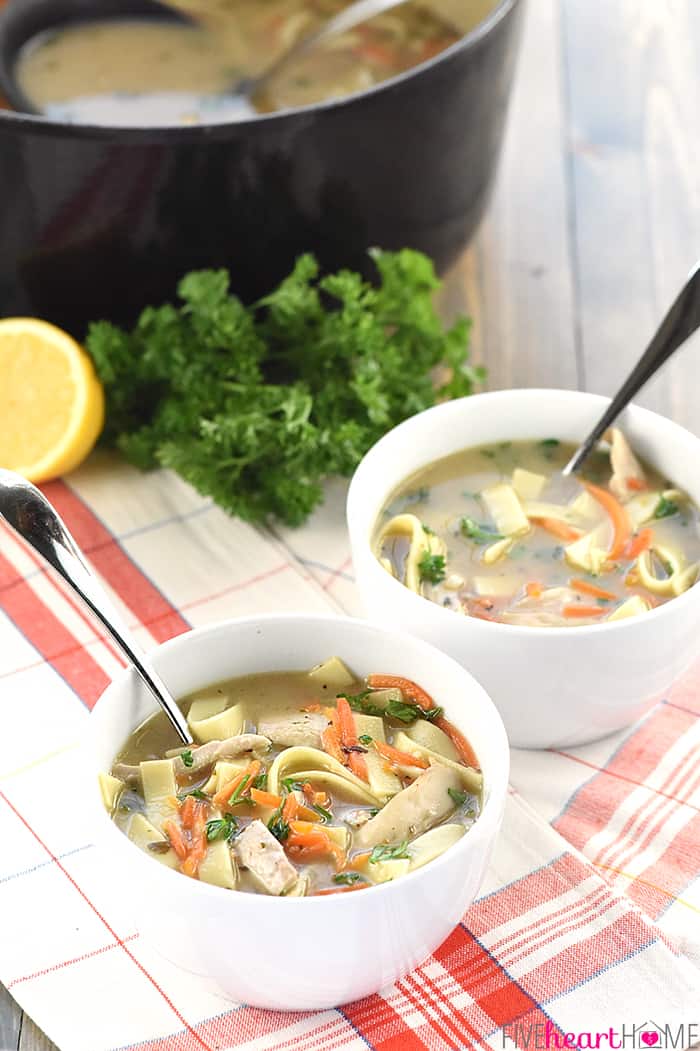 In order to add extra flavor and nutrients, I always use bone-in, skin-on chicken pieces when I make chicken soup. For this Quick & Easy Homemade Chicken Noodle Soup, I chose a package of chicken thighs, but you are free to use your favorite cuts. Just keep in mind that different pieces may require a slightly longer or shorter cooking time.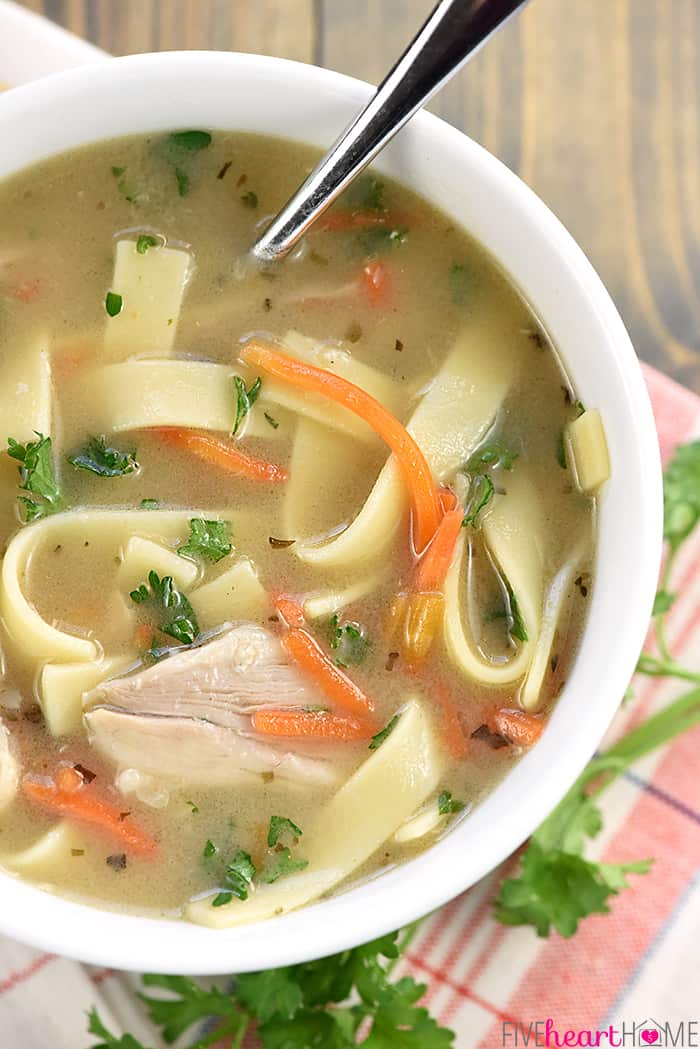 The chicken pieces basically get simmered in the stock until they're cooked through, along with julienned carrots, fresh minced garlic, herbs, and spices. Then the chicken is removed while egg noodles and fresh parsley are added. As the noodles boil, simply pull the chicken, discard the skin and bones, and then add the chicken back to the pot. Adjust the seasonings, add a big squeeze of fresh lemon juice, and voilà…a pot of pure goodness!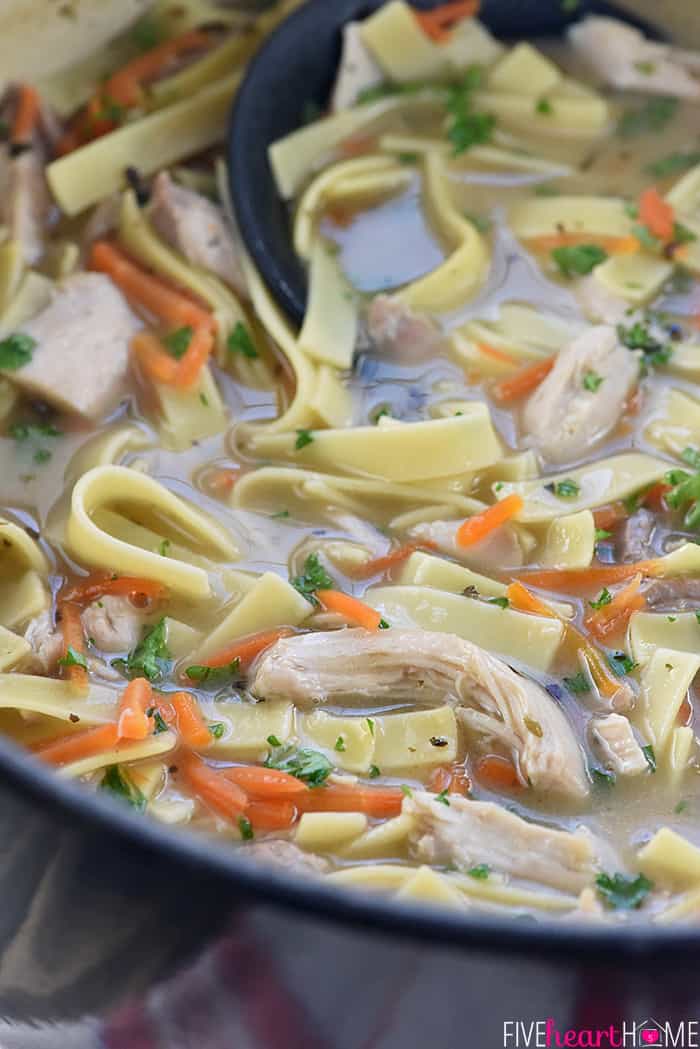 This soup is so simple, y'all, and it's about a thousand times tastier and healthier than chicken noodle soup out of a can. I typically only make chicken soup when someone in my house is under the weather. But to be honest, while I never relish anyone in my house getting sick, I really look forward to making and eating chicken soup on such occasions. After all, why not turn lemons into lemonade when you can? Or at least add lemon juice to your Quick & Easy Homemade Chicken Noodle Soup for a boost of flavor and vitamin C — ha.
Here's hoping that everyone at your house is staying well this winter. But in case you haven't been so lucky, break out the ol' soup pot! Because nothing makes a sickie feel better than nourishing soup made with quality ingredients and love. 🙂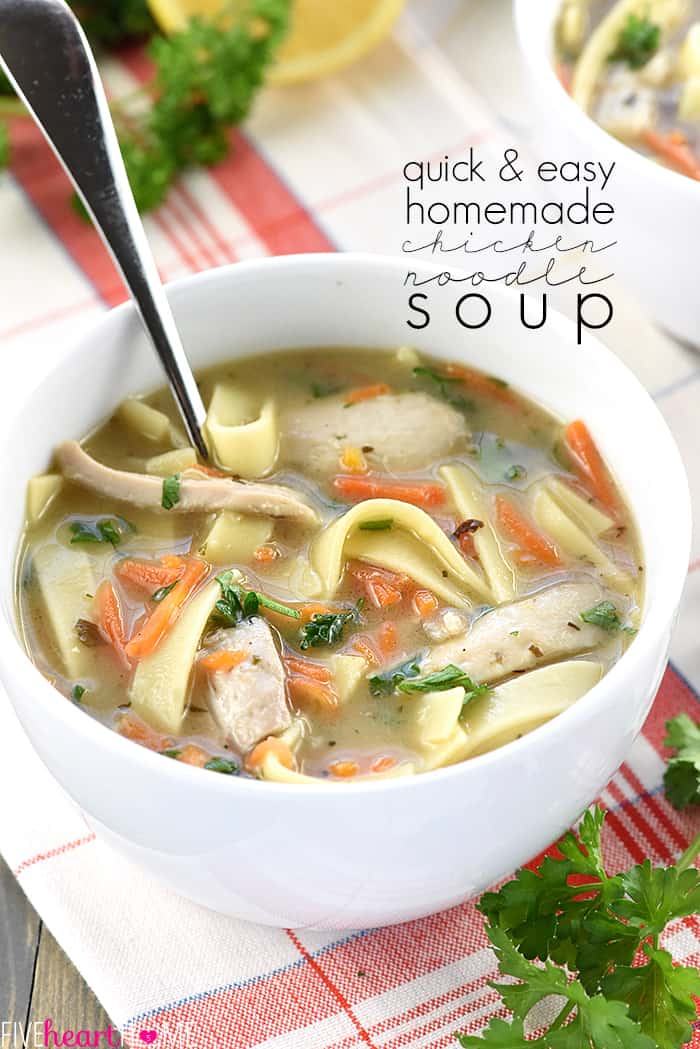 Quick & Easy Homemade Chicken Noodle Soup Recipe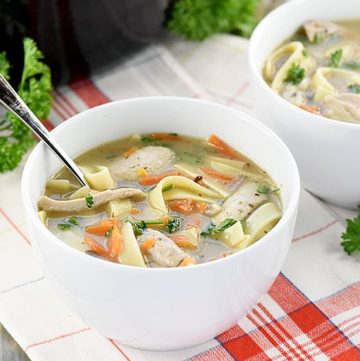 Quick & Easy Homemade Chicken Noodle Soup
Quick & Easy Homemade Chicken Noodle Soup is a delicious, nourishing, cold-buster recipe for getting well soon!
Print
Pin
Rate
Ingredients
1 3/4 to 2

pounds

chicken thighs

,

about 4 thighs (*see Tips & Tricks below)

8

ounces

julienned carrots

,

about 3 cups, packed

3

large cloves garlic

,

minced

2

teaspoons

dried Italian seasoning

2

bay leaves

1/2

teaspoon

salt

,

plus additional to taste

Freshly ground black pepper

,

to taste

3

quarts

(12 cups) homemade

,

OR good-quality store-bought chicken stock or broth

8

ounces

uncooked egg noodles

1/4

cup

minced fresh parsley leaves

,

plus additional for garnish

Squeeze of fresh lemon juice
Instructions
Arrange chicken pieces in the bottom of a large soup pot. Add julienned carrots, garlic, Italian seasoning, bay leaves, salt, and pepper. Carefully pour chicken stock over the top. Bring to a boil and then reduce to a simmer. Cook, covered, for 25 to 30 minutes or until the chicken is cooked through.

Remove the chicken pieces and bring the soup to a boil. Add the noodles and parsley and cook according to package directions. In the meantime, pull the chicken from the bones and shred or cut into chunks. Discard the skin and bones.

After the noodles are done, return the chicken meat to the pot, stir in a big squeeze of fresh lemon juice, and adjust salt and pepper, to taste. Serve hot, garnished with additional fresh parsley, if desired.
Notes
I prefer making this soup with skin-on, bone-in chicken thighs for the best flavor and nourishment. All skin and bones get discarded before serving. You may also use boneless, skinless chicken pieces (including all or some boneless skinless chicken breasts), if you prefer, but keep in mind that white meat will be drier. Also, if you use different chicken pieces, the cooking time may need to be adjusted accordingly.
When I make homemade chicken soup, I like to buy "homemade" or "homestyle" egg noodles (which can be found near the regular brands of dried pasta). Refrigerated or frozen egg noodles are also yummy. These options just taste a little fresher and closer to homemade than regular dried pasta, adding a nice touch in this type of soup.
The amount of salt required will depend on the saltiness of your chicken stock. If your chicken stock is particularly salty, you may not want to add any salt at the beginning of the recipe...wait until the chicken is finished cooking and then, if necessary, add 1/4 teaspoon salt at a time (tasting in between additions) until just right.
Calories:
514
kcal
|
Carbohydrates:
25
g
|
Protein:
33
g
|
Fat:
30
g
|
Saturated Fat:
8
g
|
Cholesterol:
190
mg
|
Sodium:
1602
mg
|
Potassium:
813
mg
|
Fiber:
2
g
|
Sugar:
1
g
|
Vitamin A:
5060
IU
|
Vitamin C:
29.4
mg
|
Calcium:
67
mg
|
Iron:
2.8
mg
More Homemade Soup Recipes
Save
Save