Healthy Ground Beef and Broccoli is a quick and easy skillet recipe that comes together in 15 minutes in just one pan!

At least once a week, dinner around here starts with a pound of ground beef. As a result, I have a variety of ground beef recipes in my repertoire, but I'm always on a quest to come up with new ones. Enter today's quick and easy Ground Beef and Broccoli!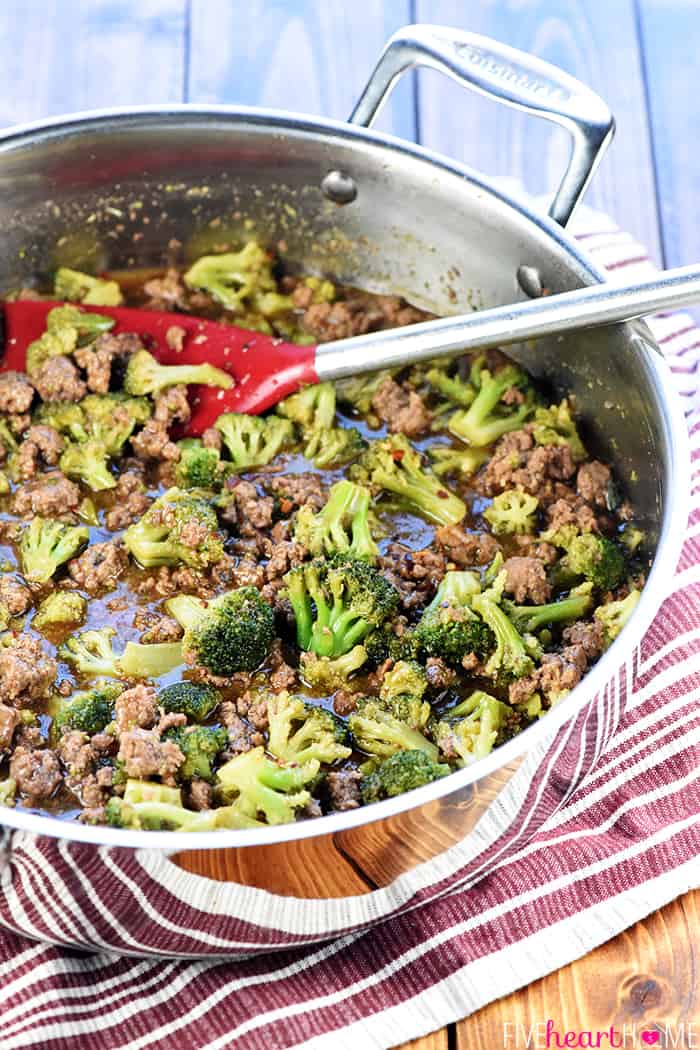 My One-Pan Asian Beef and Rice Skillet is on regular rotation at our house, but last week, I was craving something similar…yet different.? Luckily, inspiration hit when I decided to call upon the flavors of a beloved Chinese restaurant classic for a new, shortcut, ground beef dinner idea.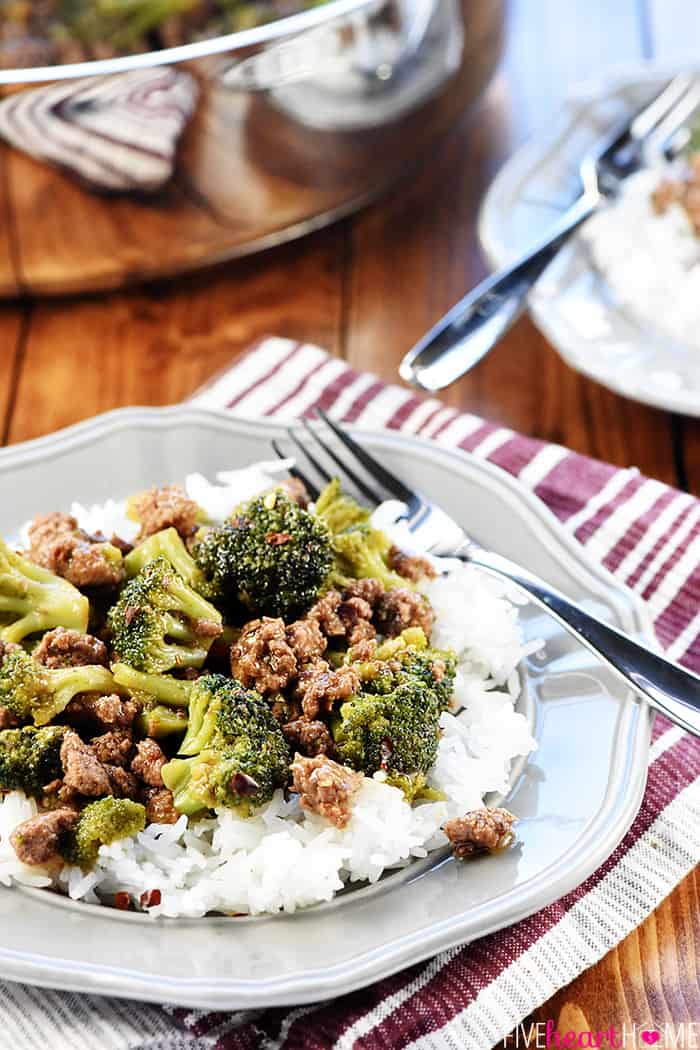 Beef and Broccoli has been one of my favorites since childhood and still I love it today. The hubby and kids enjoy it as well. However, since I don't always have flank steak or some other stir fry-friendly cut of beef on hand — but I always have ground beef — I decided to modify the traditional recipe into this simple, lightning-quick, one-pan Ground Beef and Broccoli.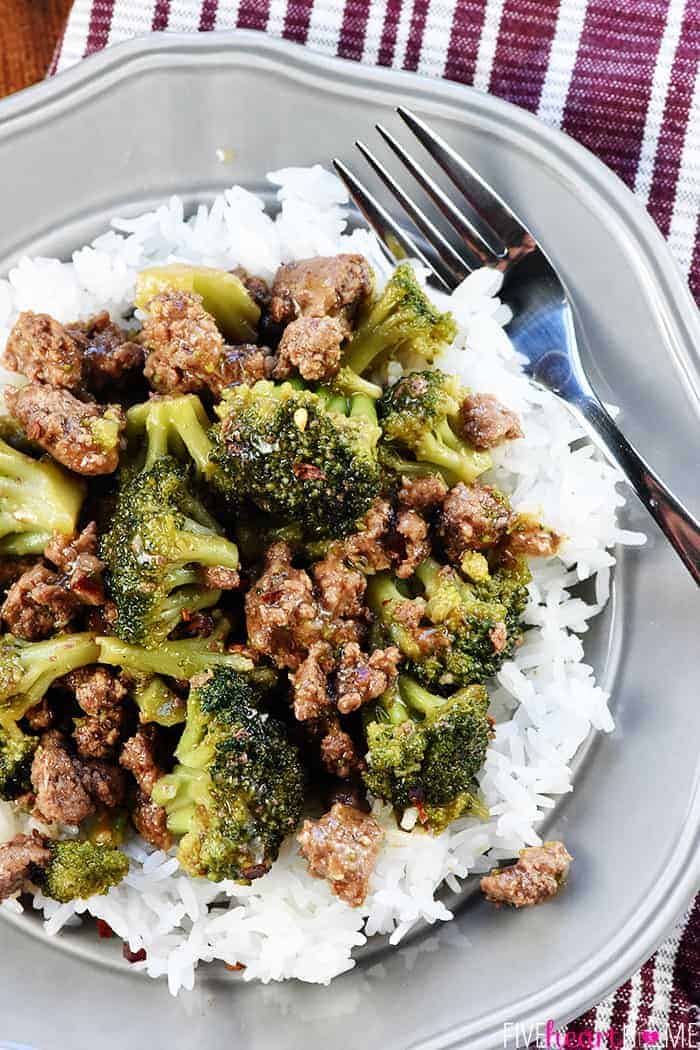 I'm not exaggerating when I say this recipe took me about 15 minutes to make from start to finish, y'all. It was as easy as throwing the ground beef into a skillet, mixing together the sauce while the beef browned, then adding said sauce plus a package of frozen broccoli to the beef and letting it bubble for a few more minutes.
Thicken with a cornstarch slurry and voilà…all the flavor of Chinese take-out except healthier! And dare I say tastier *and* faster than delivery… 😉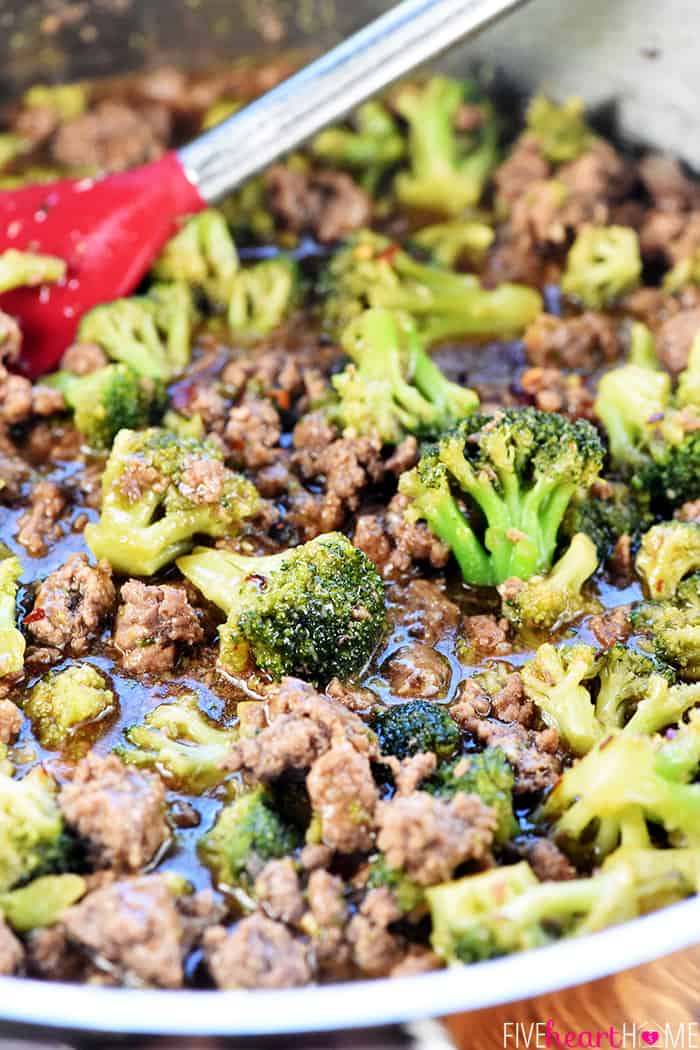 The sauce in this recipe is so good that we were all licking our plates clean, and the amount was perfect to allow for seepage down into the rice that accompanied our meal. A funny side note about this sauce is that I actually based it on a recipe I originally developed for my cookbook. That Slow Cooker Beef and Broccoli I was attempting way back when tasted great, but I couldn't get the texture of the beef to my liking using the crock pot. So I ended up scrapping the recipe but, hoarded that I am, fortunately still had the sauce ingredients and proportions hanging out in the deep, dark recesses of my computer files. 😉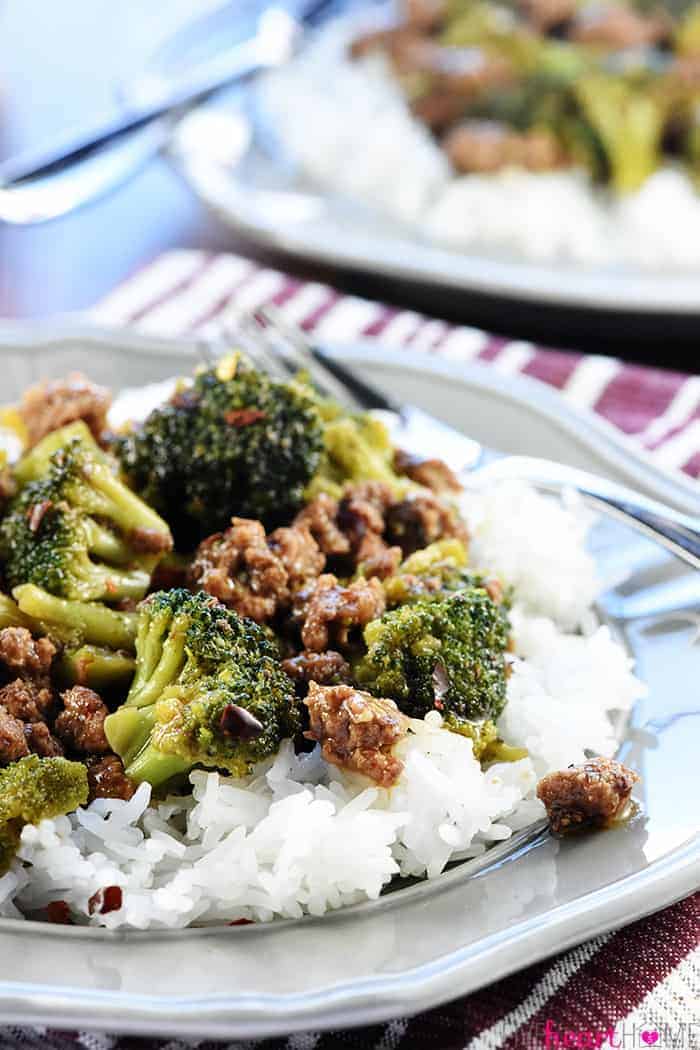 This dinner is also nicely balanced with protein and vegetables. That being said, even though Beef and Broccoli is usually made with, well, beef and broccoli, it would be easy to change up the veggies in this dish. Snow peas, carrots, baby corn, or bell peppers would all be yummy additions.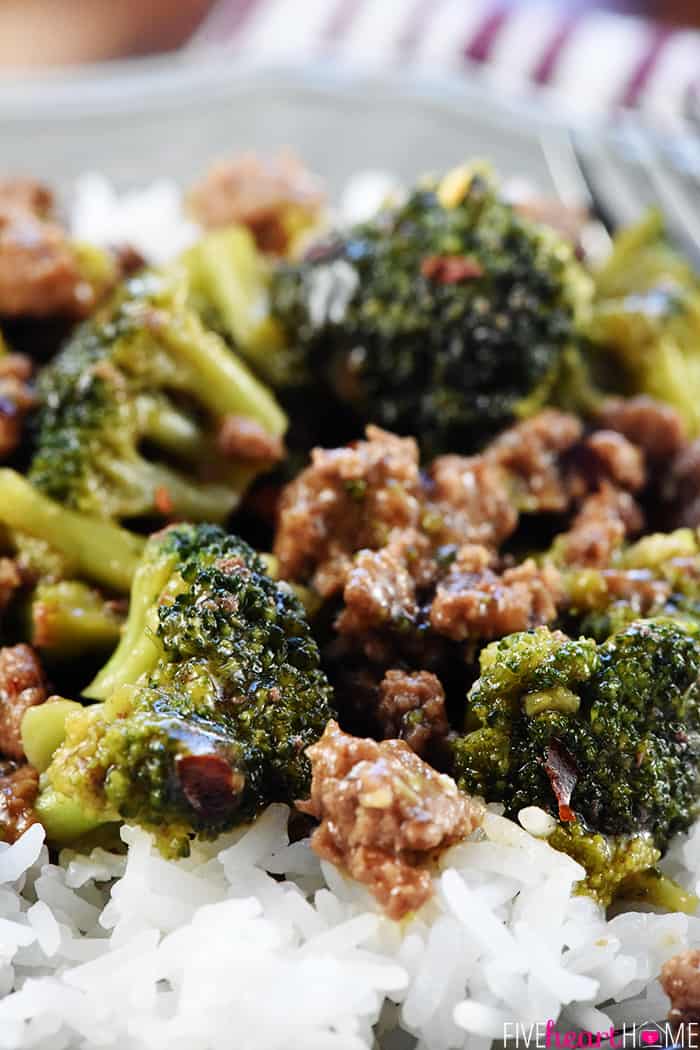 So are you a fellow beef and broccoli aficionado? A lover of speedy skillet recipes? A hater of washing dishes? All of the above? If so, Ground Beef and Broccoli definitely deserves a spot on your must-make list. After all, it relies on ingredients that you probably already have in your fridge/freezer/pantry, and it's a nice change of pace from spaghetti or meatloaf when you've got ground beef to use up. One family-pleasing dinner coming right up! 😉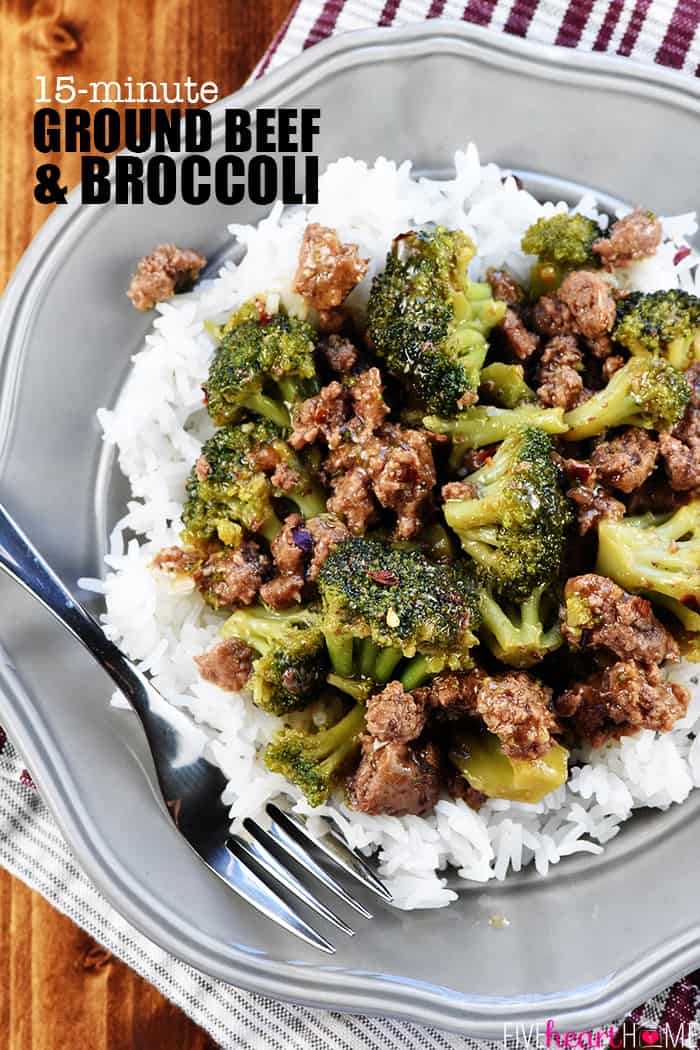 Helpful Tips, Tricks, & Equipment
(some affiliate links below)

You may use fresh broccoli instead of frozen, or you may substitute other veggies for some/all of the broccoli (such as snow peas, shredded or thinly-sliced carrots, baby corn, or bell peppers). Keep in mind that firmer veggies may require a few extra minutes of simmering to become tender. You can always add a little extra broth if too much sauce is evaporating due to additional cooking time.
If you don't have fresh ginger on hand, 1 teaspoon ground ginger may be substituted for the 1 tablespoon fresh, but the ginger flavor in the final dish won't be as strong.
I like to use natural oyster sauce with no MSG added. I typically able to find it at my regular grocery store.
 At 5 1/2 quarts, the stainless steel saute pan pictured in this post is deep enough to cook the beef without splattering grease everywhere. It's also big enough to fit plenty of extra veggies, should you feel so inclined. 😉
Hope you enjoy the video below that shows just how quick & easy it is to make this dish!
Healthy Ground Beef and Broccoli is a quick and easy skillet recipe that comes together in 15 minutes in just one pan!
Ingredients
1 pound lean ground beef
1 1/2 cups low-sodium beef broth
3 tablespoons oyster sauce
2 tablespoons low-sodium soy sauce
1 tablespoon honey
1 teaspoon rice vinegar
1/2 teaspoon garlic powder
1/4 teaspoon crushed red pepper flakes
2 cloves garlic, minced
1 tablespoon fresh minced or grated ginger (OR 1 teaspoon ground ginger)
1 (12-ounce) bag frozen broccoli florets
2 tablespoons cornstarch
2 tablespoons cool water
1/2 teaspoon toasted sesame oil (optional)
Cooked rice or noodles, for serving
Instructions
Set a large skillet, saute pan, or Dutch oven over medium-high heat. Add the ground beef and cook until no longer pink, breaking apart and stirring as the meat cooks.
While the beef is cooking, combine the beef broth, oyster sauce, soy sauce, honey, rice vinegar, garlic powder, and red pepper flakes in a bowl or large measuring cup; set aside.
After the beef is cooked, push it to the edges of the pan, dump the garlic and ginger in the center, and stir for a minute or two until fragrant. Drain the grease from the pan. Add the sauce and the broccoli to the pan; stir to combine. Bring to a boil then reduce to a simmer. Cook for several minutes (using the cooking time on the package of frozen broccoli as a guide) and stir occasionally until the broccoli is cooked to your desired tenderness.
In a small bowl, use a fork to whisk the cornstarch into the water until dissolved. Slowly pour the cornstarch slurry into the pan while stirring the beef and broccoli. Bring to a boil and cook for a minute or two, stirring occasionally, until the sauce is thickened. Stir in the sesame oil, if using, and serve hot over rice or noodles.
https://www.fivehearthome.com/ground-beef-broccoli-recipe/
https://www.fivehearthome.com ~ All recipes and images on Five Heart Home are copyright protected. Please do not use without my permission. If you would like to feature this recipe, please rewrite the directions in your own words and give proper attribution by linking back to this blog.
♥More one-pan ground beef dinners…

One-Pot Taco Pasta Skillet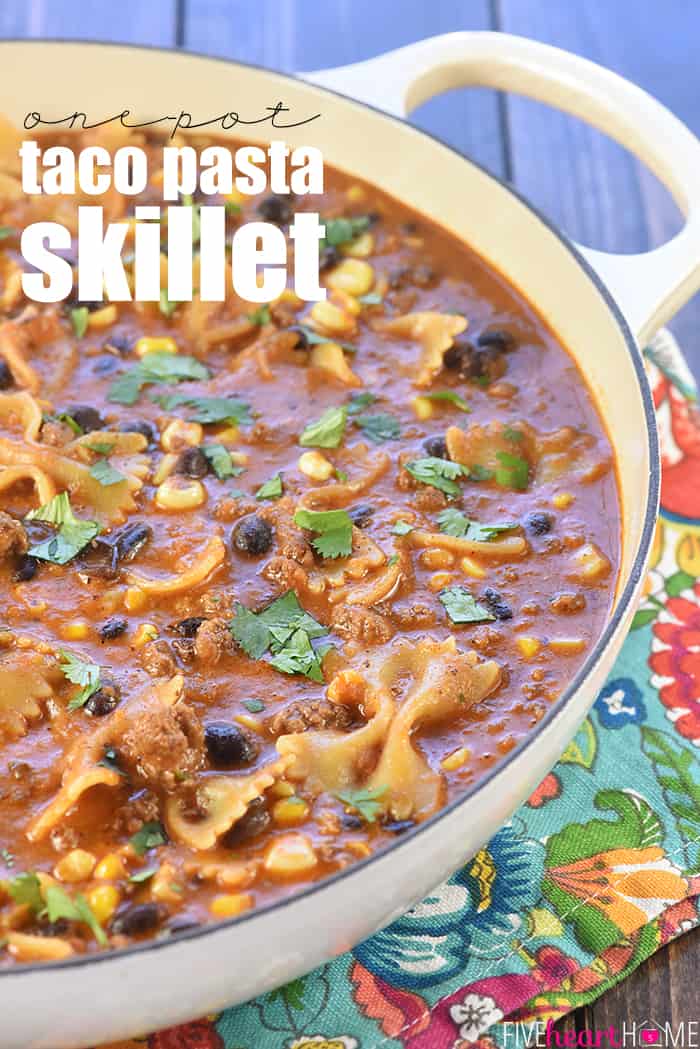 One-Pot Pizza Pasta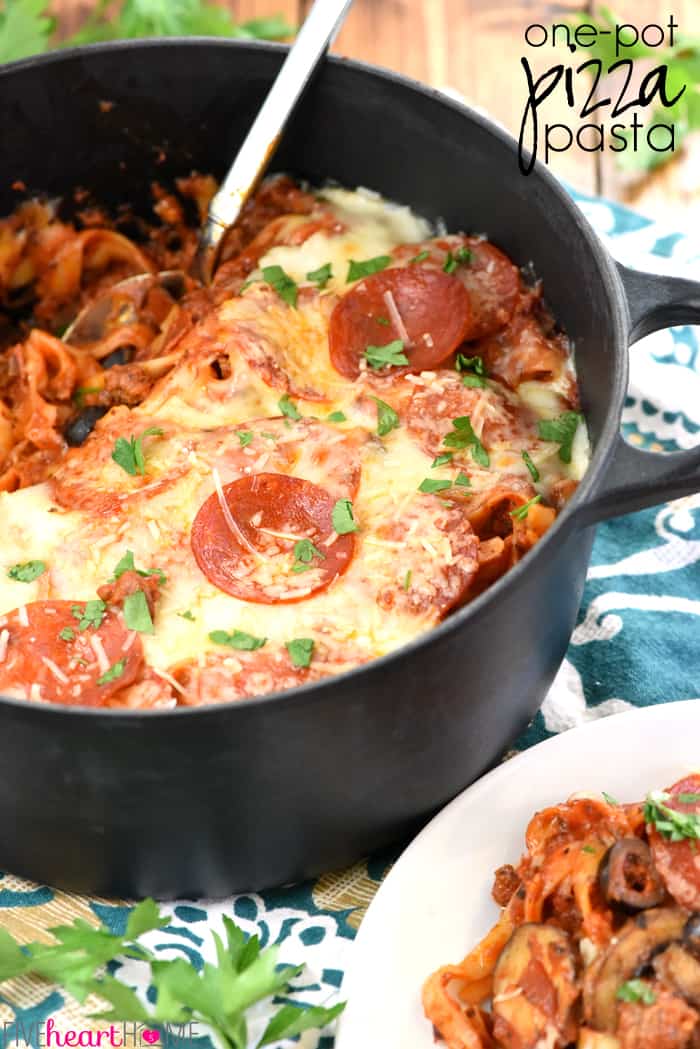 One-Skillet Sloppy Joe Tater Tot Casserole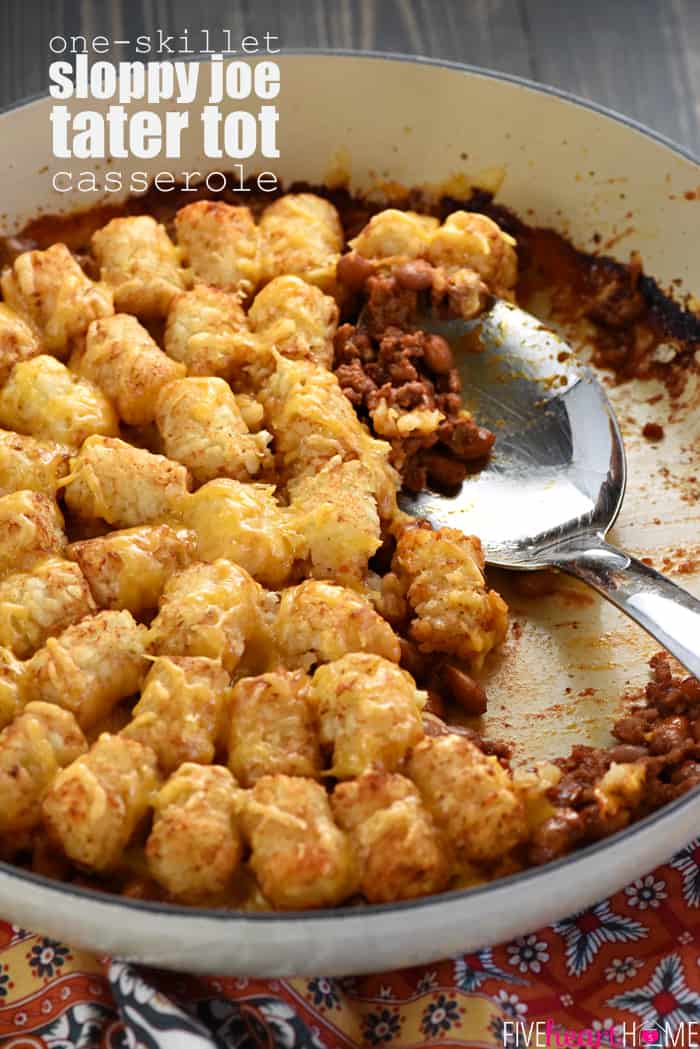 30-Minute Skillet Pastitsio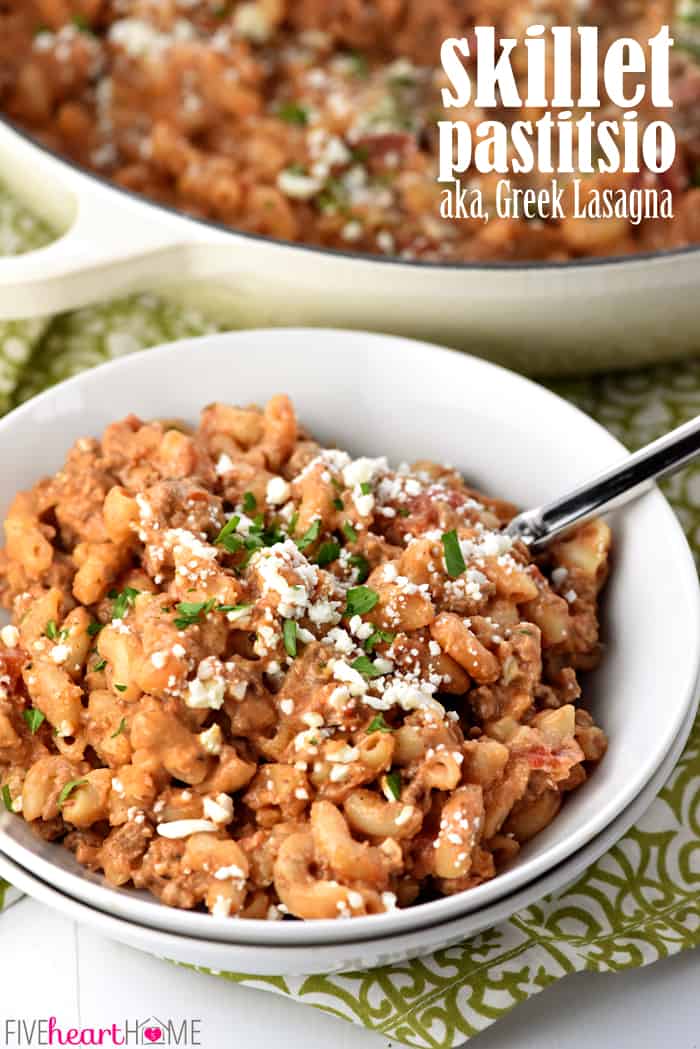 Save
Save
374