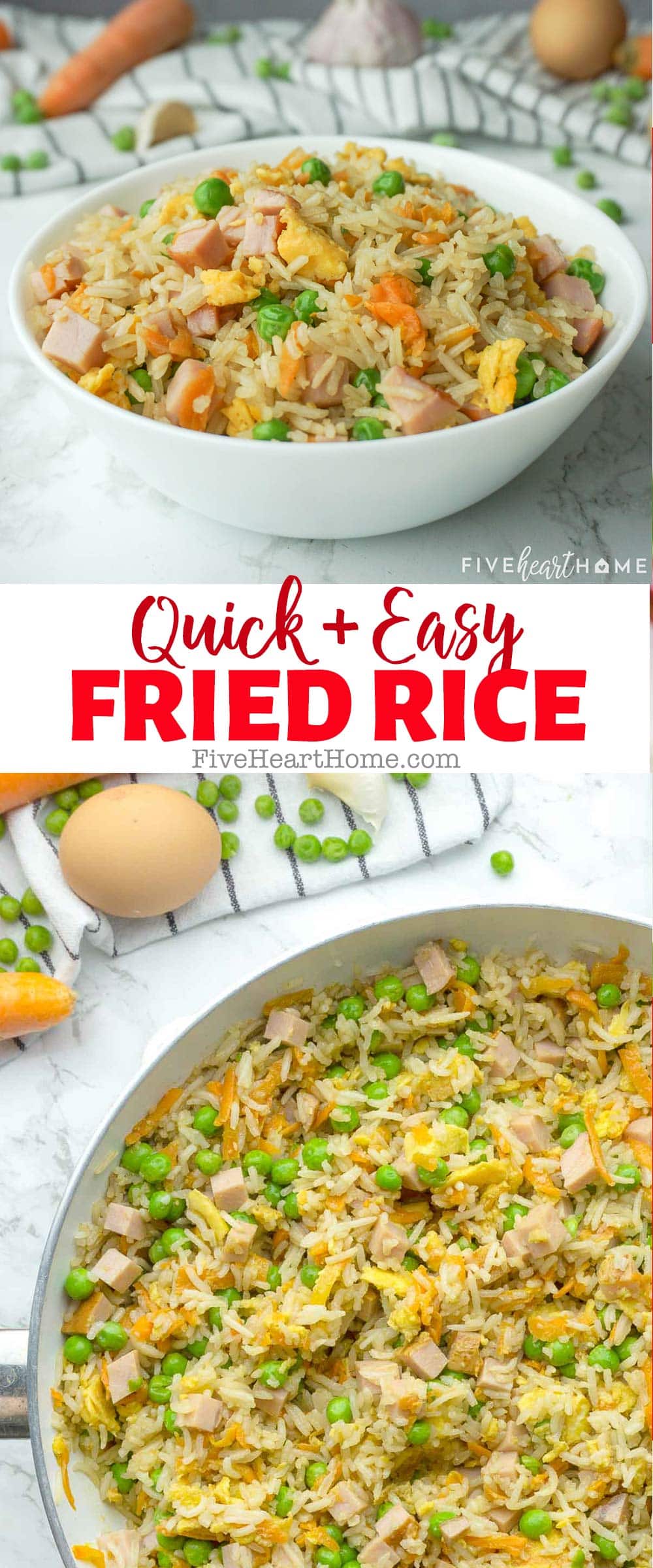 Easy Fried Rice is a one-pot, quick and simple, weeknight dinner recipe using basic ingredients and leftovers including rice, eggs, veggies, and your favorite protein, from diced ham to rotisserie chicken to ground beef and more!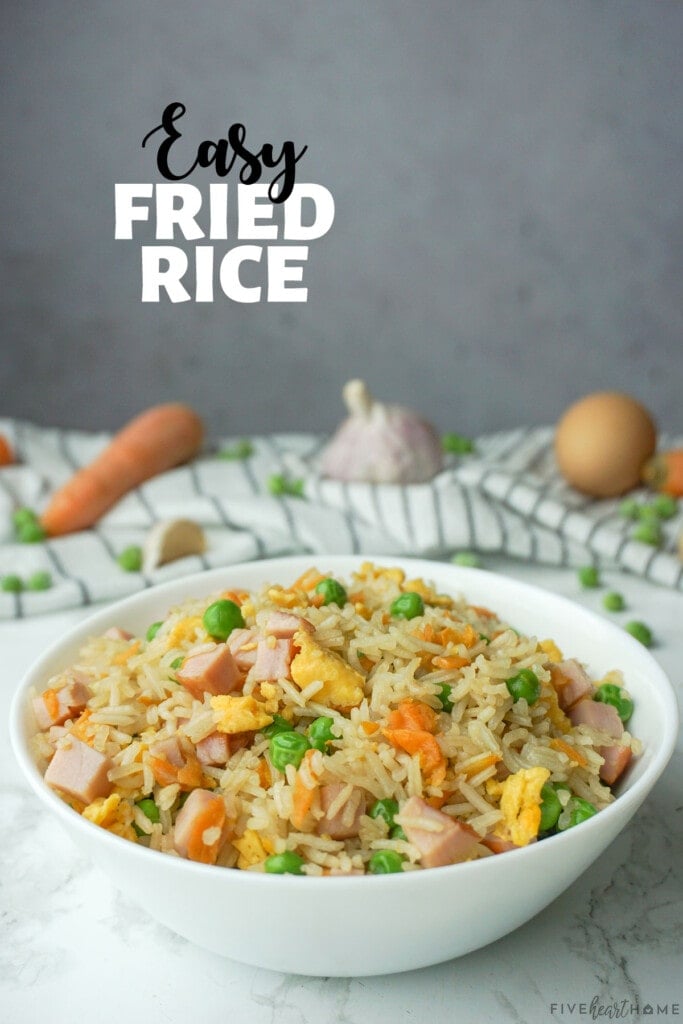 I'm back today with another yummy, quick, one-pot dinner for busy weeknights! While obviously a great accompaniment to Chinese food, Easy Fried Rice is actually a fantastic stand-alone meal! Any time I have leftover rice and/or plain leftover protein -- whether it's ham, ground beef, shredded chicken, or diced pork -- I know I'm just a few minutes away from a quick and easy dinner.
You know what's just as exciting to this mama, who has been known to juggle dinner making with puppy corralling, child entertaining, and homework assisting? With this meal, I don't have to worry about the added time and work that go into veggie and grain side dishes. This Easy Fried Rice recipe is an all-inclusive, one-pot wonder!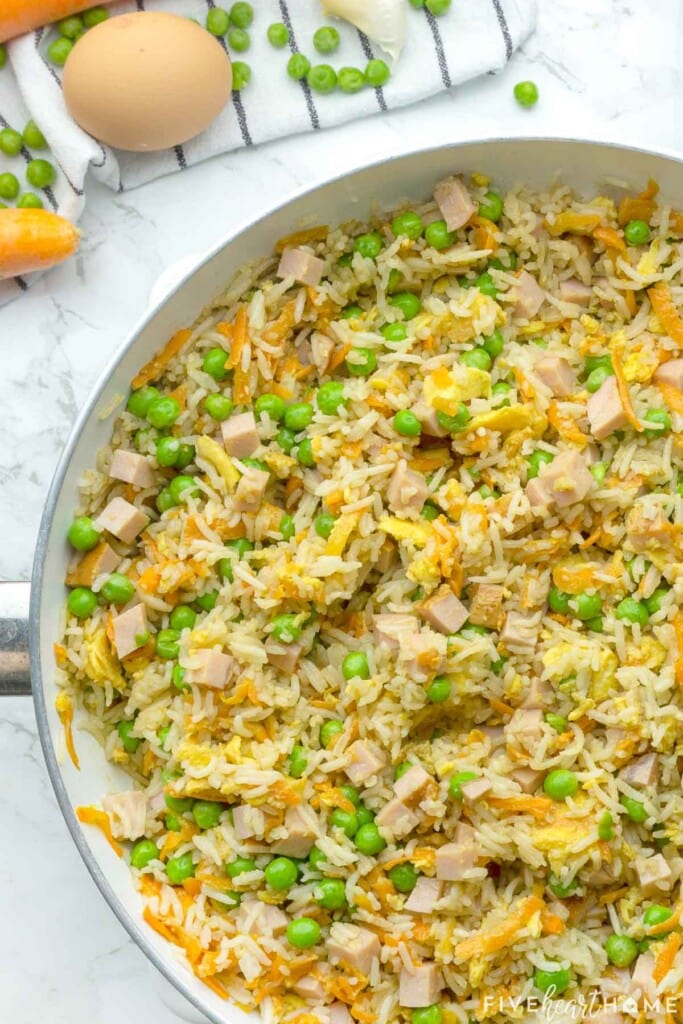 Easy Fried Rice Ingredients
The beauty of this recipe is that it's a fabulous and delicious way to use up leftovers.
PRO TIP: Sometimes when I cook rice, I purposefully double the amount with the intention of making Easy Fried Rice later in the week!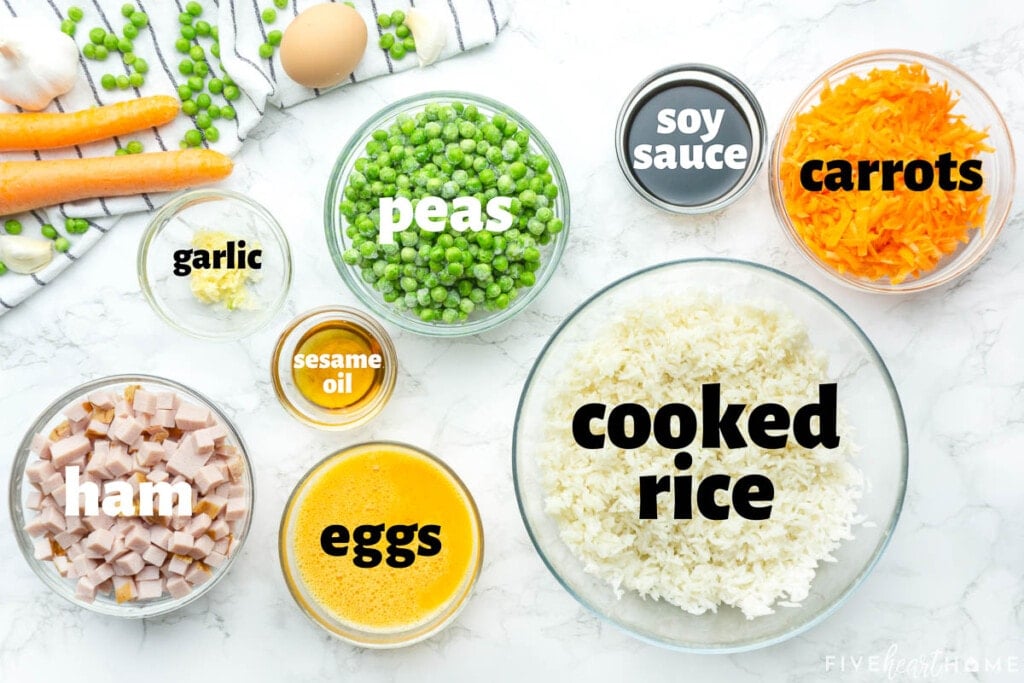 Below are the basic ingredients that I typically use, but feel free to swap out the veggies for your favorites or whatever you have on hand.
Toasted sesame oil. You can certainly substitute another oil (such as EVOO, canola oil, or peanut oil), but if you have sesame oil (regular or toasted), it lends a wonderful undertone of flavor to this dish. Sesame oil can be a bit pricey, but a little bit goes a long way in a variety of Asian-inspired recipes, so I always keep some on hand (and a small bottle lasts me a good while!). That being said, I've learned to always store my sesame oil in the refrigerator, as it otherwise goes rancid very quickly.
Garlic. Minced. When it comes to garlic, I always say the more, the merrier. 🙂
Carrots. Finely diced or grated. I find that grating the carrots allows me to sneak in extras, because the shredded pieces cook down quite a bit and are hardly noticeable by children-who-may-otherwise-pick-them-out in the final dish. But if you don't have an issue with persnickety offspring, use a bag of fresh shredded carrots or frozen diced carrots to save time.
Eggs. Beaten.
Frozen peas. For a pop of sweet.
Cooked rice. White or brown both work great, depending on how wholesome you want to make your Easy Fried Rice. Either way, starting with chilled rice is preferable because it's drier and crisps up nicely.
Soy sauce. I always use reduced-sodium soy sauce when cooking so that I can better control the saltiness of my dish. Coconut aminos may be used in place of soy sauce, but keep in mind that the flavor will be slightly different/sweeter.
Leftover protein. Already cooked. Ground, diced, or shredded. Chicken, beef, pork, ham, or shrimp...the possibilities are endless! Or leave out the meat if you prefer a simple, vegetarian, egg fried rice.
(Scroll down to the "Variations" heading for lots of ideas on how to change up this Easy Fried Rice recipe!)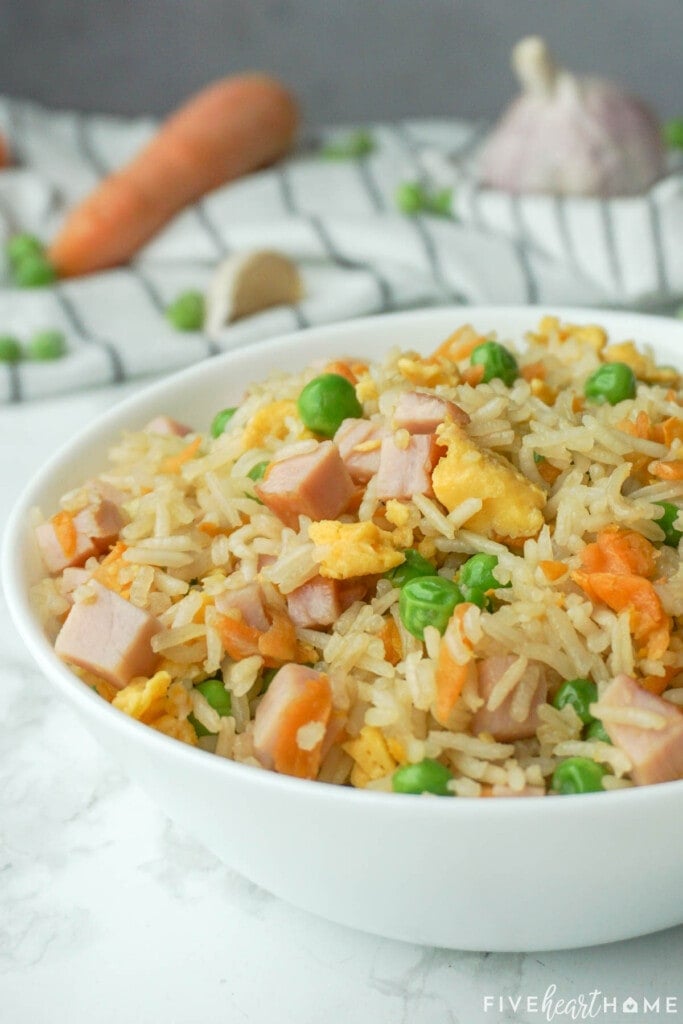 How to Make Fried Rice
(The below photos are intended to be helpful, but please refer to the recipe card at the bottom of this post for FULL DIRECTIONS.)
If you've never made Fried Rice before, it's super easy! And best of all, the whole thing goes down in the same pot or skillet (or wok!).
Heat sesame oil over medium low heat, then add carrots and garlic.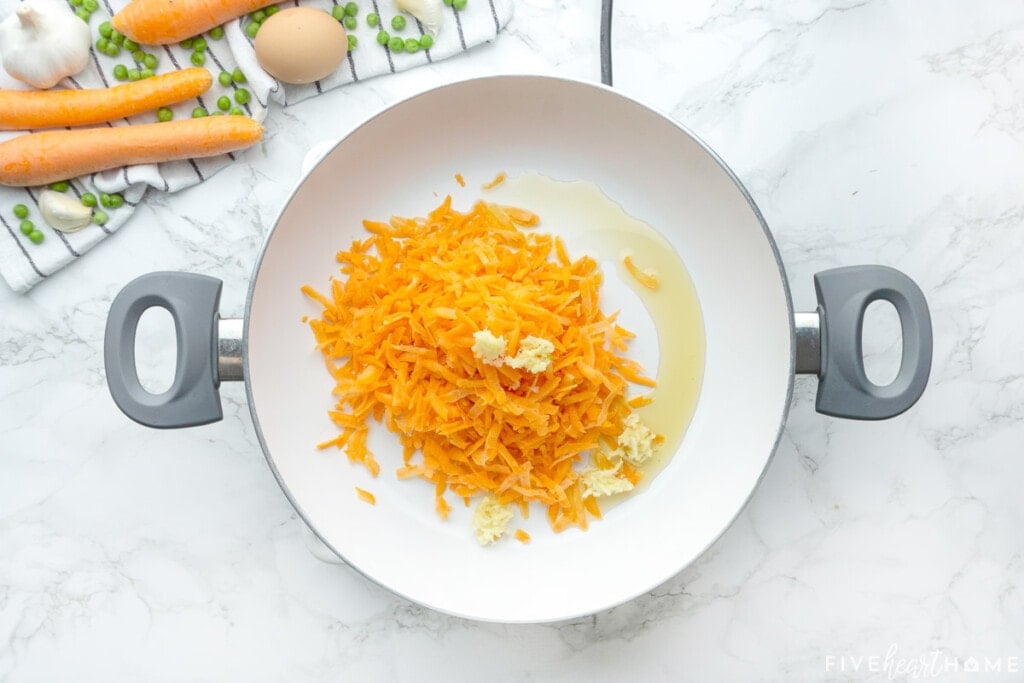 Saute, stirring occasionally, until tender.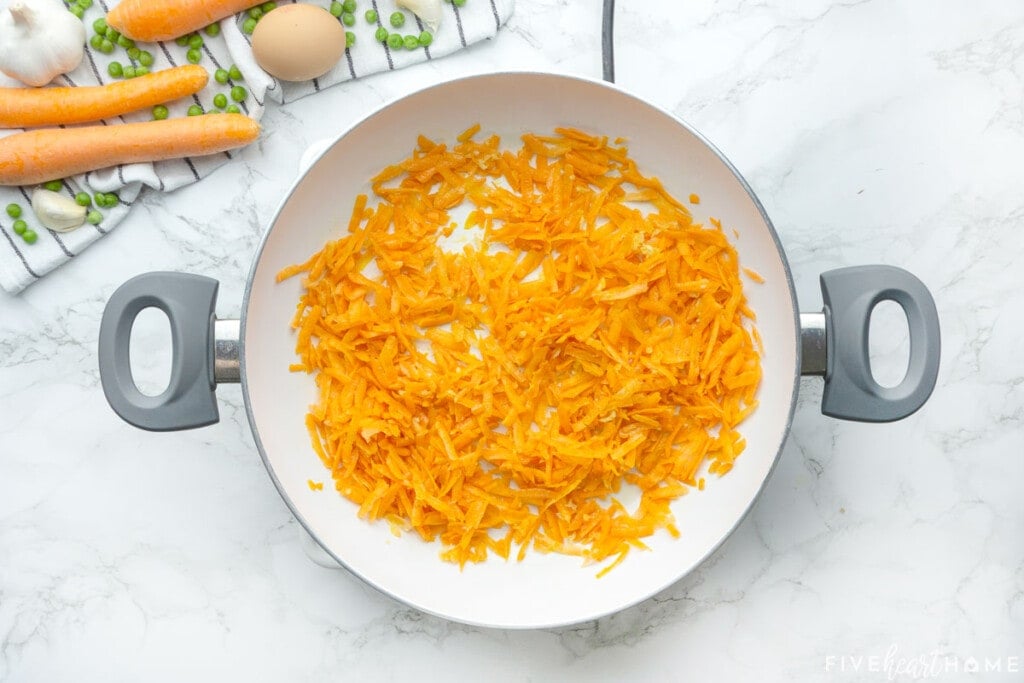 Push the garlicky carrots to the edges of the pan and scramble some eggs in the center.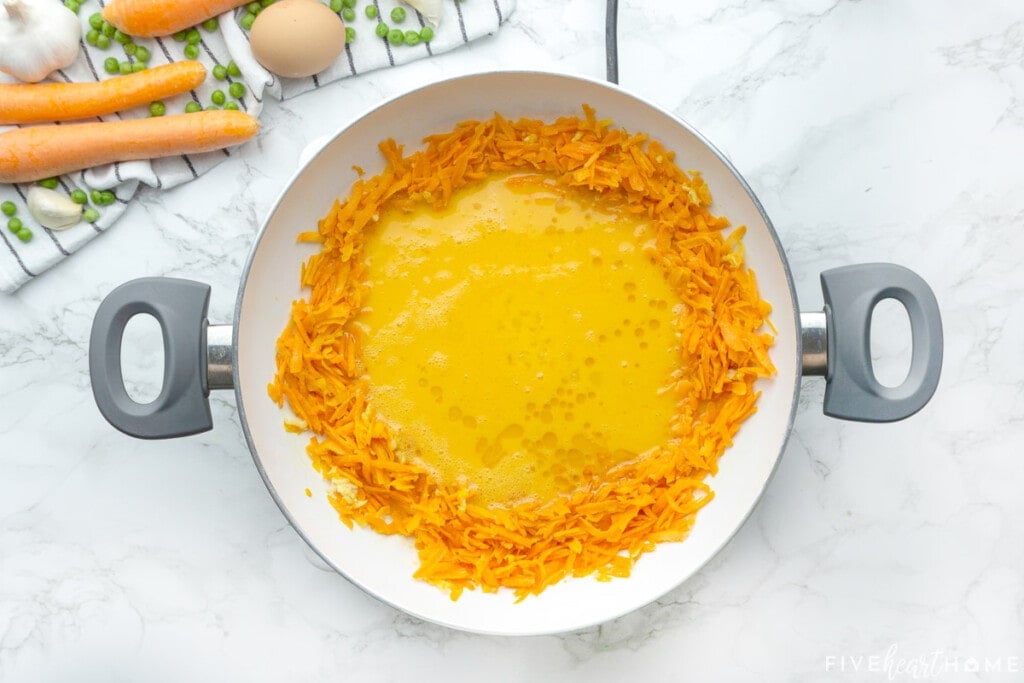 Add cold cooked rice and your other add-ins (diced ham and frozen peas are my go-tos.).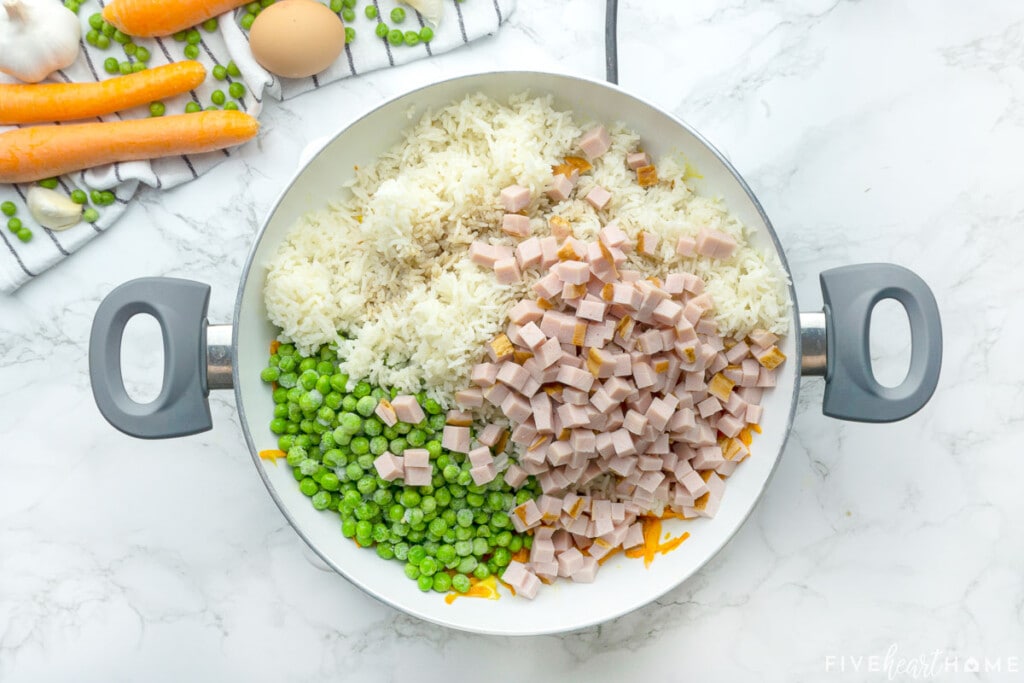 Gently stir all of the ingredients together until everything is heated through. You can cook for a few minutes longer (with less stirring) for crispier rice.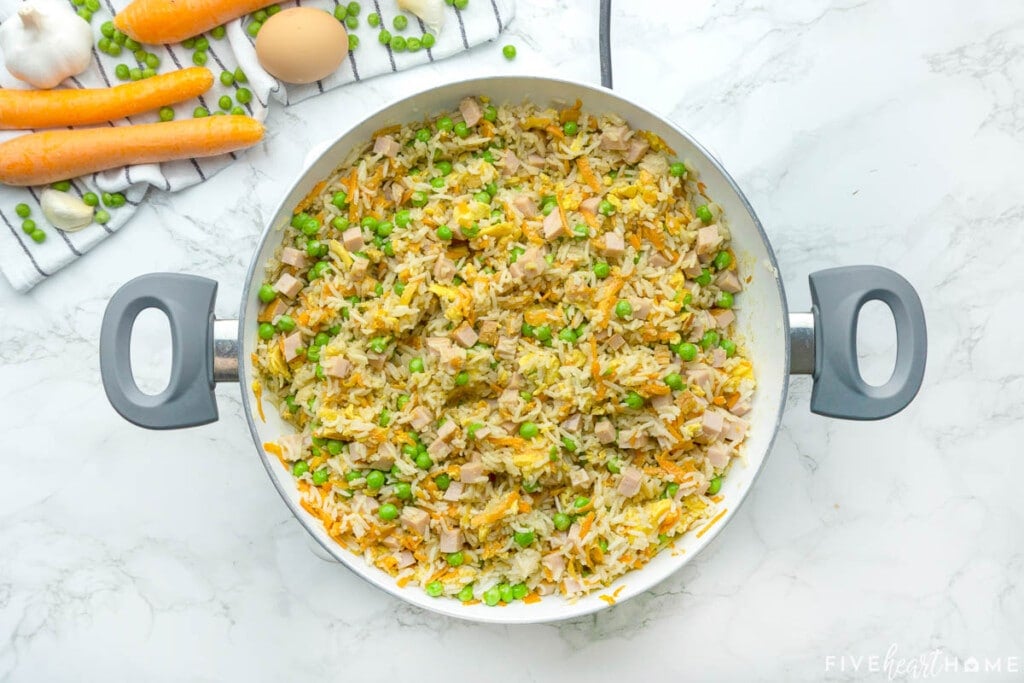 Ta-daaa! Time to enjoy.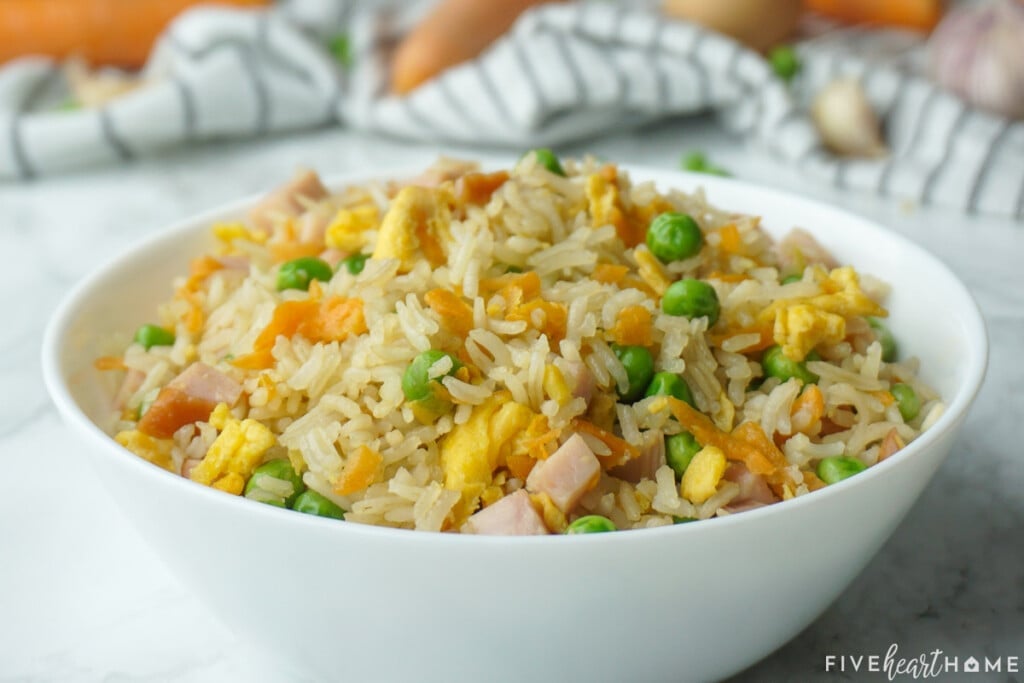 Variations
A major bonus of this Easy Fried Rice recipe is that the any of its components may be tweaked to your liking. If you prefer more or less of anything, adjust away. Or, as you'll see below, completely change things up to make it your own!
Veggie Options
As far as vegetables go, feel free to toss in your favorites. A few ideas...
Saute a diced small white onion at the same time as the carrots.
A chopped red bell pepper can also be added with the carrots.
Shelled edamame (frozen/thawed) or fresh snow peas may be stirred in along with (or in lieu of) the peas.
Shredded bok choy or cabbage are nice additions.
Add bean sprouts or drained water chestnuts for a decidedly Asian flair.
Less traditional veggies such as broccoli florets or chopped asparagus can also be incorporated...just make sure to cook them until tender.
Minced green onions or chives may be added at the end of the recipe.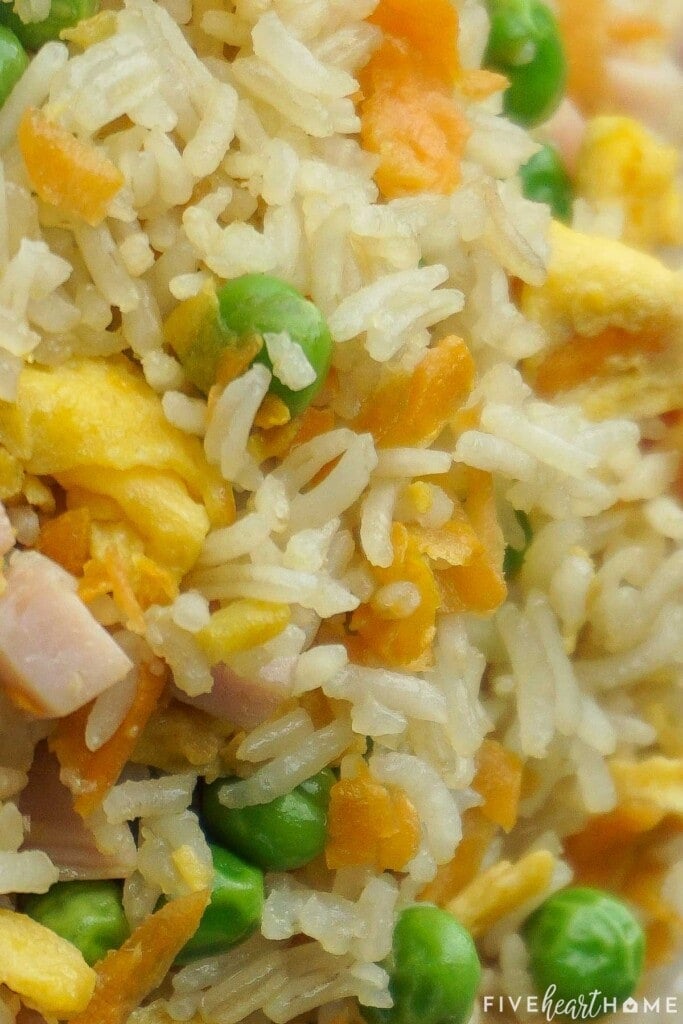 Protein Possibilities
While cubed ham is a quick and easy option that I typically always have in my freezer, I honestly can't decide on my favorite type of meat to add to this dish. Just about any leftover cooked protein will work in your Easy Fried Rice. Some options...
Beef Fried Rice. Use ground beef, sliced steak, or even shredded roast.
Chicken Fried Rice. Great with diced or shredded rotisserie chicken or leftover chicken breasts.
Pork Fried Rice. Got leftover pork chops or pork loin/tenderloin? Cube it up and toss it in!
Ham Fried Rice. This is a great way to use up post-Christmas or post-Easter holiday ham.
Bacon Fried Rice. Because everything's better with bacon!
Shrimp Fried Rice. Shrimp doesn't typically make the best leftovers, as reheating it will make it rubbery. But shrimp cooks so fast that it's quick and easy to saute it at the beginning of this Easy Fried Rice recipe. Simply remove your cooked shrimp to a plate, proceed with the recipe as directed, and then stir it back in just before serving.
Vegetarian Options
Egg Fried Rice. Add an extra egg or two and omit the added protein altogether.
Pineapple Fried Rice. Saute some drained pineapple chunks (fresh or canned) along with the veggies.
No matter how simple or fancy you make your Easy Fried Rice, feel free to stir in some crushed red pepper flakes for heat, or drizzle with Sriracha just before serving!
A Note About the Soy Sauce
If you reduce a particular ingredient, just be sure you adjust the soy sauce accordingly so that you don't end up with too much sodium.
In the same way, if you use a salty protein like ham or shrimp, you may want to initially decrease the soy sauce and then add it back to taste.
It's always easy to add more, but it's pretty much impossible to take it away!
I hope this versatile and tasty Easy Fried Rice recipe provides another idea for your dinner repertoire that's fast, uncomplicated, appealing to all ages, and undeniably delicious.
Enjoy, y'all!
More Asian-Inspired Dinners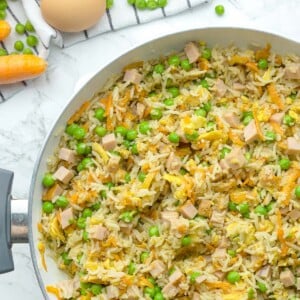 Easy Fried Rice - A Quick Recipe to Use Up Leftovers!
Easy Fried Rice is a one-pot, quick and simple, weeknight dinner recipe using basic ingredients and leftovers including rice, eggs, veggies, and your favorite protein, from diced ham to rotisserie chicken to ground beef and more!
Print
Pin
Rate
Servings:
4
to 6 servings
Ingredients
2

tablespoons

sesame oil

,

regular or toasted

1

tablespoon

minced garlic

,

3-4 cloves

2

cups

grated carrots (about 8 ounces)

4

eggs

,

beaten

2

cups

frozen peas

5

cups

cooked rice

,

white or brown (chilled)

⅓

cup

low-sodium soy sauce

2

cups

ground/diced/shredded leftover meat (already cooked)

,

such chicken, beef, pork, or ham
Instructions
Coat a large pot set over medium-low heat with 1 tablespoon of sesame oil. Cook garlic and carrots, stirring frequently, until tender. Push carrot mixture to the side of the pan and add another tablespoon of sesame oil. Add eggs in center of oil and cook as you would scrambled eggs.

Mix carrot mixture into eggs and stir in frozen peas, cooked rice, soy sauce, and shredded/chopped meat. Turn heat to low and, stirring frequently, allow the peas and meat to heat through before serving.
Notes
You may use white or brown rice. To make 5 cups of white rice, I cook 1 ½ cups of dry rice in 3 cups of water for 20 minutes, following package directions. The water/rice ratio for brown rice is going to be slightly different and the cooking time will be approximately doubled.
You may use regular or toasted sesame oil. If you don't have it, peanut oil or canola oil would work fine, too.
It's quick and easy to shred carrots in a food processor. Two cups may seem like a lot, but they cook down quite a bit. I find that by shredding them, they are hardly noticeable in the final dish and my kids don't mind eating them. You may also grate your carrots by hand, use packaged grated carrots, or even use frozen diced carrots.
You may use whatever type of meat you have on hand. Shredded rotisserie chicken, leftover ground beef or beef roast, shredded pork, cubed ham...the possibilities are endless!
Vegetarian options include Egg Fried Rice (omit the meat and add an extra egg or two) or Pineapple Fried Rice (add cubed pineapple -- fresh or canned/drained -- in place of the meat).
Calories:
619
kcal
|
Carbohydrates:
76
g
|
Protein:
28
g
|
Fat:
22
g
|
Saturated Fat:
5
g
|
Polyunsaturated Fat:
7
g
|
Monounsaturated Fat:
9
g
|
Trans Fat:
0.1
g
|
Cholesterol:
206
mg
|
Sodium:
918
mg
|
Potassium:
825
mg
|
Fiber:
11
g
|
Sugar:
7
g
|
Vitamin A:
11563
IU
|
Vitamin C:
34
mg
|
Calcium:
104
mg
|
Iron:
4
mg
Post originally published on August 28, 2013, and updated on August 9, 2020, and October 11, 2023.