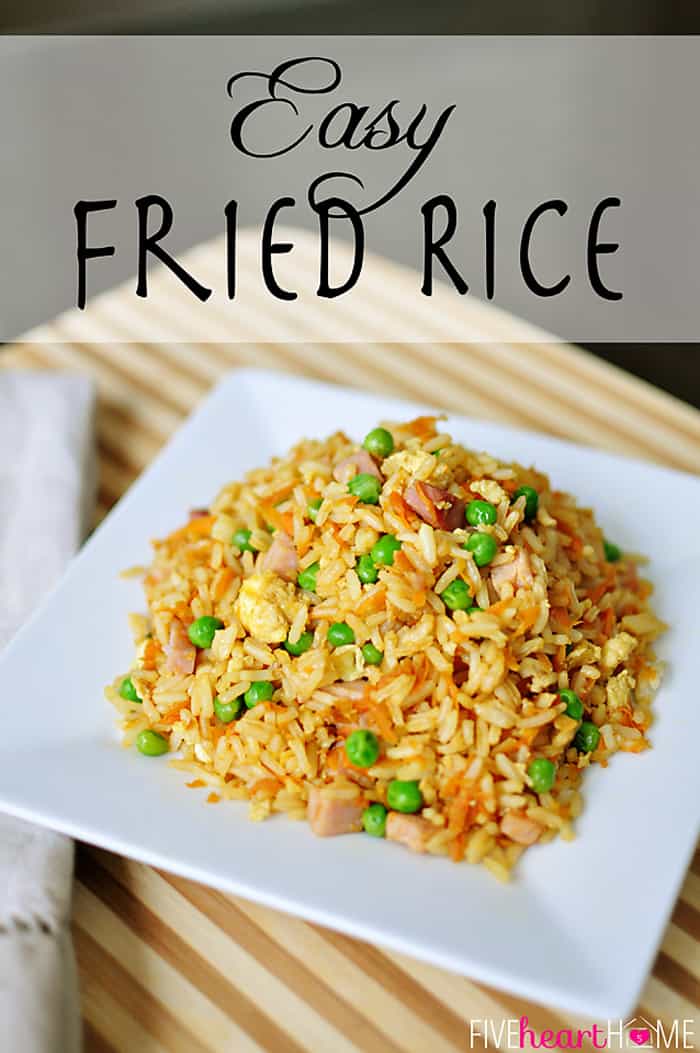 Fried Rice is an easy one-pot wonder and a complete meal. You can add your favorite type of meat or whatever leftovers you have on hand...ground or shredded chicken, beef, or pork, diced ham, or even shrimp are all delicious!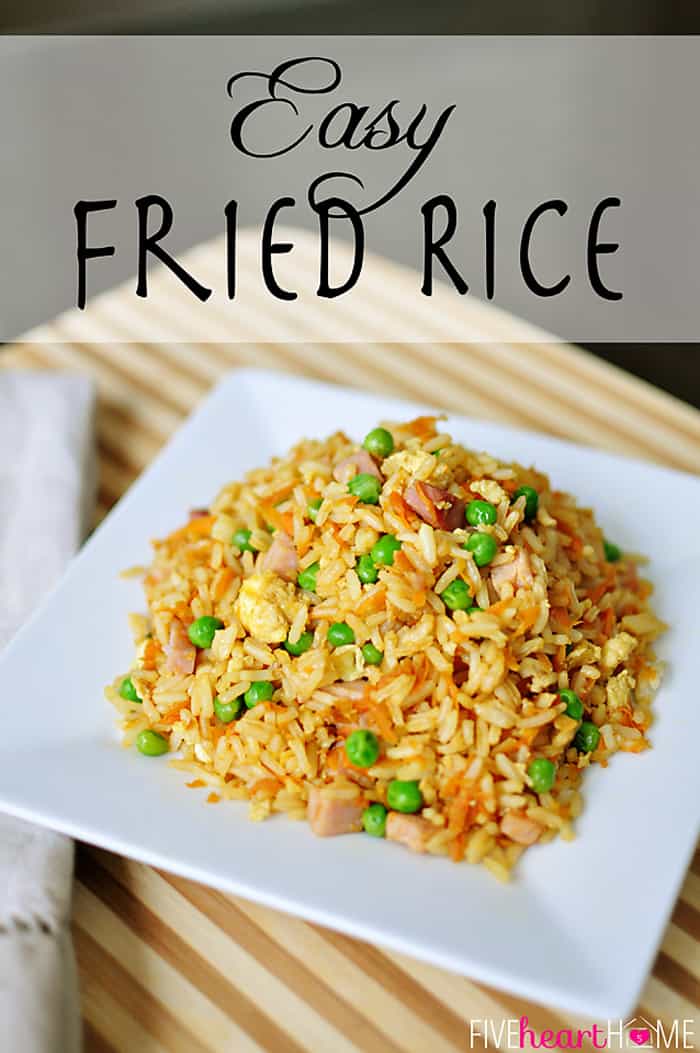 I'm back today with another yummy, quick, all-in-one dinner for busy weeknights.
Who doesn't like Fried Rice? It's obviously a great accompaniment to Chinese food, but my family enjoys it so much that I've learned it can easily be turned into a stand-alone meal. So any time I have leftover protein -- whether it's shrimp, ham, ground beef, rotisserie chicken, or shredded pork -- I know I'm just a pot of rice away from a quick and easy dinner!
You know what's just as exciting to this mama, who juggles dinner making with baby corralling, preschooler entertaining, and homework assisting? With this meal, I don't have to worry about the added time and work that go into veggie and carb side dishes. Fried Rice is an all-inclusive, one-pot-wonder.
How to Make It
If you've never made Fried Rice before, it's super easy! And best of all, the whole thing goes down in the same pot or skillet.
Cook carrots and garlic in a little oil until tender.
Push them to the edges of the pan and scramble some eggs in the center.
Add cooked rice and other add-ins (such as frozen peas, diced meat, whatever you like). Gently stir all ingredients together until heated through.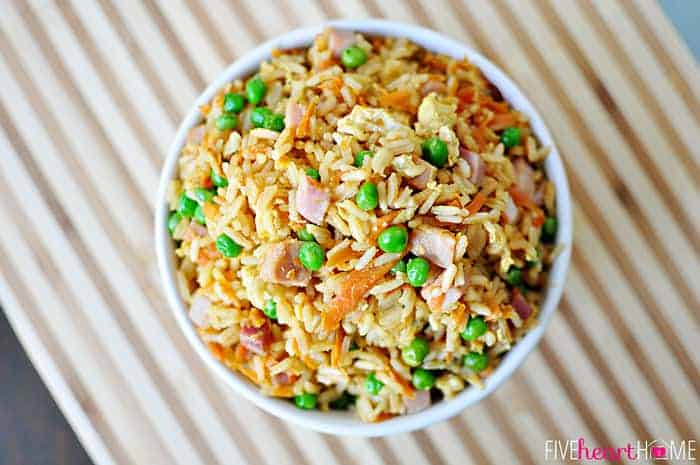 Variations
As far as vegetables go, feel free to throw in your favorites.
We like the traditional carrots and peas, but I know lots of people might enjoy green onions as well.
I find that grating the carrots allows me to sneak in extras, because the shredded pieces cook down quite a bit and are hardly noticeable by children-who-may-otherwise-pick-them-out in the final dish. But if you don't have an issue with persnickety offspring, use frozen diced carrots if that's easier.
On this particular night I made this recipe with white rice, but I often use brown rice and it turns out tasty as well.
And while I diced up a hunk of leftover ham here, I honestly can't decide on my favorite type of meat to add to this dish. Beef Fried Rice ends up tasting totally different than Shrimp Fried Rice, but my family loves them both.
Another bonus of this recipe is that any of its components may be tweaked to your liking. If you prefer more or less of anything, adjust away.
A Note About the Soy Sauce
If you reduce a particular ingredient, just be sure you adjust the soy sauce accordingly so that you don't end up with too much sodium. In the same way, if you use a salty protein like ham or shrimp, you may want to initially decrease the soy sauce and then add it back to taste. It's always easy to add more, but it's pretty much impossible to take it away.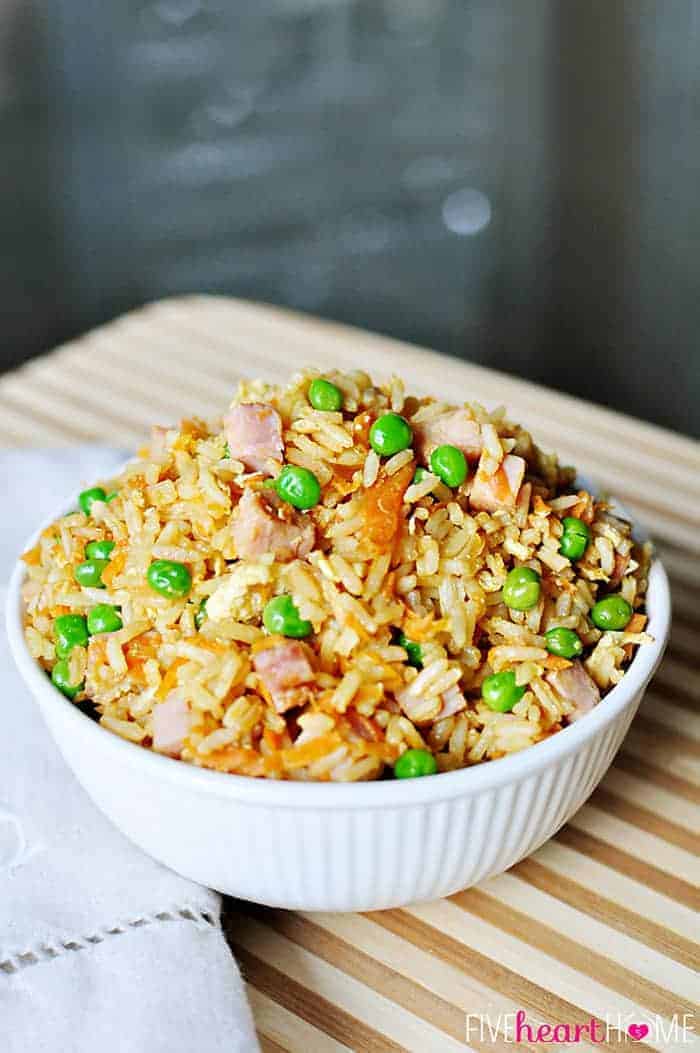 I hope this delicious Fried Rice recipe provides another idea for your dinner repertoire that's fast, uncomplicated, appealing to all ages, and undeniably delicious. Enjoy, y'all!
More Asian-Inspired Dinners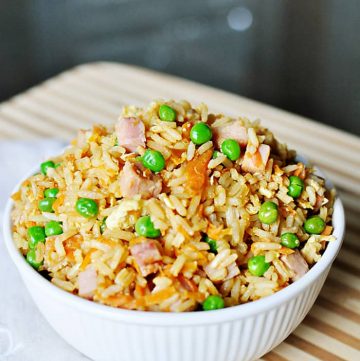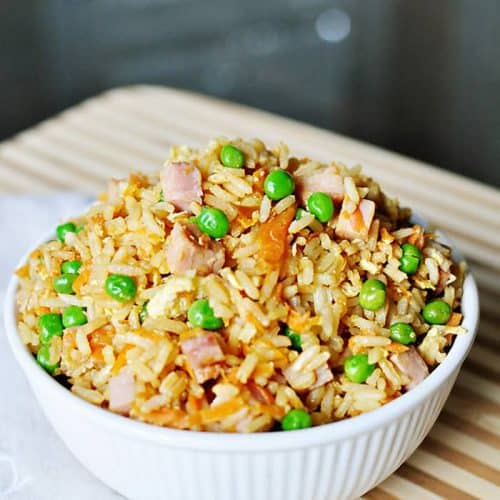 Fried Rice
Fried Rice is an easy one-pot wonder and a complete meal. You can add your favorite type of meat or whatever leftovers you have on hand...ground or shredded beef, pork, or chicken, diced ham, or shrimp are all delicious!
Print
Pin
Rate
Servings:
4
to 6 servings
Ingredients
Sesame oil

1

tablespoon

minced garlic

,

3-4 cloves

2

cups

grated carrots (about 8 ounces)

4

eggs

,

beaten

2

cups

frozen peas

5

cups

cooked rice

,

white or brown

⅓

cup

soy sauce

2

cups

ground/diced/shredded leftover meat (already cooked)

,

such chicken, beef, pork, ham, or shrimp
Instructions
Coat a large pot set over medium-low heat with 1 tablespoon of sesame oil. Cook garlic and carrots, stirring frequently, until tender. Push carrot mixture to the side of the pan and add another tablespoon of sesame oil. Add eggs in center of oil and cook as you would scrambled eggs.

Mix carrot mixture into eggs and stir in frozen peas, cooked rice, soy sauce, and shredded/chopped meat. Turn heat to low and, stirring frequently, allow peas and meat to heat through before serving.
Notes
You may use white or brown rice. To make 5 cups of white rice, I cook 1 ½ cups of dry rice in 3 cups of water for 20 minutes, following package directions. The water/rice ratio for brown rice is going to be slightly different and the cooking time will be approximately doubled.
You may use regular or toasted sesame oil. If you don't have it, peanut oil or canola oil would work fine, too.
I shred my carrots in the food processor. 2 cups may seem like a lot, but they cook down quite a bit. I find that by shredding them, they are hardly noticeable in the final dish and my kids don't mind eating them. You may also grate your carrots by hand, use packaged matchstick carrots, or even use frozen diced carrots.
You may use whatever type of meat you have on hand. Shredded rotisserie chicken, leftover ground beef or beef roast, shredded pork, cubed ham, chunks of shrimp...the possibilities are endless!
Calories:
557
kcal
|
Carbohydrates:
77
g
|
Protein:
27
g
|
Fat:
15
g
|
Saturated Fat:
4
g
|
Cholesterol:
206
mg
|
Sodium:
861
mg
|
Potassium:
780
mg
|
Fiber:
10
g
|
Sugar:
8
g
|
Vitamin A:
11563
IU
|
Vitamin C:
34
mg
|
Calcium:
102
mg
|
Iron:
4
mg