With all-natural ingredients like salsa verde, green chiles, and a creamy homemade sauce, this scrumptious stacked Chicken Enchilada Casserole boasts the great flavor of chicken enchiladas without the work of rolling them!

Sometimes nothing hits the spot like creamy, cheesy enchiladas! So for Father's Day a couple weeks ago, I baked up a double recipe for my husband and my father-in-law to enjoy. But since a big batch of enchiladas would take a good bit of time to roll, I decided to go the easy route and make a stacked Chicken Enchilada Casserole instead. And since I'm guessing that some of y'all enjoy taking the easy route as well (with delicious results, mind you), I figured I better share the recipe here today! 😉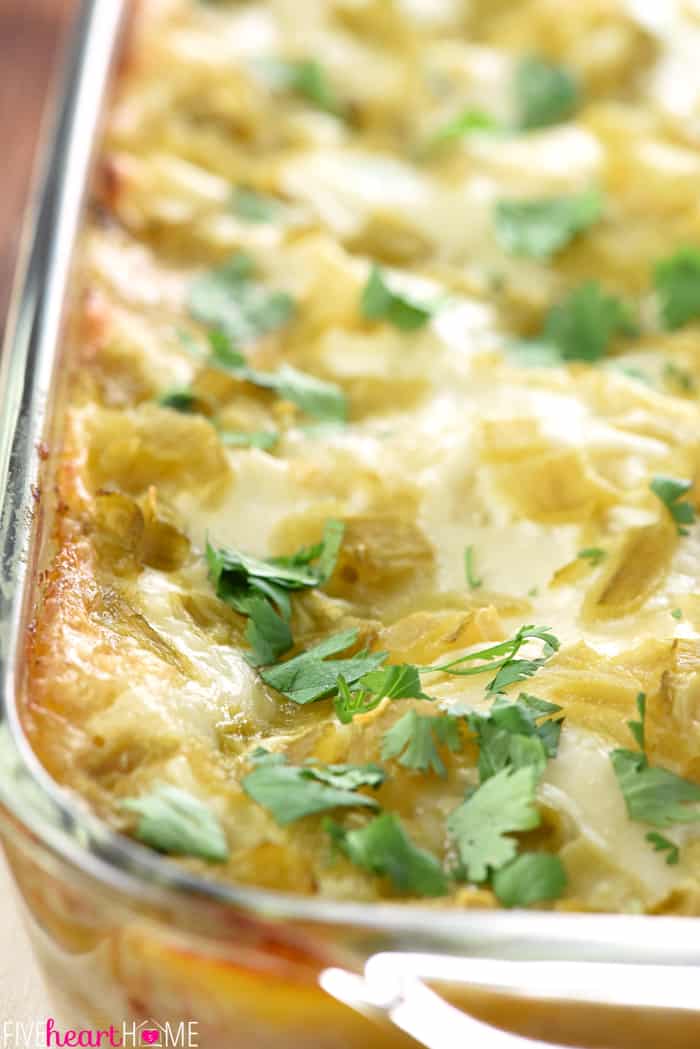 I actually adapted my ever-popular King Ranch Chicken Casserole for this recipe, borrowing the ratios but changing up the flavors to turn it into an enchilada-inspired casserole. My husband's favorite type of chicken enchiladas are the green variety, so I incorporated salsa verde into an easy, from-scratch sauce (no condensed 'Cream of X' soup here!), as well as sprinkling some green chiles on top. Oh, and I stirred in some sour cream for good measure, because what enchiladas couldn't be improved with sour cream?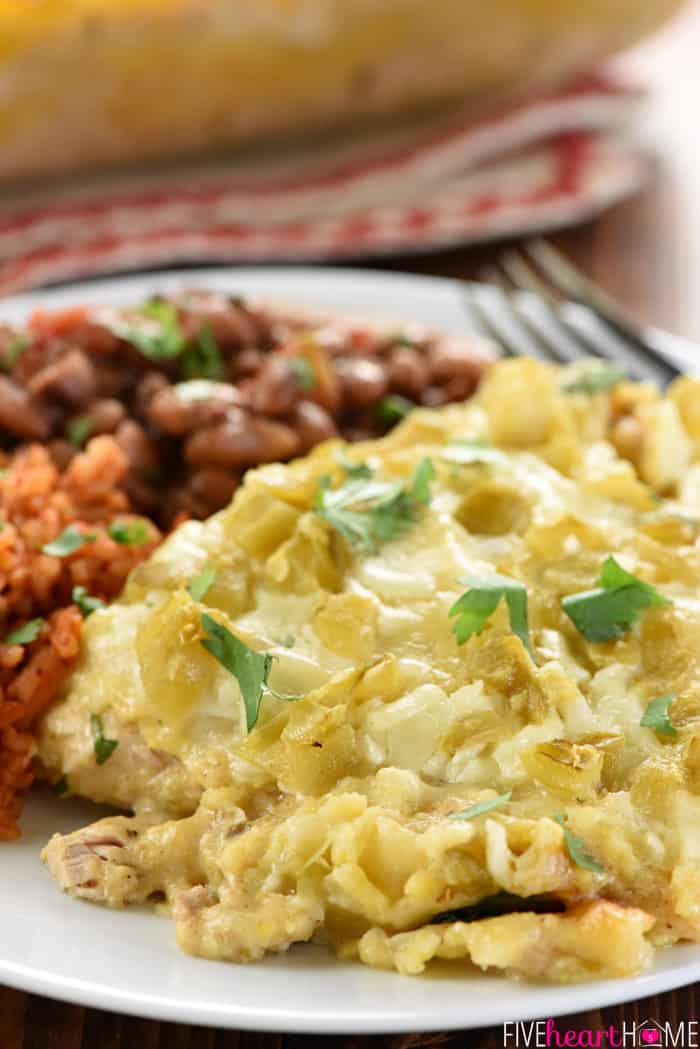 After alternating layers of cooked, diced chicken, homemade sauce, corn tortillas, and cheese, I baked until bubbly and served the Chicken Enchilada Casserole with sides of Easy Spanish Rice, Slow Cooker Charro Beans, and a green salad drizzled with Creamy Jalapeño Dip (which, incidentally, makes a to-die-for salad dressing). Then we enjoyed Pecan Pie Bars (my husband's favorite) and Peach Crisp Bars (recipe coming soon!) for dessert. The yums just keep on coming…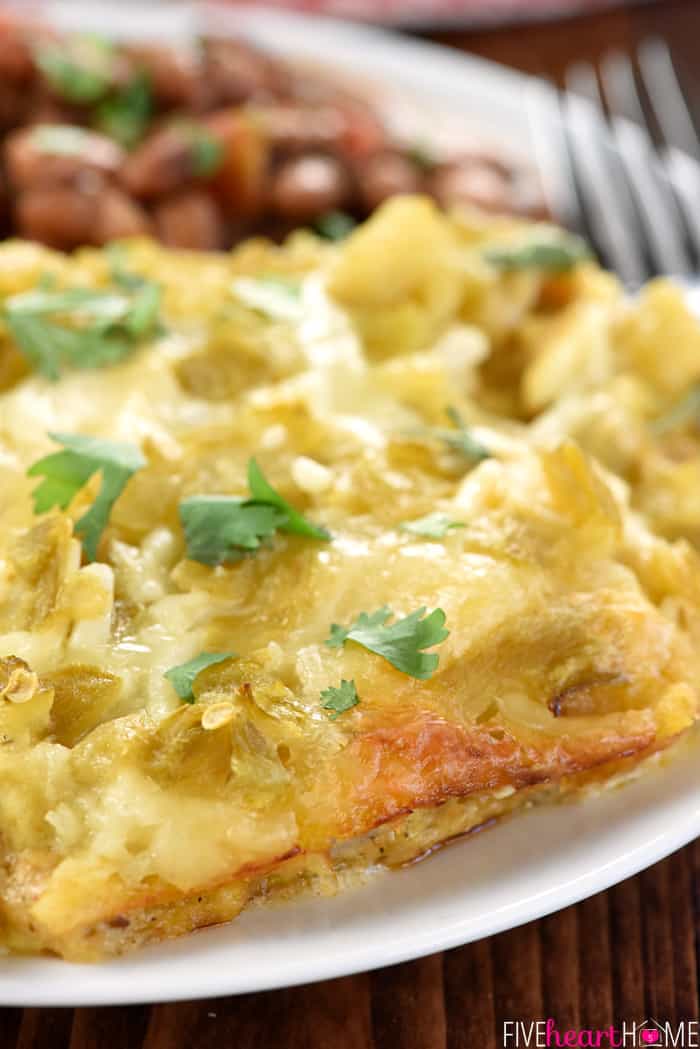 The dinner was easy to make and a huge hit with not only the guests of honor, but the entire family. In fact, I'm still dreaming about it, which means we may have to have a Father's-Day-menu-repeat soon! Hopefully, you'll be inspired to do the same… 😉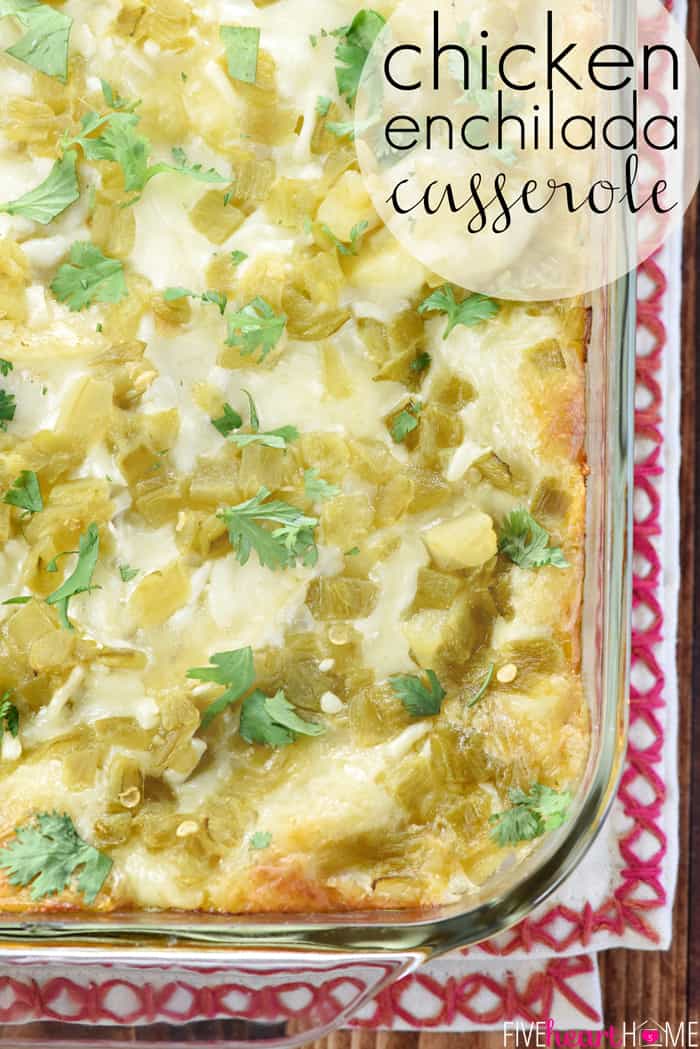 Chicken Enchilada Casserole
With all-natural ingredients like salsa verde, green chiles, and a creamy homemade sauce, this scrumptious stacked Chicken Enchilada Casserole boasts the great flavor of chicken enchiladas without the work of rolling them!
Ingredients
4 cups cooked, shredded chicken
3 tablespoons butter
1 clove garlic, minced
3 tablespoons flour
1 cup milk
1 1/2 cups chicken broth or stock, DIVIDED
1 teaspoon cumin
1 teaspoon garlic powder
1 teaspoon chili powder
1 cup salsa verde (green salsa)
1 cup sour cream
Salt & freshly ground pepper
12 corn tortillas, quartered
8 ounces grated Monterrey Jack cheese
1 (4-ounce) can diced green chiles, drained
Instructions
Adjust rack to center position of oven. Preheat oven to 350°F. Lightly spray a 9- by 13-inch baking dish with cooking spray.
Make the white sauce by melting butter in a medium saucepan over low heat. Add the garlic to the pot and saute until fragrant and light golden brown, about 1 minute. Stir in the flour and whisk continuously for 1 minute. Slowly and gradually whisk in milk and 1/2 cup chicken stock. Increase heat to medium and stir continuously for several minutes until sauce is smooth and thickened. Remove pot from the heat and stir in cumin, garlic powder, and chili powder. Stir in the salsa verde and the sour cream until smooth. Add salt and freshly ground black pepper, to taste.
Evenly scatter half of the shredded chicken in the bottom of the baking dish. Dollop half of the sauce on top of the chicken and use the back of a spoon to spread it in an even layer. Arrange half of the corn tortilla quarters on top, overlapping slightly and tearing in half to fill in any gaps, if necessary. Sprinkle half of the grated cheese on top. Drizzle the entire surface with 1/2 cup of the remaining chicken broth, including corners and edges. Repeat layers of chicken, sauce, tortillas, cheese, and final 1/2 cup broth. Evenly sprinkle diced green chiles over the top of the casserole.
Cover with foil and bake for 15 minutes. Remove foil and bake for an additional 30 minutes, until hot and bubbly.
Notes
You may use leftover chicken or cook it fresh by poaching, baking, grilling, cooking in the slow cooker, etc. I typically cook 4 (medium-sized) frozen chicken breasts for this recipe. Alternatively, a rotisserie chicken torn into chunks yields about 4 cups.
For extra kick, you may use Pepper Jack cheese in lieu of the Monterrey Jack.
https://www.fivehearthome.com/stacked-chicken-enchilada-casserole-recipe-with-sour-cream-salsa-verde-green-chiles/
https://fivehearthome.com ~ All recipes and images on Five Heart Home are copyright protected. Please do not use without my permission. If you would like to feature this recipe, please rewrite the directions in your own words and give proper attribution by linking back to this blog.
More Tex-Mex treats…
Baked Chicken Taquitos with Avocado Cilantro Dipping Sauce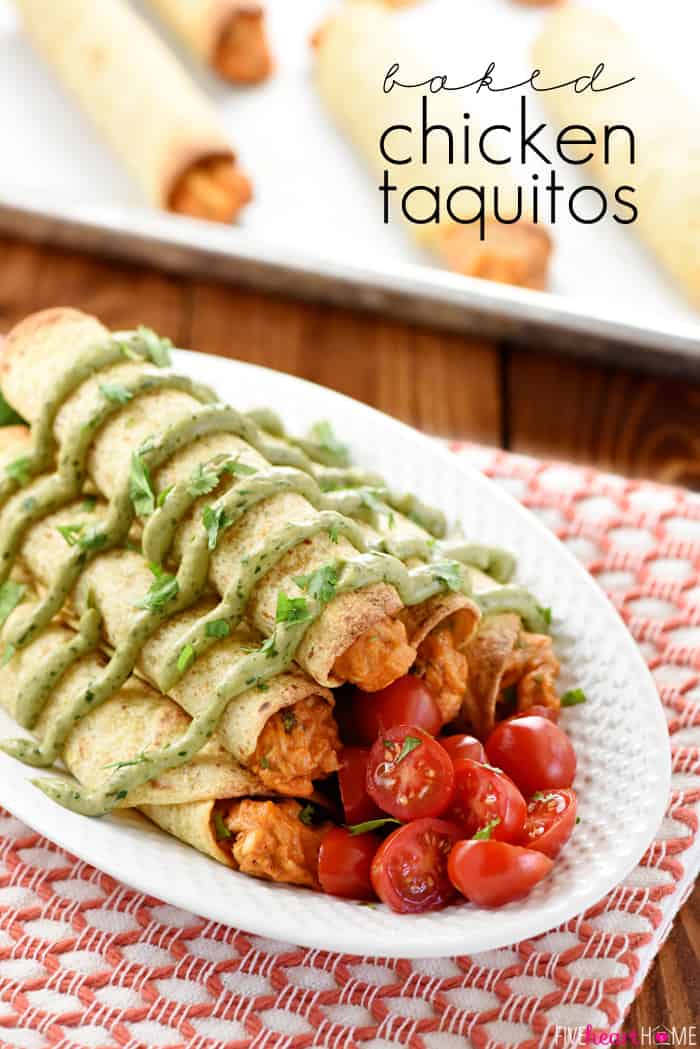 Ultimate Taco Salad with Avocado Ranch Dressing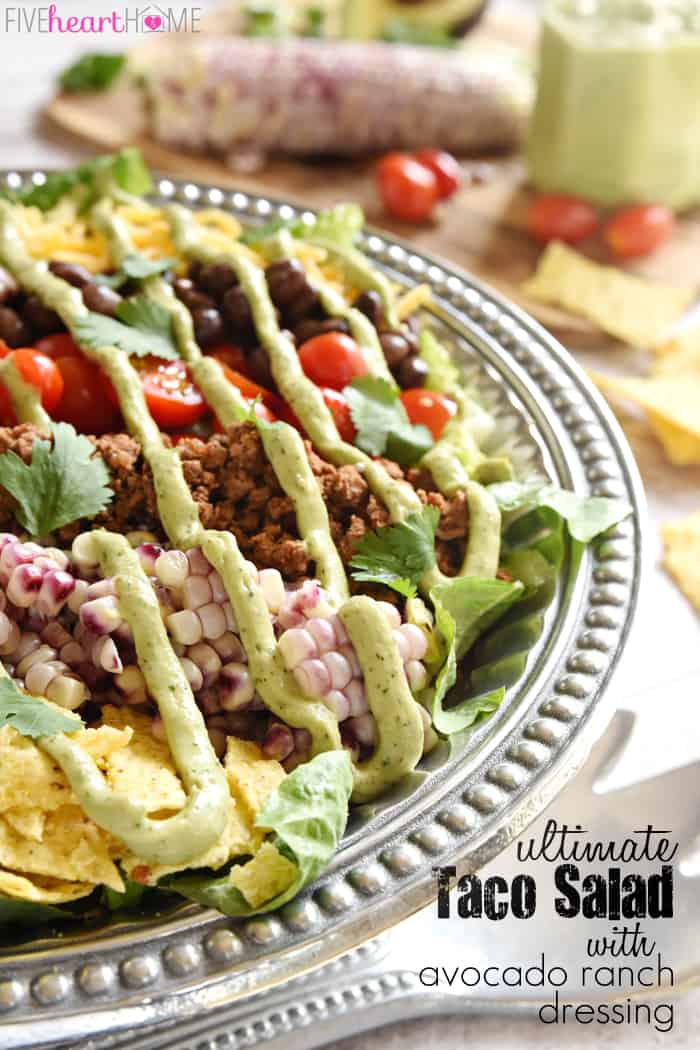 Slow Cooker Beef Barbacoa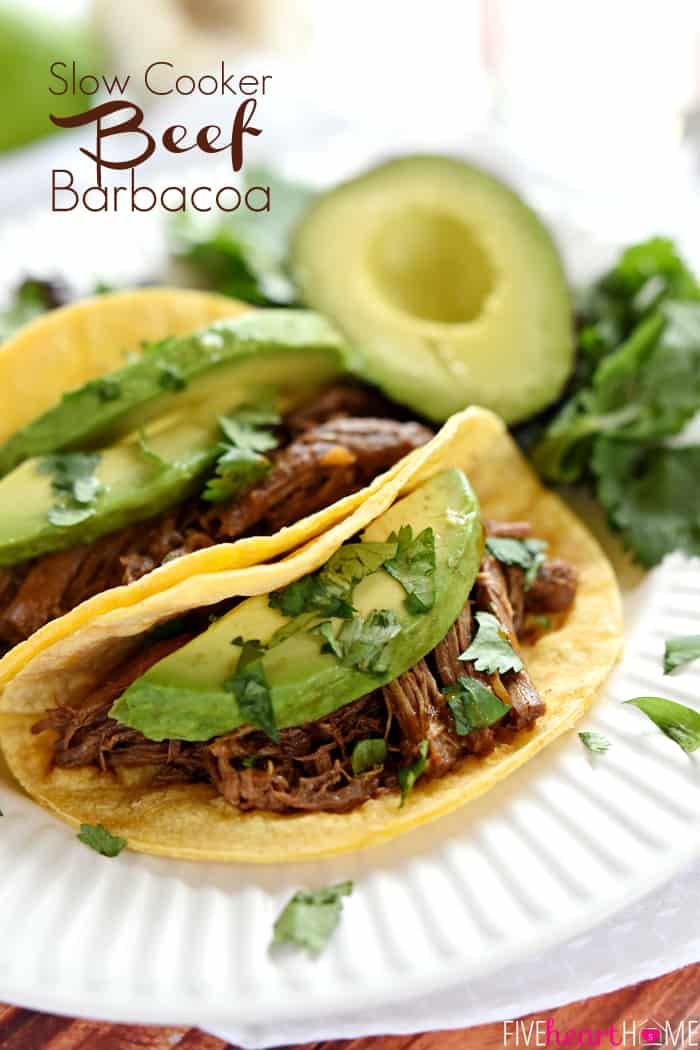 Tex-Mex Fresh Corn Dip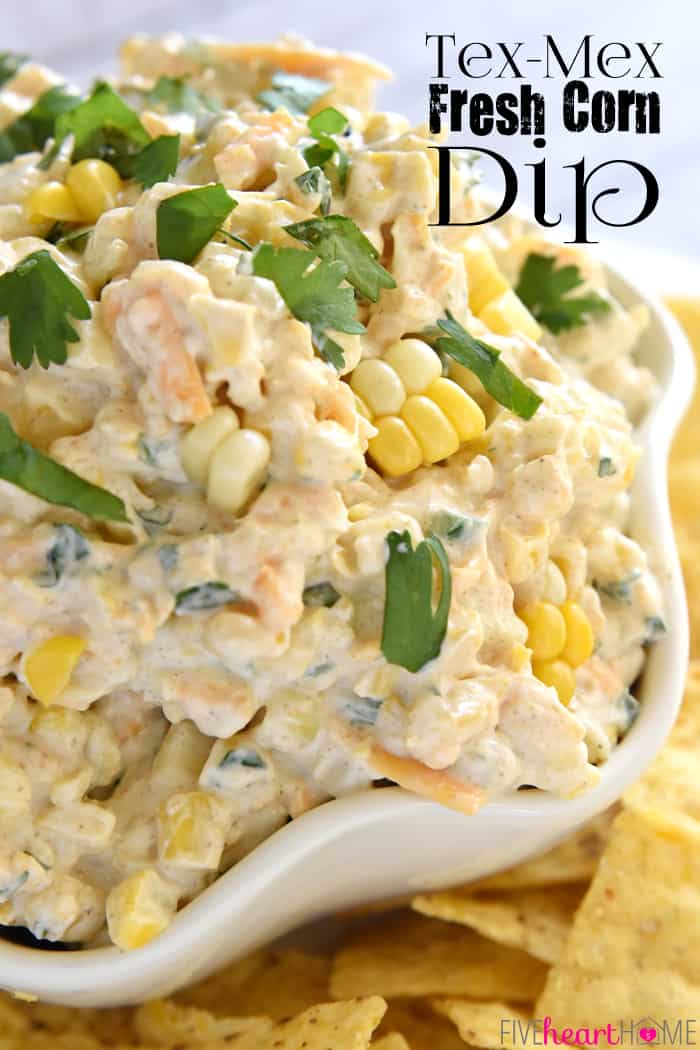 Save
110