No-Bake Frozen Margarita Pie is cool and creamy, with a salty-sweet pretzel crust and a frosty filling flavored with fresh lime juice, tequila, and triple sec!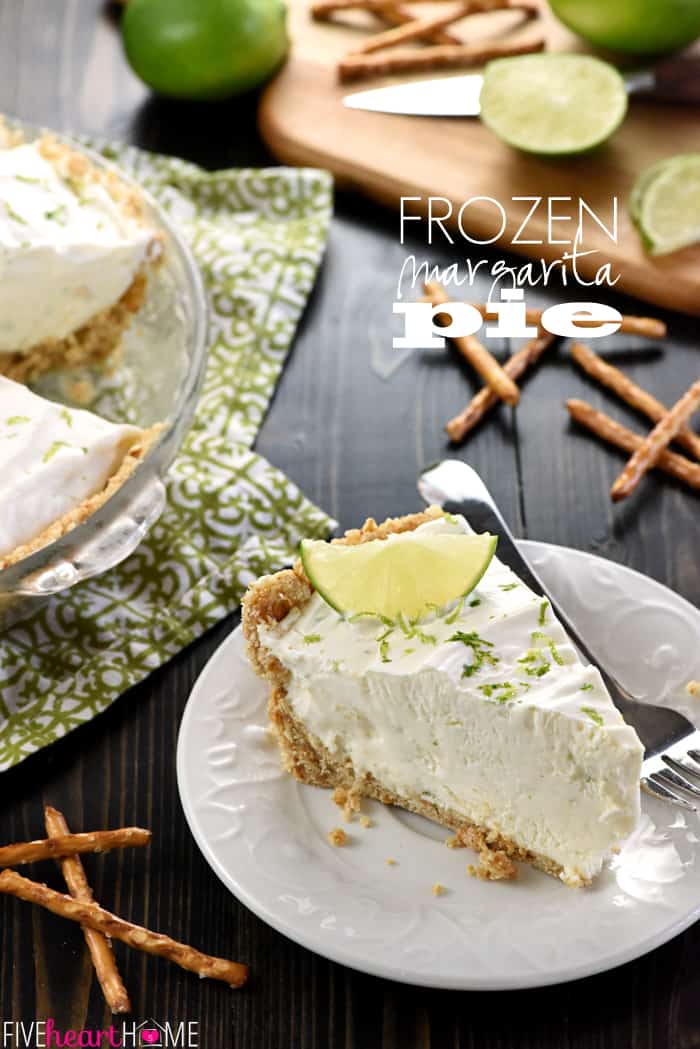 Well, we've apparently reached the height of summer, with temps topping 100 degrees just about every day. Bring on all the cold things! Alas, this also means it's too hot to play outside past a certain hour of the morning without risking heat stroke, so my kids have been getting a little stir crazy (AKA, completely nutso) with all of that pent-up energy. Truth be told, when they're wild and I'm trapped inside with them, I get the urge to fill my Yeti tumbler with a mid-afternoon cocktail. So, with all of that being said, it seems like an entirely appropriate time to share a recipe that I've been sitting on for quite some time now...Frozen Margarita Pie! Because who needs a cocktail when you can enjoy a frosty piece of spiked pie instead? 😉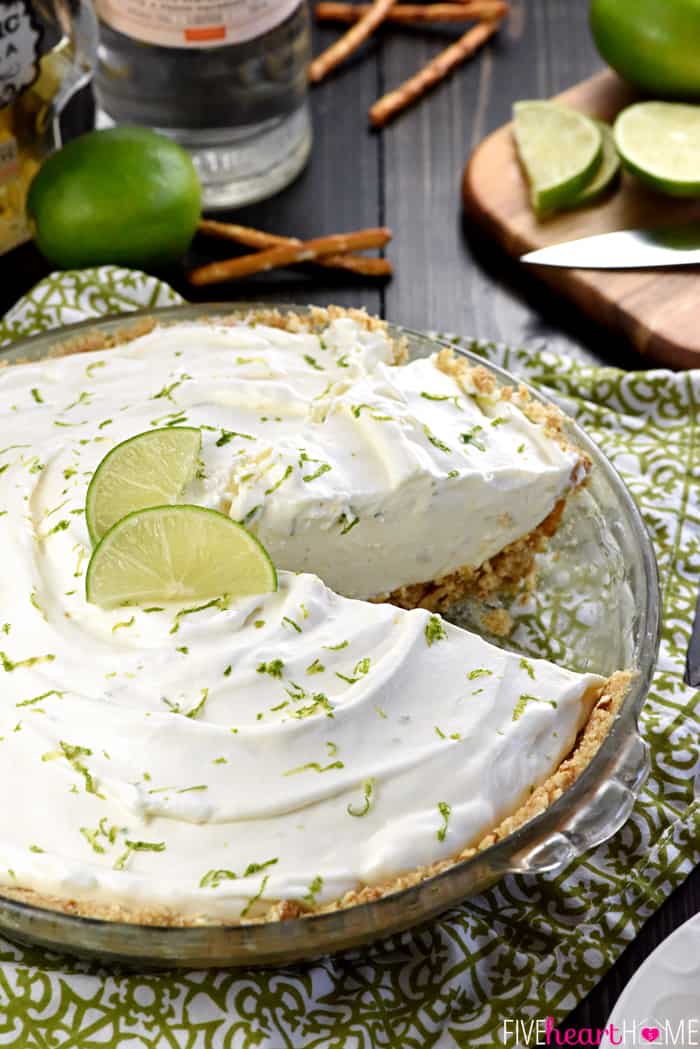 The first time I ever made dinner for my then-boyfriend/now-husband back in '01, I cooked my famous King Ranch Chicken Casserole and culminated the meal with this pie for dessert. In the years since, I've made that same casserole countless times but this pie only intermittently. I'm not sure why, because every time I make it, it gets rave reviews (and the pretzel crust component is so yummy that I've lent it to other pie recipes on several occasions). But when I came across this summer dessert idea in my ol' recipe box the other day, I knew that the time had come to share it.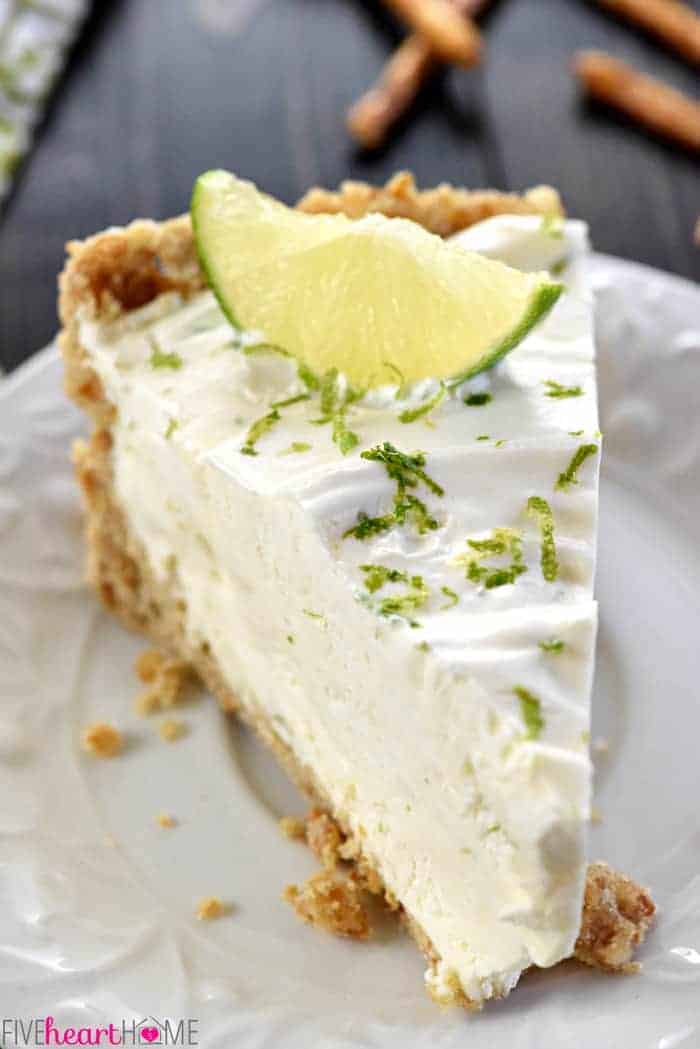 Alcohol-Free Version
I've always made this Frozen Margarita Pie with the tequila and triple sec included, while whipping up a second dessert option for the kids. But this time, I decided to increase the lime juice a bit and leave out the liquor to see if a family-friendly version of this recipe would work.
Sure enough, it did...and the kids loved it! In fact, my eldest enjoyed it so much that he requested it for his big birthday bash in a few weeks. Margarita Pie to celebrate turning 9? Why not! Just tell your friends your mom made you Frozen *Lime* Pie, m'kay?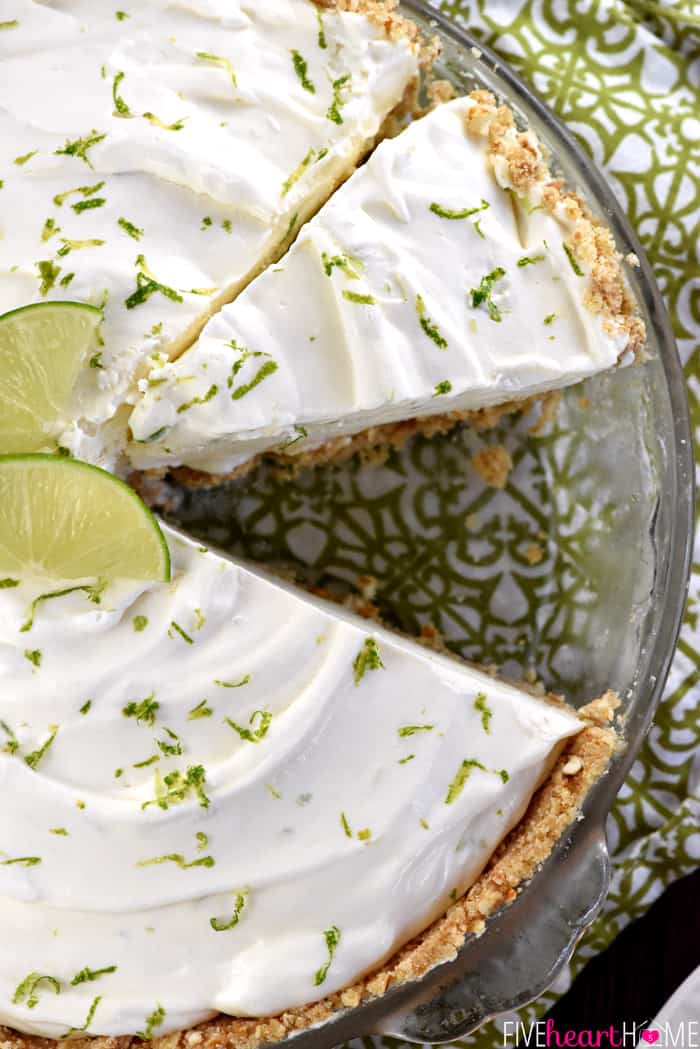 How to Make It
Aside from its cooling effects and obvious deliciousness, the other thing you'll love about this Frozen Margarita Pie is how easy it is to make. No need to turn on the oven and further stress the A/C on a hot summer day.
Simply combine salted pretzel crumbs, sugar, and melted butter (I use a food processor to make it totally effortless) and press into a glass pie plate.
Then whip some heavy cream and fold it into a mixture of sweetened condensed milk, fresh-squeezed lime juice, lime zest, and a splash of tequila and triple sec (if using).
Pour the filling into the crust and freeze until solid.
And then prepare yourself for frozen dessert bliss!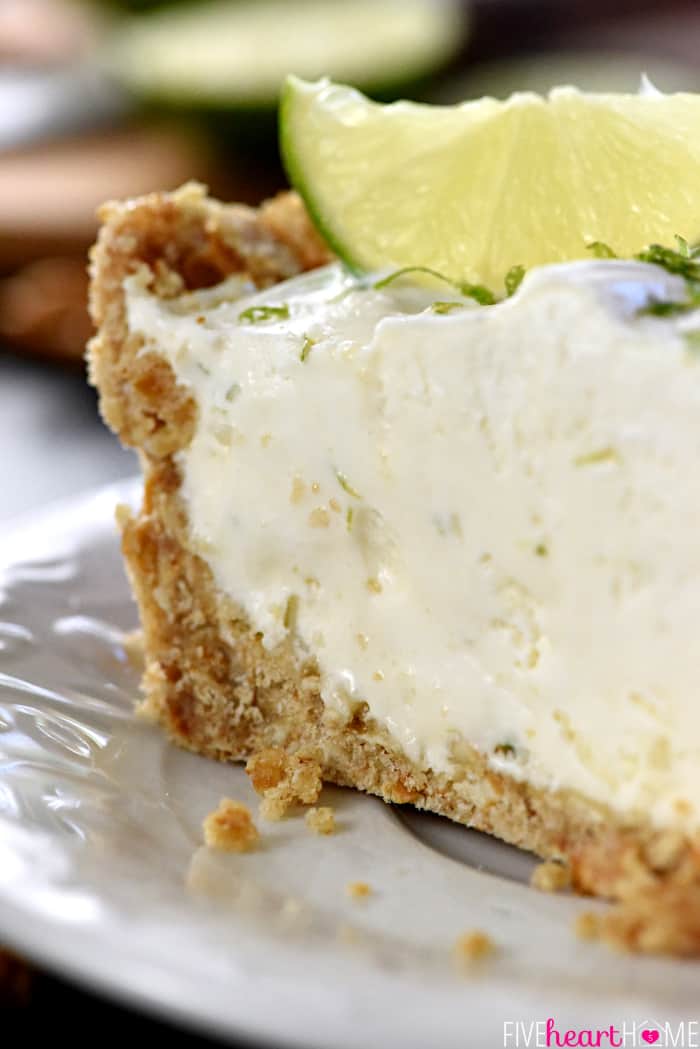 Slicing It
I feel the need to warn you, however, that you may as well consider the first slice of this pie to be sacrificial. In other words, there's no easy way to remove it from the dish without the pretzel crust breaking into frozen fractals all around.
But that's okay...simply remove the ugly slice (and take one for the team by quickly eating it before anyone realizes that it even existed). The next slice will come out much more cleanly since you'll have the empty space from the now-missing first slice in which to maneuver your knife and/or pie server.
Just be sure to let your pie thaw at room temperature for a few minutes before carefully slicing with a sharp knife, ensuring that you press through all the way to the bottom of the dish.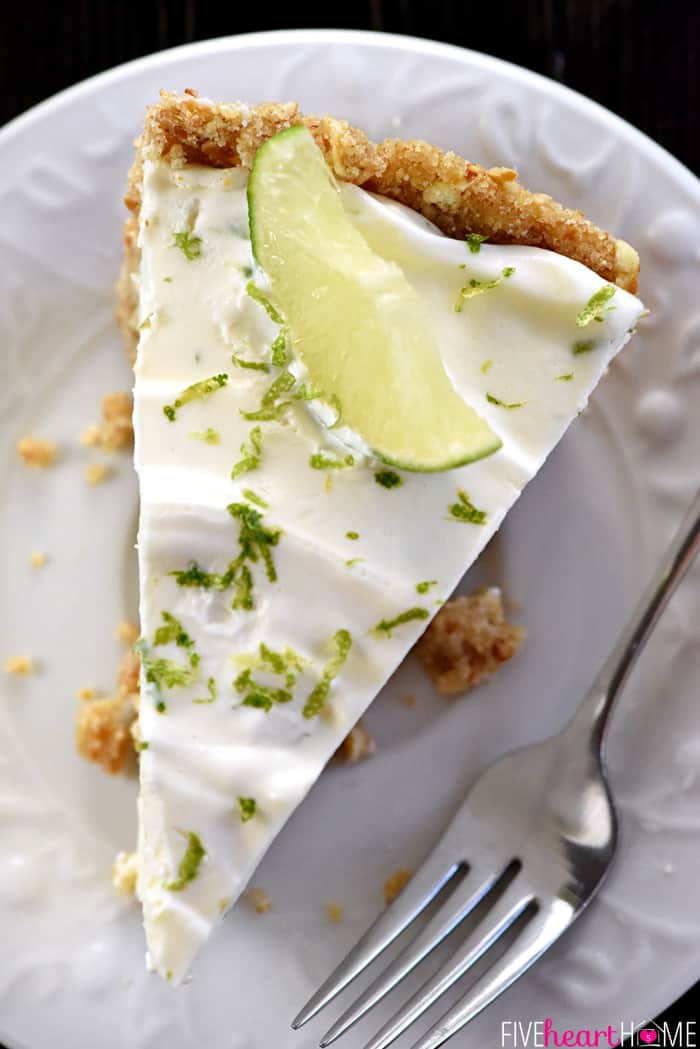 Frozen Margarita Pie would be the perfect dessert to cap off your favorite Mexican or Tex-Mex meal.
But honestly, it would be good after just about any meal...or, you know, in the middle of a sweltering summer day when your stir-crazy offspring are driving you crazy.
Your call... 😉

More Frosty, Boozy Treats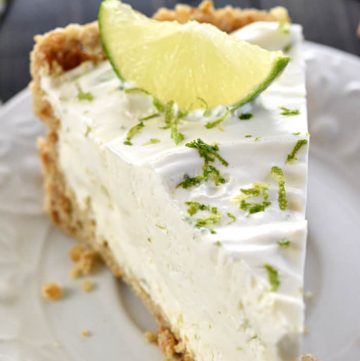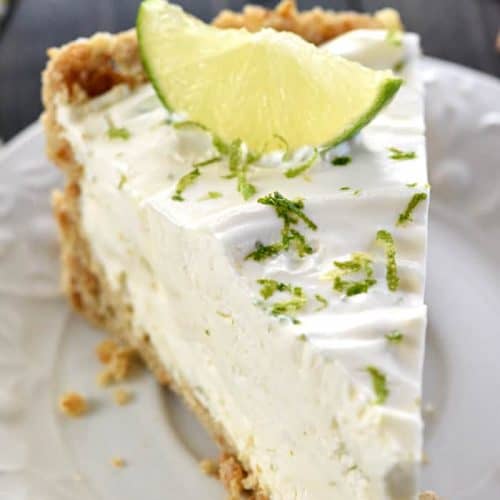 No-Bake Frozen Margarita Pie
No-Bake Frozen Margarita Pie is cool and creamy, with a salty-sweet pretzel crust and a frosty filling flavored with fresh lime juice, tequila, and triple sec...or leave out the liquor and boost the lime juice for a family-friendly variation!
Print
Pin
Rate
Ingredients
FOR THE CRUST:
5

ounces

salted pretzels

,

finely crushed in a blender or food processor

½

cup

sugar

10

tablespoons

butter

,

melted
FOR THE FILLING:
2

cups

heavy cream

1

can

(14-ounces)sweetened condensed milk

½

cup

fresh-squeezed lime juice

1

tablespoon

lime zest

,

plus additional for optional garnish

1 ½

tablespoons

tequila

1

tablespoon

triple sec
Instructions
Mix together the pretzel crumbs, sugar, and melted butter. Press into the bottom and up the sides of a 9-inch glass (or Pyrex) pie plate. Set aside.

Use an electric mixer to whip heavy cream to soft peaks. In a large separate bowl, stir together the sweetened condensed milk, lime juice, lime zest, tequila, and triple sec until well combined. Gently fold the whipped cream into the condensed milk mixture until just incorporated. Pour the filling into the prepared crust and sprinkle with additional lime zest, if desired. Freeze for 6 hours up to overnight, then cover with plastic wrap and re-freeze until ready to serve.

Allow pie to sit at room temperature for about 10 minutes before slicing with a sharp knife and serving (more or less depending on how cold your freezer is and how frozen your pie is).
Notes
I ground my pretzels in the food processor, then added the sugar and the melted butter and pulsed until the ingredients were combined.
Feel free to tweak the amount of tequila & triple sec to your taste, but keep in mind that the flavor from the liquor tends to intensify with time.
Or, for a booze-free, family-friendly pie, you may omit the tequila and triple sec and increase the lime juice to ⅔ cup.
Calories:
622
kcal
|
Carbohydrates:
57
g
|
Protein:
7
g
|
Fat:
41
g
|
Saturated Fat:
25
g
|
Cholesterol:
136
mg
|
Sodium:
435
mg
|
Potassium:
270
mg
|
Fiber:
1
g
|
Sugar:
41
g
|
Vitamin A:
1450
IU
|
Vitamin C:
6.4
mg
|
Calcium:
189
mg
|
Iron:
1
mg
Save
Save
Save
Save
Save
Save
Save
Save