Mini S'mores Trifles are layered with rich chocolate pudding, crushed graham crackers, and marshmallow-laced whipped cream for a simple, yummy, no-bake dessert!

National S'mores Day is later this week on August 10th, so I'm excited to be sharing a recipe for a new s'mores treat today! After all, it's only fair to provide advance notice for gathering ingredients in case you're the type to actually celebrate food holidays. I'm typically not, but for some reason, I never seem to miss National S'mores Day. 😉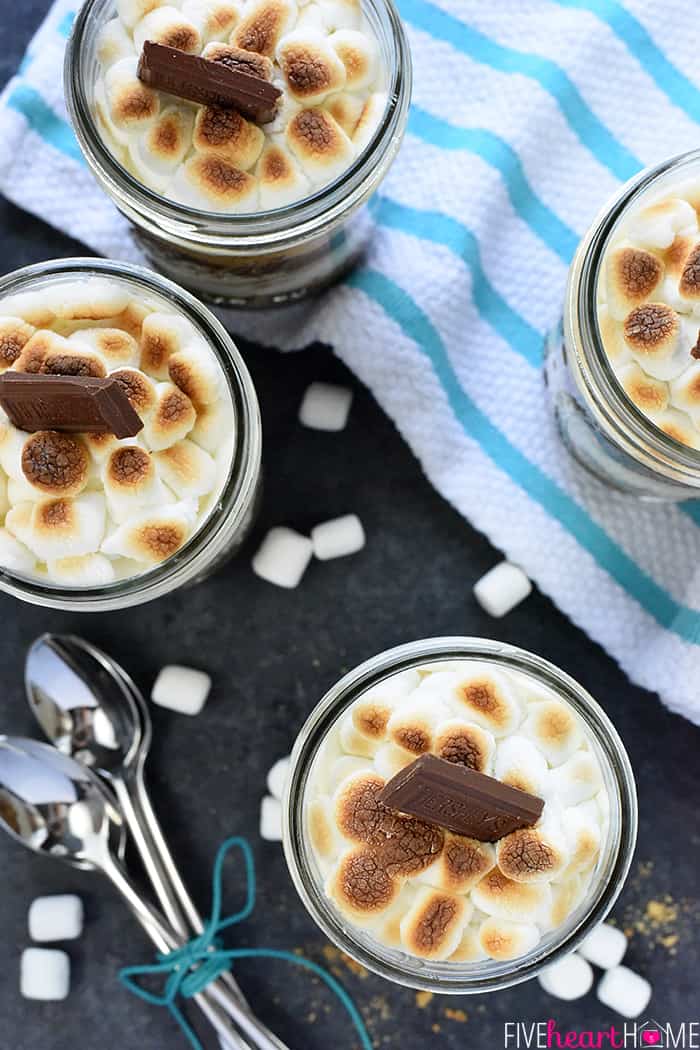 So…these Mini S'mores Trifles! They're cute and fun and yummy, y'all. Oh, and they're easy to make! They're as simple as layering chocolate chip-studded chocolate pudding, crushed graham crackers, and fresh whipped cream with fluffy marshmallows folded in.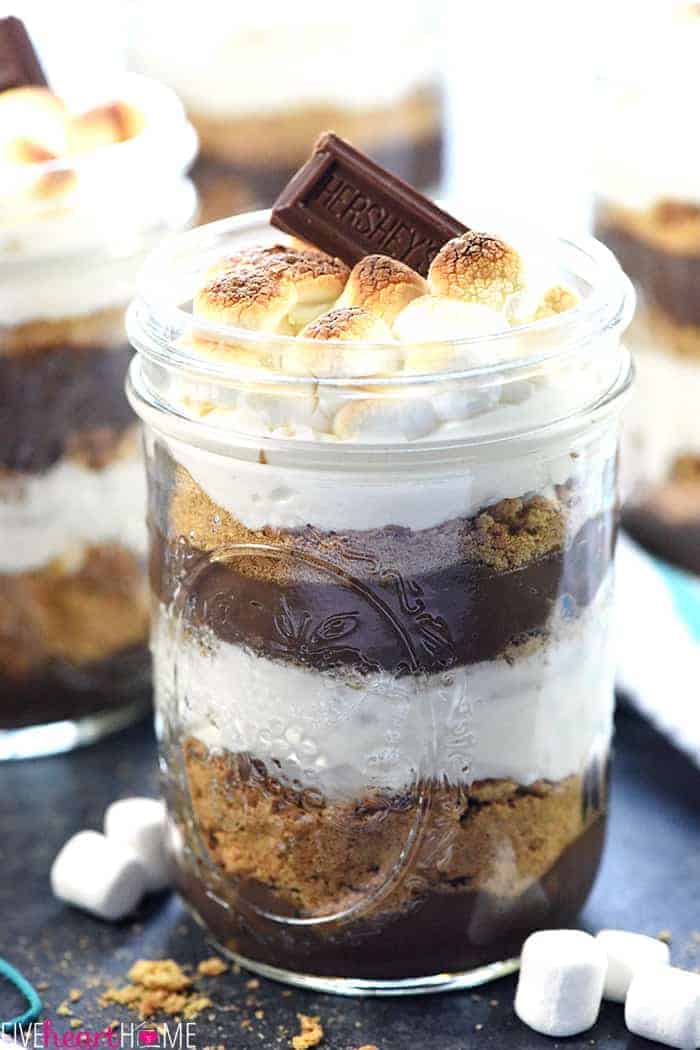 And to make 'em extra special and s'mores-like, you can even toast little mounds of marshmallows under the broiler for a couple of minutes and then use a spatula to transfer each mound to the top of each trifle. I realize that doing so technically exempts these treats from being truly "no-bake," but it really does make for the perfect final touch.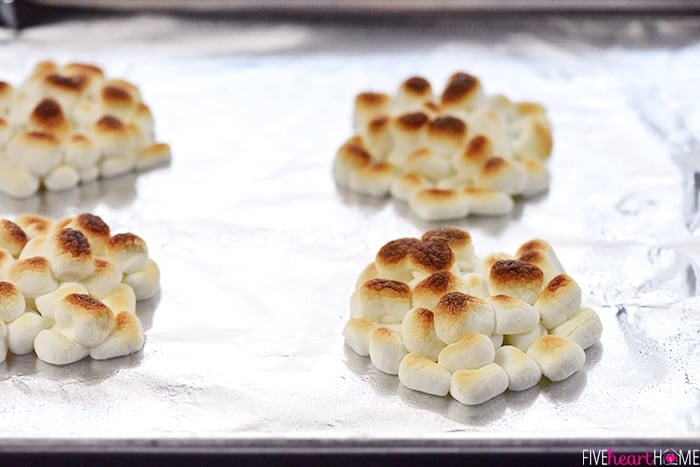 Alternately, if you've got a kitchen torch (the kind used for making crème brulée), you could sprinkle marshmallows on top of the trifles and toast them with a torch instead of turning on the broiler, thereby retaining their no-bake status. Or you could just leave them untoasted. They're going to be scrumptious either way.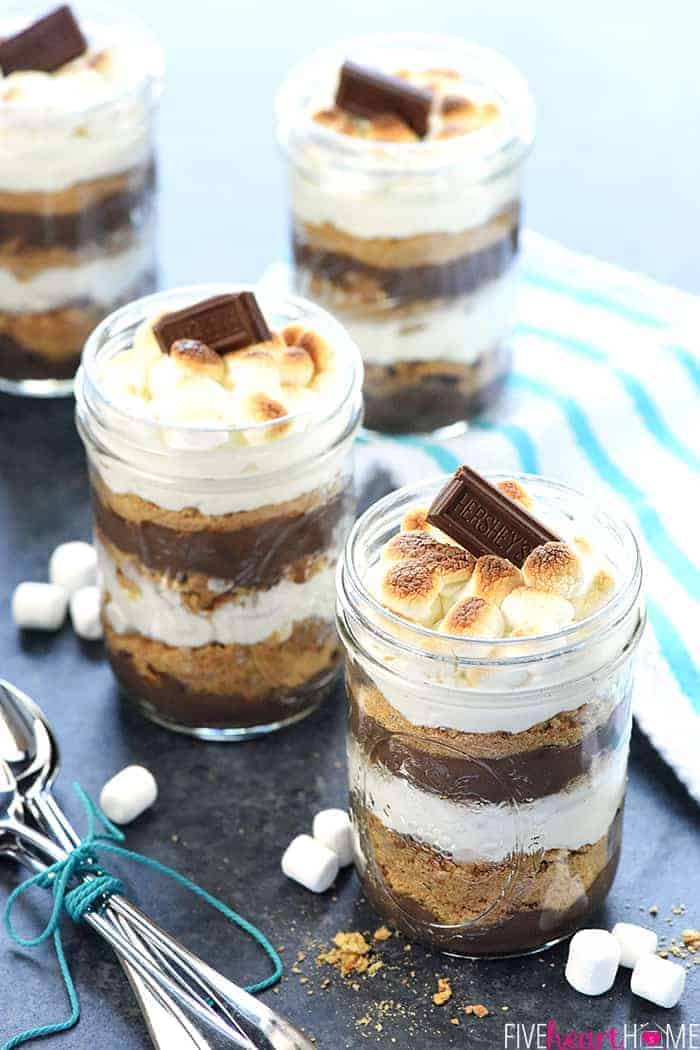 I adore these Mini S'mores Trifles for many reasons, in addition to the aforementioned cute/fun/yummy ones. I love that they're (mostly) no-bake. I love that you can make them ahead of time and pop them in the fridge until serving. I love that you can layer them in Mason jars and then screw on lids for portable, single-serving desserts that are perfect for summer picnics, potlucks, or BBQs.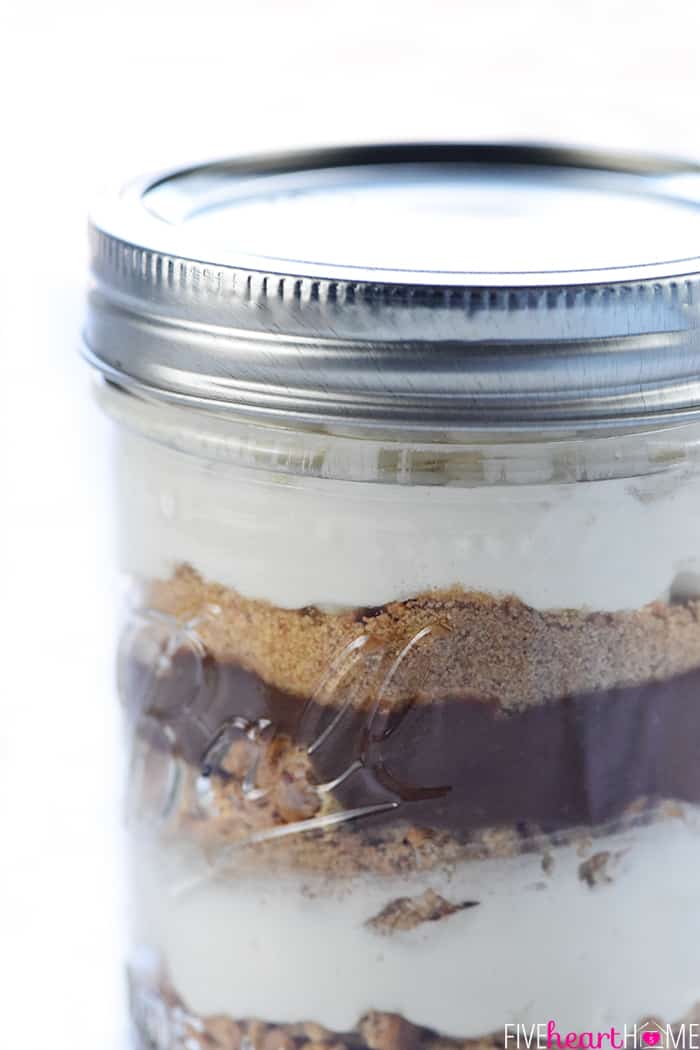 And you can make them as shortcut or as homemade as you like. You can cook a pot of Homemade Chocolate Pudding, or whip up a batch from a package, or buy a tub of refrigerated pudding at the grocery store.
I prefer crushing my own graham crackers for coarser crumbs, which only takes a minute, but you could also substitute ready-made graham cracker crumbs from a box.
And while I'm a big fan of homemade whipped cream, you could even swap in some store-bought whipped topping to save even more time…shhhhh, I won't tell!
I layered these Mini S'mores Trifles in pint-sized Mason jars because that's what I had on hand and they happen to make for pretty pictures. But I have to say…that's a lot of trifle for a single serving. It worked out fine for us because I just split a trifle between several bowls for dessert each night. However, if you want to serve these trifles at a party or get-together, I'd definitely recommend assembling them in smaller half-pint/8-ounce jars or glasses for individual servings.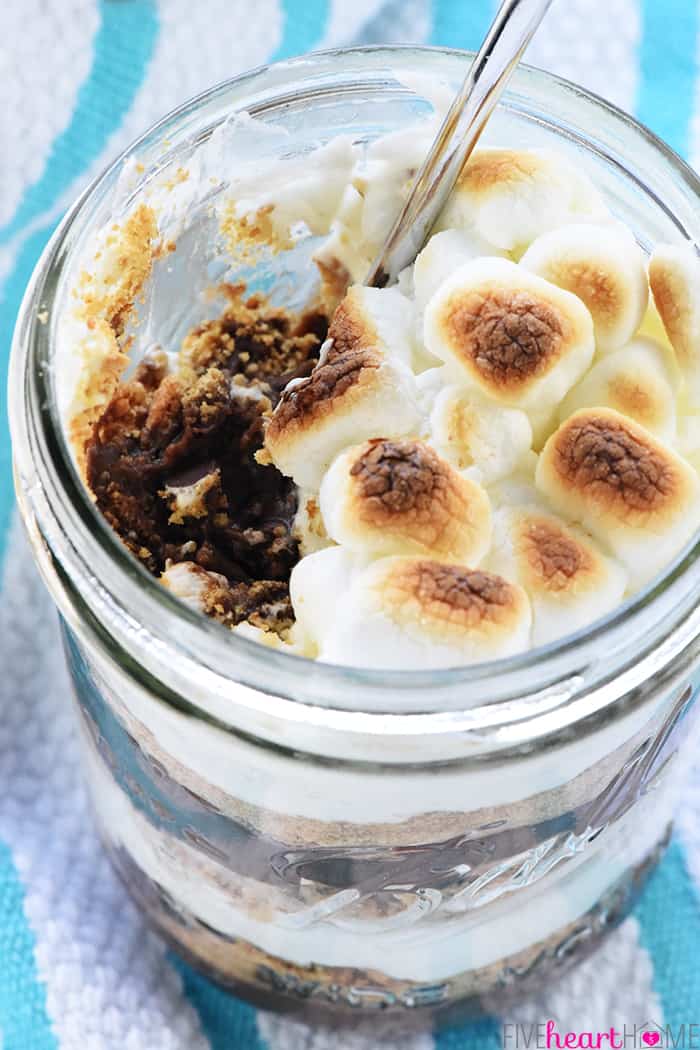 Also, because I am incredibly Type A a visual learner and always seem to screw up layering a trifle (or lasagna, or casserole) unless I first draw myself a diagram of the layers, I thought I'd share my rudimentary sketch here, in the event that it helps any of you… 😉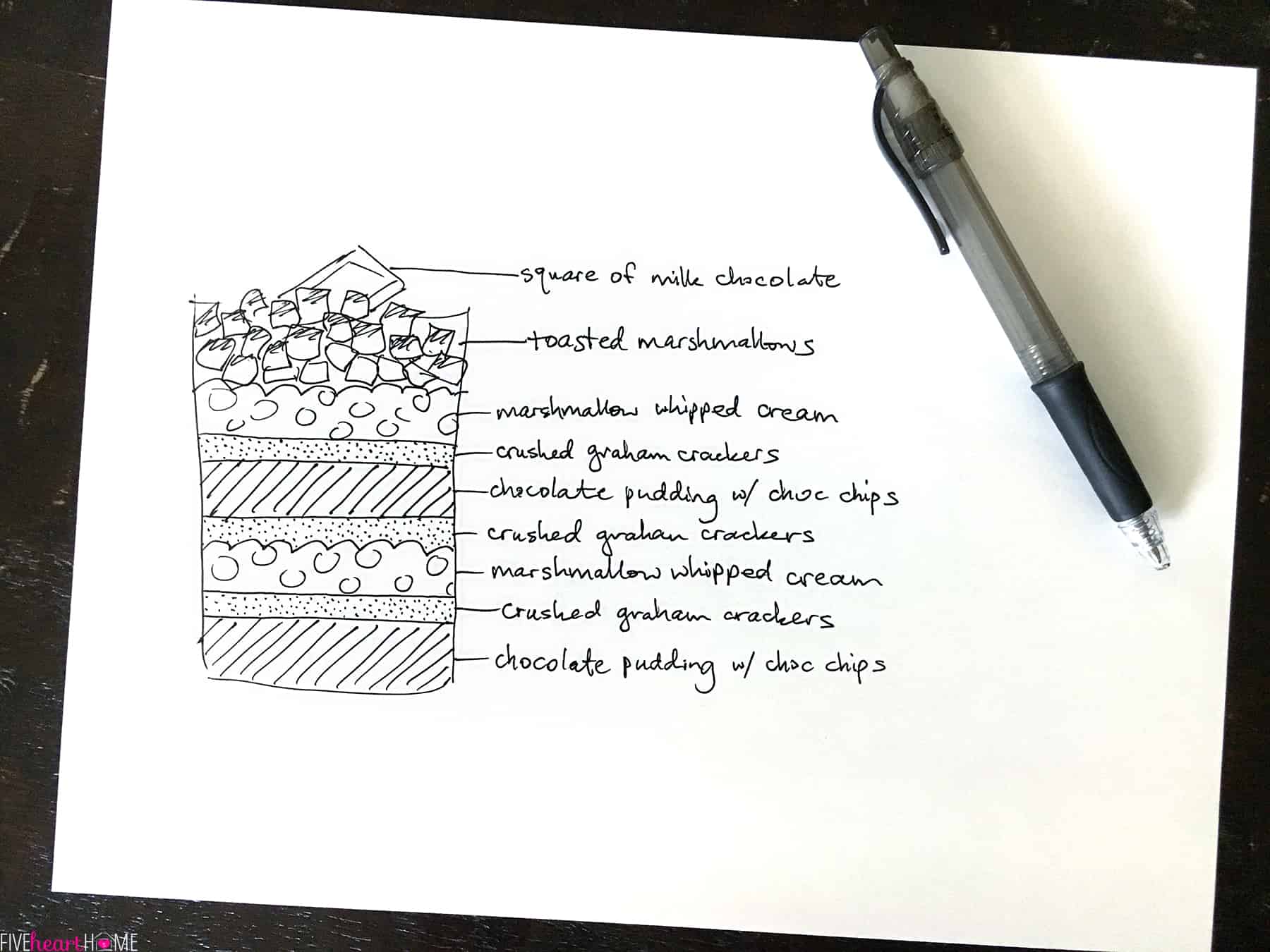 With less than two weeks to go until the first week of school, I know my kiddos are feeling slightly blue about the demise of summer vacation. So I'm planning on a little back-to-school family celebration at home next week to lift their spirits and (hopefully) get them excited about the impending first day. I think these Mini S'mores Trifles definitely need to make an appearance on the menu, and I'm sure the kids will enthusiastically agree. Happy S'mores Day, friends!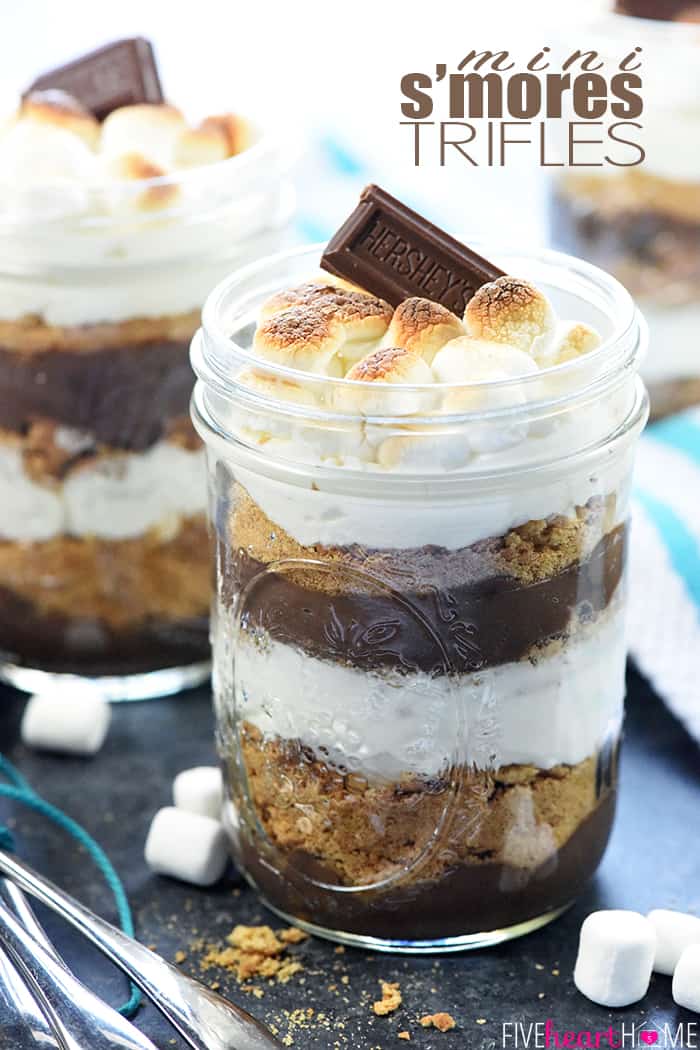 P.S. I'm apparently of the inherent belief that s'mores desserts should always be photographed with accents of light blue. See below photos for further evidence…
Mini S'mores Trifles Recipe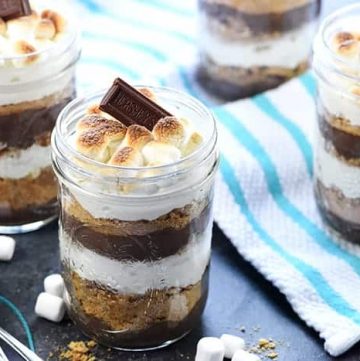 Mini S'mores Trifles
Mini S'mores Trifles are layered with rich chocolate pudding, crushed graham crackers, and marshmallow-laced whipped cream for a simple, yummy, no-bake dessert!
Print
Pin
Rate
Servings:
8
(8-ounce) servings
Ingredients
2

cups

chocolate pudding

1/2

cup

mini chocolate chips

1

cup

heavy whipping cream

1/4

cup

powdered sugar

1/2

teaspoon

pure vanilla extract

2 1/2

cups

mini marshmallows

,

DIVIDED

9

graham crackers

Milk chocolate squares or chocolate shavings for garnish

,

optional
Instructions
Stir the mini chocolate chips into the chocolate pudding; set aside.

Beat the chilled heavy whipping cream at medium speed until soft peaks begin to appear. Sprinkle the powdered sugar and vanilla extract over the whipped cream and beat at medium-high speed until stiff peaks form (but do not overbeat or you will end up with butter). Gently fold 1 cup mini marshmallows into the whipped cream; set aside.

Set out eight half-pint Mason jars (or 8-ounce glasses). Place about 2 tablespoons chocolate pudding into the bottom of each jar (which will use up half of the total pudding). Coarsely crush three graham crackers in a plastic baggie using a rolling pin or the flat side of a meat mallet; divide the crumbs between the eight jars, sprinkling to make an even layer over the pudding. Use a knife to divide the marshmallow whipped cream in half. Place a dollop of the whipped cream into each jar, spreading it to cover the graham cracker crumbs and using up half of the total whipped cream.

Crush 3 more graham crackers and divide the crumbs between the jars, sprinkling them on top of the whipped cream. Place 2 more tablespoons of chocolate pudding on top of the crumbs in each jar, using up the remainder of the chocolate pudding. Crush the final 3 graham crackers and divide the crumbs between the jars, sprinkling them on top of the pudding. Divide the remaining marshmallow whipped cream between the jars, spreading it to cover the crumbs.

Screw the lids on the jars (or tightly cover the tops of the glasses with plastic wrap) and refrigerate for at least an hour and up to overnight.

Just before serving, line a baking sheet with aluminum foil and lightly spray with nonstick cooking spray. Divide the remaining 1 1/2 cups marshmallows into 8 little piles, each with a circumference similar to the size of your jars/glasses. Broil the marshmallows until toasted to your liking, watching the entire time. Allow the marshmallows to set for about 10 minutes, then use a spatula to transfer each "mound" to the top of each trifle. If desired, top each trifle with a milk chocolate square or some chocolate shavings. Serve immediately.
Notes
Instead of broiling mounds of marshmallows in the oven, you may sprinkle them over the tops of the trifles and then toast them with a kitchen torch. You may choose to toast them before refrigerating to save time, but they won't be warm and melty after chilling. You may also leave them untoasted, if you wish.
Calories:
314
kcal
|
Carbohydrates:
42
g
|
Protein:
2
g
|
Fat:
15
g
|
Saturated Fat:
8
g
|
Cholesterol:
42
mg
|
Sodium:
224
mg
|
Potassium:
64
mg
|
Fiber:
1
g
|
Sugar:
27
g
|
Vitamin A:
465
IU
|
Vitamin C:
0.2
mg
|
Calcium:
45
mg
|
Iron:
0.9
mg
More S'mores Goodies

Save
Save