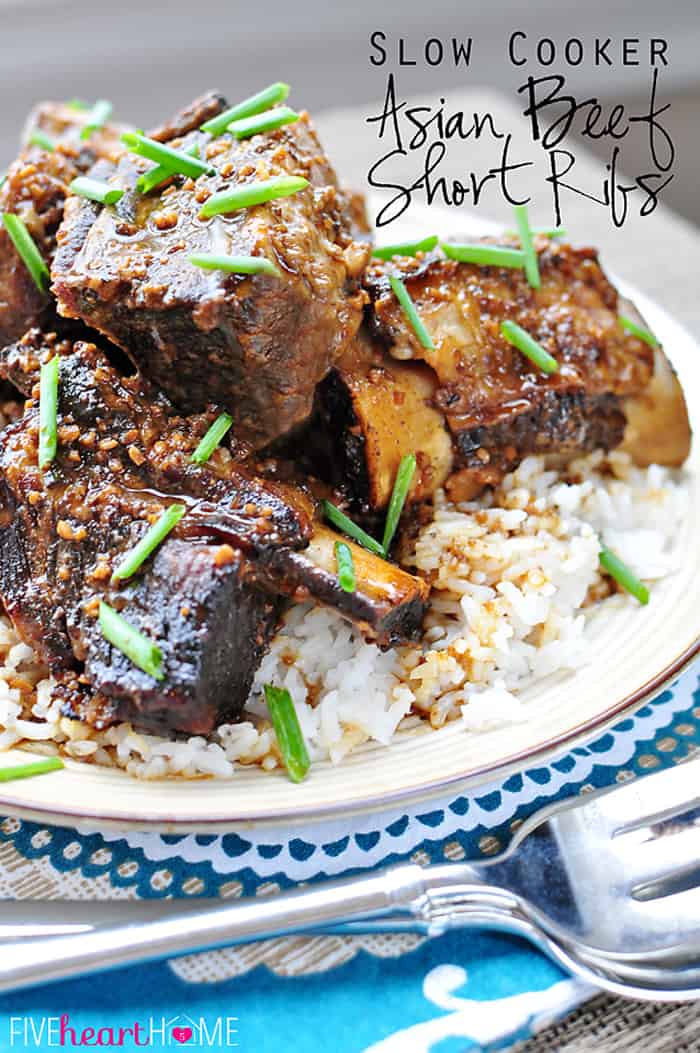 This savory crockpot meal comes together in minutes and features tender, fall-off-the-bone Asian Short Ribs in a flavorful cooking liquid of soy sauce, beef broth, garlic, fresh ginger, and sesame oil!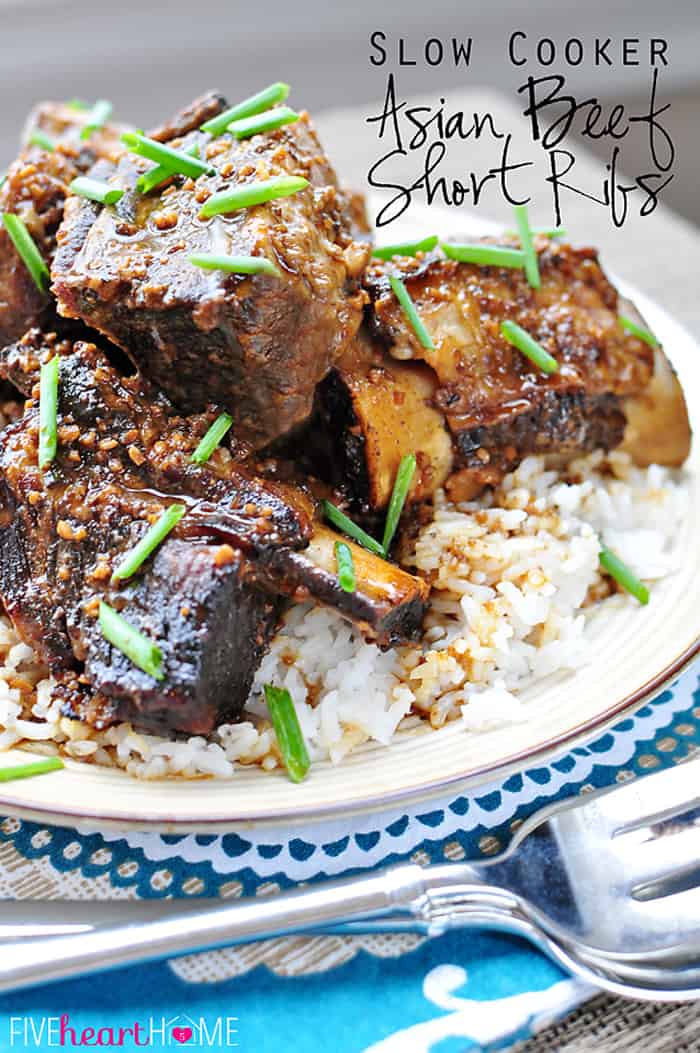 Life can get crazy. And now more than ever, I've been relying on my slow cooker to churn out dinner and keep me out of the drive-through lane come 5 p.m. However, since the weather has turned warmer, I've stowed away some of our favorite crock pot soup recipes in favor of slow cooked sandwich toppings, taco fillings, and savory meals like succulent, tender beef short ribs with an Asian flair...AKA, Asian Short Ribs!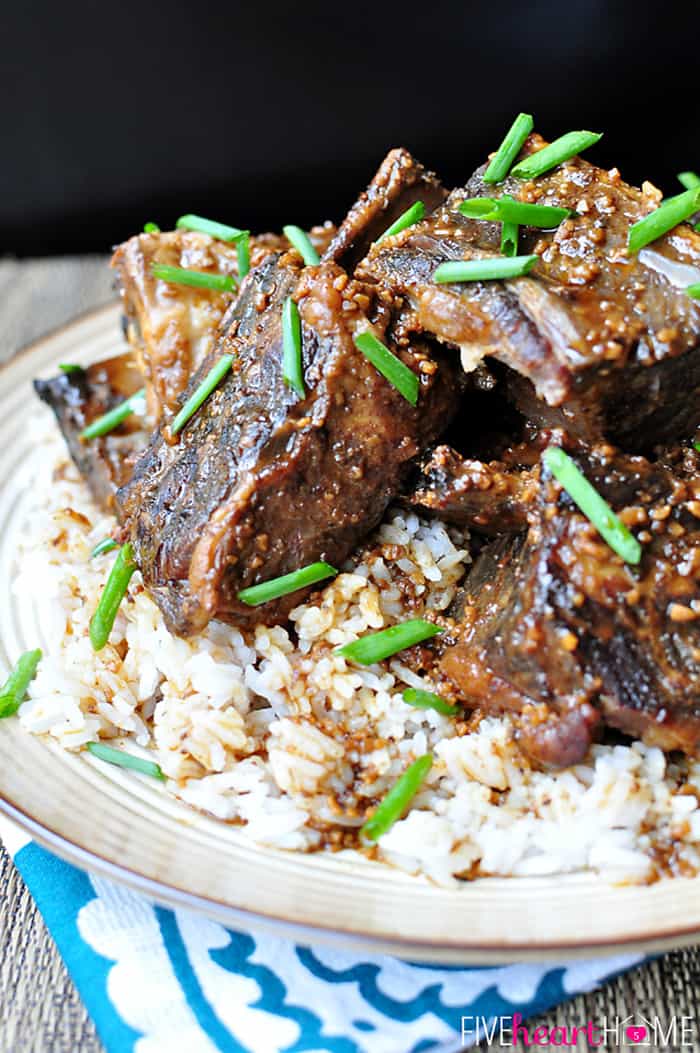 This is another one of those recipes that resulted in effusive praise from the 4-year-old. I only wish you all knew him to hear the intonation and enthusiasm in his cute little voice when he makes these types of statements. And if you knew him, you also would soon figure out that 'sure' is his favorite word and he finds a way to work it into every other sentence.
"Mama, I suuuuure like this beef. Make it again, okay?"
Yes, sir. It took me all of five minutes to throw it in the crock pot and everyone is now wolfing it down. That I can do.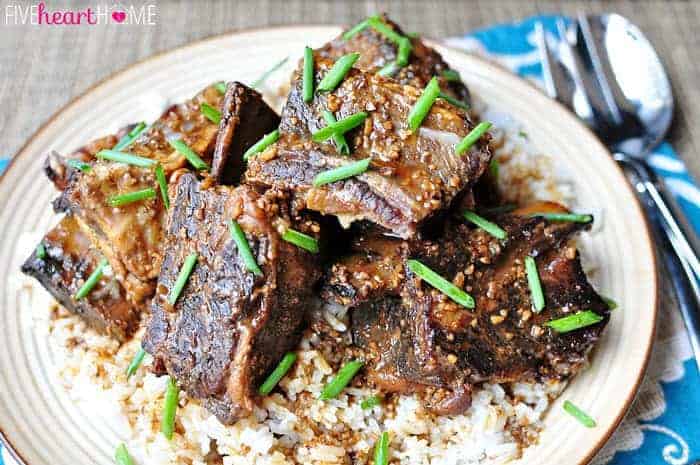 How to Make Asian Short Ribs
If you've never tried short ribs before, might I suggest this recipe as a great place to start?!
After a stint in the crock pot with a cooking liquid of soy sauce, beef broth, honey, fresh ginger, and garlic, the beef is juicy and falling off the bone.
The sauce gets finished off with sesame oil and the short ribs get sprinkled with toasted sesame seeds (which I forgot to add before taking pictures, dangit) and green onions (although I actually used chives because that's what I already had on hand...and I picked them all off before ingesting any because I loathe every member of the onion family).
And then everything is served over rice (or rice noodles would also be yummy).
(Okay, I'll stop all of the parenthetical asides now.) (Sorry.)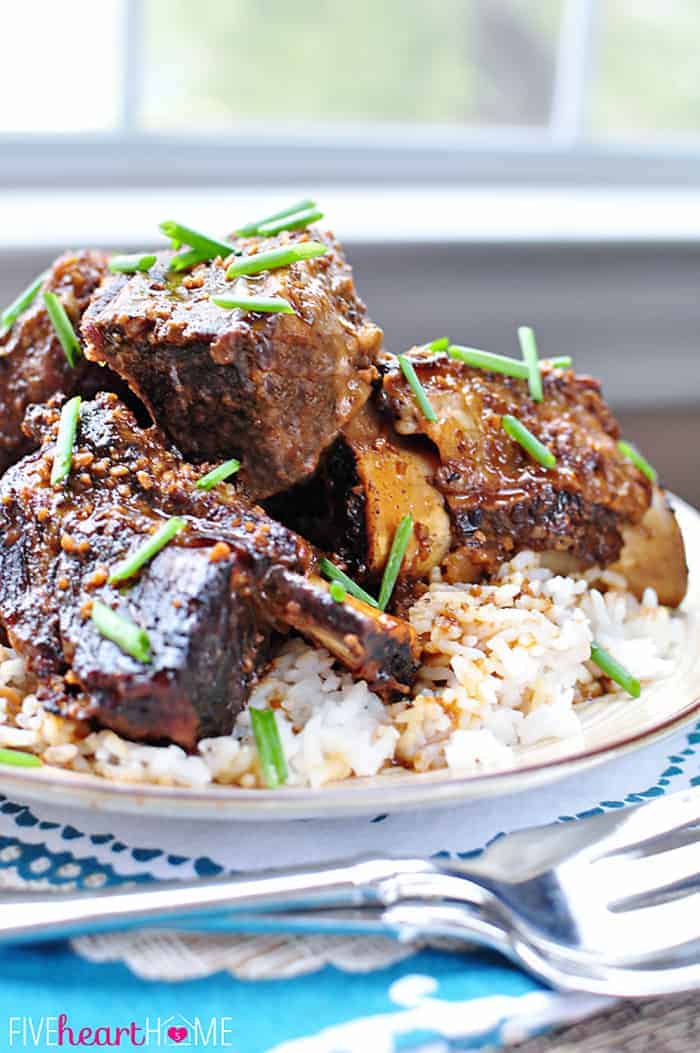 Ingredient Notes
As with most crockpot recipes that I make, I use minced garlic from one of those big, refrigerated jars. After cooking in the slow cooker for so many hours, I just don't think you can tell the difference between refrigerated minced garlic and freshly peeled/minced garlic.
On the other hand, I do think that it's important to use fresh ginger in this recipe, as opposed to ground ginger. Fresh ginger has such an amazing flavor and aroma that the powdered stuff just doesn't compare when it comes to a savory Asian-inspired dish like this.
I don't use fresh ginger all that often, so when I buy a hunk of ginger root, I freeze whatever I don't use. Then when I need a little bit for a recipe like this, I take my piece of ginger out of the freezer, use the side of a spoon to peel a small section of it, and then grate that peeled piece (still frozen) until I have enough measured out for my recipe. Easy as pie and SO worth the minimal effort.
The other tasty layer of flavor in this recipe comes from the sesame oil. Again, it's not an ingredient that you'll find yourself using all of the time, but it makes such a difference when a recipe does call for it. Since beef short ribs can be kind of fatty, once they are done, I remove them from the cooking liquid and skim the fat off the top of the sauce before finishing it off with the sesame oil.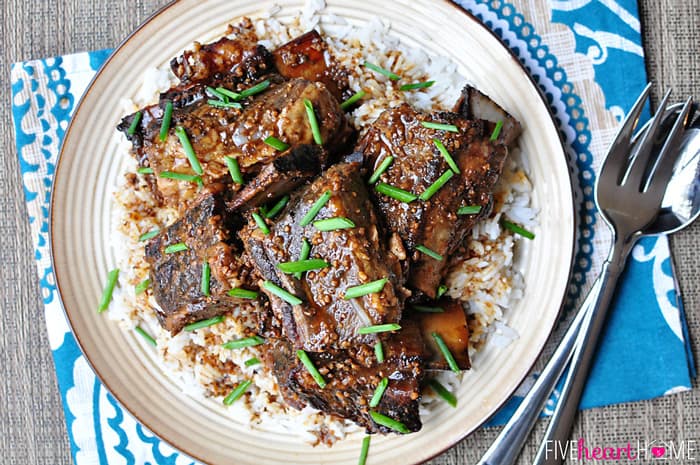 Skimming the Fat
And would you like to know my super fancy, high-tech way of skimming the fat from the sauce of these Asian Short Ribs?
I always feel like I can't get it all with a spoon, or I end up scooping too much of the good sauce at the same time.
So instead, I carefully lay a sheet of paper towel right on top of the surface of the cooking liquid. The paper towel absorbs a layer of clear oil/melted fat. Then I remove that paper towel, do the same with another paper towel, and continue repeating until all of the clear oil/fat has been absorbed. When my paper towel starts absorbing dark brown sauce, that tells me that the fat is all gone and it's time to add the sesame oil.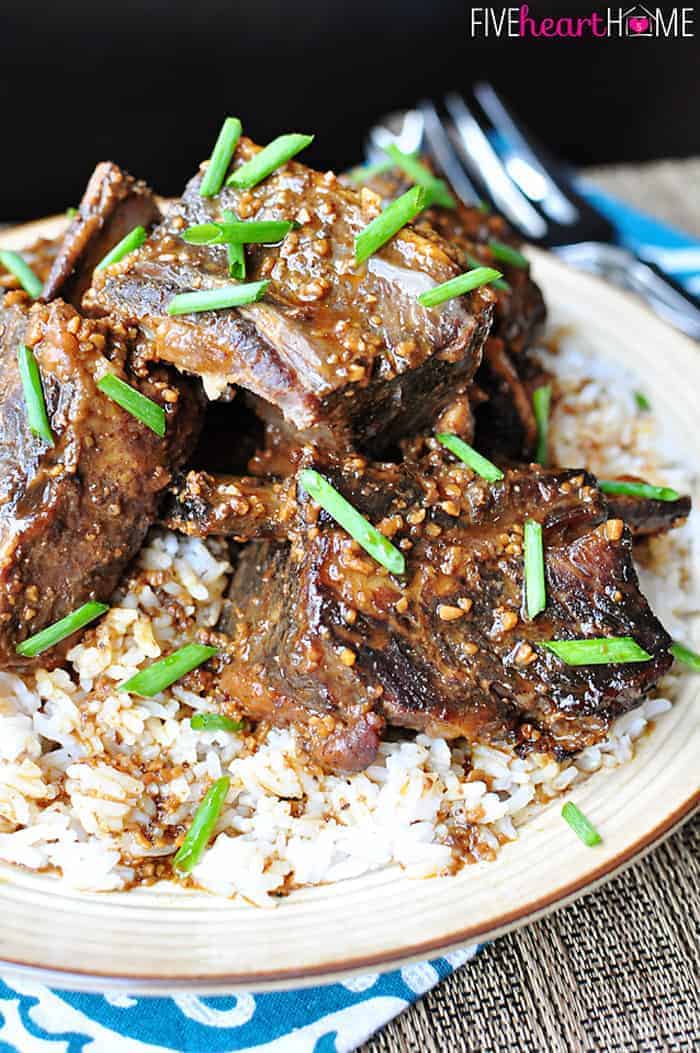 If you're looking for a slow cooker recipe that branches out from your standard crock pot fare, Asian Short Ribs might be just the recipe for you! I don't make it as often as I should based on the rave reviews it gets each time I do. But at the request of the middle child, that suuuuure is going to change. 😉
More Asian-Inspired Favorites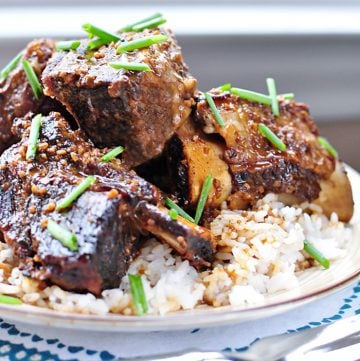 Slow Cooker Asian Short Ribs
This savory crockpot meal of Asian Short Ribs comes together in minutes and features tender, fall-off-the-bone beef short ribs in a flavorful cooking liquid of soy sauce, beef broth, garlic, fresh ginger, and sesame oil!
Print
Pin
Rate
Ingredients
4

pounds

beef short ribs

¼

cup

low-sodium soy sauce

¼

cup

low-sodium beef broth

,

OR water

2

tablespoons

honey

1

tablespoon

fresh minced ginger

1

tablespoon

fresh minced garlic

½

teaspoon

black pepper

2

teaspoons

Asian sesame oil

Hot cooked rice

,

OR Asian rice noodles

chopped green onions

,

optional

sesame seeds

,

plain or toasted, optional
Instructions
Place short ribs at the bottom of the slow cooker. In a medium bowl, whisk together soy sauce, beef broth, honey, ginger, garlic, and black pepper. Pour over ribs. Cover and cook on low for 8 hours (or high for 4 hours), or until beef is tender.

Remove ribs from cooking liquid. Skim and discard oil/melted fat from the top of the cooking liquid. Stir sesame oil into the cooking liquid and return ribs (*or rib meat; see notes below) to the slow cooker, reheating for a few minutes until warm.

Serve beef ribs and sauce over hot cooked rice or rice noodles. Garnish with chopped green onions and/or toasted sesame seeds, if desired.
Notes
If desired, instead of serving ribs whole, you may trim fat from ribs, remove meat from bone, cut into bite-sized pieces, and reheat in the cooking liquid before serving.
If you prefer a thickened sauce, you may pour cooking liquid in a small pot, bring to a simmer, stir a tablespoon of corn starch into a tablespoon of cool water to make a slurry, and then whisk slurry into simmering liquid and cook until just thickened.
Serving:
4
g
|
Calories:
425
kcal
|
Carbohydrates:
7
g
|
Protein:
43
g
|
Fat:
24
g
|
Saturated Fat:
10
g
|
Cholesterol:
130
mg
|
Sodium:
517
mg
|
Potassium:
827
mg
|
Fiber:
1
g
|
Sugar:
6
g
|
Vitamin C:
0.4
mg
|
Calcium:
22
mg
|
Iron:
5
mg
Adapted from 3 Books in 1: Rival Crock Pot