Tart green apples coated in chewy caramel, dipped in white chocolate, and then sprinkled with cinnamon sugar are an uncanny copycat of Disney Caramel Apples...and they truly taste like apple pie!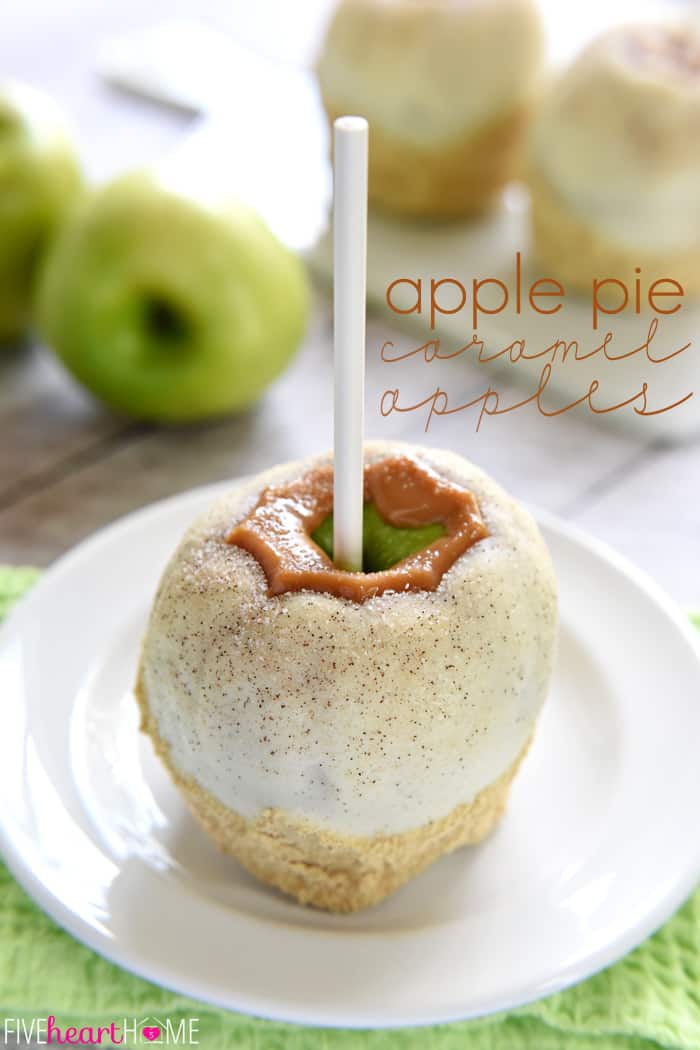 Happy (almost) fall, y'all! What say we celebrate with some mouthwatering "Apple Pie" Disney Caramel Apples?

A Disney Copycat
There are lots of yummy treats famously associated with Disneyland and Disney World, and specialty caramel apples happen to be one of them. This apple pie version is perhaps one of the most popular flavors.
The thing is...these Disney Caramel Apples totally taste like apple pie! I wouldn't have thought that this combo of caramel/white chocolate/cinnamon sugar/pie crust crumbs could result in such an uncanny apple pie flavor, but it definitely does. It's one of those won't-believe-it-til-you-try-it phenomenons.
And as a bonus, not only are these apples super easy to make at home, but you can also whip them up for a fraction of the price of the Disney originals!

How to Make Them
Disney Caramel Apples start out with tart Granny Smith apples dipped in caramel.
Once the caramel has set up, the apples are dipped in white chocolate.
Then the white chocolate is sprinkled with cinnamon sugar.
Finally, the base of each apple is dipped into pie crust crumbs.
I leave it up to you whether you use a regular baked pie crust or graham cracker crumbs.
If you've got a plain pie crust on hand, go for it. But graham cracker crumbs are equally tasty and probably more readily available to most people. So feel free to use whichever is most convenient!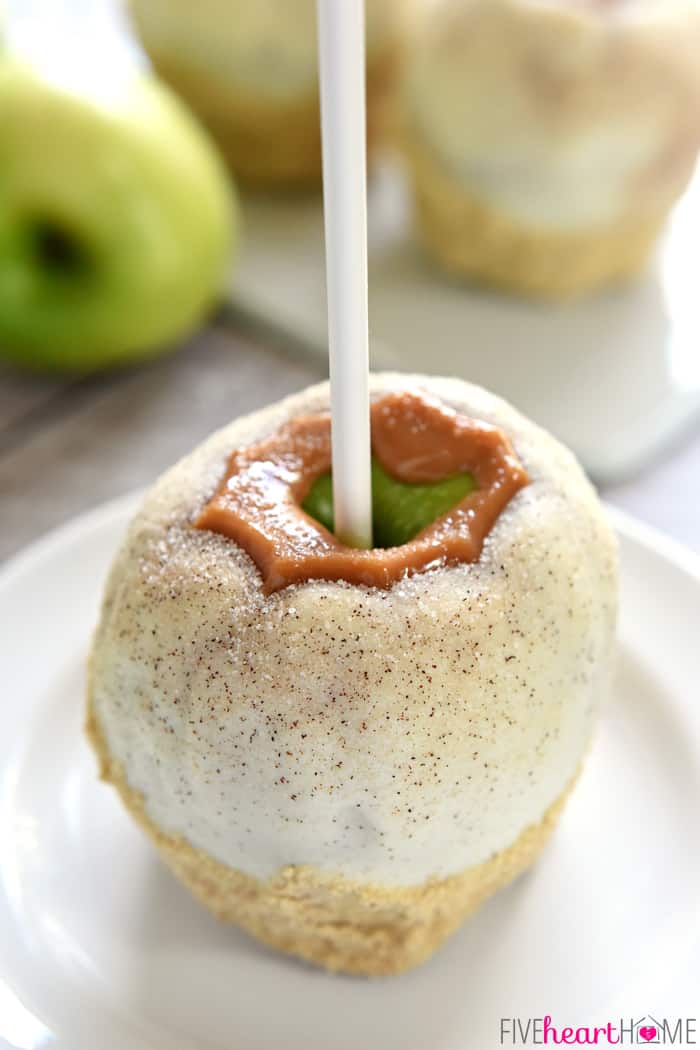 Caramel Apple-Making Tips
Be sure to scrub your apples and dry them well, because the caramel won't readily stick to the waxy coating found on most apples.
As for the caramel, you can certainly make homemade caramel, if you already have a favorite recipe that turns thick and chewy once cooled. (And just in case you're wondering, my Homemade Caramel Sauce is a sauce and won't work for dipping caramel apples, as it doesn't harden.)
Otherwise, just melt a bunch of soft caramel squares. Or use a bag of caramel bits for the most effortless route…no unwrapping involved!
After your apples are dipped, allow them to set up in the refrigerator for an hour or two.
Next comes the coating of melted white chocolate, which should be immediately sprinkled with cinnamon sugar while the chocolate is still wet. And for the final step, dip the base of each apple into the pie crust or graham cracker crumbs.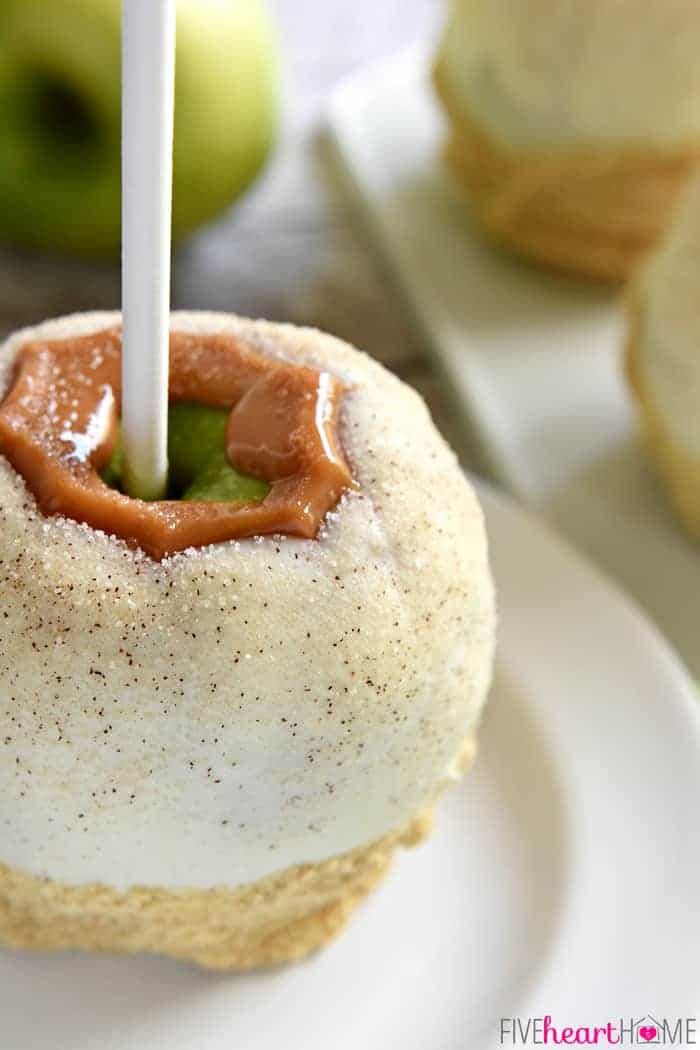 The result is a copycat Disney Caramel Apple that truly tastes like apple pie! I'm not kidding here, folks...yummy doesn't even begin to describe it.
A Mickey Twist
Just in case you're a Mickey Mouse fan, feel free to dip a couple of jumbo marshmallows in white chocolate and use toothpicks to affix them to the top of the apple as mouse ears.
Who needs Disneyland when you can create such an impressive copycat in your very own kitchen?!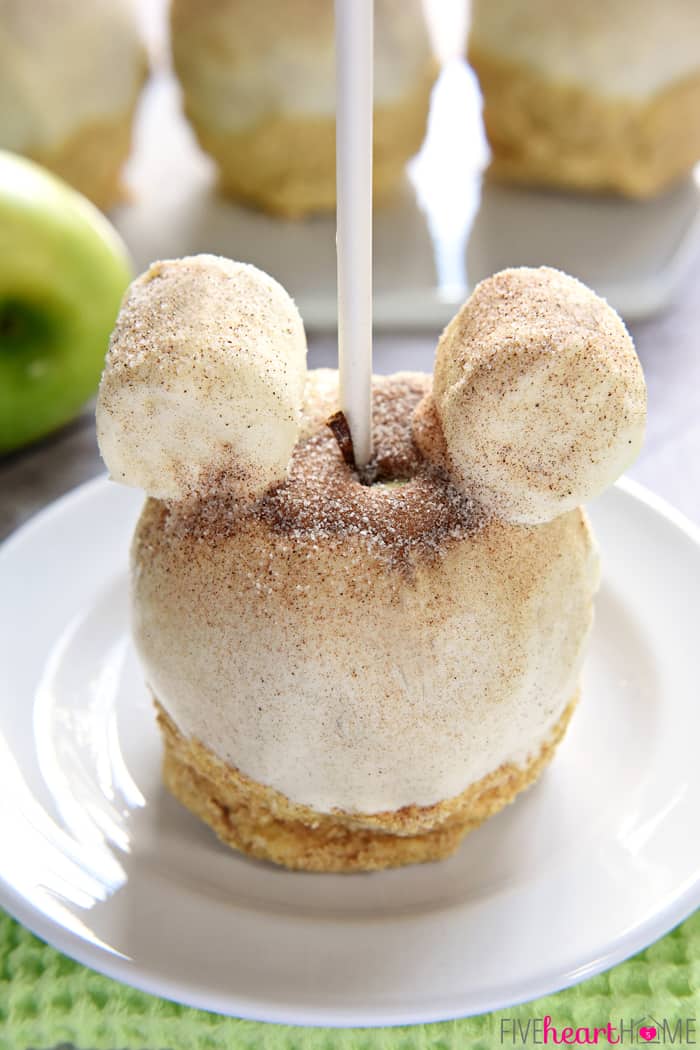 So have you had a Disney Caramel Apple before?
Or are you excited to try 'em now?
Either way, I think you'll enjoy making your own at home, easily and economically, any ol' time you please.
It's like apple pie...in the form of a caramel apple...on a stick.
In other words? The perfect way to kick off fall! 😉
More Apple Recipes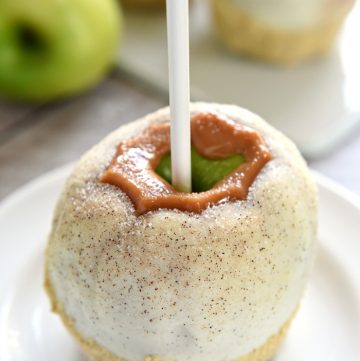 Disney Caramel Apples
Copycat Disney Caramel Apples start with tart green apples coated in chewy caramel, dipped in white chocolate, and then sprinkled with cinnamon sugar...and they truly taste like apple pie!
Print
Pin
Rate
Ingredients
4 to 5

large Granny Smith apples

4 to 5

Popsicle sticks or cookie/cake pop sticks

11

ounces

Kraft Caramel Bits

,

or an equivalent amount of soft caramel squares, unwrapped

2

tablespoons

water

1

pie crust

,

brushed with melted butter, generously sprinkled with cinnamon sugar, baked, and cooled (OR 6 regular or cinnamon graham crackers)

12

ounces

white chocolate melting wafers

,

such as Ghiradelli or vanilla candy coating

Cinnamon sugar

,

made by mixing 2 tablespoons sugar plus ½ teaspoon cinnamon, in a shaker
Instructions
Wash the apples under hot water, scrubbing to remove as much of the waxy coating as possible. Dry thoroughly and insert a stick into the top center of each apple, pushing it at least halfway through. Line a baking sheet with wax paper and spray with non-stick cooking spray. Set aside.

Melt the caramel bits and water in a medium saucepan set over medium-low heat. Stir occasionally until completely smooth and melted, for about 3 minutes. Dip each apple into the melted caramel. Allow the excess caramel to drip back into the pot and use a spoon or butter knife to scrape the dripping caramel from the bottom of the apple. Place dipped apples on prepared baking sheet and refrigerate for at least an hour, or until the caramel is completely cooled and set.

Use a food processor or blender to process the baked pie crust (or graham crackers) into fine crumbs. Transfer to a bowl and set aside.

Melt the white chocolate melting wafers or vanilla candy coating according to package directions. Dip each caramel apple into the melted white chocolate, allow to drip, and scrape the excess from the bottom. Immediately sprinkle entire apple with a generous amount of cinnamon sugar. Allow white chocolate to set for a minute and then dip the bottom half of each apple into the pie crust crumbs. Set apple back on wax paper and allow to set completely.
Notes
The ingredient amounts are enough to perfectly coat four apples. There should be enough left for a 5th apple, but it might not be as "pretty" if you have to scrape the bowl for the remainder of the caramel and white chocolate. You also may end up with leftover pie crust/graham cracker crumbs. They're pretty tasty sprinkled on top of vanilla ice cream... 😉
To add Mickey Mouse ears to your apple, dip a jumbo marshmallow in melted white chocolate. Position it on the apple and angle a toothpick through the top of the marshmallow and into the apple to hold it in place. Use a pair of kitchen shears to snip off the top part of the toothpick that's sticking out. Sprinkle with cinnamon sugar and repeat on the other side for the second ear.
Calories:
1163
kcal
|
Carbohydrates:
188
g
|
Protein:
12
g
|
Fat:
45
g
|
Saturated Fat:
22
g
|
Cholesterol:
23
mg
|
Sodium:
446
mg
|
Potassium:
889
mg
|
Fiber:
11
g
|
Sugar:
144
g
|
Vitamin A:
280
IU
|
Vitamin C:
19.6
mg
|
Calcium:
309
mg
|
Iron:
1.9
mg
Adapted from Favorite Family Recipes