Caramel Apple Cake is a sweet, moist sheet cake loaded with tender apples and topped with gooey caramel glaze...the perfect fall dessert for feeding a crowd!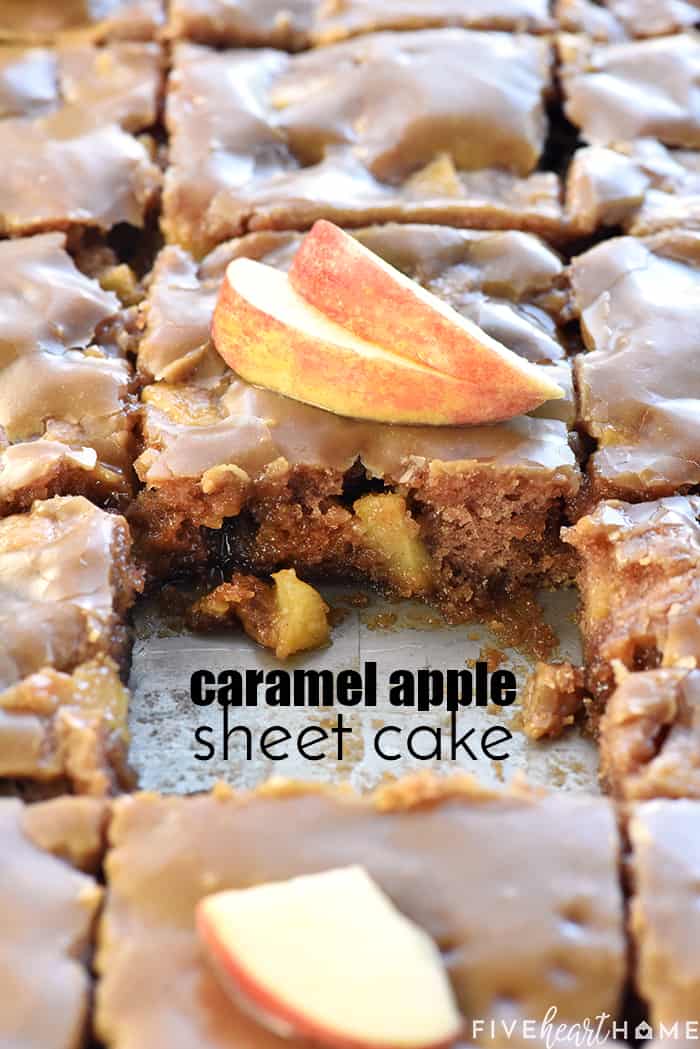 I have a quick question for y'all...do you prefer pumpkin desserts or apple desserts this time of year? I'd have to say that myself and my household are pretty evenly split. We love them both!
Though I do feel like there are certain months -- namely, September through November -- that I'll bake with pumpkin. Apple, on the other hand, I deem to be acceptable year-round.
So lucky for me...and for you...and for ALL of us...this Caramel Apple Cake is perfect for these cool, crisp, "official" months of autumn. But it's equally delicious if you get a hankering for apple cake come June!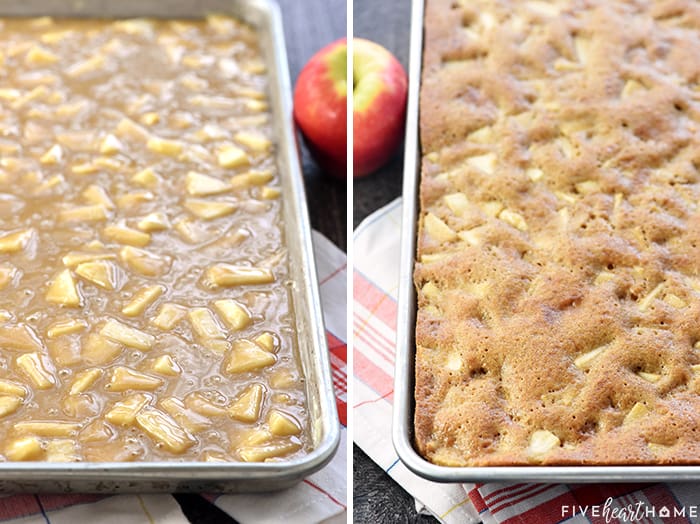 What is a Texas Sheet Cake?
Like all true Texas sheet cakes, this one is made in a big ol' sheet pan, resulting in a giant -- albeit thin -- cake.
Texas sheet cakes are also known for being pretty darn sweet, so that means the odds are good that a small slice of cake'll do you.
And I bet we can all do the math that a big cake cut into small slices equals a whole bunch of servings.
(As a small aside, no need to comment or e-mail me saying this cake is too sweet. It's a Texas sheet cake, world renowned for being sweet. Small slices are encouraged. Please plan accordingly -- ha.)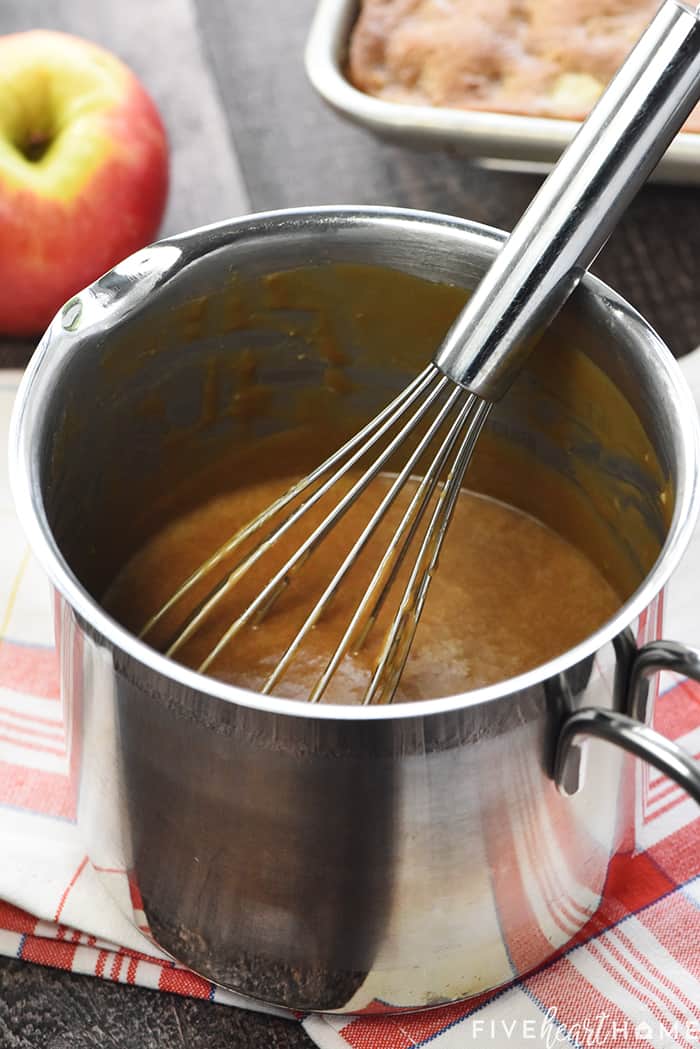 My Lemon Texas Sheet Cake was so popular this past summer that I decided it only makes sense to now bring y'all a fall-friendly flavor.
And as I always do for my sheet cake variations, I adapted today's recipe from my beloved white Texas sheet cake recipe, except I reduced the amount of batter just a bit to allow for all of those yummy apple chunks without overflowing the pan.

Caramel Apple Cake Tips
I'm not kidding when I say this Caramel Apple Cake turns out suuuper moist. Texas sheet cakes are always moist, mind you, but the apples in this one make it even more so.
The Best Apples to Use
I recommend using firm, crunchy apples in this cake for the best texture (so they don't cook down into mush).
I had Pink Ladies on hand, so that's what I used and they worked beautifully.
That being said, next time I'd probably go for a tarter variety of apple (like Granny Smith) since the cake is already so sweet.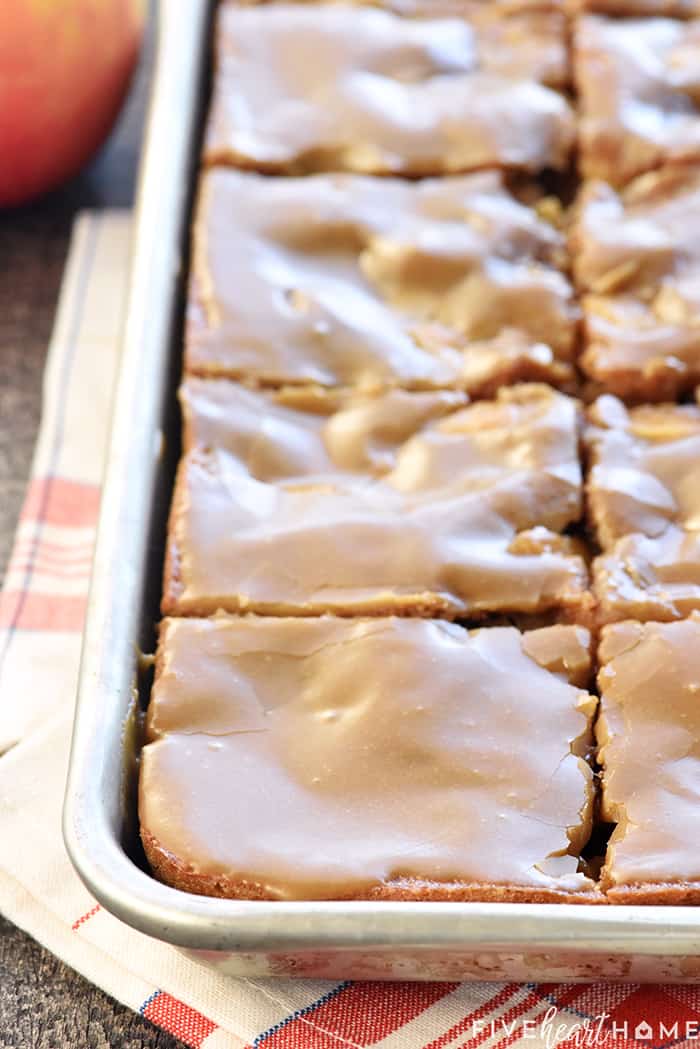 For a Salted Caramel Twist
And to further offset the sweetness of this apple cake and its caramel glaze, I'd highly recommend sprinkling each slice of cake with a few flakes of sea salt just before serving.
If you're into salted caramel, you will especially love this garnish.
But even if you're not, I think you'll agree that the contrast of sweet and salty adds a whole new flavor profile to this cake!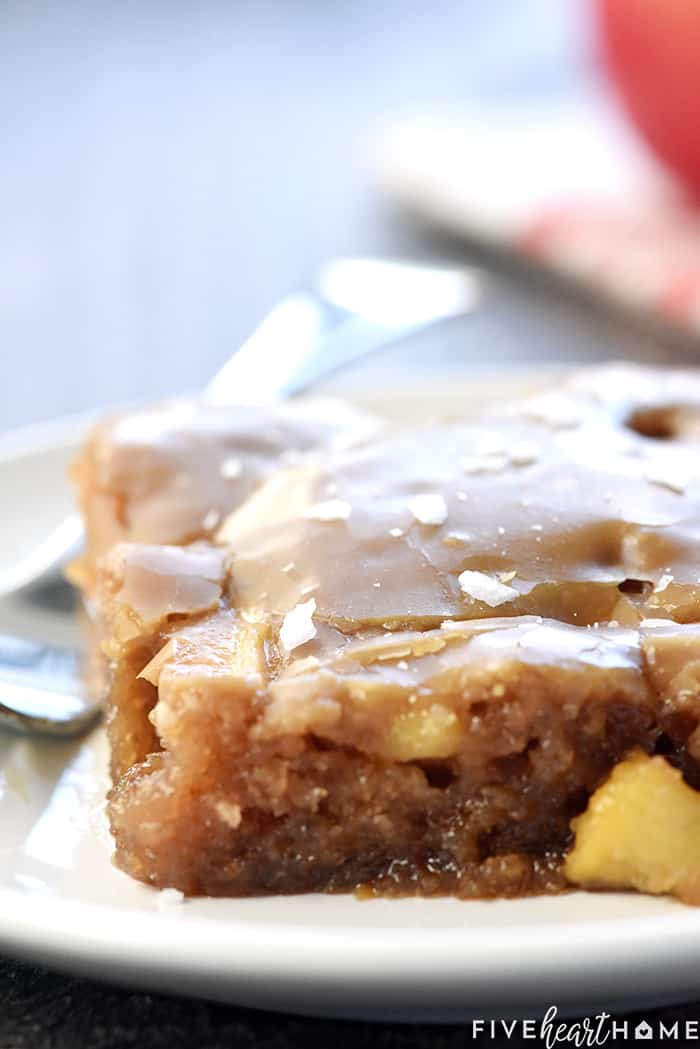 So YAY for apple season! Caramel Apple Cake is a must-make dessert this fall, ladies and gents...or any other time you're craving a decadent, addictive, apple dessert.
Read on below for even more hints for success and I hope you ENJOY!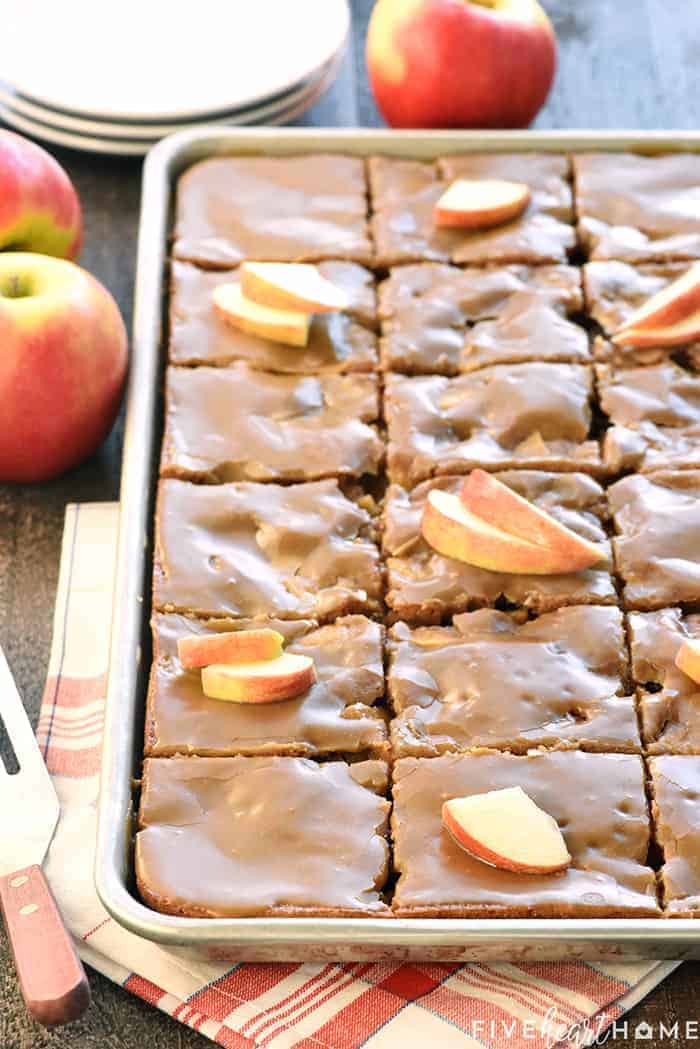 Helpful Tips, Tricks, & Equipment
The sheet pan used for this recipe measures 18- by 13- inches with a 1-inch rim, commonly referred to a half sheet pan.
For the best texture and flavor, I recommend using Granny Smiths in this cake (or another tart, firm apple variety).
You may use salted or unsalted butter in the cake and glaze...whatever you prefer or have on hand will work fine.
The key to avoiding lumps in the batter is quickly stirring in one ingredient at a time until smooth. I like to use a wooden spoon.
The sour cream considerably cools down the batter, but just to be safe, I usually crack the eggs into a separate bowl and temper them (whisk them and then gradually stir in some of the warm batter). Then I scrape all of the tempered egg mixture into the pot and quickly stir it into the batter. This helps ensure that the eggs won't scramble when they hit the warm batter.
Pour the glaze over the top of the cake and immediately spread it into an even layer (an offset spatula makes this job easier). The layer of glaze will be thin, but it's sweet enough that that's all the cake needs!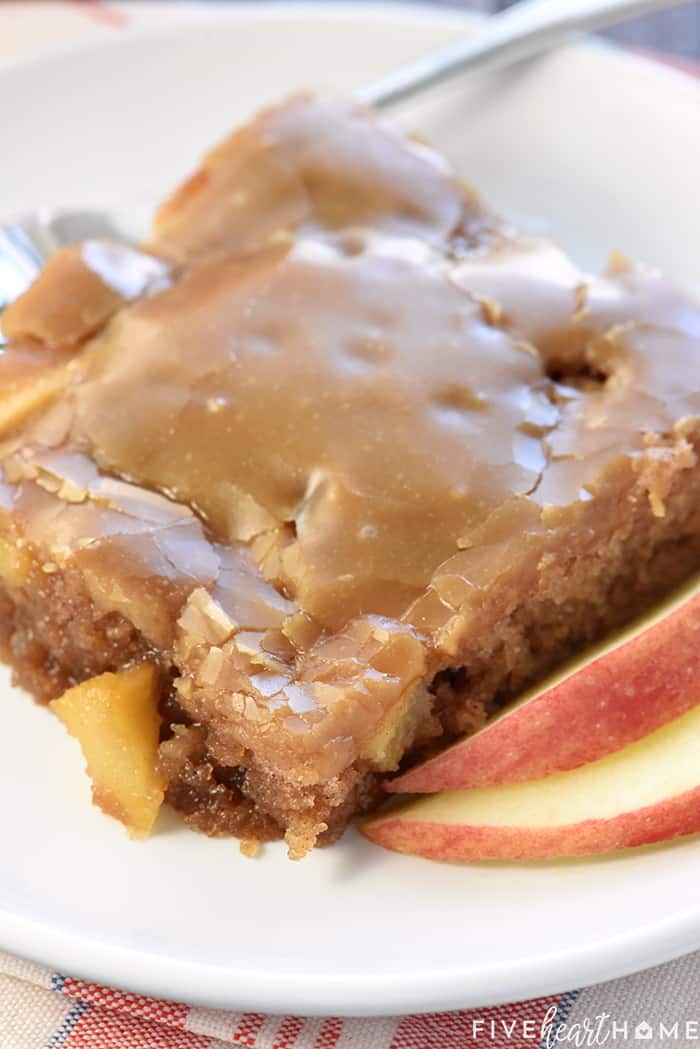 Cover any leftovers with plastic wrap (I prefer Press 'n Seal). Pull the plastic wrap taut and store the cake in the refrigerator. If you want to increase the odds that the plastic wrap doesn't stick to the glaze, use a few small, thin pieces of apple to garnish the top of the cake. This will provide a higher "layer" that the plastic wrap can rest on without touching the glaze.
If you're into salted caramel, I highly recommend sprinkling each slice with a few flakes of salt just before serving.
I'm usually lazy about sifting powdered sugar. But for this recipe I recommend it, because if there are lumps in your powdered sugar, your glaze will also turn out lumpy. If you accidentally forget to sift though, you can simply pour your lumpy glaze onto the cake through a fine mesh sieve (to catch any lumps) and nobody will ever be the wiser. Ask me how I know...?
As as alternative to the caramel glaze, you could instead frost this cake with cream cheese frosting, and even mix in 1 to 2 teaspoons of cinnamon, if you wish. Say hello to Apple Cinnamon Sheet Cake!
More Yummy Apple Desserts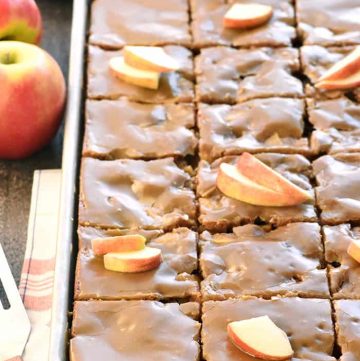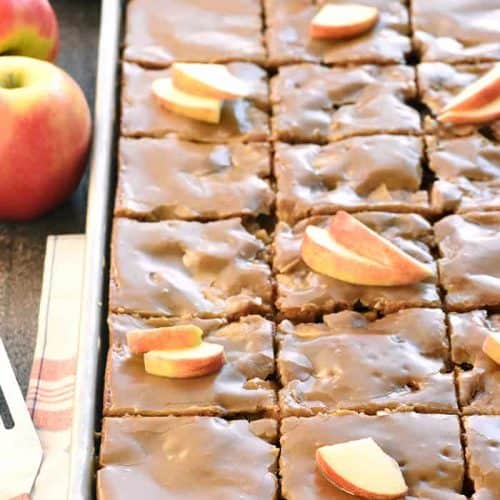 Caramel Apple Cake
Caramel Apple Cake is a sweet, moist sheet cake loaded with tender apples and topped with gooey caramel glaze...the perfect fall dessert for feeding a crowd!
Print
Pin
Rate
Ingredients
FOR THE CAKE:
1

cup

(2 sticks) butter

1

cup

water

2

cups

all-purpose flour

2

cups

sugar

1 ½

teaspoons

ground cinnamon

½

cup

sour cream

2

eggs

1 ½

teaspoons

pure vanilla extract

1

teaspoon

baking soda

½

teaspoon

salt

2

(small-to-medium) crunchy, tart apples (such as Granny Smiths)

,

peeled & diced (for about 2 cups total)
FOR THE GLAZE:
½

cup

(1 stick) butter

1

cup

packed brown sugar

½

teaspoon

salt

½

cup

half-and-half

2 ½

cups

powdered sugar

,

sifted

1

teaspoon

pure vanilla extract

_

Flaked sea salt

,

optional garnish
Instructions
Adjust the rack to the center position of the oven and preheat the oven to 375°F. Grease a rimmed 18x13x1-inch half sheet pan with softened butter.

In a large pot set set over medium heat, melt the butter. Add the water, increase the heat, and bring to a boil. Remove pot from the heat and briskly stir in the flour until smooth, followed by the sugar, cinnamon, and sour cream. Stir in the eggs until fully incorporated (temper them first if the batter is still hot). Mix in the vanilla. Then sprinkle the baking soda and salt over the top of the batter (make sure there are no lumps!) and stir them in until all ingredients are well blended. Fold in the diced apples.

Pour the batter into the prepared sheet pan and smooth the top. Bake for 18 to 22 minutes or until a toothpick inserted into the center of the cake comes out clean. Set cake pan on a wire rack to cool.

While the cake cools, make the glaze. Place a medium pot over medium heat and add the butter, brown sugar, and salt. Stir over medium heat until smooth and melted, then bring to a boil, stirring frequently. Remove the pot from the heat and carefully stir in the half-and half. Return the pot to the heat and bring to another boil, stirring frequently. Remove the pot from the heat once more and stir in the sifted powdered sugar and the vanilla until smooth. Immediately pour the glaze over the cooling cake and spread into a thin, even layer.

Allow the glaze to set (at room temperature or uncovered in the refrigerator) before slicing. Sprinkle individual slices with flakes of salt before serving, if desired. Cover tightly and refrigerate any leftovers.
Calories:
318
kcal
|
Carbohydrates:
48
g
|
Protein:
1
g
|
Fat:
13
g
|
Saturated Fat:
8
g
|
Cholesterol:
48
mg
|
Sodium:
258
mg
|
Potassium:
60
mg
|
Sugar:
39
g
|
Vitamin A:
430
IU
|
Vitamin C:
0.8
mg
|
Calcium:
27
mg
|
Iron:
0.7
mg
Post originally published on October 12, 2018.