Christmas Sheet Cake features tender vanilla sheet cake slathered in cream cheese frosting, showered with sprinkles, cut into triangles, and embellished with candy canes to make cute & festive Christmas trees! These treats are perfect for any holiday party or Christmas cookie platter!

For more cute and festive Christmas treats, you might also enjoy Reindeer Rice Krispie Treats, Christmas Ornament Cheese Balls, and Holiday Cheese Wreath!
December has officially arrived and I officially feel like I can finally (officially) share Christmas-y recipes. YAY! I've had lots of ideas churning around inside this ol' brain o' mine since before Thanksgiving, but my most recent inspiration is the one I decided to act on first...this Christmas tree-inspired Christmas Sheet Cake!
If you've been around this place since last December, you may recall the decadent and adorable Christmas Tree Brownies that I shared back then. I basically baked my favorite brownie recipe in a half sheet pan, sliced it into Christmas tree-like triangles, and then decorated them with cream cheese frosting and a plethora of holiday sprinkles. Fun to make with the kids, fun to give as gifts or serve at parties, and definitely fun to eat!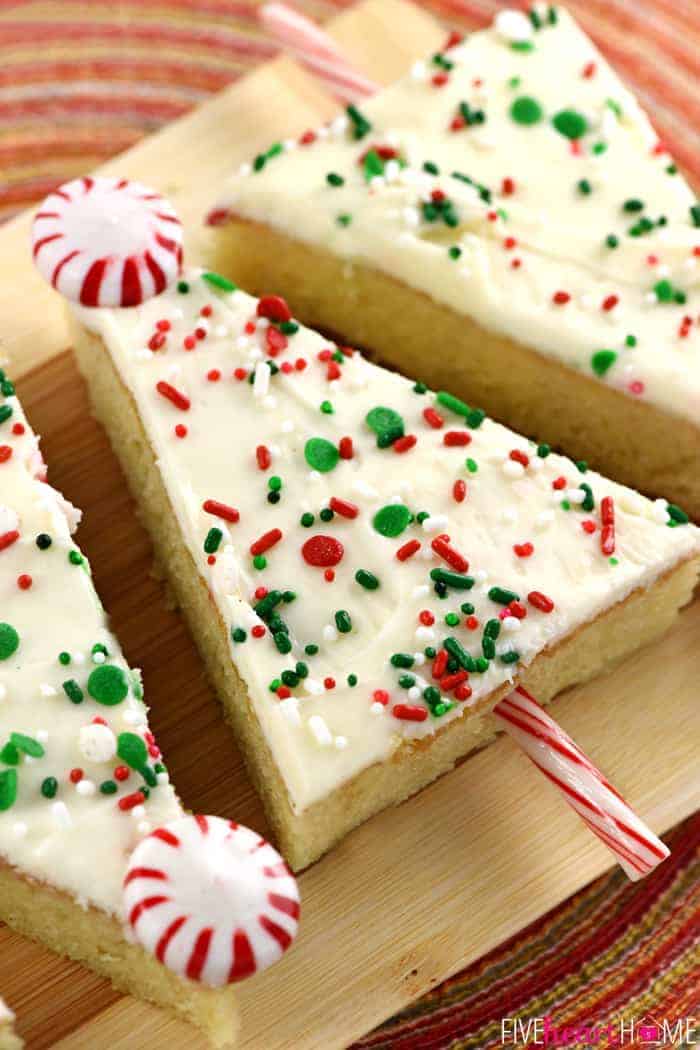 So, as I was pondering cute Christmas recipe ideas for this season, I had a brainstorm to take my Christmas tree brownie concept but apply it to cake! This time of year, I find myself baking lots of holiday treats (cupcakes and such) for lots of holiday festivities.
But you know what's even faster to make than divvying up batter in cupcake liners and frosting individual cupcakes? One big Christmas Sheet Cake. And if that sheet cake is based on a Texas Sheet Cake recipe -- which already happens to be thin and flat -- then don't you agree it would be the ideal medium for cutting out Christmas trees?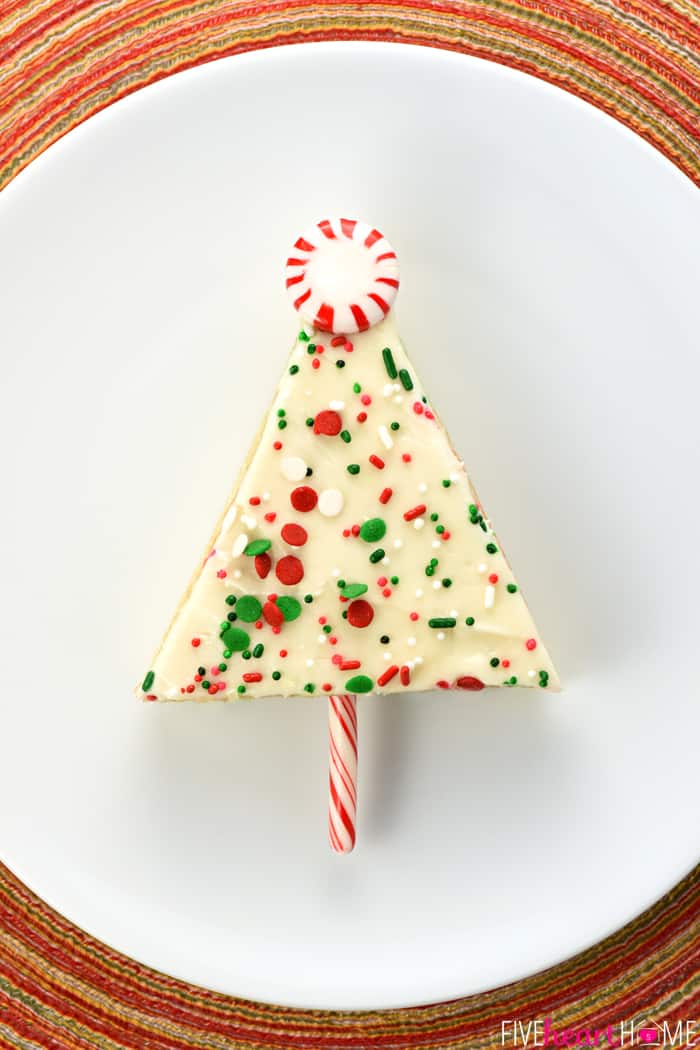 The Basics
And that's what I did. My favorite cupcakes of all time are my beloved Best Ever Vanilla Texas Sheet Cake Cupcakes. So it only made sense to convert that recipe from cupcakes back to an actual sheet cake.
Then I took my favorite frosting -- Classic Cream Cheese Frosting -- and spread it on top. I figured since we're dealing with cake here, spreading would be easier than piping it onto each individual tree, à la last year's brownie pops.
Finally, I went crazy with some of the red and green sprinkles I found leftover in the pantry. Easy. Peasy.
Cutting the Trees
The most "difficult" part of this recipe is cutting the cake into triangles, which is really not difficult at all.
I eyeballed my triangles, but you could certainly get all Type A and pull out a ruler, if you prefer. I basically just set my pan vertically and cut four even-ish rows with a knife, then sliced each row into six triangles, like so...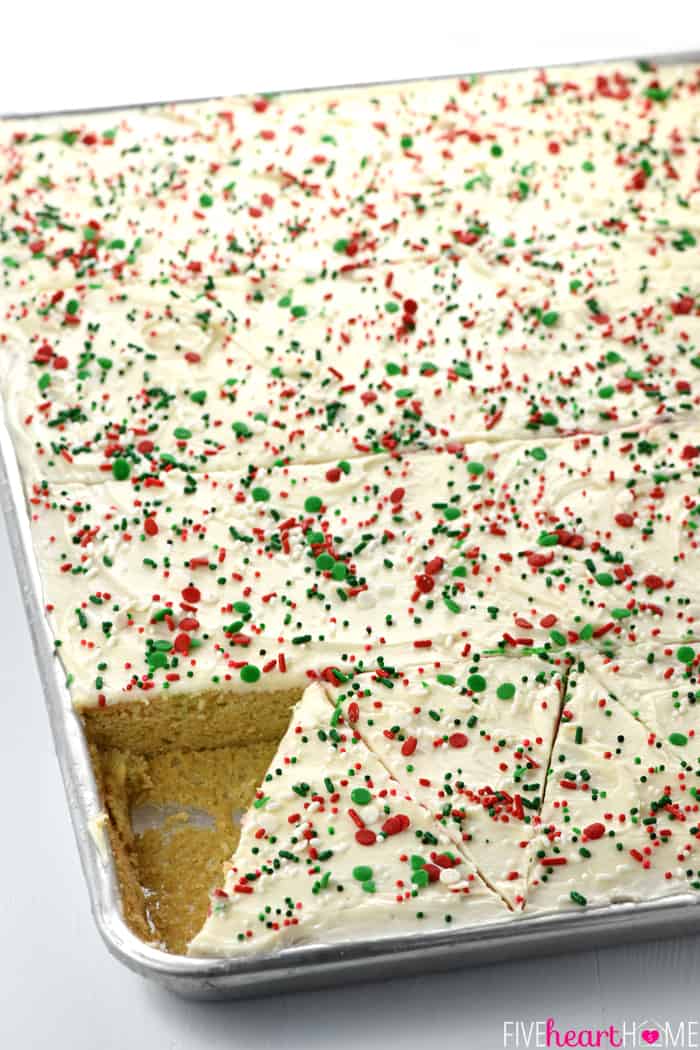 You can see that there's a little half-triangle piece on the end of each row that won't get made into a tree. Darn shame, that is...I can't possibly imagine what you might do with all those scraps. *burp*
The Final Touches
Once you have your triangles cut, use a thin offset spatula to lift each triangle of cake from the sheet pan and onto a platter.
Then break the crook off of a mini candy cane, stick the broken side into the bottom of a tree, and press a peppermint "star" into the frosting at the top of the tree.
Ta-daaa! Cute and simple Christmas Tree Sheet Cake Pops!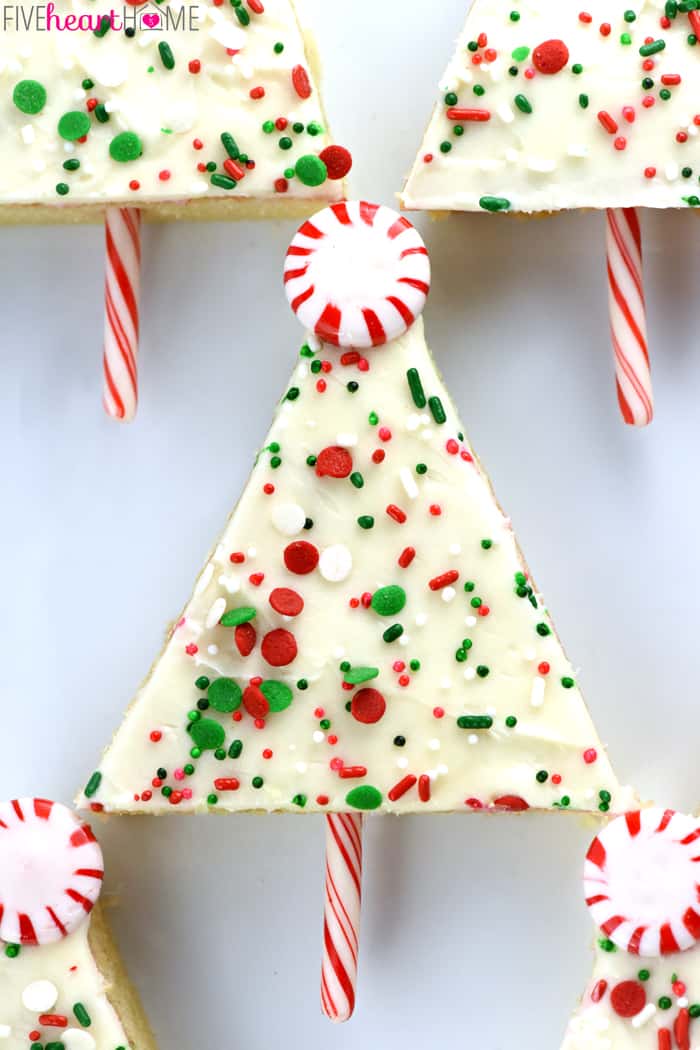 Keep Them Chilled
One word of caution...this cream cheese frosting does soften at room temperature and, after some time in a heated room, you might find your peppermint stars sloooowly sliding off the trees. So just be sure to keep these treats refrigerated until you're ready to serve them (or give them away).
In fact, you might even want to freeze them ahead of time which, strangely, doesn't make them hard and frozen...just nice and cold. Ask me how I know?
Well, I know because both of our refrigerators are stuffed to the brim right now thanks to the little (BIG) crock pot project I have going on...and when I went to pop these guys in the fridge, I realized that I didn't have any space. So I stuck them in the freezer instead, thinking that it would be okay to have them frozen when I sent a few to my kids' teachers the next day, because they could thaw out on the way to school. As a bonus, I also predicted that frozen triangles of cake would be less likely to tempt me into eating one two seven of them before going to bed.
Turns out I was wrong on that last one. FROZEN VANILLA TEXAS SHEET CAKE IS FREAKING DELICIOUS. Soft, moist, and very cold...but definitely not hard, frozen, and unappetizing. So now I find myself sneaking out to the garage freezer every so often to sneak a tree pop. Perhaps I need to send more of them to school tomorrow...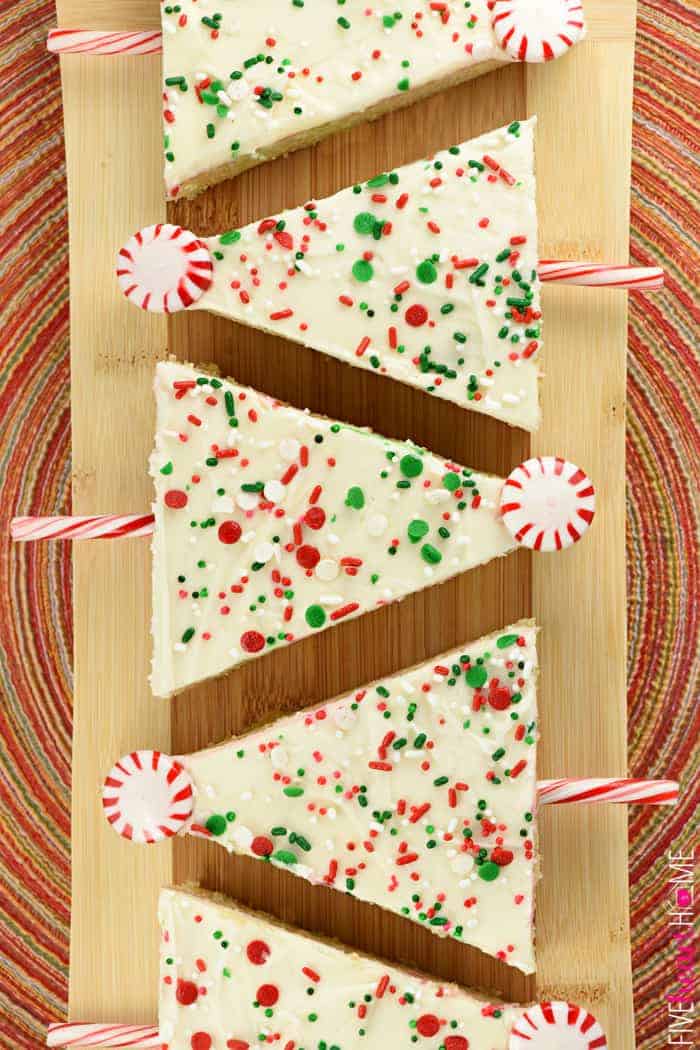 Well, what do you think? Would you rather make (or receive) Christmas Tree Brownies or Christmas Tree Sheet Cake??? I have to admit...there's room in my heart (and thighs) for both.
Now if you'll excuse me for a moment, I think I left something important out in the garage...I better go check. 😉
More Christmas Treats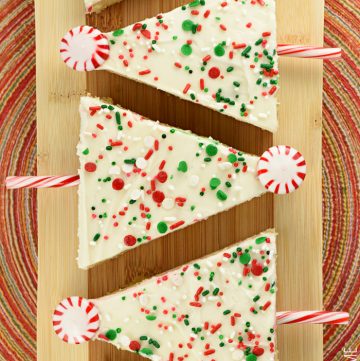 Christmas Sheet Cake
Christmas Sheet Cake features tender vanilla sheet cake slathered in cream cheese frosting, showered with sprinkles, cut into triangles, and embellished with candy canes to make cute & festive Christmas trees! These treats are perfect for any holiday party or Christmas cookie platter!
Print
Pin
Rate
Servings:
24
Christmas Trees
Ingredients
FOR THE CAKE:
1 ¼

cups

(2 ½ sticks) salted butter

1 ¼

cups

water

2 ½

cups

all-purpose flour

2 ½

cups

sugar

½

cup

+ 2 tablespoons sour cream

,

(a heaping half cup should be fine)

2

eggs

1 ½

teaspoons

pure vanilla extract

1 ¼

teaspoons

baking soda

½

teaspoon

salt
FOR THE FROSTING:
½

cup

butter

,

softened

8

ounces

cream cheese

,

softened

3 ½ to 4

cups

powdered sugar

,

depending on your desired consistency & sweetness of frosting

2

teaspoons

pure vanilla extract

Mini candy canes

,

crook broken off to leave only straight pieces remaining -- approximately 24

Round peppermint candies

,

approximately 24

Assorted holiday sprinkles
Instructions
FOR THE CAKE:

Adjust the rack to the center position of the oven and preheat the oven to 375°F. Grease a rimmed 18x13x1-inch half sheet pan with butter (or spray with non-stick cooking spray).

In a large pot, melt butter. Add water and bring to a boil. Remove pot from heat and briskly stir in flour, sugar, and sour cream. Batter should now be cool enough to quickly stir in the eggs without them scrambling. Mix in vanilla, baking soda (make sure there are no lumps!), and salt until all ingredients are well blended.

Pour batter into prepared sheet pan and smooth top. Bake for 15 to 18 minutes or until a toothpick inserted into the center of the cake comes out clean. Cool cake completely before frosting.

FOR THE FROSTING:

Using an electric mixer, beat together butter and cream cheese. Slowly blend in powdered sugar and vanilla, then beat on high until smooth and well-combined.

TO ASSEMBLE:

Once cake is cool, frost with cream cheese frosting and smooth the top. Sprinkle the entire surface with holiday sprinkles before the frosting dries, and lightly press the sprinkles into the frosting if they don't appear to be sticking.

Lay the pan vertically on the counter and cut three evenly spaced vertical lines to create four rows. Then cut six Christmas tree-shaped triangles per row (see photo in above post). Use a thin metal spatula to remove each triangle from the sheet pan and onto a platter.

To decorate, insert a straight piece of mini candy cane into the base of each tree. Press a round peppermint candy into the frosting at the top of the tree to resemble a star. Store refrigerated in a tightly covered container (trees may also be frozen...they won't get hard).
Notes
Make sure that your butter and cream cheese are completely at room temperature before making your frosting or it will have little lumps. You shouldn't need to sift your powdered sugar. I never do and my frosting always turns out smooth, but if your powdered sugar is especially clumpy, it might not hurt to sift it first.
You may tint your frosting with green food coloring, if you wish.
You will have lots of leftover cake scraps from cutting out the trees. I'm sure you will think of some way to dispose of them...
Calories:
363
kcal
|
Carbohydrates:
49
g
|
Protein:
3
g
|
Fat:
18
g
|
Saturated Fat:
11
g
|
Cholesterol:
62
mg
|
Sodium:
265
mg
|
Potassium:
42
mg
|
Fiber:
1
g
|
Sugar:
38
g
|
Vitamin A:
590
IU
|
Vitamin C:
1
mg
|
Calcium:
23
mg
|
Iron:
1
mg
Save