Make an easy and festive Holiday Cheese Wreath party appetizer by arranging cubes of cheese in a ring, accenting with cherry tomatoes and a garland of rosemary, and finishing off with a bell pepper bow!

Well, we've made it mid-way through December and the holiday celebrations are in full swing, whether that means classroom parties at school or adults-only evening soirees. Whatever type of shin-dig you're throwing or attending, I think a Christmas Wreath 'o Cheese should undoubtedly be a part of the festivities, don't you?
Reasons to Make a Holiday Cheese Wreath
This Holiday Cheese Wreath is a winner for a variety of reasons...
It's savory, which is a nice novelty during the time of year when cupcakes and cookie platters and homemade quick breads abound.
It's aesthetically festive (AKA, it's a cute, edible centerpiece for the ol' Yuletide buffet).
It goes a long way, boasting 2 pounds of cheese in those "branches."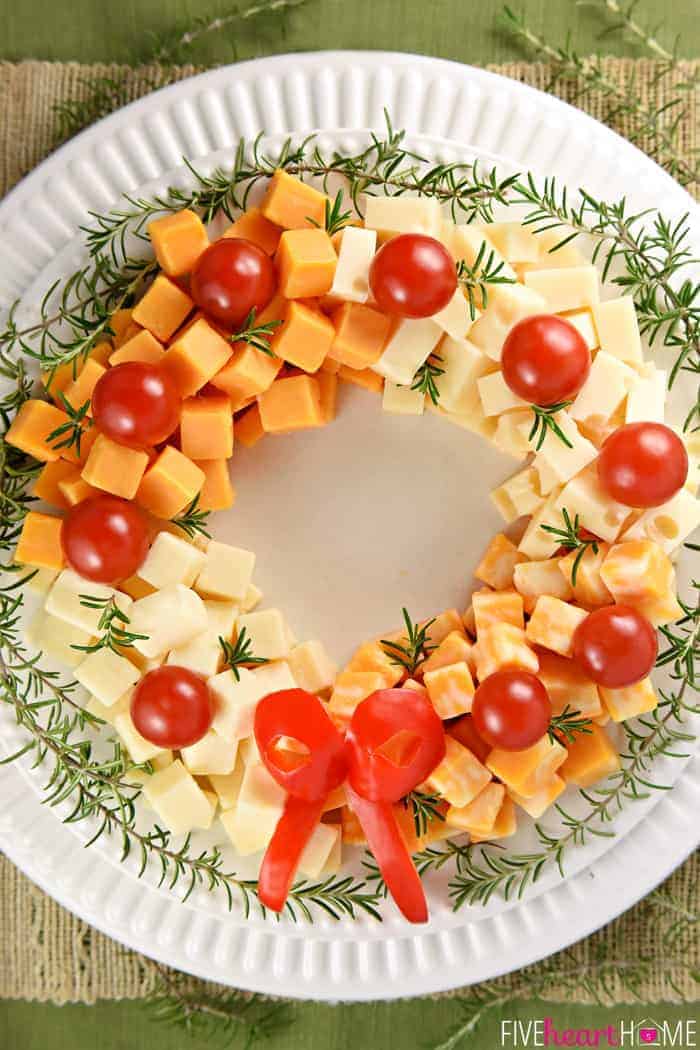 And -- best of all -- it's SUPER EASY to make! Can you form a circle? Can you randomly accent it with sprigs of rosemary? Can you intricately carve a red bell pepper into a bouncy, jovial bow? Just kidding on that last part. To make this appetizer truly easy, you can just use a toothpick to pin a real (fabric or ribbon) bow at the bottom of your wreath. Or simply leave your wreath ribbon-less. There are worse travesties in life.
My pepper is actually none too impressive as far as carving, and seeing as how it spent a longer-than-optimal amount of time at the bottom of my crisper drawer before fulfilling its destiny as an edible wreath adornment...well, don't look too closely. My primary advice in regards to pepper carving is to start with a symmetrical pepper and a small, sharp, pointy knife. But again, if that's too much pressure in the midst of the holiday madness, buy a gift wrap bow at Target and call it good.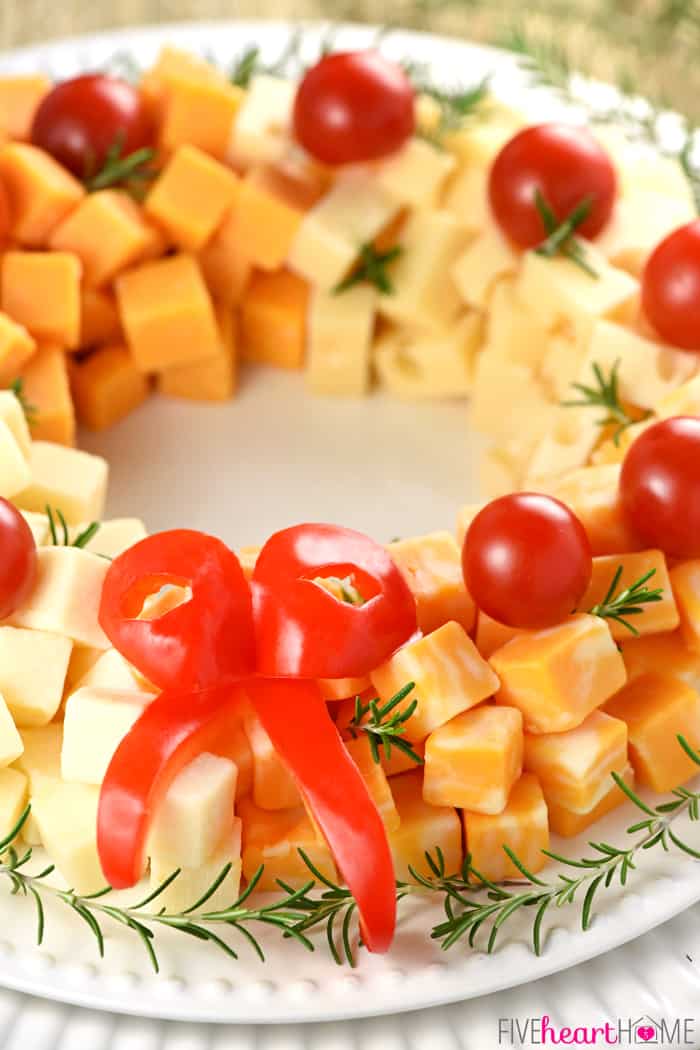 The Inspiration
As much as I'd like to take full credit for this idea, today's Holiday Cheese Wreath was inspired by a similar photo that recently floated across my Pinterest feed. I thought it was cute and clicked on the pin to investigate further, but alas, I was led to one of those spammy-type sites that had nothing to do with the original pin. So I decided to fashion a Holiday Cheese Wreath of my own -- with plump cherry tomatoes for ornaments, sprigs of fresh rosemary for that wreath-like appeal, and the aforementioned red pepper bow. In the same way, you can take this concept and make it your own!
Variations
Have I mentioned that this appetizer is further customizable in that you can choose your favorite varieties of cheese to fashion your wreath?
I used the basics here...cheddar, Colby Jack, Monterrey Jack, and Swiss (pepper jack would also be tasty!). Or you could get slightly more fancy with choices like smoked gouda or aged white cheddar.
Furthermore, you may choose to separate the different types of cheese into equally sized sections, or evenly distribute the various cubes throughout the wreath. That's right...go crazy with your cheese-lovin' self!
Additionally, you could use swap out the tomatoes for other "wreath ornaments" of your liking: black and/or green olives, broccoli florets, sundried tomatoes, little rolled "flowers" of salami...the sky's the limit!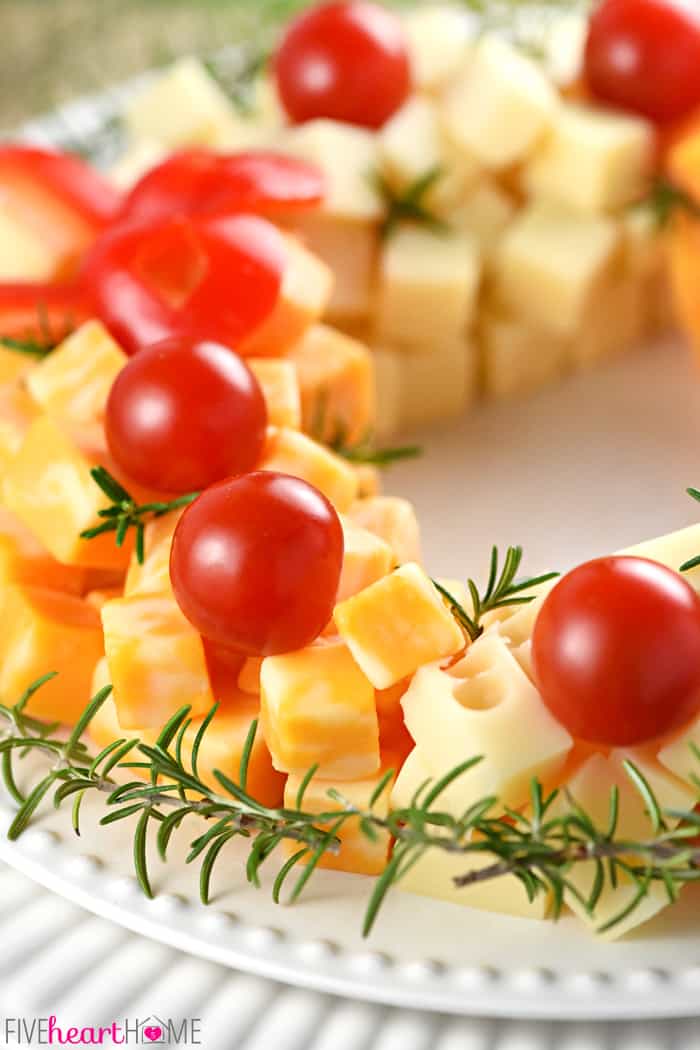 So where are you in the December party countdown? Halfway through, almost to the finish line, or just getting started? However many celebrations you have remaining, I hope you'll consider making a Holiday Cheese Wreath part of the festivities. Because not only will it provide the perfect showcase for your ability to carve a watermelon into a swan -- or a pepper into a bow, as it may be -- but who doesn't like cheese?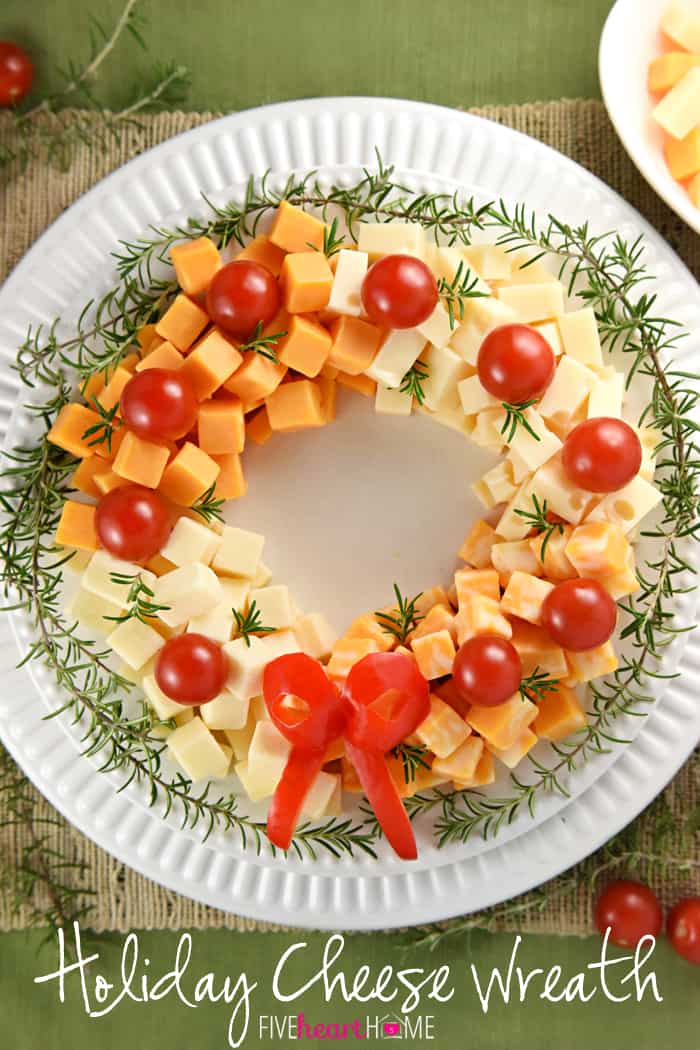 More Holiday Recipes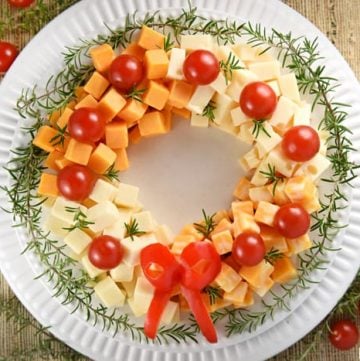 Holiday Cheese Wreath
Put together an easy and festive Holiday Cheese Wreath party appetizer by arranging cubes of cheese in a ring, accenting with cherry tomatoes and a garland of rosemary, and finishing off with a bell pepper bow!
Print
Pin
Rate
Ingredients
8

ounces

cheddar cubes

8

ounces

Colby Jack cubes

8

ounces

Monterrey Jack cubes

8

ounces

Swiss cubes

Approximately 10 cherry tomatoes

1

red bell pepper

Sprigs of fresh rosemary
Instructions
On a 10- to 12-inch diameter plate, arrange cheese cubes into a wreath shape. Arrange tomatoes on top like ornaments. Use sprigs of rosemary to surround and accent wreath.

Cut pepper in half and remove seeds and membranes from one half. Lay seeded pepper half face-down on cutting board and use a small, pointy knife to cut out the head of a bow. Place pepper bow at the base of the wreath. Cut two straight pepper strips and slide under the bow head to resemble ribbons hanging down.
Notes
You may use any (or as many) varieties of cheese that you like...the total weight just needs to be about 2 pounds. You may buy cheese that's already been cubed or cut it yourself into approximately ½-inch cubes.
Calories:
151
kcal
|
Carbohydrates:
1
g
|
Protein:
10
g
|
Fat:
12
g
|
Saturated Fat:
8
g
|
Cholesterol:
38
mg
|
Sodium:
193
mg
|
Potassium:
48
mg
|
Fiber:
1
g
|
Sugar:
1
g
|
Vitamin A:
517
IU
|
Vitamin C:
6
mg
|
Calcium:
276
mg
|
Iron:
1
mg