Christmas Brie is a simple, red-green-and-white holiday appetizer featuring Brie, pomegranate, and pistachios, garnished with a festive rosemary Christmas tree!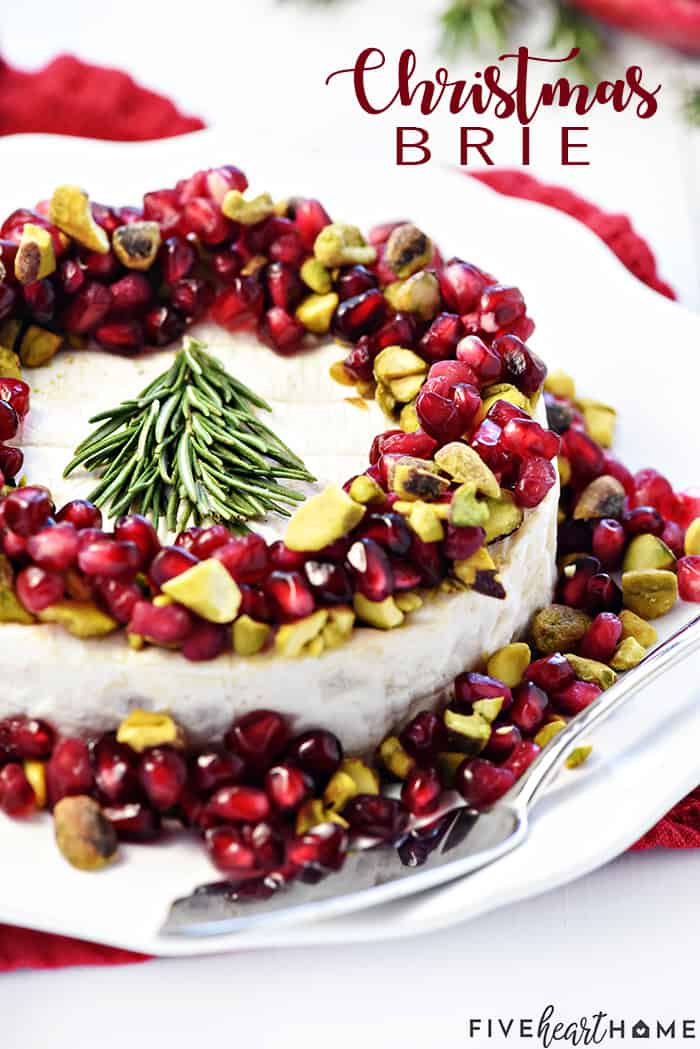 For more pomegranate treats, you'll also love Easy Pomegranate Cake, Christmas Punch, and Cranberry Pomegranate Fluff Salad!
Just a few more sleeps until Christmas! So I thought I'd pop in with one last quick recipe before the big day...an effortless, gorgeous Christmas Brie appetizer!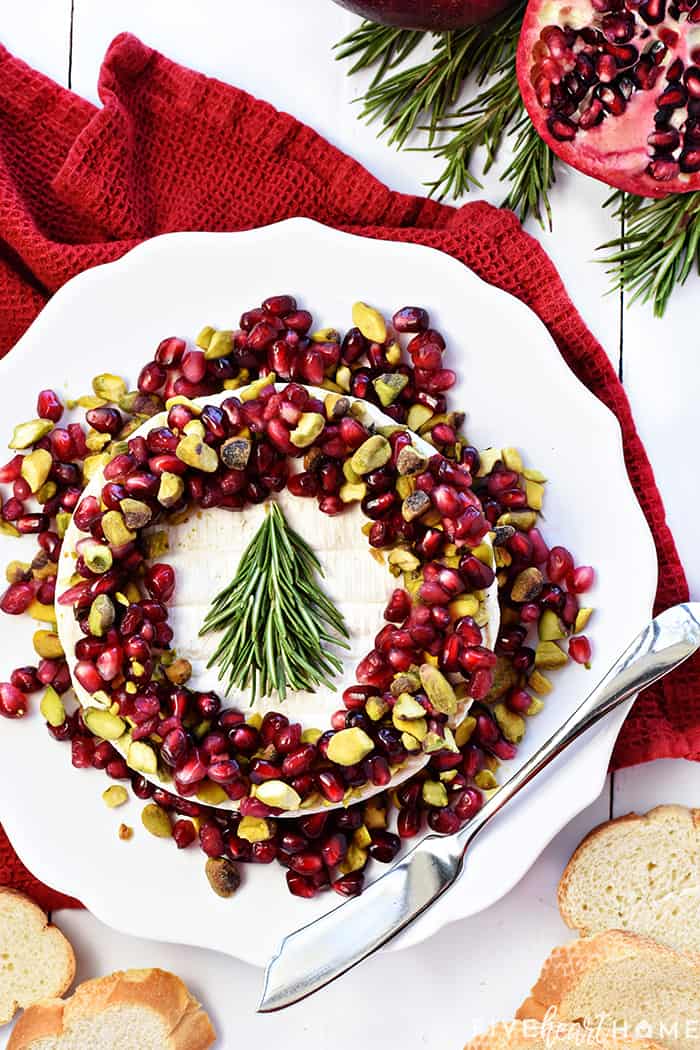 Seriously, how festive is this beaut?! I love matching holiday color schemes to holiday recipes (without resorting to food coloring, when at all possible), so ruby red pomegranate arils and bright green pistachios garnishing a creamy white wheel of Brie seemed an obvious choice for this appetizer.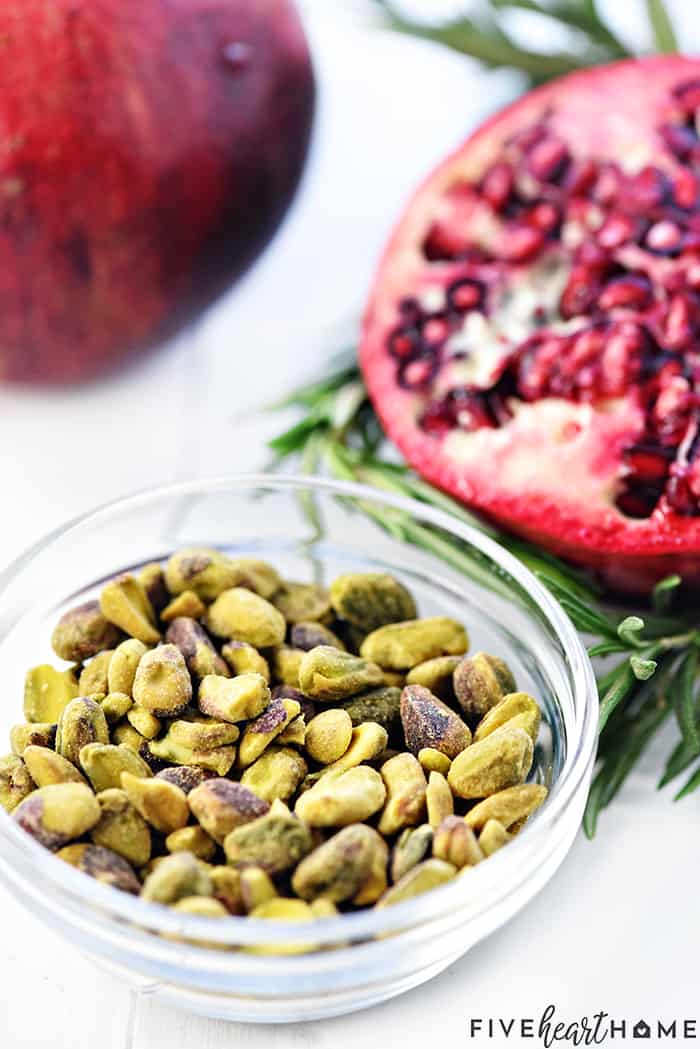 Wouldn't it be simply stunning for a holiday party?! Whether your hosting said shin-dig or bringing a dish to someone else's soirée, this Christmas Brie is soooo quick and easy to throw together.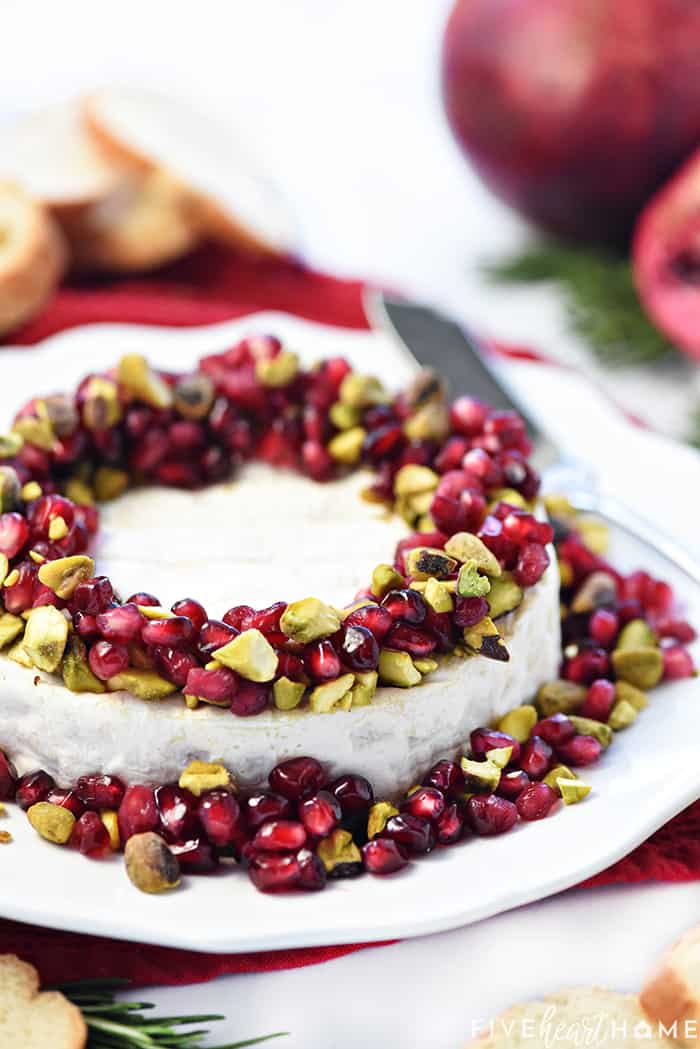 And while I named this recipe "Christmas Brie" because of its cheery colors, there's one more optional garnish that really drives home the theme.
If you wish -- in addition to spooning a wreath of pomegranate arils and chopped pistachios around the edge of your cheese -- you may decorate the top with a cute little Christmas tree made of rosemary! Simply place a sprig of rosemary in the center of the Brie with the leaves aiming downward, like a real pine tree. And if your rosemary is a little sparse (like mine was), you can fill in your "tree" with a few additional rosemary leaves in the bare spots.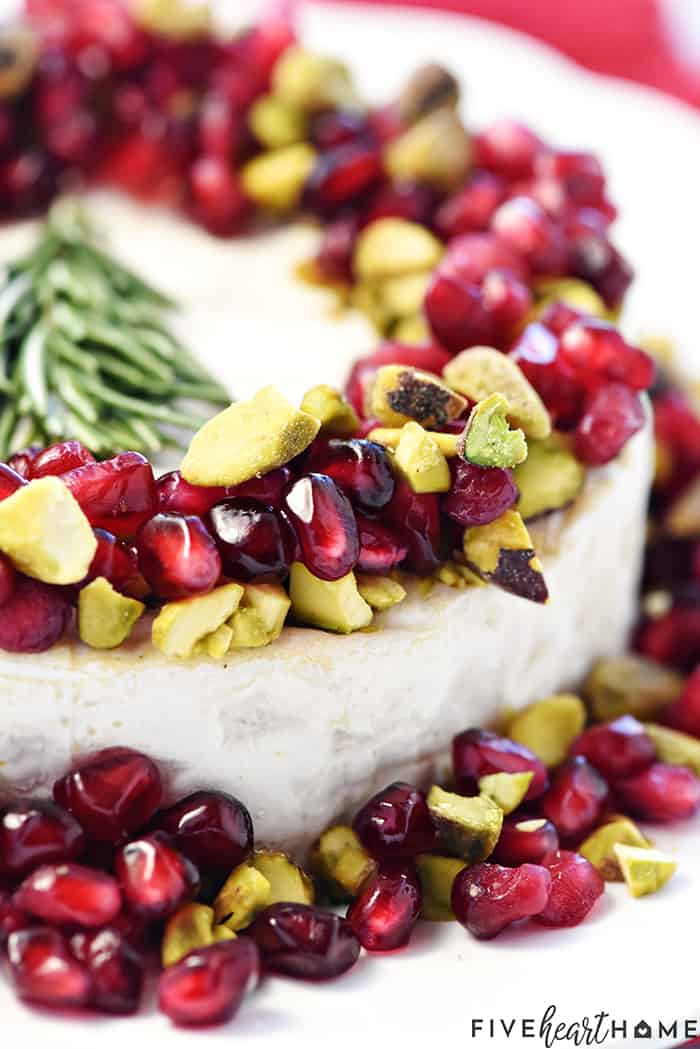 In addition to this appetizer being lovely to behold, it's also pretty darn tasty. The sweet-tart pomegranate, crunchy pistachios, and creamy, salty Brie make for a delicious combination of flavors and textures.
Furthermore, if you like, you can turn this recipe into a Christmas Baked Brie by popping your cheese in the oven for a few minutes until the center gets all warm and melty. Then as soon as you pull it out, add the glorious garnishes on top and serve with an assortment of crackers or slices of toasted baguette.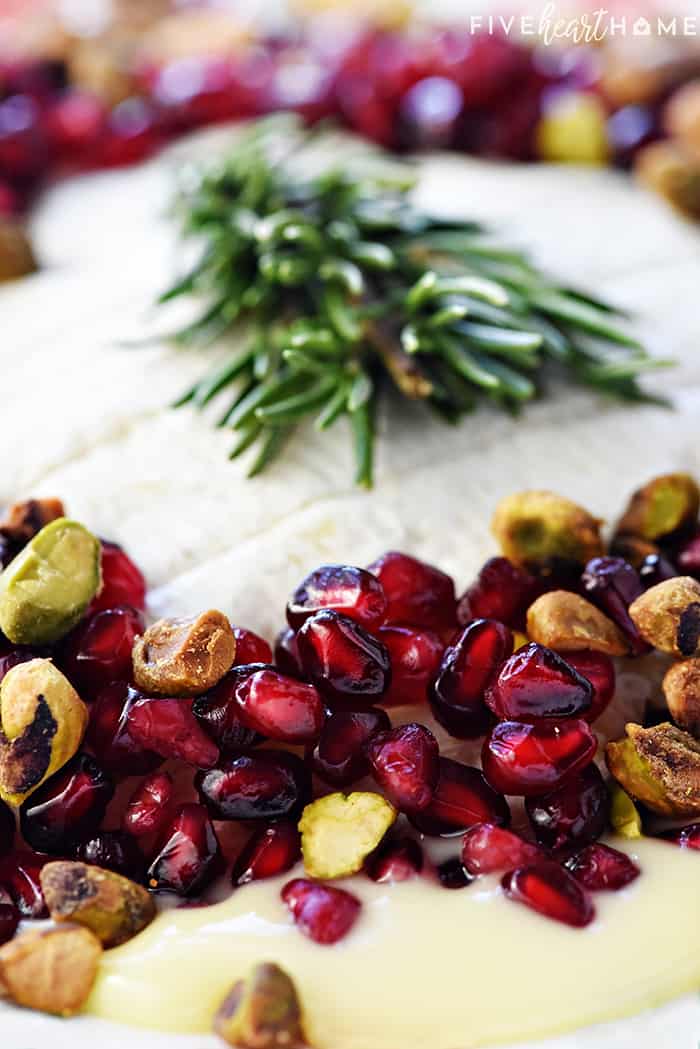 And if you're making this pomegranate and pistachio garnished Brie for a smaller gathering (or, you know, for yourself while you watch TV on the couch), feel free to scale it down to a wedge of cheese instead of a whole wheel. Likewise, you can make it with a giant wheel of Brie (and increase the toppings accordingly) if you're feeding a crowd!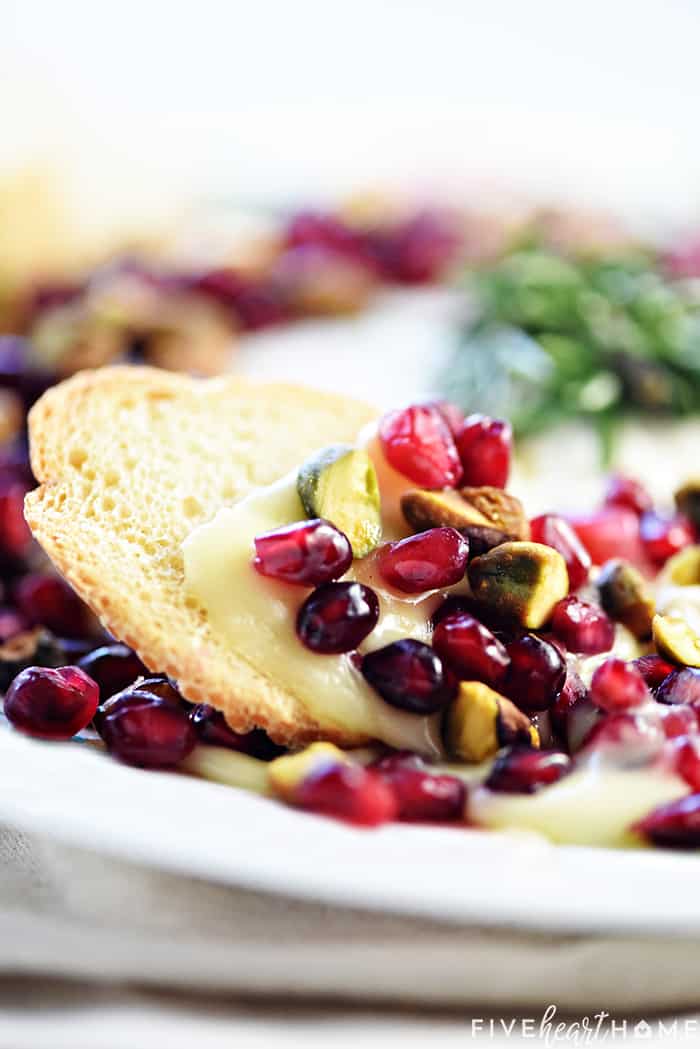 So there you have it! A beautiful, yummy, ridiculously easy appetizer for the holidays, from Christmas right on through the New Year! Heck, leave off the little rosemary tree and call it something else and you can pretty much enjoy this Christmas Brie year-round. Yay!
And before I share the recipe, I just wanted to take a moment now to wish you all a very Merry Christmas/Happy Holidays/joy in whatever celebration you may hold dear! I'll be focusing on my family and the-reason-for-the-season over the next week, but I'll try to pop in with a new recipe before the New Year...as well as my Top 20 Recipes of 2018 post, which is always a fun one. But until then, have a wonderful week and I hope to see y'all back before the end of the year.?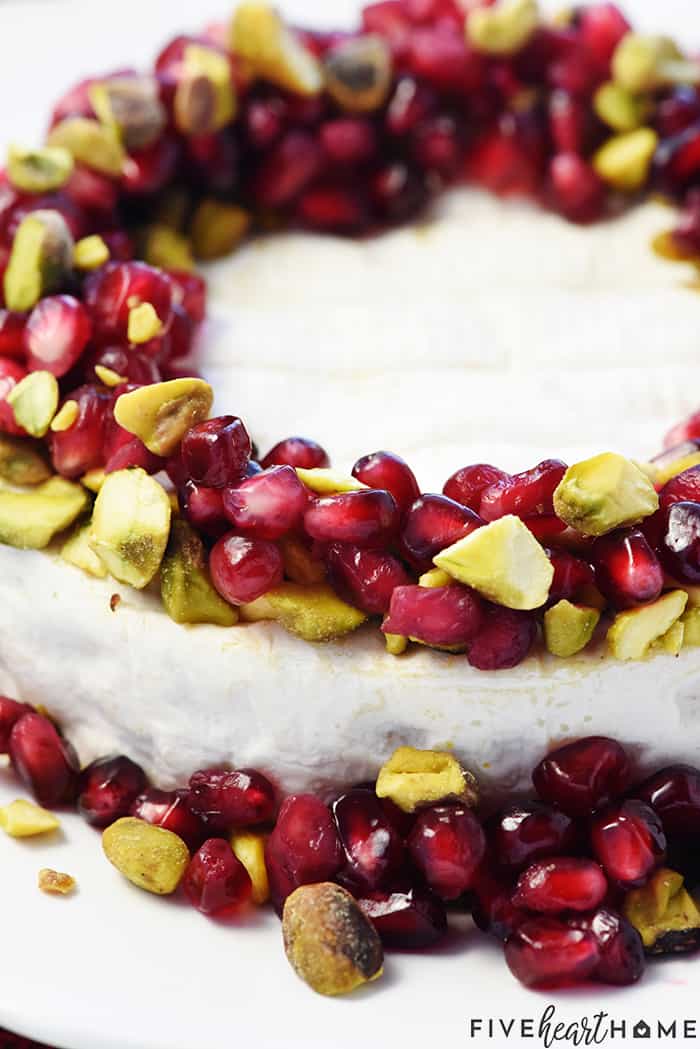 Helpful Tips, Tricks, & Equipment
For the least messy experience, I prefer to seed a pomegranate underwater. Fill a large bowl with cool water and slice the pomegranate in half. Take one half of the pomegranate and, holding it underwater, break it into large pieces and pop out the seeds, allowing them to fall to the bottom of the bowl. When you are done extracting all of the seeds and discarding the pomegranate peel, most of the pieces of membrane will be floating in the water as the seeds will have sunk. Pour as much water and membrane out of the bowl as possible, without losing any seeds. Pour the seeds and remaining water into a colander and pick out any remaining membrane. Repeat with the other half of the pomegranate. (And if this explanation didn't make sense, Google a YouTube video demonstrating this technique...it's much easier than it sounds!)
Or -- if you're short on time -- you can always splurge on a tub of already-seeded pomegranate arils. These can be found in a case in the produce section of many grocery stores.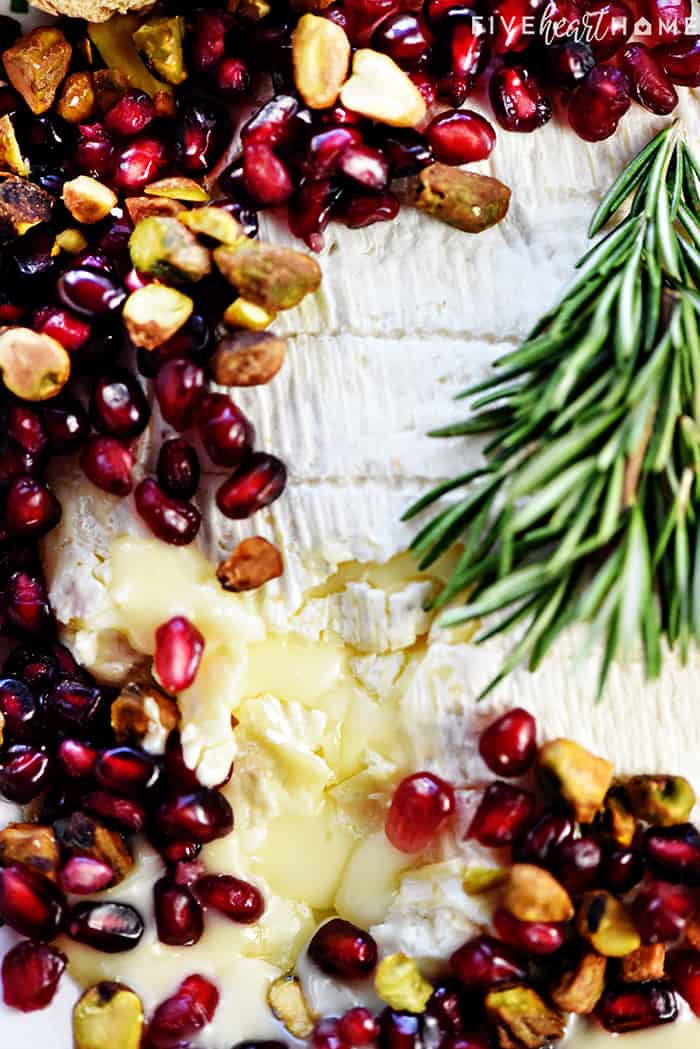 The pistachios can be salted or unsalted, and you may use raw ones instead of roasted if you prefer...it's really a matter of personal preference. Just remember that Brie can be fairly salty, so salted nuts could end up making the appetizer too salty.
If you decide to bake the Brie, place it on a sheet of parchment paper on the baking sheet. This way, just in case it oozes in the oven, transferring it to a serving platter will be easier.
Along with a cheese knife, set out a small spoon with this appetizer so that it's easier to scoop fruit and nuts onto a cracker of Brie.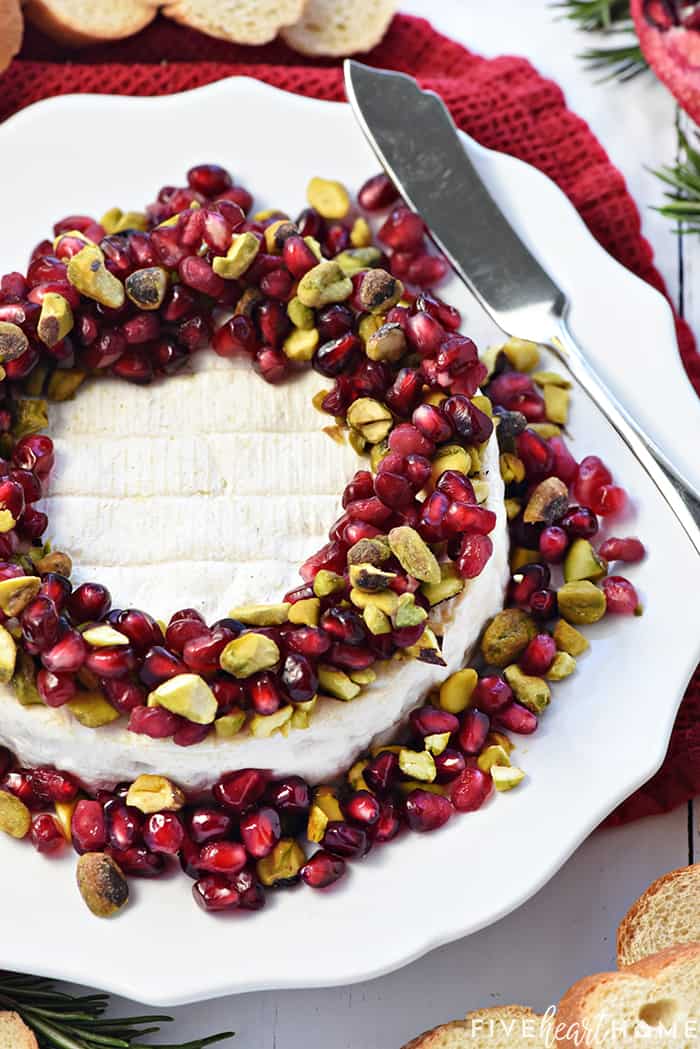 More Cheesy Holiday Appetizers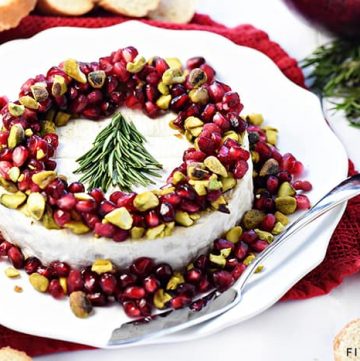 Christmas Brie
Christmas Brie is a simple, red-green-and-white holiday appetizer featuring Brie, pomegranate, and pistachios, garnished with a festive rosemary Christmas tree!
Print
Pin
Rate
Ingredients
1

10- to 12-ounce wheel of Brie

1

sprig of fresh rosemary

,

optional

½

cup

pomegranate arils

⅓

cup

roasted shelled pistachios

,

roughly chopped

Assorted crackers and/or toasted baguette slices

,

for serving
Instructions
Allow the Brie to come to room temperature and place it on a platter. If desired, arrange the sprig of rosemary in the center of the Brie to make a mini Christmas tree. Mound pomegranate arils and pistachios in a ring around the edges of the Brie, allowing some of them to fall onto the platter. Serve with crackers or toasted baguette slices.

Alternatively, you may make Christmas Baked Brie. Preheat the oven to 350°F and place the Brie on a parchment paper-lined baking sheet. Bake until softened, about 8 to 12 minutes. Remove from the oven, carefully transfer to a platter, and garnish as described above. Serve immediately.
Calories:
132
kcal
|
Carbohydrates:
3
g
|
Protein:
7
g
|
Fat:
10
g
|
Saturated Fat:
5
g
|
Cholesterol:
28
mg
|
Sodium:
178
mg
|
Potassium:
120
mg
|
Fiber:
1
g
|
Sugar:
2
g
|
Vitamin A:
189
IU
|
Vitamin C:
1
mg
|
Calcium:
57
mg
|
Iron:
1
mg