Jalapeño Hummus is quick and easy classic hummus with a zippy kick making it a healthy, flavorful dip for pita wedges or your favorite raw veggies!

Like so many of you, we've been doing our best to get the new year off to a healthy start. Lunch is typically the most difficult meal for me when it comes to thinking outside of the box (er, lunchbox), because no matter how hard I try, I always seem to gravitate back towards plain ol' boring sandwiches. But not this week...this week, I'm whipping up a big batch of Jalapeño Hummus!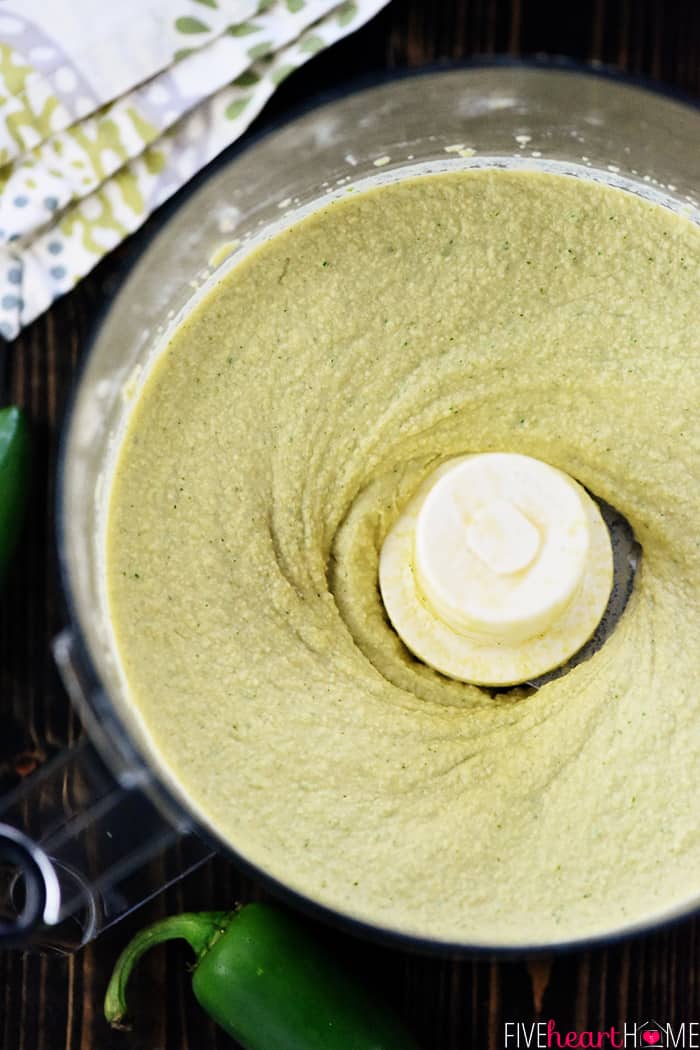 I've been slathering it into little containers and stuffing it into lunchboxes along with carrot sticks, sugar snap peas, and whole wheat pita wedges for a yummy (different!) lunch that's packed with vitamins, protein, and fiber!
Because as luck would have it, my hubby and I love hummus, as do our boys. I'm still working on our daughter -- regarding hummus and approximately 97% of all other foods -- because alas, she was clearly sent to earth as payback for my own childhood pickiness. I'm sorry, Mom.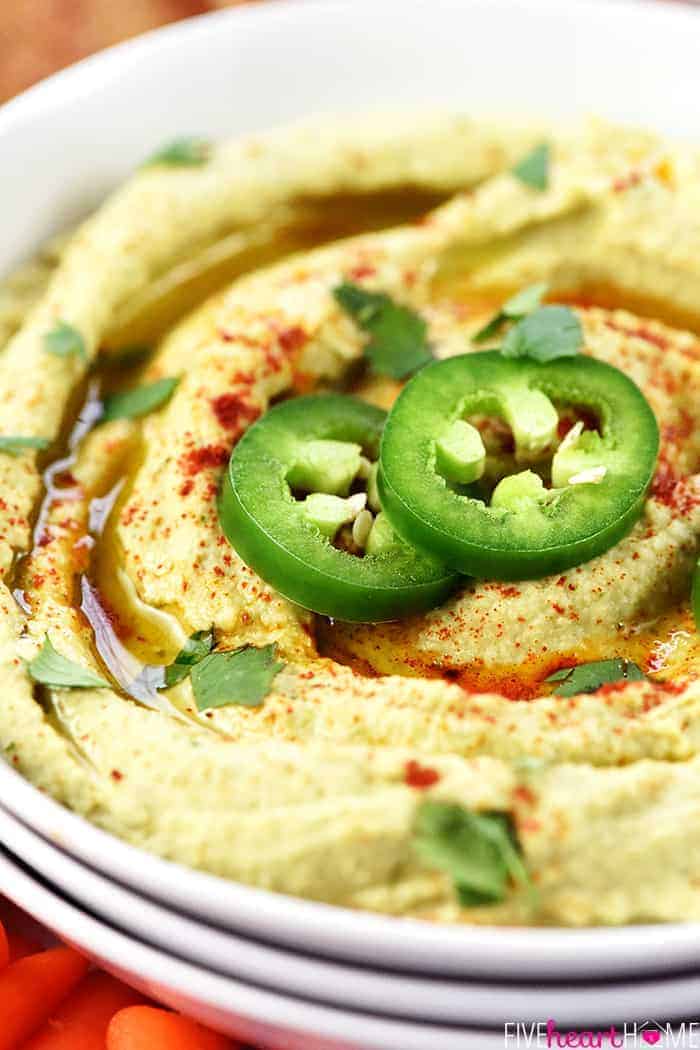 Copycat Jalapeño Hummus
It was actually my husband who requested that I make a copycat of the Jalapeño Hummus from Whole Foods, which he happens to be rather fond of. And I was happy to oblige, since the stuff from WF is yummy, but boy is it pricey. The same can be said for hummus from Trader Joe's or Costco or anywhere else. The good news is that not only can you make hummus yourself at home much more economically, but you can tweak the flavors to your tastes and control the ingredients. No citric acid in homemade hummus, by golly!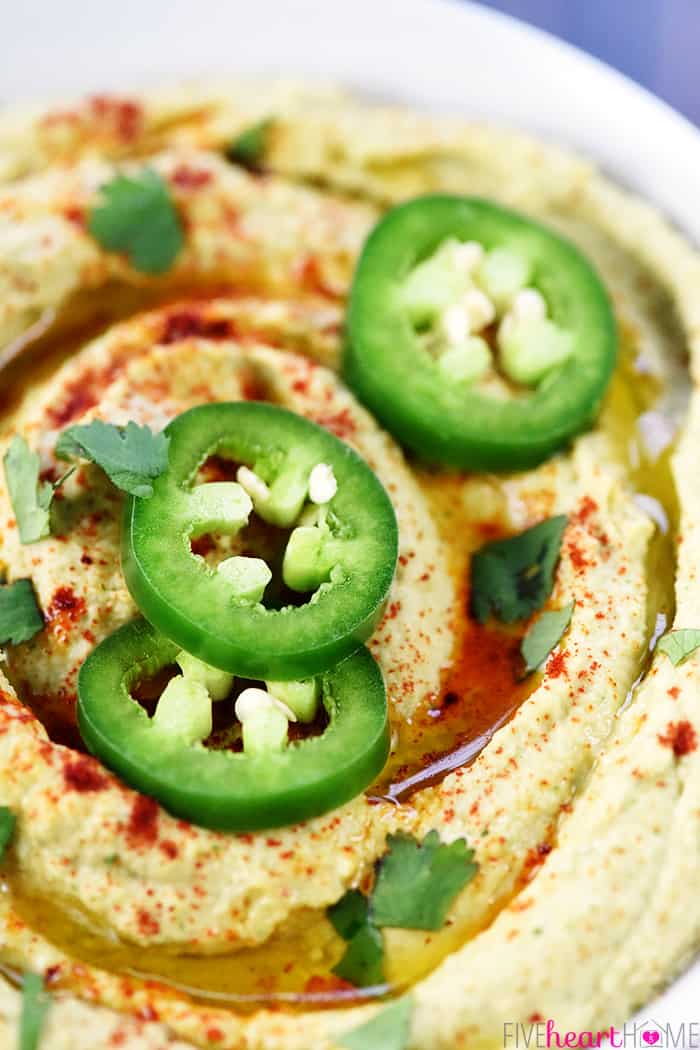 Ingredients
The first step in my quest for copycat hummus was to consult the list of ingredients on a tub of the store-bought stuff to make sure I got as close as possible to the real deal.
I obviously started with canned chickpeas, drained and rinsed. I wasn't sure whether or not Jalapeño Hummus should include tahini, but Whole Foods' did, so I added half the amount of what I usually add to my ol' standby hummus, as I wanted most of the flavor in this hummus to come from jalapeño and not sesame. Because I'm a rebel, I also decided to swap in lime juice for half of the lemon juice and add a bit of fresh cilantro, both of which deviated from the WF ingredient list.
The nice thing about this recipe is that you can make similar tweaks. Adjust the heat by adding more or less jalapeño, use all lemon juice or all lime juice instead of a combo of the two, add extra cilantro if you're a fan...the ultimate flavor is up to you!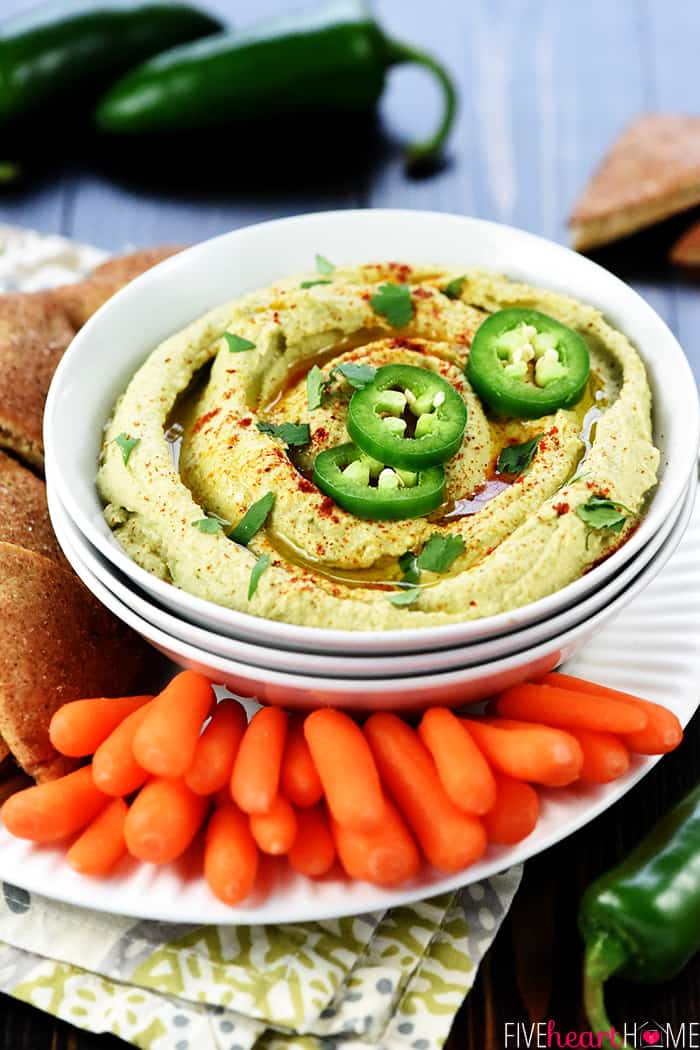 At the end of the day, I can say that my copycat hummus endeavors resulted in a delicious, zesty dip with just the right amount of heat. My boys scarfed it down, despite its peppery kick, and my husband said he actually liked it better than the Whole Foods version. Flattery will get you everywhere, my friend.
So whether you're trying to eat healthier this year (one week in and going strong!) or you need a tasty dip for munching during the upcoming Super Bowl or Olympics, I think this Jalapeño Hummus will fit the bill quite nicely! And if you're simply tired of sandwiches for lunch, well, it provides a nice break from that, too. 😉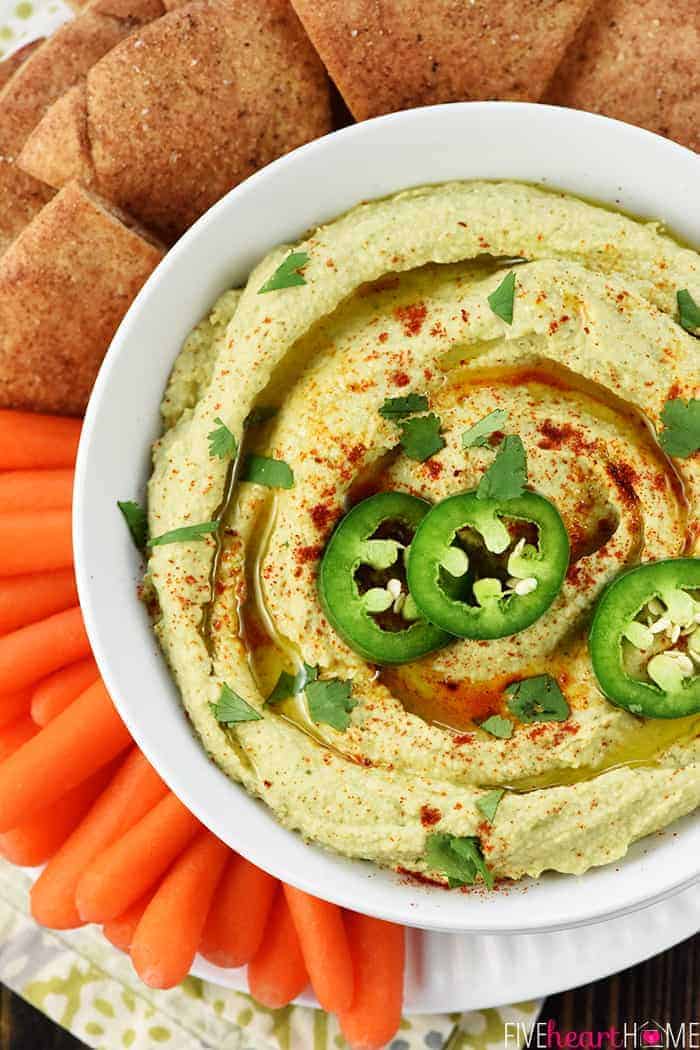 Helpful Tips, Tricks, & Equipment
(some affiliate links below)
When it comes to making homemade hummus, there is often a debate as to whether or not you should peel the chickpeas. I never do and nobody has ever complained about the texture of my homemade hummus, but I do have a fairly high-powered food processor and I puree it for several minutes, which gets it pretty darn smooth. However, if you have the time and you're intent on achieving the absolute silkiest hummus texture possible, you may certainly peel your chickpeas before blending them. Simply pinch each chickpea and the skin should pop and slip right off. Discard the skins and proceed with the recipe as directed for amazingly smooth hummus.
Any time I open a new jar of tahini, it's generally extremely separated and impossible to stir back together with a spoon. So I scrape the entire jar into my food processor before beginning the recipe, puree until the tahini is smooth and incorporated, and then transfer all of it back into the tahini jar. At that point, I proceed with my recipe (without cleaning out the food processor first), measuring the correct amount of tahini from the jar back into the food processor at the appropriate time.
All of that being said, this hummus will turn out just fine if you decide not to use tahini at all. 🙂
I typically make this hummus with one whole jalapeño, seeds and membranes intact. It has some heat, and my husband says it's actually spicier than the Whole Foods version, but it's not so hot that my boys can't eat it. For jalapeño flavored hummus with minimal heat, add one or two whole jalapeños with the seeds and membranes scraped out, since that's where most of the heat comes from. And for spicier hummus, you can obviously add an extra jalapeño. Just remember that it's always easier to add heat than to take it away, so taste as you go to get the heat level just right.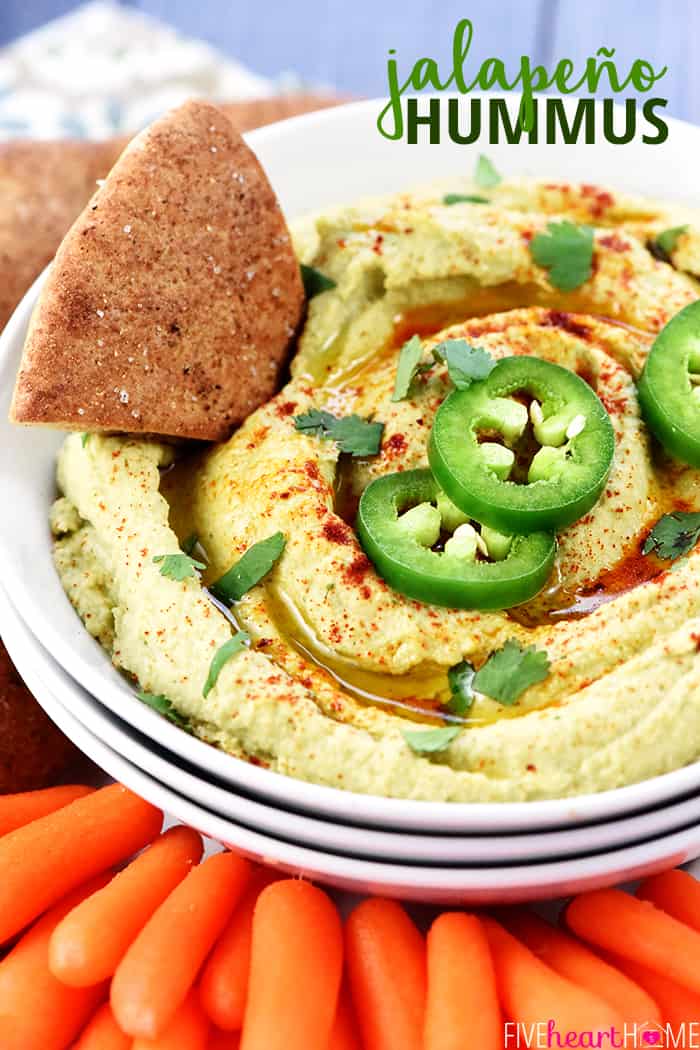 More Healthy Dips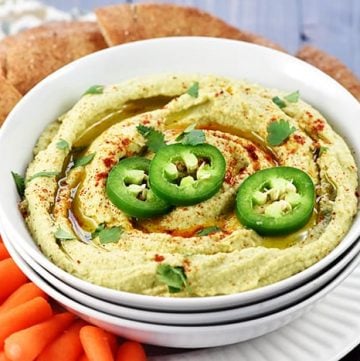 Jalapeño Hummus
Classic hummus gets a zippy kick in quick and easy Jalapeño Hummus, a healthy, flavorful dip for pita wedges or your favorite raw veggies!
Print
Pin
Rate
Ingredients
2

cans

(15-ounce) chickpeas/garbanzo beans (about 3 cups total)

,

liquid drained & reserved

2

large cloves of garlic

1

large jalapeño

,

seeds intact for more heat, seeds removed for less heat

¼

cup

packed fresh cilantro leaves

,

optional

¼

cup

extra-virgin olive oil

,

plus additional for garnish

2

tablespoons

tahini

,

sesame paste

2

tablespoons

freshly-squeezed lemon juice

,

from about 1 lemon

2

tablespoons

freshly-squeezed lime juice

,

from about 1 lime

¾

teaspoon

salt

,

plus additional to taste

3 to 4

tablespoons

reserved liquid from canned chickpeas

,

plus additional as needed

Paprika (or smoked paprika) and minced fresh cilantro

,

for garnish (optional)

Homemade Pita Wedges, pita chips, crackers, and/or raw vegetable dippers

,

for serving
Instructions
In the bowl of a large food processor, add the drained chickpeas, garlic cloves, jalapeño, cilantro, olive oil, tahini, lemon juice, lime juice, and salt, plus 3 tablespoons of the reserved chickpea liquid. Puree until smooth, adding additional chickpea liquid 1 tablespoon at a time until a desirable consistency is reached. Continue to puree for several more minutes until completely smooth, scraping down the sides as needed, seasoning with additional salt if necessary, and adjusting any of the other ingredients, to taste. At this point, you may discard any leftover reserved chickpea liquid.

Transfer the hummus to a serving dish and swirl the surface. Drizzle the top with extra-virgin olive oil and sprinkle with paprika and minced cilantro. Serve with pita wedges or chips, crackers, and/or raw vegetable dippers.
Calories:
57
kcal
|
Carbohydrates:
1
g
|
Fat:
5
g
|
Sodium:
146
mg
|
Potassium:
11
mg
|
Vitamin A:
35
IU
|
Vitamin C:
3.5
mg
|
Calcium:
4
mg
|
Iron:
0.1
mg