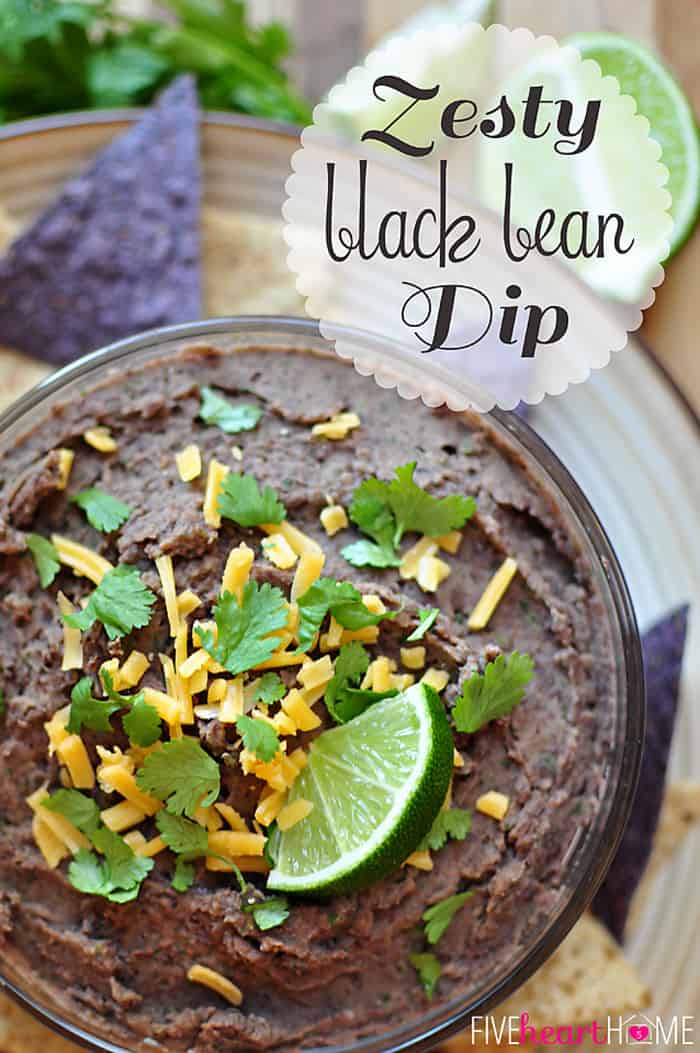 This healthy Zesty Black Bean Dip — flavored with fresh garlic, cilantro, jalapeño, lime juice, and cumin — is equally delicious served with tortilla chips or raw veggies!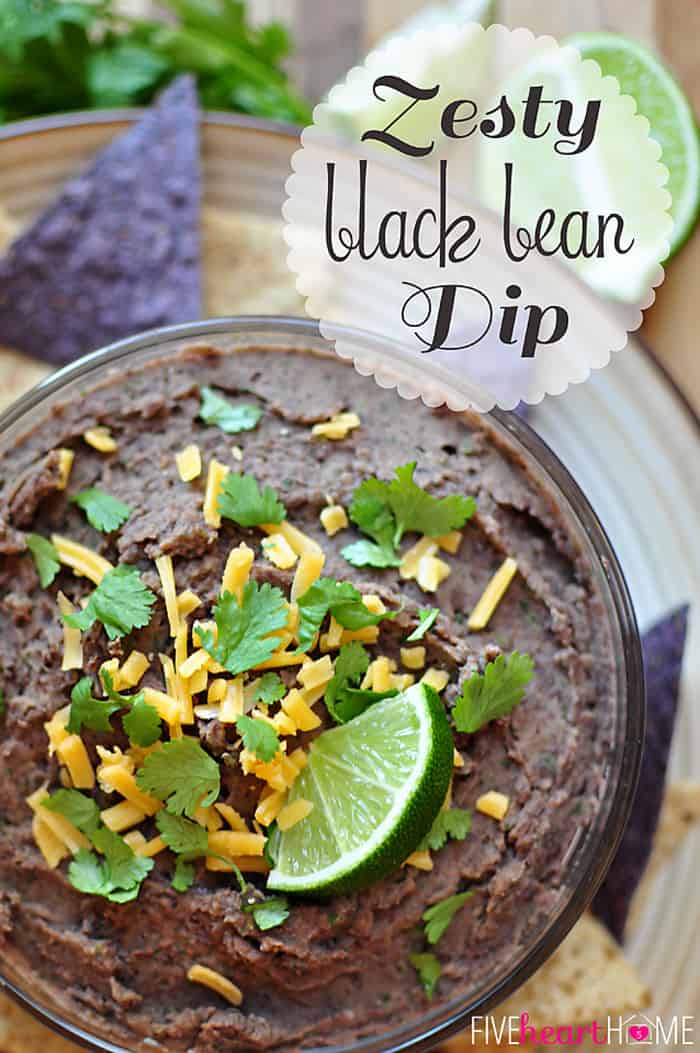 Today was a big day at Five Heart Home.
My first grader was home from school for the President's Day holiday, but his younger brother still had preschool this morning. It was a rare opportunity to eat lunch with my biggest big boy in the absence of his 4-year-old best friend and biggest competitor for attention. So there we were, peacefully crunching away on our apples, when my son exclaimed, "Ouch! My tooth hurts!"
He was holding a front bottom tooth, and one thing instantly popped into my head. Sure enough, upon inspection, my suspicions were confirmed.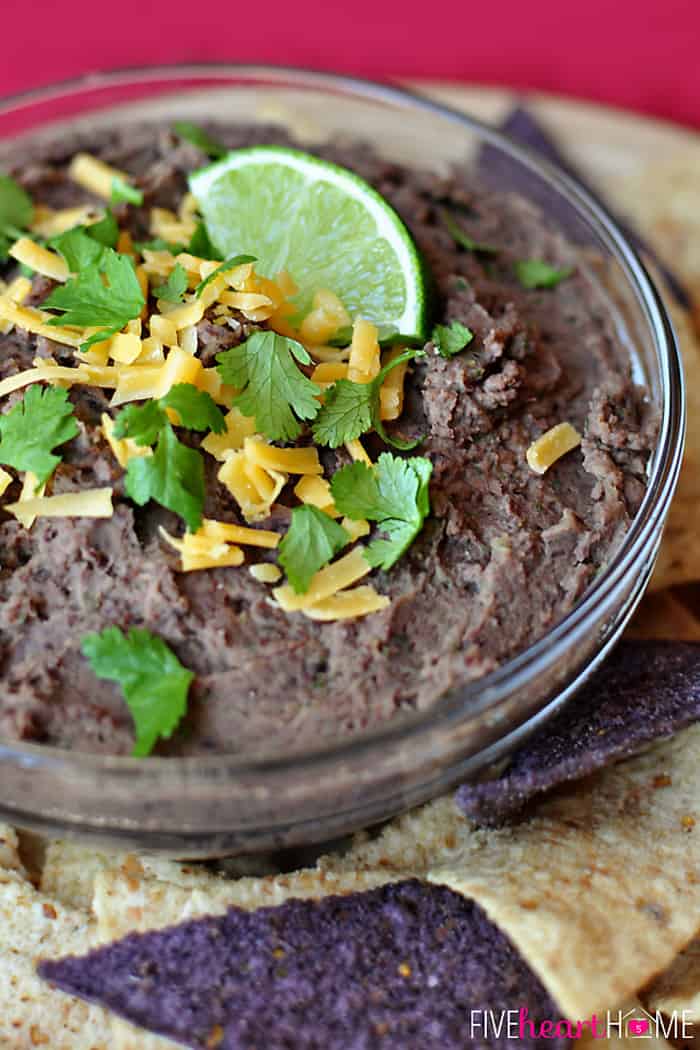 "Guess what?!" I asked excitedly. You see, my 6-year-old is one of the (if not the) last amongst his classmates to lose a tooth. He has been lamenting his mouthful of baby teeth for months now. And it appears that today was going to be his lucky day.
"What?" he replied.
"You have a LOOSE TOOTH!!! Can you believe it?!"
And the immediate look upon his face was a mixture of happiness, pride, embarrassment, and horror.
"Aren't you excited?" I asked. And he looked like he just might cry.
Me too, kid. I remember when that same little tooth just barely poked through your 7-month-old gums. I remember how it was barely discernible to the eye yet I could feel its razor sharp corner with my fingertip. I remember how I gently pulled down your bottom lip with my thumb while snapping a proud picture to e-mail to your daddy at work.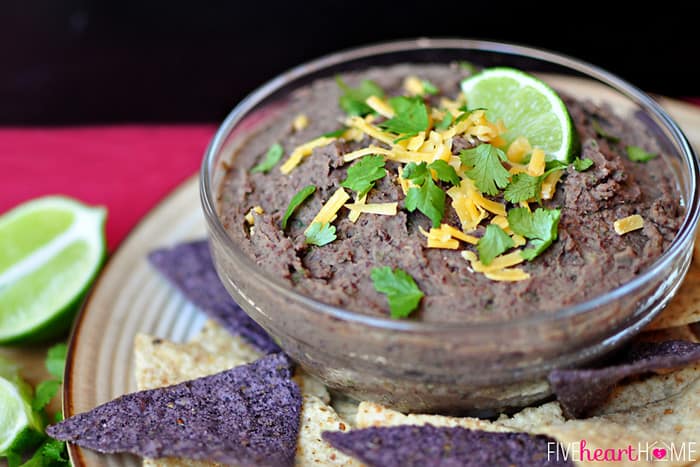 This parenting gig is teaching me that growing up is exciting and hard and happy and sad, for the parents as much as the kiddos. My biggest big boy is more than ready to enter the land of lost teeth with his friends, but it's also momentarily a bit scary for him to think that a physical part of his body is soon going to fall out and be gone forever. And in the same way, I'm happy and proud each time my eldest hits a new milestone, yet a small part of me wants to weep (and possibly does, while hiding in the pantry with a bag of chocolate) at the thought of how quickly my baby's childhood is flying by.
On the upside, hitting the big milestones with the firstborn takes away some of the sting the next time around. By the time child #2 loses his first tooth, we'll celebrate and make a big deal, but I probably will not feel that same pang in my heart. And baby #3? Well, hopefully the Tooth Fairy remembers to visit her at all in a timely manner. 😉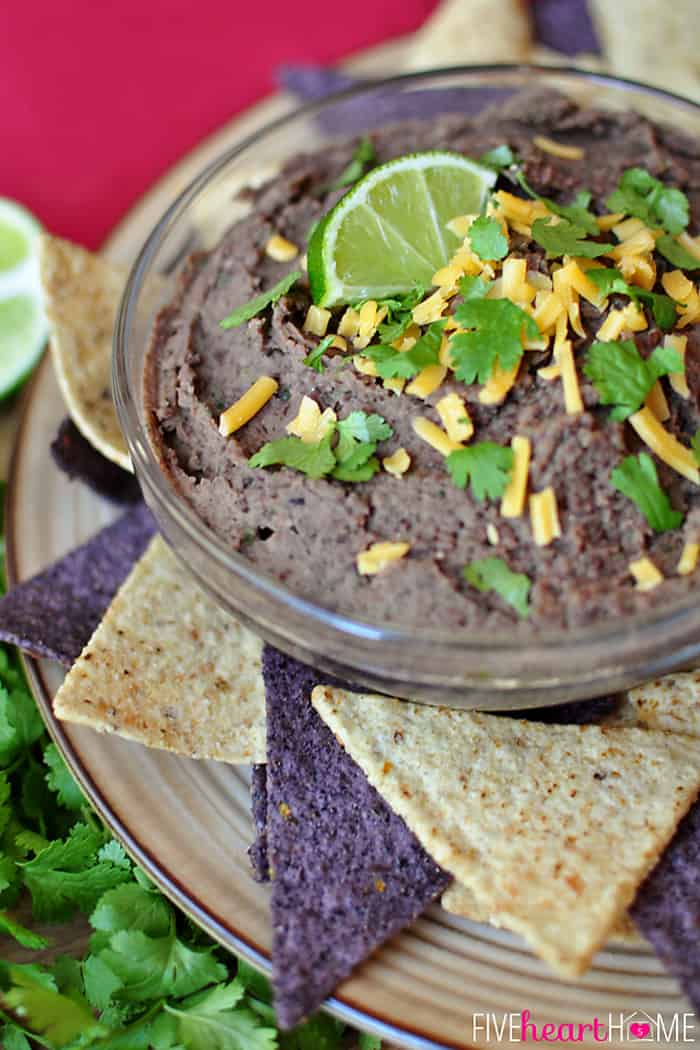 Whew! Thanks for letting me get all of that out. Who needs therapy when you have a blog?
Now…you might have spent the last few paragraphs wondering what the heck all of that has to do with this yummy, healthy, protein-packed Black Bean Dip, bursting with fresh garlic, cilantro, and lime juice, seasoned with cumin and balsamic vinegar, and spiced with just enough jalapeño for flavor (and did I mention it whips up in just a few minutes)? Well, until his newly loose tooth comes out, my son has proclaimed that he can't bite into anything hard or crunchy. So I see lots of soft and pureed food in his future…perhaps such as this fine recipe, scooped up with a spoon? Heyyy…that almost sounds like something my sweet little tooth-cutting 7-month-old would have eaten.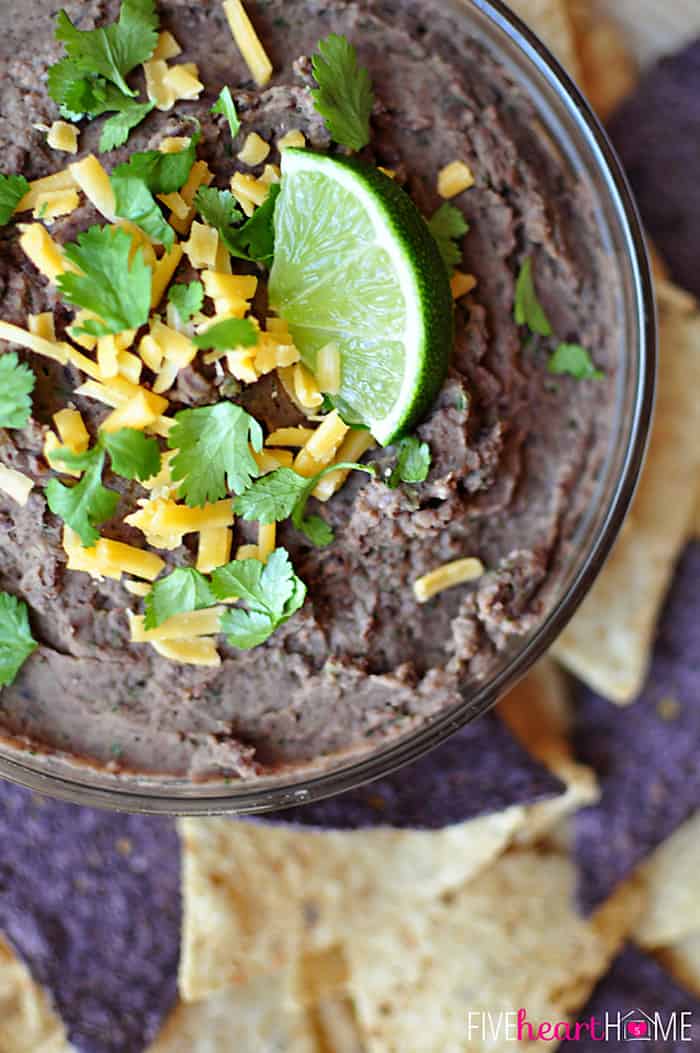 Now please excuse me while I go recompose myself in the pantry with that aforementioned bag of chocolate. 😉
Zesty Black Bean Dip Recipe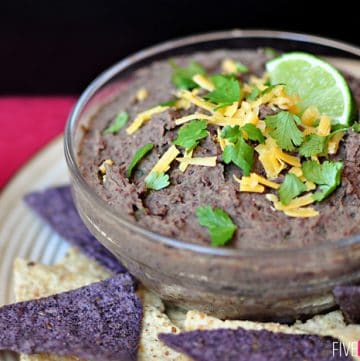 Zesty Black Bean Dip
This healthy black bean dip -- flavored with fresh garlic, cilantro, jalapeño, lime juice, and cumin -- is equally delicious served with tortilla chips or raw veggies!
Print
Pin
Rate
Ingredients
2

large cloves garlic

1

jalapeño

,

seeds and membranes removed, chopped into chunks

1/2

cup

packed fresh cilantro leaves

2

cans

(15-ounces each) black beans

,

rinsed and drained

2

teaspoons

cumin

1 1/2

teaspoons

garlic salt

1/2

teaspoon

chili powder

1/4

teaspoon

dried oregano

1/4

teaspoon

black pepper

1 1/2

tablespoons

fresh squeezed lime juice

1

tablespoon

balsamic vinegar

2 to 4

tablespoons

water
Instructions
Place garlic, jalapeño, and cilantro in the bowl a food processor (or the pictcher of a blender). Process until finely chopped, scraping down sides halfway through. Add black beans, cumin, garlic salt, chili powder, oregano, pepper, lime juice, vinegar, and 2 tablespoons water to food processor. Process until all ingredients are smooth, adding additional water one tablespoon at a time (if necessary) until preferred consistency is reached. Taste and adjust seasonings as desired.

Garnish with cilantro. You can also add a little cheese (cotija, cheddar, Monterrey Jack, etc.) and a sprinkle of diced tomatoes for color. Serve as a dip with tortilla chips or raw vegetables.
Calories:
138
kcal
|
Carbohydrates:
25
g
|
Protein:
9
g
|
Fat:
1
g
|
Saturated Fat:
1
g
|
Sodium:
550
mg
|
Potassium:
455
mg
|
Fiber:
10
g
|
Sugar:
1
g
|
Vitamin A:
175
IU
|
Vitamin C:
8.4
mg
|
Calcium:
58
mg
|
Iron:
3.2
mg
Recipe originally posted at Or So She Says on January 9, 2014.
More Healthy Dips