White Spinach Queso is a creamy, addictive, effortless dip made with four simple ingredients: cream cheese, Monterey Jack, salsa verde, & fresh chopped spinach!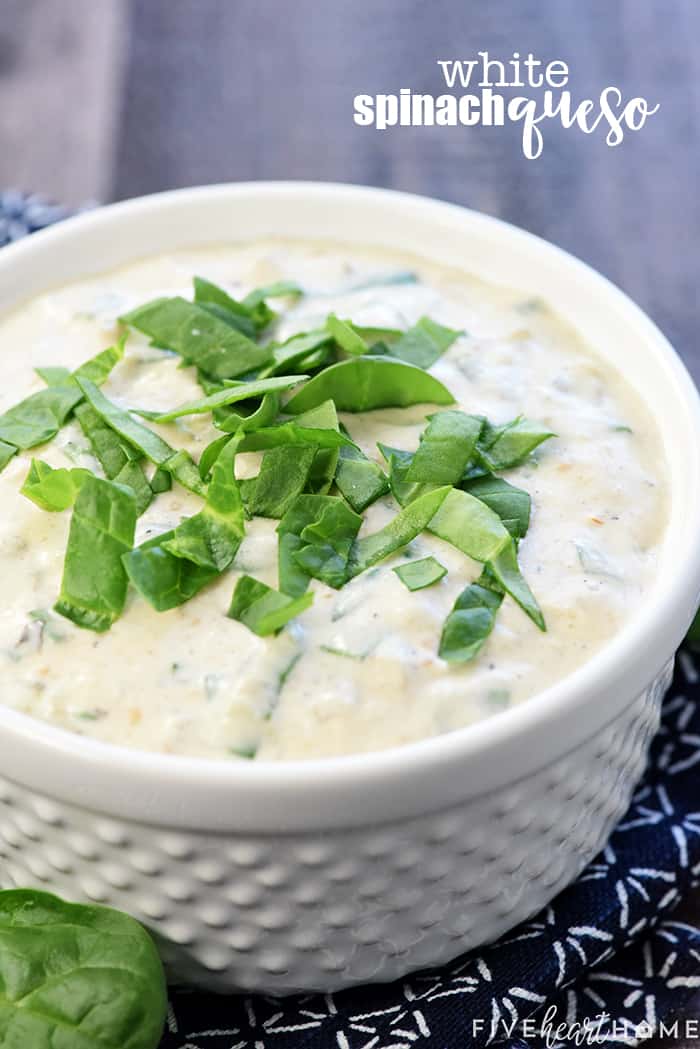 If you've known me for any length of time at all, you probably know that queso is one of my favorite foods on earth. Now I realize that queso simply means cheese in Spanish, and that the "queso" I'm referring to is often called "queso dip" in other parts o' the country. But at any rate, if I say QUESO and you envision a melted bowl of cheesy goodness -- perfect for copiously dipping up with crispy tortilla chips -- well then, mi amigo, we are on the same page. And you are going to totally appreciate today's White Spinach Queso recipe!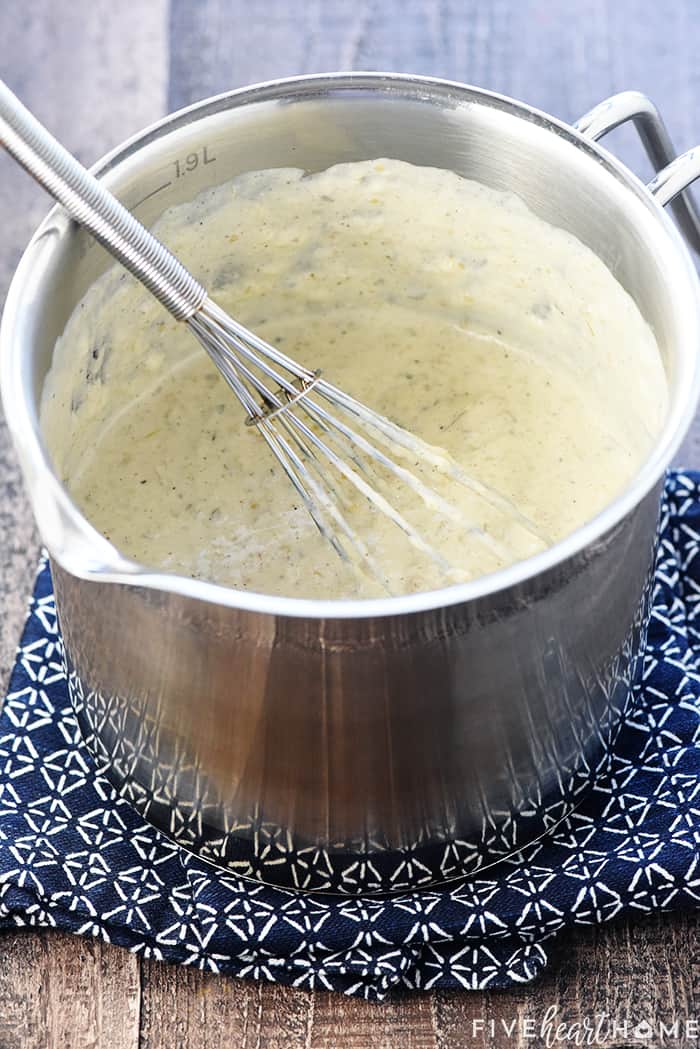 The Inspiration
Back when I was a young whippersnapper attending Texas A&M, I had a free summer between finishing college coursework in the spring and student teaching in the fall. So, like any good Aggie, I decided to move in with my Longhorn friend in Austin for the summer and work as a waitress at a little Tex-Mex joint downtown called El Arroyo.
El Arroyo was known back then -- and is still known today -- for its tongue-in-cheek quotes (I suppose they'd be called "memes" now?) on the marquee sign out front. And after working there, I can tell you that the waitstaff works hard to come up with those little witticisms every day. But I can also tell you that my favorite thing about working at El Arroyo wasn't the famous sign...it was the White Spinach Queso.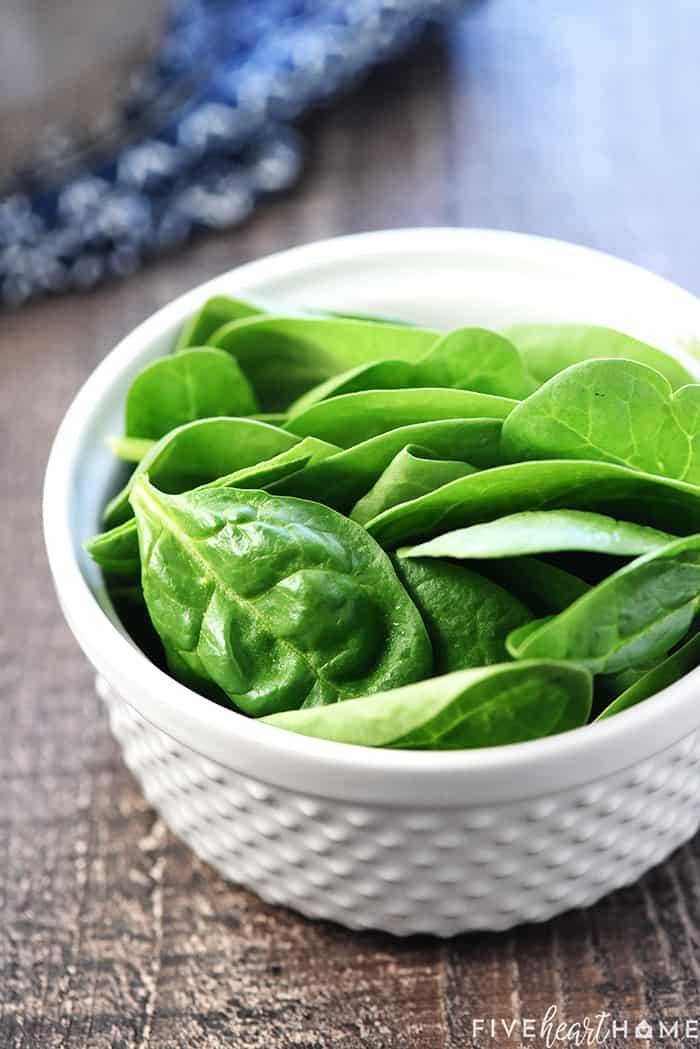 Why in the world would you ruin a good white queso recipe by adding spinach??? you may be asking yourself right about now. Fair question. All I can tell you is that not only does it work, but it's downright delicious.
My version of White Spinach Queso is admittedly different than El Arroyo's, but I actually think it's even better (shhhhhh!). It starts with just FOUR simple ingredients and it's ready to enjoy in a matter of minutes. It's creamy, it's zippy, it's lick-the-bowl good. I'm pretty sure you're going to love it, should you be wise enough to take my advice and give it a go.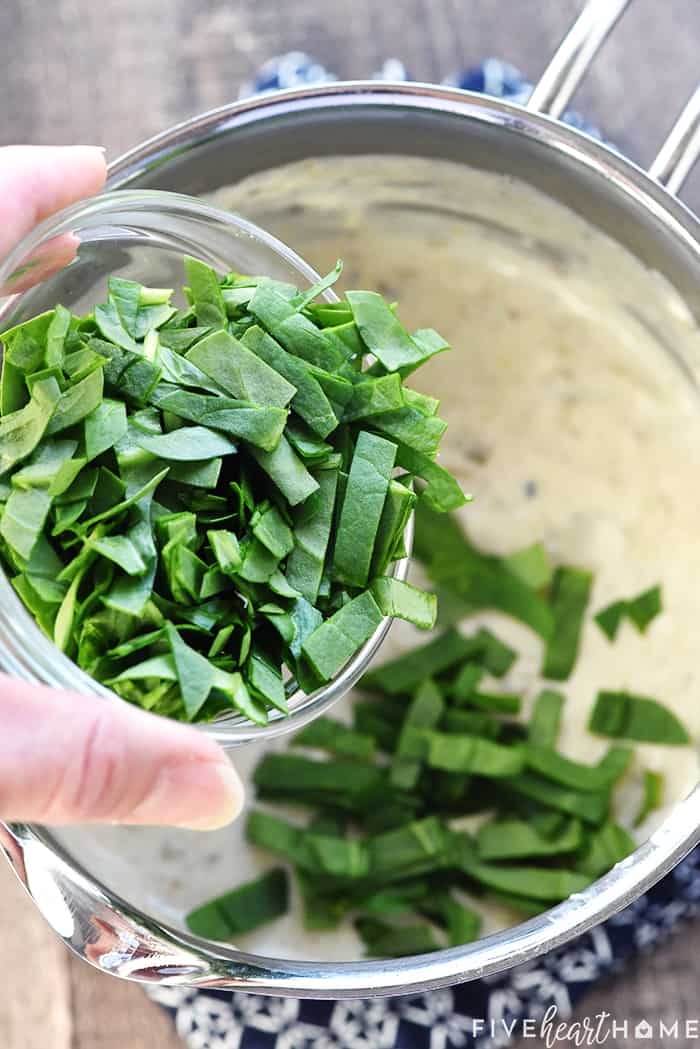 How to Make It
The base of this recipe is a combination of cream cheese and Monterey Jack. Those two cheeses are melted and stirred together along with one other crucial ingredient: salsa verde. This is where the queso gets its flavor and peppery kick, with only as much effort as required to open a jar and dump it in.
Once the queso is creamy and smooth, the final step is mixing in (guess what?) a shower of chopped fresh spinach. I recommend using tender baby spinach leaves, which will quickly soften in the warm dip. However, they will also still retain a slight "bite," which I think is what gives this White Queso recipe such a nice texture.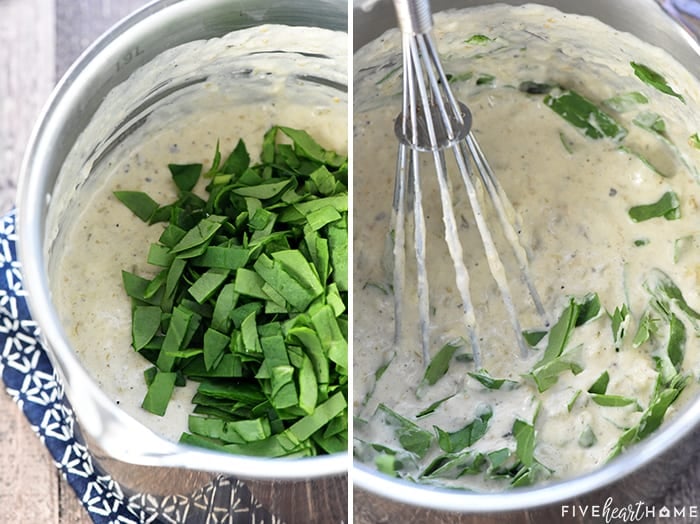 And it's as simple as that, y'all! You can make this recipe in a pot on the stove, or in the microwave, if you like. Then just transfer it to a small slow cooker to keep it warm for serving at a gathering. That being said, I served ours out of a regular ol', unheated bowl. I can assure you that it was gone before there was even a need to keep it warm -- ha.
I like to garnish this dip with a little extra spinach, just to let everyone know what's in it. I've actually found that doing so sometimes (conveniently) deters small children from even trying the dip...WHICH MEANS THERE'S MORE FOR ME. Win!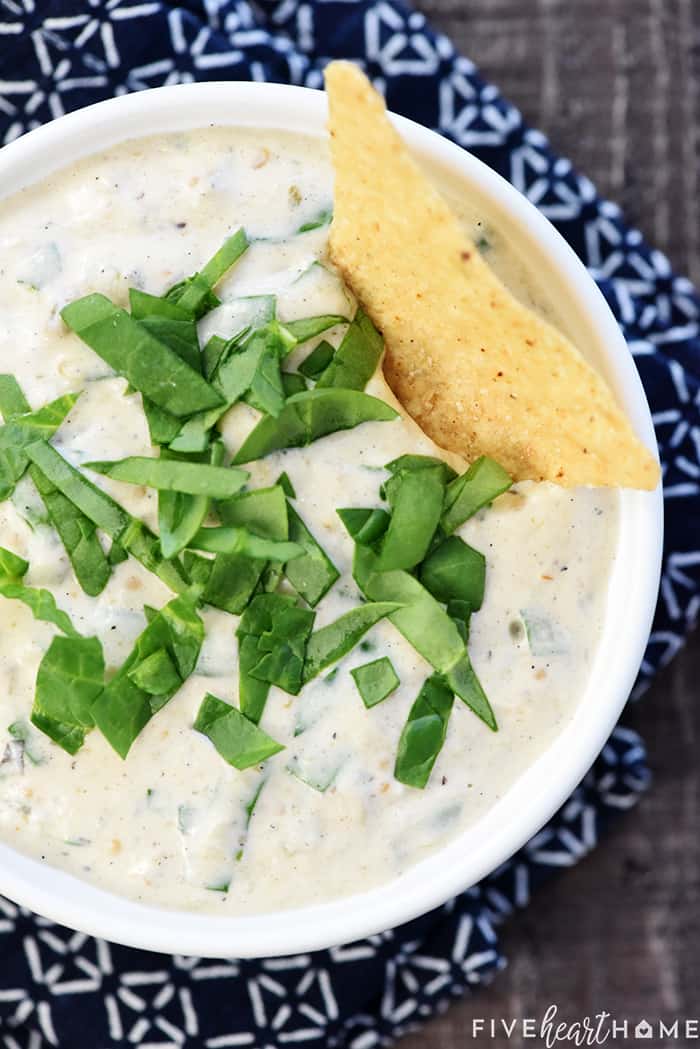 White Spinach Queso is a perfect dip for parties, as gameday grub, or as a yummy appetizer preceding a Mexican food feast.
It will tantalize your tastebuds and warm your soul.
And if it momentarily transports you back to a summer in your life when you couldn't contort your face to make a wrinkle if you tried and your biggest worry was if your butterfly hair clips complemented your Steve Madden stretchy slides...welllll, all the better. 😉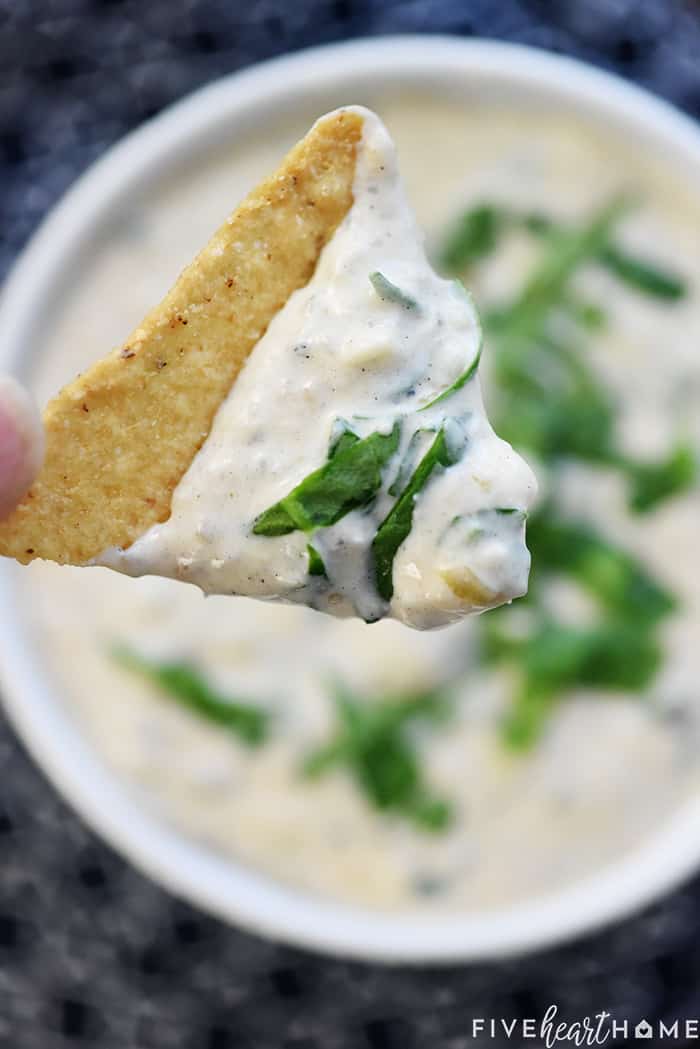 Helpful Tips, Tricks, & Equipment
I chopped my spinach into long, thin strips, almost like a chiffonade of basil. If you leave the pieces too big, the queso may be difficult to scoop up with chips.
If you have homemade salsa verde on hand, by all means, use it! But if, like me, you decide to buy a jar, just be sure to look for one with all-natural ingredients. I like a nice roasted salsa verde when I can find one. And remember that the heat level of your salsa verde is going to dictate the spiciness of your queso.
I recommend avoiding fat-free cream cheese for this recipe, as it's less likely to melt smoothly.
Feel free to swap out the Monterey Jack for pepper jack for even more kick!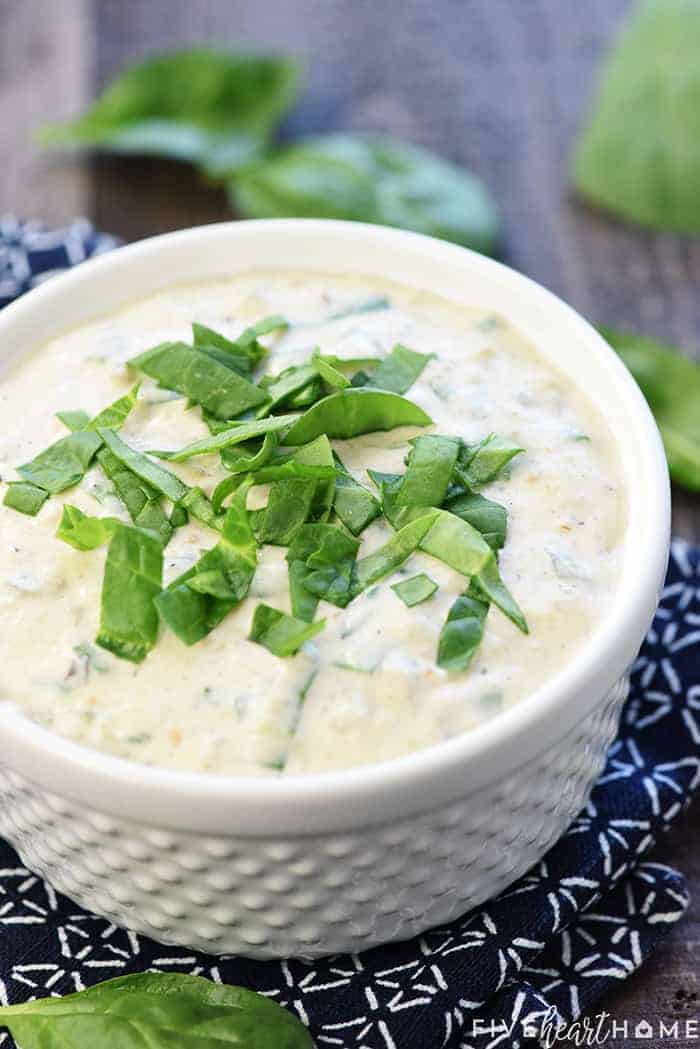 More Fiesta-Friendly Dips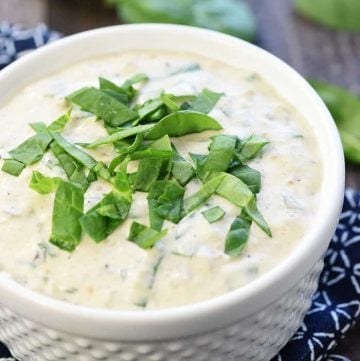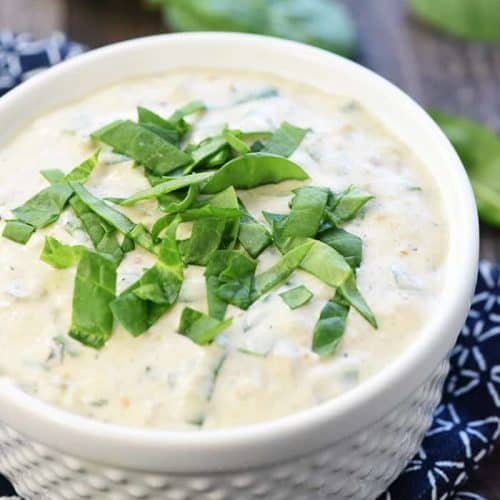 White Spinach Queso
White Spinach Queso is a creamy, addictive, effortless dip made with four simple ingredients: cream cheese, Monterey Jack, salsa verde, & fresh chopped spinach!
Print
Pin
Rate
Servings:
12
(About 4 cups)
Ingredients
1

(8-ounce) package cream cheese

,

cut into large chunks

1

(16-ounce) jar salsa verde

1

cup

(4 ounces) shredded Monterey Jack cheese

½

teaspoon

garlic salt

Freshly ground black pepper

,

to taste

¾

cup

chopped baby spinach

Tortilla chips

,

for dipping
Instructions
Combine the cream cheese and salsa verde in a small pot set over medium heat. Cook, whisking regularly, until completely melted and smooth. Whisk in the shredded Monterey Jack, ½ cup at a time, until fully incorporated. Season with garlic salt and pepper, to taste, and mix in the chopped spinach. Serve immediately with tortilla chips.
Calories:
117
kcal
|
Carbohydrates:
3
g
|
Protein:
3
g
|
Fat:
9
g
|
Saturated Fat:
5
g
|
Cholesterol:
29
mg
|
Sodium:
481
mg
|
Potassium:
120
mg
|
Sugar:
3
g
|
Vitamin A:
740
IU
|
Vitamin C:
2
mg
|
Calcium:
91
mg
|
Iron:
0.2
mg