Roasted corn is the star of this creamy, cheesy Tex-Mex Fresh Corn Dip, laced with cumin, a touch of jalapeño, and fresh cilantro!

I can honestly say that my mouth is watering just putting together this post. This recipe, y'all...SO GOOD. Downright addictive, in fact. I promise that if you make this Tex-Mex Fresh Corn Dip for any kind of gathering, you need to have the recipe on hand, because people are guaranteed to ask for it. But first, a little backstory...
Back when I was a newlywed teacher, one of my co-workers invited me to join a recently-formed Bunco group in her out-in-the-boonies neighborhood, which happened to be near my out-in-the-boonies neighborhood. I happily accepted and thereby joined a jovial group of ladies, ranging from my age to around my mom's age, for Bunco each month. The dice playing was fun, of course, and the nights you came home with some cash winnings were great...but even even better were the rotating conversations occurring at each table. And dare I say that, on par with the camaraderie, was the food!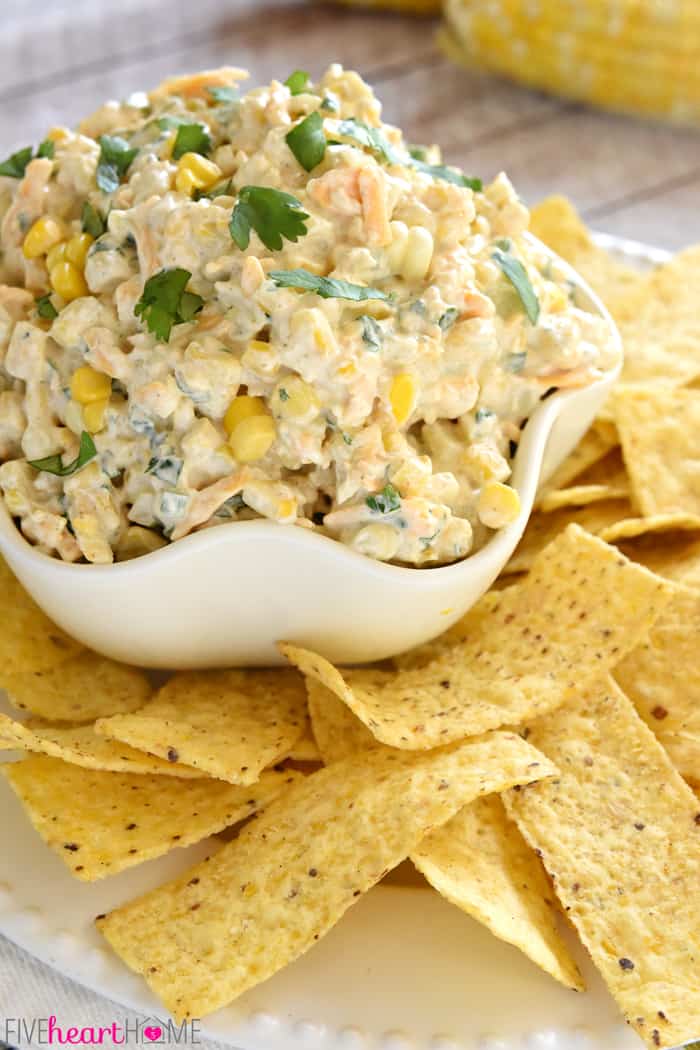 There were twelve ladies in the group and we took turns hosting, so each member got the opportunity to host at her house once a year. Sometimes the spread consisted of appetizers and snacks, sometimes there was a full meal, sometimes the menu had a theme, but one thing always held true...we were consistently well fed. And we often ended up requesting a particular recipe (or recipes) at the end of the night.
One such recipe that I garnered from my friend Tracy was for a dip made with canned Mexicorn and mayonnaise and grated cheddar. It also incorporated a generous amount of cumin...which initially seemed like a lot, but was the secret to making it so tasty. The dip was served with Fritos Scoops and the bowl was inevitably scraped clean and I made it for years...until the computer program that housed all of my most beloved recipes crashed and I lost that recipe along with so many other of my tried-and-true favorites (a moment of silence for my irretrievable recipes, please...).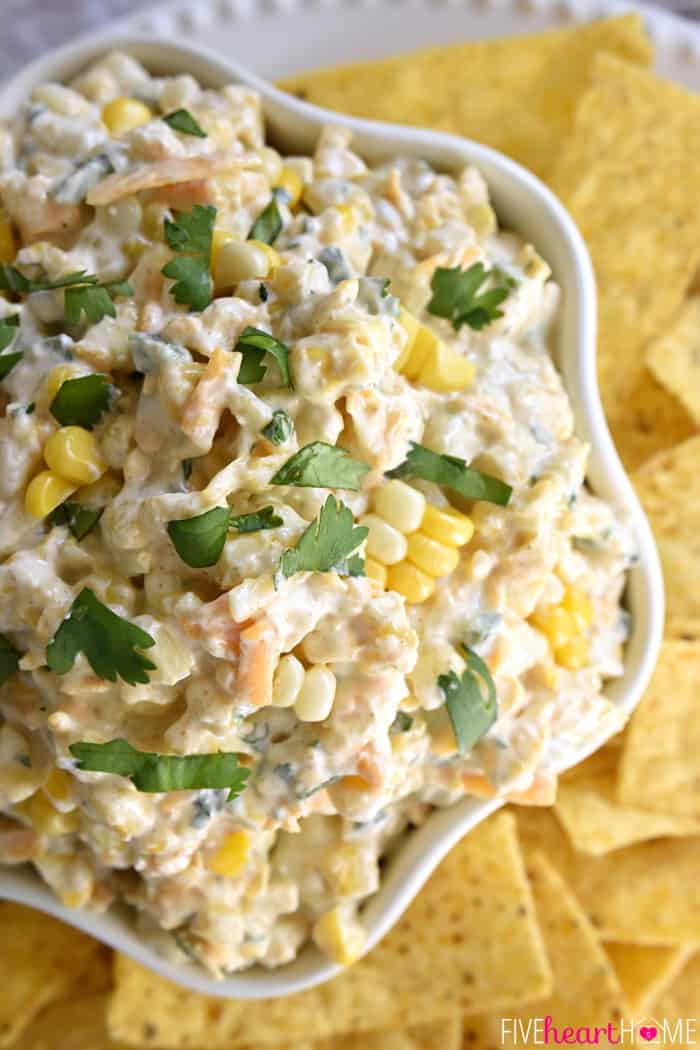 Over time, I've recovered some of those recipes, because I was lucky to have them written down elsewhere or I shared them with someone at some point and was able to extract them from my e-mail archives. And I have no doubt that I could have asked Tracy for her corn dip recipe again. But years later, I felt like I remembered the gist of it well enough to attempt recreating it myself.
And so that's what I did. This Tex-Mex Fresh Corn Dip takes a few liberties unique to the original. And don't get me wrong...there was nothing wrong with the original recipe. In fact, it was absolutely delicious. But finding myself with some extra roasted corn on the cob one day, I decided to make a version with fresh ingredients.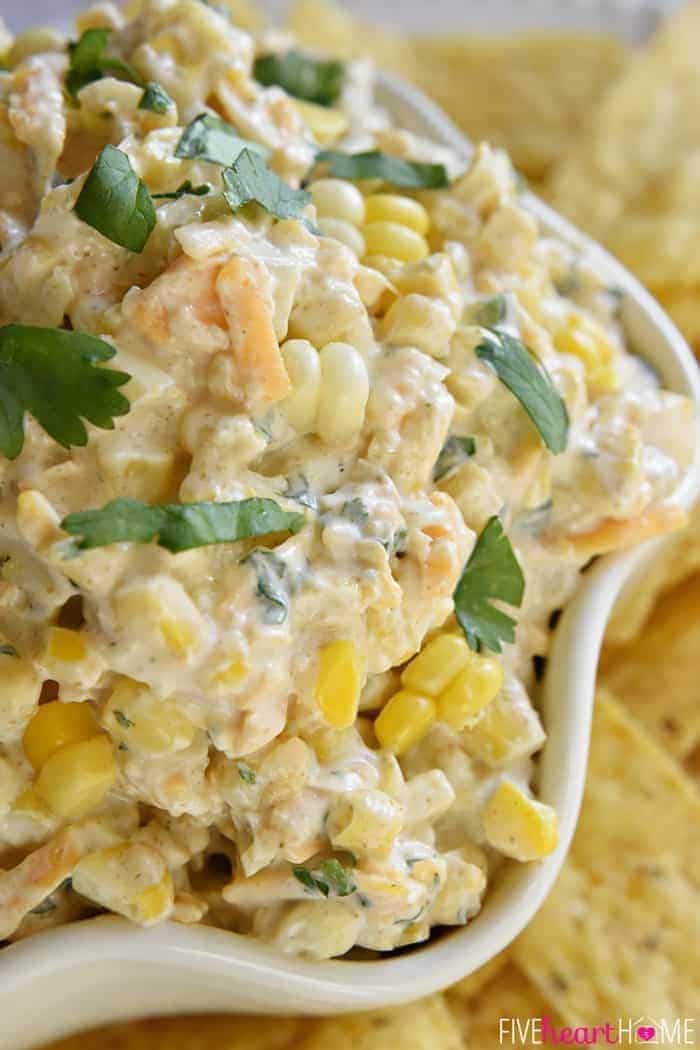 Thus, here's my ultimate variation: fresh roasted corn and grated cheddar are folded into a base of mayonnaise and sour cream (though you could definitely swap in some Greek yogurt if you wanted to lighten things up), seasoned with garlic salt and plenty-o-cumin. Stir in a couple of finely minced fresh jalapeños and some fresh chopped cilantro, chill, and then serve with tortilla or corn chips.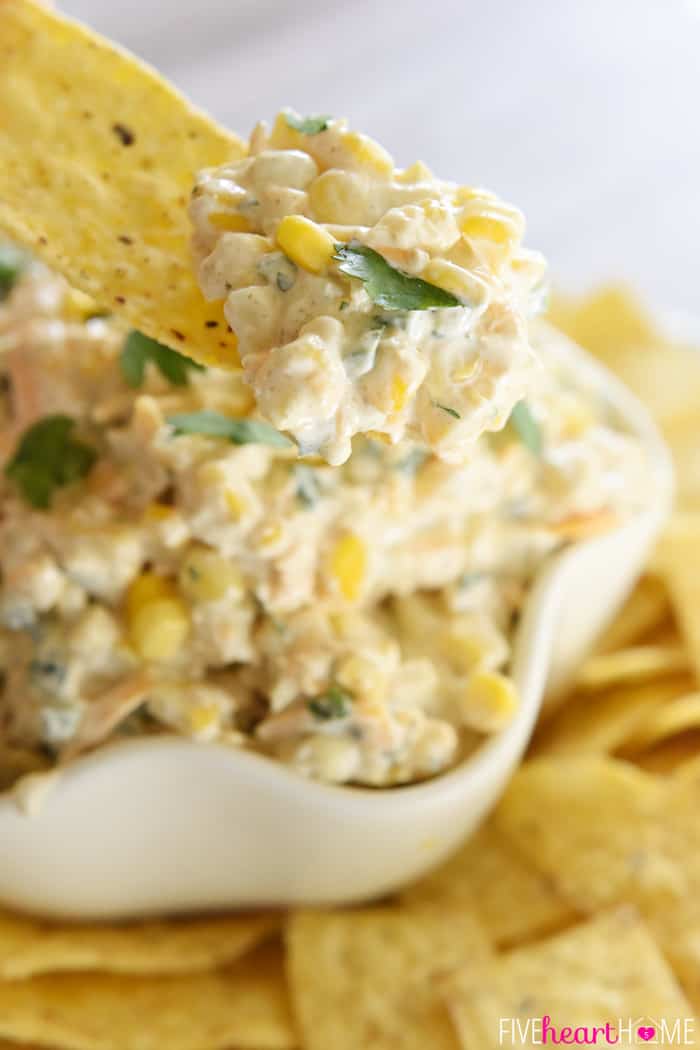 Oh. My. Word. It's amazing how such simple ingredients can yield such amazing flavor. You can always use frozen (thawed) or canned corn, if that's what you have on hand...but rest assured that cooking ears of fresh corn is a cinch when you use my favorite oven-roasting method. Besides, the sweet-crisp fresh corn plays perfectly off of the smoky cumin, warm jalapeño bits, and bright cilantro.
So if you still have an opening on your Independence Day menu, add this Tex-Mex Fresh Corn Dip to the list! Or make it for a barbecue. Or make it for Bunco. I said it once and I'll say it again...this dip will disappear and you will receive recipe requests. (Thanks again, Tracy!)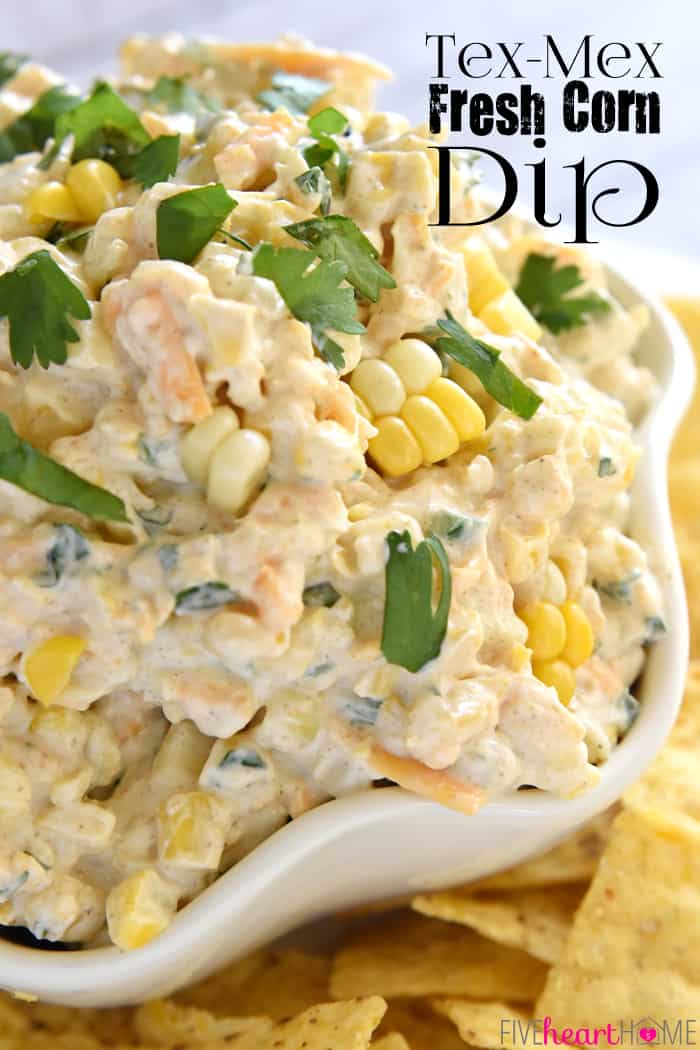 Tex-Mex Fresh Corn Dip Recipe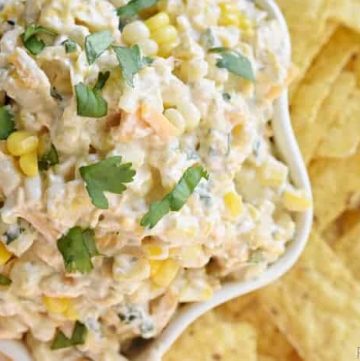 Tex-Mex Fresh Corn Dip
Roasted corn is the star of this creamy, cheesy Tex-Mex Fresh Corn Dip, laced with cumin, a touch of jalapeño, and fresh cilantro. Served chilled with tortilla chips, it's a perfect appetizer or snack for any summer cookout or get-together!
Print
Pin
Rate
Servings:
12
servings (Approximately 6 to 7 cups)
Ingredients
4

cups

fresh roasted corn

,

from approximately 5 corn cobs

1

cup

sour cream

1/2

cup

mayonnaise

8

ounces

grated sharp cheddar cheese

2 to 3

fresh jalapeños

,

seeds and membranes removed, finely minced

1/2

cup

chopped fresh cilantro

,

more or less, to taste

1

tablespoon

cumin

1

teaspoon

garlic salt

Freshly ground black pepper

,

to taste
Instructions
In a large bowl, combine corn, sour cream, mayonnaise, cheese, jalapeños, cilantro, cumin, garlic salt, and black pepper. Stir until well mixed. Refrigerate for at least 4 hours (preferably 8 hours to overnight) to allow flavors to blend. Serve with tortilla chips or corn chip scoops.
Notes
You may use frozen (thawed) corn or canned corn (regular or Mexicorn) in place of the fresh roasted corn.
For a lighter variation, you may substitute Greek yogurt for up to half of the mayo/sour cream combo.
I prefer using freshly grated cheese, but your favorite bagged cheese will work fine.
My family did not find this dip to be spicy using two jalapeños with seeds and membranes removed. Feel free to increase the number of jalapeños for extra spice, or leave the seeds and membranes intact for some real heat. You may also use pickled jalepeños instead of fresh for a different type of flavor, if you wish.
The flavors in the dip will intensify and blend after it's been allowed to chill for awhile. It won't taste quite as good if you serve it right away.
Calories:
230
kcal
|
Carbohydrates:
12
g
|
Protein:
7
g
|
Fat:
18
g
|
Saturated Fat:
7
g
|
Cholesterol:
34
mg
|
Sodium:
388
mg
|
Potassium:
184
mg
|
Fiber:
1
g
|
Sugar:
3
g
|
Vitamin A:
565
IU
|
Vitamin C:
10.1
mg
|
Calcium:
164
mg
|
Iron:
0.7
mg
More Summer Dip Recipes