Green Chile Chicken Enchilada Dip is a creamy, zesty dip loaded with chicken, cream cheese, cheddar, and seasonings for a melty, delicious gameday snack!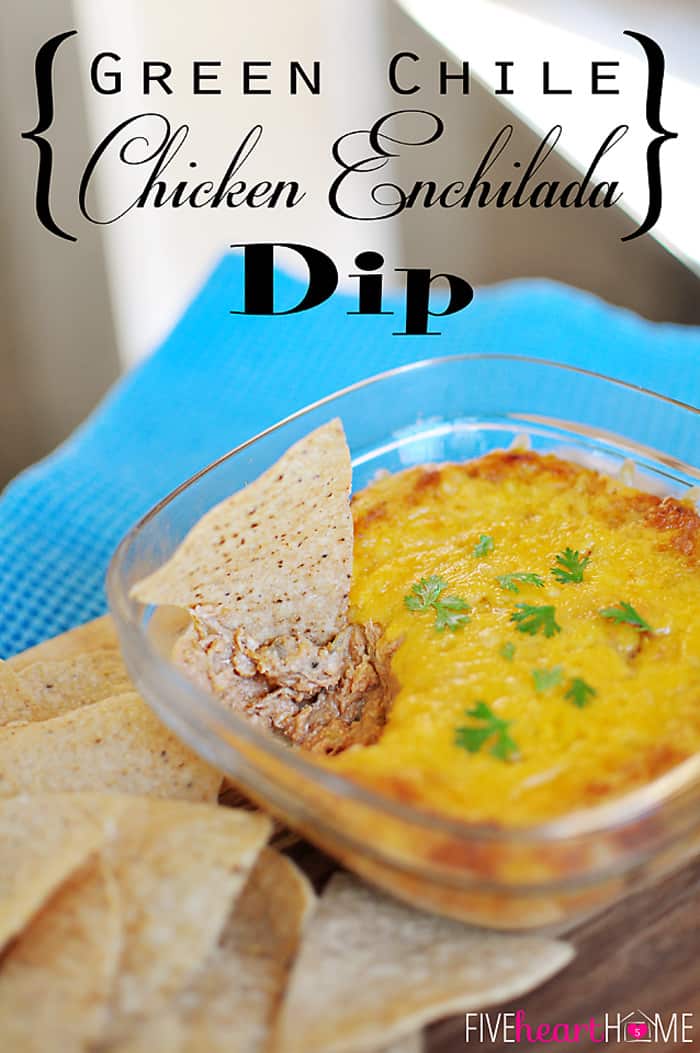 I may have mentioned here before, a time or five, that I love college football. And I'd be lying if I said a small part of that wasn't because of Saturdays spent watching games on TV while munching on a menu of scrumptious, tailgate-friendly foods.
Why yes, I think this dip falls quite nicely into the tailgate-friendly category, wouldn't you agree?
A couple weekends ago, on the first Saturday of college football, my boys were up and at 'em early, excited to watch our favorite team play at noon. We may or may not have allowed them to have a blanket picnic breakfast in front of the TV to watch the start of this season's first College Game Day on ESPN. And then, by the time our Aggies played, it was lunchtime, so our whole family may have eaten in front of the TV yet again.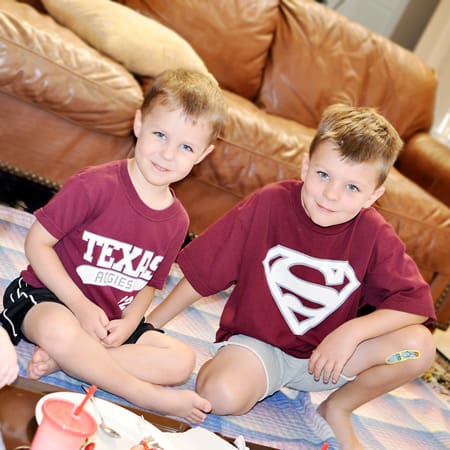 Having the television on during meals is not a common occurrence around here. But in Texas, where football is king, many of us view the first Saturday of college football as a special occasion. My boys are already totally into football season, but we have yet to see if our daughter will share the same enthusiasm. I'm thinking she's got potential though…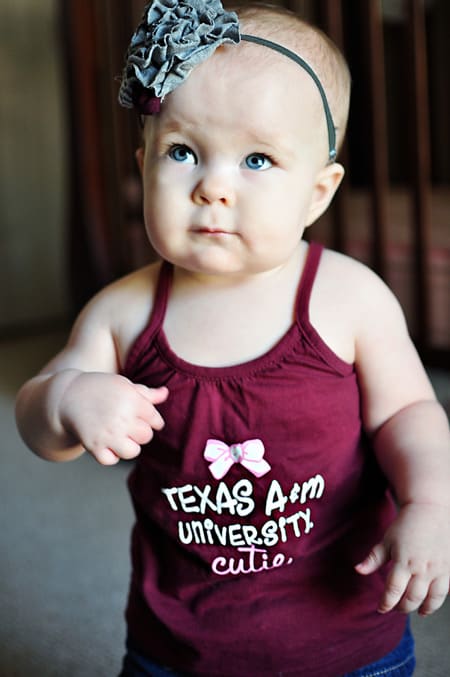 Now I realize that not all of y'all love football like we do at my house. But I think we can all agree that this Green Chile Chicken Enchilada Dip makes a fabulous appetizer or munchy, whether you're tailgating, hosting a party, or contributing to a potluck.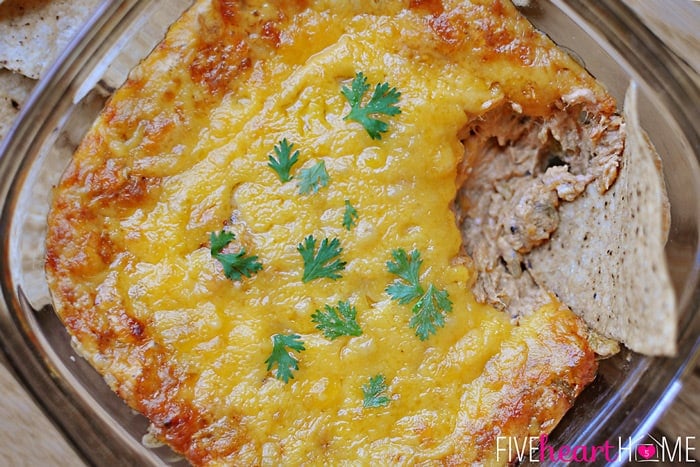 This dip is creamy and cheesy and just plain good. As the name implies, it's like enchiladas in appetizer form. The chicken makes it hearty, the cream cheese gives it a bit of decadence, and while it has a little zing from the green chiles, it's in no way spicy. Of course, if you want to kick up the spice factor, you could always throw in some diced jalapeños as well.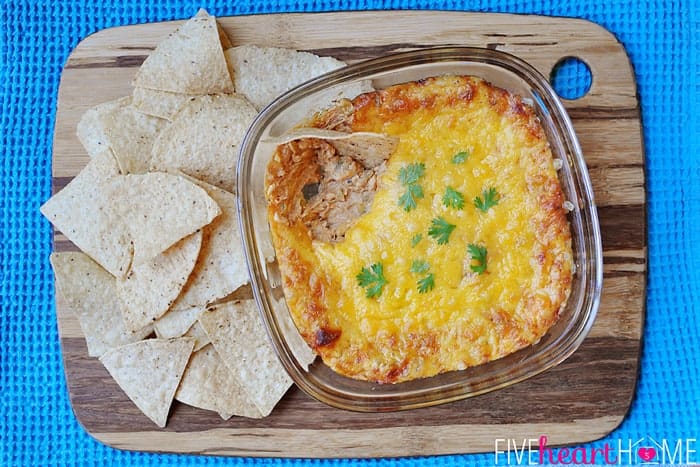 Yum, yum, yum. Given its nod to Mexican cuisine, this enchilada dip obviously goes great with tortilla chips, but it's also good with crackers (think Wheat Thins), or — if you're looking to balance out the cheese — you could even use raw veggies as dippers. And if you did, you would be a better influence than I.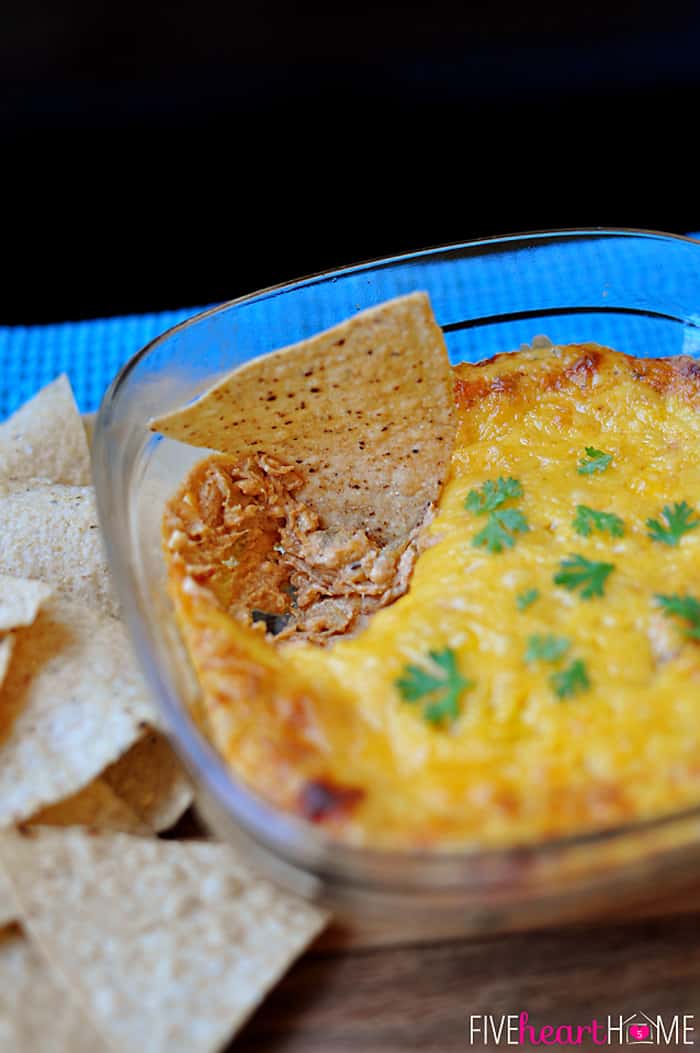 I discovered this recipe about ten years ago and used to make it all the time, but I'd actually forgotten about it until last weekend when I was looking for appetizer inspiration for college football Saturday. I opened the fridge to some leftover shredded chicken and half a block of cream cheese and, like a bolt from the blue, I remembered this recipe. Due to my cream cheese shortage, I decided to make a half recipe. I figured that would be enough anyway, between my husband and I and our young children. Ummm…wrong. We scarfed it down in no time. At least I got a head start on the rest of my family, taking a "sample bite" for my blog photos before I let everyone else loose on it… 😉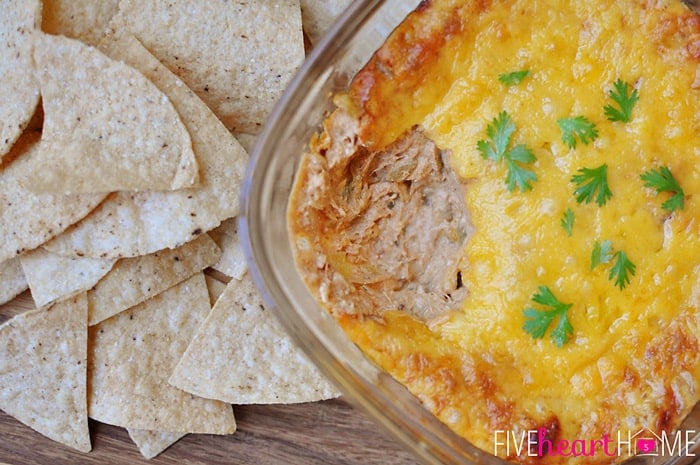 So save yourself an enchilada dip deficit and take my word for it…you'll want to make a full recipe. And one more thing…you'll want to make it soon. This dip is a little bit different and a whole lot delicious, and in all the times I've made it, I've never met anyone who didn't love it and/or request the recipe.
Happy football season, y'all!
(Oh, and gig 'em, Aggies!) 🙂
Green Chile Chicken Enchilada Dip
This creamy, cheesy dip is reminiscent of chicken enchiladas, with a bit of zing from the green chiles.
Ingredients
8 ounces cream cheese, at room temperature
1 1/2 cups shredded cheese (Mexican, Colby Jack, or cheddar), divided
7 ounce can chopped green chiles, undrained
1 teaspoon garlic powder
1/2 teaspoon chili powder
1/2 teaspoon cumin
1/4 teaspoon salt
8 ounces cooked chicken, finely diced (equivalent to approximately 1 chicken breast)
Instructions
Preheat oven to 350°F.
In a medium bowl, use an electric mixer to beat cream cheese until smooth. Mix in 1 cup of the shredded cheese, green chiles, seasonings, and chicken. Beat until well blended. Spread into a 9-inch pie plate. Top with the remaining 1/2 cup of shredded cheese.
Bake for 30 minutes or until lightly browned and bubbly. Check after 20 minutes and, if top is browning too quickly, cover with foil for the last 10 minutes of baking time.
Serve hot with tortilla chips, crackers, or raw veggies.
Notes
Feel free to use leftover chicken in this recipe -- chopped rotisserie chicken or shredded chicken from tacos both work great.
https://www.fivehearthome.com/green-chile-chicken-enchilada-dip/
https://www.fivehearthome.com ~ All recipes and images on Five Heart Home are copyright protected. Please do not use without my permission. If you would like to feature this recipe, please rewrite the directions in your own words and give proper attribution by linking back to this blog.
♥More delicious dips…

Ultimate Mexican Street Corn Dip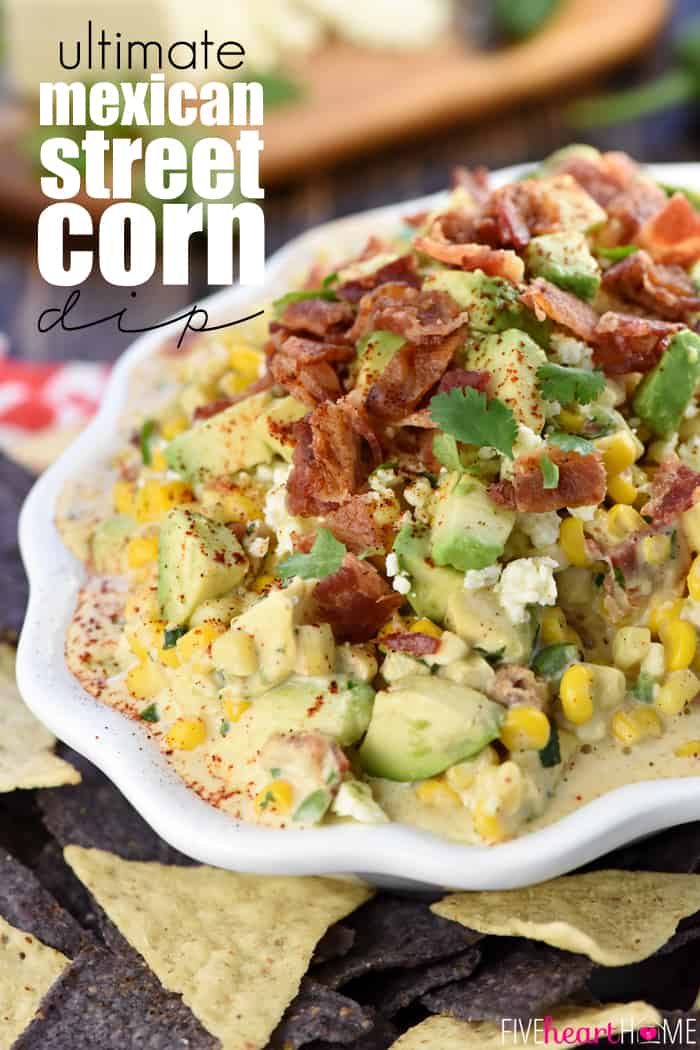 Creamy Jalapeño Dip {Chuy's copycat recipe}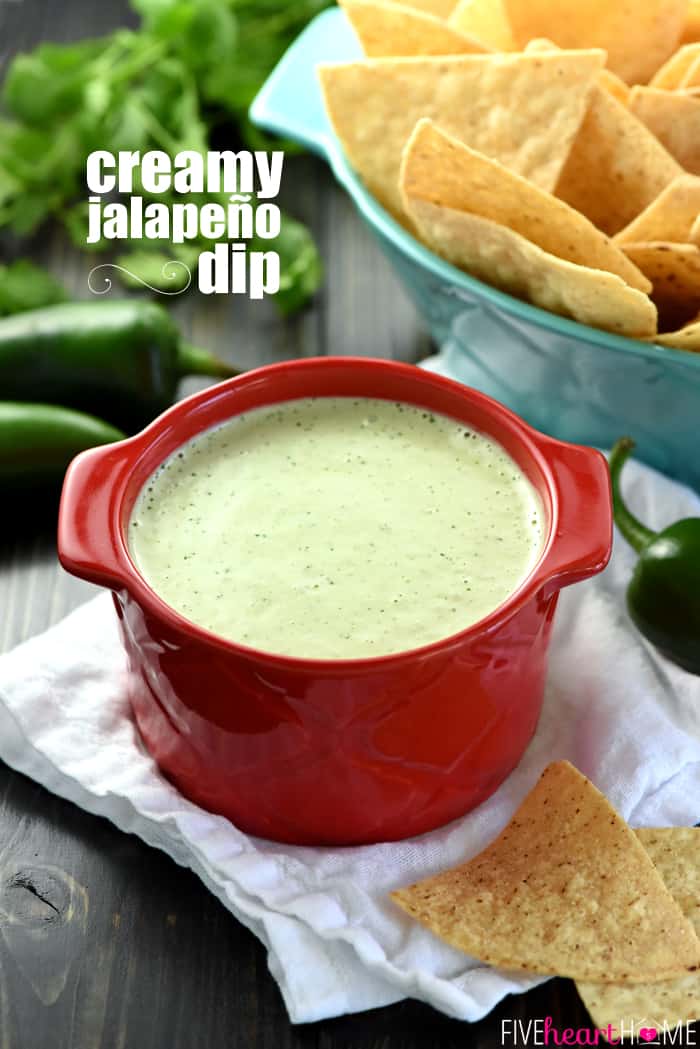 Ultimate Bean Dip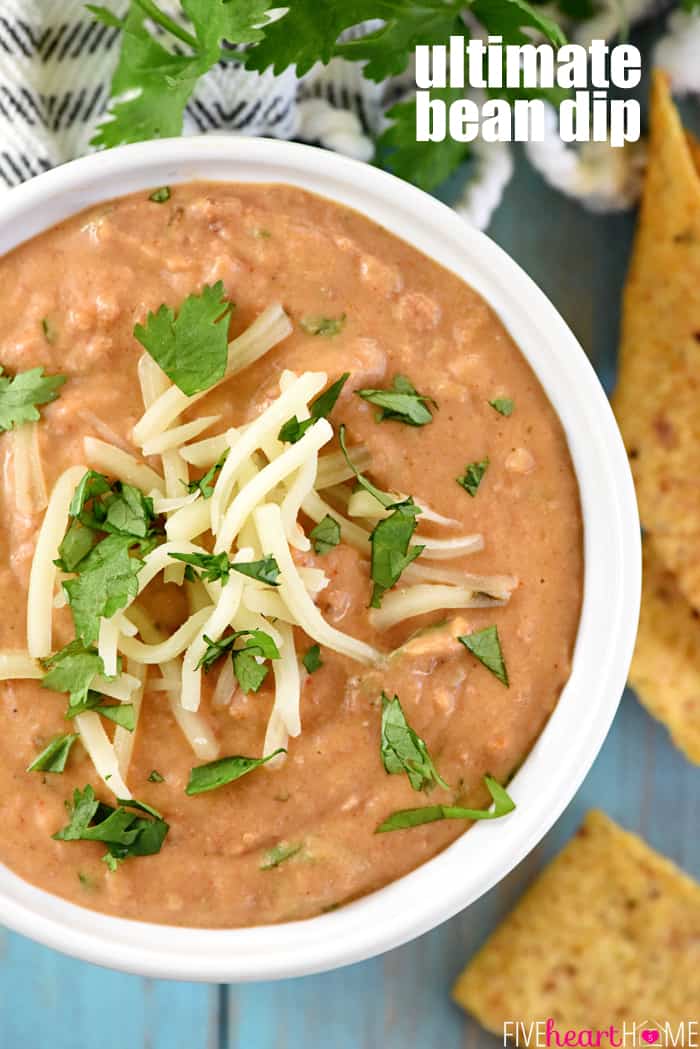 Caramel Apple Cheesecake Dip