If you like breakfast tacos, you'll love Breakfast Enchiladas, stuffed with sausage, eggs, and cheese and topped with homemade red enchilada sauce, more cheese, and all of your favorite enchilada garnishes!

Well, folks...last week I promised a yummy recipe to use up the Homemade Enchilada Sauce that I recently shared, and today I'm delivering in a big way. Say hello to savory, scrumptious Breakfast Enchiladas!
You may already be familiar with their cousin, Breakfast Tacos. And while there are certainly similarities -- such as a filling of cheesy scrambled eggs and seasoned breakfast sausage -- these Breakfast Enchiladas also maintain much in common with their dinnertime counterpart. So let's dive in, shall we?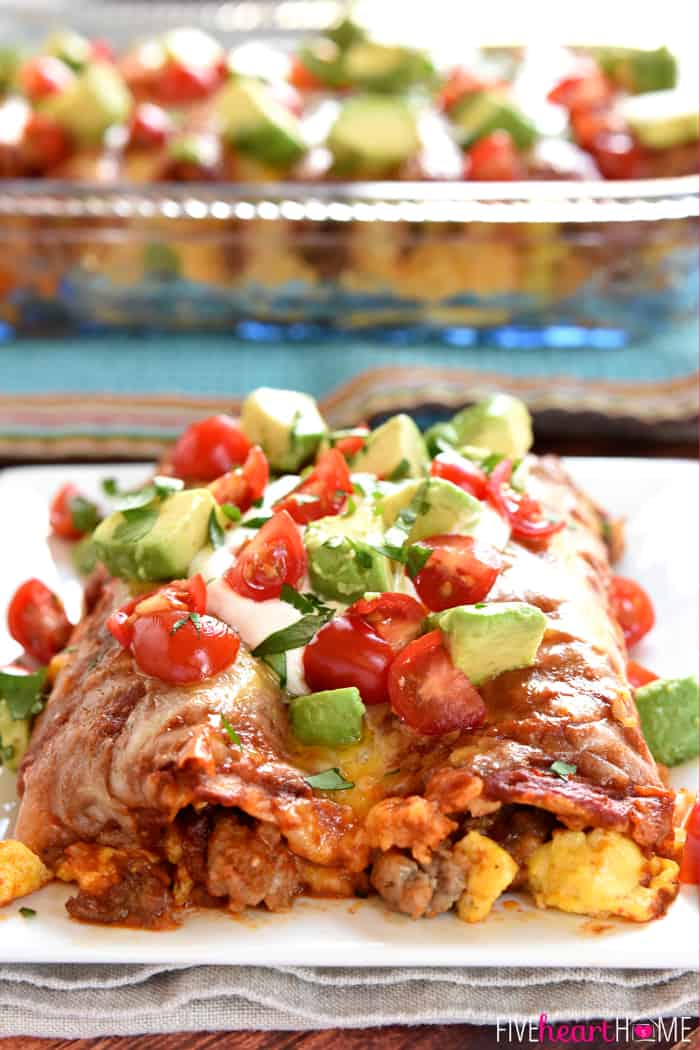 First off, I like to make my Breakfast Enchiladas with corn tortillas. As much as I love flour tortillas, I think they get too mushy drenched in enchilada sauce. So, similar to authentic enchiladas, this breakfast version starts with corn tortillas.
The filling is simple to whip up. Start with your favorite breakfast sausage...spicy or mild, pork or turkey. If you can find one that's Chorizo-influenced or seasoned with Mexican herbs and spices, even better...but you probably want to avoid sage or Italian seasonings for this recipe. Brown up your breakfast sausage with some fresh minced garlic, drain away any grease, and set aside.
(I actually prefer to transfer the sausage to a paper towel-lined plate, quickly wash out my skillet, and then use the same pan to cook my eggs. It's kind of like cleaning up as I go and it leaves one less pan to wash up at the end. But do whatever floats your boat...)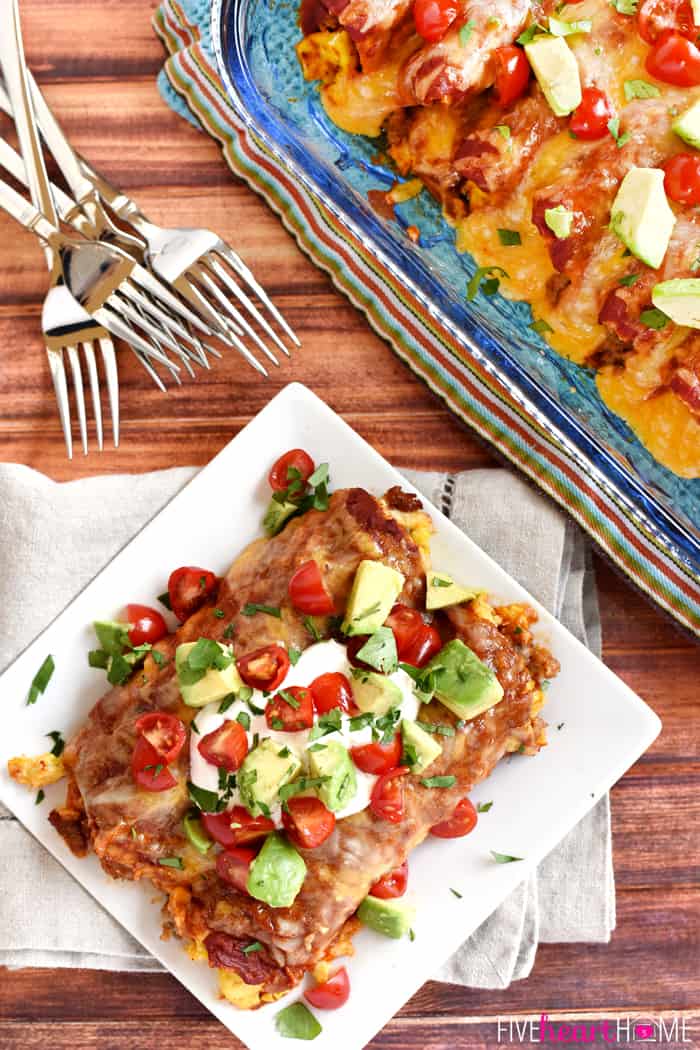 Anyway, after the sausage is browned and the eggs are softly scrambled, it's time to assemble! I like to make my Homemade Enchilada Sauce the day before so that it's already ready to go, but you can certainly make it the morning of. In fact, it can bubble away while you cook the sausage and the eggs. You may choose to use store-bought enchilada sauce, of course, but I really implore you to try this homemade version at least once. I swear...it's soooo much better and makes all the difference in the final flavor of this recipe!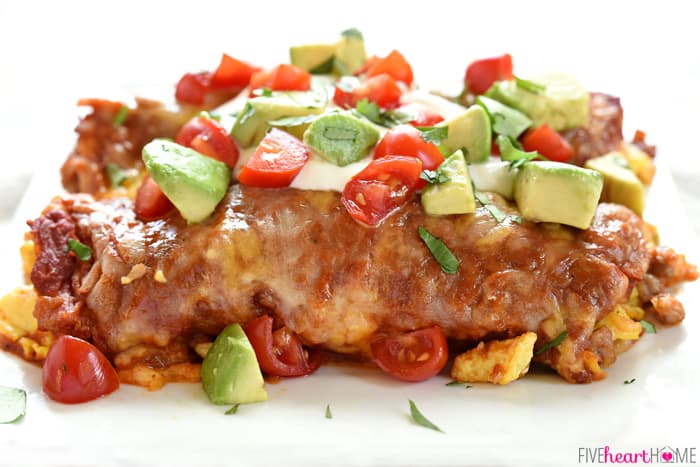 When I make enchiladas, I find that the corn tortillas tend to split if I don't keep them warm and damp during assembly. So I place them under a wet (squeezed-out) paper towel and microwave them for about 30 seconds until warm. Then I brush each side with a thin layer of enchilada sauce right before filling. After I fill and roll an enchilada and arrange it in the baking dish, I spoon a bit more sauce over it, and then it's wash, rinse, and repeat with the next tortilla.
You don't have to be so type-A about the process, but I find that these little tricks help prevent corn tortillas that split open before the enchiladas ever make it to the oven. But rest assured...even if that happens, they'll still taste delish.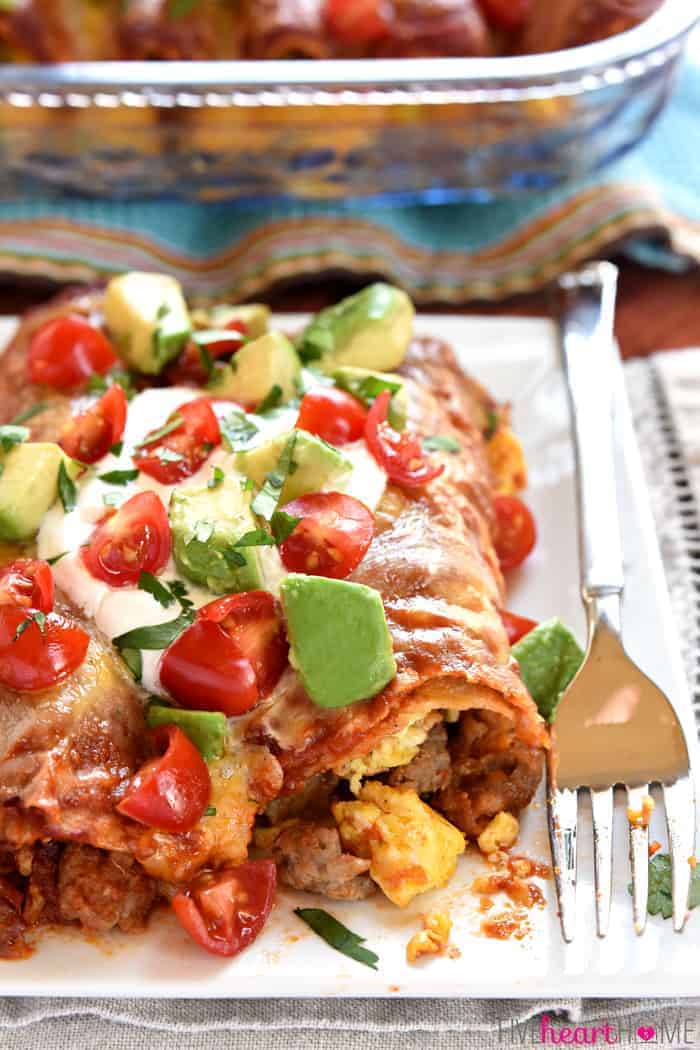 Speaking of type-A food bloggers, here's something else we do. I wanted my various fillings to yield a dozen enchiladas total, but if I don't have some way of evenly dividing up my eggs, sausage, etc., I know that I'll put too much in the early enchiladas and run out of filling by enchilada #11 or #12...or vice versa.
My solution is to first divide my fillings into fourths. So for example, I draw a line down the center of my plate of sausage, and another line through the center going from side-to-side, essentially dividing it into four equal piles. I do the same for my skillet of eggs. Then, as I'm filling my enchiladas, I use about ⅓ of each pile per enchilada (which equals 1/12 of the entire amount). Does that even make sense? It probably won't unless you're a fellow high-strung perfectionist. 😉 And honestly, if you're just making this recipe for your family, you probably won't care if you end up with exactly 12 enchiladas. But if you're making it for guests or planning to photograph it for blog photos <ahem>, you might find this to be a handy-dandy little trick.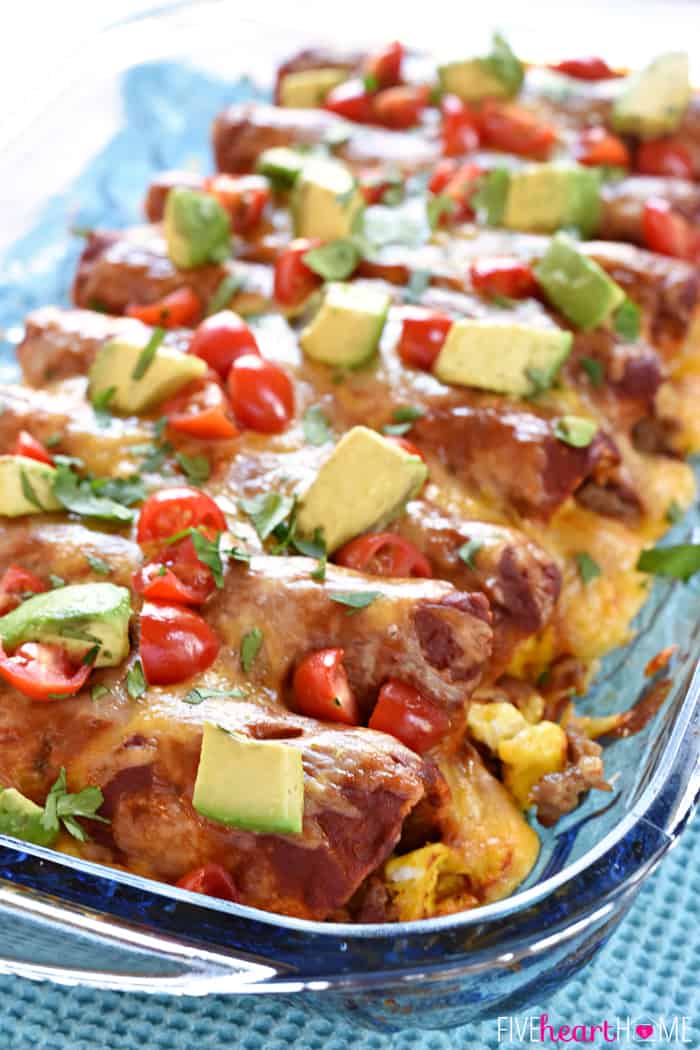 And since we're on the topic of blog photos, I would normally cram all 12 enchiladas into a 9- by 13-inch baking dish. However, I used a slightly smaller, slightly prettier dish for this post, which perfectly fit eight enchiladas without smooshing them together too much. Then I baked the remaining four enchiladas (at the same time) in a separate, smaller dish so that I could use a couple of those on my plate without disturbing the big dish of enchiladas. Again...probably more than you care to know, but just wanted to share why this recipe yields a dozen enchiladas yet you can only count eight in my dish. 🙂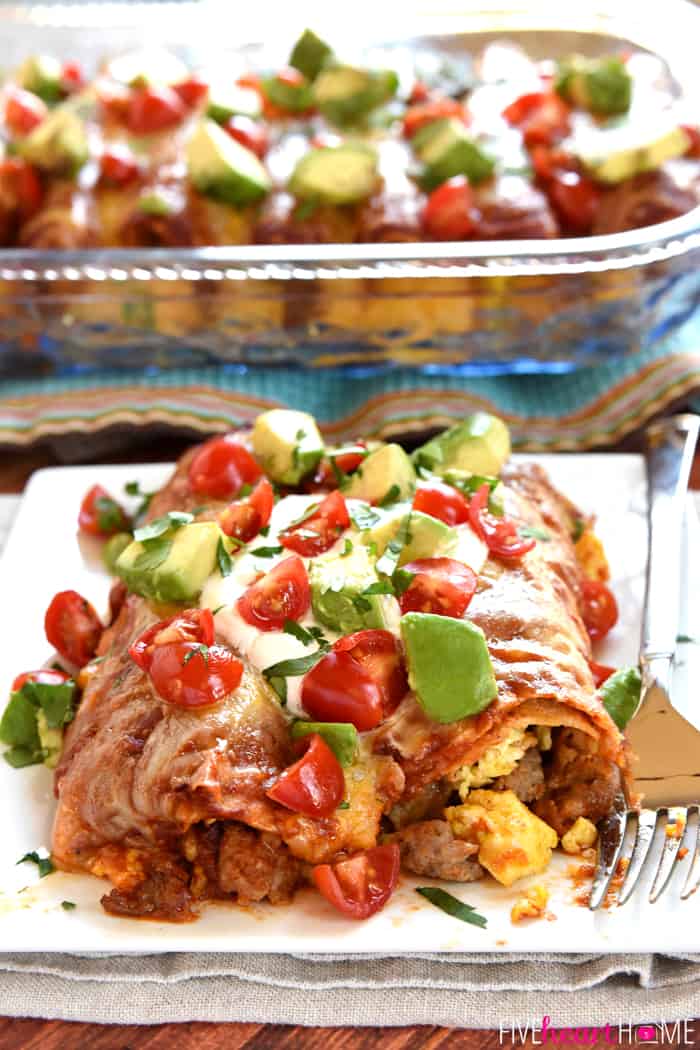 Whew...I, for one, am tired after all of that 'splainin...and I'm sure you're tired of reading me ramble. So finally, thankfully, onto the recipe...Breakfast Enchiladas for all! Hope y'all love these as much as we do. 🙂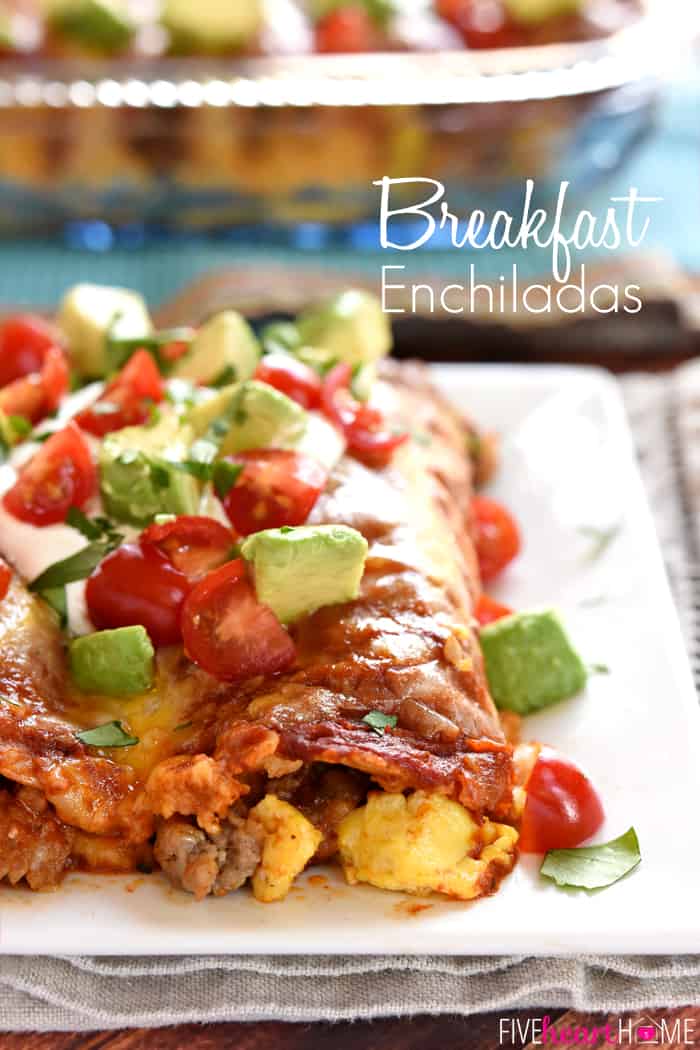 Breakfast Enchilada Recipe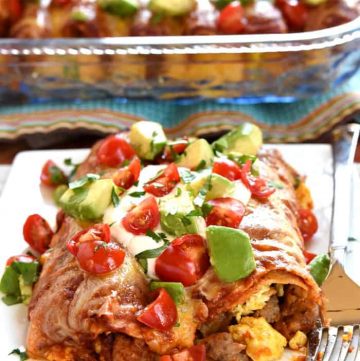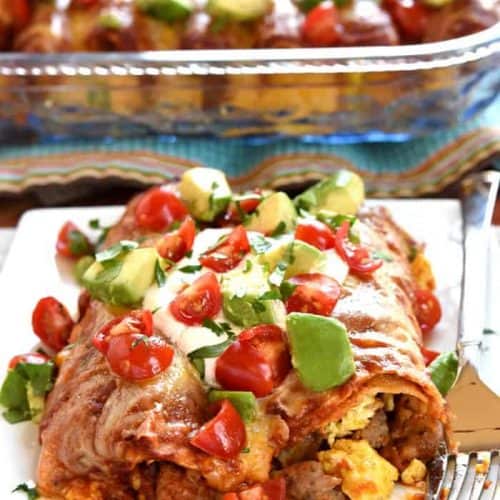 Breakfast Enchiladas
If you like breakfast tacos, you'll love Breakfast Enchiladas, stuffed with sausage, eggs, and cheese and topped with homemade red enchilada sauce, more cheese, and all of your favorite enchilada garnishes.
Print
Pin
Rate
Servings:
12
enchiladas (6 to 8 servings)
Ingredients
2

cups

Homemade Enchilada Sauce

1

pound

ground breakfast sausage

,

pork or turkey, mild or spicy

2

cloves

garlic

,

finely minced

8

eggs

2

tablespoons

milk

Salt and freshly ground black pepper

,

to taste

2

tablespoons

butter

12

corn tortillas

8

ounces

(2 cup)s grated cheddar and/or Monterrey Jack

,

(or slightly more, if you prefer extra cheese on top)
Optional Garnishes:
Sour cream

Diced avocado

Diced tomatoes

Fresh cilantro

,

chopped
Instructions
In a medium skillet set over medium-high heat, cook sausage until thoroughly done (about 8 to 10 minutes), breaking up and stirring as it cooks. When it's a few minutes from being done, add minced garlic to the sausage and continue to stir and cook. Drain sausage and transfer to a paper towel-lined plate.

While sausage is cooking, whisk eggs in a large bowl with milk, a sprinkling of salt, and pepper. In a clean skillet set over low heat, melt butter. Pour eggs into center of pan and allow to sit for 30 seconds to 1 minute or until edges are set. Use a soft spatula to push cooked eggs to center of pan and let liquid eggs rush to the edges. Allow edges to set once more, push to center of pan, and repeat until all eggs are just cooked. (Do not overcook eggs, but if there are any liquid-y parts remaining, you may need to overturn that section of eggs so that it can cook against the bottom of the skillet for a few seconds.) Remove eggs from heat.

Preheat oven to 375°F. Lightly grease (or spray with cooking spray) a 9- by 13-inch baking dish. Pour grated cheese into a bowl. Place corn tortillas on a plate and cover with a damp paper towel. Microwave for 30 seconds or so until warm. Keep covered with a paper towel.

Line up ingredients on counter: warm tortillas, enchilada sauce, browned sausage, scrambled eggs, and cheese. To assemble enchiladas, brush a thin layer of enchilada sauce on both sides of a tortilla. Place 2 to 3 spoonfuls of sausage, 2 to 3 spoonfuls of eggs, and a big pinch of cheese down the center of the tortilla. Roll up tightly and arrange in the prepared baking dish, seam side down. Spoon a little more enchilada sauce over the rolled enchilada to keep it moist. Repeat with remaining tortillas until a dozen enchiladas have been assembled. Pour and spread remaining enchilada sauce over the enchiladas, making sure that no tortillas are peeking out. Top with the remaining grated cheese (adding a bit extra, if desired).

Bake until cheese is melted and sauce is bubbly, about 20 minutes. Allow to cool for a few minutes in the baking dish before serving. Serve warm and garnish with your favorite enchilada toppings, such as sour cream, diced avocados, diced tomatoes, and fresh chopped cilantro.
Notes
As written, this recipe will not require a full batch of Homemade Enchilada Sauce (there will probably be about ½ cup sauce leftover after using 2 cups of it in this recipe). You may reserve the leftover enchilada sauce for another use, or you may add it on top before baking if you like extra-saucy enchiladas. I typically save the leftover sauce to use on any leftover Breakfast Enchiladas, since the corn tortillas tend to absorb the sauce while they sit in the refrigerator. This prevents leftovers from being too dry.
Calories:
317
kcal
|
Carbohydrates:
14
g
|
Protein:
16
g
|
Fat:
22
g
|
Saturated Fat:
10
g
|
Cholesterol:
161
mg
|
Sodium:
602
mg
|
Potassium:
204
mg
|
Fiber:
2
g
|
Sugar:
2
g
|
Vitamin A:
570
IU
|
Vitamin C:
0.8
mg
|
Calcium:
181
mg
|
Iron:
1.5
mg
Adapted from Food Network.
More Eggs for Breakfast