The next time you're in the mood for a breakfast that's a little bit different and a whole lot delicious, I'd recommend giving this comforting casserole — stuffed chock full of eggs, grits, cheese, and ham — a try.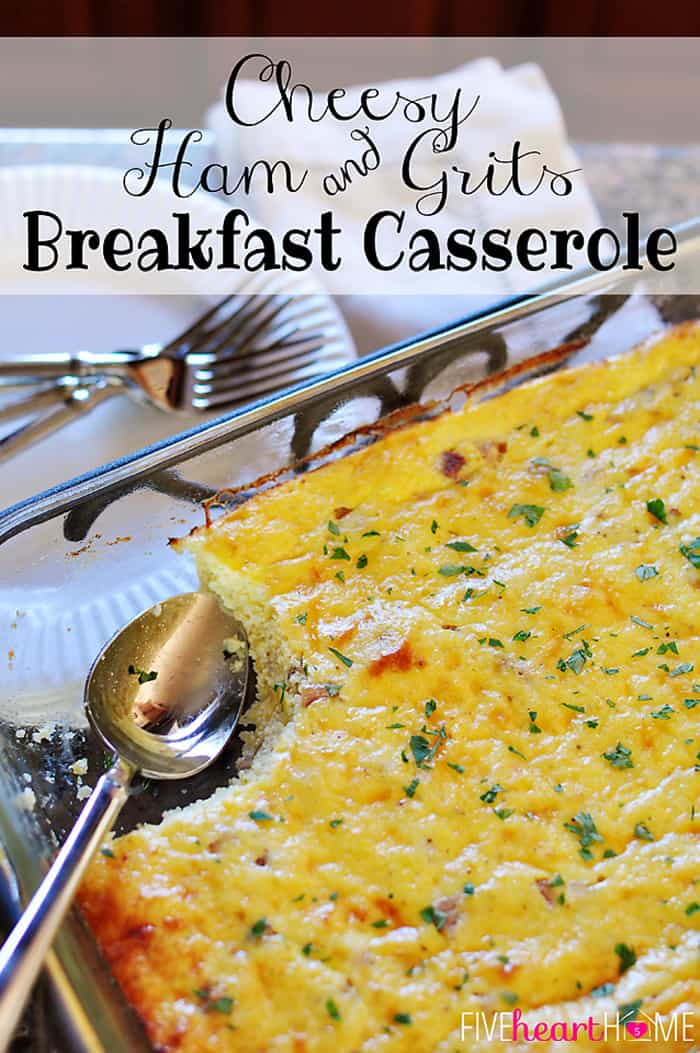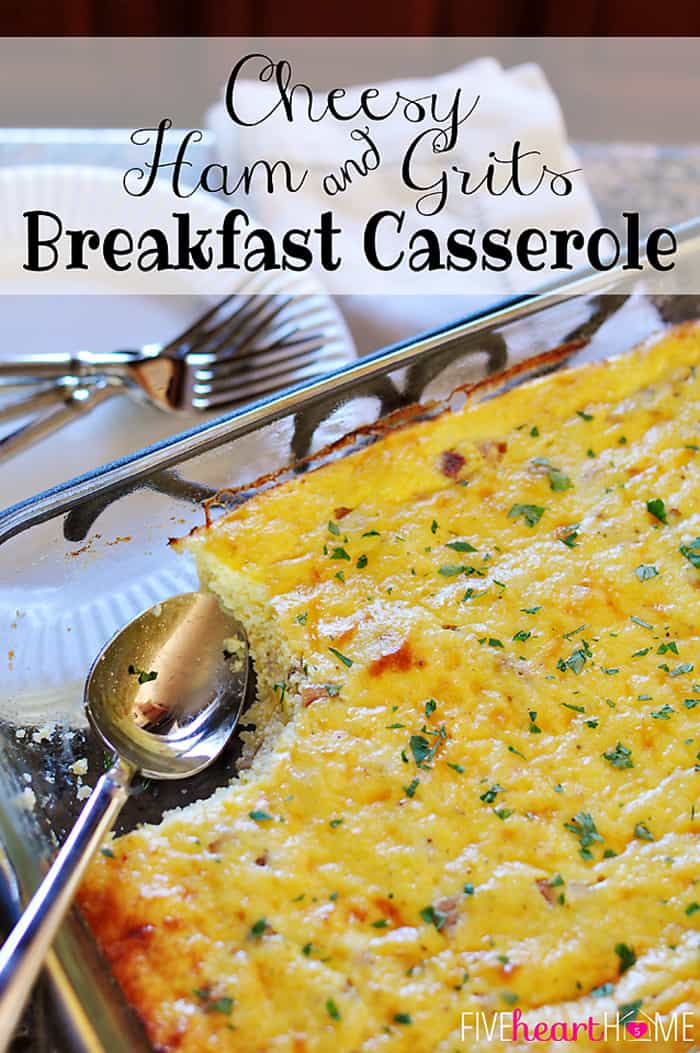 School mornings around here are hectic, so I generally try to whip up big batches of breakfast foods on the weekend for quick reheating on weekday mornings. This typically results a stockpile of things like waffles, pancakes, muffins, granola, and hard boiled eggs. But it's all too easy to get stuck in a rut, so sometimes, I like to shake things up with a breakfast that's slightly out of the ordinary.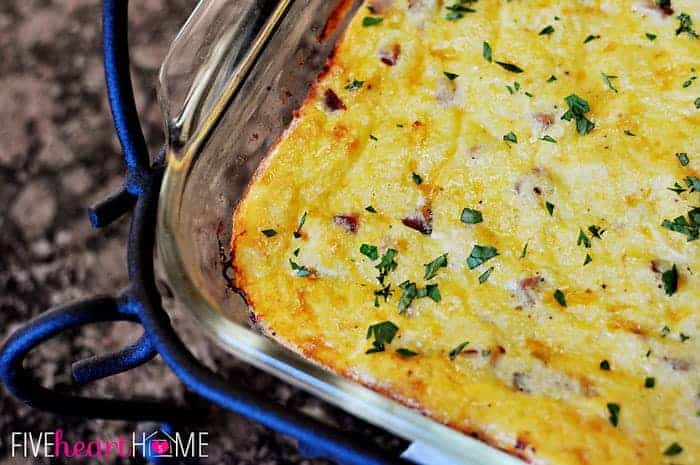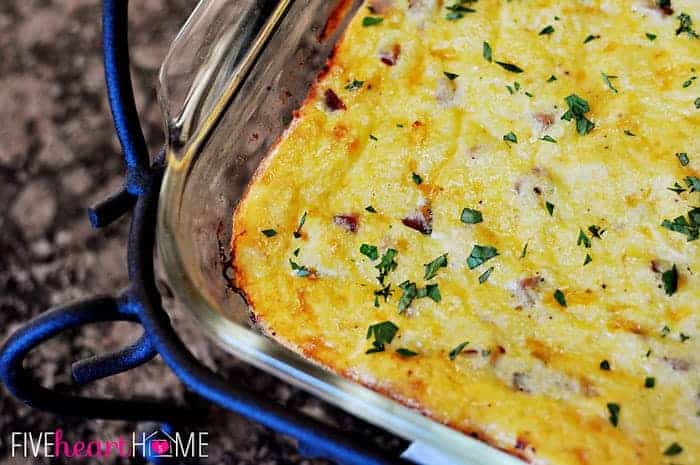 Grits may be a stereotypically southern staple, but this cheesy, ham-studded casserole of grits and eggs transcends regional differences. This dish is comparable to a regular egg-based breakfast casserole, but the inclusion of the grits gives it a heartiness and bite that would otherwise be lacking. In simple terms, it's comforting and filling and just plain good.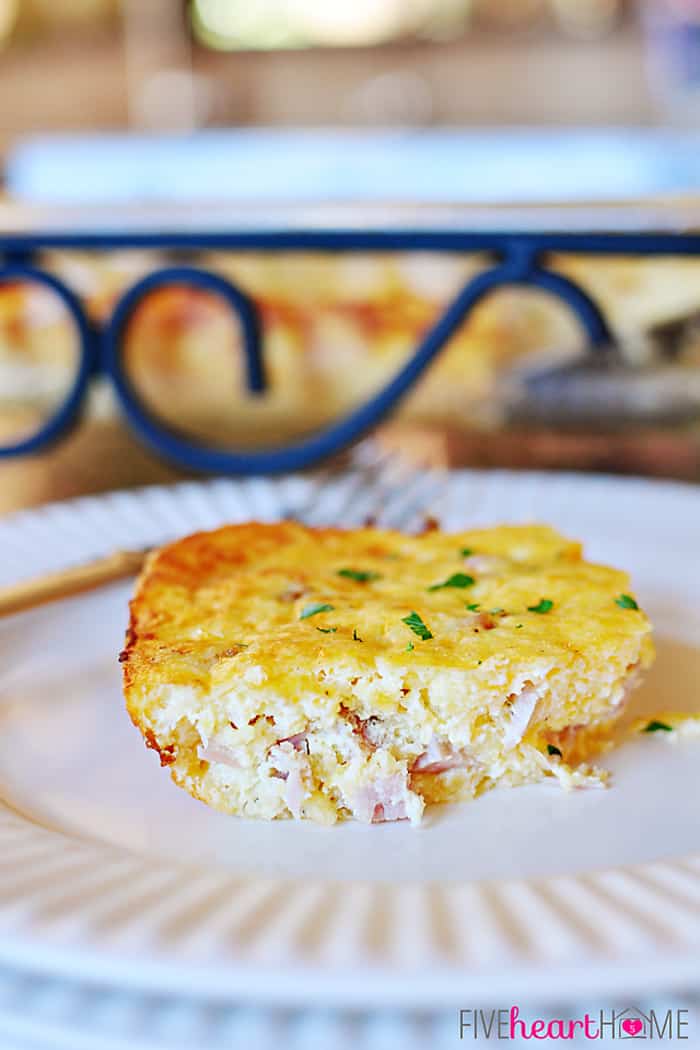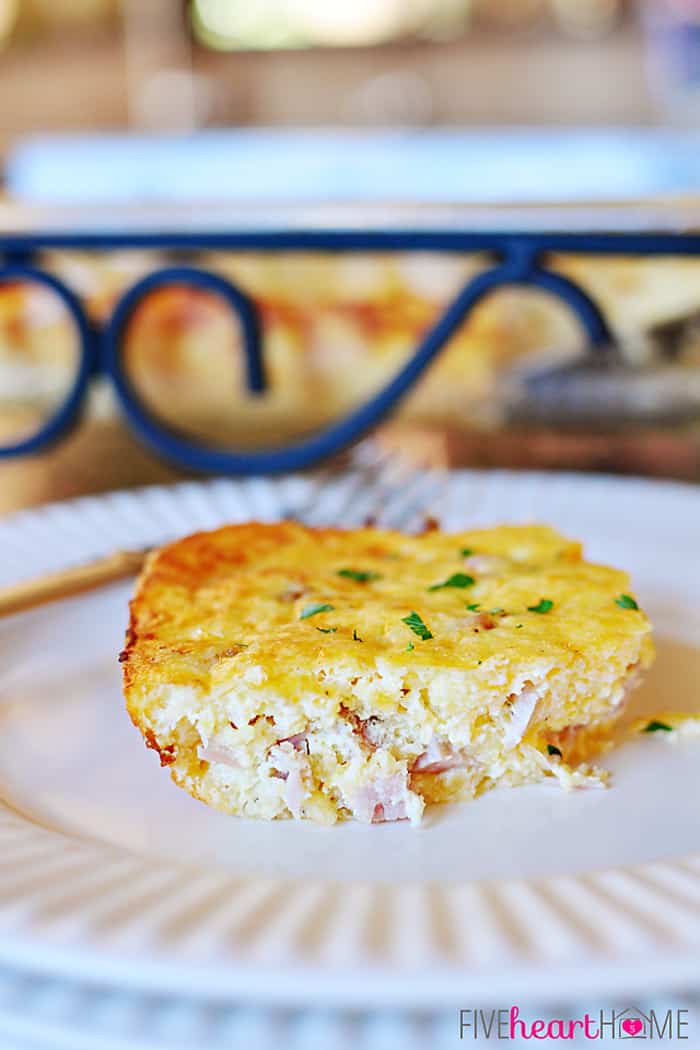 This breakfast casserole is fantastic for our aforementioned hectic mornings. At some point during the weekend, I simply bake it up, allow it to cool, cut it into squares, and store those in a container in the refrigerator. Then when each family member is ready for breakfast later in the week, all I have to do is pop their serving into the microwave or toaster oven for a quick reheating. Side of fruit, glass of milk, and breakfast is served!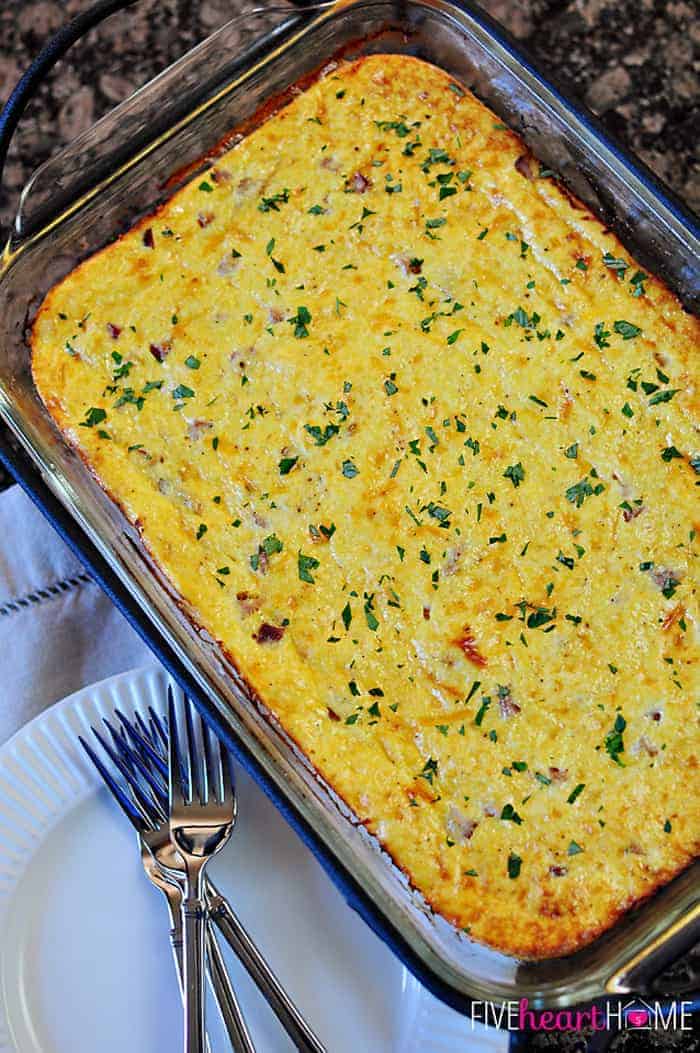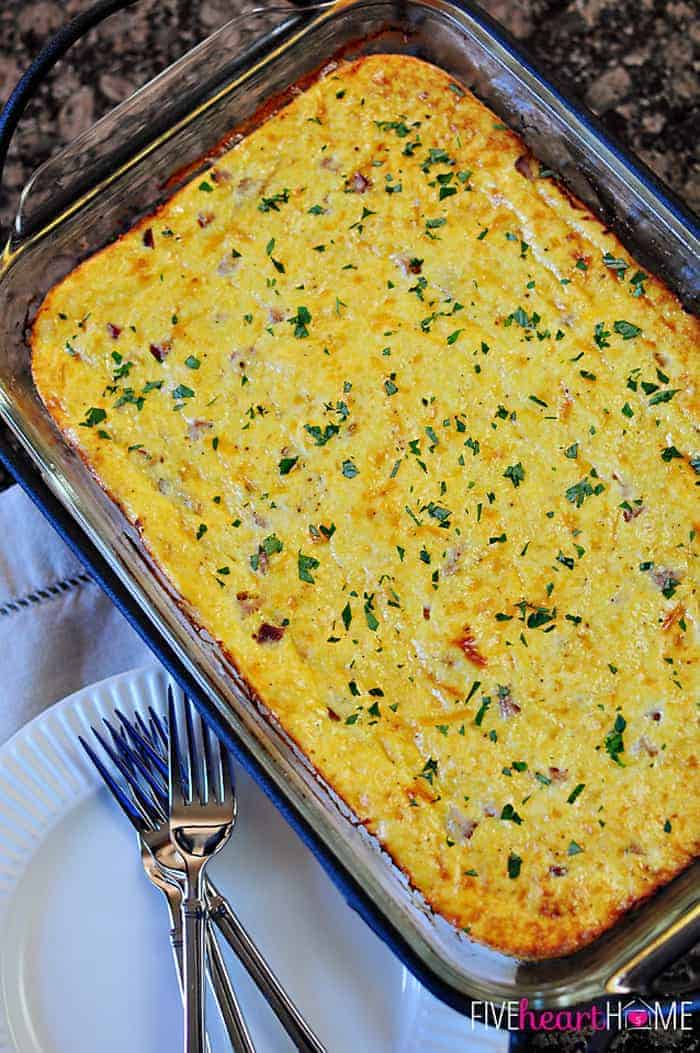 This cheesy casserole o' grits also makes a perfect breakfast or brunch dish to serve to guests, and it would be wonderful on a holiday morning when you want a special breakfast that doesn't require you to get bogged down in the kitchen. You can actually prepare and bake the whole casserole the night before, then refrigerate it overnight. In the morning, simply cover your dish with foil and stick it in a 350°F oven for 15 minutes. Voilà…a fresh, hot breakfast in a flash!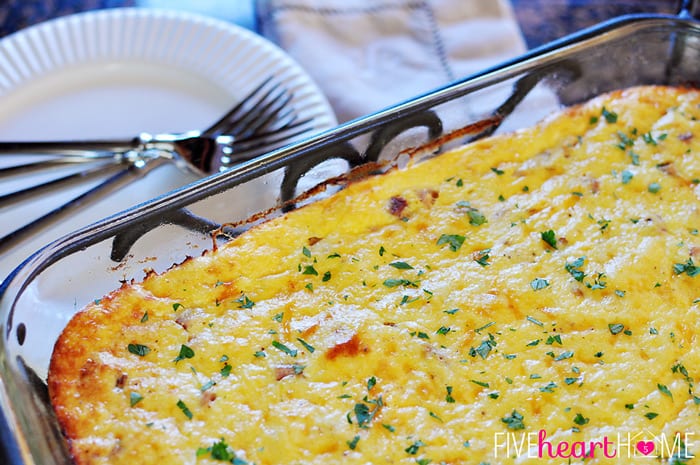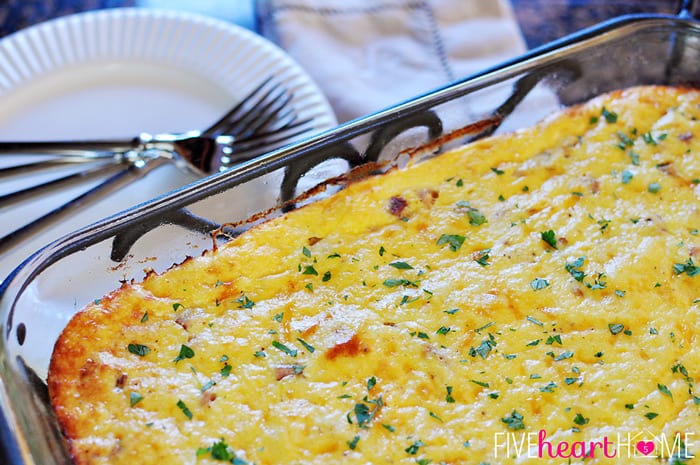 So the next time you're thinking about making a yummy, eggy breakfast casserole, consider enhancing it with grits instead of predictable ol' hunks of bread or hash browns. Even my 3-year-old, who refuses to eat grits when I drown them with butter and honey, loves this breakfast. It's hearty, it's comforting, it's perfect for fall (or winter, or spring, or summer). I hope you enjoy this one, friends!
Adapted from Perfect Party Food.
This post may be linked up to Live Laugh Rowe, House of Rose, 4 Little Fergusons, Mandy's Recipe Box, Lamberts Lately, Gingerly Made, Made from Pinterest, and these fabulous parties!