This quick-to-prepare overnight casserole features French bread soaked in an eggnog custard. In the morning, simply pop it in the oven for a special holiday breakfast that's perfect for Christmas morning!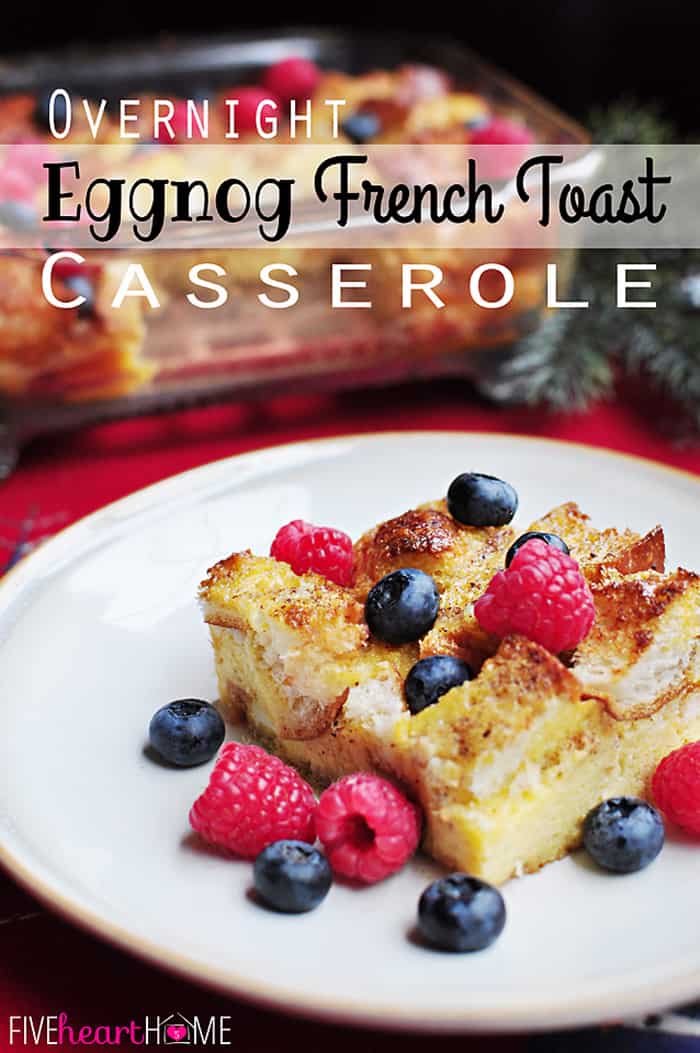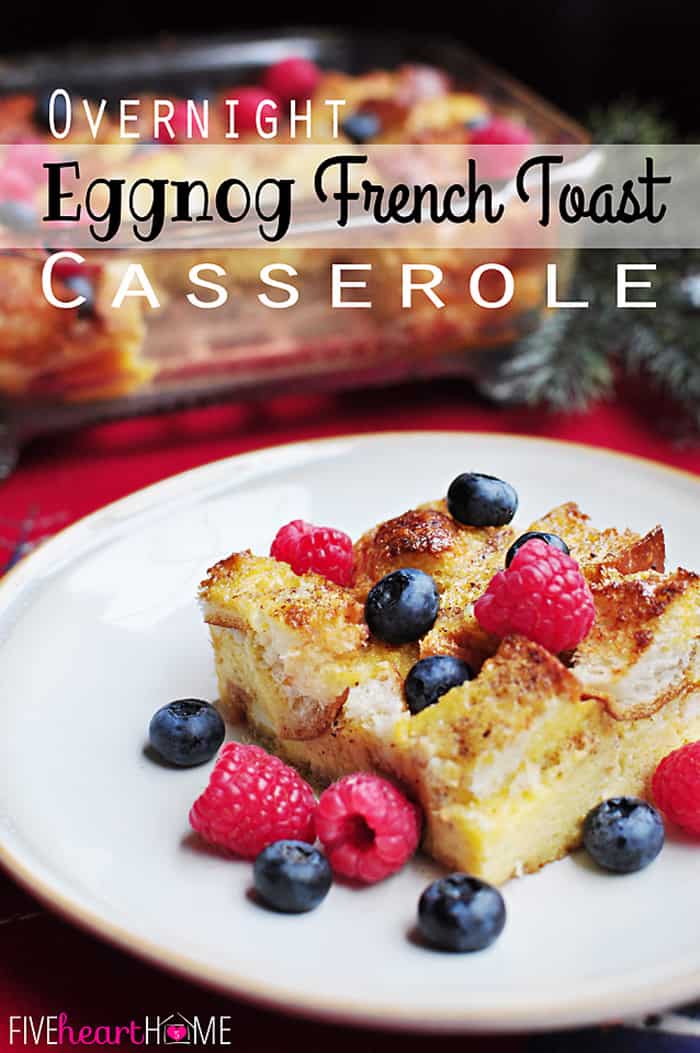 It goes without saying that Christmas morning calls for a special, festive breakfast. However, around here, that breakfast also needs to be something that I can prep the night before, seeing as how on Christmas morning I'll be bleary-eyed thanks to two boys who were raring-to-go before 6 a.m. Nor do I want to be stuck in the kitchen and risk missing any of the Santa-induced excitement.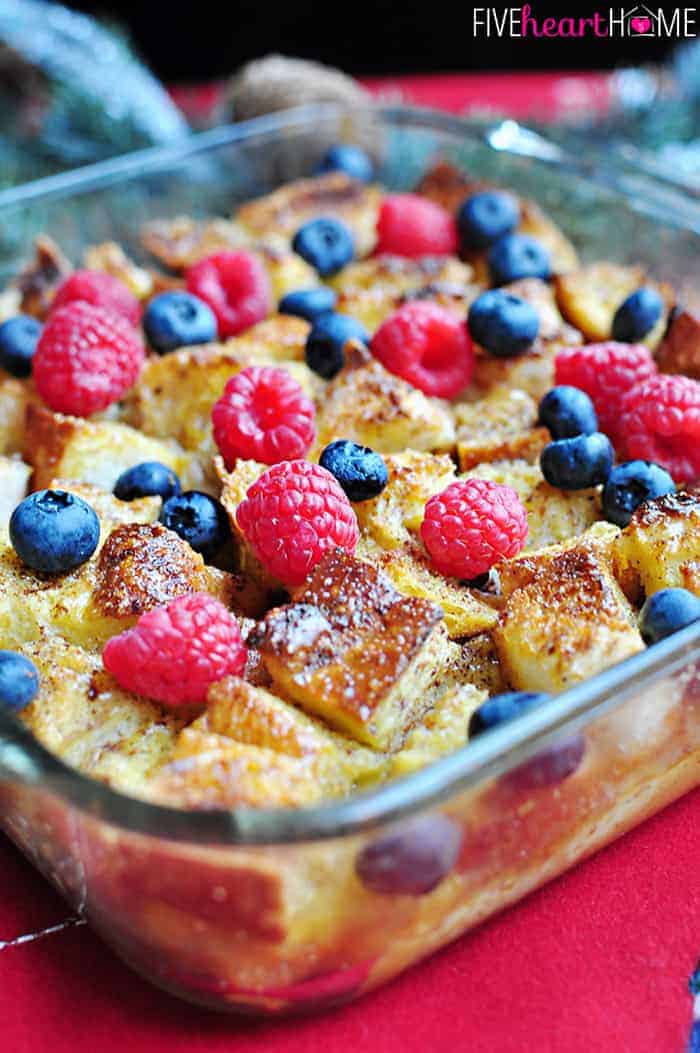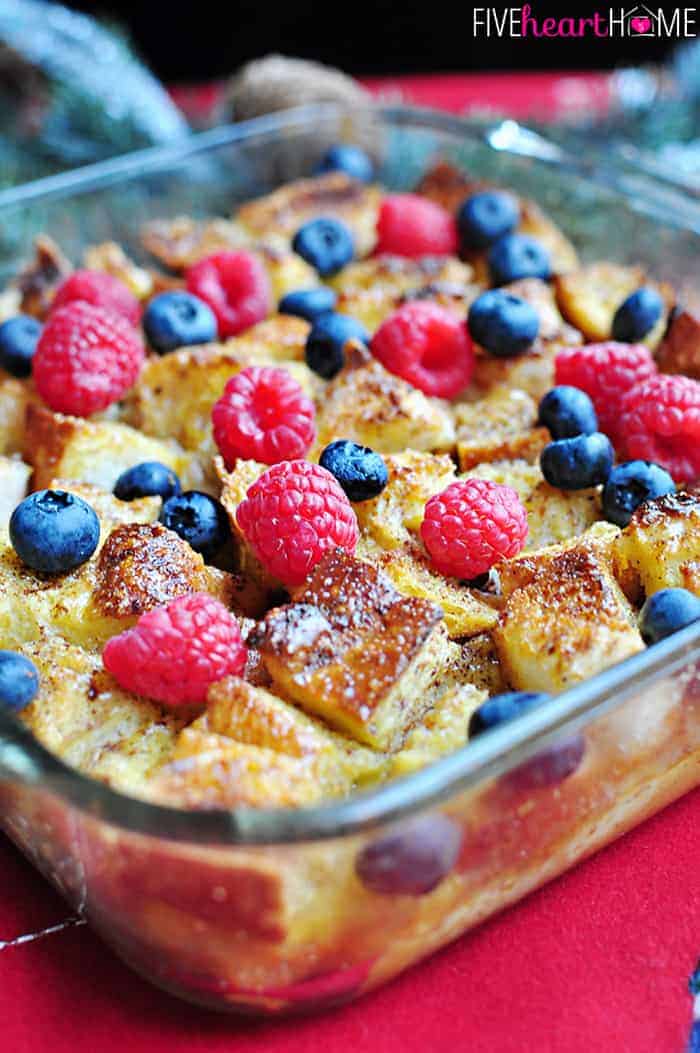 This overnight baked French toast solves both problems at once. It's quick to assemble before going to bed (you know, at 3 a.m. after all of the toys are put together), and come morning, all I have to do is pop it in the oven to bake while the kids are tearing into their presents. In addition to that, the fact that the bread has been soaked in eggnog and spiced with cinnamon and nutmeg means that it tastes — and the whole house consequently smells — like Christmas.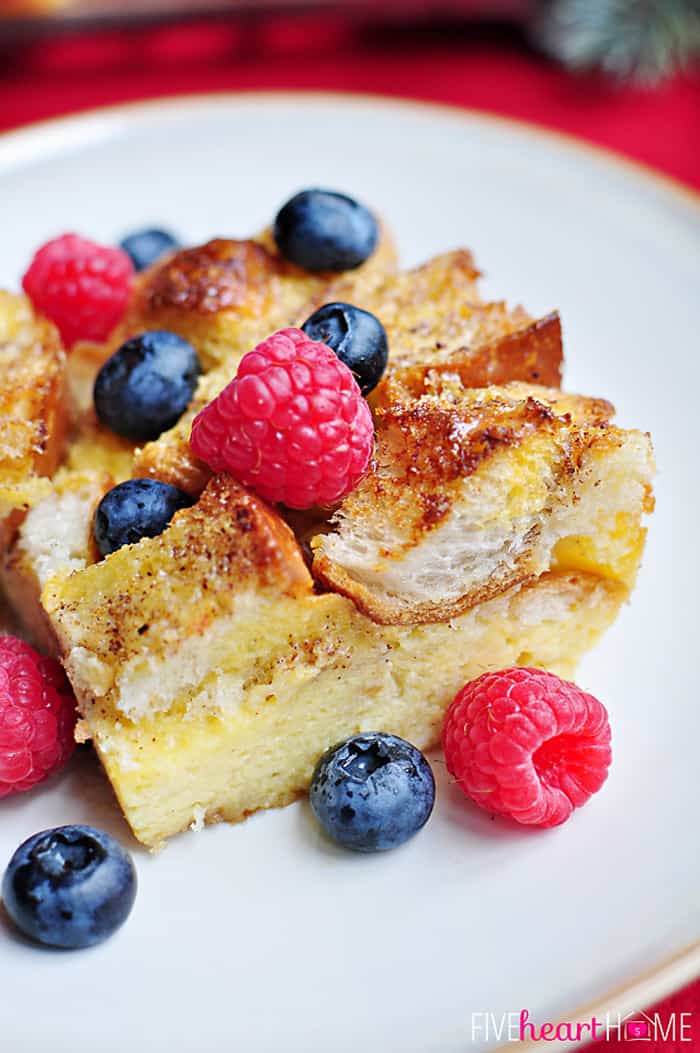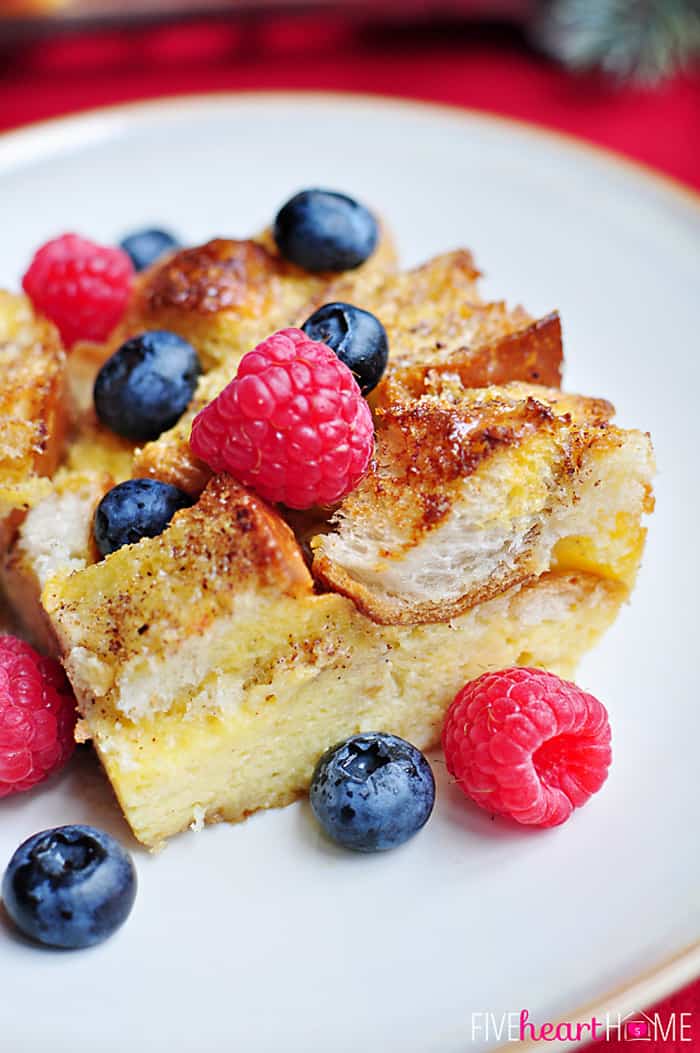 What's that? You don't like eggnog? Well, while I am firmly in the pro-eggnog camp, I do realize that there are individuals who do not actually enjoy this holiday nectar of the gods. However, allow me to point out that even my non-eggnog drinking husband enjoyed it in this French toast. In other words, I think you might like this recipe even if you think you won't. 😉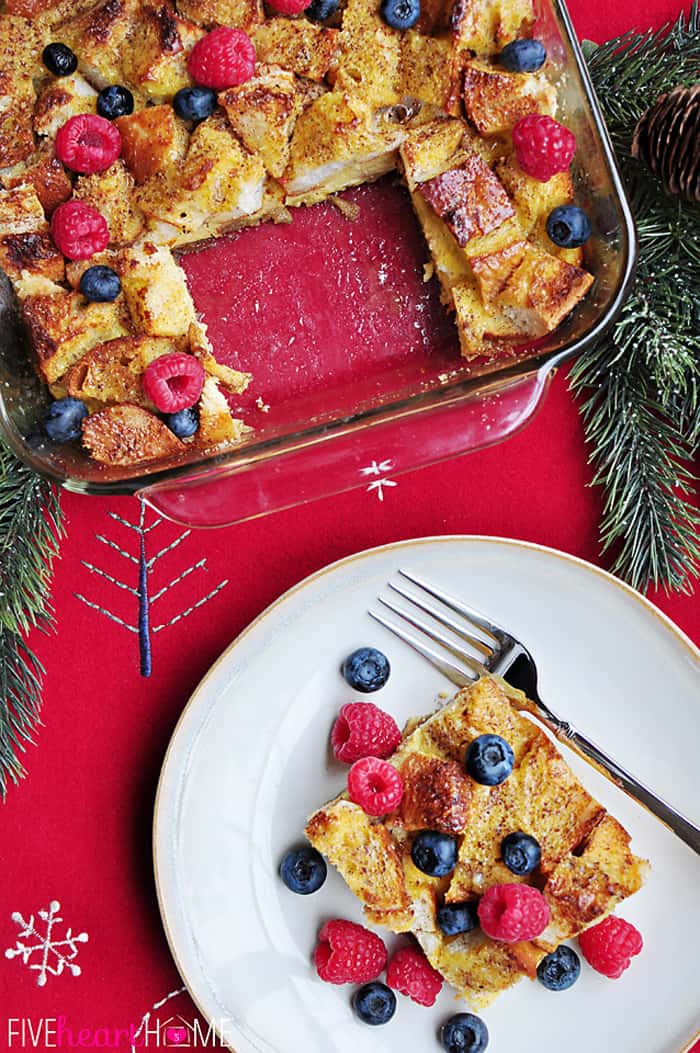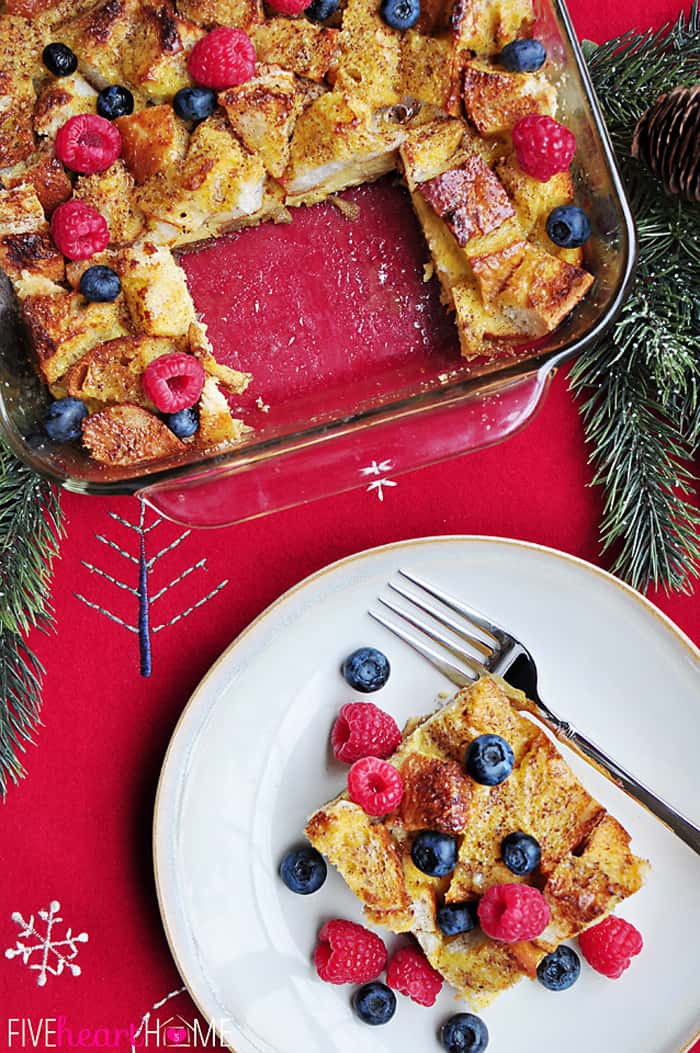 This tasty French toast can be enjoyed straight out of the oven as is…additional syrup is not necessary. Simply pairing it with some fresh berries, or a halved grapefruit, is a perfectly tart counter to the sweetness of the eggnog. Oh, and don't forget bacon. Bacon is necessary to cut the sugar as well, am I right?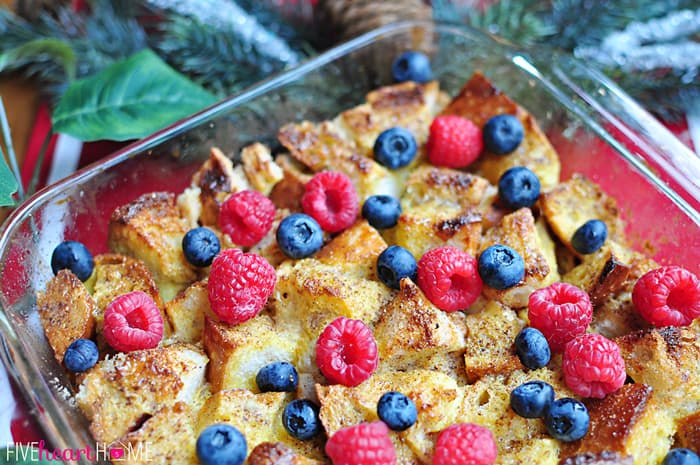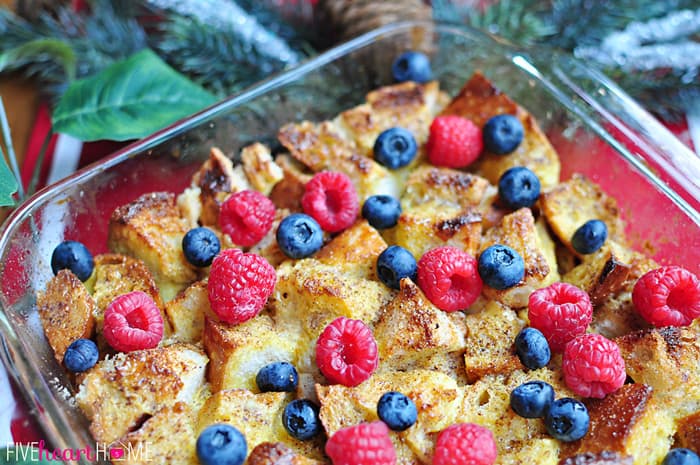 So sometime this December — whether it's a special school day breakfast, a lazy Saturday morning, a pre-Christmas brunch, or Christmas Day itself — promise me that you'll treat yourself to this eggnog French toast decadence! After all, what's better than a recipe by which you can have your eggnog and eat it, too?!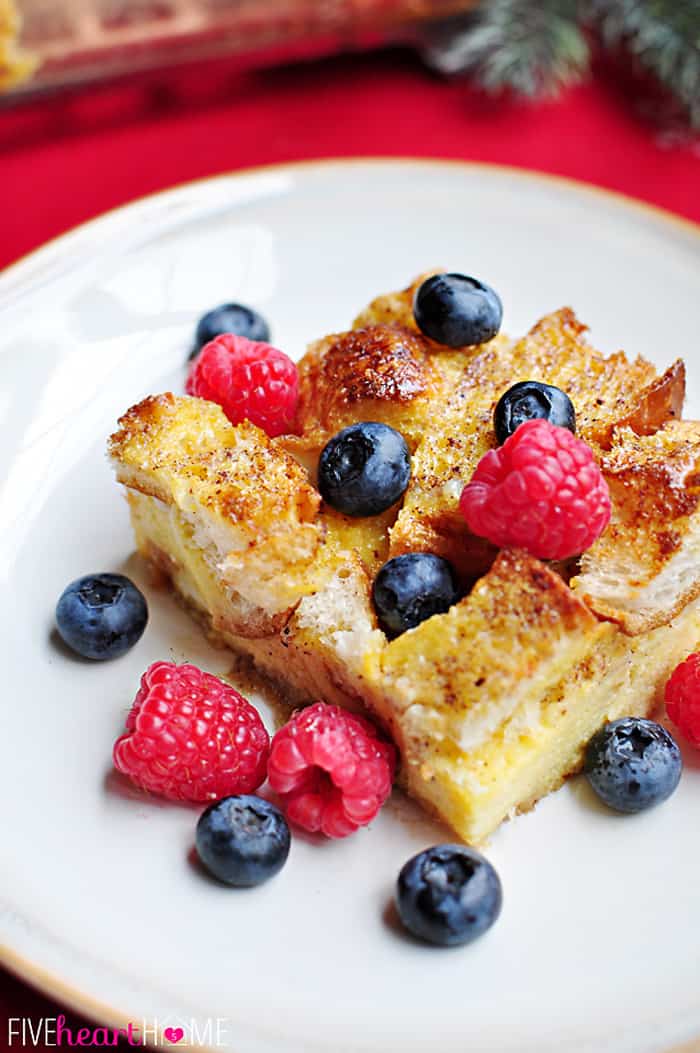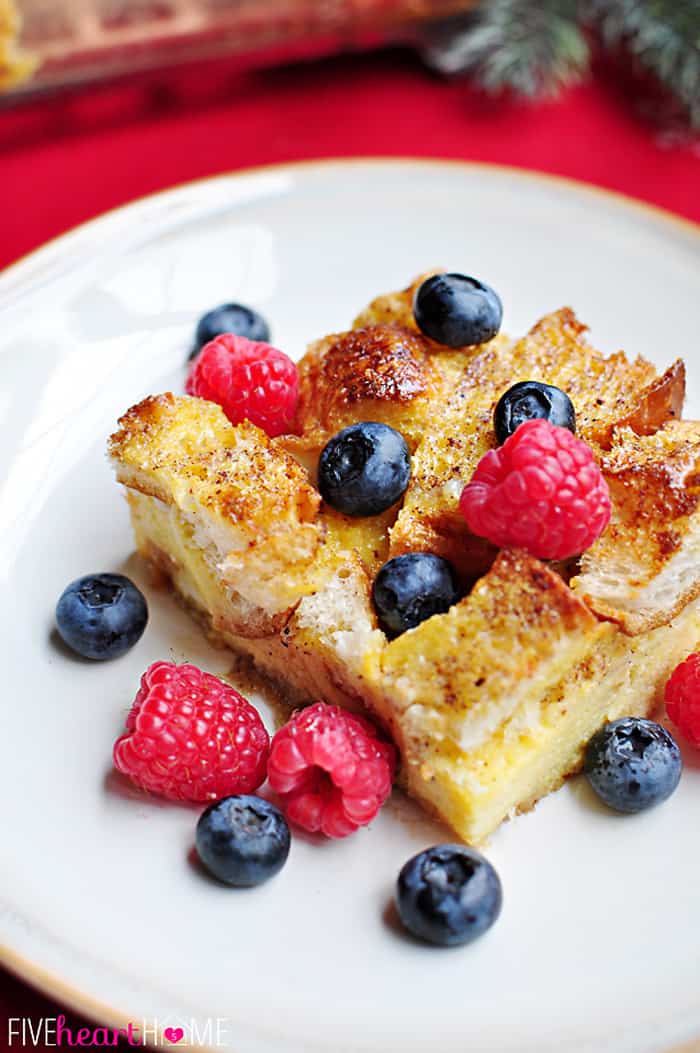 Overnight Eggnog French Toast Casserole
This quick-to-prepare overnight casserole features French bread soaked in an eggnog custard. In the morning, simply pop it in the oven for a special holiday breakfast that's perfect for Christmas morning!
Ingredients
1/2 cup (1 stick) butter
1 cup packed brown sugar
2 tablespoons maple syrup
1 loaf French bread, cut into 1-inch cubes
Cinnamon
Nutmeg
8 eggs
2 cups prepared eggnog
1 teaspoon vanilla
Instructions
Grease a 9- by 13-inch baking dish (or two 8- by 8-inch baking dishes) with butter or coat with nonstick cooking spray.
In a medium saucepan, melt butter over medium heat. Stir in brown sugar and maple syrup; continue stirring as mixture comes to a boil. Remove from heat and pour into prepared baking dish. Arrange the bread cubes over the brown sugar mixture. Sprinkle bread cubes with cinnamon and nutmeg, to taste.
In a large bowl, whisk the eggs and mix in the eggnog and vanilla. Evenly pour this custard mixture over the bread cubes. Press down lightly on the bread to make sure it's all coated/soaked. Tightly cover baking dish with aluminum foil and refrigerate overnight, at least 8 hours.
Remove the baking dish from the refrigerator. Preheat oven to 325°F. Bake, covered, for 40 minutes. Increase oven temperature to 375°F and remove foil. Bake, uncovered, for an additional 5 to 10 minutes or until knife inserted in center of casserole is clean (and mostly dry) and top is puffy and golden brown.
https://www.fivehearthome.com/overnight-eggnog-french-toast-casserole/
https://fivehearthome.com ~ All recipes and images on Five Heart Home are copyright protected. Please do not use without my permission. If you would like to feature this recipe, please rewrite the directions in your own words and give proper attribution by linking back to this blog.
Adapted from AllRecipes.
Need to use up that leftover eggnog?
Eggnog Pudding with Whipped Cream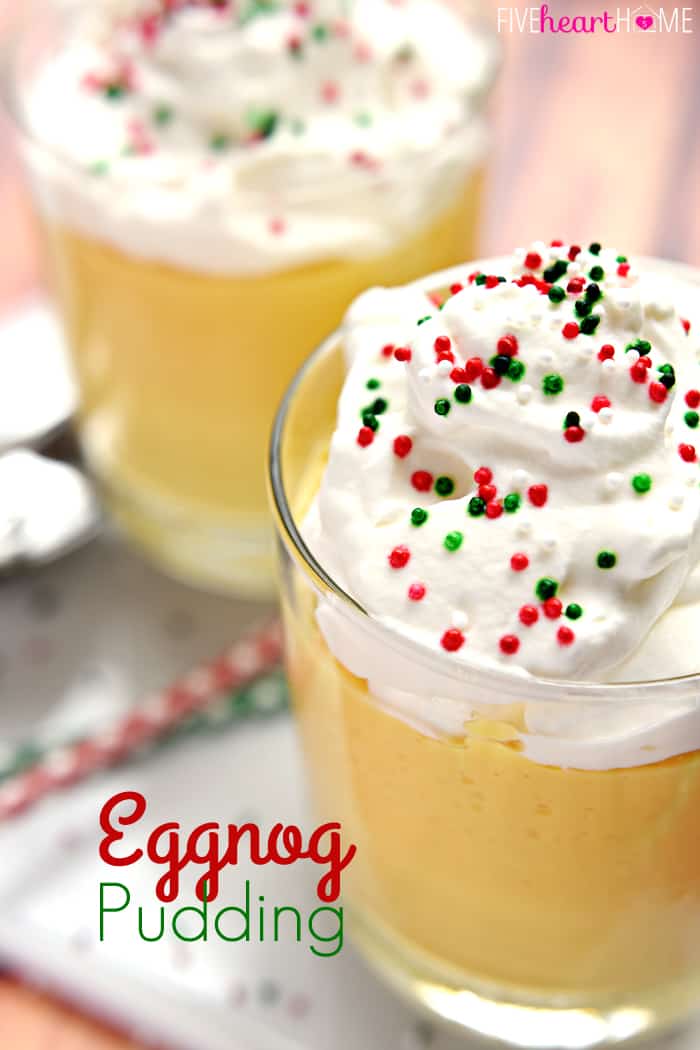 Overnight Gingerbread Baked French Toast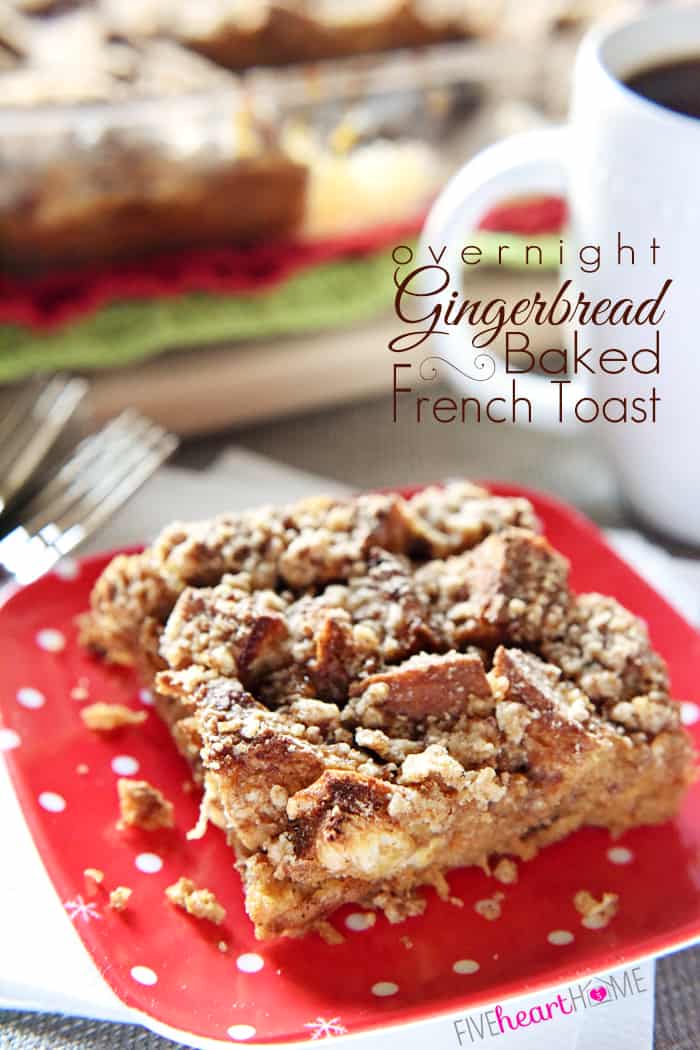 Cheesy Ham & Grits Breakfast Casserole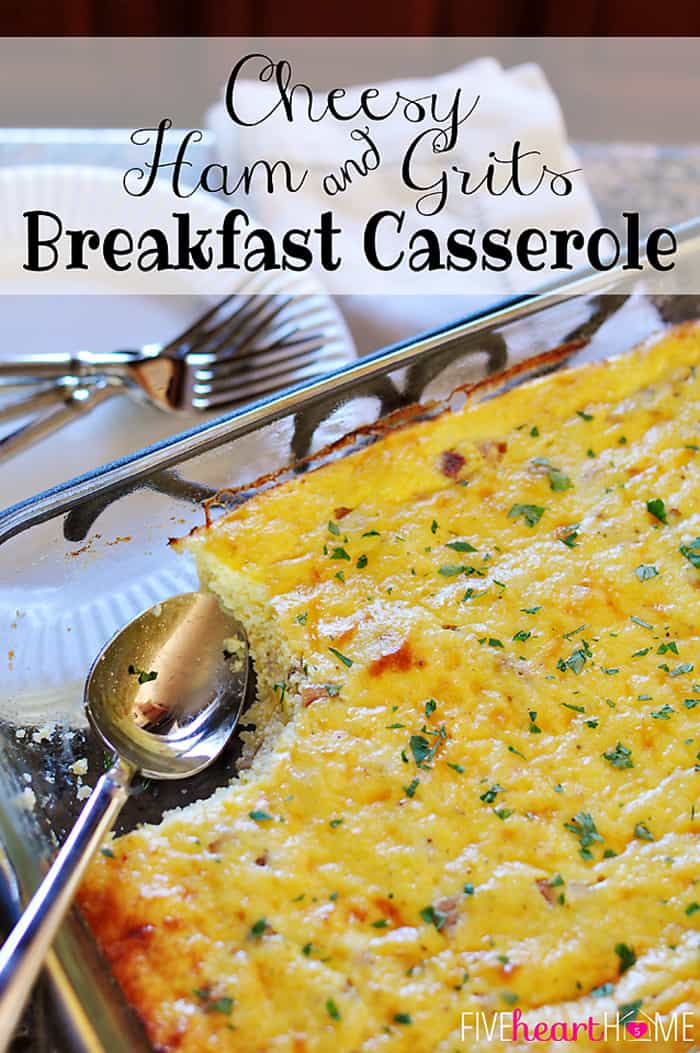 Gingerbread Pancakes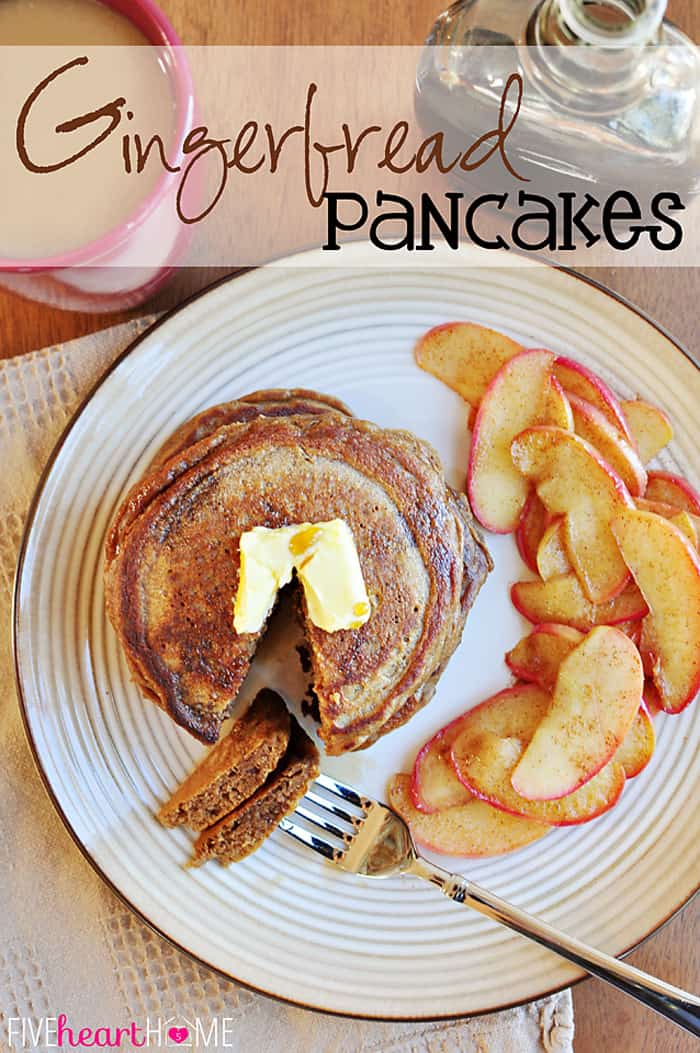 Green Chile Cheddar Egg Bake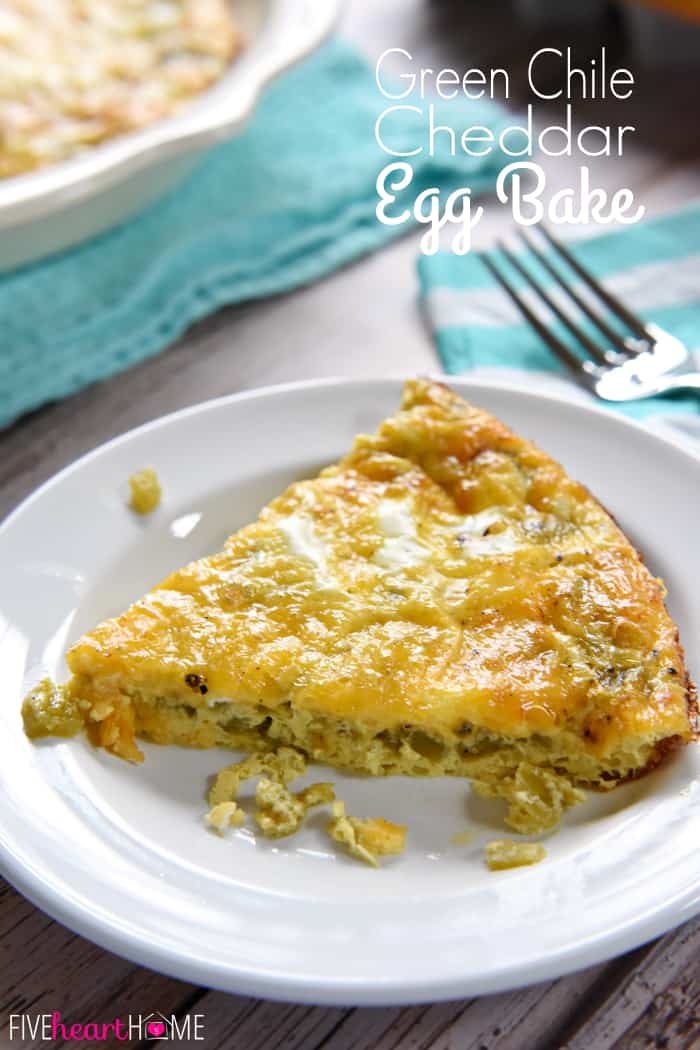 French Breakfast Puffs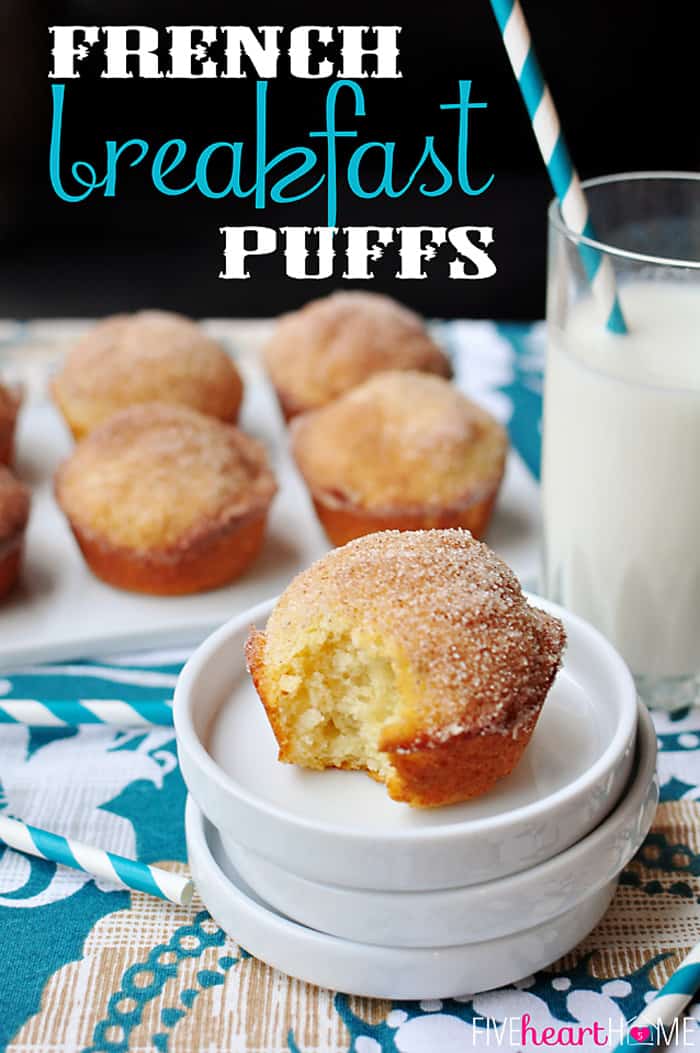 Apple Praline Baked French Toast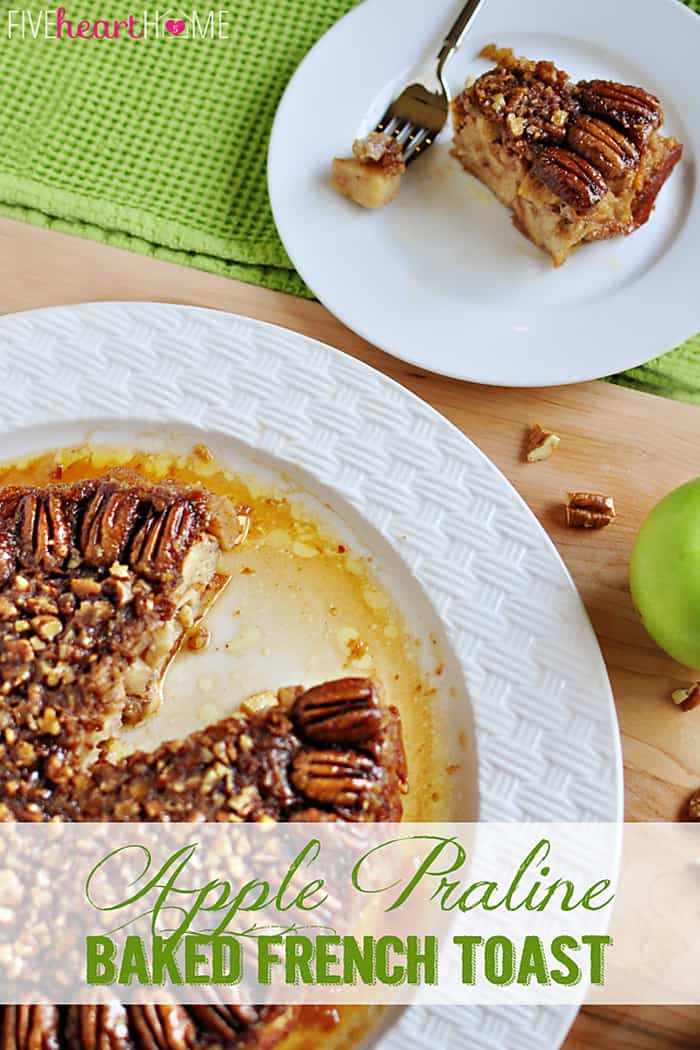 * * * * * * * * * *
Let's stay in touch!
Facebook | Google+ | Pinterest | Twitter | Instagram | Bloglovin'
Sign up to have new blog posts sent to your inbox!
I always love hearing from you! ~ samantha {at} five heart home {dot} com