With just five ingredients and two minutes of prep before bed, you can wake up to a ready-to-eat holiday breakfast of creamy, wholesome Eggnog Overnight Oats!

It recently occurred to me that I had yet to share an eggnog recipe this December and, seeing as how I average one eggnog post per holiday season, I felt the sudden pressure of runningoutoftime. So after Eggnog Baked French Toast and Eggnog Pudding in years of yore, today I bring you Eggnog Overnight Oats!
Please tell me y'all have tried overnight oats by now??? I was actually late to the party and didn't make them for the first time until last spring, when I shared Peanut Butter Banana, Raspberry Nutella, and Coconut Almond flavors. But with no superfluous ingredients, today's eggnog variety is the easiest one yet!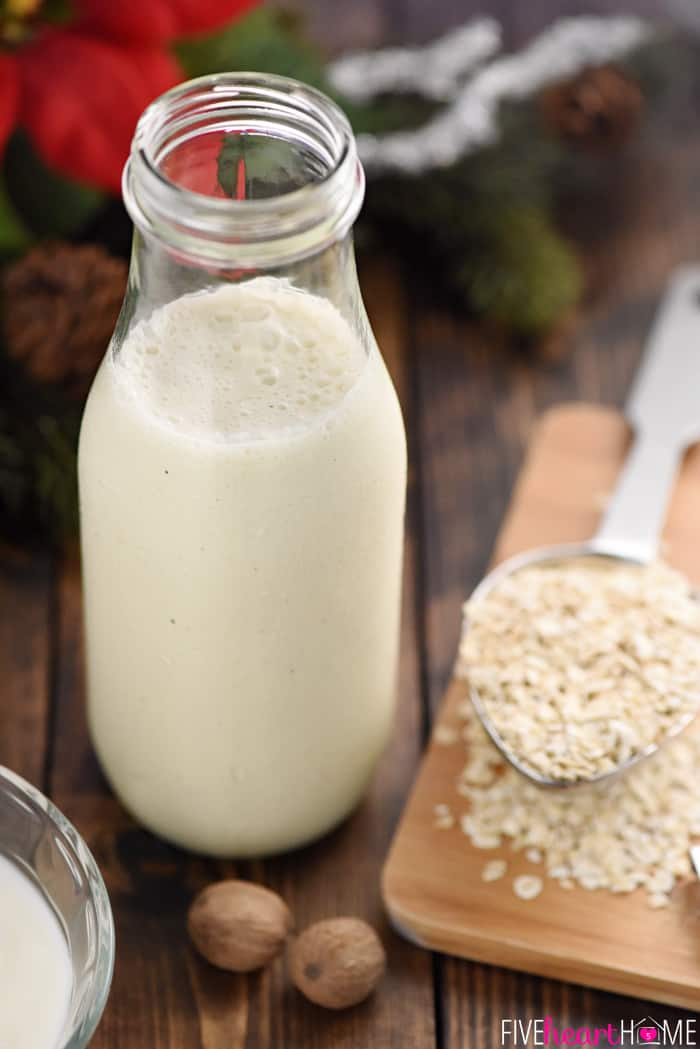 So to give you the Cliff's Notes version, overnight oats start with uncooked rolled oats, milk, and yogurt. This trifecta of simple ingredients (along with whatever other goodies you prefer to add) are combined and refrigerated overnight, during which time they transform from separate entities into a concoction that's creamy, dreamy, and delicious. To clarify, you don't cook overnight oats, and you typically eat them cold. Sounds strange until you try it, but after that, get ready to become a lifelong fan!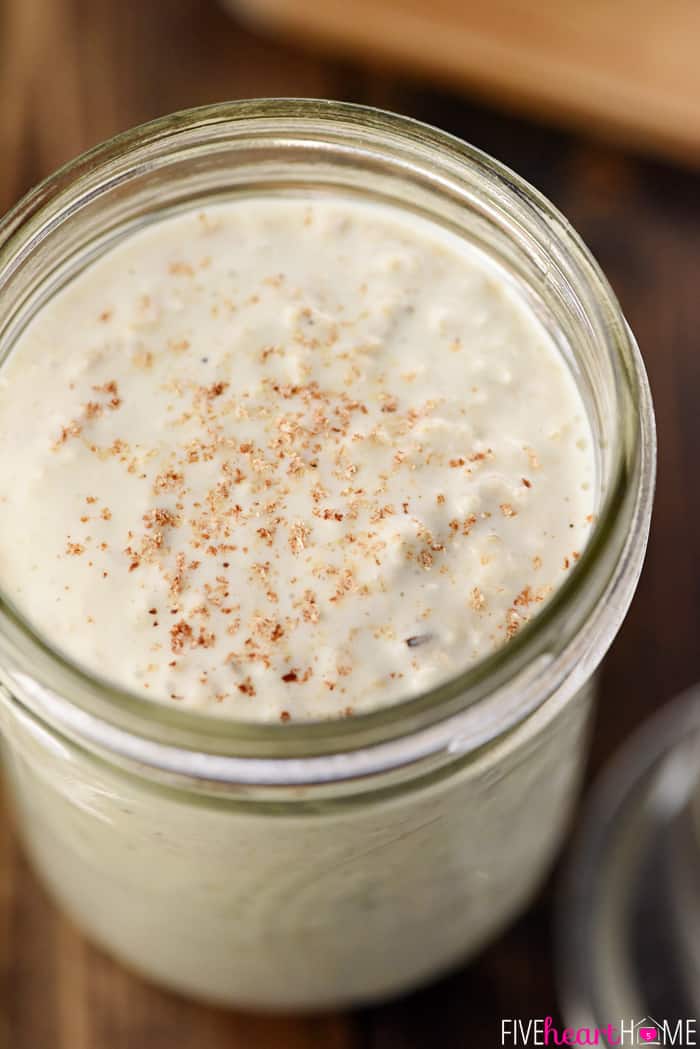 Eggnog Overnight Oats couldn't be any more straightforward. All I did was swap out eggnog for the milk in my usual overnight oats ratio. I used plain yogurt, which toned down the sweetness of the eggnog -- because we want this to be believable as a healthy breakfast, right? -- and I added a pinch of nutmeg (freshly grated is even better if you can swing it) and a dash of salt. And that's it! Simple, wholesome, and yummy.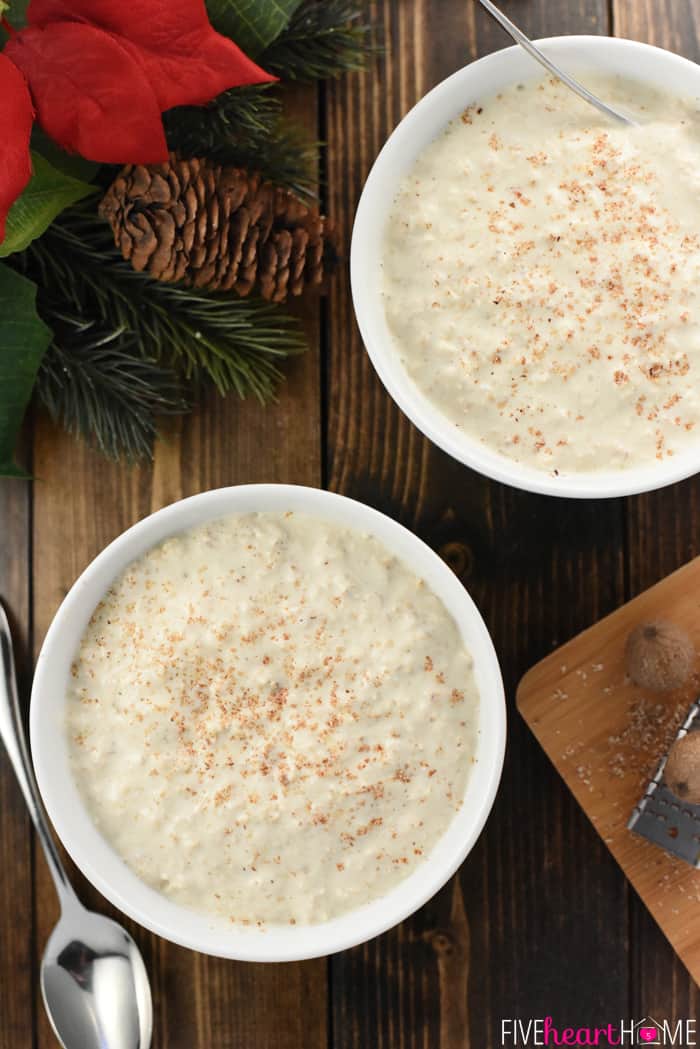 Of course, if you want to veer down your own overnight oats path and add sliced fruit or berries or nutrition-boosting seeds (think chia or flax), you are certainly welcome to do so. My kids love these Eggnog Overnight Oats unadulterated, with berries on the side. Actually, that's not entirely true...my 6-year-old did request some cinnamon stirred into his. And he wanted me to heat up his overnight oats like regular oatmeal. But hey, whatever works.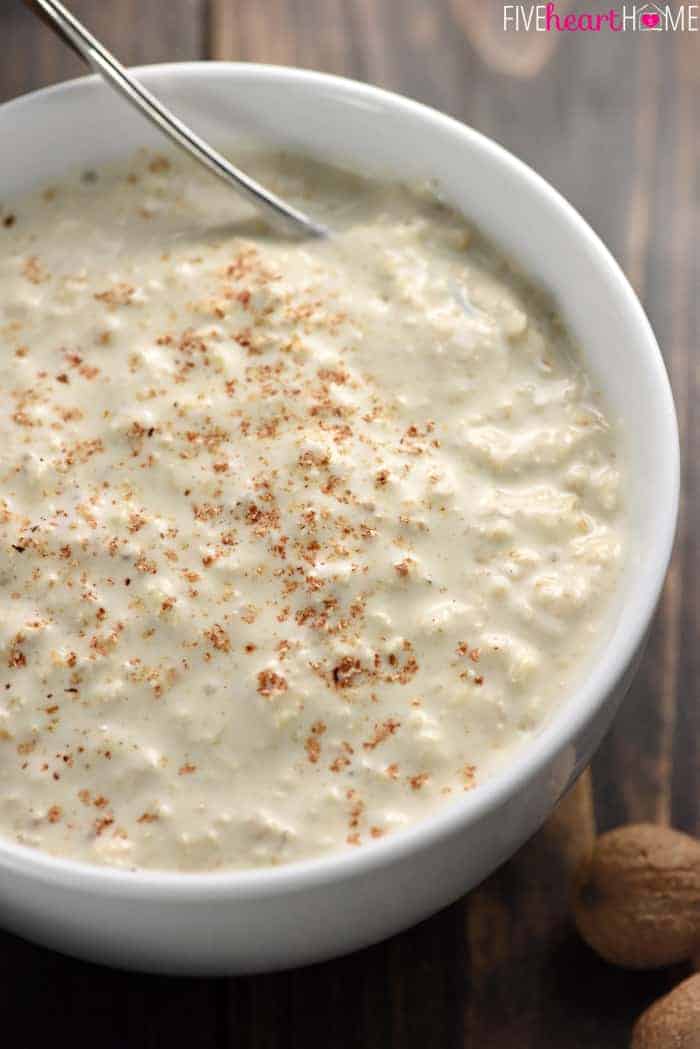 So if you're in a breakfast rut, try some overnight oats! There's nothing quite as glorious as rolling out of bed in the morning, pulling a bowl or jar out of the fridge, sticking a spoon in it, and announcing that breakfast is served. And if you're a fan of eggnog, you definitely need to give these Eggnog Overnight Oats a whirl! They're guaranteed to make your December mornings merry. 🙂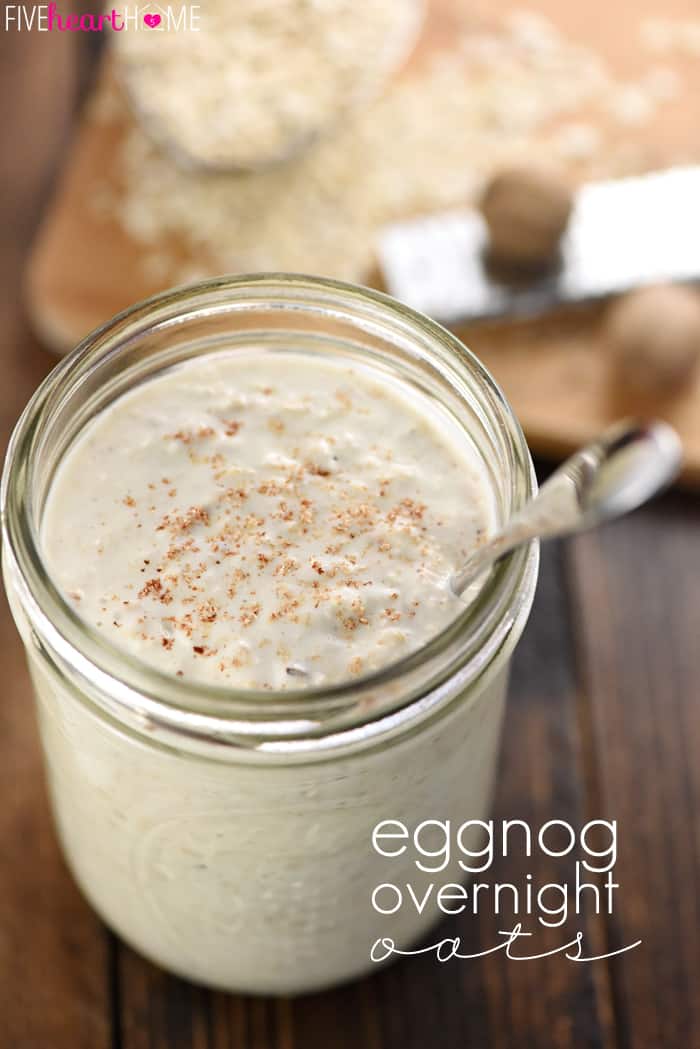 More Breakfast Goodies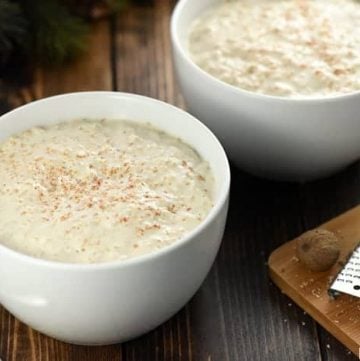 Eggnog Overnight Oats
With just five ingredients and two minutes of prep before bed, you can wake up to a ready-to-eat holiday breakfast of creamy, wholesome Eggnog Overnight Oats!
Print
Pin
Rate
Ingredients
⅓

cup

rolled oats

⅓

cup

eggnog

⅓

cup

plain yogurt

⅛

teaspoon

ground nutmeg

,

more or less, to taste

Pinch

of salt
Instructions
In a bowl or jar, mix together oats, eggnog, yogurt, nutmeg, and salt. Cover and refrigerate for several hours up to overnight. Serve.
Notes
You may use regular or Greek yogurt, but if using Greek, it might be necessary to add a bit more eggnog to thin it out. For sweeter overnight oats, you may substitute vanilla yogurt for half of the plain yogurt (I think using all vanilla yogurt and no plain yogurt makes the oats too sweet and overpowers the eggnog flavor, but it's ultimately up to you).
You may add a teaspoon or two of chia seeds or flaxseeds to your oat mixture, if you want to boost the nutrition even more.
You may stir in sliced fruit or berries before refrigerating, or you may top with nuts before serving, if desired.
I prefer using rolled oats, as I think quick oats get too mushy. Steel cut oats are not recommended, as they won't soften adequately.
Calories:
235
kcal
|
Carbohydrates:
28
g
|
Protein:
15
g
|
Fat:
7
g
|
Saturated Fat:
3
g
|
Cholesterol:
54
mg
|
Sodium:
78
mg
|
Potassium:
237
mg
|
Fiber:
3
g
|
Sugar:
10
g
|
Vitamin A:
175
IU
|
Vitamin C:
1.2
mg
|
Calcium:
212
mg
|
Iron:
1.2
mg