Strawberries & Cream Oatmeal is an easy, healthy breakfast recipe for busy mornings, topped with toasted almonds and chia seeds to make it extra tasty and wholesome!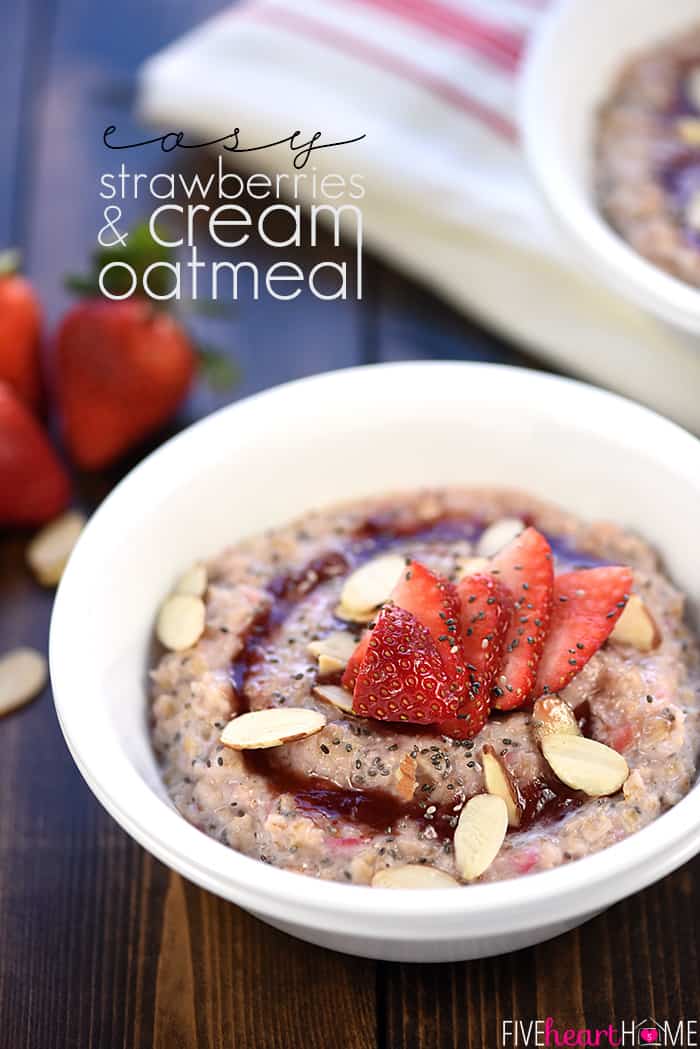 I usually try to keep make-ahead recipes on hand for quick breakfasts on busy weekday mornings -- granola, granola bars, baked oatmeal, overnight oats, freezer breakfast sandwiches, mini frittatas, muffins, breakfast cookies, and the like.
But the truth is that sometimes, I don't have my act together and I'm running short on time...so we go for cereal or frozen toaster waffles. Or sometimes on a random celebratory occasion, donuts. Yep, food bloggers are human, too. 😉 Other times, however, while I may not have a fridge or pantry full of ready-made options, I do have a few minutes to put together a homemade, wholesome, QUICK(!) breakfast.
Said breakfast often takes the form of Quick Peanut Butter Banana Oatmeal, primarily because my kiddos love it. So rather than trying to reinvent the wheel, I recently decided to take the same recipe but give it a different, fruity twist: Easy Strawberries & Cream Oatmeal!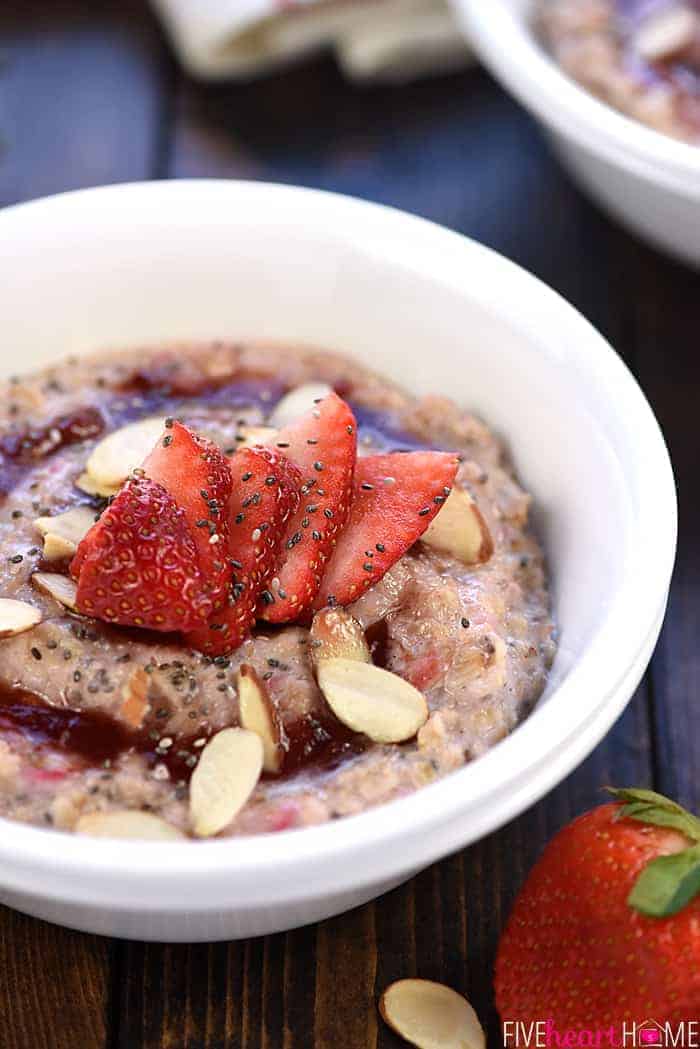 How to Make It
It's really, really simple, y'all:
Make stovetop oatmeal (think milk + oats).
Stir in a fresh strawberry purée along with honey, chia seeds, vanilla and almond extracts, and a pinch of salt.
And then, to further enhance the whole strawberries and cream theme, swirl the already-yummy oatmeal with a smidgeon of strawberry preserves and a complementary splash of half-and-half.
Finally, garnish with toasty sliced almonds and a crowning sprinkle of chia seeds!
Simple. Filling. Wholesome. Take that, toaster waffles!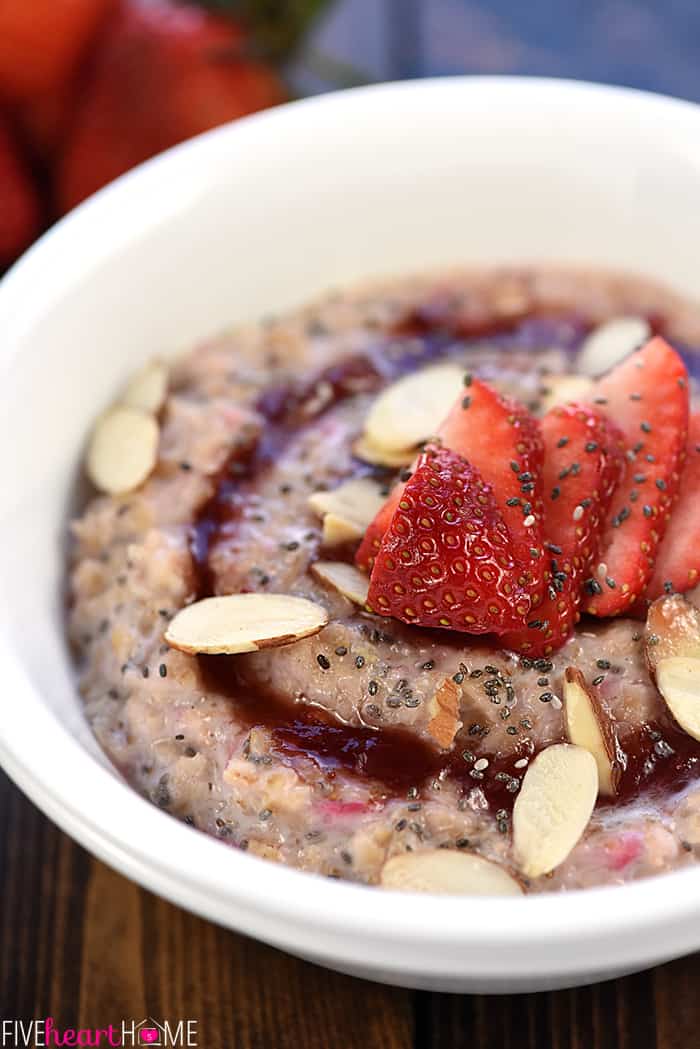 Ingredient Notes
If your strawberries are especially ripe and you don't mind a bit more texture in your oatmeal, you may certainly mash them with a fork as opposed to pulling out the blender or the mini food processor. On the other hand, if you're planning ahead, you can always purée the strawberries the evening before and store in the fridge until the rooster crows.
Chia seeds are like a freebie ingredient in this recipe. They contribute a bit of texture to the oatmeal, but overall, they really don't taste like much. So why not sneak in vitamins, protein, calcium, and fiber when you can?
Swirling in a spoonful of strawberry preserves before serving adds a final punch of strawberry -- as well as some extra sweetness -- to the oatmeal.
And just a splash of half-and-half (or cream, if you're feeling naughty) lends a touch of creamy decadence to this healthy breakfast.
As for the almonds, I usually toast a big batch and store them in a baggie to use for salads or garnishing or snacking throughout the week. Alternatively, you can pop them in the oven to toast while you're preparing the oatmeal. You don't have to toast the almonds at all, of course, but doing so adds such flavor and crunch that I highly, highly recommend it.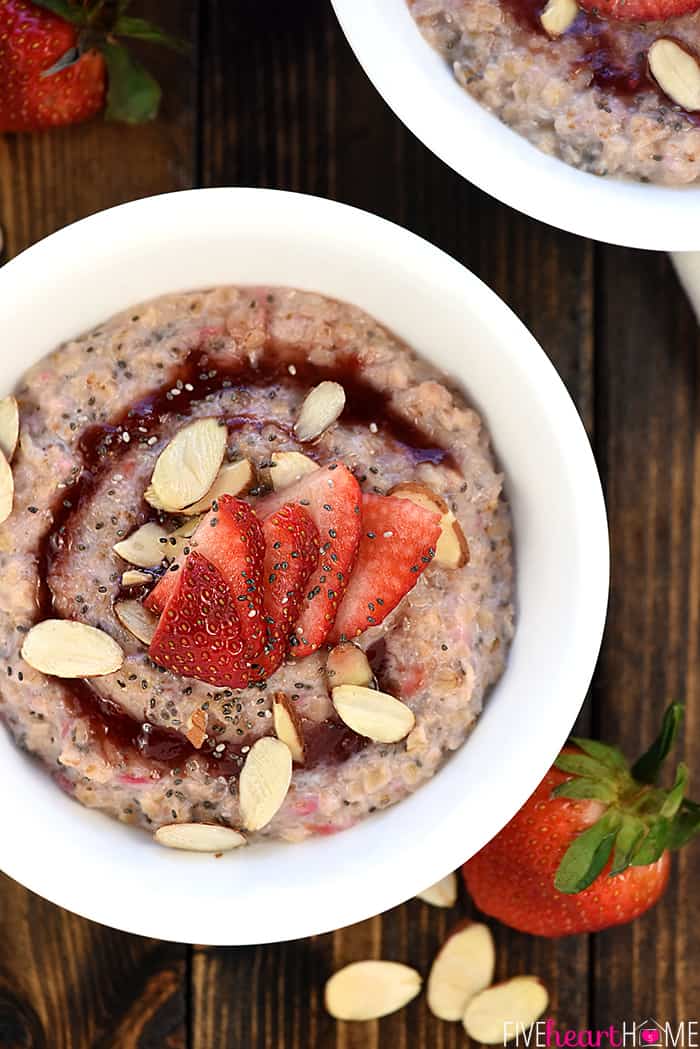 It's tasty, it's healthy, it's filling...and have I mentioned it's quick? Add Easy Strawberries & Cream Oatmeal to your rotation for a nutrition-packed breakfast that will power you through the morning!
More Healthy Breakfast Ideas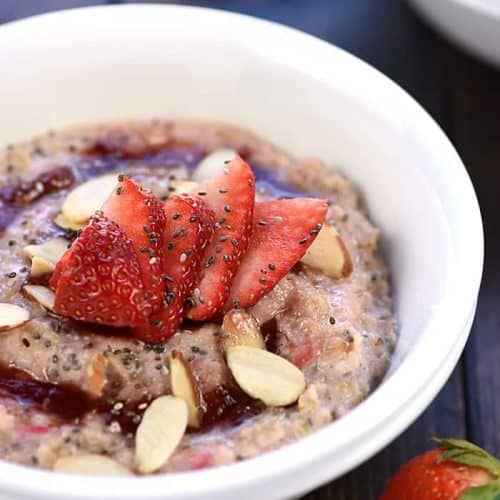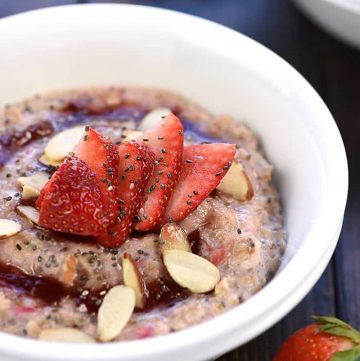 Easy Strawberries and Cream Oatmeal
Strawberries and Cream Oatmeal is an easy, healthy breakfast recipe for busy mornings, topped with toasted almonds and chia seeds to make it extra tasty and wholesome!
Print
Pin
Rate
Ingredients
1 3/4

cups

milk

1

cup

quick oats

1/2

cup

fresh strawberry purée

,

see NOTES below

1

tablespoon

honey

1

tablespoon

chia seeds

,

plus additional for garnish

1/4

teaspoon

pure vanilla extract

1/8

teaspoon

pure almond extract

Pinch

of salt

2

tablespoon

strawberry preserves

1 to 2

tablespoons

half-and-half

Toasted sliced almonds & sliced strawberries

,

for garnish
Instructions
In a medium saucepan set over medium heat, bring milk to a boil, watching carefully so that it doesn't boil over. Stir in oats, reduce heat to a simmer, and cook for 1 to 2 minutes, stirring occasionally. Remove from heat and cover for a few minutes. Stir in strawberry puree, honey, chia seeds, vanilla, almond extract, and salt. Before serving, swirl in strawberry preserves and half-and-half, then top with toasted almonds, sliced strawberries, and additional chia seeds.
Notes
To make the strawberry purée, wash and hull about 8 ounces of fresh strawberries. Place them in a blender or mini food processor and blend/process until smooth. Alternatively, if your berries are very soft and ripe, you may mash them with a fork.
If your strawberries are particularly sweet, you may reduce or omit the honey.
To toast the almonds, spread them out in a single layer on a baking sheet. Bake in a preheated 350°F oven for 7 to 10 minutes or until fragrant and lightly toasted, watching carefully so that they don't burn.
Calories:
520
kcal
|
Carbohydrates:
88
g
|
Protein:
14
g
|
Fat:
12
g
|
Saturated Fat:
5
g
|
Cholesterol:
24
mg
|
Sodium:
104
mg
|
Potassium:
449
mg
|
Fiber:
8
g
|
Sugar:
52
g
|
Vitamin A:
372
IU
|
Vitamin C:
2
mg
|
Calcium:
321
mg
|
Iron:
3
mg
Save
Save